Our Easy Master Bedroom Spring Update
I'm in the middle of planning an updated look for our master bedroom this spring. I already have new fabric for pillows and a coverlet. Before I start sewing and bringing in a few new items, I need to look at our easy master bedroom spring update from 2018 for some perspective.
Last year, after I updated our living room for spring with wonderful accessories, I couldn't let our master bedroom not get a little loving, too, so I spent some time tweaking and fluffing and rearranging our space. I'm loving it and ready to share with you our easy master bedroom spring update.  I think we all love spring ~ it makes you feel like airing out and lighting up. The natural feeling of spring just calls for a colorful palette.
It doesn't take much for a master bedroom spring update to a new season. Maybe some decluttering, some fresh colors, new bedding or a new piece of art, moving furniture from one room to another.
Last year, I did a little bit of all that to give our master bedroom a fresh look for the spring and summer months. Since we spend 1/3 of our lives in our bedroom, it's nice to change it up seasonally from the cooler months to the warmer months. Sometimes we do it intentionally and sometimes one little piece can inspire a whole new arrangement. Our master bedroom spring update was a bit of both.
Our Easy Master Bedroom Spring Update
The color palette in our master bedroom is light blue (Benjamin Moore Sea Salt on the walls). Yellow in the drapes and bench seat provide a soft pop of color. We have lots of patterns on the two chairs, the bench seat, and pillows. The drapes and chairs weren't changing (The drapes are one of my favorite things in our master bedroom, and, let's face it, changing out drapes is very expensive.), but accessories, such as art and pillows, and bedding is doable. Here's what our master bedroom looked like last year before I did any seasonal updating.
Master Bedroom Spring Update 2017
2017 was the first time I changed our master bedroom for seasonal spring decor. I found new lamps and made a monogram pillow and used a grain sack bolster. I replaced our bed pillows with new Euro pillows and a duvet cover in white  That definitely gave the room a lighter look. (You can see the original remodel of our master bedroom here.)
Master Bedroom Spring Update 2018
You know how one thing leads to another in decorating? Either necessity or design prompts you to changes that you didn't anticipate? That's how our spring update started.
"New" Table
The first thing that happened was moving our round, glass~topped table from in front of the bay window to the breakfast room (You can read about that table transformation.) In its place I used a repurposed table that I painted a few years ago ~ you know ugly stain to pretty painted finish? It was another piece that Sweet Shark had from his grandmother and was in the den of our previous house. It has been upstairs in one of our guest rooms.
This table is smaller and more suited to the scale to the room. This greenish/bluish glass vase from last year had been in a closet so it came out of storage. I was ready for some fresh foliage and once again forsythia branches are perfect for picking up the yellow in the drapes and I love the tall, organic shape. I love how we are starting to see some green in the backyard.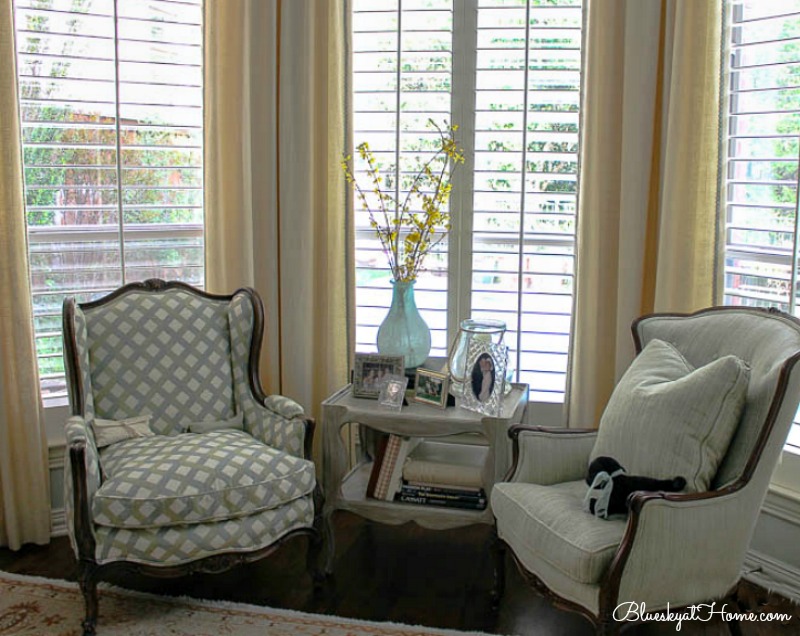 New Coverlet
Last year I bought new white Euro pillow covers and I wanted to keep them. But I wasn't happy with the white duvet cover; it made the down comforter "bunch up" and it always looked wrinkled to me. I wanted a light, soft, white coverlet that would just lay on top of the comforter. I found the perfect one at Bed, Bath & Beyond (20% off coupons!) I love the quilted look of this one with the pretty white satin band around all 4 sides. It's so much easier to make our bed and it looks neater.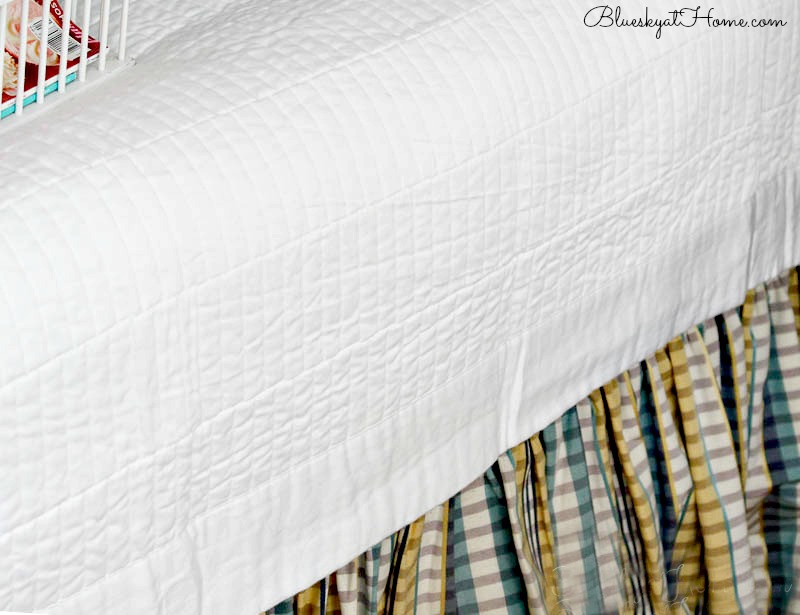 This is sweet Layla's favorite napping spot.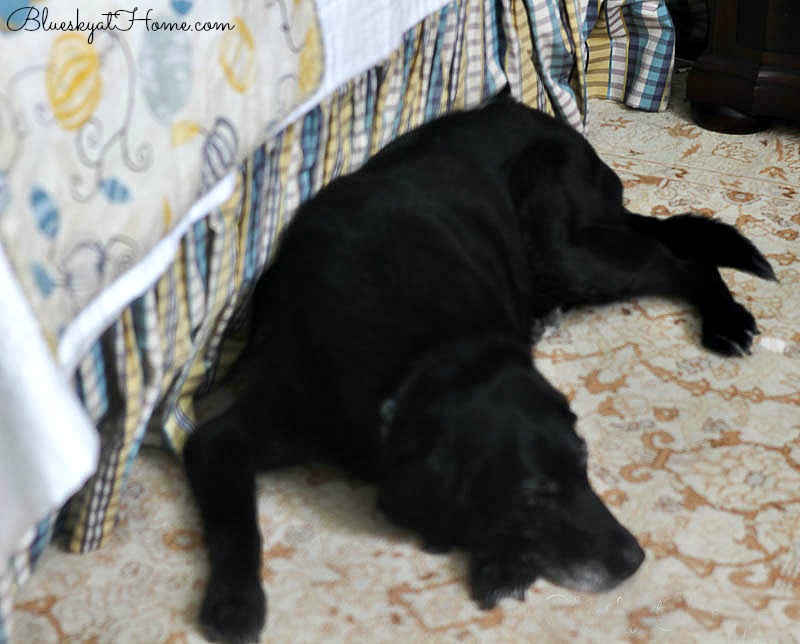 Repurposed Pillows and New Pillows
Two years ago I bought these patterned pillows from Home Goods for our living room sofa that I just loved.
I decided to try the yellow pillows in our bedroom. I thought the yellow would pick up the yellow in our drapes and bench cushion and give some nice pattern to the bed. I wanted some contrast and found 2 new pillows at Home Goods in just the right soft blue with some cute tiny pom~pom trim. For the final touch, my monogrammed pillow is front and center.
New Art
Ever since we moved into our home, I had wanted a sunburst mirror for above our bed. I'd been looking, but
I just couldn't find one that I liked
that was the right size and
that was affordable.
In 2017 we purchased 2 paintings from a dear friend of ours. We didn't know where we would put them and finally decided to hang them above our bed.
Right before Christmas while shopping for some last~minute decorations, I saw a sunburst mirror at our local Wisteria store that I loved. I went home, measured our available space, called the store and ordered it. It was on sale!!! and I didn't want to miss it. Sweet Shark picked it up at the Wisteria warehouse (We are so lucky that it is a local company.), and it sat in our garage until a couple of months after Christmas. The sunburst mirror now is a great focal point above the bed and the look I've always wanted. I love its natural mango wood and the size is just perfect for our huge wall and 10~foot ceilings.
We moved the paintings to the side of the bed and hung them vertically. I think they look much better here.
Decorative Accessories
On each of our nightstands, I used 2 pale blue planters (Home Goods) filled with white faux peonies (Pier 1), all from last year.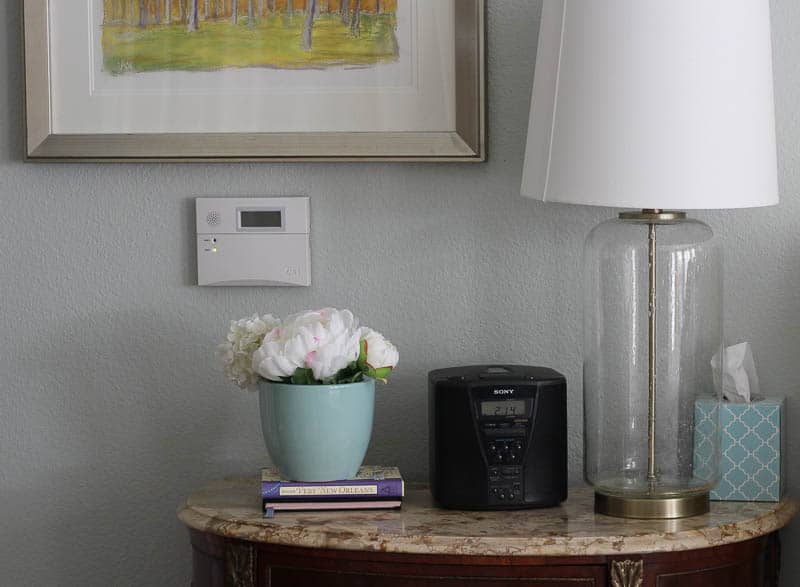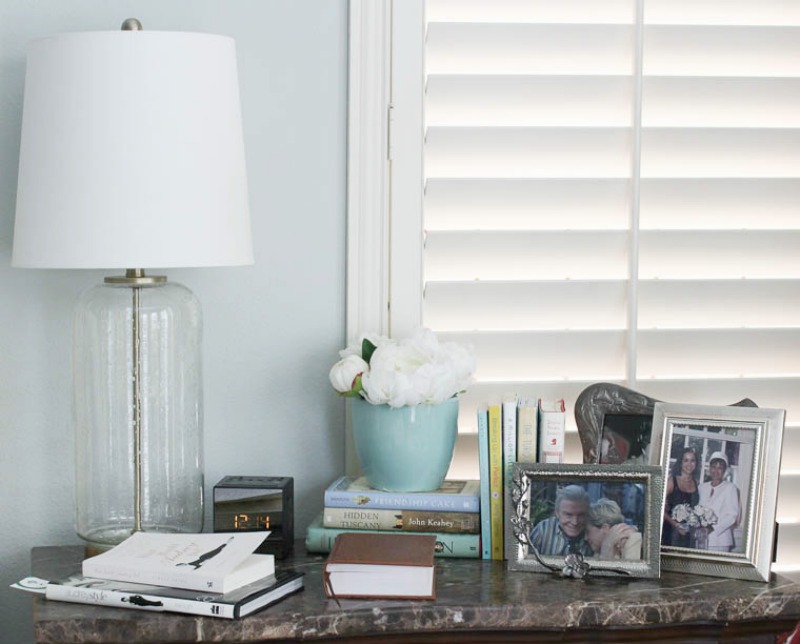 My side of the bed always has the books I'm currently reading. I was in an Audrey Hepburn mode last spring.
I brought down my bed tray to use for other reading material and to hold my morning cup of tea. I love this bed table. Sweet Shark's mom gave it to me when we are packing up her home several years ago. It was in great condition and just needed a coat of white paint to freshen it up. Some pink Gerber daisies in an old bud vase give color and brighten my morning.
I found that pretty blue cup and saucer at a garage sale. There was just one, but I bought it anyway just because I thought it was so pretty.
As a final touch, I added a soft green throw for occasional naps. It's actually a large shawl that I found in McKinney, Texas at a store called My Favorite Room. If you are ever in McKinney, you can't miss this store; it is just beautiful and has the most luxurious home decor. I could live in that store. FYI ~ the website doesn't do it justice.
New Furniture
Remember the one~thing~leads~to~another? Last spring we were making some major changes to our dining room (I shared all the process on the One Room Challenge.) which required moving a piece of furniture from the dining room to the entry, which meant moving our entry console.
5 years ago on a visit to Atlanta, my older daughter and I went shopping (a tradition when mom comes to town). Jenn's next door neighbor owns a fabulous antique/consignment store called Now & Then (Drop by if you get a chance.) The day before we left Atlanta we dropped by the store and I found the perfect piece for our entry. We drove that piece back to Dallas from Atlanta in the back of her minivan.
We moved the console into our bedroom. It fills the blank wall below the painting of Venice that I found at a local antique mall. I never knew how much that space needed something to fill it and balance with our big armoire. Plus it gives me more space for decorative pieces.
The only new accessory is this set of 4 ceramic vases in just the right colors for our home. I found them last week at Wisteria ~ set of 4 for $39. I think they look great as is, but they will be extra nice with a single flower in each. I have a feeling that I will be rearranging this space quite often ~ just because. I'd like to add a live plant for some natural greenery.
We're enjoying our master bedroom spring update. Hope you enjoyed the tour. Don't be hesitant about giving your master bedroom a spring update. A pillow here, a new vase there, fresh flowers, move a piece of furniture, and you're set.
I'll share our master bedroom update for 2019 just as soon as it's complete. I wish you were here to help.