How to Use Pretty Pastels in a Spring Tablescape
Do you ever repeat yourself? After I created this year's spring kitchen, I realized how many elements I reused from last year's tablescape. I have to show you how to use pretty pastels in a spring tablescape.
I love items that can be used in different ways. Many of my dishes are so versatile that they can be used in both kitchen decor and as pretty pastels in a spring tablescape.
You may know that I love the warmer months and I love using pretty pastels, especially pink and aqua, in my home. I couldn't be happier to sit at a pretty table with bright pastels, garden flowers, good friends, and great food.
So if you would like to see how to use pretty pastels in a spring tablescape, then stick around. Take notes. PIN this creation for your own inspiration this year or the next time you need ideas for a party table.
How to Use Pretty Pastels in a Spring Tablescape
If you saw how I freshened up my kitchen for spring, you will recognize many of the items on this spring tablescape.
For me, spring tablescapes call for pastels in pink, aqua, yellow and green, or any variation of those colors from bright to soft and pale. Whether the colors are in dishes, napkins, placemats or tablecloths, or flowers, there is no storage of hues to choose from.
For this spring tablescape, I had some fairly new dishes in aqua that I wanted to mix with pastel dishes that I already had.
Inspiration for Using Pretty Pastels
On a shopping trip at my nearest Home Goods (I was also looking for pillows.), I found the foundation for my pastel spring tablescape.
I couldn't resist this pretty linen tablecloth in aqua. It definitely needs a good ironing.
Then I found dishes in the softest butter yellow.
And, next, a pale pink pedestal bowl was another find I couldn't resist. I thought it would be perfect as a centerpiece filled with flowers.
When I returned home, I laid out the tablecloth and brought all the dishes that I thought I might use in my spring tablescape. In addition to the new yellow plates, I set out my aqua plates and white dinner plates to use as chargers.
I love the pastel ice cream bowls that I've had for quite some time. I wasn't sure about how to use the little ceramic glasses, but I find it's easier to start with too much and then cull out what you don't need.
TIP: Bring out all the items that you think you might use in a tablescape or vignette. It's easier to take away as you start designing.
Pastel Flower Centerpiece
I  stopped at my local grocery store for flowers and chose a variety of pastels. I wanted a centerpiece that looked like I had just stepped out in the garden and cut flowers to bring inside.
We're pretending, friends; our spring flowers are not quite ready for cutting. I'll still be buying spring flowers for several more weeks.
I bought blue hydrangeas (as close to aqua as I could get) and roses in two shades of pink and one shade of yellow. I grabbed some white stock for height and contrast.
I've shared tips for preparing flowers and flower arranging that you might want to check out. I cut off the ends of the stems and placed them in a big pitcher of cool water. At the same time, I soak a piece of florist foam in a styrofoam tub of water to soak up water.
TIP: I have found that the easiest way to cut florist foam is with a serrated bread knife. Cuts like butter.
After a little finagling, I had the foam set in the pink compote bowl and I was ready to add my flowers.
I realized that I needed more flowers so I made a quick trip back to the grocery store for a bunch of tulips.
TIP: My favorite florist told me to give the tulip "an injury". I had never heard of this before. She showed me how to put a scratch in the tulips just below the bloom and this will make the tulip stand up. You learn something new every day.
I still had a pot of daffodils outside that kept falling over so I decided to use them in my arrangement.
TIP: The stems of daffodils are almost impossible to push into the florist foam. Use a wooden skewer. Cut off the skewer to the length you need and push it into the hollow stem. The daffodils won't go into the foam so they don't last as long as the other flowers.
Setting the Pastel Spring Table
While my flowers were resting and soaking up the water, I gave the tablecloth a good ironing and placed it back on the table.
I began laying out the dishes, starting with the white plates as chargers, then alternating the salad plates and adding the bowls in contrasting colors.
To start a spring lunch menu, I would use the bowls to serve a chilled soup, such as puréed pea or asparagus soup.
Then I added our sterling silverware in Buttercup.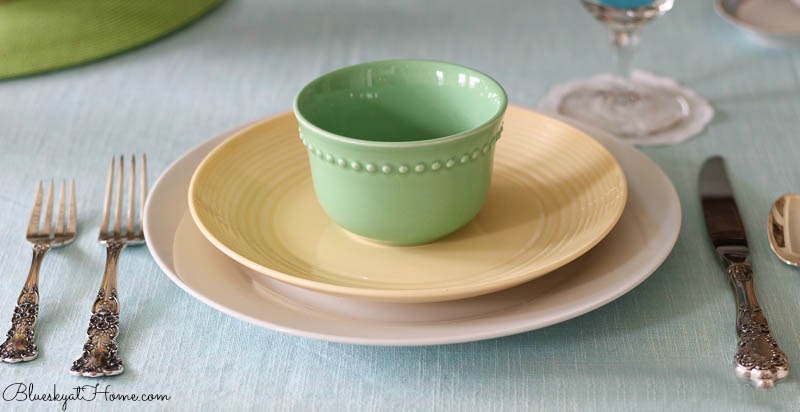 Next came my antique mall Fiesta glasses which are in perfect shades of pastels. Finding those glasses and the pitcher that came with them is one of my all-time favorite finds. They have been used for so many parties and Sweet Shark and I use them as margarita glasses.
Each glass sat on a round paper doily.
I already had on hand about a dozen napkins in bright pastels that would be a perfect complement. (Thanks to Sweet Shark who found my box of spring napkins and placemats under our bed. I was freaking out after I looked everywhere and couldn't find them. He's my hero.)
With a simple fold, I placed my bright pastel napkins inside the glass, again contrasting the napkin color with the plate and bowl color.
Fortunately, I had serving pieces on hand that I knew would be lovely in this pastel tablescape.
This pink and white pitcher from Home Goods is one of my favorites. I recently found a recipe for a citrus lemonade that I think will be delicious served in the pitcher.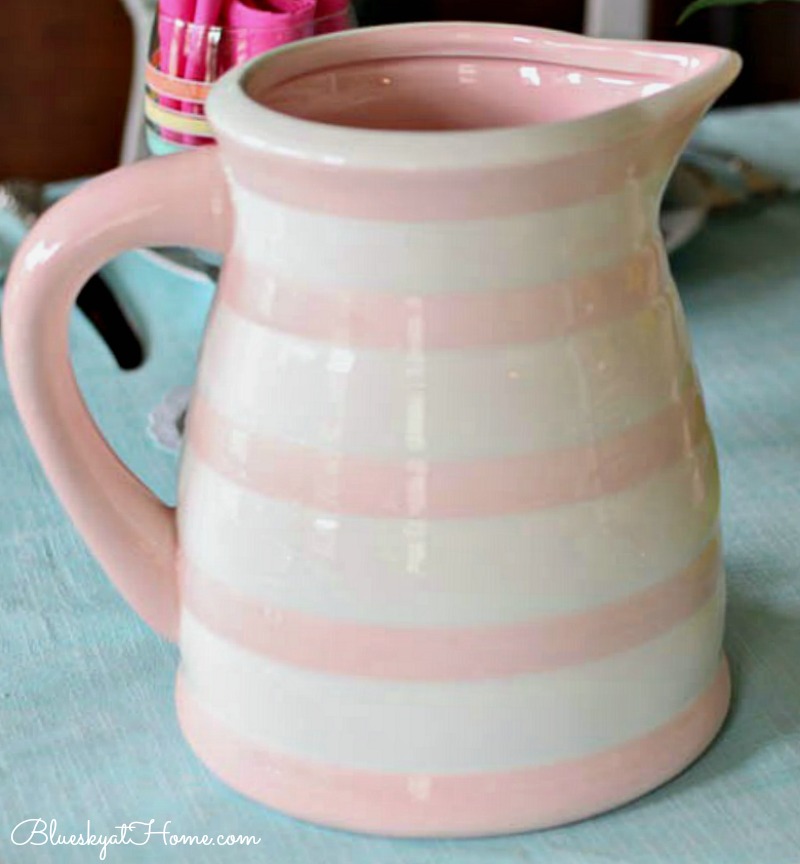 This cake plate with its pretty pale blue rim is from the Queen of Hearts Antique Mall in Atlanta.
The sweet little sauceboat with its own little spoon was a flea market find here in Dallas. I think it would be perfect for a lovely sauce for some mini cakes on the cake stand.
The Pastel Garden – Flower Centerpiece
Here it is – the crowning centerpiece of the table.
After setting it on the table, I decided the vase needed something under it and added a pastel green round placemat. I have several of these placemats in a variety of colors. Much better.
We have been collecting oyster plates recently and I thought this pretty pink flowered one would be ideal for nuts and candies. (A little early Easter sweet.)
That addition completed how I used pretty pastels in my spring tablescape. Enjoy the view.
Resources for My Pastel Tablescape
*Aqua tablecloth: Home Goods
Aqua, *yellow plates and *pink pedestal bowl: Home Goods
Pastel bowls: Pottery Barn
Pink and white pitcher: Home Goods
Green placemat: Pier 1
Pastel napkins: Crate and Barrel
Fiesta glasses: antique mall
*New
Now have fun and take a look at today's spring pastel tablescape.