9 Tips to Freshen Up Your Spring Kitchen Decor
Spring is almost officially here. Do you need spring kitchen decor ideas to freshen up your kitchen? Yes, ma'am, every year. I have 9 tips to freshen up your spring kitchen decor for the season.
Since we spend so much time in our kitchens, we definitely want to have a fresh space to work in. Are you ready to freshen up your kitchen for spring?
Last weekend, as I was straightening up the kitchen, I realized it was time for a refresh. Since the new year, things have gotten a little messy. I hate to admit that but piles have a way of – well, piling up.
I could have taken a picture of the piles of magazines and newspaper recipe clippings, but I'm too embarrassed. Just trust me – they are there for another day or two.
Regardless, I am so ready to give our kitchen a fresh, crisp, and colorful look for spring. I know that I will use many of the spring decor items that I have used in the past.
To get going on this year's spring kitchen refresh, I needed a little inspiration. I decided to take a look at my spring kitchen from a couple of years ago. It was one of my very favorites.
My plan was to create pretty spring kitchen decor without shopping for new items. This was a priority – mainly because I didn't have time to shop.
With that in mind, let me share my 9 tips to freshen up your spring kitchen decor.
This is great timing because today is Celebrate the Holiday Blog Hop that I host every month. This month, we are celebrating anything to do with spring or Easter.
These ladies are amazing home decorators, DIYers, and cooks. I know you'll love the ideas we share.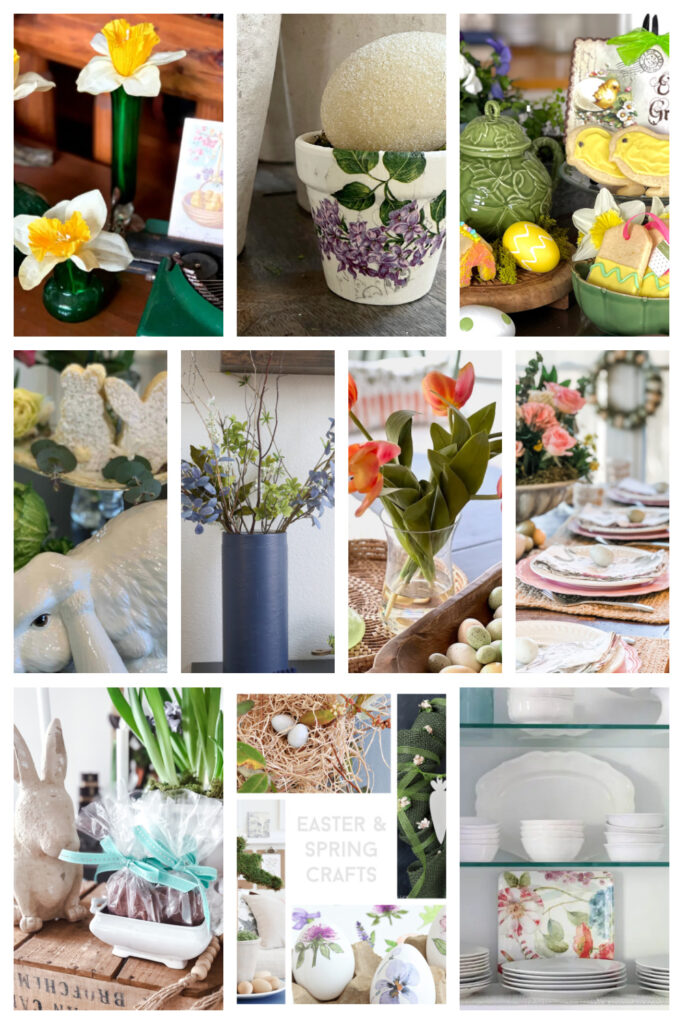 If you are joining me from Kristin of White Arrows Home, I'm so glad you are here. Isn't Kristin's arrangement lovely? The complete list and links are at the end of this post.
Spring Kitchen Decor Ideas
This post contains affiliate links to products used in the creation of this project. If you should order any item from this site, I may receive compensation, but you do not pay a penny more. Your purchase is greatly appreciated as it helps support the continued publication of this site.
TIP #1: Give yourself a specific amount of time for any home decor task. I gave myself a few hours to get the kitchen ready for spring.
I felt like I was on an HGTV show with just a few hours to design a kitchen for spring using just what was already in the house. When I finished, I felt like I won the prize.
TIP #2: For uniformity and coherence, decide on a color scheme. Mine was predominantly pastels with a little bit of blue chinoiserie.
TIP #3: You may have a specific style for your kitchen (farmhouse, modern, traditional, boho). It's OK to mix styles. Have one dominant style and 1 or 2 accent styles. Use as many items as you already have on hand.
My style is traditional with a little farmhouse for accents.
Before You Start Styling a New Spring Kitchen
Our kitchen is basically a very wide galley kitchen with a built-in island at the end. The kitchen is adjacent to the living room and the breakfast room, creating one large space. We are also blessed with tons of natural light.
I try to keep our counters as minimal as possible – most of the time. It doesn't always stay that way!
TIP #4: A new season is a perfect time to completely clear off and clean the counters before restyling them. It's also a good time to wipe down the cabinets and clean any glass that you have.
Oven-Side of the Kitchen
This side of the kitchen is the workhorse side. In addition to being the area that gets spring kitchen decor, it houses:
the double ovens
cooktop
refrigerator
pantry – on the far left
glass-front cabinets
lots of storage
The only cabinet in the kitchen is on the far lower left. All the other storage is drawers. The right side of the cabinet houses our trash can. The left side holds my salad spinner and colanders.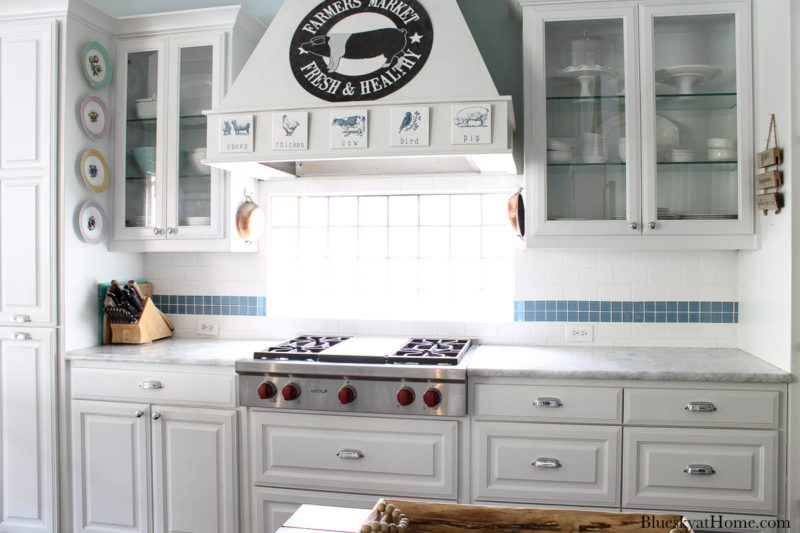 TIP #5: Gather as many spring decorative accessories as you think you might use; actually, gather more than you think you will use. This way you will make fewer trips back and forth to storage areas to get spring dishes, art, and other decorative items.
TIP #6: Shop other rooms in your home for items to use in the kitchen. This practice may result in a totally new look you had not thought of before.
NOTE: Everyone loves this rectangle wood tray with beaded handles. I bought it at Kirkland's several years ago. I have searched for another similar one and this tray is as close as I could find.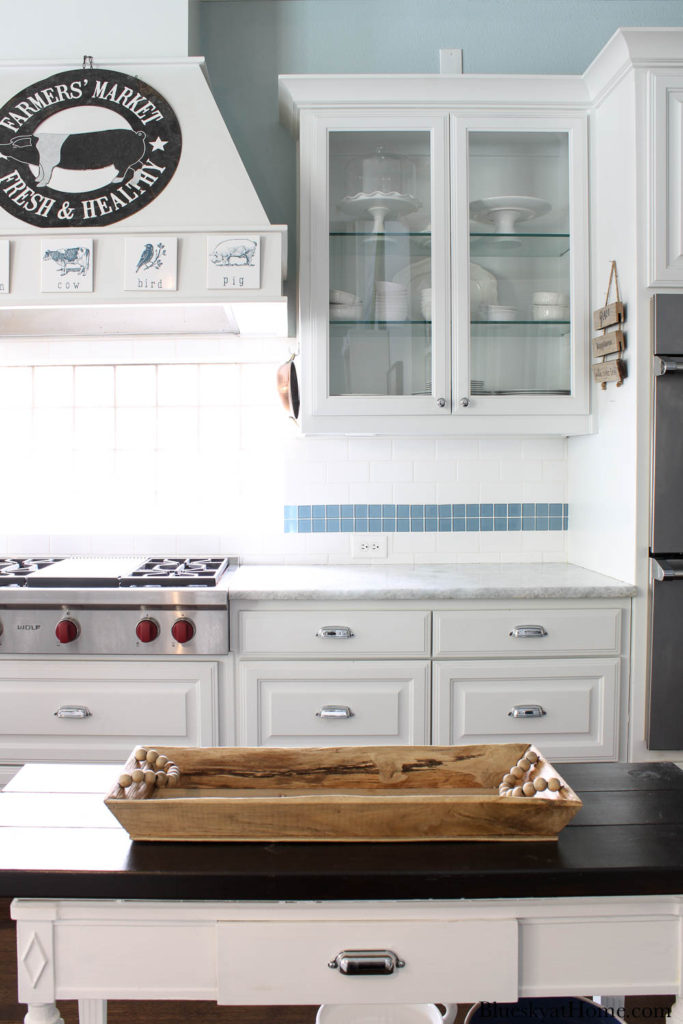 TIP#7: If you have glass-front cabinets, spring is a great time to clean them inside and out. Kitchen grease and dust can build up on them. You want them to shine and not show smudges or fingerprints.
Fresh Color for Your Spring Kitchen Decor
To add spring kitchen decor, we are going to start on this side of the kitchen – the section between the oven and cooktop.
I knew that I would add spring touches by using colored dishes in pastel colors. Setting the dishes on a cake stand adds height.
I also wanted to incorporate the stenciled galvanized pitcher that I made a few weeks ago. Adding faux pink peonies gives more color and that sense of nature.
I used two vintage wood cutting boards for warmth and contrast. The "welcome spring" cutting board was also a DIY project.
I love the aqua ceramic colander I found at HomeGoods a few years ago. It usually holds grape tomatoes. The sweet small jar from Anthropologie holds my Sweet Leaf sweetener. (I really cut down on iced tea a year ago, so I don't use as much of the sweetener, but I love the container.)
I love the contrast between the ceramic dishes and natural wood.
TIP #8: Like other rooms in your home, the spring kitchen decor should also play up textures and patterns for interest.
I added faux pink tulips to the hanging basket and the signs I made from scrap wood.
In the glass-front cabinets, I added pops of blue using some of my vintage blue mason jars. I purchased the floral melamine platter at Tuesday Morning a couple of years ago. (Sadly, my local Tuesday Morning recently closed.) I found it in the butler's pantry last week – I forgot I had it.
Here are some blue mason jars similar to mine. I also love these blue glass vases.
We use the white plates and bowls every day. Our everyday dishes are Manior by Villeroy and Boch (I still love it after 25 years.), but some of the plates are from World Market.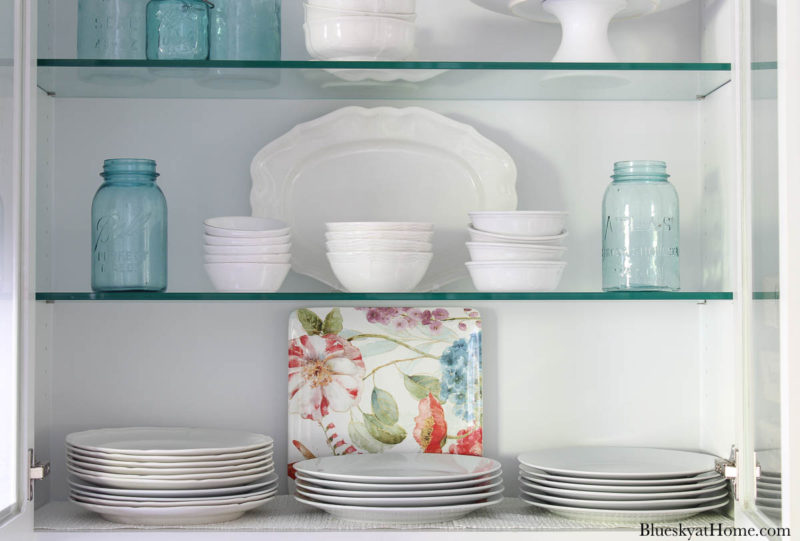 Spring Kitchen between the Cooktop and Pantry
This kitchen area is where we keep our knives, silverware, and basic spices. Again, I used more cutting boards for display. My salt, pepper, garlic, and herbs de Provence are stored in my favorite pastel cups from Pottery Barn.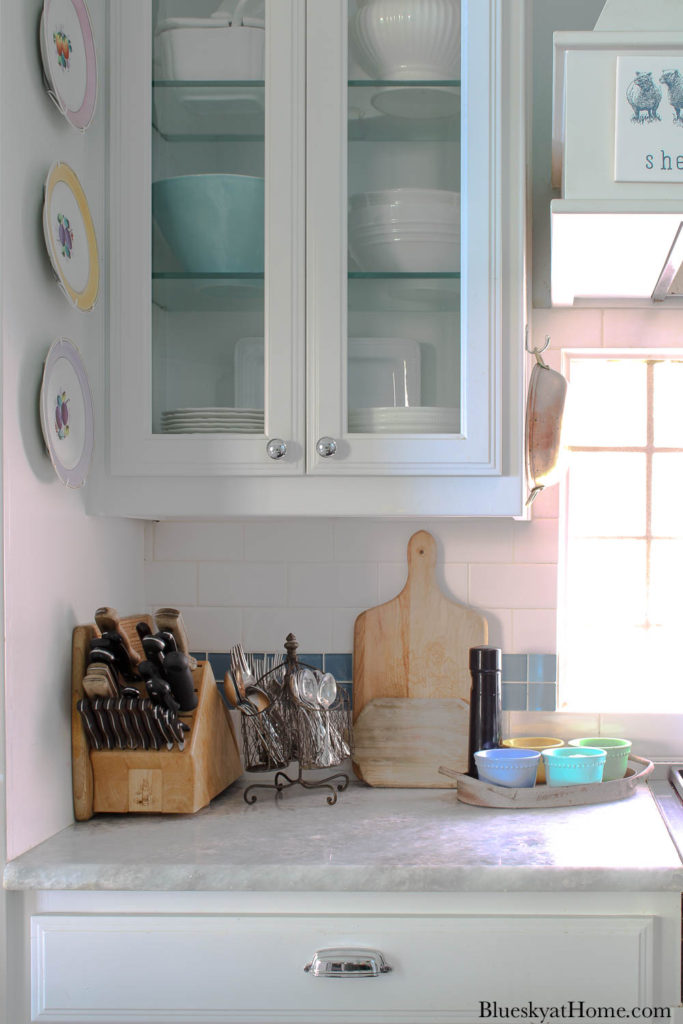 An oval wood tray keeps them all contained. My vintage plates with pastel rims are displayed on plate hangers next to the pantry. You also have a glimpse of the farmhouse ceramic tiles I made a few years ago. That's another touch of farmhouse style.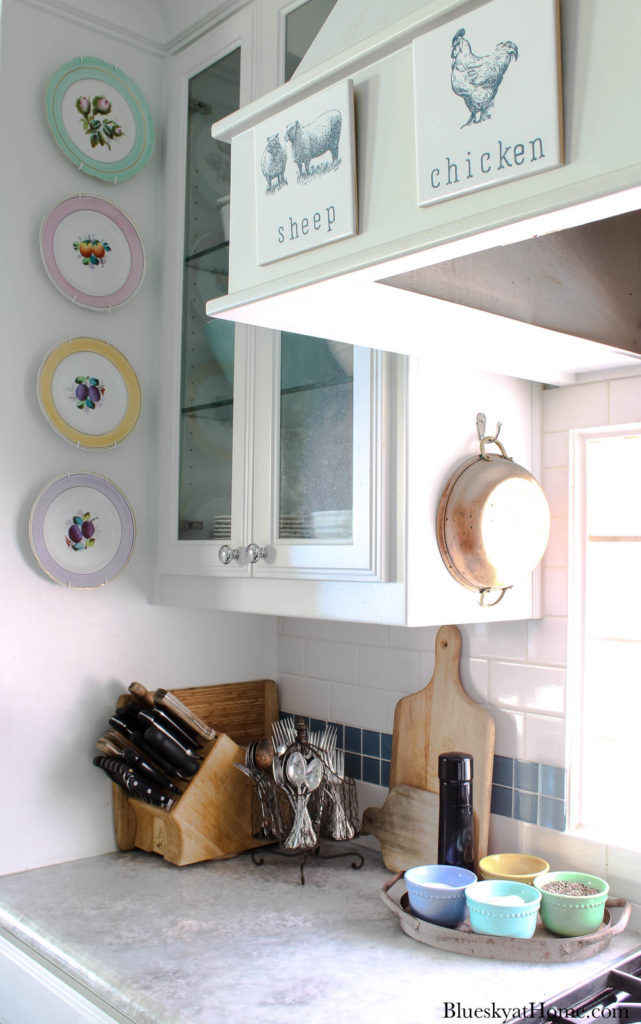 More of our everyday white dishes and serving pieces fill this glass-front cabinet. I used one garage-sale aqua bowl for a pop of color. I bought the wire silverware caddy and vintage cutting boards at a great consignment/vintage store in Atlanta a few years ago.
Except for at Christmas, the farmers' market sign provides a big focal point.
From this view, you can also see the pantry. The four cabinets pull out for tons of storage.
Center Console Table Island
In the middle of the kitchen is a console table that we converted two summers ago to a mini-island. It's a place for storage and display.
For spring color, the bottom shelf houses several pastel bowls for fruits and vegetables.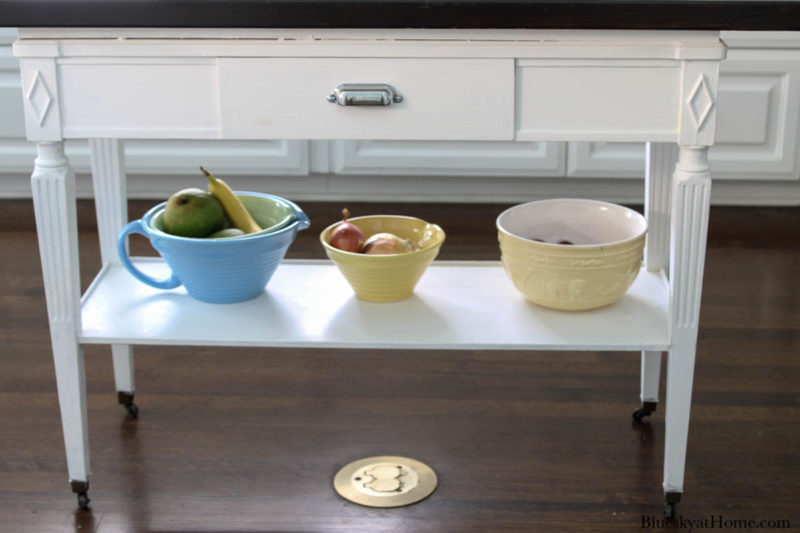 I bought the set of pastel mixing bowls at a flea market during our home remodel. They were the inspiration for the color palette.
The yellow bowl is a flea market buy. It's actually a Willimas-Sonoma bowl.
Normally, you would not see the electric outlet on the floor. We have a woven rug with a spring color palette that we had made several years ago in New Orleans. At the time I was designing this spring kitchen decor, Nola was a brand new puppy and we were not putting the rug out.
Why is that plug in the middle of the kitchen? When we bought our house, there was a large island that took up so much space. We removed it during the remodel and the contractor suggested putting the brass cover over it.
On the top of the mini-island, I used the floral terra cotta pots I made with decoupage last spring topped with boxwood balls.

The pots are simple and colorful and add a springy pattern. The boxwood balls add a needed pop of green.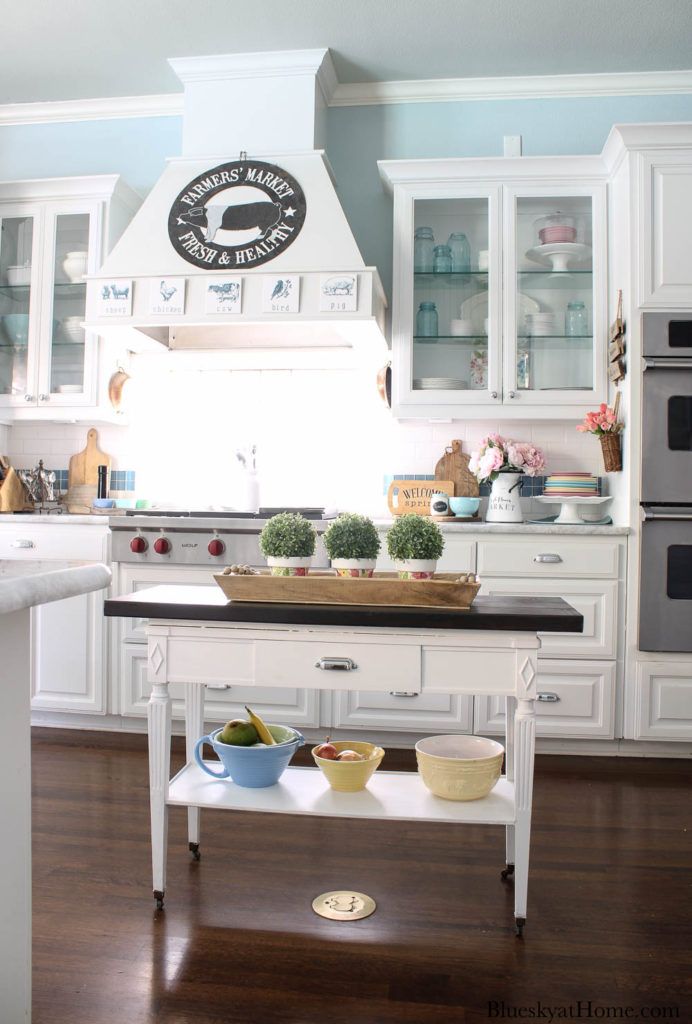 The Other Side of Our Spring Kitchen
This side of the kitchen is more for storage and display. Starting in the corner, I added another cake stand to hold the fiesta glasses (found at a resale shop years ago) that we use quite often in the spring and summer.
The rest of my Pottery Barn ice cream cups continue the spring colors of the glasses. I bought them several years ago so they are no longer available, but I found this other pretty set of pastel ice cream bowls.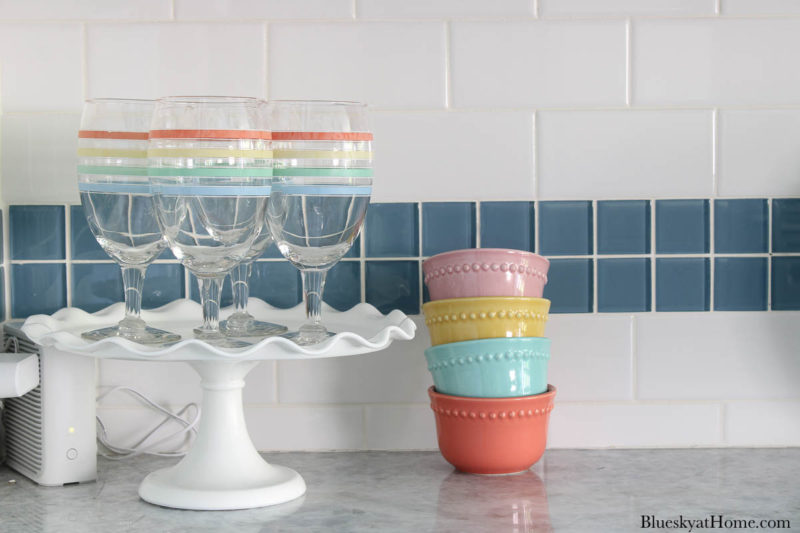 Next to that area is one of my favorite flea market finds – this shallow blue and white farmhouse bowl. A few of my favorite cookbooks provide a functional place and pretty color.
These days, the Mud Pie cookie jar holds Nola's favorite treat – Honey-Nut Cheerios.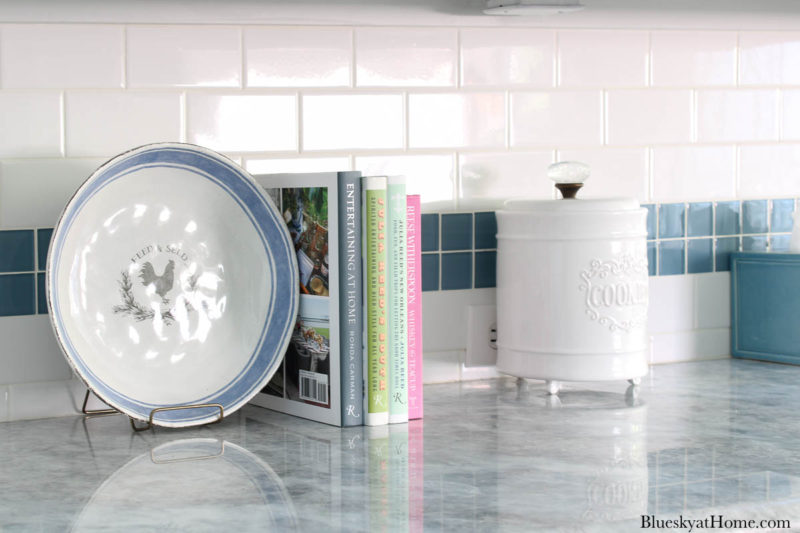 The pretty container for the Michel Design Works lotion I bought is on the other side of the cookbooks. The box is as pretty as the bottle of lotion.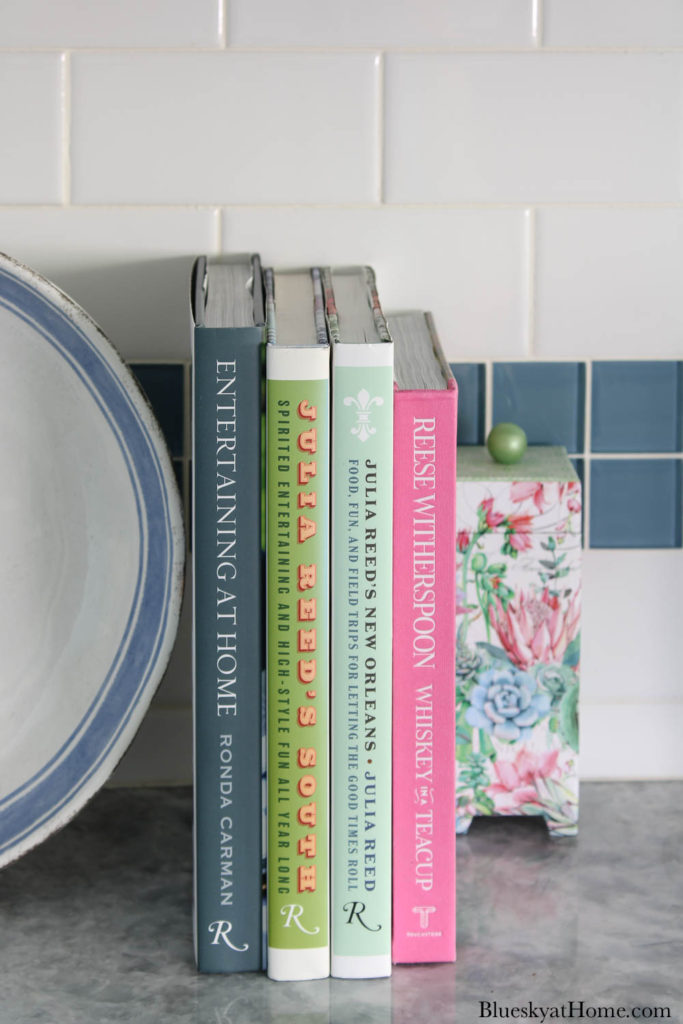 This side of the kitchen may be my favorite. The counter still has plenty of space for serving and extra prep. Our microwave drawer is in the lower cabinet.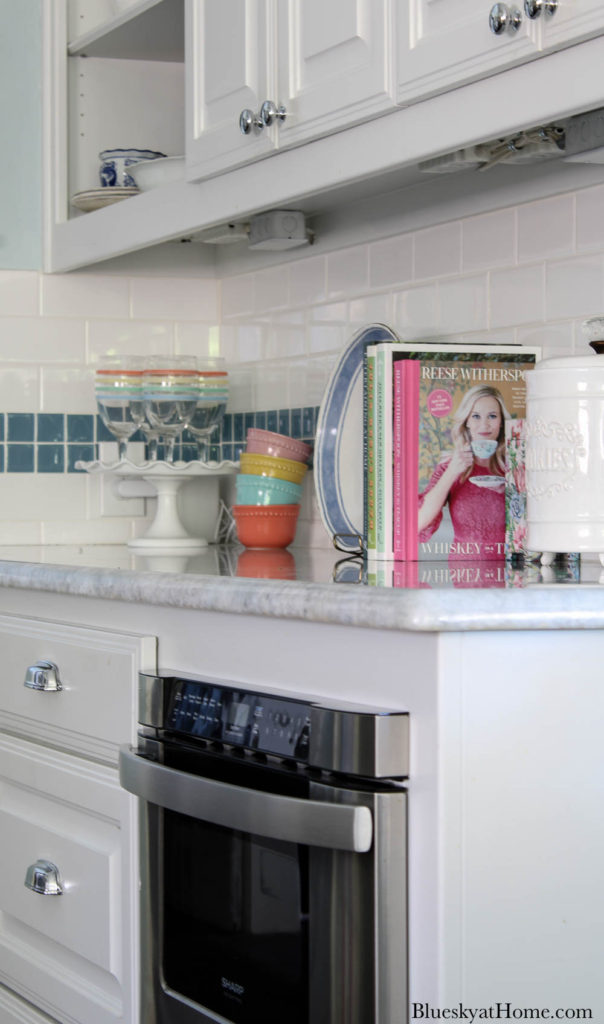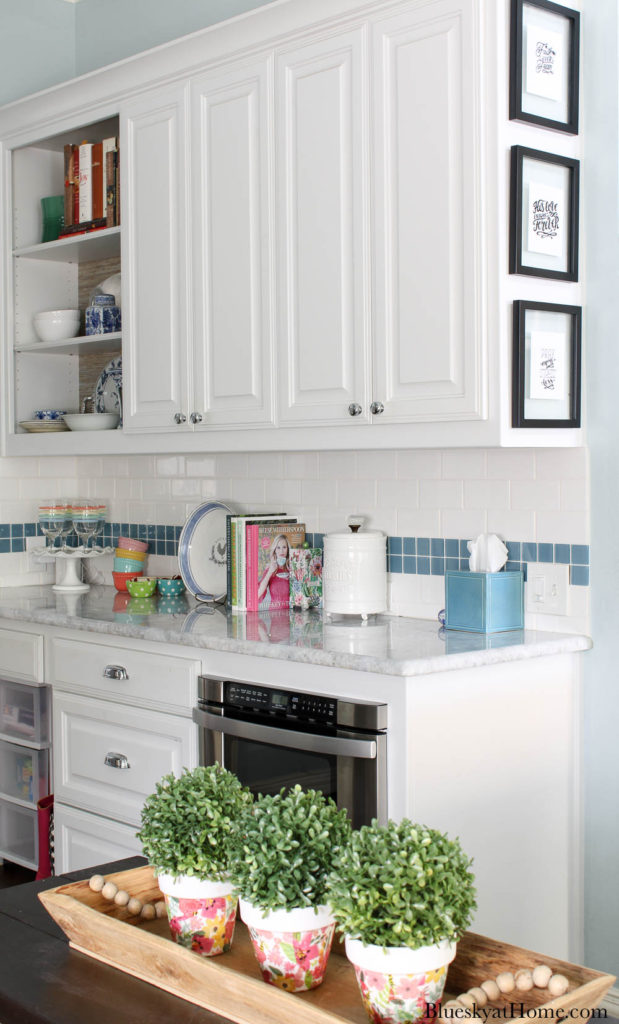 In the open shelving, I gathered some of the blue and white pieces that I love. I have tripled the number I have in the past few years.
I move them around all the time. Here you can see some of them on the vaisselier in the dining room.
Spring on the Island
Our large island houses the sink and the dishwasher and a bank of drawers. This is a place for food prep, hand washing dishes and letting them dry. I like to keep it very clean and uncluttered.
We always have lemons, limes, and oranges for flavoring food and making cocktails. Citrus is a great way to add color to your kitchen decor. The fruit always looks so pretty in a white bowl like this one.
A friend who knows I love pink gave me a small towel from Anthropologie as a gift.
TIP #9: Don't forget that decorative dishtowels can add color, pattern, and sometimes a sense of humor to a kitchen.
On the other side of the sink, I like to keep hand soap and lotion. My favorite brand is Michel Design Works, as much for the lovely scents as the beautiful designs. This new one is called Pink Cactus. I thought the design said, "Spring".
I found this soap and lotion set with fresh spring packaging and scent.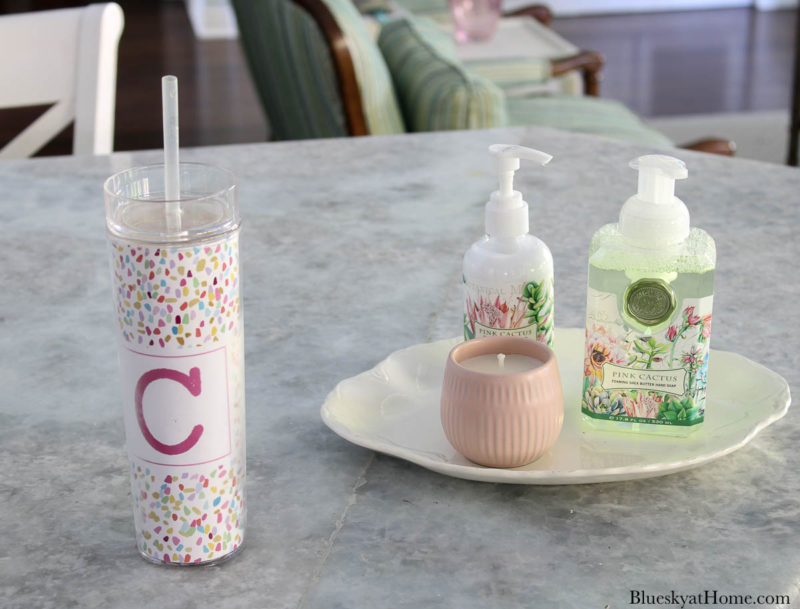 The small platter is an estate sale find. The little pink candle is from Target.
I used to drink sweet iced tea all day long. On a visit to Hobby Lobby, I was minding my own business when this grown-up sippy cup called my name. I couldn't resist the cute pattern that had my initial on it. Now it always has water in it.
Right now on the breakfast room table, my favorite pink and white stripe pitcher from HomeGoods holds faux white hydrangeas. Here's a similar pink and white stripe pitcher.
Do you need faux white hydrangeas? Try these pretty ones.
I am loving our fresh kitchen decorated for spring. It is clean, crisp, and colorful. All the things I love – bright pastels and my vintage dishes and collectibles – are in this spring kitchen.
The only thing new for my spring kitchen is the soap/lotion combo. It's not exactly decor, but it does add to the color scheme and adds a floral design.
Looking back at this favorite spring kitchen decor, I can't wait to refresh our kitchen for this year. I know it will feel so good to have our kitchen decorated for spring. For Easter, all I need to do is add some bunnies.
I hope you got lots of good ideas for your own kitchen.
Spring Kitchen Decor Items
Here are some of the items I used in my spring kitchen plus several others I would definitely love to see in a kitchen dressed for spring.
If you love how I freshened up my kitchen for spring and want to have these ideas for your own kitchen, then please PIN this spring kitchen tour.
And now, please visit all the talented ladies sharing their ideas for spring and Easter. Kate of Southern Home and Hospitality gets the blog hop started next with a spring flower pot project.