3 Ways to Decorate Terra Cotta Pots with Decoupage
Do you ever find a new DIY skill that you really enjoy and want to do more of? I'm learning the beauty of decoupage and I'm going to show you 3 ways to decorate terra cotta pots with decoupage.
I have to admit that I love to decoupage. I've discovered the perfect items to decoupage ~ terra cotta pots. After checking my other supplies, I chose three ways to decorate terra cotta pots with decoupage.
I remember my mom decoupaging wood boxes with beautiful paper and making them into purses. People would stop her in the grocery store and offer to buy her purse. She would dump the contents of her purse into a grocery bag and sell them her purse. She was so talented; today she would have been a blogger and had an Etsy shop.
It seems that recently more people (or maybe just me) are rediscovering the art of decoupage. There are tons of projects on Pinterest. After I tried my hand at decoupaging Easter eggs and styrofoam balls a few weeks ago, I fell in love with this almost no~fail craft.
This terra cotta decoupage project is one of my favorites. I hope it will be yours, too.
The other nice thing about decorating these terra cotta pots? They make great gifts for Mother's Day, a birthday gift or a hostess gift.
DECORATE TERRA COTTA POTS WITH DECOUPAGE: 3 WAYS
This post contains links to products used in this project. If you should order any product through this site, I may receive compensation, but you don't pay a penny more.
Last week on one of our daily walks, I picked up 2 nice terra cotta pots on the curb in front of my neighbor's house. (It was bulk trash pick~up week.)
Just FYI, I also picked up a cute cabinet, a wooden chandelier, another decorative pot, and 4 cool wine crates. Looking on the side of our house where we keep a variety of pots and containers, I found 3 more pots. I was set: 5 containers used in 3 ways to decorate terra cotta pots.
SUPPLIES FOR THE DECOUPAGE TERRA COTTA POTS
All decoupage uses the product called ModPodge. It's basically a glue, a sealer, and a finisher all in one. I used the same basic supplies for all 5 pots:
Paint to seal the terra cotta pots. You can use acrylic paint. Because I have plenty of Chalk Paint in white on hand, that's what I used ~ Rescue Restore Paint from A Makers' Studio to paint and seal my pots.
ModPodge in Gloss Finish ~ that is one of the basic types in the line and what I had on hand.
foam (sponge) brush for Mod Podge
paintbrush for paint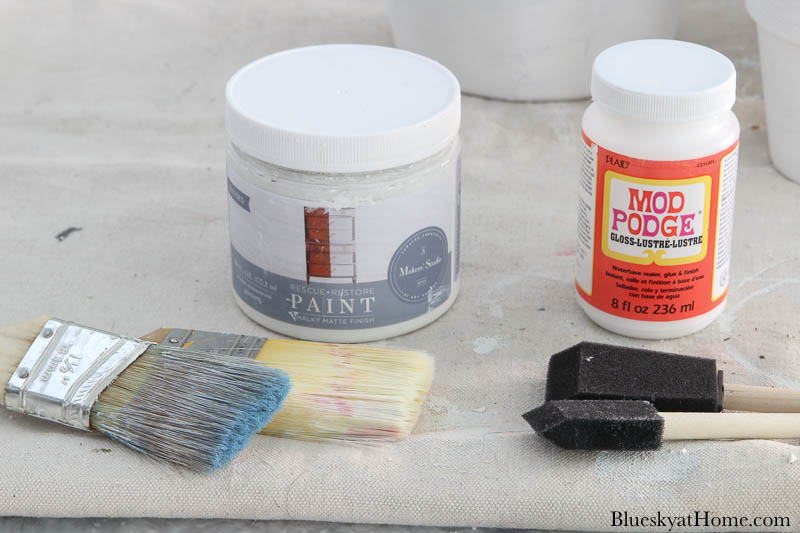 How am I going to decorate the same type of container using the same craft process in 3 different ways? Three different materials.
First, I painted all 5 terra cotta pots with 2 coats of the Rescue Restore paint. Since I don't plan to use these pots outside, I didn't seal them first.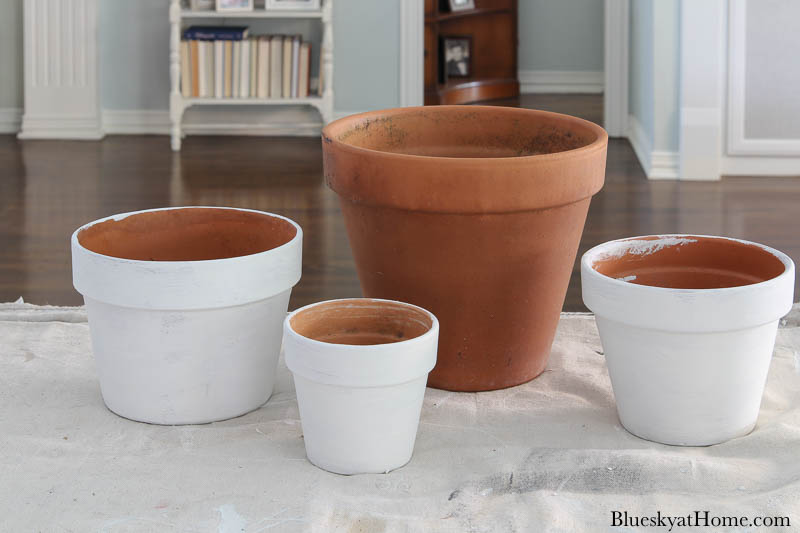 DECORATING THE POTS WITH NAPKINS AND MOD PODGE
I used paper cocktail napkins for my Easter egg and decorative ball project. For the terra cotta pots, I wanted a spring floral theme, and fortunately, I had two different floral patterns in shades of pink, green, yellow, blue, and purple.
DECORATING THE SMALL TERRA COTTA POT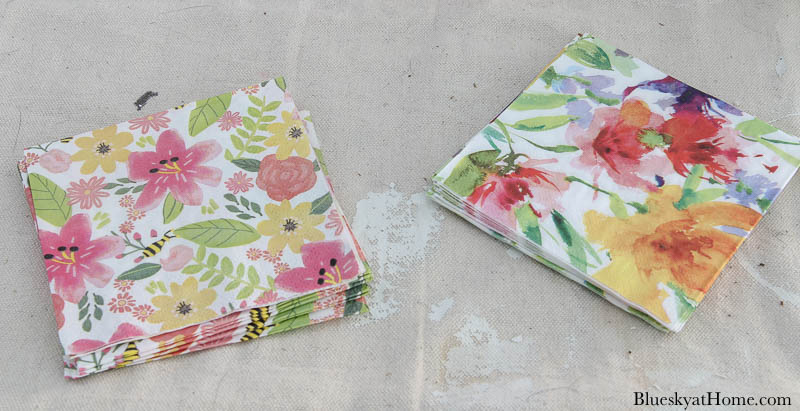 I started with one of the smaller terra cotta pots. I separated the two layers of the napkin, discarding the back white layer.
Then I tore the napkin into pieces about 2 ~ 3~inch pieces. Applying the ModPodge with the foam brush in small sections, I added napkin pieces until the entire body of the pot was covered. I left the white rim as is.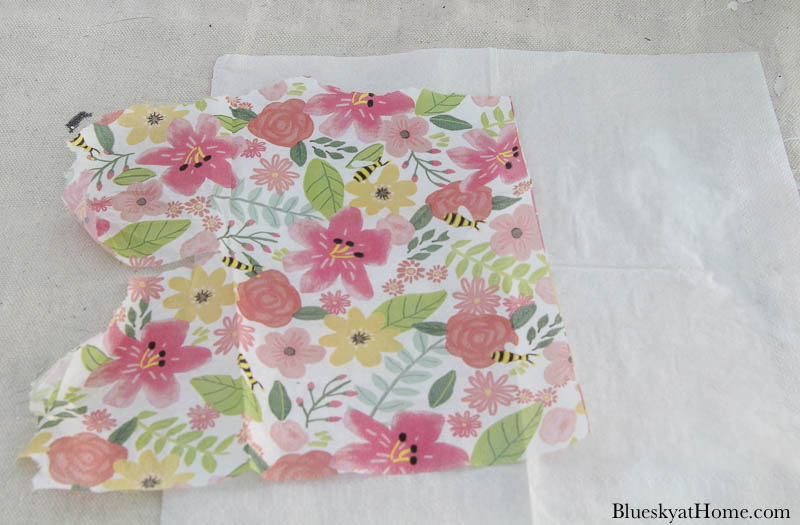 You'll notice that the paper looks a little wrinkled. That is normal for using the paper napkin. It smooths out when you apply the sealer coat.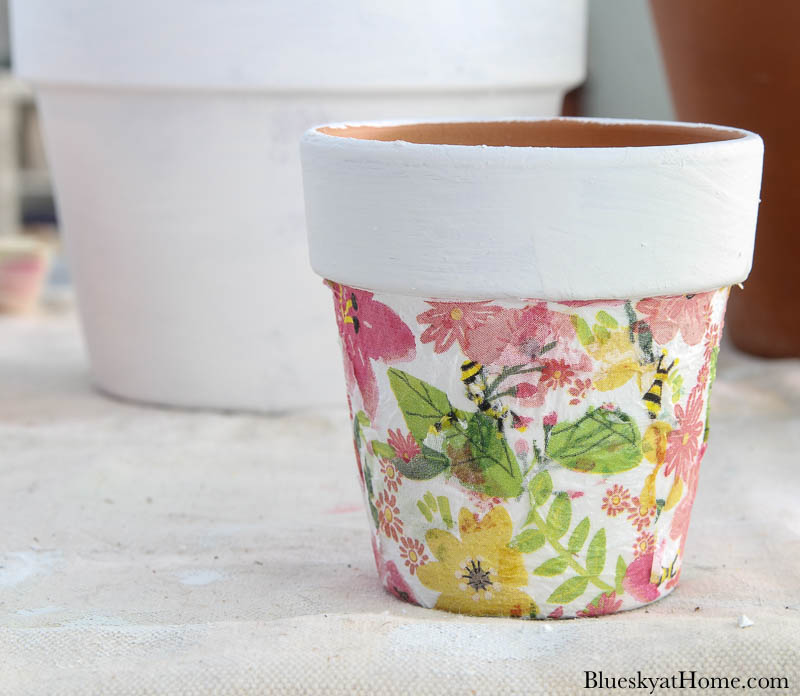 DECORATING THE LARGE POT WITH NAPKINS
For the larger pot, I repeated the process but used a slightly different pattern. Although the patterns are slightly different, the color scheme is very similar.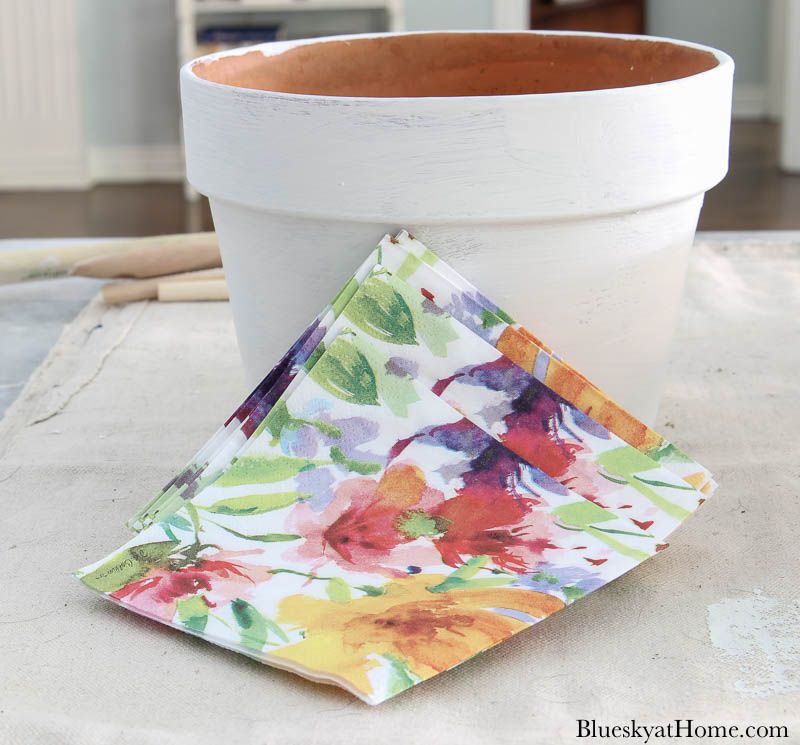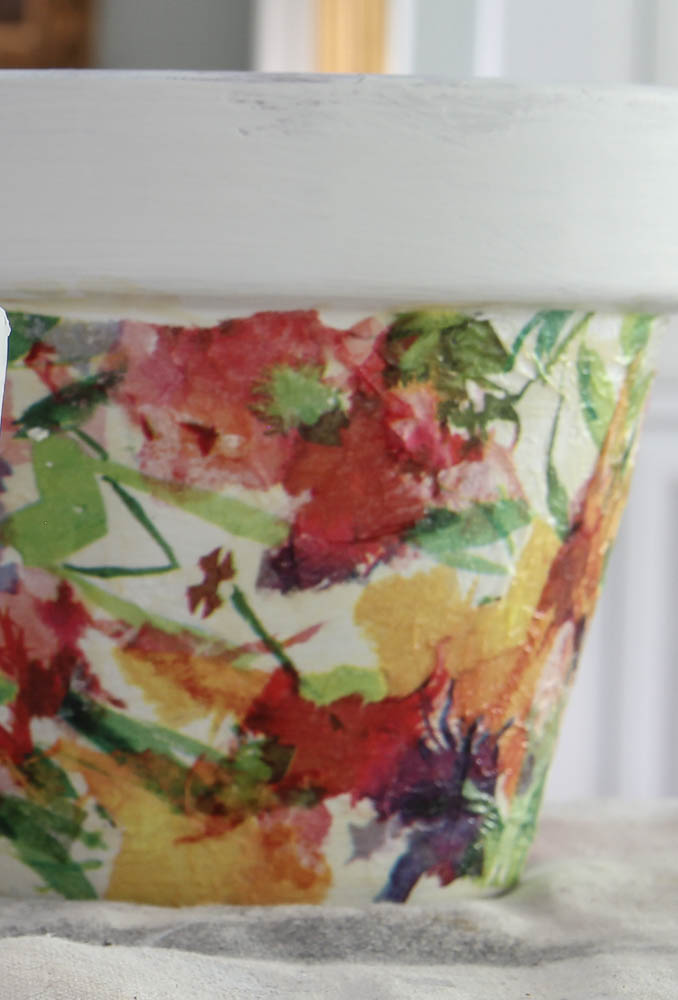 DECORATING THE POT WITH SCRAPBOOK PAPER
For a different look, I searched my scrapbook paper for another floral pattern. Just so you know, I don't scrapbook, but I love paper and use it for Cricut and other paper projects (place cards, name tags, gift tags, cupcake toppers).
I found a pattern of flowers in light and dark shades of pink with some green leaves and pops of blue. Since it was partly used, I thought I could cut out the flowers and have enough to partially cover two pots.
I cut out the flowers in random shapes, sometimes including leaves in different sizes. and bits of blue.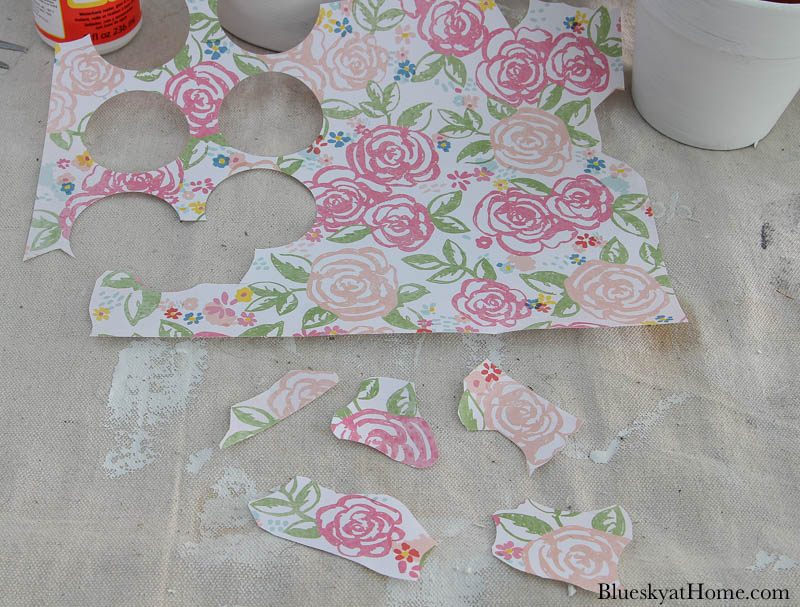 Next, I applied the Mod Podge in about 3~inch areas and placed a piece of scrapbook paper on the pot, randomly spacing them. Again, I left the rim as is. Again, I decorated a small terra cotta pot and then a medium size one.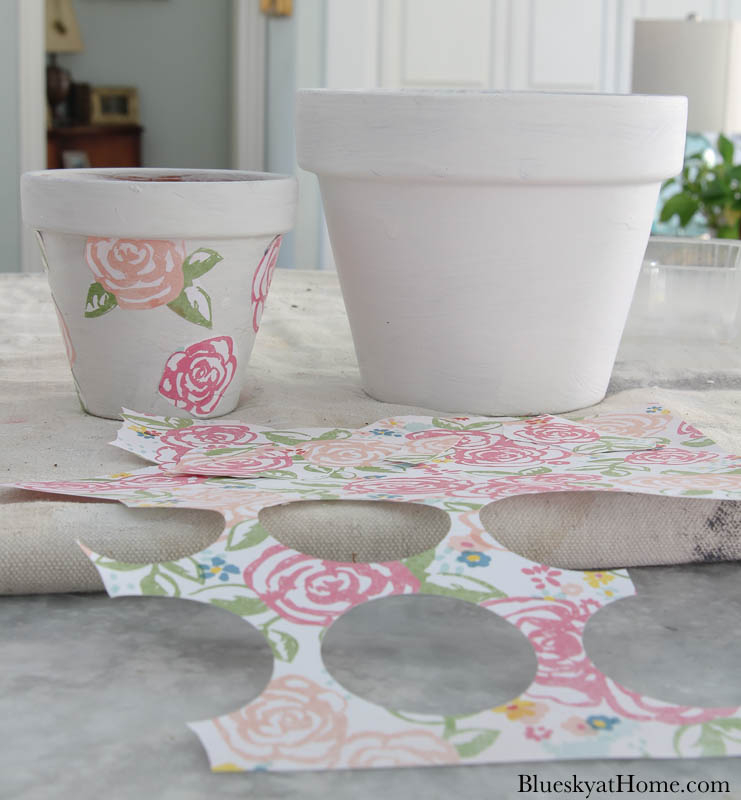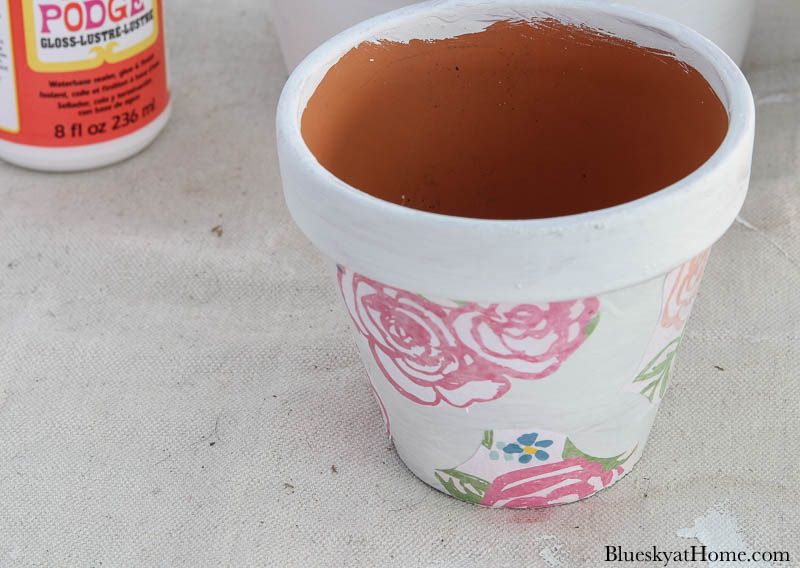 You can see that the Mod Podge has a slightly filmy look. When the Mod Podge dries, it dries clear.
Yea, this approach worked great. The vibe is still floral, but with a completely different style. Since the scrapbook paper is thicker than the paper napkin, you need to be sure to get the edges of the scrapbook paper completely glued down.
DECORATING A TERRA COTTA POT WITH FABRIC
For a totally different material, I thought I would try fabric. I went through my fabric boxes and found some "fat quarters" in pretty shades of blue in three different patterns. Since I had never used fabric for decoupage, this was a bit of an experiment so I chose to use the last small terra cotta pot.
I cut the three different patterns into small pieces in random shapes. This is a light cotton fabric and it didn't unravel at all. I learned later that you can apply Mod Podge directly to the fabric and let it dry before decoupaging it to another surface.
Fortunately, I didn't have a problem with this fabric. Using fabric to decorate terra pots gives you more design possibilities in terms of color and pattern; plus, you can use all those fabric scraps you have.
Applying the fabric was as easy as applying scrapbook paper. As you can see, decorating the terra cotta pots with decoupage ~ meaning Mod Podge ~ was super easy.
After I finished applying the three materials to the pots, I let them dry for several hours.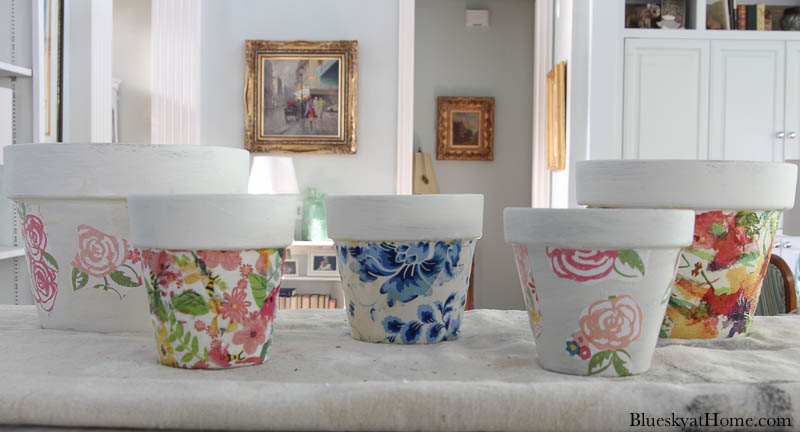 Then I applied a sealer coat to all the pots and let them dry overnight.
EMBELLISHING MY TERRA POTS
Was I done with my decoupage terra cotta pots? Not at all. I embellished them.
Faux peonies were the icing on the cake for my larger terra cotta pot with scrapbook paper. Do you notice that there is a little yellow tint? I was running out of my Gloss Mod Podge so I mixed in some Light Antique Mod Podge that I had in my GLUE box. I would prefer that it all looked glossy white.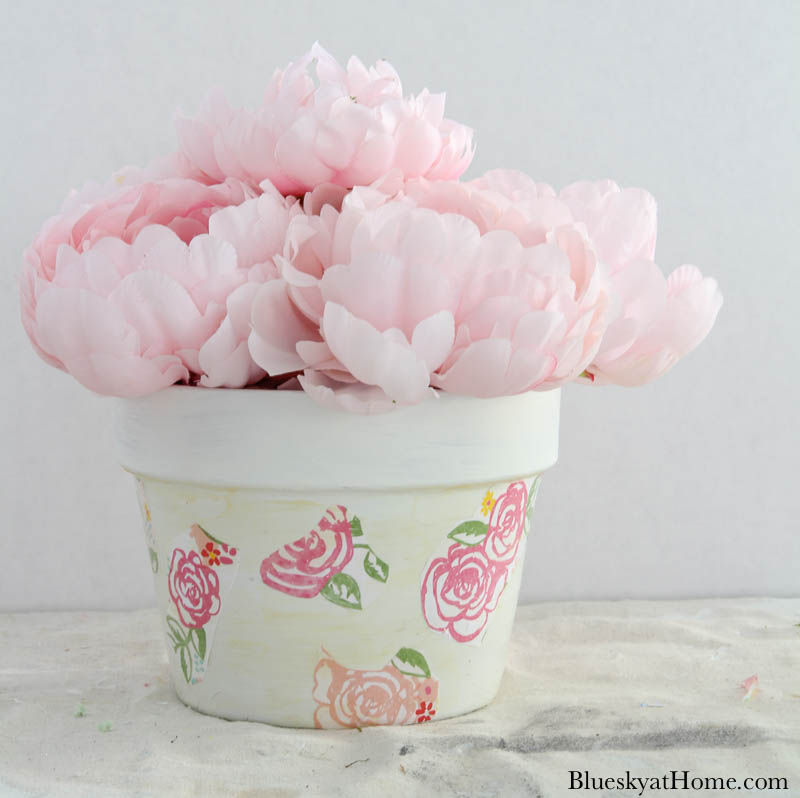 I filled the smaller pot with peony buds. To complete the flowers, I stuffed in some Super Moss for a finished look.
For the larger pot with paper napkin decoupage, a mix of tulips seemed perfect. I love the combination of floral napkin colors and the pastel tulips.
These terra pots decorated with decoupage can be used for practical purposes, such as holding colored markers and pens ~ a pen bouquet!
To go with my blue fabric terra cotta pot, white peonies seemed the perfect pairing. I've been using blue and white so much lately since I've been collecting more blue and white accessories in the last year. You can't beat the classic look.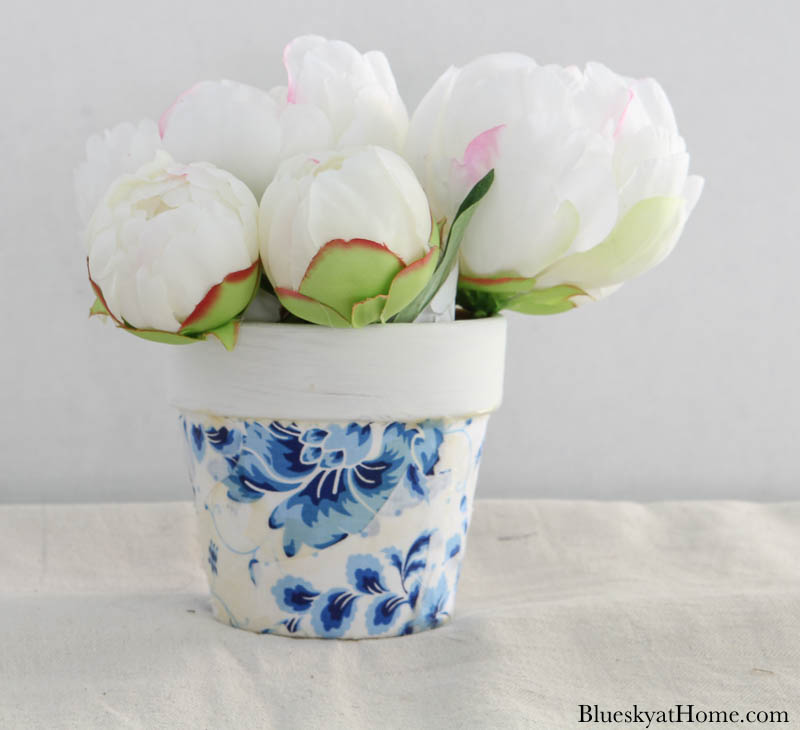 USING MY DECOUPAGE TERRA POTS IN OUR HOME DECOR
These pots and their contents are too pretty not to use as accessories in our home.
Here on the kitchen island. I love how the decoupage pot and the tulips look with my Michel Design Works hand soap and lotion.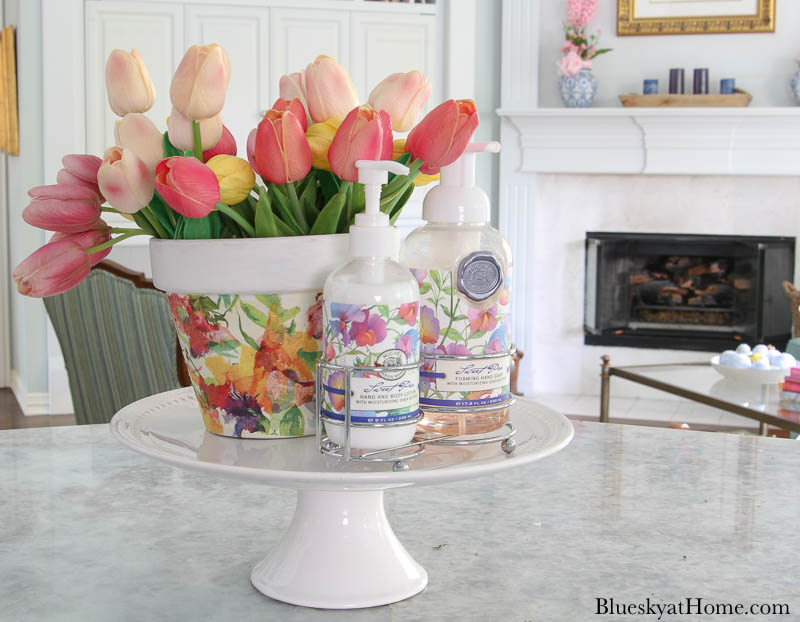 On our breakfast room table. The blue and white pot fit snugly inside my large apothecary jar sitting on my new white cake stand.
In the living room. Pink peonies worked perfectly in my pink floral pot on a stack of pink coffee table books. It pairs nicely with the blue bowl filled with my first decoupage project ~ styrofoam balls.
The small pink floral~decorated pot with peony buds fits on the side table by our sofa.
And finally, the small floral napkin terra cotta pot is a great practical and pretty addition to my office.
As soon as I can get my hands on a couple more pots of this size, I going to decorate more terra cotta pots with decoupage for my other markers. Such a cute way to dress up your office.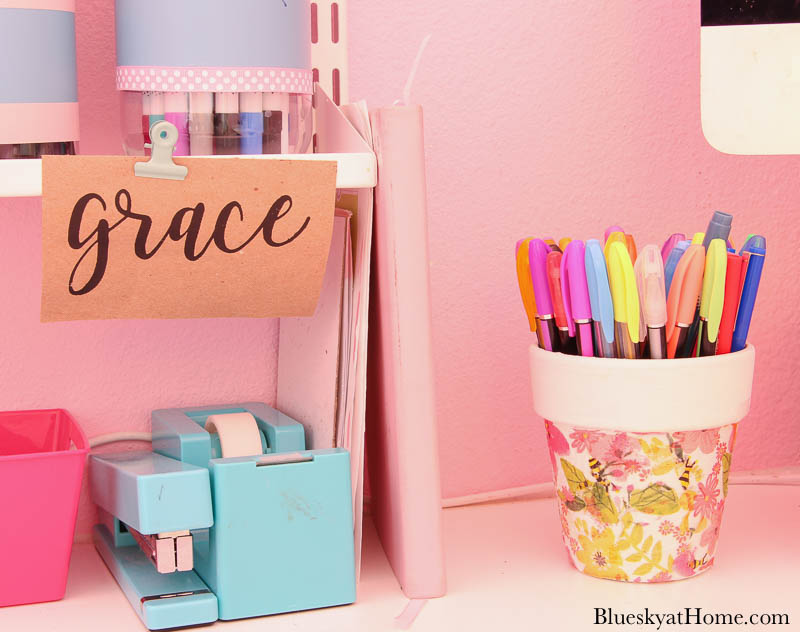 I hope you love this project as much as I do. I will be ordering more Mod Podge for more projects. I can think of so many surfaces that would lend themselves to this DIY craft. the results are so pretty and can be a wonderful addition to your home decor.
I'll be making more decoupaged flower pots as gifts for my daughters for Mother's Day.
CLICK ON THE PHOTO BELOW to see the complete process of decorating terra cotta pots with decoupage on YouTube and Facebook.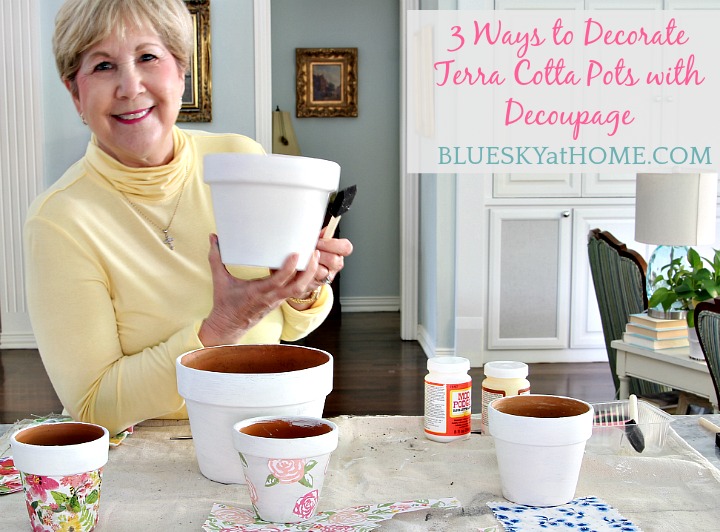 Like this project? Please let me know what you think. Please PIN it for yourself and to share it with others.