How to Make an Easy DIY Easter Bunny Tree
Easter bunnies may be the most iconic Easter symbol. Bunnies come in all sizes, colors, and looks. Here's how to make an easy DIY Dollar Tree Easter bunny tree. This Easter bunny tree can be the center of your Easter decor this year.
How do you use Dollar Tree bunnies to make an Easter tree?
You decorate them with pretty paper.
I'm going to show you the steps to make an easy DIY Easter bunny tree and decorate it.
Want a basket of Easter bunny ideas? I'm sharing my Easter bunny tree because it's so easy and fun to do.
EASTER BUNNY TREE INSPIRATION
This is not the first time that I've made an Easter tree. This one has been a favorite for a few years. Most recently, I used it as a centerpiece for an Easter tablescape.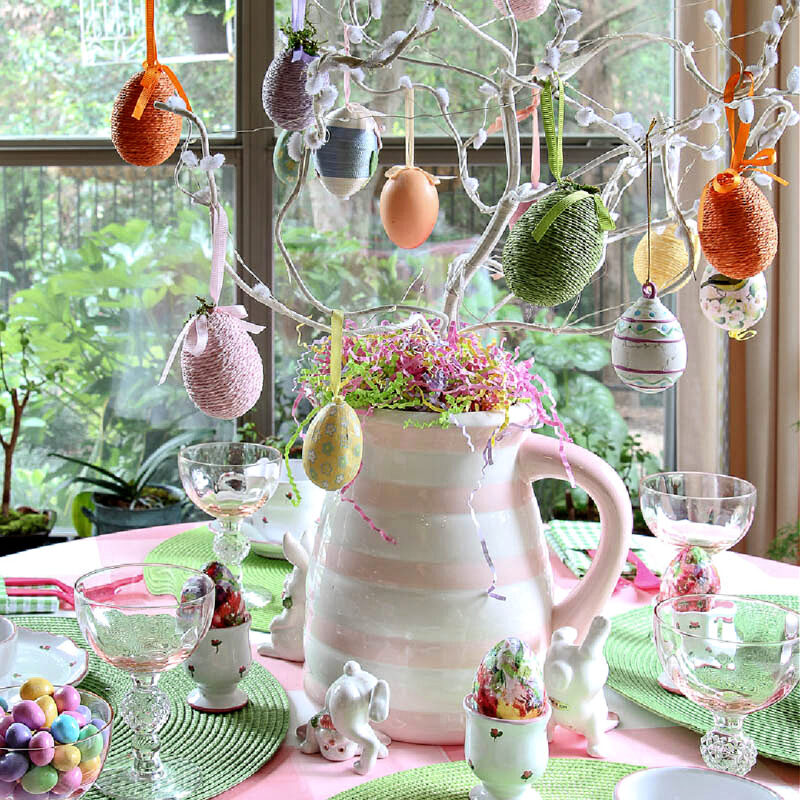 This Easter bunny tree is brand new. The inspiration came on a trip to the Dollar Tree.
I found this tray with bunnies and carrots. I believe that it is meant to be a tictactoe game.
I immediately knew that I could use the bunnies and the carrots. The divided tray could be saved for another use.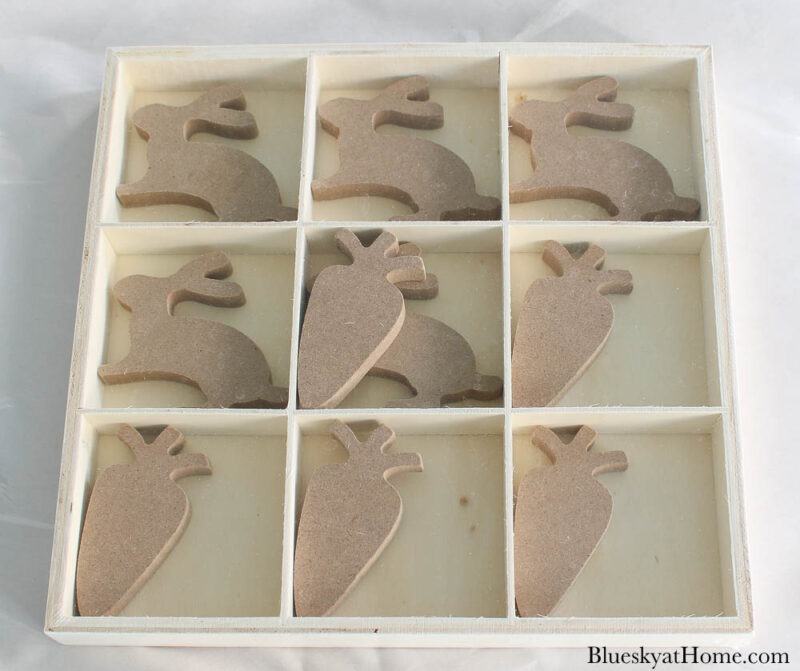 There were five bunnies and five carrots. Another product that I already had on hand would be perfect to create an Easter tree using these wood bunnies and carrots.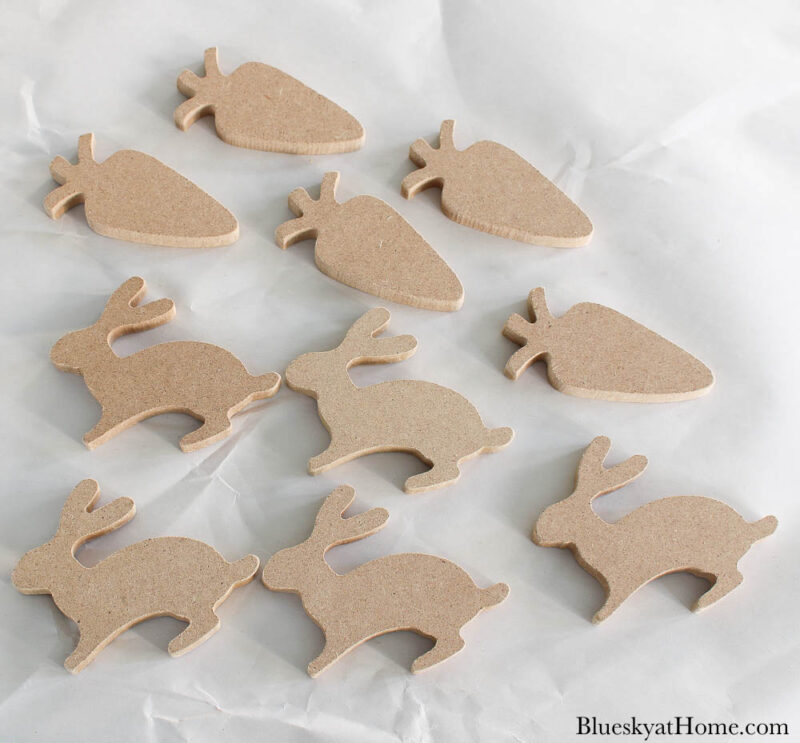 I would use a different technique to decorate the bunnies and the carrots.
DEOUPAGING THE EASTER BUNNIES
I started with the bunnies.
Step 1 ~ Drill a hole in the bunnies and the carrots so that they can be hung. Set the carrots aside.
I used the pilot drill on my cordless Black and Decker electric drill ~ one of my favorite tools. A piece of florist foam worked very well to help me drill without damaging my countertop.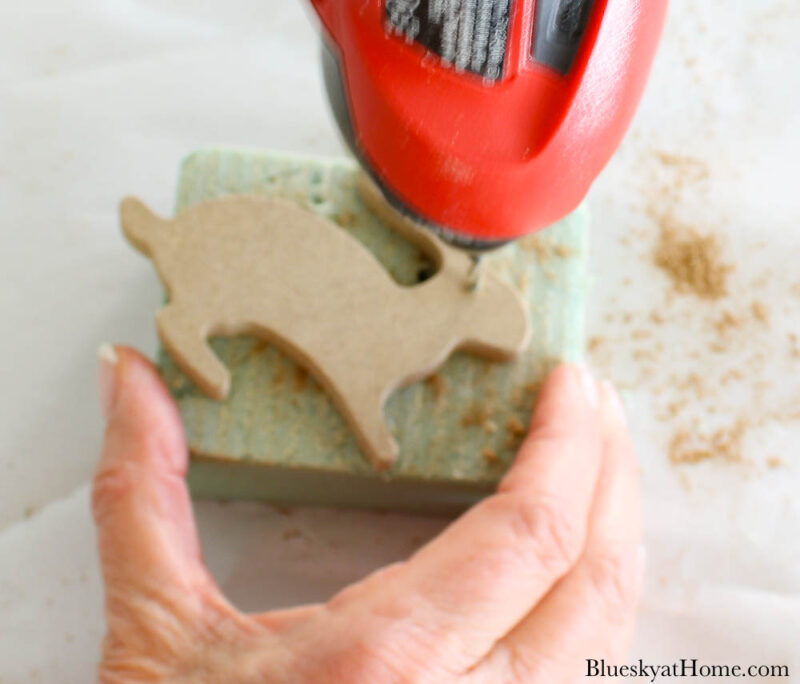 Step 2 ~ Paint the bunnies white. This way the decorative pattern on your napkin will show up better.
I used Rescue Restore paint from A Makers' Studio in Blessed, but any acrylic paint will do for this project. Apply the paint to both sides of the bunny and to the edge. Let dry completely.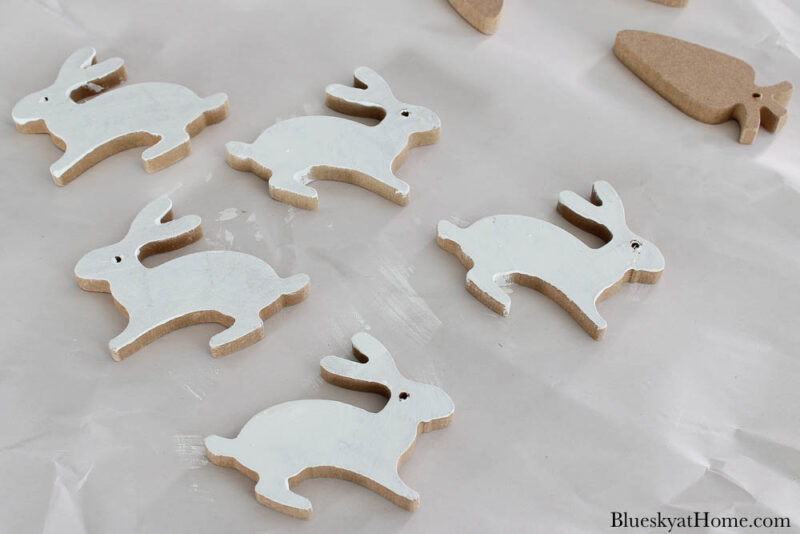 Step 3 ~ Open your napkins of choice. Fortunately, I already had these napkins on hand.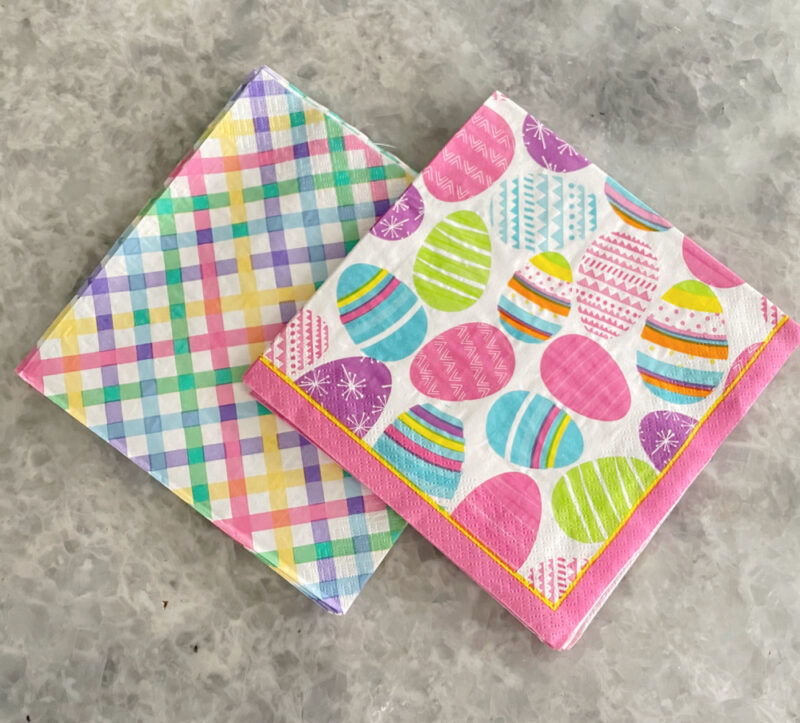 Remove the back layers of the paper napkin, keeping only the decorative layer; there will either be 1 or 2 extra layers.
Step 4 ~ Apply the Mod Podge to the bunny with a small brush ~ I used Gloss. (I love the Mod Podge brushes.)
Step 5 ~ I found it easiest to lay the napkin on top of the bunny, smooth and press down. Allow the Mod Podge to dry.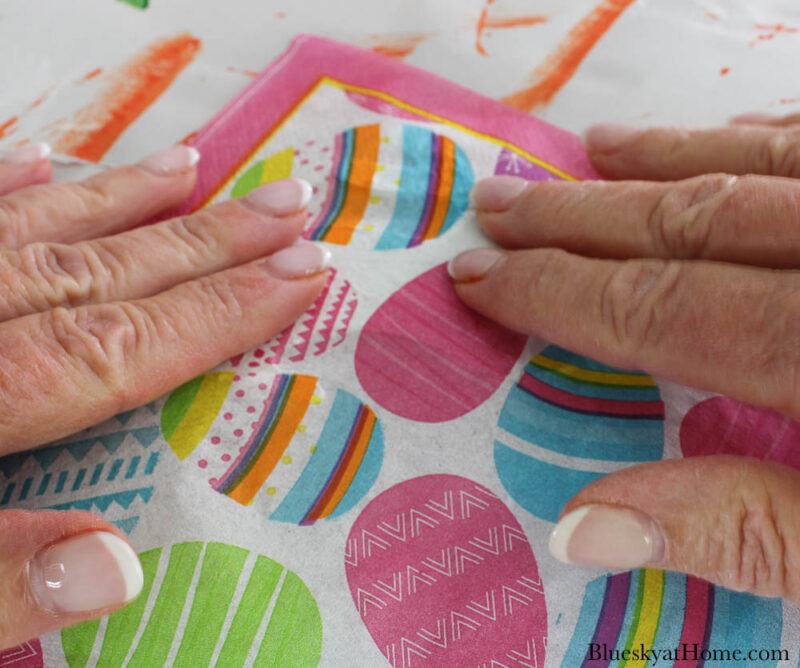 Step 6 ~ Using small, sharp scissors, cut away as much of the paper napkin as you can. These small sharp scissors are perfect for detailed projects where you have to get into small spaces.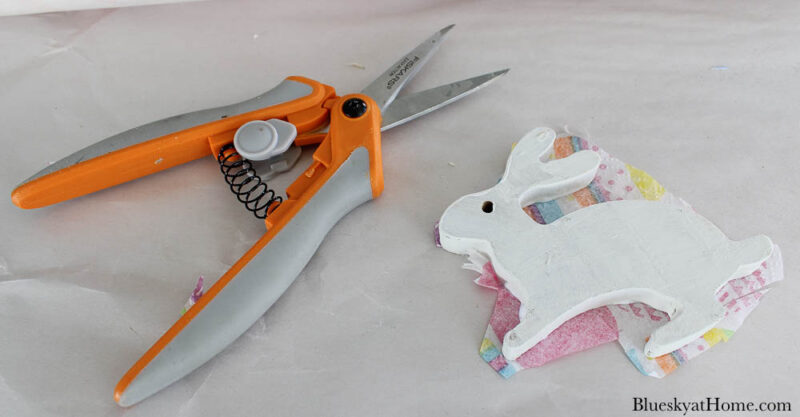 I found that it was easiest to remove all the excess paper napkin from the front side of the bunny. Lay the scissors up against the bunny and cut away the paper.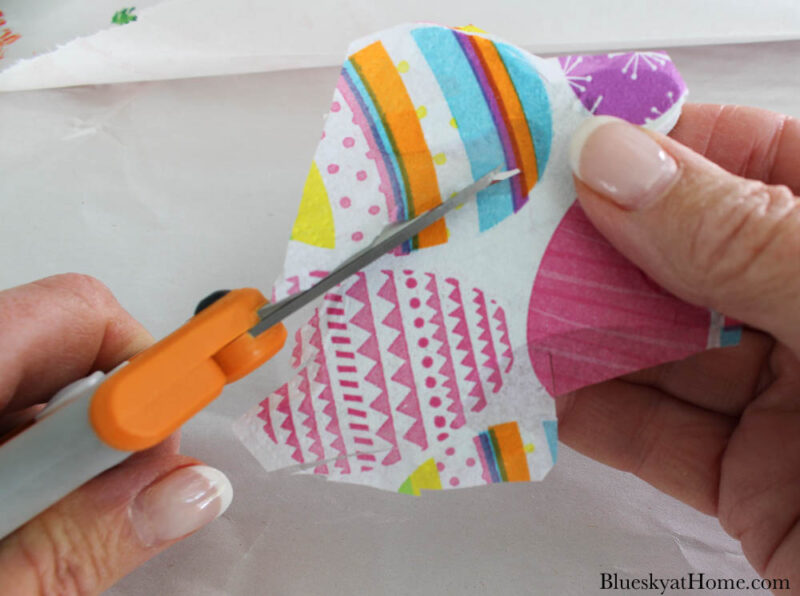 Repeat the decoupage on the second side of the bunny. I used one pattern on one side of the bunny and a contrasting pattern on the opposite side.
Apply a second coat of Mod Podge on top of the napkins. Let dry and then repeat on the second side. Set the bunnies aside.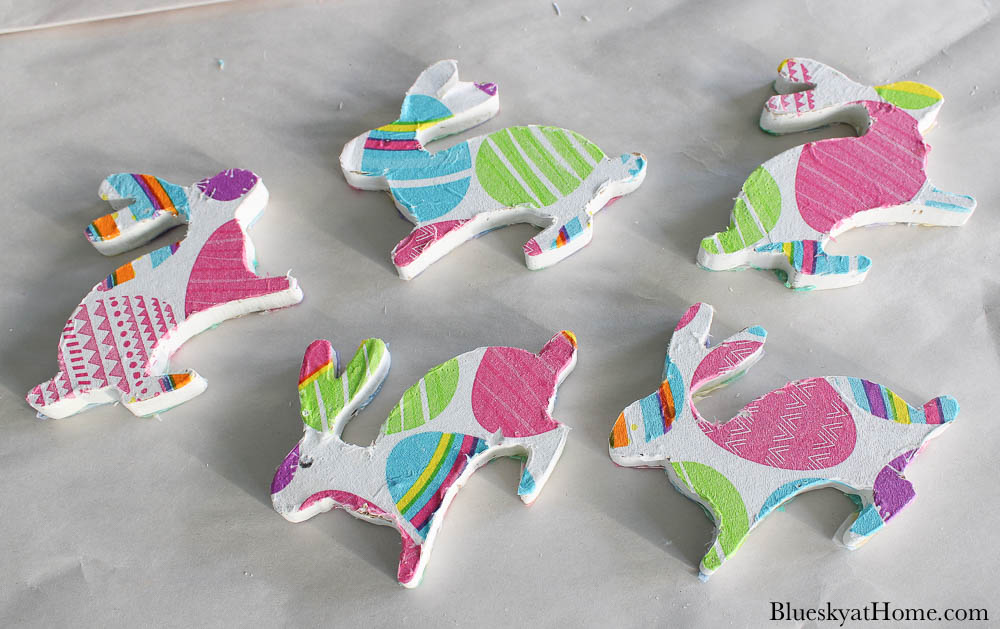 Here are some other decoupage projects you may like to PIN and save:
PAINTING THE CARROTS
Step 7 ~ Paint the carrots with your choice of orange shade. I started out using ChalkArt.
I decided I wanted a darker orange, but so I switched to Gel Ink Art in Lord Have Mercy. It was much better.
Again, paint both sides and the edge with two coats.
Step 8 ~ Paint the tops of the carrots with your choice of green. I used Gel Ink Art in Grass is Always Greener.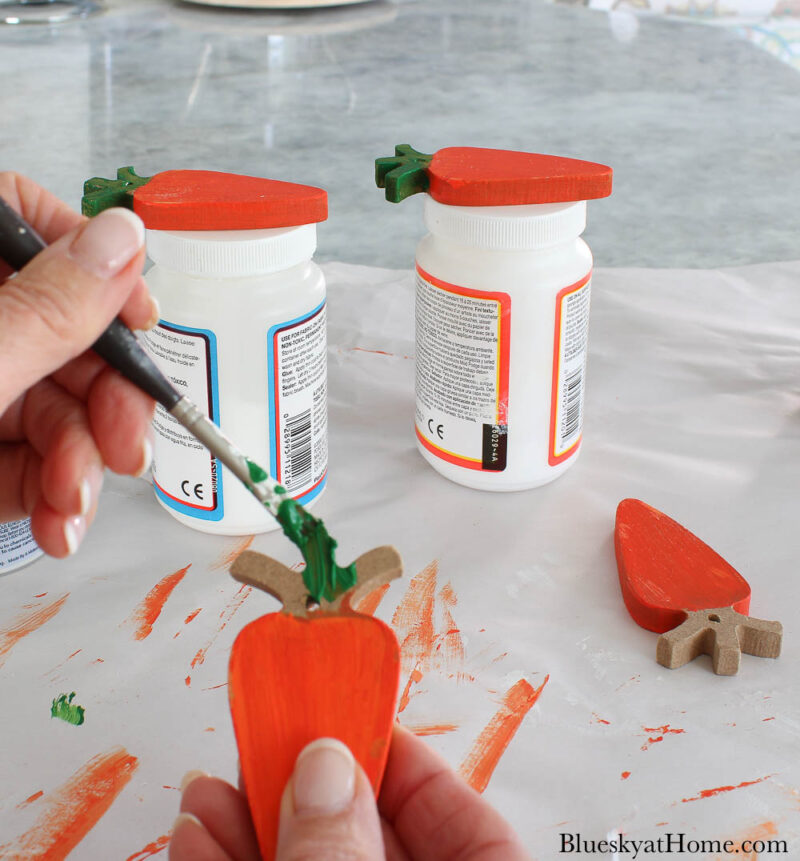 PREPARING THE EASTER TREE
Once your bunnies and carrots are done, you are ready to make the Easter tree.
I had bought this grapevine branch several weeks ago. It is wrapped tightly.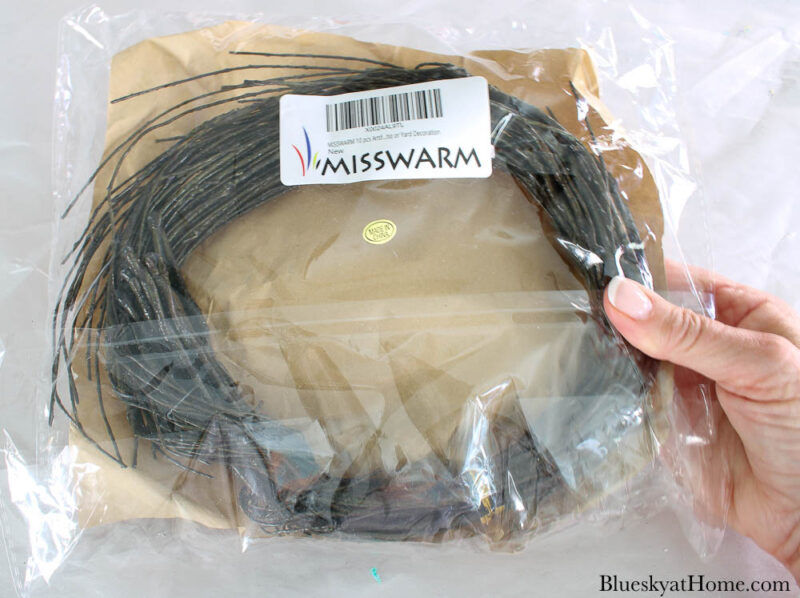 There are 10 stems that can be bent in different ways.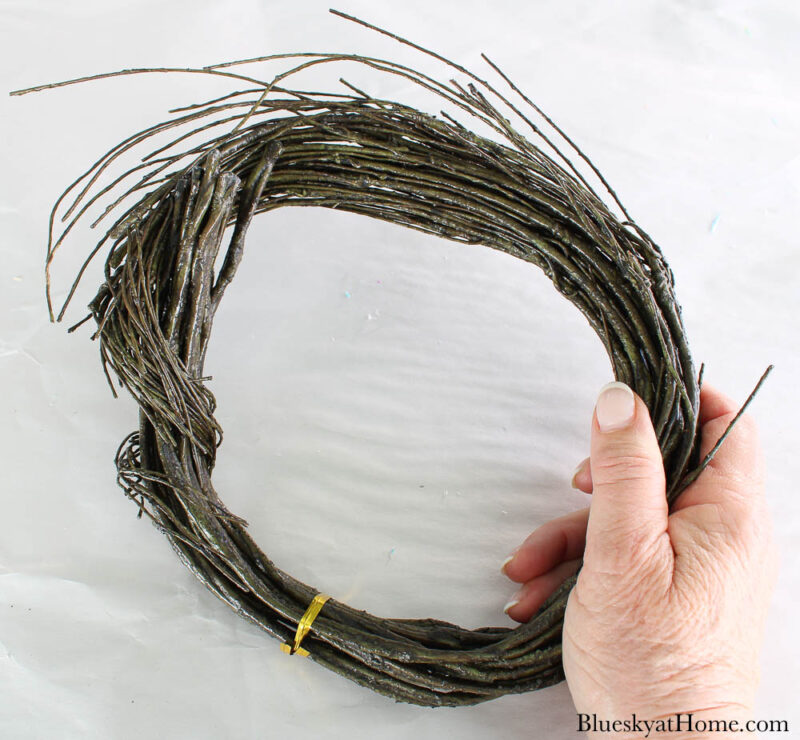 Step 9 ~ Unwrap and straighten the branches,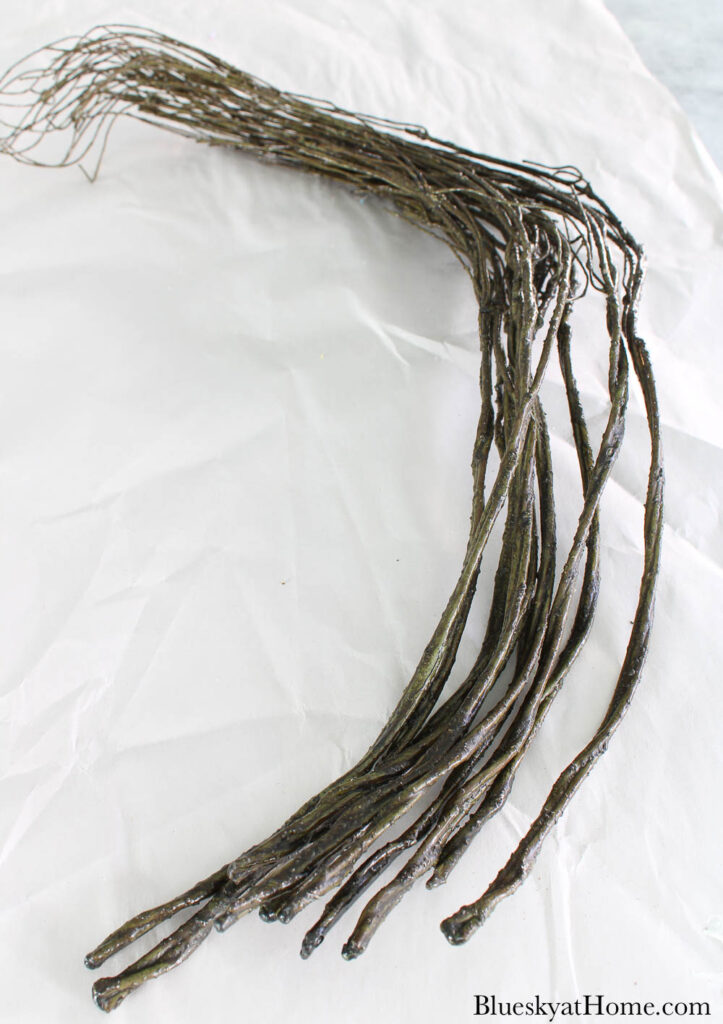 Step 10 ~ Choose your container. Taller is best to securely hold the branches. I've had this white flea market vase for years.
Step 11 ~ Place as many of your branch stems in the vase as you like. I used 6 stems. Arrange and bend the branches.
To raise up the branches and secure them, I stuffed a small piece of plain paper around the branches.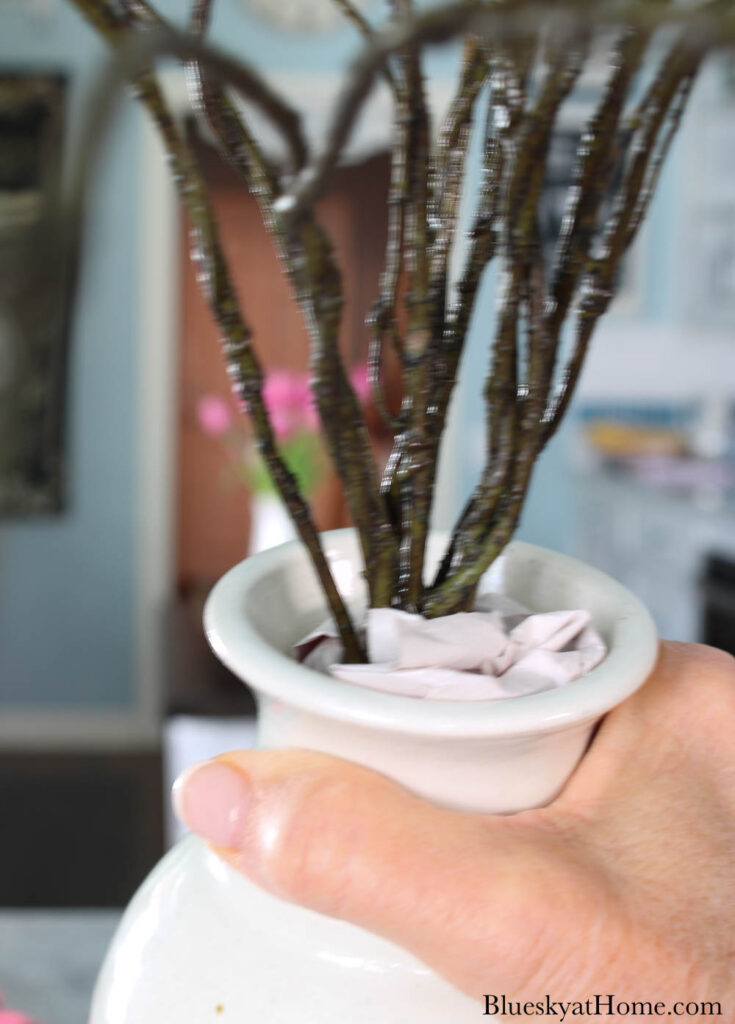 Then I used my favorite Super moss to cover the paper. This moss goes a long way. I think I have had this box for 3 years.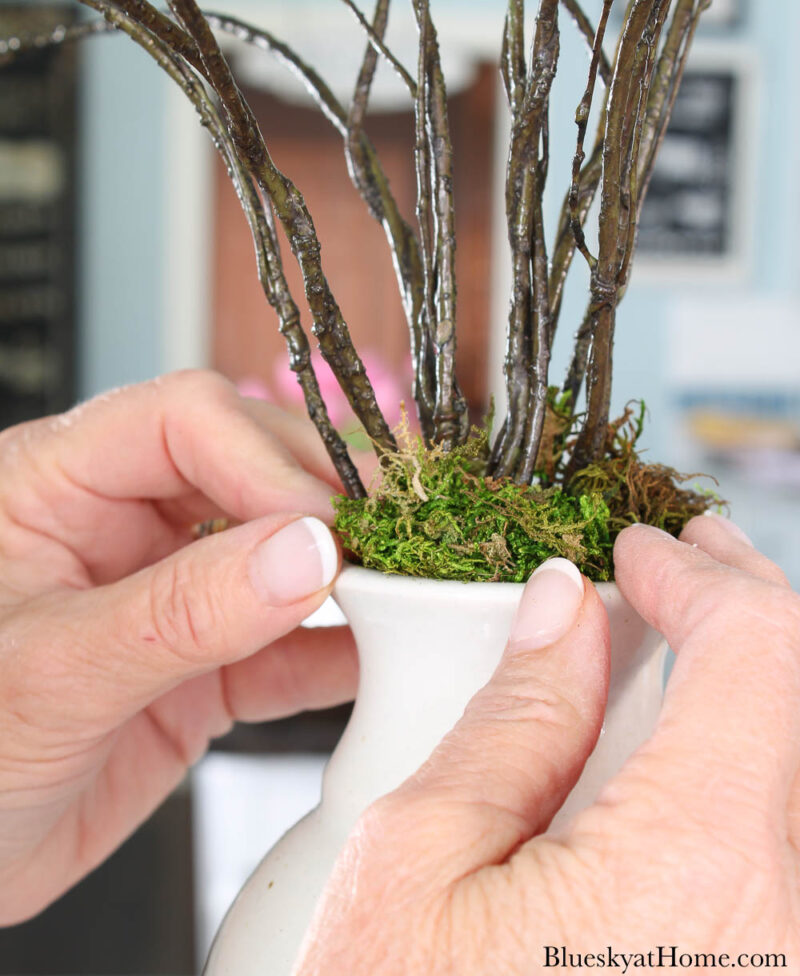 ADD THE BUNNIES, CARROTS, AND EGGS TO THE EASTER TREE
Step 11 ~ Use skinny 1/4~inch ribbon in your choice of colors. I had the pink on hand for the bunnies, but I did have to buy some green for the carrots.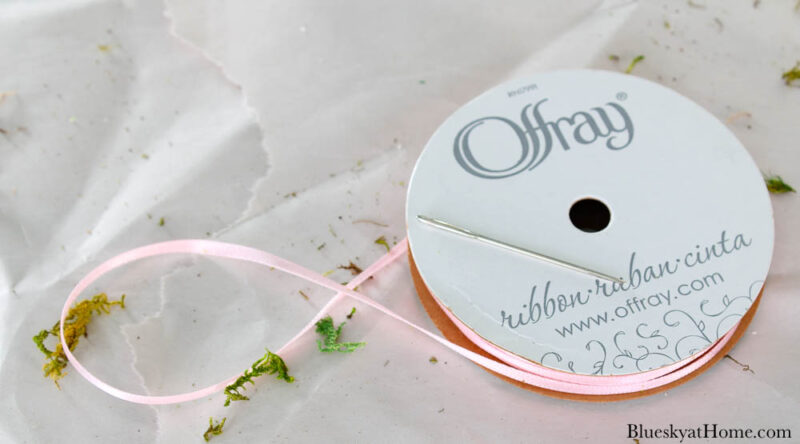 Step 12 ~ Use a large yarn or darning needle to push the ribbon through the hole you made. Then make a bow with a loop of about 3 inches long.
Step 13 ~ Thread the branches (bending the branches, if necessary) through the ribbon. Spread the bunnies around the tree.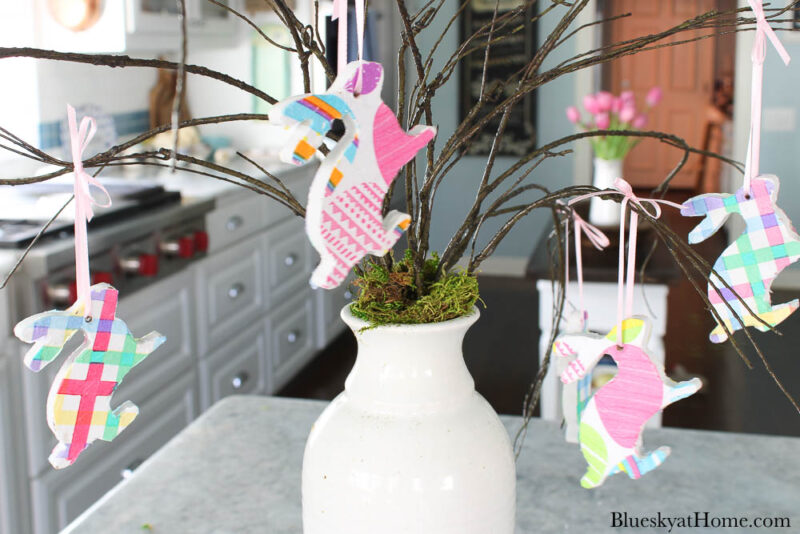 Next, add the carrots to the tree.
Here is more super cute Ester Bunny Decor.
PREP THE TABLE FOR THE TREE
I planned to place this easy DIY Easter bunny tree on our breakfast room table. First, I used a pink textured throw on the glass~top table.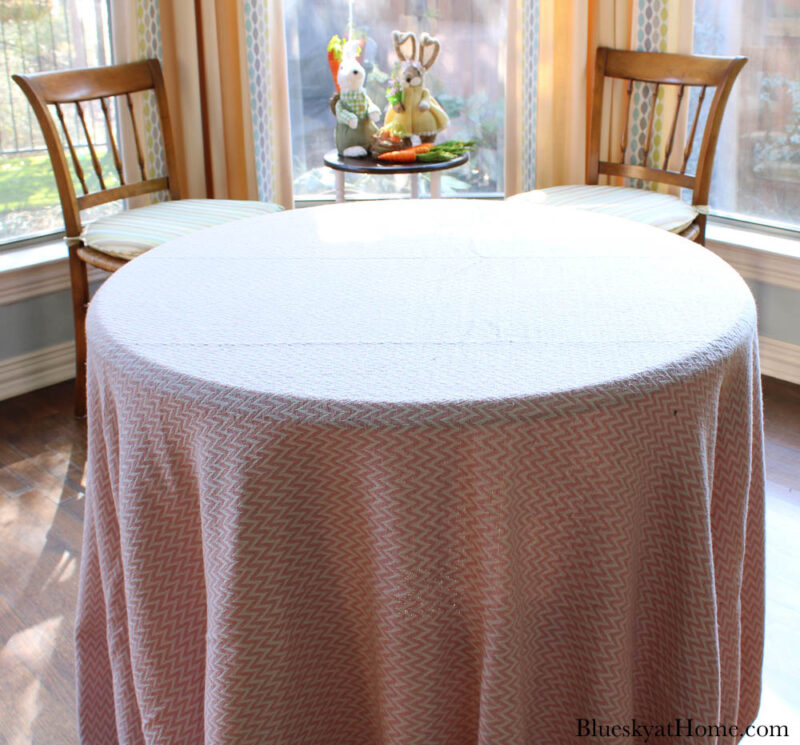 At this point, I decided to add some of our Easter eggs (We bought down all our Easter decorations last weekend.)
Some were not staying in place. I remembered that I had bought a can of these cute colored plastic clips to hold fabric or papers. This is certainly an optional step.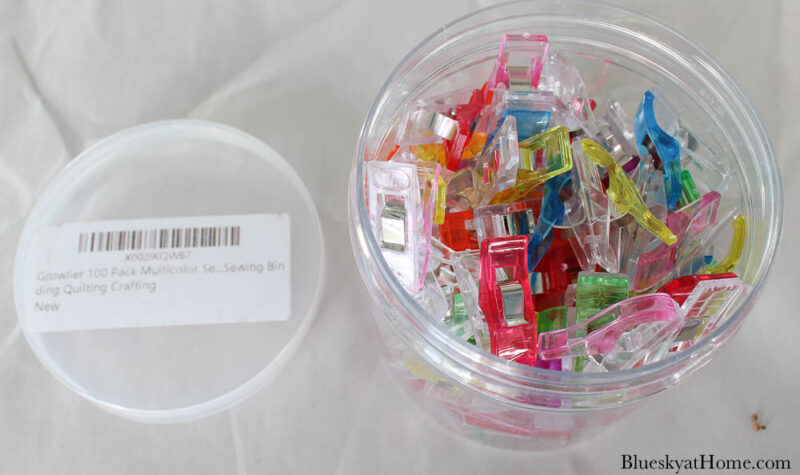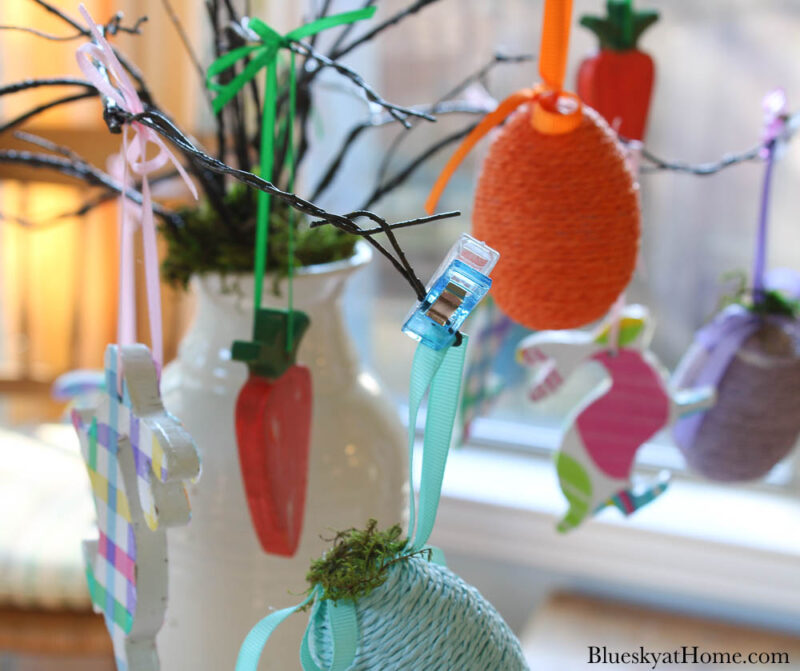 To give the Easter bunny tree more height, I set it on a ruffled~edge cake stand.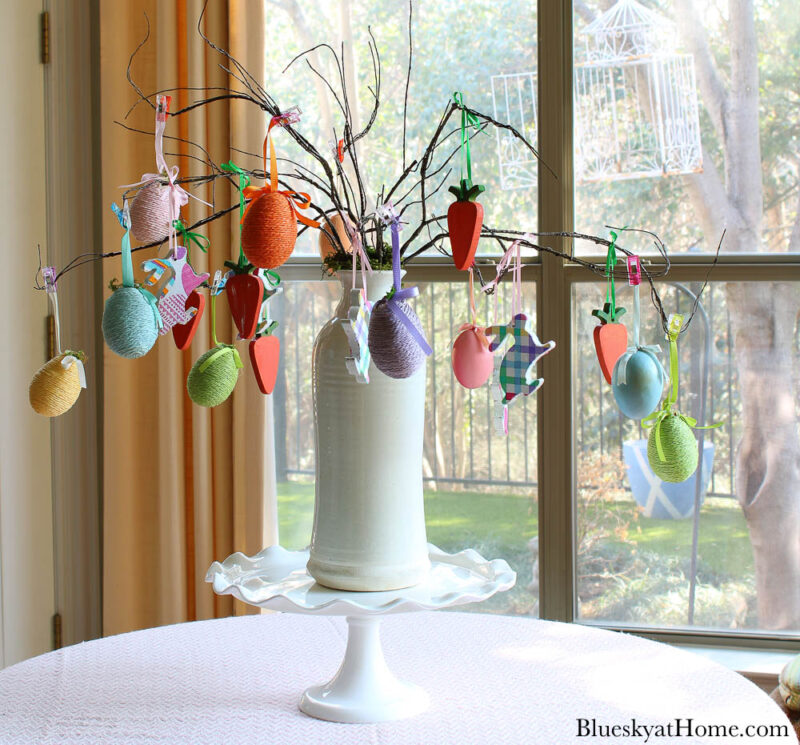 With my easy DIY ester bunny tree complete, it was now time to decorate around it.
FINISH THE TABLE WITH MORE BUNNIES AND EGGS
I pulled out my bag of multi~colored pastel shred and arranged it around the cake stand.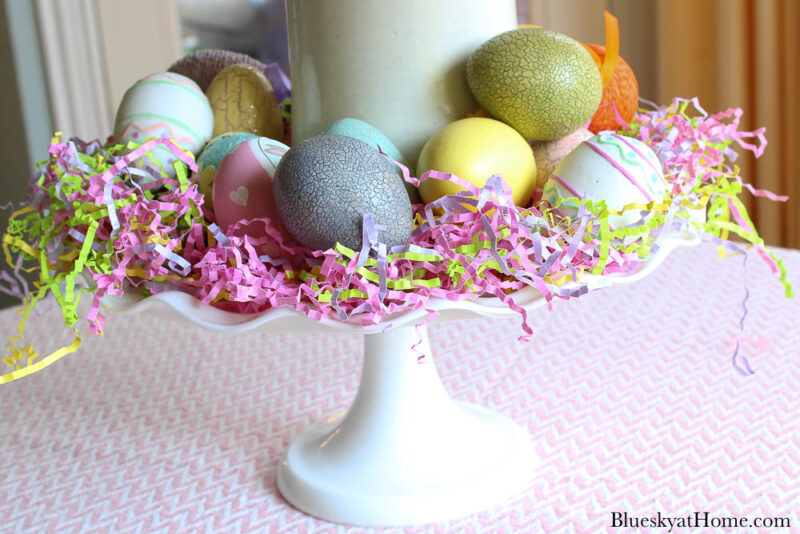 I thought the eggs were too crowded, so I added more shred to the table around the cake stand.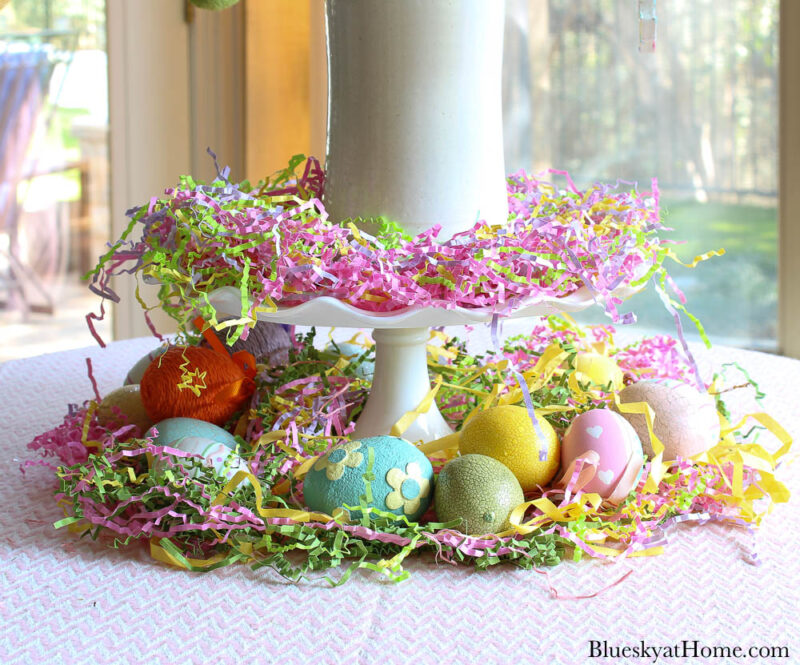 After moving the eggs, I added a collection of ceramic acrobat bunnies that were my son's to the cake stand.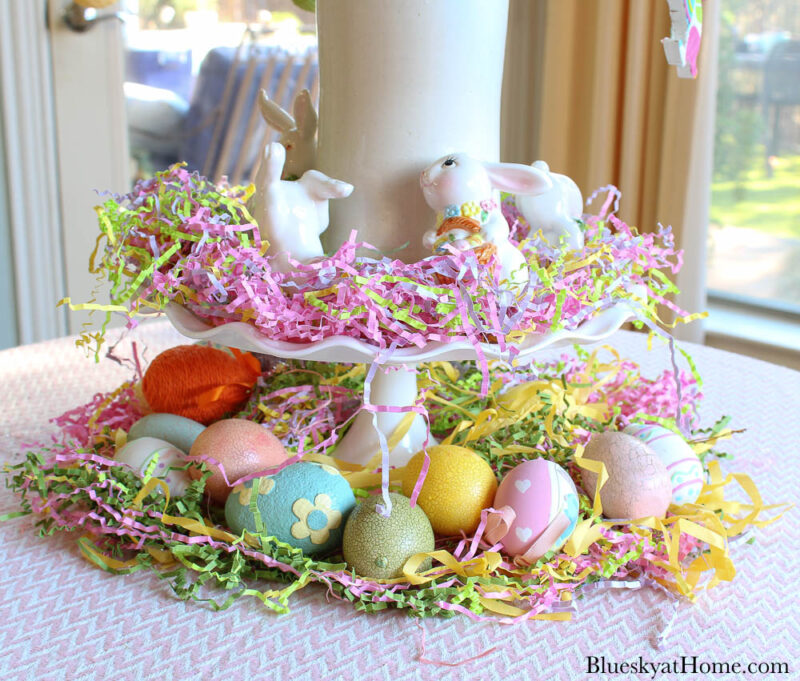 For now, the Easter bunny tree will be the focal point of the breakfast room table. It could be an Easter table centerpiece or a coffee table centerpiece.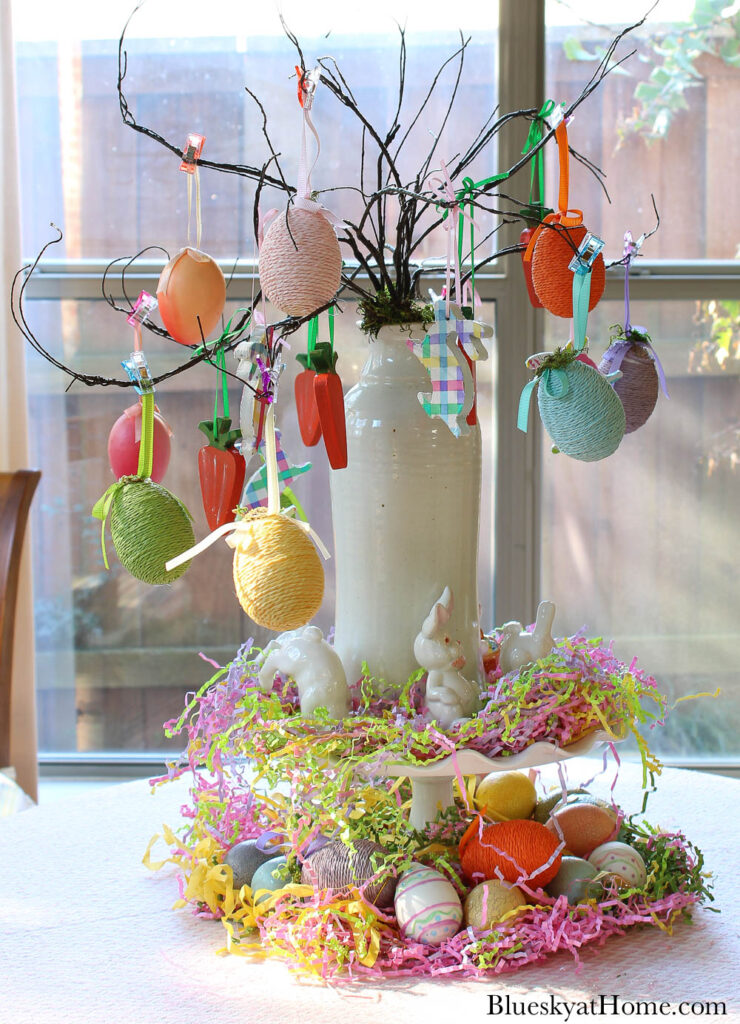 Just to add a bit more Easter decor, I placed two of our bunny collections with a nest and a group of carrots. They sit on the small round table that I repurposed last summer.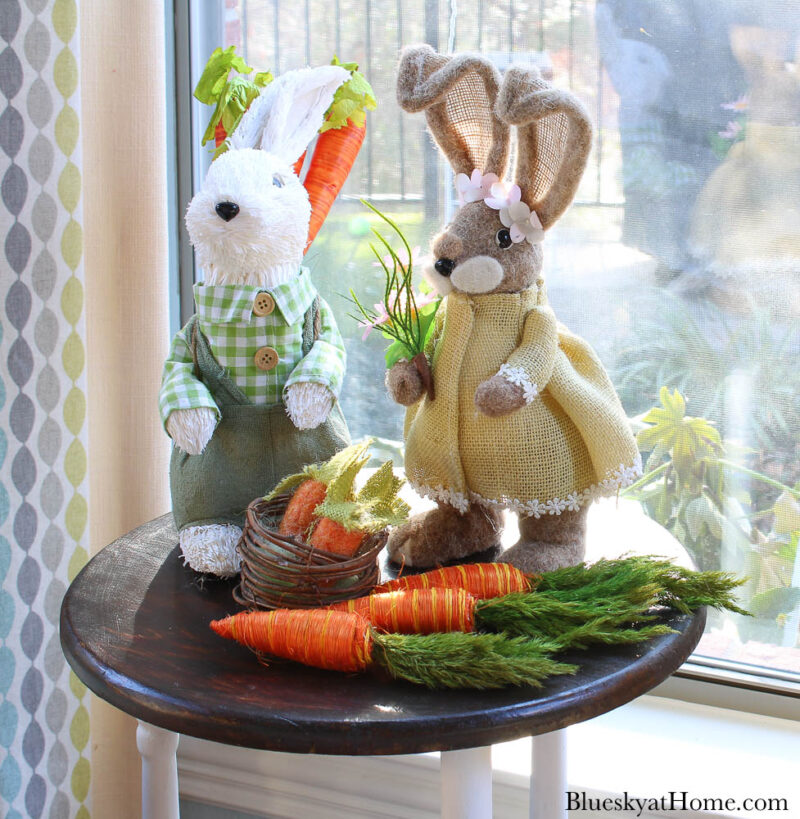 WHAT YOU NEED TO MAKE THIS EASTER BUNNY TREE
You may have some of these supplies on hand, but if you don't, here's your supply list:
Did you like this Easter bunny tree project? It was fun to make. All the elements ~ the decoupage bunnies and painted carrots ~ can be reused in other ways.
I hope that you will PIN this project to your Easter Boards. Here is my Easter DIY Project Board and my Easter Decorating Board if you want more ideas.
See all the links below to access the other bunny posts.