14 Simple Spring Vignette Ideas
Do you enjoy creating pretty arrangements for your home? Gosh, I hope so. Especially one with an interesting ingredient or an unexpected focal point. Something that injects a bit of fun into your space. I have just the thing for you. How about 14 simple spring vignette ideas with a little something special?
I've been in spring decorating mode – with a touch of Easter – for a few weeks. We have so many spring and Easter items that I try to use as many as possible.
At this time of year, we are all anxious to add touches of spring and Easter to our homes.
Today's simple spring vignette ideas are based on an inspirational photo. Yes, it's Pinterest Challenge time and there is a special focal point in our spring vignette.
Here's how I created two simple spring vignette ideas.
A vignette is simply a collection of items that creates one cohesive arrangement. They can be a combination of favorite things, like elements or items that are totally different.
As I've mentioned before, a simple vignette can be used on a coffee table in the living room, on the kitchen table, or on the dining room table. Anywhere that you have a flat surface will work.
Creating vignettes is one of my favorite ways to add interesting spots of decor anywhere I want to in our home.

Whatever the season, creating a vignette allows you to be creative, use and reuse special elements you already have, and infuse color or favorite finds into your own home.
A beautiful vignette is truly a small work of art.
Vignette Inspiration
A wonderful group of 14 designers has taken this inspirational photo and created their own version of a lovely spring vignette.
Thank you once again to our friend, Cindy of County Road 407 for gathering us and hosting this monthly event. Cindy looks for creative ways to help us put on our design hats and give you a closer look at the design process.
If you are joining me from Marty of A Stroll Thru Life, then welcome to Bluesky at Home.
Every month I look forward to joining my friends for this challenge that gets our creative juices flowing.
This month's challenge was especially fun. It comes to us from Jamie of Anderson + Grant who always is a wonderful resource of home decor ideas.
So, what is the interesting surface for this spring decor vignette? A chair!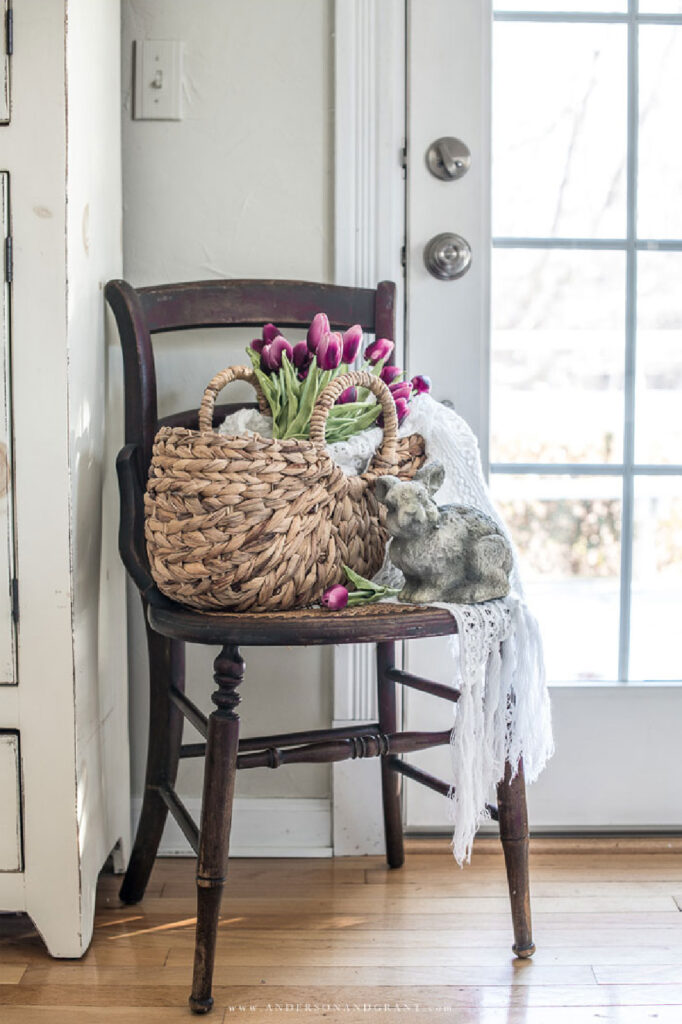 What does Jamie say about the inspiration for this small vignette? "It isn't about creating an elaborate display but rather adding a special touch to a small space." 
I couldn't agree more.
It's fun to include one surprising element that is a little different.
Jamie's beautiful spring vignette only has 5 elements. I bet you have every one of them.
Creating My Simple Spring Vignette
This post contains affiliate links to products used in the creation of this project. If you should order any item from this site, I may receive compensation, but you do not pay a penny more. Your purchase is greatly appreciated as it helps support the continued publication of this site.
I was so excited about this challenge. Honestly, I was almost done decorating for spring and Easter until I saw the idea that Cindy gave us. I knew I had everything to create not one, but two, easy spring vignettes.
It wasn't hard to find two places to add these little touches of spring to our home. I'm sure you have a little spot to add a chair with a throw, basket, flowers and bunny.
The first element and the foundation for this pretty spring vignette is a chair. I had two.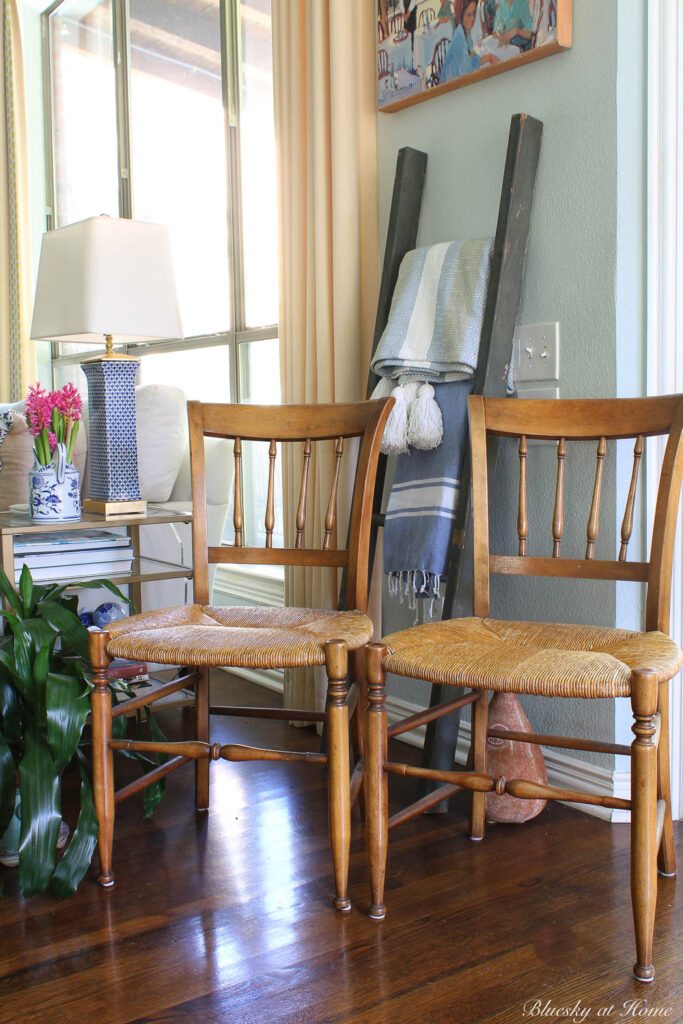 These vintage chairs originally belonged to Sweet Shark's grandmother. Here is a similar rush-seat chair.
Until recently, they weee in our breakfast room. A few weeks ago we started the process of turning our breakfast room into a seating area, so we moved the chairs upstairs to one of the guest rooms.
I love the vintage feel that the chairs provide. I've always loved their rush seats which are in perfect condition. If you have an idea of what they are worth, I would love to know.
I have to admit that I have no idea the last time the chairs were cleaned and polished. Now was a good time.
I don't like to use regular furniture polish on my furniture because it just adds to the build-up of grease and grime and attracts dust.
I got out Clean Slate by A Makers' Studio. It is my go-to furniture cleaner. I also use it before any furniture refinishing projects. It removes built-up grease, oils and grime. While other degreasers will not remove wax, Clean Slate truly cleans the entire surface.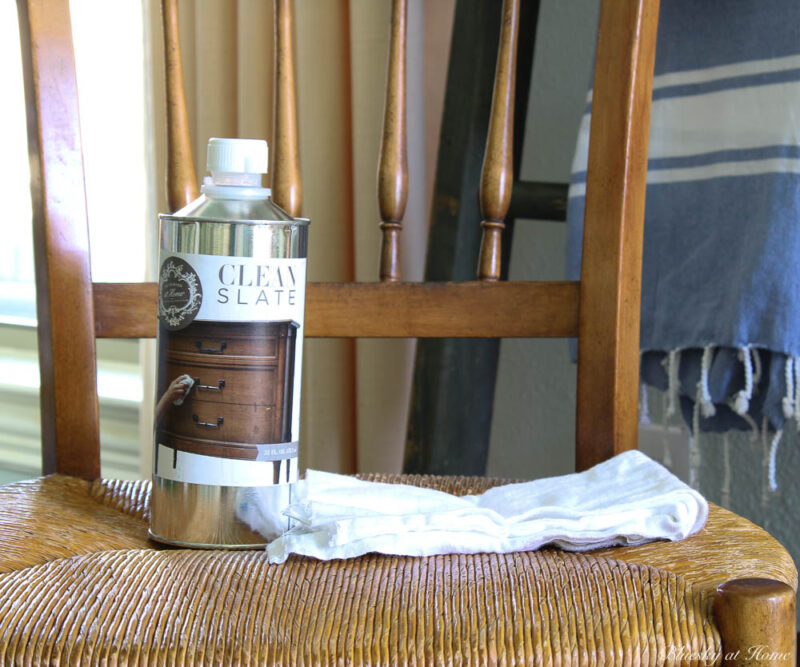 You just pour Clean Slate on a clean rag and wipe it all over the furniture. Allow to set for about 5 minutes, then go over with a clean rag.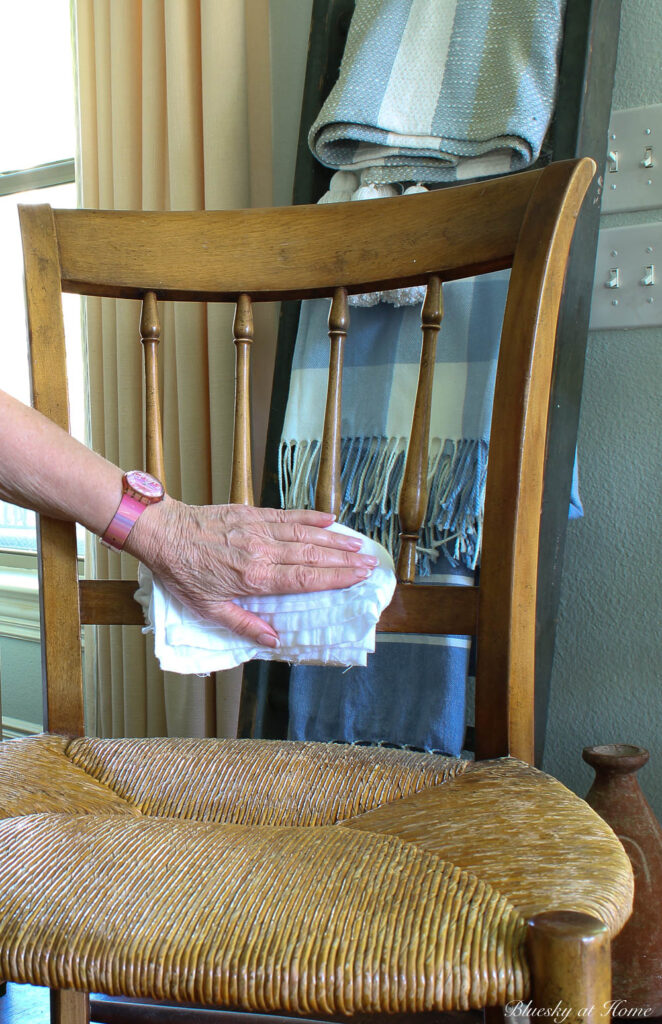 TIP: Use Clean Slate to clean your kitchen cabinets.
Can you see the gunk that came off the chairs?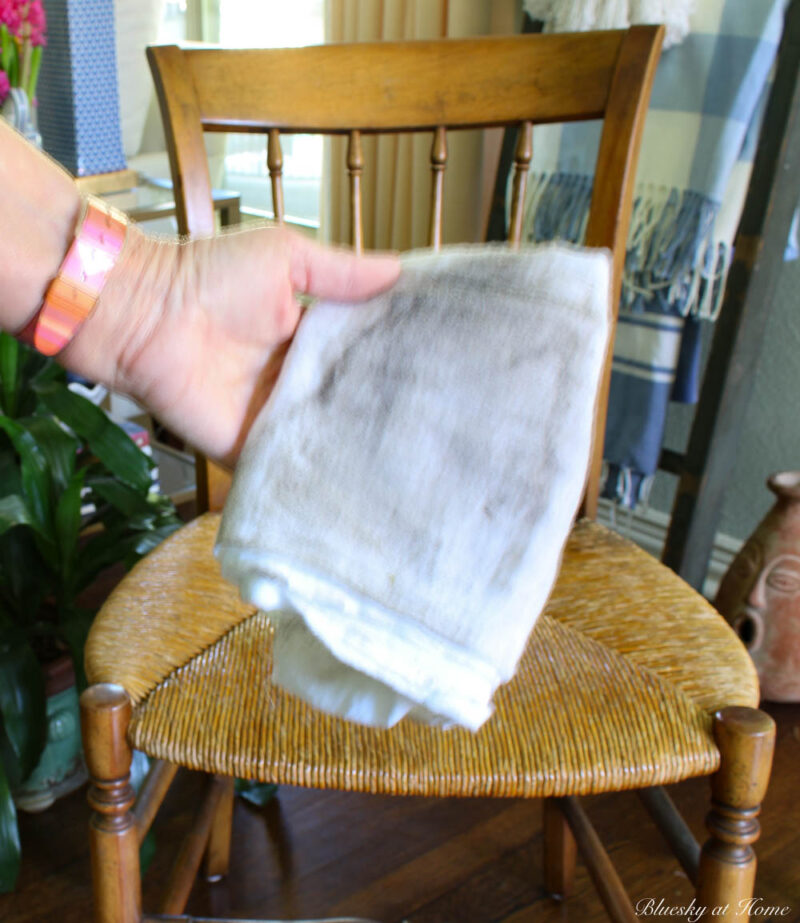 Spring Vignette by the Backdoor
Now that my chairs were clean, I could create my spring vignette by the backdoor.
My color scheme for this vignette would be blue.
First, I added one of my blue pattern throws. All you have to do is drape it across the back of your chair.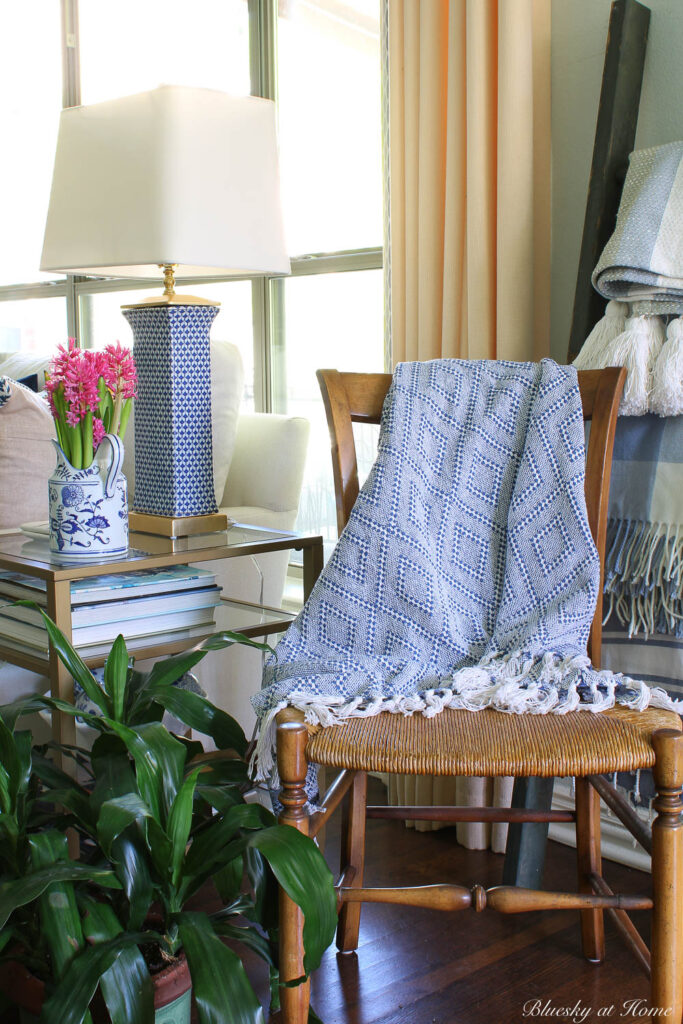 Next, I picked a large estate sale vintage basket. This basket has an interesting material and form.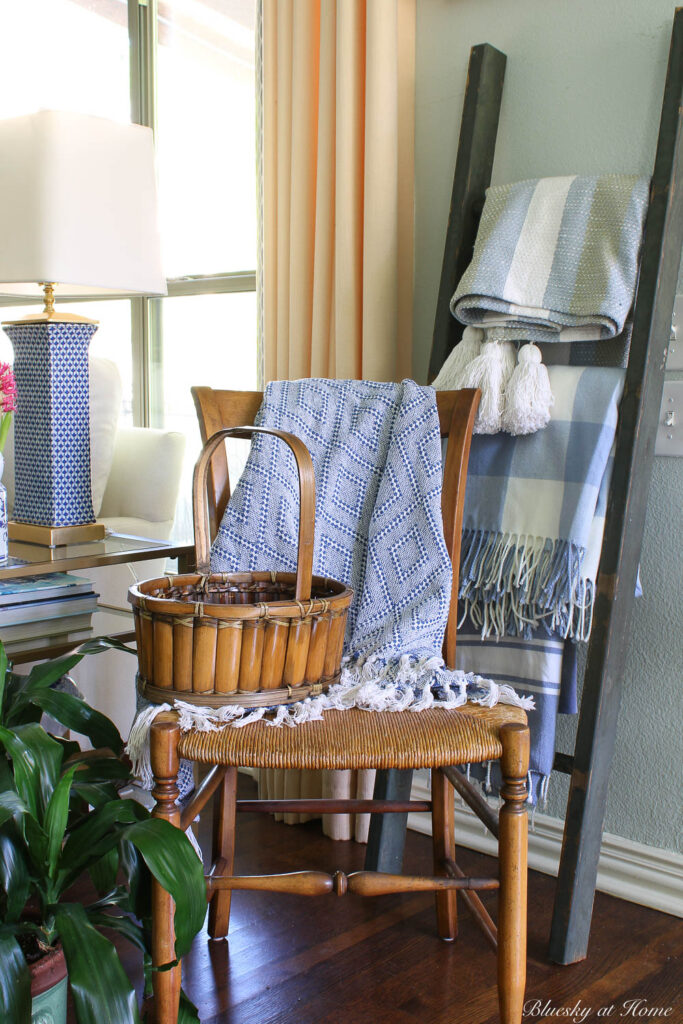 I filled it with white faux flowers. For flowers, I used a mix of hydrangeas and peonies, two of my favorite spring flowers, and a stem of wispy white flowers.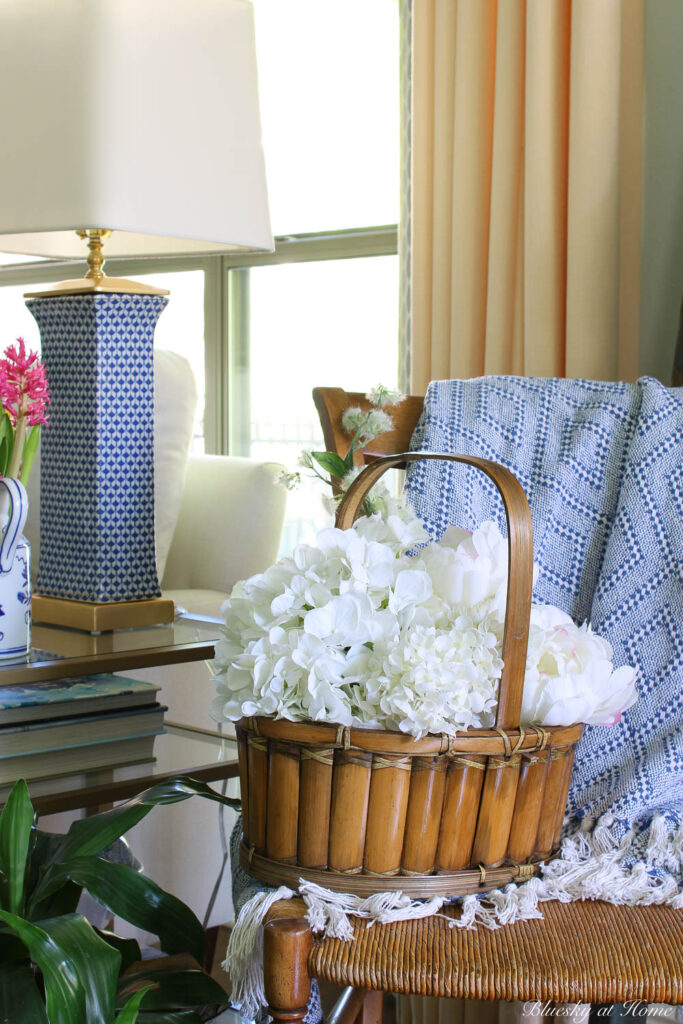 I think it's easier not to use fresh flowers for this vignette. The pink hyacinths in the chinoiserie pitcher are real from Trader Joe's.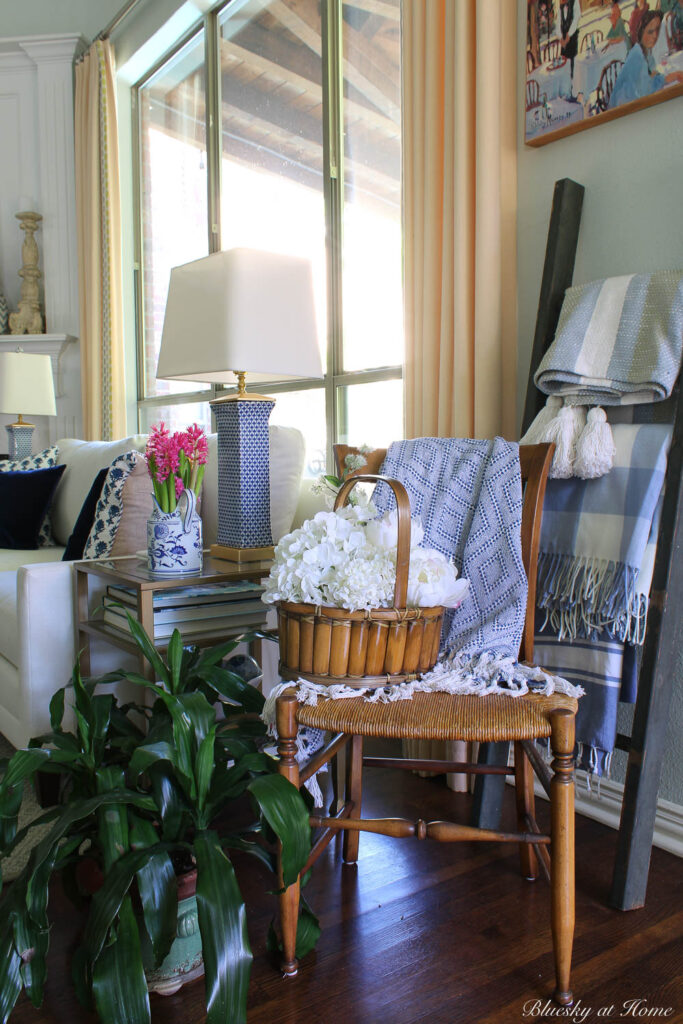 Jamie used a stem of tulips lying on the chair. I only had one blue faux flower stem. The blue is a little strong, but it does pull your eye into the spring vignette.
There are a lot of patterns going on in this vignette, but the similar hues work together.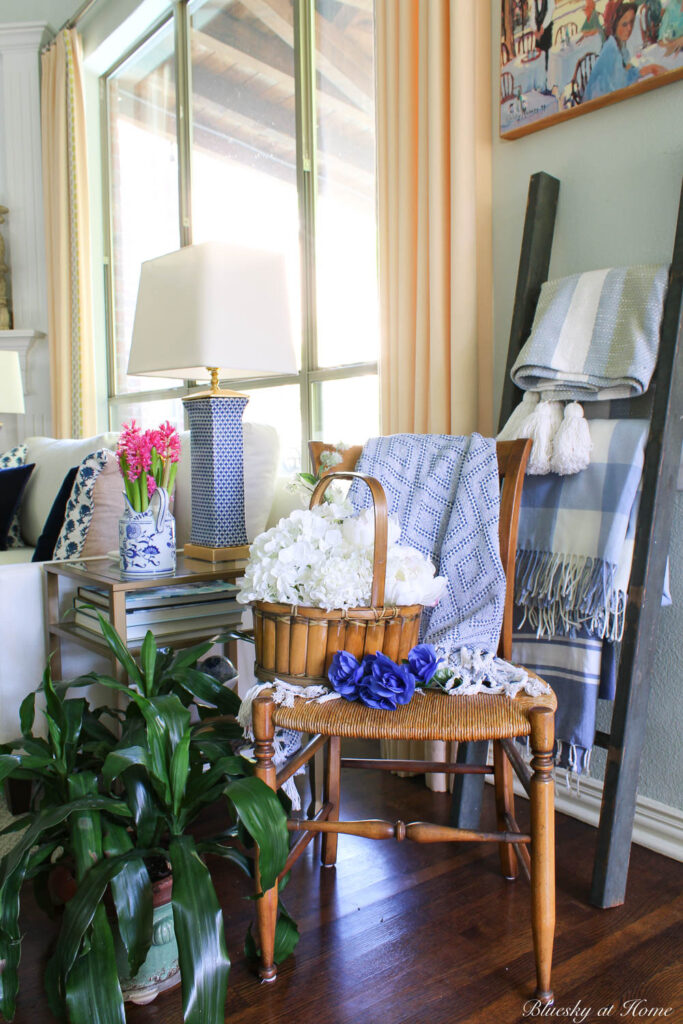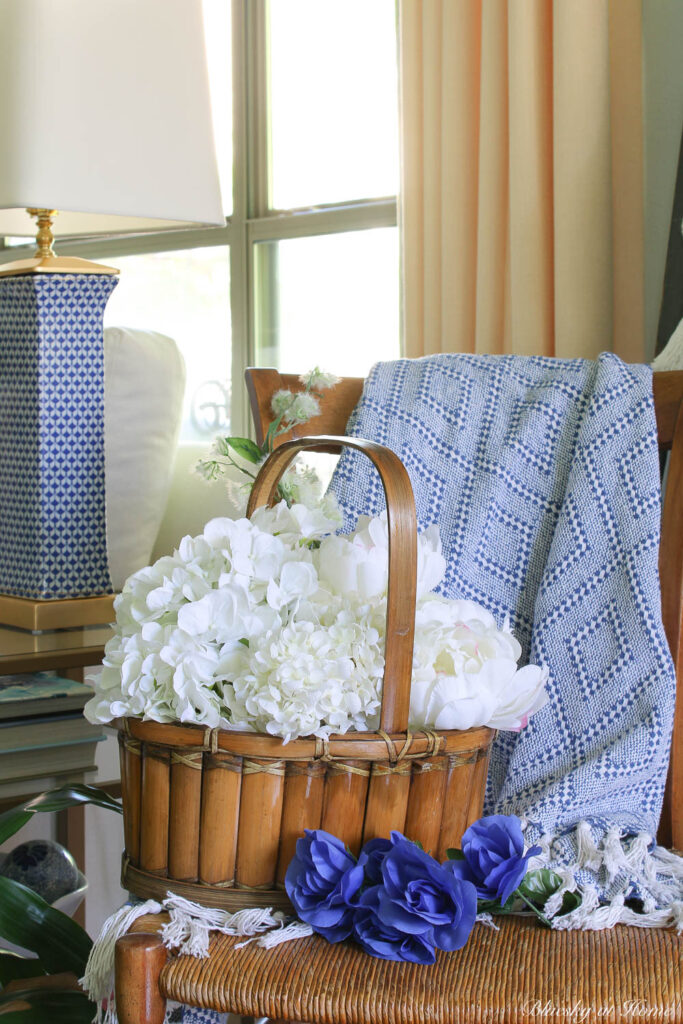 For my bunny, I used one of our collections – a bunny with a blue bow and a sweet basket of blue eggs.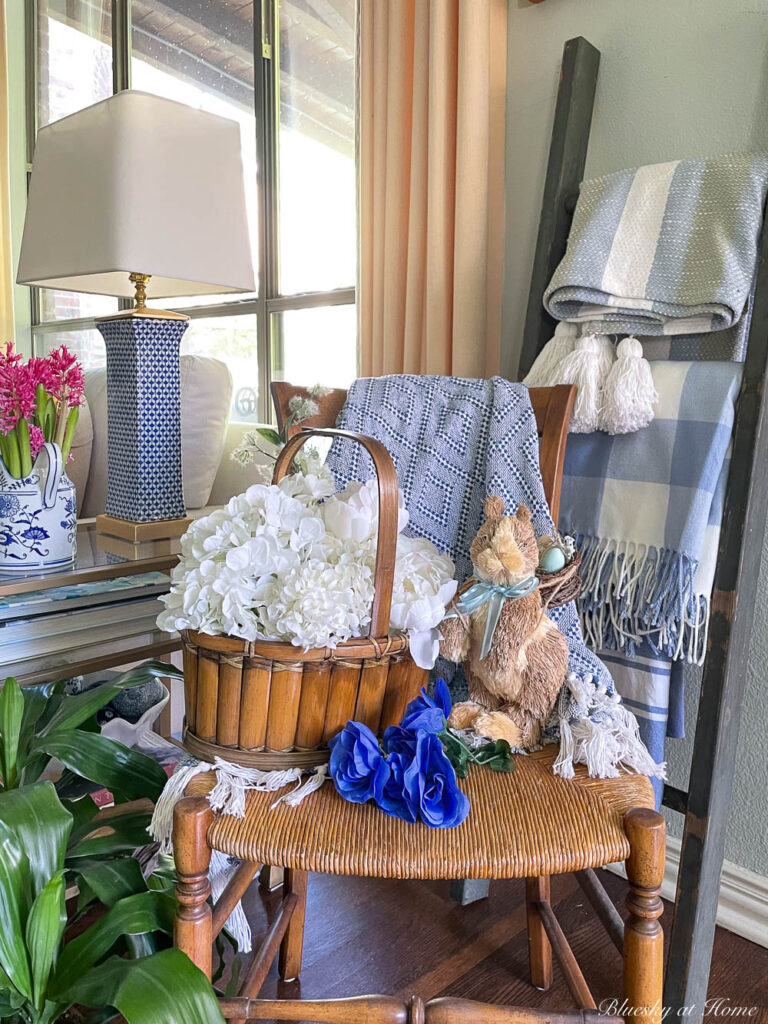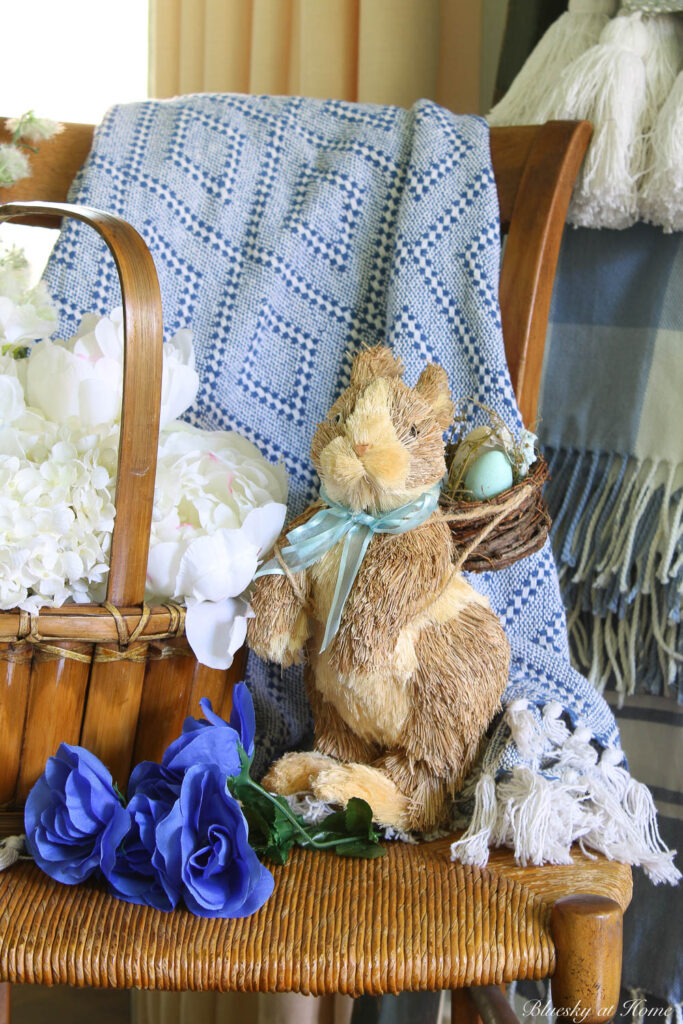 My vintage ladder with three blue throws frames the chair vignette on one side.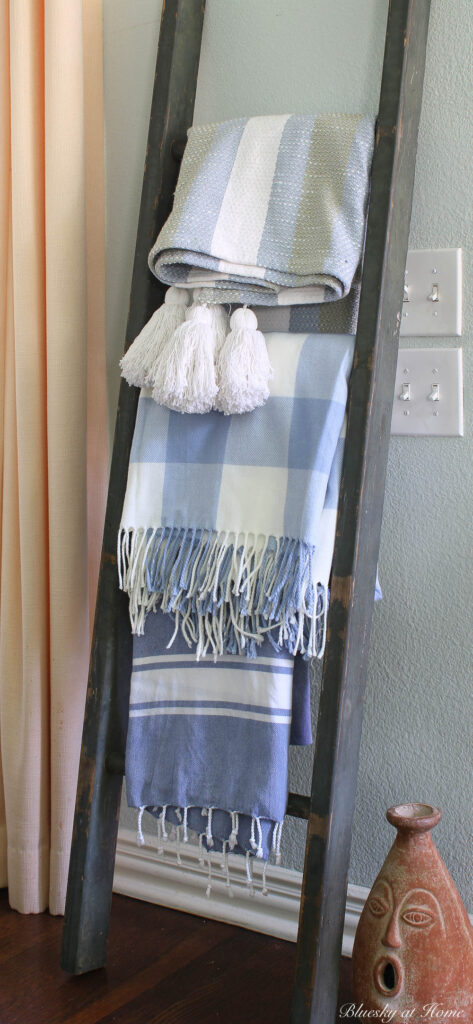 On the other side, a green fresh plant fills in at the base of the chair.
How simple is this? Now we have a simple spring vignette to enjoy as we go in and out to the backyard.
Second Simple Spring Vignette in the Entry
My place of choice to create my second spring vignette is in our entry by our large commode. I had already created an Easter vignette on the commode so this chair vignette would be a great place to add more spring touches.
For this vignette, pink is my color of choice.
Again, the first step was to add a throw on the chair. Actually, this is a shawl that I bought at Talbot's. (Here is a another shawl in all pink.) It has a check design in shades of pink, white, and yellow -perfect for a spring vignette.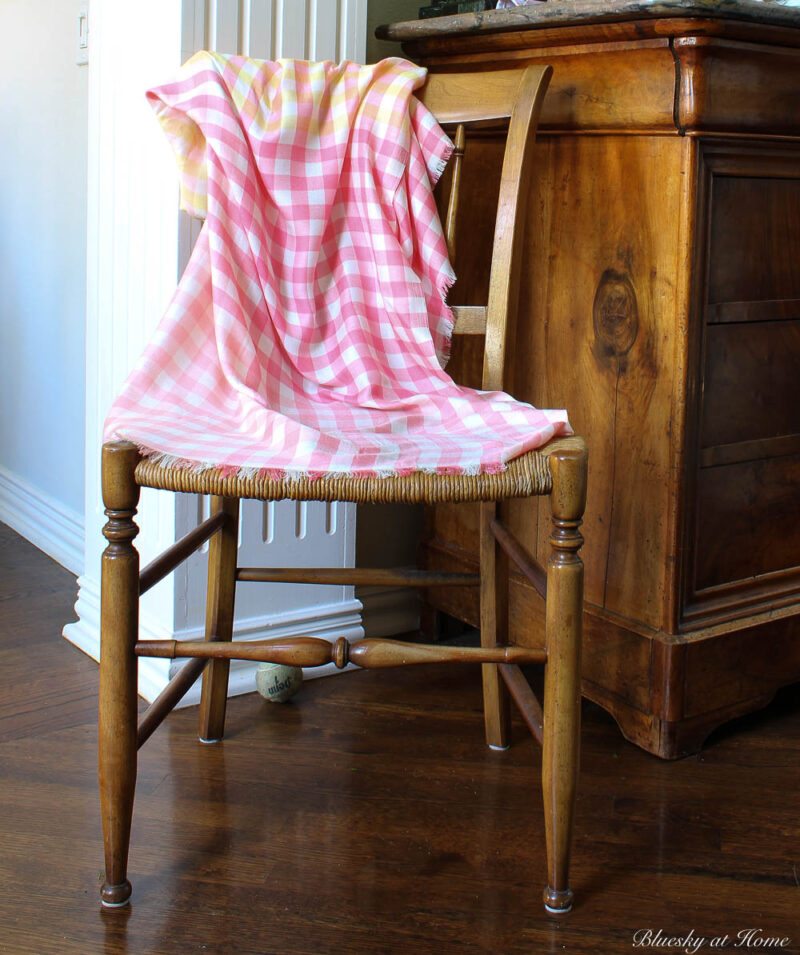 Next, came a woven basket – also an estate sale find – with a white stripe. Your eyes aren't cross-eyed – the basket lends to one side.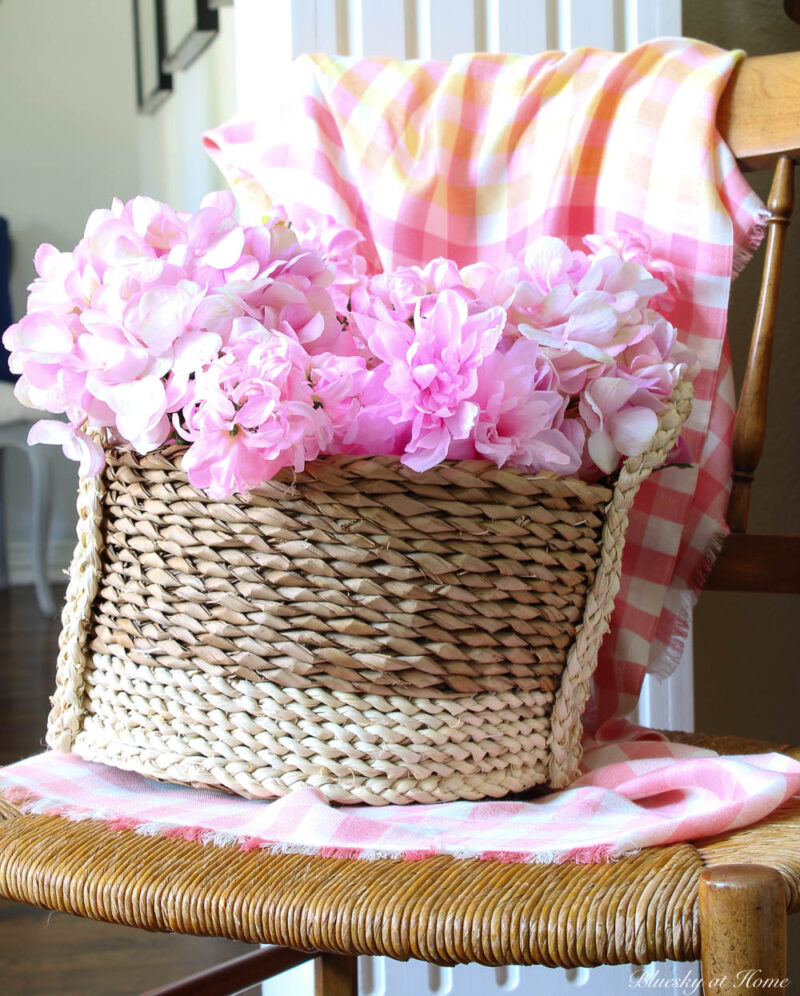 My faux flowers are a combination of faux hydrangeas and hyacinths.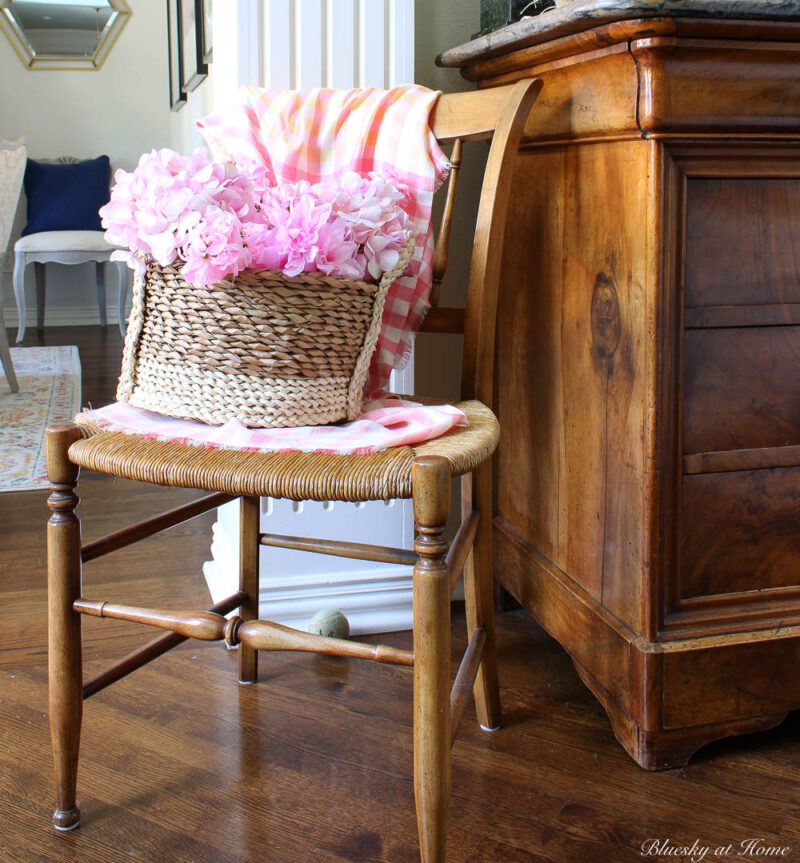 My bunny is a girl bunny, matching the boy bunny in the first vignette. Her sweet little pink apron is perfect for my pink theme.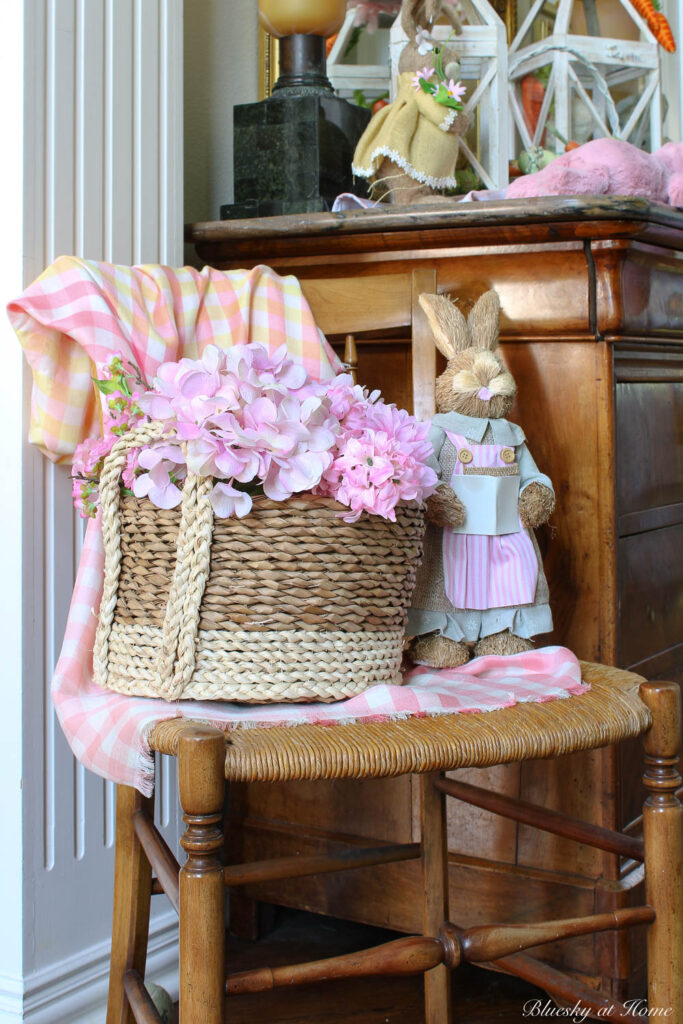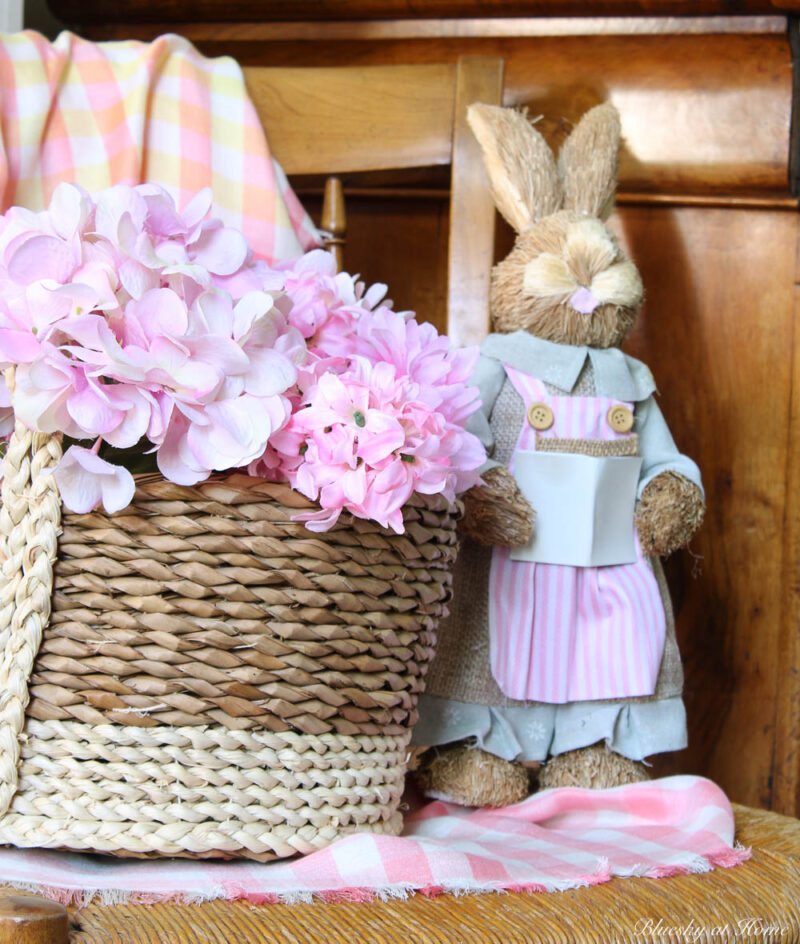 I decided to add one more bunny, a pink stuffed one. Both my granddaughters have the same bunny who is affectionately known as "jelly rabbit".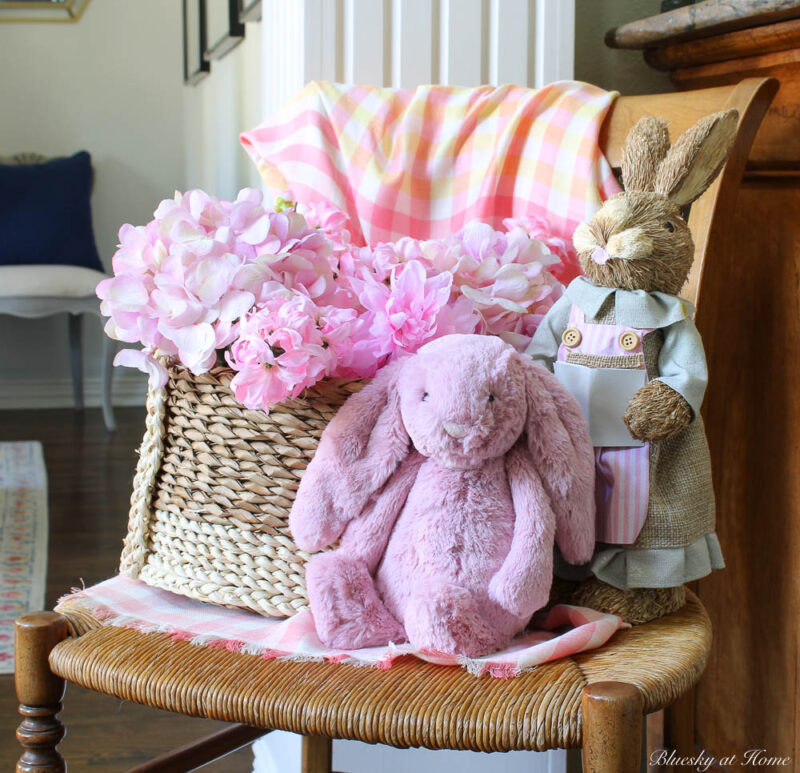 Again, another easy vignette to put together.
Entry Easter Vignette
Last month for our Pinterest Challenge, I created a spring vignette for our dining room with lanterns and bunnies.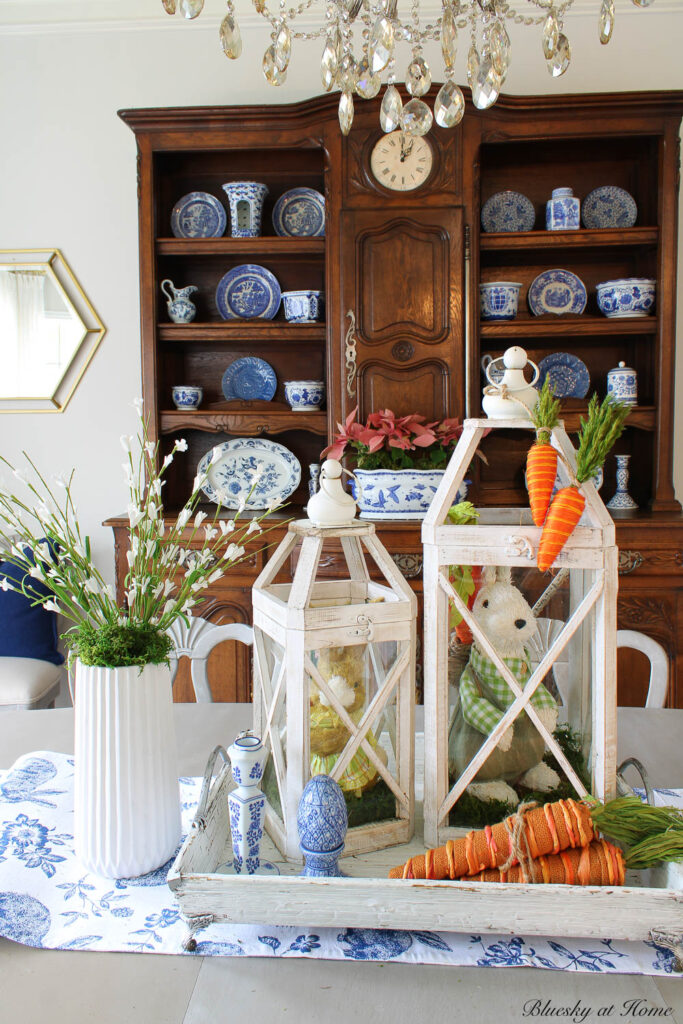 When I created a new tablescape in blue with bunnies for our dining table, I moved the lanterns with bunnies to our entry.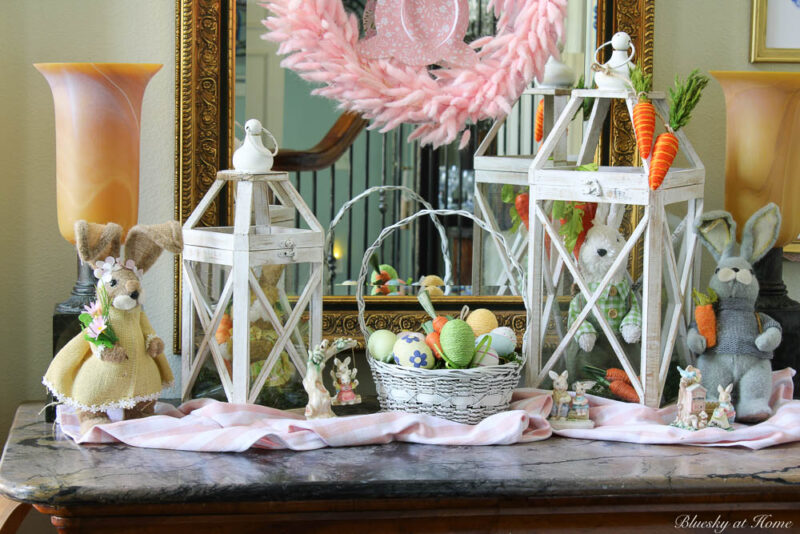 I used a pink and white check runner at the base of the lanterns. Then I filled in with more bunnies and figurines.
I think the chair vignette adds a final touch to our entry. It's another way to greet guests when they enter our home.
Oops, I just noticed that one of Nola's balls is under the chair.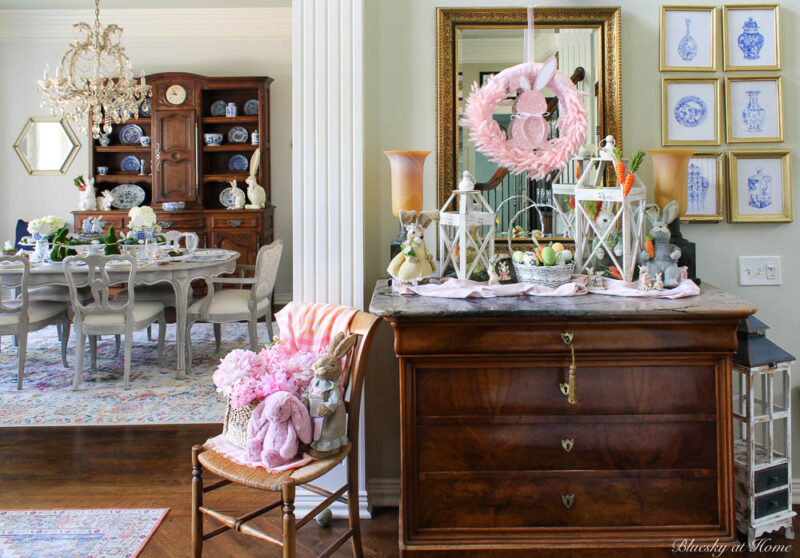 What do you think of my pink bunny tail wreath? It's an update of my Valentine's wreath. I think I'm going to add more flowers at the top.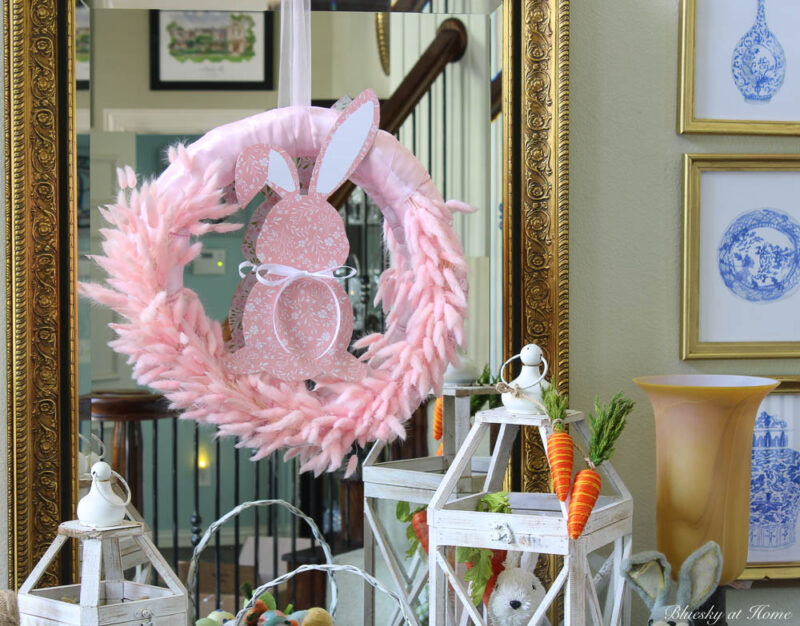 Thinking about using a chair as a base for a spring vignette? Follow my lead. This is such a great way to add seasonal decor to an empty corner in your home.
Shop this Spring Vignette
Here are some pretty ideas for making your own simple spring vignette with a chair, basket, flowers and bunny.
Time to see the other little spring vignettes that my friends have created. I know you will enjoy these 14 simple spring vignettes. You'll have more ideas that you'll know what to do with. Next up is my dear friend Julie of My Wee Abode.
Be sure to PIN this post and those of the other participants.