How to Make a DIY Spring Floral Wreath
Do you like to have a pretty wreath on your front door? It is such a welcoming touch. I just made an awesome DIY spring floral wreath for our front door.
Not only is this spring floral wreath pretty, but it was so easy to make. I can't wait to show you the process.
Do you like a quick DIY spring wreath project? You can make this DIY spring wreath in just an hour.
Spring wreath. Florals. Easy. Quick. I have a spring wreath that will check off all those boxes.
How to Make a DIY Spring Floral Wreath
I didn't have a specific vision in mind for this wreath. I was on a trip to Hobby Lobby for more faux flowers and the idea came to me as I walked the aisles.
Has that ever happened to you?
I knew I needed a new spring wreath. Walking the floral aisles yielded all the inspiration I needed. I decided to use a wire wreath as my base.
STEP~BY~STEP SPRING WREATH
This style of wreath was so easy. Here are steps I took:
STEP 1 ~ Choose the size of wire wreath ~ I used a 16-inch one.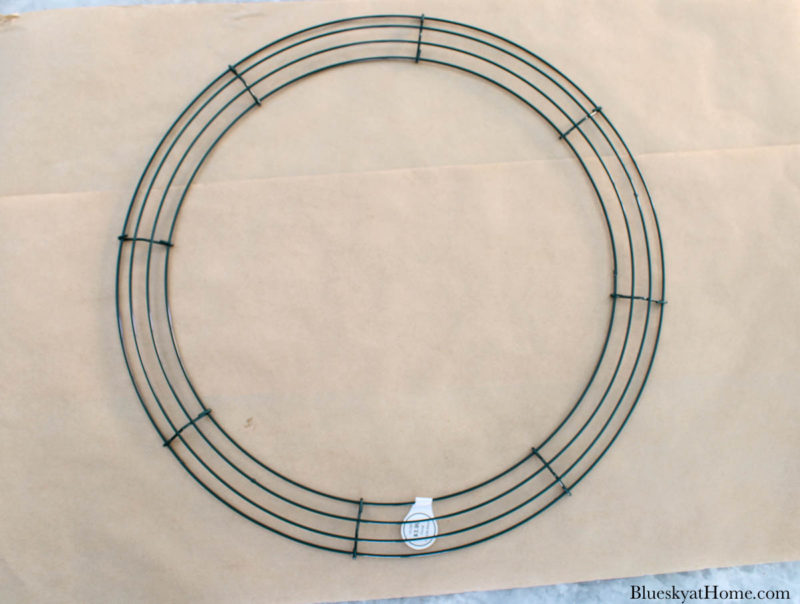 STEP 2 ~ Choose your florals. Picking out some new types of faux flowers was the original purpose of my trip to Hobby Lobby. I picked out some pink and white hydrangeas and pink cherry blossom~type branches.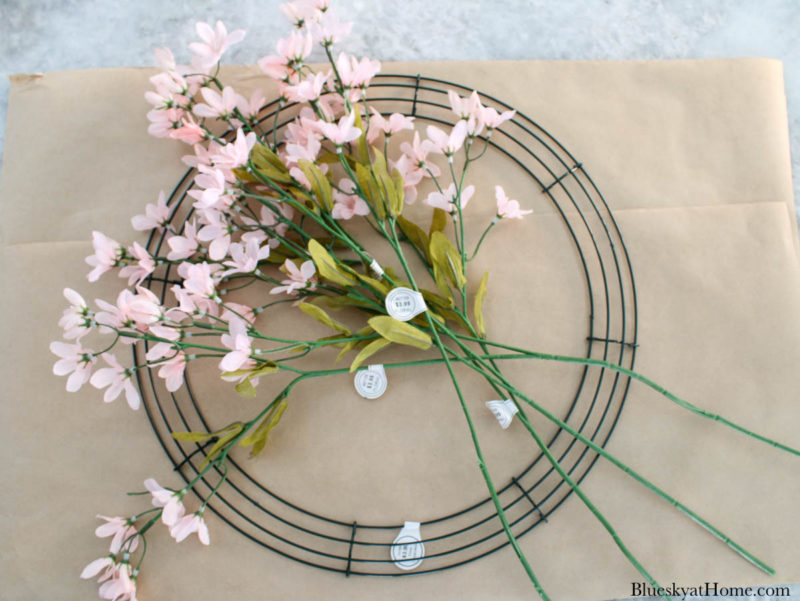 The hydrangeas are intended for another purpose. I used the branches for the spring floral wreath.
STEP 3 ~ Gather the rest of your supplies:
A few weeks ago, I ordered some moss ribbon on Amazon. This ribbon was 4 inches wide by 4 feet long (on the right below). While at Hobby Lobby, I saw another style of moss ribbon. This version was 2 1/2 inches by 3 feet long. I decided to buy one roll (on the left).
On an earlier trip to Hobby Lobby, I bought 2 rolls of wired twine, one in a natural and one in green. I had used this type of wire for an earlier blue and white wreath and loved working with it.
wire or floral clippers
scissors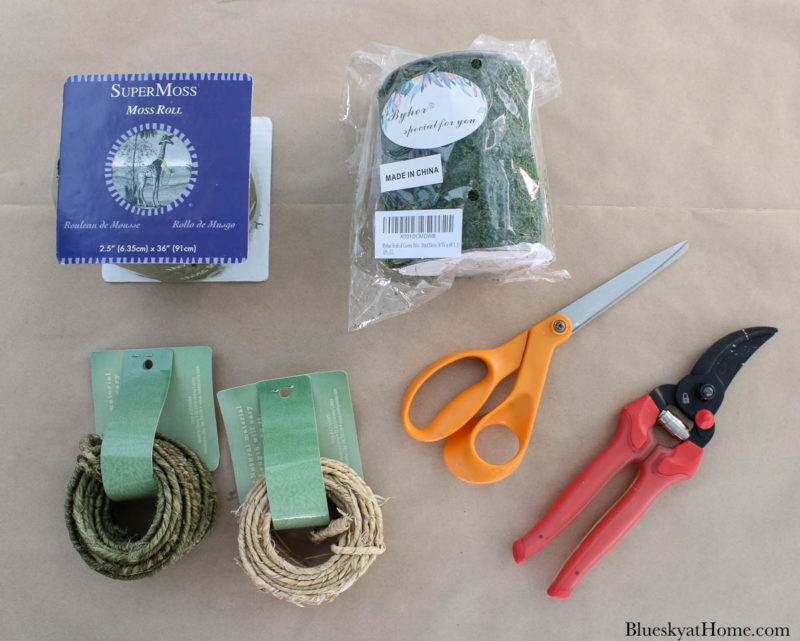 STEP 4 ~ I began by wrapping the 4~inch wide moss ribbon around the wired wreath.
Obviously, the 4~foot length of moss ribbon didn't cover the wreath. I opened the other roll of moss ribbon and wrapped it around the wire wreath.
You can see the difference in the two types of moss ribbon. I really liked the 2 1/2~inch wide moss ribbon better. It has a more "grassy" look and the narrower width was easier to use.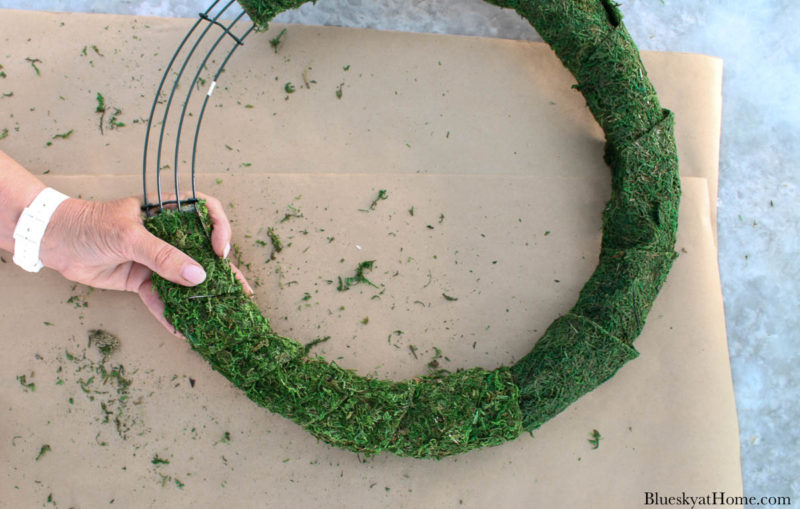 I didn't have enough moss ribbon to cover the circumference of the ribbon, so I needed to make another trip to Hobby Lobby. Since Hobby Lobby is close to the tennis club where I have tennis drills. I shop at the store on the days I have a drill. So a couple of days went by before I made it back.
NOTE: Once I got home with the 2 new rolls of moss ribbon, I decided to remove the wide 4~inch ribbon and replace it with the narrow ribbon. I'll use that moss ribbon for another project.
Now I finished wrapping the wreath. I used 3 total rolls to cover the 16~inch wreath.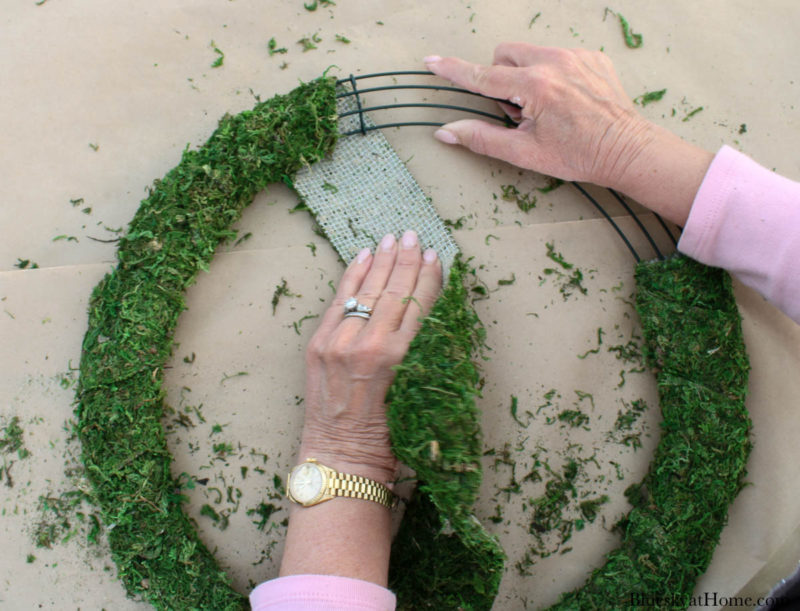 STEP 5 ~ Arrange your faux flowers on the wreath to your liking.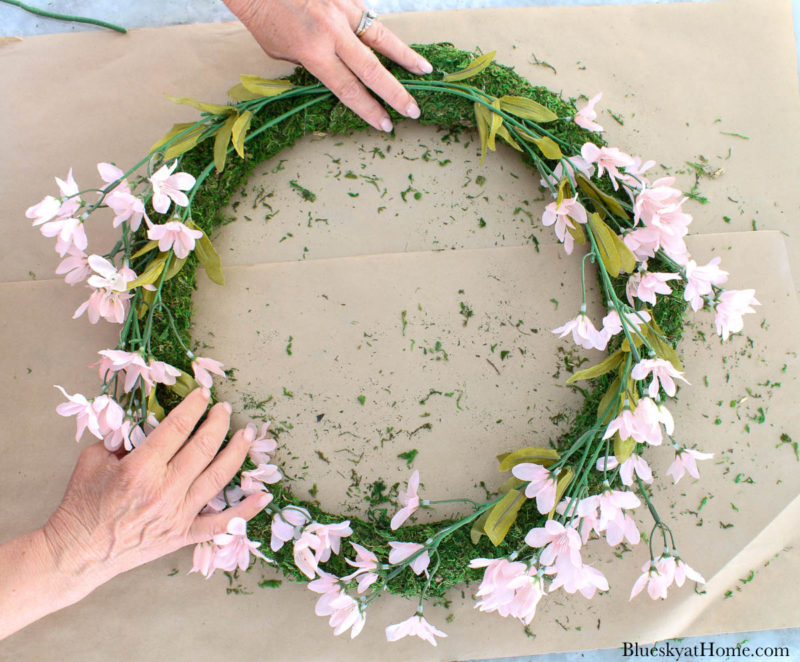 STEP 6 ~ Use the wired twine to attach the flowers to the wreath. I began by keeping about 6 inches at the top of the wreath. This would become part of the hanger.
I used just the wired twine to make the base of a wreath in this super cute wreath.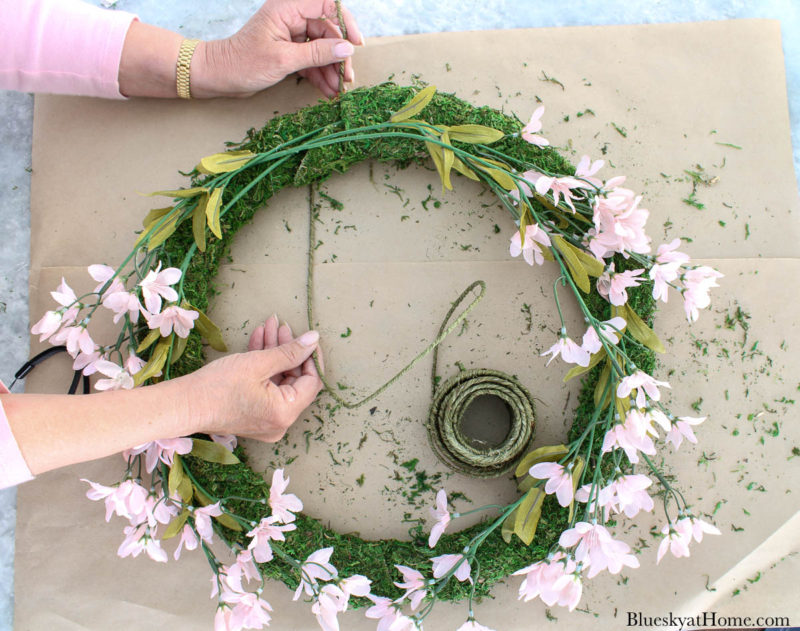 I started wrapping the wired twine around the wreath tightly. to hold the flowers. You don't have to make "tight" loops. I think I made five around the wreath.
I love using this method: no glue. It also means that you can unwrap the wire if you want to change the flowers.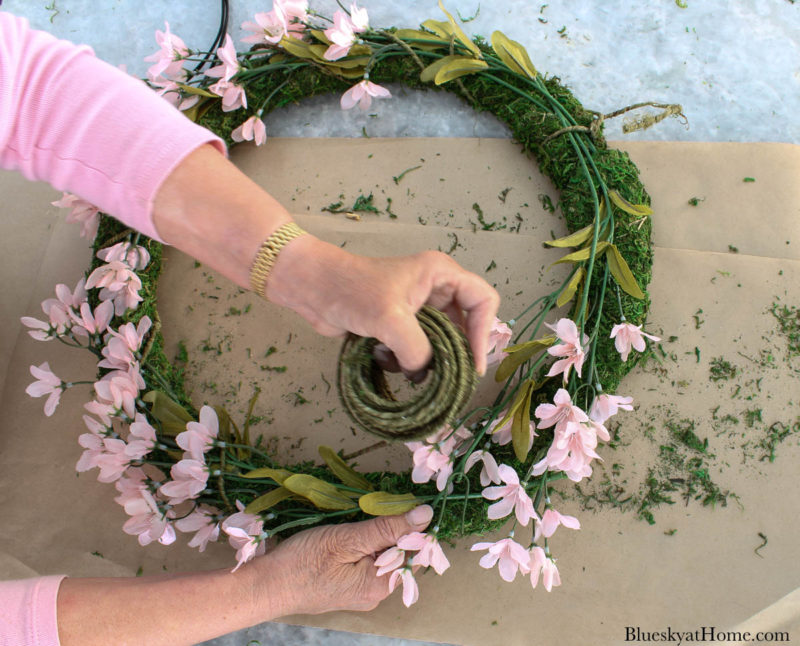 STEP 7 ~ Once you have finished wrapping twine around the flowers and wreath, leave about 6 inches of wire.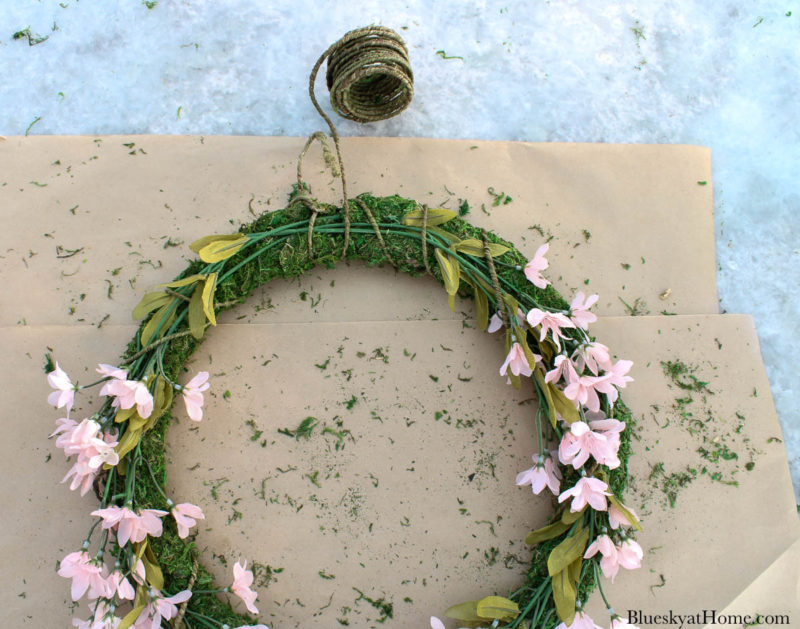 TIP: Make your wreath on paper. The moss does tend to shedd. This way you can pick up the paper and throw the excess moss out, keeping your surface clean.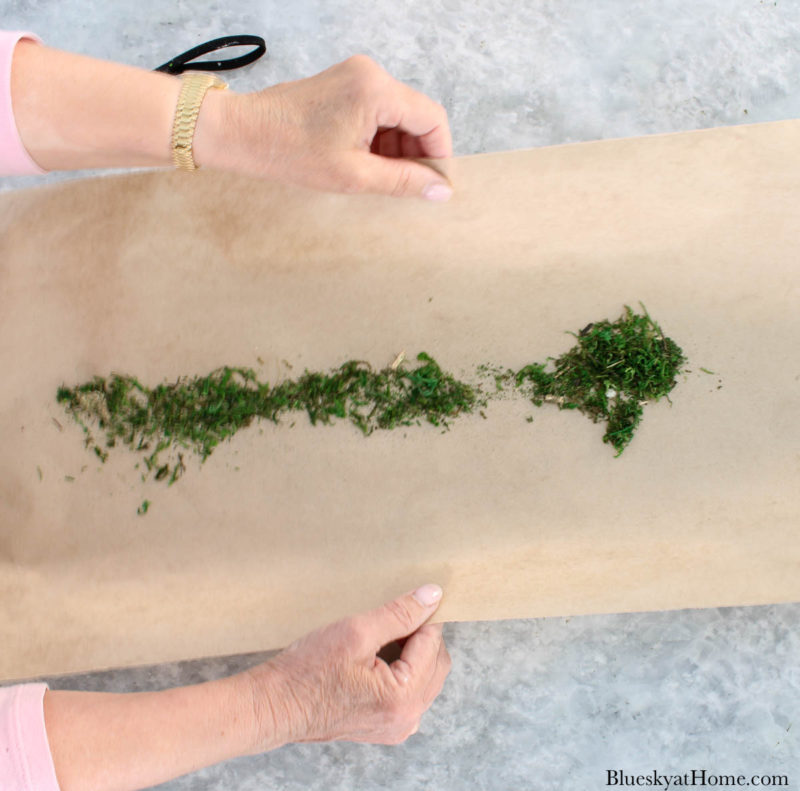 FINISH THE WREATH WITH A PRETTY BOW
I like to finish my wreaths with a pretty bow that adds color or pattern to my spring wreath. Since my flowers were pink, it made sense to use a pink bow.
STEP 8 ~ I recommend first looking to see if you have a ribbon on hand. Fortunately, I had not just ribbon, but two pink bows from a previous project. The stripe and plaid work well together.
STEP 9 ~ Using a sheer pink ribbon, I tied the two bows together. Then I used the tails of the sheer ribbon to attach the new bow to the wreath.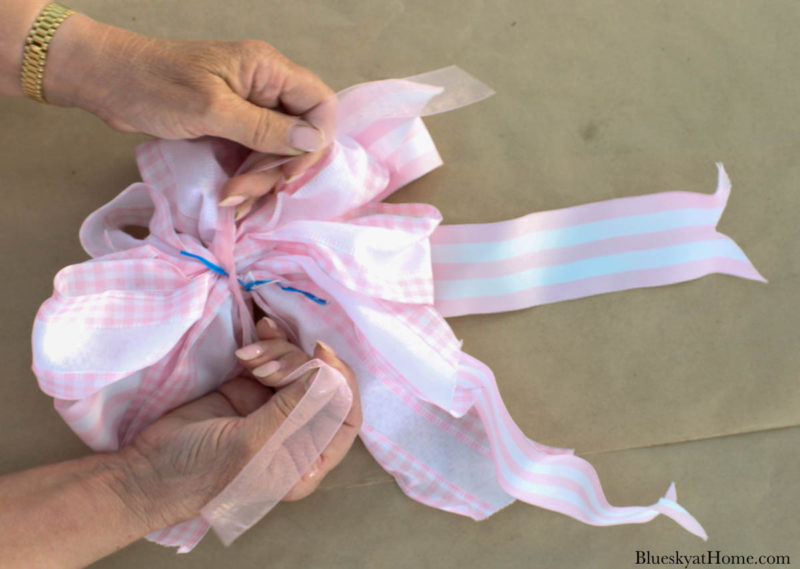 STEP 10 ~ Now cut off the end of the wired twine and loop it around the twine you started with to make a hanger.
The spring floral wreath is done and ready to hang!
HANGING THE SPRING FLORAL WREATH
This spring wrath can be hung anywhere in your home:
the mantel
on a mirror
on the wall
in a frame
on a cabinet front
Of course, there is always the front door and that is where I'm hanging my DIY spring floral wreath.
Usually, I hang my door wreaths with an over the door hanger. I happened to see a suction wreath hanger and decided to try it.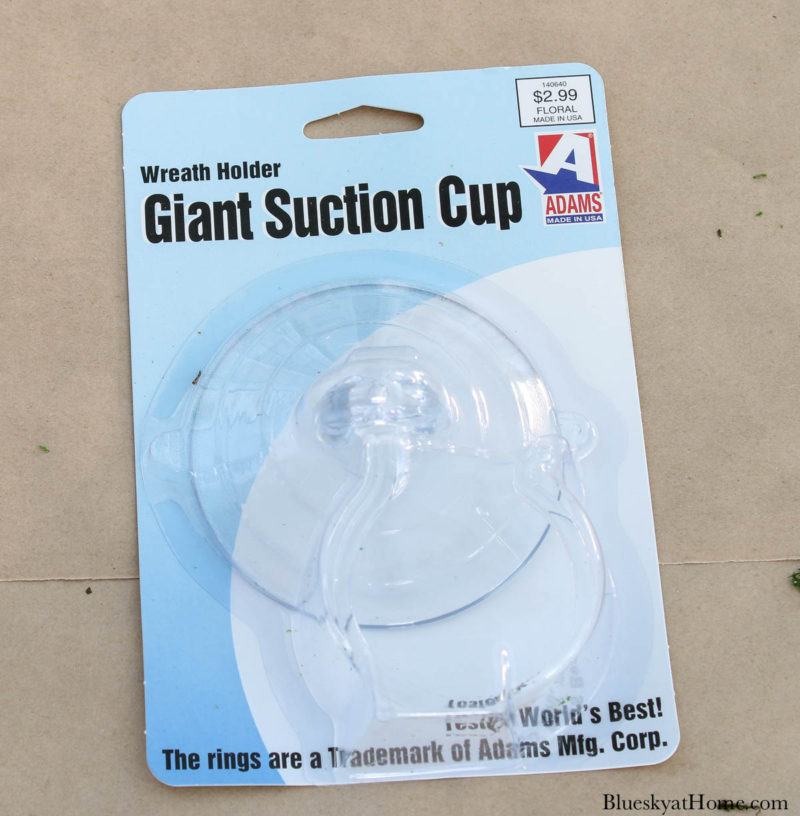 Next, I cleaned the glass on our front door first. Attaching the suction cup was so simple.
Finally, I hung the spring wreath. I was pretty sure I would love it and I did.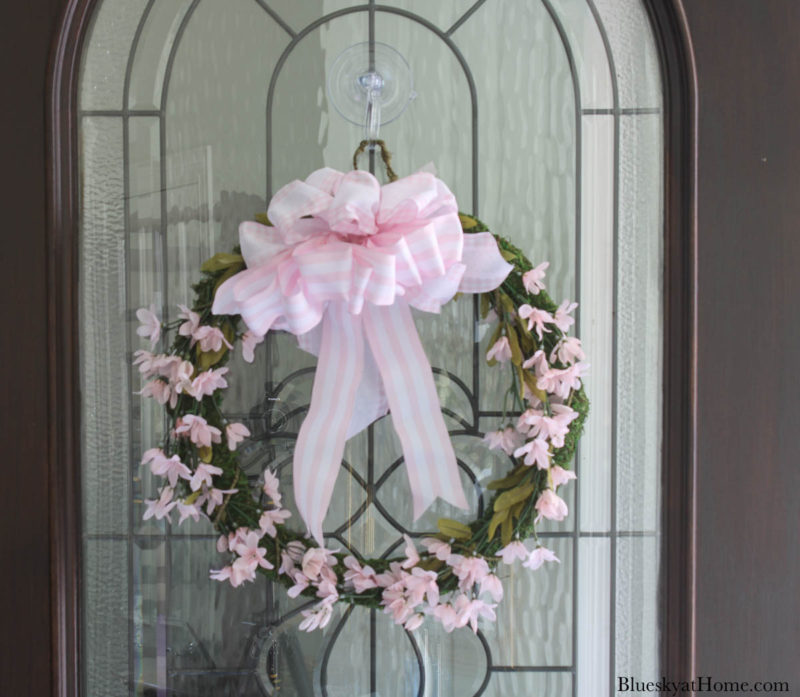 I love how it looks from the front of our house. You can see my tripod in the reflection!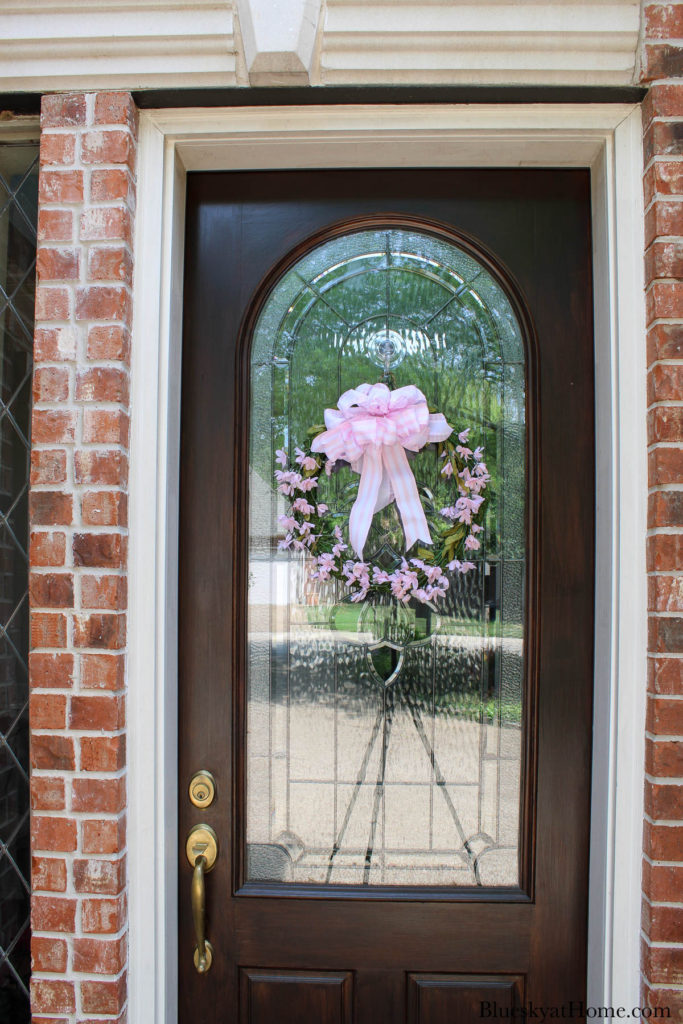 SUPPLIES FOR THE DIY SPRING FLORAL WREATH
There aren't many supplies you need for this version of a spring floral wreath.
I purchased all the new supplies at Hobby Lobby.
16~inch wire wreath ~ $3.99 (I know you can get this wreath at Dollar Tree for a dollar, but I was at Hobby Lobby.)
3 ~ 2 1/2~inch wide moss ribbon ~ $4.99 each
green wired twine ~ 25 feet ~ $4.99 (I only used about 2 feet.)
4 faux pink flower branches or flowers of choice ~ $3.99 ~ 50% off ~ $7.96
ribbon for bows
wreath hanger ~ the suction cup I used was $4.99
NOTE: Now it may seem that this spring floral wreath was on the expensive side. But, remember that it can be completely disassembled. Everything can be taken apart and reused for other projects.
I'm so excited about this spring floral wreath. It was easy to assemble without a glue gun or other adhesives. It's pretty and perfect for the season. I can easily remove the pink bow and the pink flowers and replace them with summer colors or holiday festivities.
Oh, and it took less than an hour in total to make!
I hope you have the itch to create this DIY spring floral wreath. PIN it for NOW!