Celebrate Spring with a Blue and White Entry
Your entry says something about you. Whether it is large or small, an entry is place to set a welcoming spot for the coming warmer months. Let me show you how to celebrate spring with a blue and white entry.
Although we may not quite yet be welcoming guests to our homes (hopefully, that will change soon), we can and should decorate our entries to please our ourselves and brighten our days. That's why chose to bring into our home for spring with a blue and white entry.
Why did I chose blue and white for our spring entry? Because I love blue and white! It's fresh, crisp, classic and traditional.
You can't ever go wrong with blue and white.
Celebrate Spring with a Blue and White Entry
We walk through our entry every day ~ from Sweet Shark's bar to the stairs, from the front door to the back of the house, from the bedroom or living room to the powder back. The entry is central to our home.
I'm so pleased to share my blue and white entry during the Celebrate Spring Blog Hop hosted by  Leen of Sand Dollar Lane. I know Leen loves blue because she's a coastal girl.
Twenty~five lifestyle bloggers are participating in this spring celebration. Each day focuses on a different aspect of spring. We started Monday with outdoor spaces, Tuesday was Mantels, and today is all about entries.
If you are "springing" over from Jen of Noting Grace, then welcome from her entry to mine. At the bottom of this post, you will find the list of all the participants.
Blue and White Entry Reveal
Let's work backward.
I'll show you the blue and white spring entry, and then show you how I got there.
This spring entry is made of two parts.
First, my blue and white entry is a collection of my blue and white vases, ginger jars, and other blue pieces.
Most of these pieces I purchased in the last year at two estate sales.
The second component is a wreath on the mirror above the commode. This one was inspired by items that I had on hand and to tie in with the blue ceramics.
MAKING THE SPRING WREATH
Here is what you need to make this springtime wreath:
a grapevine wreath, about 15 inches in diameter
faux flowers of your choice, about one dozen
wired twine
clippers
burlap wired ribbon
ribbon, color of your choice
scissors
The foundation for the wreath is a grapevine wreath that I've had for a few years. I also had a dozen white faux tulips on hand.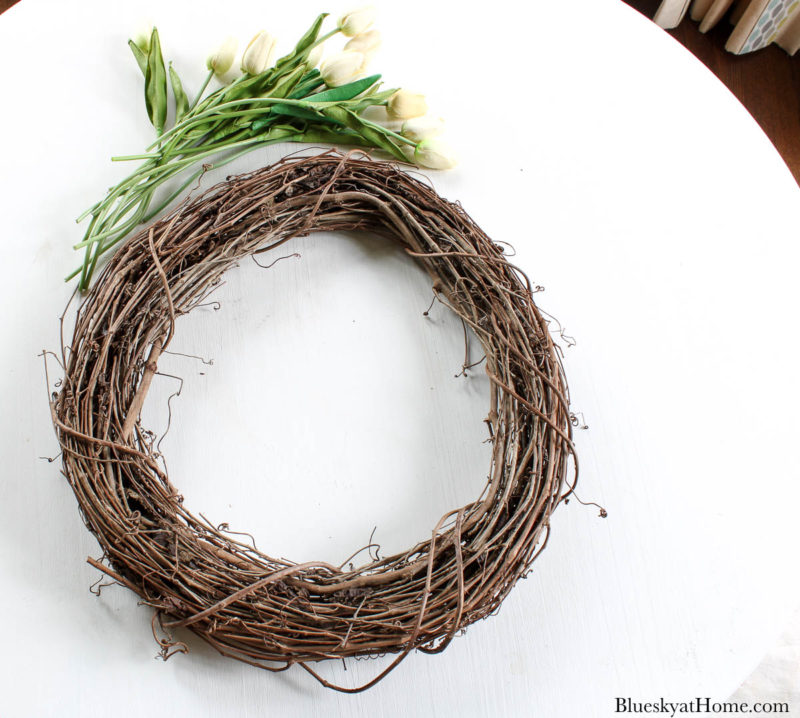 I had the wired rope twine, the burlap wired ribbon, and two shades of blue ribbon.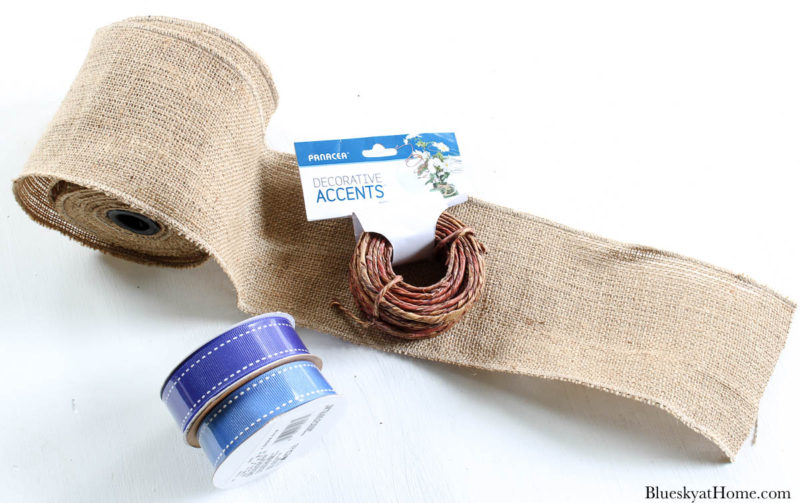 I like to create wreaths in such a way that I can remove the elements I use to decorate the wreath for other seasons.
First, I placed the tulips where I wanted them and bent them to fit the wreath.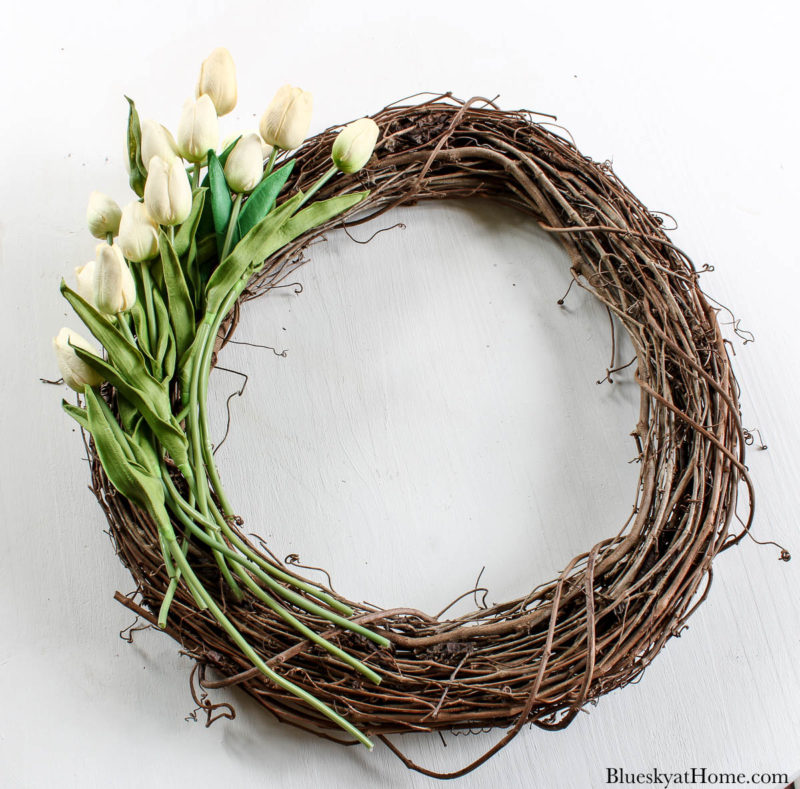 To attach the tulips I tightly wrapped the wired rope twine around the tulips and the wreath. Then I clipped the wired rope twine.
This worked really well. It held the tulips easily, it's rustic, but you can hardly see it.
Now for the bow. I "layered" the wired burlap ribbon to make a bow and tied it with the wired rope twine.
Next, I situated the bow on the wreath, attached a tail to the bow, and attached both to the wreath. I also made a loop for hanging with the wire rope twine.
Next, I chose the darker blue ribbon as streamers to the front of the wreath and hung the wreath on the mirror..
ARRANGING THE WHITE FLOWERS IN THE BLUE VASES
I bought these two chinoiserie vases at At Home a couple of years ago. I have used them on my mantel, dining room and coffee table.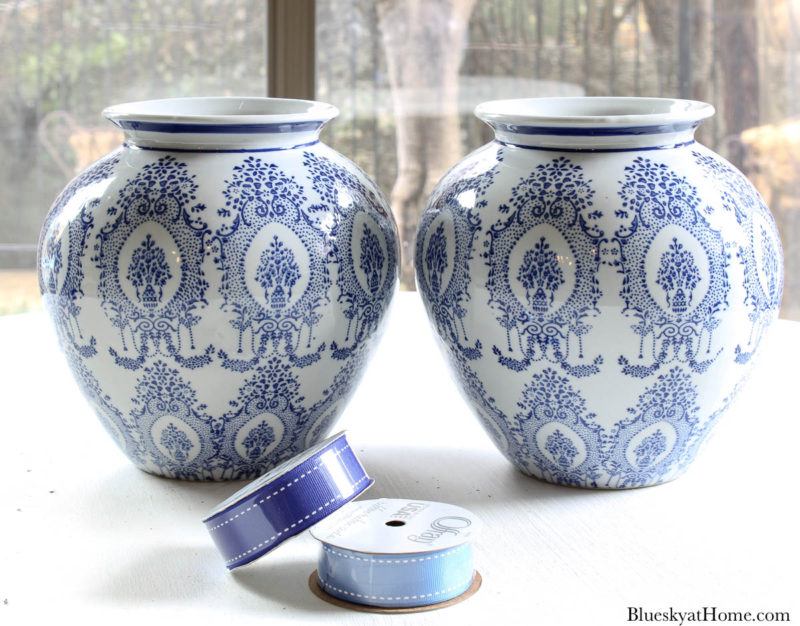 A few weeks ago, I bought some faux white flowers at Hobby Lobby in anticipation of decorating these vases for the sprng entry.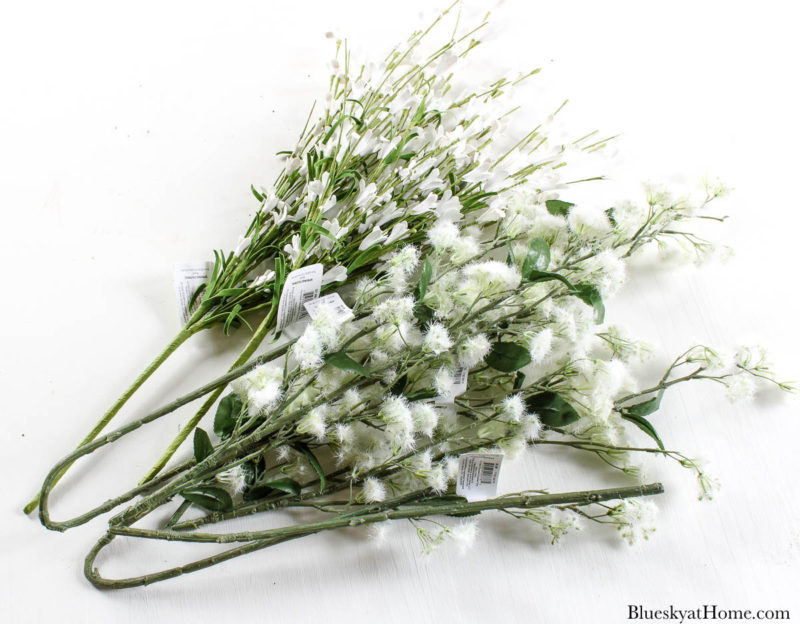 I used florist foam to hold these faux white flowers in the vases.
These blue and white vases will be the anchors for the spring entry. I also included faux hydrangeas.
Next, I was ready to gather all my blue and white pieces on the entry commode.
ARRANGING THE BLUE AND WHITE SPRING ENTRY
First came the two blue vases and a stack of white~covered books in the center.
I know you can see my camera on the tri~pod. It's hard to hide it in the mirror's reflection.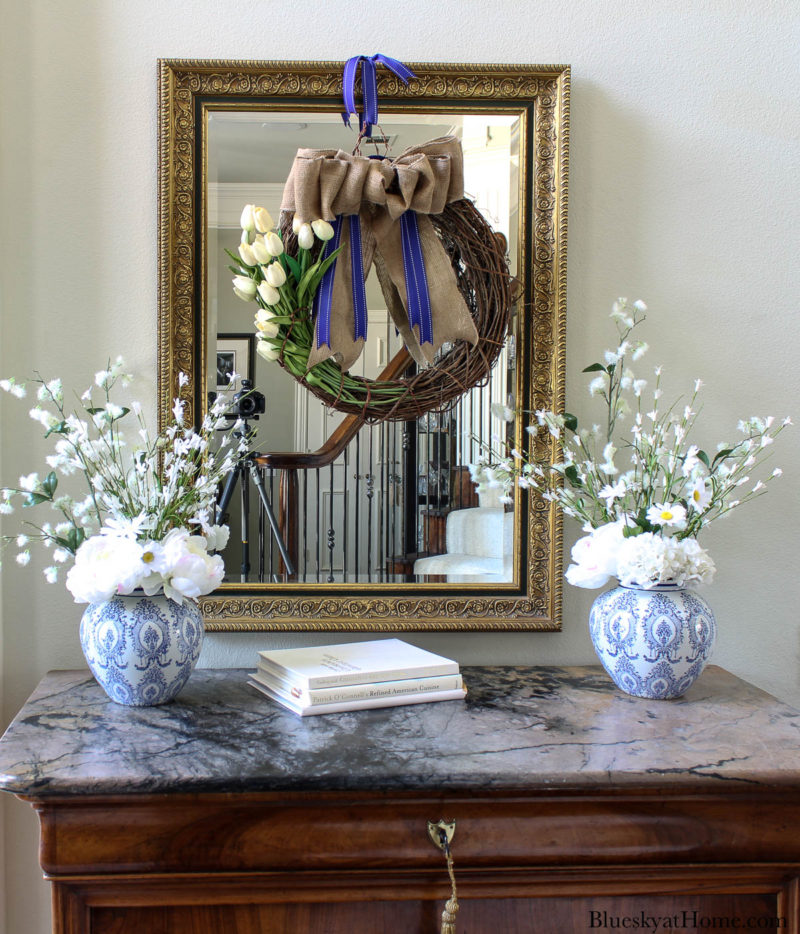 I filled a bright blue pitcher (purchased years ago at a local art festival) with fresh hydrangeas from Trader Joe's. I think they have the best, long~lasting hydrangeas. I couldn't believe how well the blue in the ribbon matches the blue pitcher.
Next, came a piece I've been dying to use. I loved this tall blue and white motif the first time I saw it. But I had to wait months before I could use it. Can you guess where this tall bottle came from?
It's a tequila bottle! After many margaritas over many months, I claimed the empty bottle. Then I removed the label and washed it.
I'm waiting for a matching one!
On the left side of the commode I added an estate sale pitcher. The ginger jar was an Etsy buy. I love both of these pieces.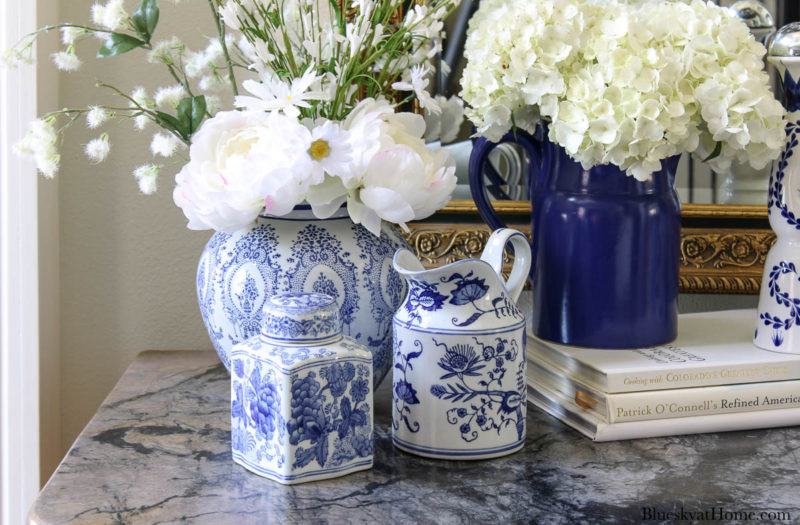 On the right side, I added another unusual estate sale piece. If anyone knows how this piece is supposed to be used, please let me know. The last addition is a new one ~ a lovely candle from Southern Hospitality Company.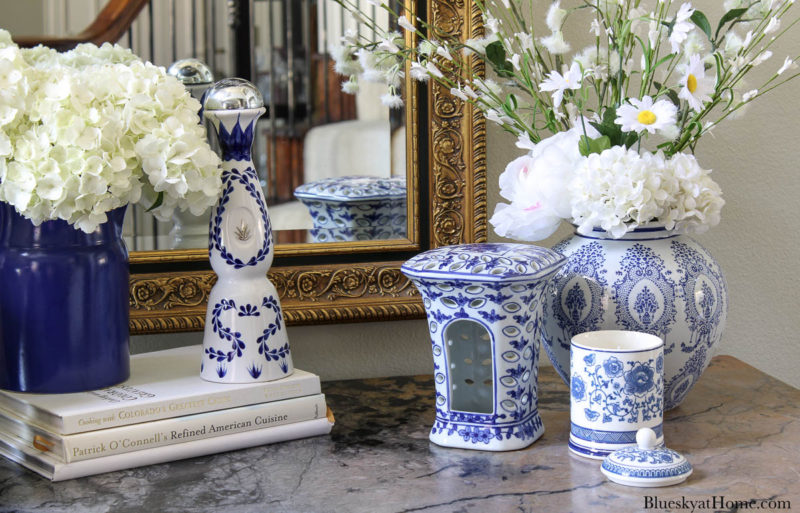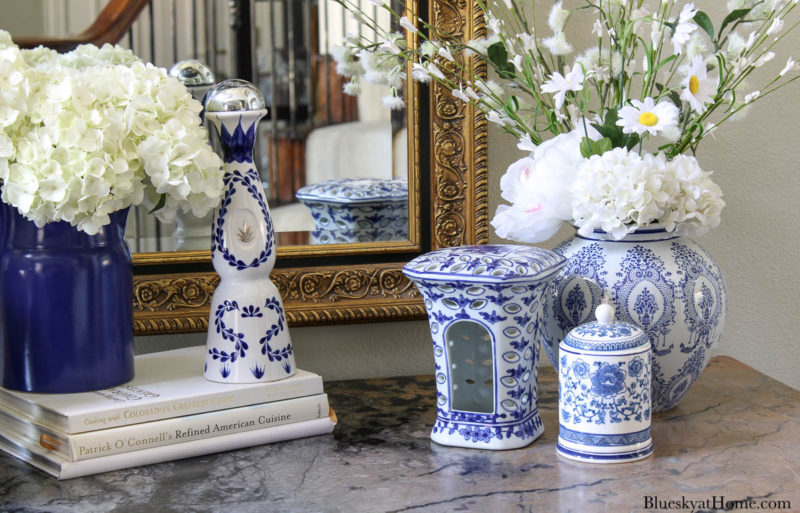 That completes my spring blue and white entry. It's symmetrical and balanced with different heights for interest. Although each piece is different in shape and size, the chinoiserie pattern unifies the pieces.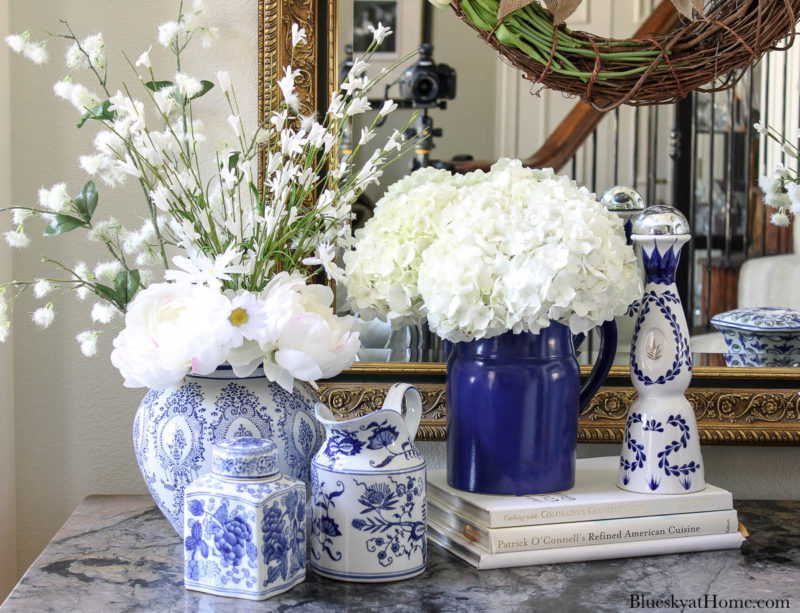 The big pop of blue from the pitcher pulls the eye in and the wreath brings the eye up. The somewhat more modern design of the tequila bottle brings a bit of quirkiness to the vignette.
The white flowers, both fresh and faux, are the ode to spring.
We have been enjoying this spring blue. and white entry for about a white. I'm sure that in another week, I'll change to a more Easter pastel color scheme.
I hope that you will PIN this blue and white entry as inspiration for your own home, using whatever shades of blue or patterns you have.
Please head over to visit Kelly at The Tattered Pew. I love her style and you will too.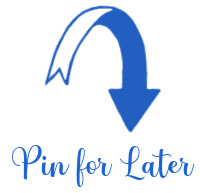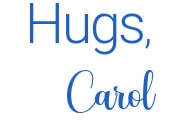 The Little by Little Home // Worthing Court // Aratari at Home
What Meegan Makes // The Roots of Home
—