Blue and White Accessories in Traditional Home Decor
Today, the popularity of blue and white accessories in a chinoiserie style has exploded. Fortunately, it is a classic home accessory that will never go out of style.
Depending on the age and the quality, blue and white accessories can be found in all price points. You can find chinoiserie everywhere ~ in vases, lamps, dishes, platters, cachepots, and fabric.
Recently I had the pleasure of visiting my neighbor's home. Julie lives two doors up the street from Sweet Shark and me. When I walked into her entry and glanced into the dining room, she had me at hello.
I immediately saw that Julie had a fabulous collection of blue and white chinoiserie. From the entry to the dining room, living room and den, blue and white accessories were the focal point of every room in her beautiful traditional home.
I knew that you would love to see how Julie has used blue and white home accessories. It's also obvious that she loves decorating in a traditional home style. So I asked her if I could photograph her home. You will love this home tour
TRADITIONAL HOME WITH BLUE AND WHITE ACCESSORIES
Before I show you all the pretty blue and white accessories in Julie's home, let's review what chinoiserie is.
I am late to the chinoiserie parade. Although I have always loved blue and white, I've never had any chinoiserie of my own. This past spring, I bought my first blue and white chinoiserie vases at AtHome. They were only $39 each. I used one in our spring bedroom and one on a spring tablescape.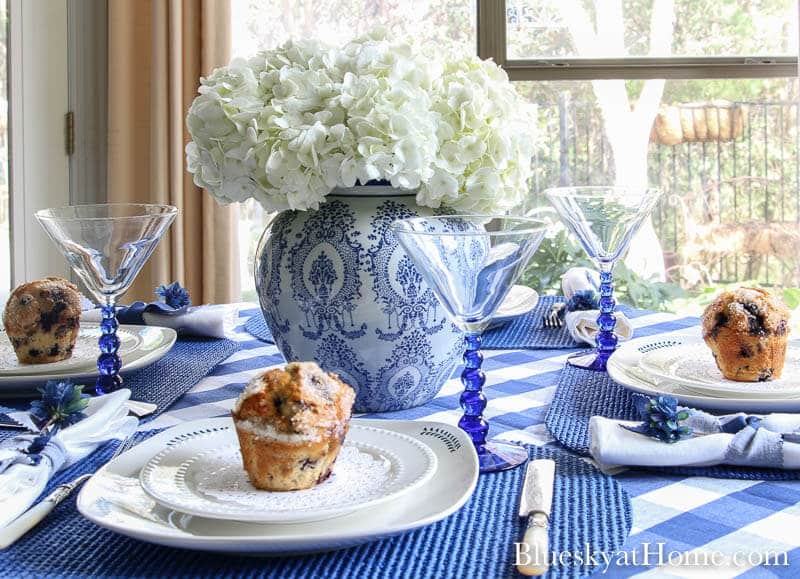 Then last month, I made a chinoiserie~style lamp using the decoupage technique.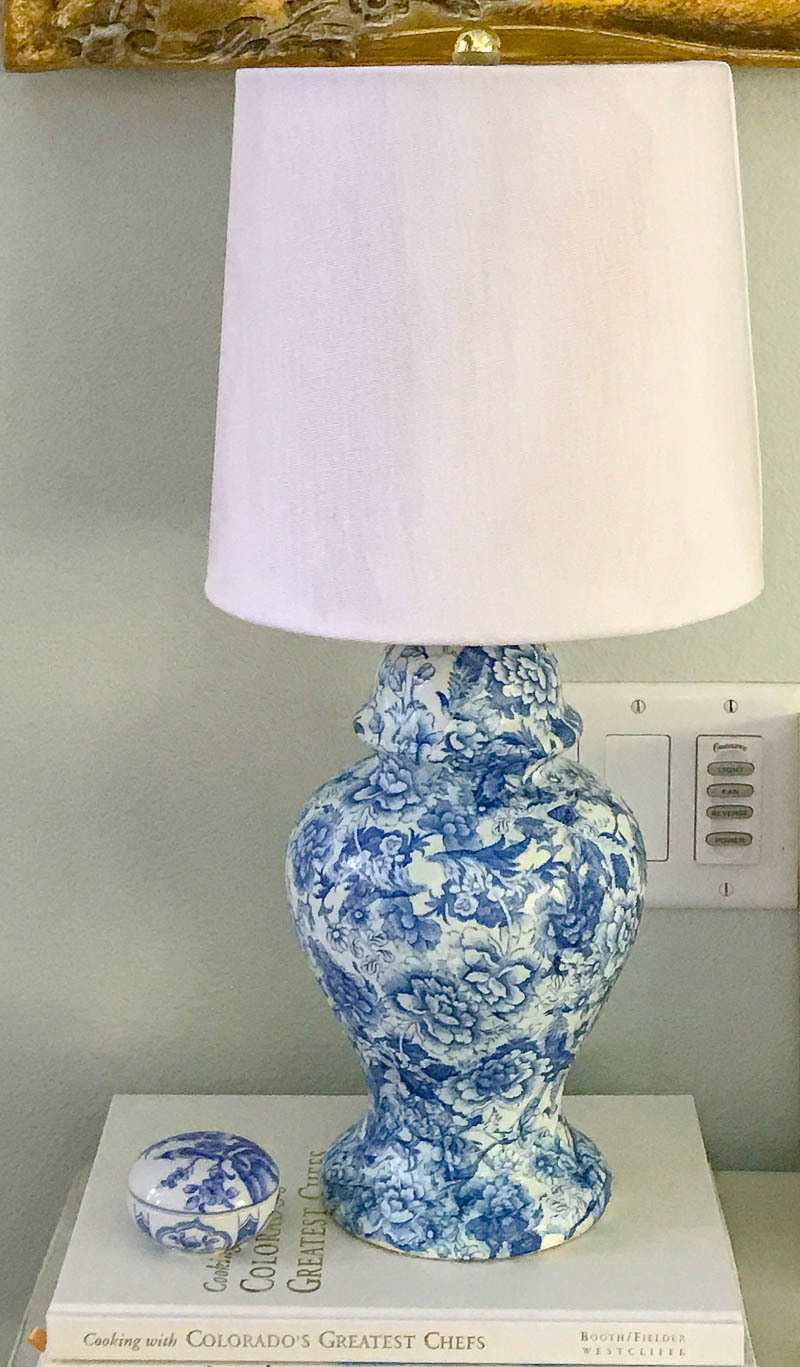 My 3 nods to chinoiserie are a drop in the blue and white accessory home decor bucket. Wait until you see all the beautiful blue and white accessories in Julie's home.
As it turns out, Julie has been collecting chinoiserie since she graduated from college. A native of Northwest Missouri, she learned from her mother who was an avid collector. Many of the pieces in Julie's home originally belonged to her mom.
ENTRY AND DINING ROOM
Not only did Julie's blue and white chinoiserie attract my attention, but she obviously loves to decorate with blue and white. As soon as you walk into Julie's home, you feel so welcomed. As we chatted, she told me about her lifelong love of collecting. You immediately can see that she has a talent for home decor.
A beautiful chest is decorated with several pieces of chinoiserie. A quartet of botanical prints provides the backdrop.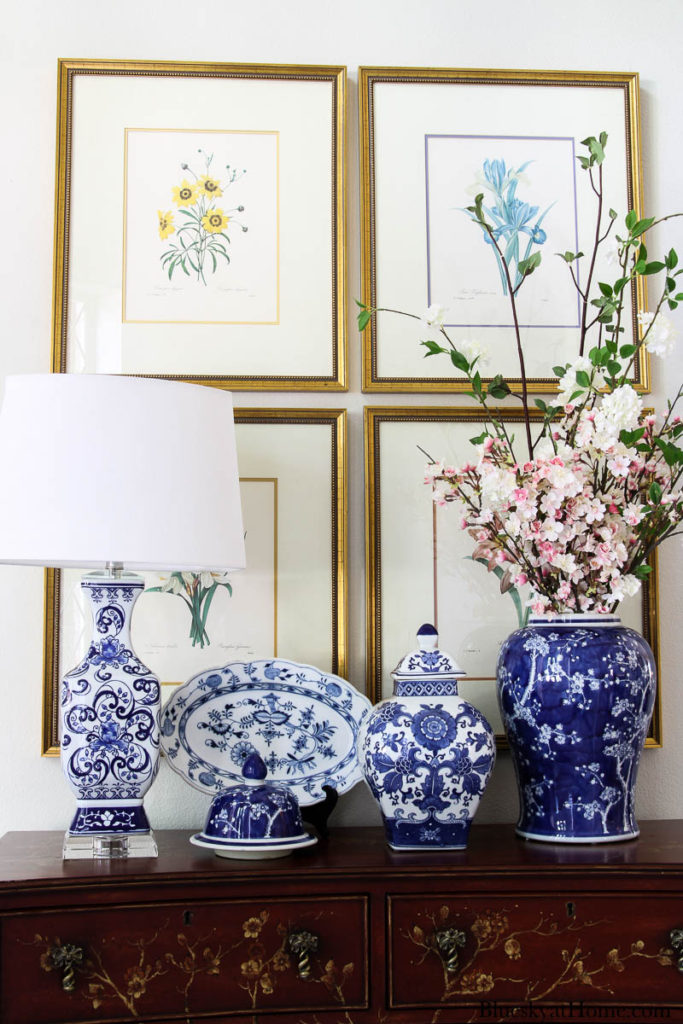 The beautiful chinoiserie vase, jar, platter, and lamp set the color scheme for the whole house. The faux stems reflect the florals in the gold frames.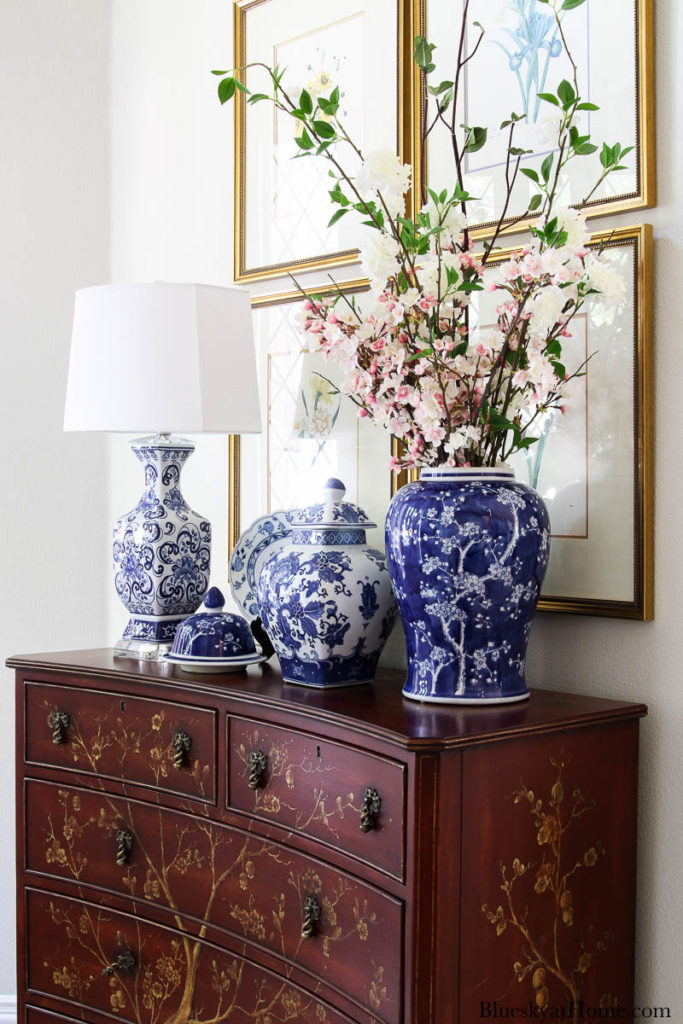 To the right of the entry is the dining room. A beautiful table provides a place for a gorgeous large bowl and orchid. The yellow patterned chairs compliment all the other blue accessories.
A trio of blue and white platters on the sideboard brings your eye into the sun~filled room.
Julie and her husband, who is a very sweet guy, love art and you can see examples of it through the traditional home.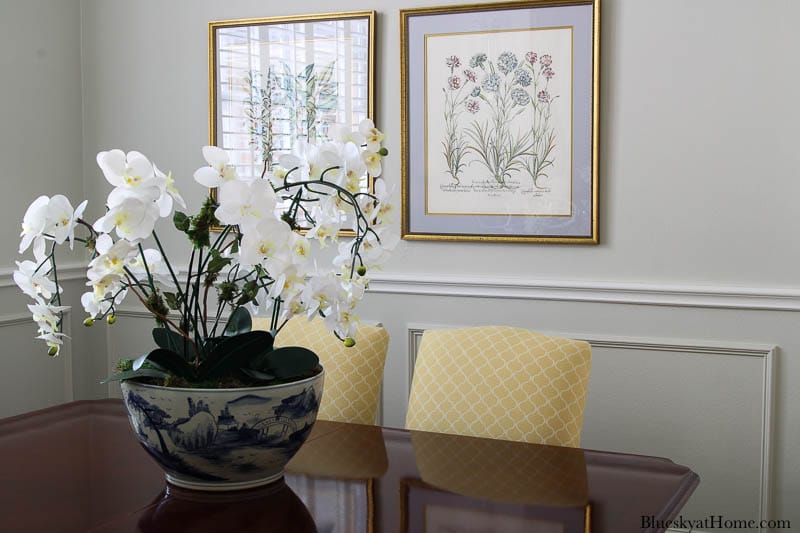 On the back wall of the dining room, a console table provides another spot to display blue and white accessories and art. The opening to the left leads through a butler's pantry to the kitchen.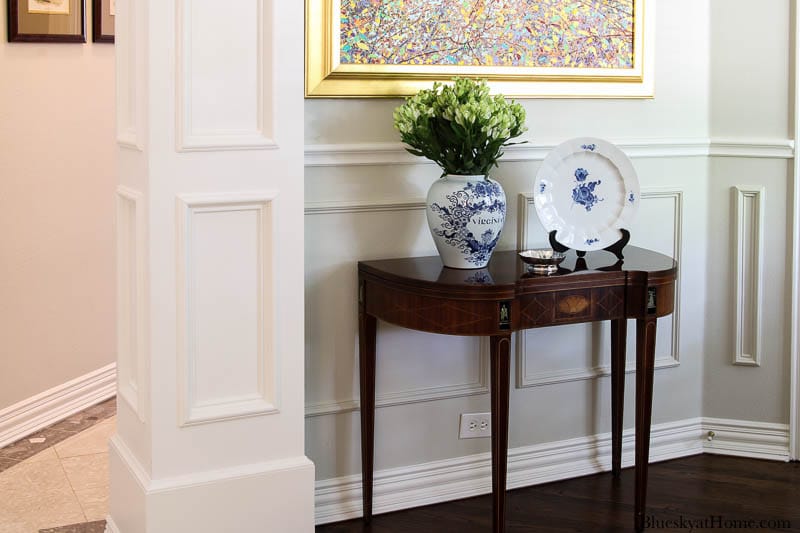 Although most of the furniture is traditional, much of the art has a modern feel that provides lots of pops of color.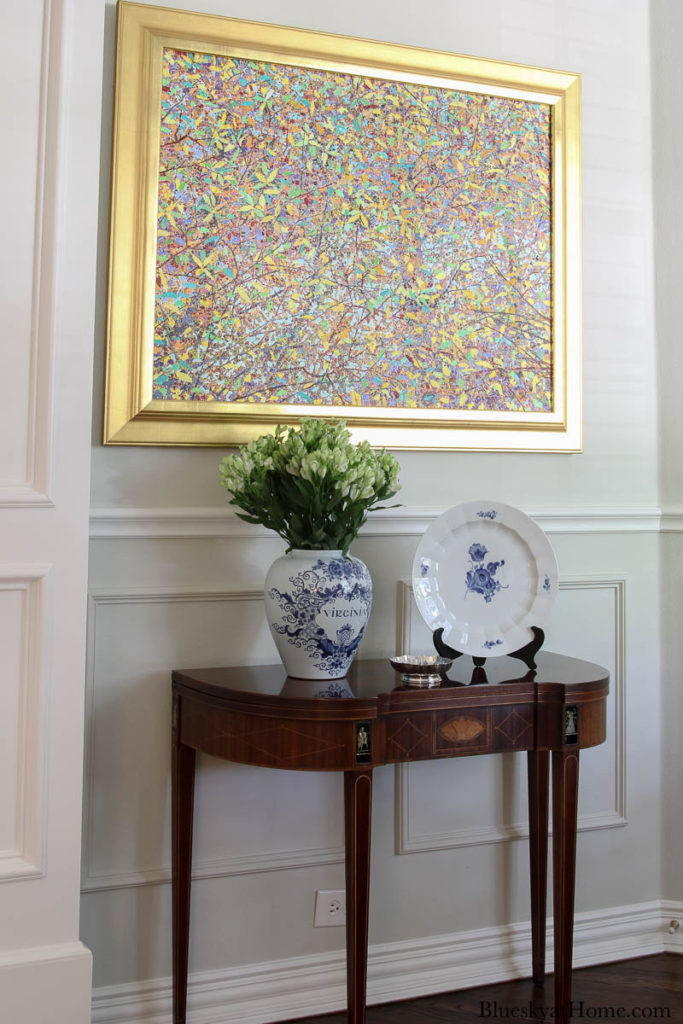 The butler's pantry leading from the dining room to the kitchen is full of dishes and serving pieces that Julie inherited from her mother or purchased at antique shops in Missouri. Here's just a sample.
One plate in a muted pattern is a special piece.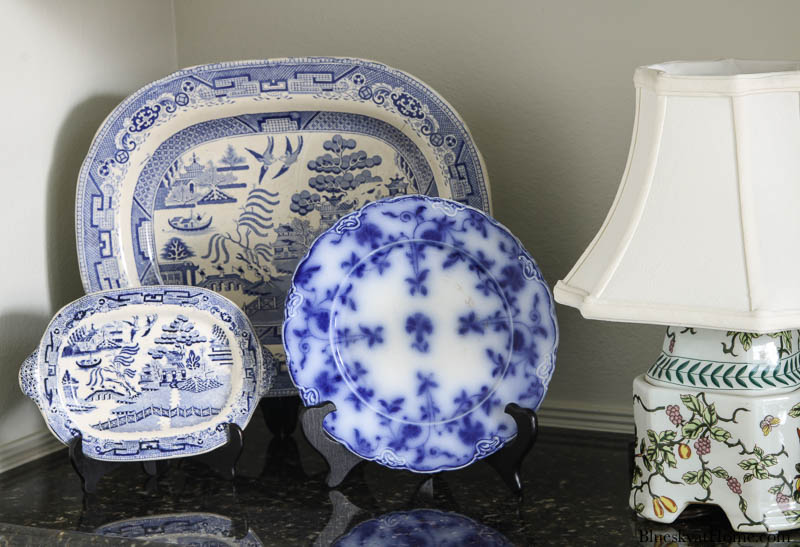 LIVING ROOM AND DEN IN BLUE AND WHITE
As you pass through the entry and pass the open stairway you enter the formal living room. Two white sofas flank a coffee table. You'll notice more blue and white accessories, including pillows, lamps, and figurines.
Julie loves detail and you can tell by the trim on the pillows and the blue patterned chairs. Green plants add a natural element to the room. The large painting is reminiscent of a Monet painting.
I love the trim on this little pillow.
The large square table between the sofa and the blue chair was made by Bill's grandfather. I love the floral pattern on the lamp and the sweet blue Herend bunnies. Notice the pretty trim on the blue pillow and the lamp shade. It's details like this that give depth to any home accessory.
A small side table shows off a beautiful vase with faux peonies and another Herend bunny.
On the opposite wall behind the other sofa is another colorful and modern piece of art.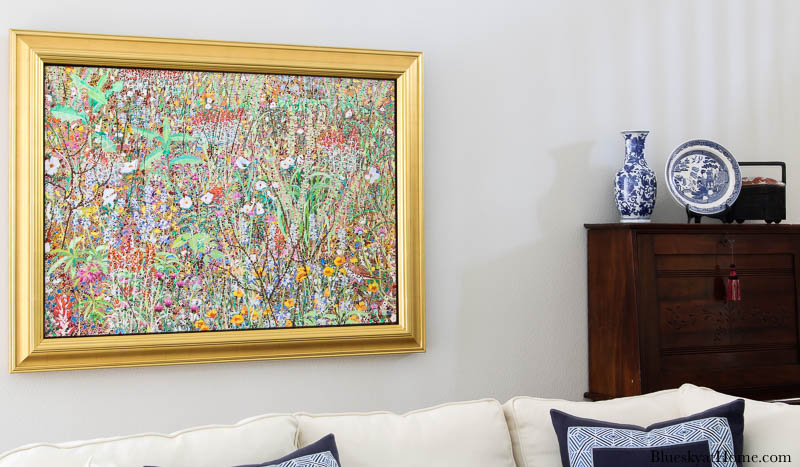 This beautiful chest has been in Bill's family since 1910. It's another place to display more of Julie's collection of blue porcelain pieces.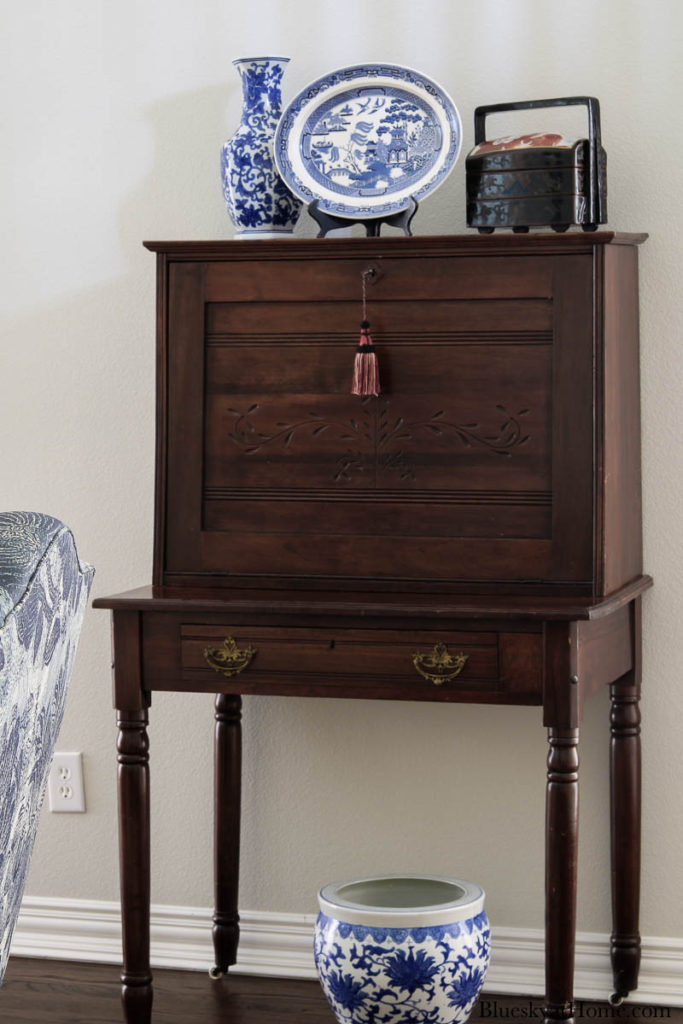 Let's move into the adjoining family room. A sofa and comfy chairs surround the fireplace (which somehow I did not photograph). Another chinoiserie lamp pairs with a pot on the side tables.
Although this home is very open, Julie has plenty of wall space to display more artwork and more blue pillows and flowers.
A console table on the window wall is another place to display more chinoiserie and flowers.
BLUE ACCESSORIES IN THE KITCHEN AND BREAKFAST ROOM
Adjacent to the family room is the breakfast room which receives lots of sunlight. A round table for casual meals always has fresh or faux flowers. A banquet under the window is a place for some vintage pieces.
I love this small lamp with the chinoiserie base. As you can see, Julie's kitchen has white tile and white cabinets.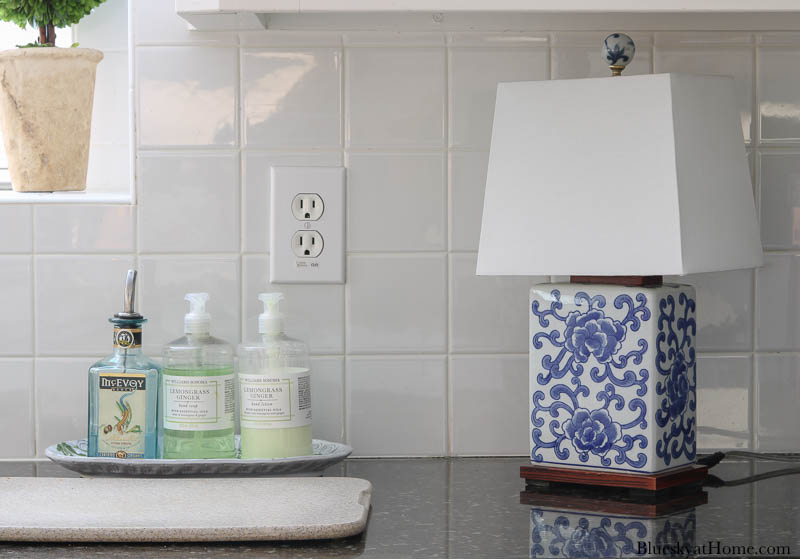 I really like the tall shelf above the sink for displaying whatever strikes your fancy. For summer, a watermelon plate and a topiary. Aren't the little white pitchers sweet?
BLUE AND WHITE MASTER BEDROOM
Julie and Bill's master bedroom is a large and relaxing area. The focal point is the beautiful 4 poster bed. The walls are painted a soft powder blue. The white matelassé is a wonderful backdrop for a grouping of colorful pillows.
An Americana style print above the bed is another pop of color in the soft palette in the room.
Floral lamps flank the bed on both nightstands.
In the seating area, two comfortable blue chairs flank another console table. This is a great place to display family pictures.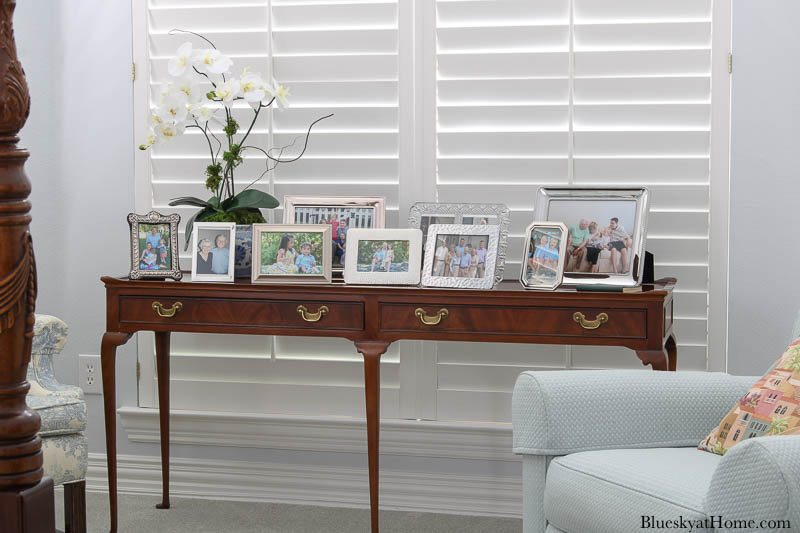 I hope that you enjoyed this traditional home tour with blue and white accessories throughout. If you love decorating with blue and white, then you should have quite a bit of inspiration.
If you love inspiration from touring homes, you will love this light and bright home also.
Don't forget to PIN this post to your home decor boards.