10 Ways to Use Lighting in Your Home for a Beautiful Glow
What would a home, a room be without lighting? I don't mean a light bulb. I mean beautiful lighting that is not only functional but also enhances the decor, giving a sense of ambiance to the setting. Here are 10 ways to use lighting in your home for a beautiful glow.
Whatever lighting you choose, it should make a statement: "Look at me!" or "I'm just happy to be here" or "I'm just here to do my job". Whether a light fixture adds formality and elegance, a modern vibe, a casual or rustic tone, lighting can be the icing on the cake, the exclamation point to a room's sense of being. When we were remodeling our home 5 every lighting choice we made turned out to be the right one and almost 5 years later, I still love all our selections. I thought I would share with you 10 ways to use lighting in your home.
Although I'm sharing 10 ways to use lighting in your home, please don't think that you have to or need to change out every lighting fixture in your entire home! No, no.
One new lighting fixture can make a huge difference in your home, like one new picture frame or one new mirror or candle. Think of it as a 1~light~at~a~time project, as your time, needs and budget allow.
10 Ways to Use Lighting in Your Home for a Beautiful Glow
I've partnered with Arhaus to show you some beautiful lighting options for your home. I've received no compensation and all opinions are 100% mine.
Front Porch Lighting
Lighting choices actually start outside. The light fixture you choose around your front door entry will greet your guests and can set the tone of your interior decor. Think, "what do I want my entry to say?" Welcome or keep your distance. We're happy you're here or enter at your peril."
I think an exterior entry light should fit the style of your home, it should provide plenty of light for waiting guests, but not be so bright that they feel like they are under a microscope. Our home already had 2 traditional coach lights similar to the ones at our previous home, which we loved. We looked at other options, but soon realized that we kept coming back to the same coach style. So the coach lights stayed. I think they say, "Welcome, we're glad you're here."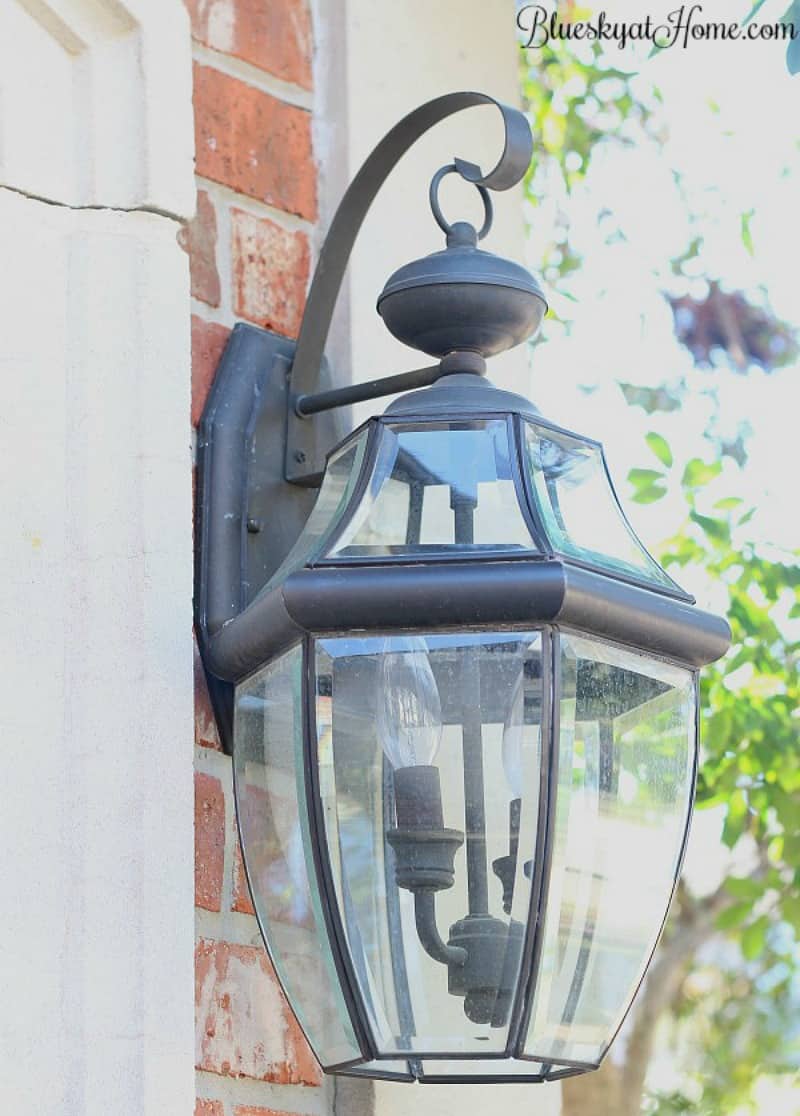 Entry Lighting
Depending on the height of your ceiling and the size of the entry, you can go big and bold or quiet and reserved. Our entry is 20 feet high so you practically have to tilt your head all the way back to see the entry light fixture. Standing in the entry, the existing inverted bell of beaded glass set in a metal frame has always seemed too high. But where it makes a statement is from the exterior of our home. We have a very large palladium window above the front door. When you approach the house at night, the entry light fixture is perfectly centered in the window and provides a warm and welcoming glow. Once a year when we have the windows cleaned, our window washer gets on scaffolding to clean the glass. It really does make a difference.
TIP: Think how your entry light will look from outside and inside your home and from other rooms looking into the entry. If your entry is somewhat isolated, you can select a light fixture that has its own character and design. If the entry is open to other rooms, then it's best to choose a light fixture that blends with your decor and will look good from all angles.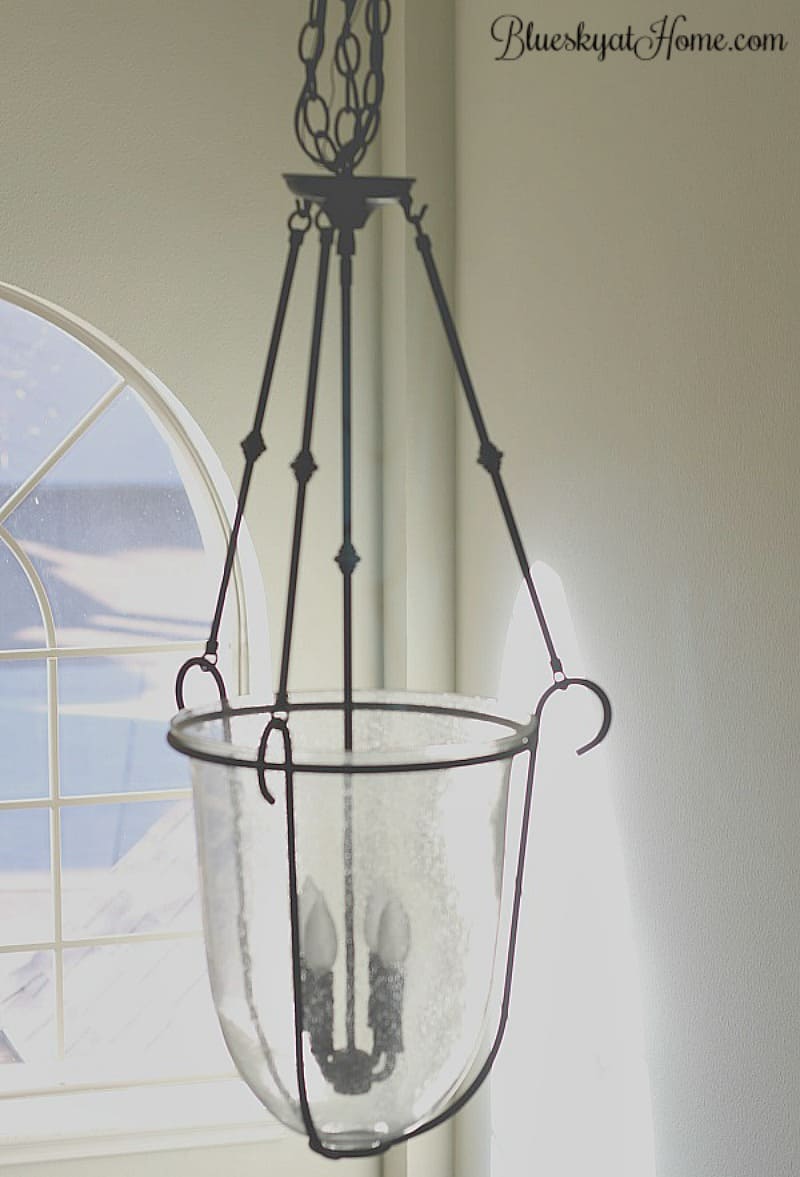 Dining Room
A dining room is where you can really make a statement. Nothing says elegance more than a crystal chandelier. Our dining room chandelier does just that.  The maker of the chandelier is Village Lamplighters, a small family~owned lighting business in Lorena, Texas, about 2 hours south of Dallas. Sweet Shark and I discovered this treasure on a stop on our way home from a weekend in Austin before we even started the remodel of our house. Lorena has one street with a few antique shops. We dropped in Village Lamplighters and were shocked at the scope of their inventory. Although they have hundreds of chandeliers on display, their focus is on building and customizing chandeliers. We spent a good hour just visiting with the owner and getting ideas and how the process works of choosing and customizing a light. As it turned out we made 2 more trips down to Lorena to discuss the style, size, and color of the chandelier.
In the end we chose this beautiful one in a champagne color. I would have never thought to have one in this color, but it fits so perfectly in our dining room. The champagne color is a bit softer than clear crystal. It looks beautiful in the day time, but is just spectacular at night.
TIP: If you have a formal the dining room, this is one place to go a bit over the top, regardless of the style of your home. Depending on the layout of your home, the light fixture can be different from other light fixtures in the rest of the house or blend in for a cohesive feel. Also the bottom of the light fixture should be 6 feet above the floor of the dining room.
Bar
I realize that most people do not have a designated bar in their home, but if you do, it doesn't have to have "BAR" in neon lights in it. The chandelier in Sweet Shark's bar also has a story. His grandmother brought it back from London in the 60's and it hung in his parents' dining room until his mother moved in 2012. We packed it and sent it to a local chandelier restorer who rewired it and cleaned it. It was so fitting that we installed it in his bar which is to the right when you enter our home. It's a little on the high side because we didn't want it to block the T.V. screen.
Powder Bath
I love powder baths.   I wanted our powder bath to be like a little jewel box. This is the place to add wallpaper, a beautiful mirror and of course a beautiful light fixture. A chandelier, a sconce, or a flush mount fixture can be a statement piece. This is not your kids' mudroom bath. This is a place to go pretty.
The fixture in our powder bath has a story, too. While we were in the beginning stages of our remodel, Sweet Shark and I took our annual trip to New Orleans. While at one of our favorite shops on Royal Street, Fischer~Gambino, a lighting and decorative arts store, we spied a small crystal chandelier that we thought would be perfect for the powder bath and had it shipped to our new home. At this point we had not picked out any items for the bath. (The garage was being used as a delivery and storage site ~ at one point, it contained our new free~standing bath tub, 1 commode, 3 sinks, the vent~a~hood and other building materials).
Two months later, with the base moldings painted and the wallpaper installed, we were ready to install the chandelier. Sweet Shark was at the house and called me with the news that the chandelier would not work. The ceiling in the bath is only 8 feet tall, as it is under the stairs. If the chandelier were hung from the ceiling, it would be too low and block the sight line to the mirror (which we had not bought at this point). And we realized that the crystal chandelier would not compliment the wallpaper or the bath hardware, which was a brushed brass. So the search was on for a new light fixture. We actually moved in without a light fixture or a mirror. Fortunately, there was a small can light over the commode so we could use the bath (There is no window.).
A month later, my decorator called to tell me that a light fixture had been returned to the store. This one turned out to be perfect ~ a brushed old~world metal with small crystal "baubles". With a delicate, sweet feel to it and the right height ~ about 9 inches, it would actually fit in where the previous light fixture had been and above the mirror (I'll show you the mirror in another post.) The fixture didn't have any shades for the 2 lights. A month later, my old next door neighbor Susie was moving and had a huge estate sale. She was selling all the equipment and lamps from her antique lamp business; I found these lamp shades which matched exactly the style and finish of the light fixture. $3 a piece! I love this little light fixture.
TIP: Usually small, with just a sink and a commode, powder baths, or guest baths, offer you the chance to be super creative. Even splurge a little. This is the bathroom that your guests will use. In addition to pretty lighting, have nice towels, either cloth or really nice paper ones or both (This is a great place for monograms!), a candle, or small picture frames. Tissue in a nice tissue box and of course, a beautiful mirror.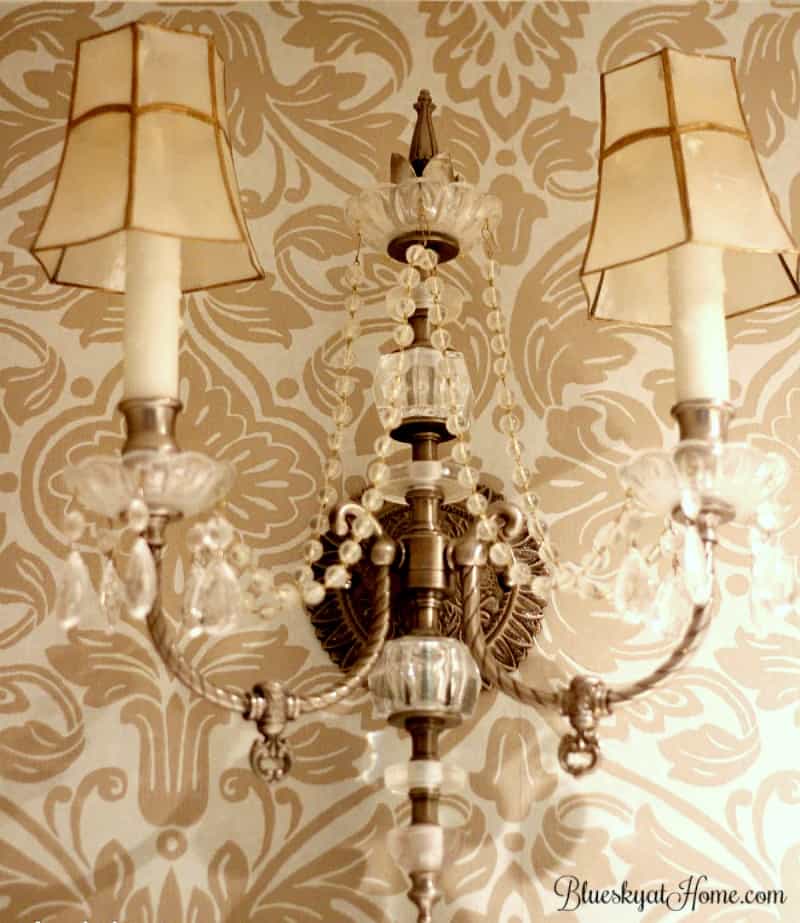 Laundry Room
What about that crystal chandelier that didn't work in the powder bath? We put it in the laundry room! A bit of whimsy, unexpected elegance in a very utilitarian space. I turned the lights on, just for you. A laundry room is a place you can be creative, step out of the box and do something unexpected.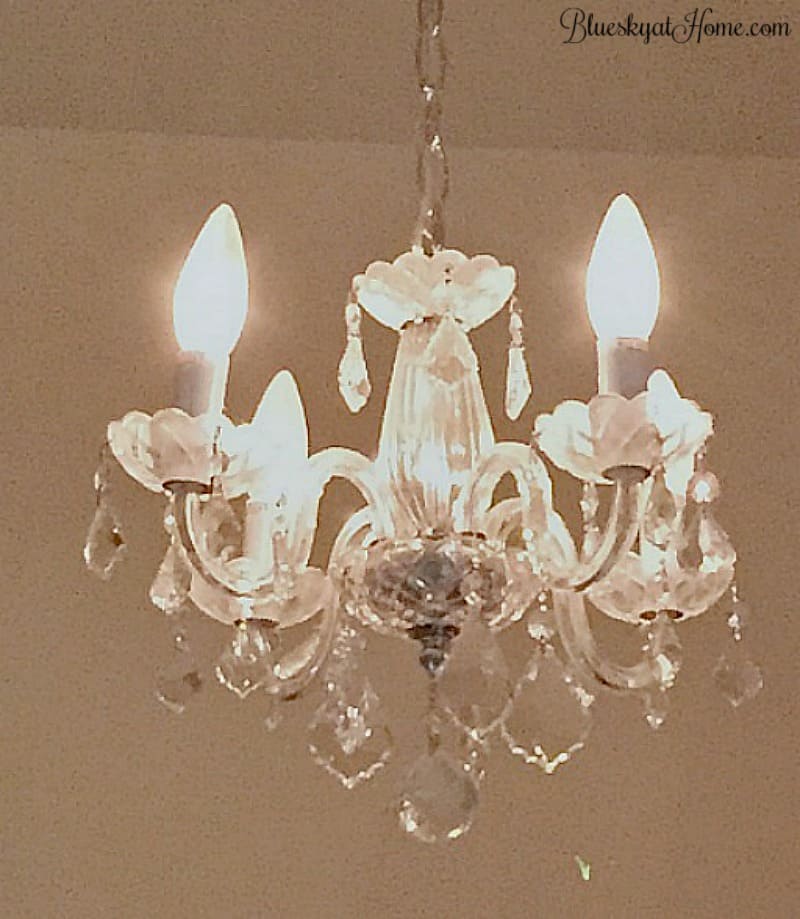 TIP: Good task lighting in the laundry is as important as in the kitchen. Bright overhead lighting makes working with dirty clothes and cleaning supplies a bit more cheerful. But it's a fun place to add a light fixture for purely decorative reasons. And because a laundry room is almost always isolated from other rooms, you can be creative and step outside your comfort box.
Office
Last year I had to ponder the question of lighting for my new office/craft room: modern and sleek, sparkling and bling, or vintage or rustic?; did I want color or neutral, fabric or metal, old or new? Fortunately, I found this vintage light fixture at a flea market and shared with you how I turned it from blah to bling. I say, if your office is all your own, have fun, go vintage or funky or rustic, whatever your style favors. Consider whether this lighting will be strictly room lighting or task lighting. I took this photo before the office was finished. The dark area at the bottom of the photo is where the new window would be cut out.
TIP: if you will be taking photos in your office and/or craft room, use LED lights for a clear no blue/no yellow cast. I can take photos in my office with the overhead task lights on and still have a nice white balance in my images.
Kitchen
Kitchen lighting is so important ~ both task lighting and decorative. For our large island, we needed 3 large pendant lights. Originally, I was leaning toward vintage, metal, schoolhouse or colored glass. I even had a set of 3 huge green glass jars on hold at a local shop, thinking they could be made into pendants. Then Pam, my decorator, found these gorgeous pendants and I knew they were a much better fit. Although they are a silvery, gold~ish color, they really come across as neutral. The bell~shape softens all the straight lines of cabinets and appliances. At night, they have a bit of shimmer to them which is really special especially when we are entertaining.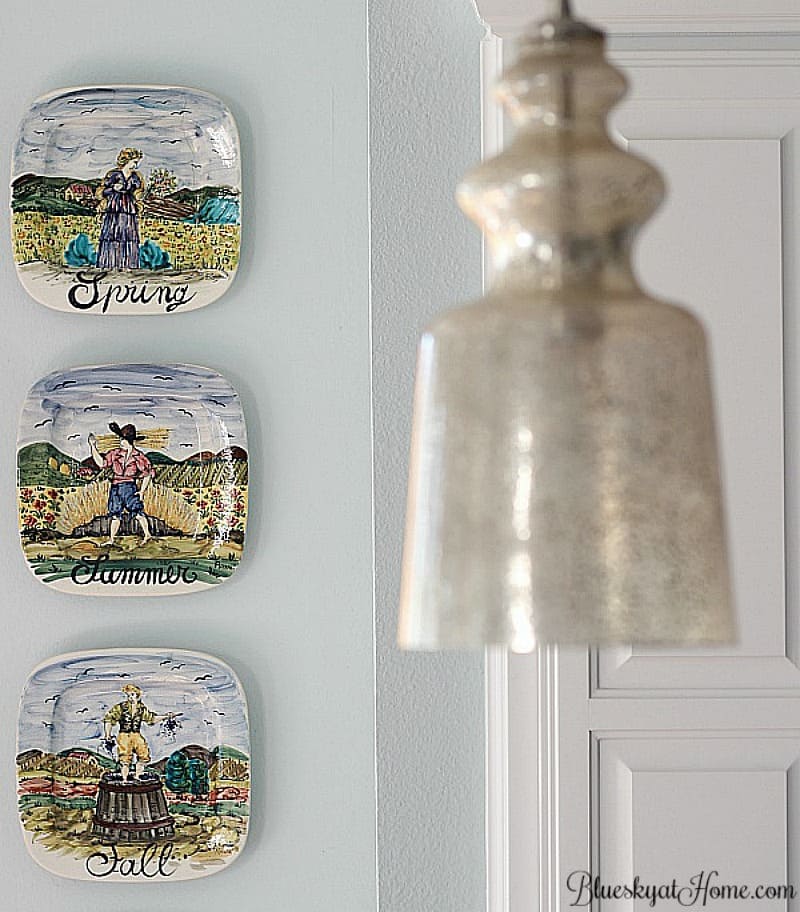 Breakfast Room
Our breakfast room is open to the kitchen, separated by the island. It really needed a statement fixture that acted as a focal point and didn't compete with the metallic shimmer of the island pendants. Again, Pam found this one and I immediately gave it the go~ahead. The drum~shape with beaded glass inserts surrounds the chandelier. It definitely has a vintage feel and looks like it could have been an old piece that was painted to bring it new life. We have it higher than normal because we sometimes move the breakfast room table completely out of the room (for Christmas) or to the side to use as a buffet. After our very first party at the house, we had a couple of tall guests bump their heads, so we raised it by a few inches.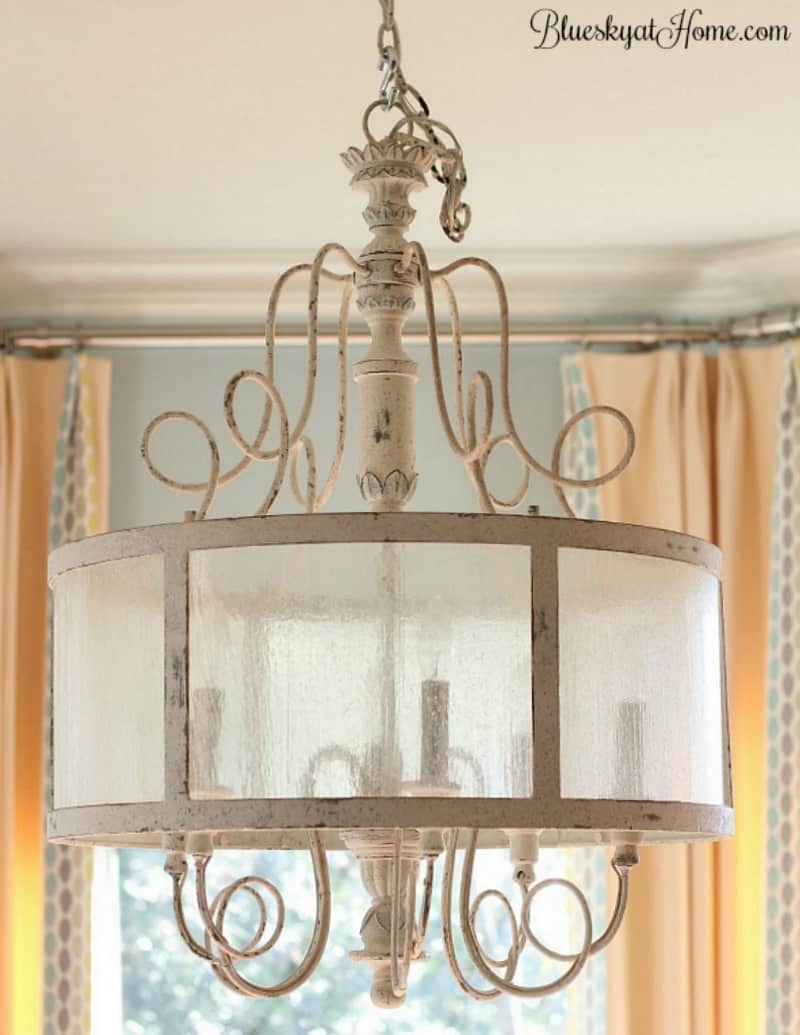 Master Bathroom
In our master bathroom, we again turned to Village Lamplighters (I can't say enough how wonderful they are to work with. If you live anywhere in Texas, I highly recommend checking them out if you want customized chandeliers.) For our master bathroom, I wanted bling and sparkle so this time we went with traditional clear crystals. In order to get exactly the chandelier we wanted, we had it custom-made in a Cinderella style (shaped like Cinderella's coach) and we had a few embellishments removed to simplify it.
TIP: A master bathroom is like the dining room ~ it demands something special; you don't have to have any bling, but maybe something larger in scale in your desired style will work.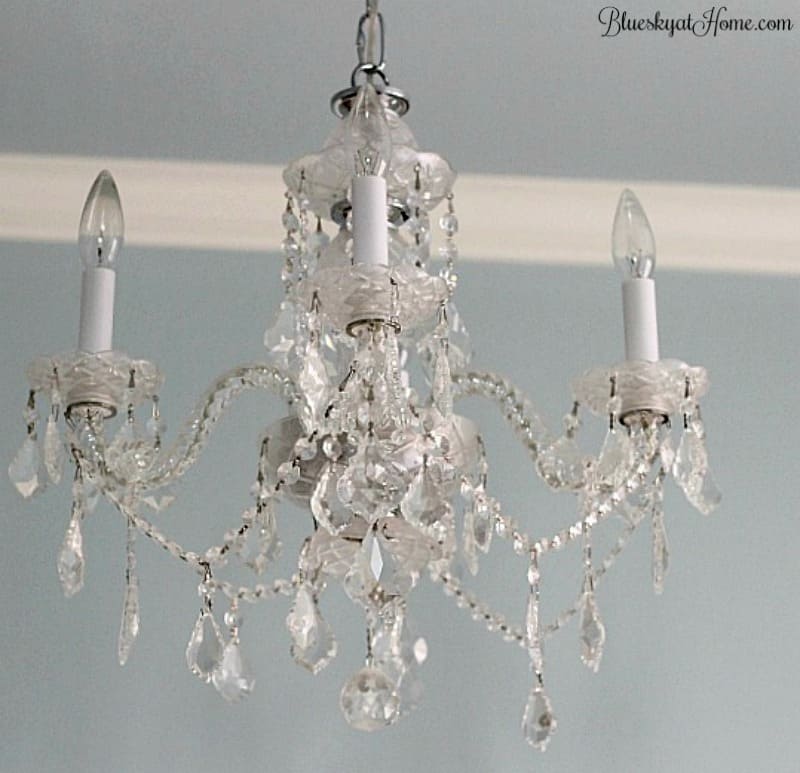 The sconces were made to match. We have 4 ~ 2 on each side of our mirrors.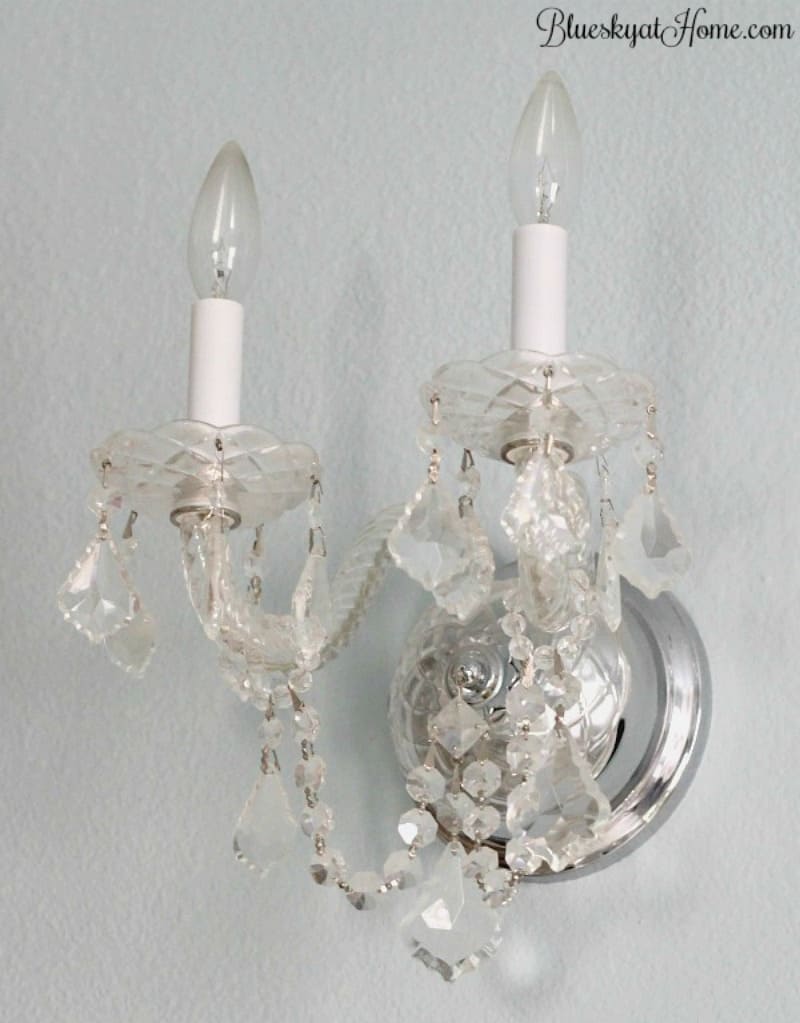 And here is my BEST ADVICE FOR LIGHTING: DIMMERS! Every lighting fixture and every can light (We replaced every can light in our house with updated mounts and LED lights.) in our house is on a dimmer. Nothing adds ambiance, romance and a mood more than dimming those lights. It's easy to do and you will be so glad you did this.
In looking through the beautiful catalog from Arhaus I received in the mail and through their website, I found these lighting fixtures which would have worked like a charm in our house. The quality looks very good and I plan to visit their store here in Dallas.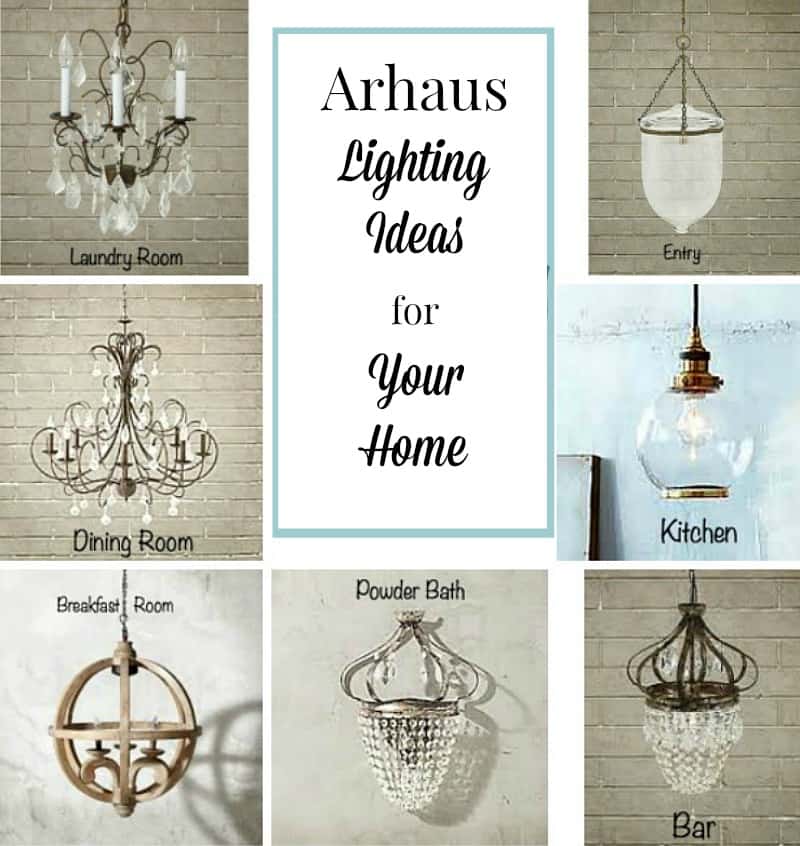 If you just love to see pretty lighting or you are in the market for new lighting in your home, I hope that this tour of 10 ways to use lighting in your home inspires you. Like other accessories, a new light fixture can give your room a new look. It's been fun for me to take a look back at our lighting and remember why I love it all so much. And yes, it is the light that gives your home its glow.