Top 10 Best DIY Valentine Decorations
Valentine's Day is 2 weeks away so it's not too late to make that cute little craft or decoration for your home, your kids (class Valentine's party?), your best girlfriends, or party decorations. Or just because, like me, you love crafts and DIY projects and fun holidays like Valentine's just need some extra DIY love. I've been paying close attention to DIY projects for Valentine's Day and Pinning and wanting to make them all. But I've narrowed all the fabulous projects down to my top 10 best DIY Valentine decorations. Cuter than chocolate hearts and they will last longer than flowers!
Top 10 Best DIY Valentine Decorations
There's a little bit of this and that in this list of top 10 best Valentine's decorations. Whatever your favorite type of DIY project, I think you'll find one here to like and make. I also wanted to share (just in case you missed it) our Valentine's Ten on the 10th under $10 posts from a couple of weeks ago ~ you're getting 20 DIY Valentine's projects.)
This post contains some affiliate links to products you can use for these projects. If you purchase any item on this site, I may receive compensation, but you don't pay a penny more.
Valentine's Day Love Sign
I am so jealous of Heather at Centsible Chateau. I love signs and I've made a few and I wish I had thought of this one. First of my collection of top 10 best DIY Valentine decorations, this LOVE sign is so sweet. And now I know where to buy the perfect framed pallet board.
Valentine Rag Wreath
My friend Jemma from At Home with Jemma is super talented when it comes to fabric and yarn. I think this Valentine Rag Wreath is so cute, cheerful and festive. And she gives great instructions.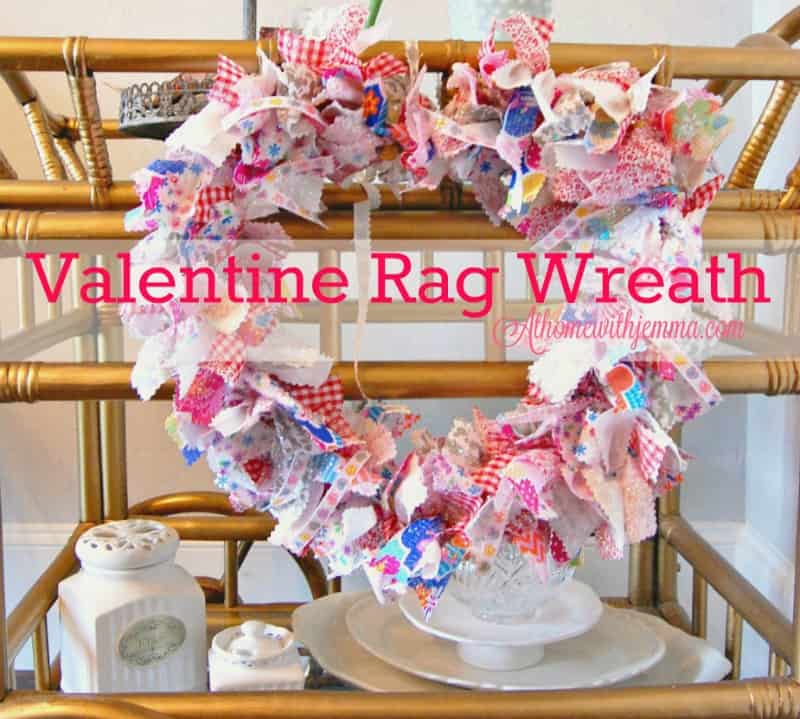 Valentine String Lights
This project blew me away. And I learned about a product I wasn't familiar with ~ clear shrink plastic. Who knew? Pillar Box Blue does. I've told you how much I love battery operated lights and I have a few strands of the copper wire lights she used. These Valentine string lights would be so cute in several places ~ a clear vase or wrapped around a branch ~ Valentine's tree? or strung across the mantle. I bet kids would love these lights hung in their rooms.
DIY Wall Love Art
I've already told you I love signs and I adore using my Cricut so I couldn't resist this project from Angie at The Country Chic Cottage. This Love Wall Art sign could be displayed at any time, but Valentine's Day just seems like the perfect occasion. If you have been thinking about purchasing a Cricut, don't hesitate. Click on the picture of the Cricut in my sidebar.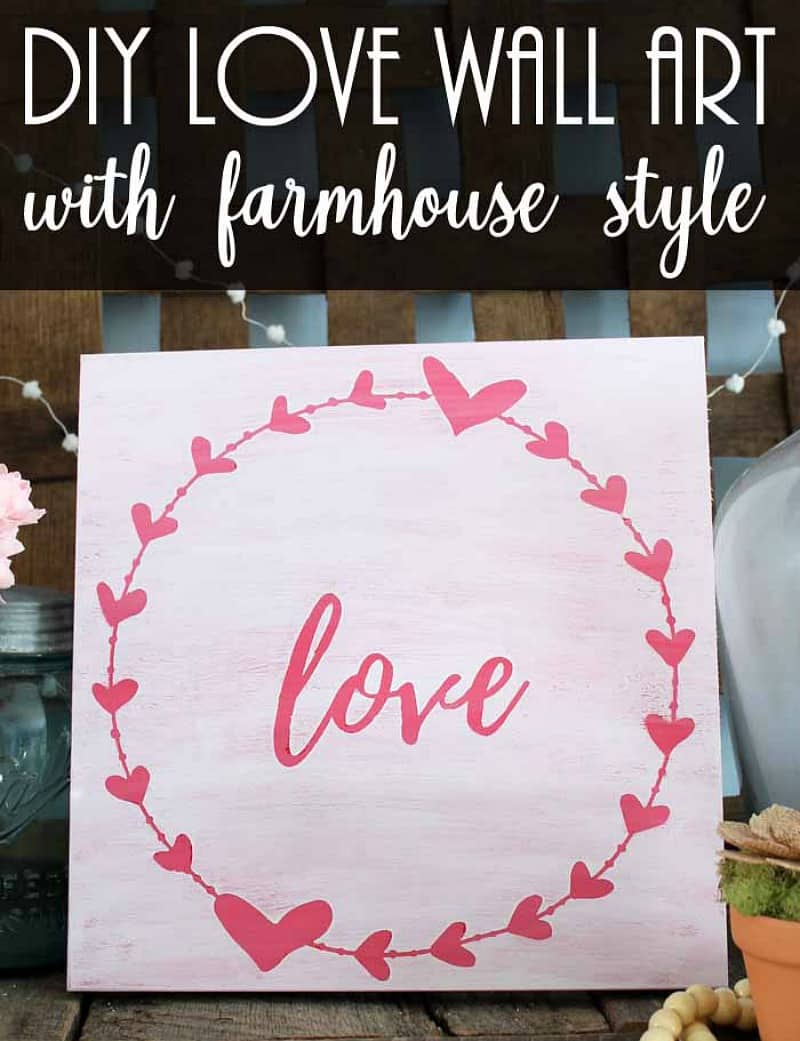 DIY Felt LOVE Banner
If you like simple sewing projects, then this one from Emily at Life Sew Savory is perfect for you. Making a Valentine love banner with felt is so easy with these step~by~step instructions. I have made banners from paper and burlap, but not from felt, so (sew, no pun intended) this one will be one on my bucket list.
DIY Valentine Bath Salts
Confession: I'm partial to this sweet DIY because I was lucky enough to receive one. Last week a group of North Texas bloggers met to welcome Shirley from Housepitality who was visiting from North Carolina (That's what we do here in Texas.) for lunch and conversation and sweet Laura from Decor to Adore gave everyone a jar of pretty bath salts.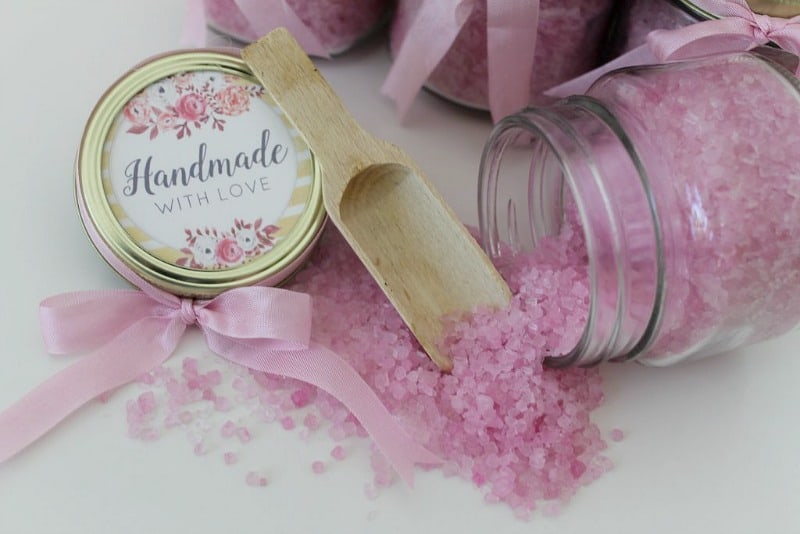 Heart Vase
I can't say no to a pretty way to display flowers, especially at Valentine's. Smart School House made a simple, but oh, so cute vase using heart candies. She even has a little video.
Valentine's Ball Banner
Laura at The Turquoise Home is one of my favorite DIYers. She made an adorable banner from felt balls that could spiff up any area for Valentine's Day. She said it's super easy. Maybe a kids' project?
Valentine Sachet Pillows
Ann at On Sutton Place is one of the most talented ladies on the planet. I fell in love with these precious sachet pillows made from grain sacks, but you could make them from dish towels or fabric, too. She has a great method for making them easy to cut out. Don't miss this one!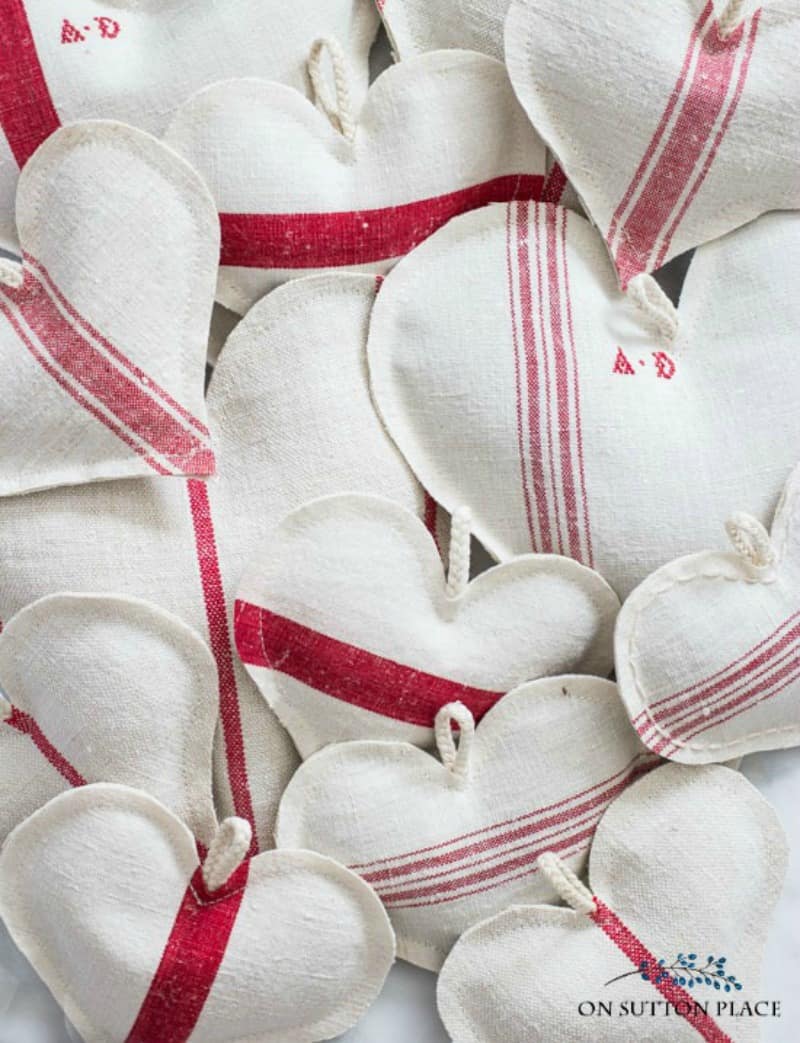 Valentine Painted Mason Jars
Do we ever get tired of decorating mason jars and using them for a million occasions and holidays? Nope, not me either. For the last project on my list of my top 10 best DIY Valentine decorations, KaStyles used good old latex paint for these Valentine mason jars. I love the soft blush pinks and creams she used. And a bit of twine finishes them off.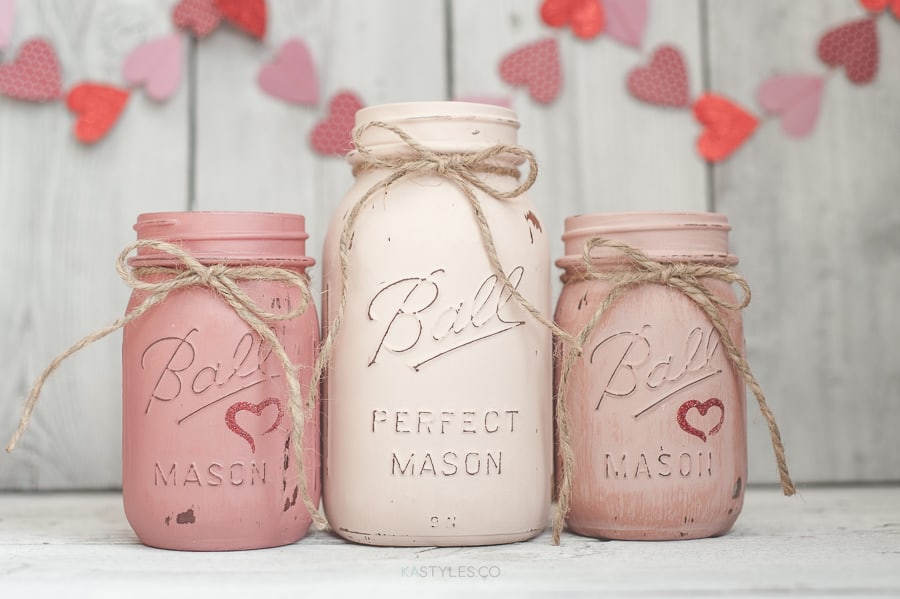 I hope these top 10 best DIY Valentine decorations have inspired you. They certainly have me. Whether it's a painting project, a sewing project or one involving a glue gun, any one of these Valentine's decorations would brighten your home and give it a Valentine's flair. Plus they are fun to make. I'd love to know which one is your favorite and if you plan to make one of them.
I'll be back next time with a few Valentine's decorations of my own to share.