Cozy at Christmas Holiday Home Tour
Here we are ~ the moment you have been waiting for ~ the Cozy at Christmas Holiday Home Tour. IF you love touring homes all dressed for the holidays with Christmas decorations, I have it here for you. So much Christmas goodness.
Today I'll show you the front half of our home and Wednesday I'll share the back half. So sit down with a cup of hot chocolate, a cookie or 2, and welcome to our home.
I love decorating our home at Christmas. Every year some decorations stay the same and some decorations are new or rearranged for dressed up or put in different places. It keeps the holiday decorations more interesting for me and our friends. Let's start this cozy at Christmas holiday home tour.
Cozy at Christmas Holiday Home Tour
On our front door, we have a live wreath from Calloway's Nursery. I added a string of battery~operated lights and a big gold bow made by my favorite designer, Pam from Rutherford's Design here in Dallas. Pam is the decorator who helped me design our home. She is fabulous with paint color and fabric. She is also the best garland "flufferier" and bow maker and she comes over every Christmas to help me make the house beautiful for the holidays.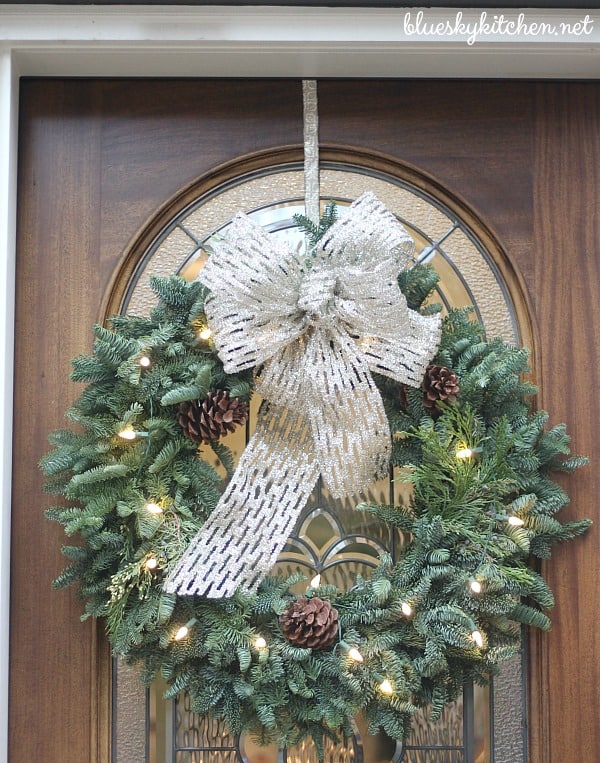 To the left of the front door, I place my vintage sled that we found in the attic of a home we had bought about 25 years ago. A rosemary plant, garland, pine cones that I painted silver, and more battery~operated white lights complete a bit of the nostalgia feel that I'm going after. I made the box myself (always a proud moment) from a new bolt of silver French ribbon. I have no idea where the red Christmas ribbon came from ~ I found it in one of our decoration boxes.
As you come into the house, you'll be greeted by our largest Santa. (I just counted 33 Santas in our home). Then you'll see our entry hall piece with a soft, natural feel ~ one large Santa and 2 small ones. I added some more "found" ribbon to the burlap sacks and cotton boll stems that I made in October. Another strand of battery~operated lights. Then I found these really cool 8 gold ball lights in the dollar section of Target.  I was so amazed when I discovered they would be perfect on my mom's candelabra. I used tape to attach 4 balls to the candelabra and wrapped the other 4 around the burlap bag ribbon. This year I didn't add any embellishment to the mirror.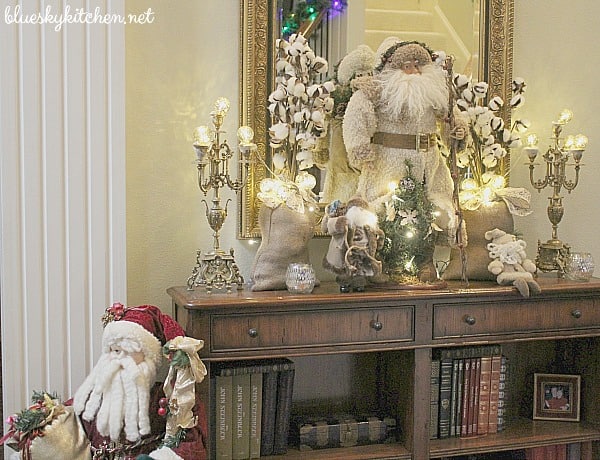 To your left is our dining room. I shared my Silver and Gold Tablescape last week, but the rest of the room wasn't finished. On the chest in the front bay window, I placed the large silver tray from my mom's service and set a wire lantern on it. Inside I used one of the clip~on white birds I have on a small piece of garland and added gold balls. Three blue and white felt birds that I bought last year and a few votives complete the tray. Around our torchére lamps I placed garland wreaths with a large silver embellished faux flower and behind the silver tray more garland. All are lit with more battery~operated lights. I added a couple of silver~painted pine cones.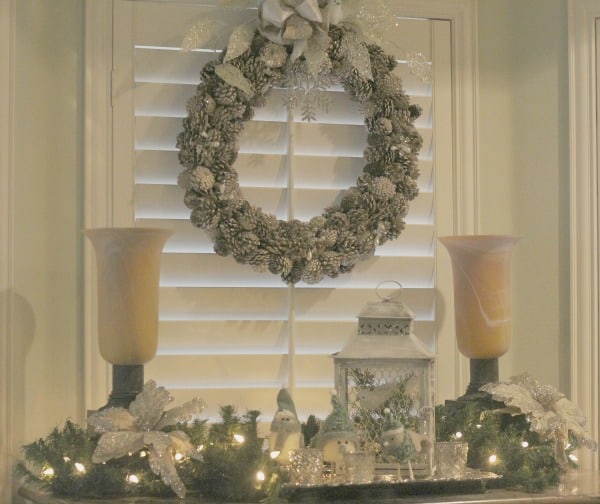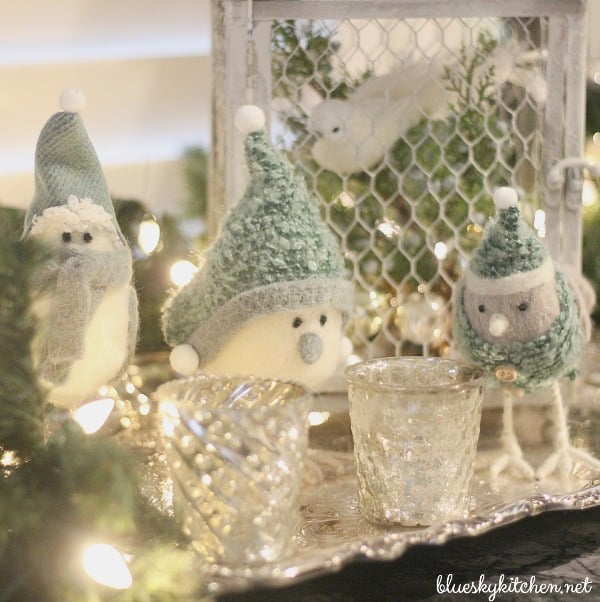 Above the chest on the window is this beautiful wreath I bought a few years ago. Last year Pam made a bow for it and this year she embellished it with white sequined leaves and silver snowflakes that I bought last year on sale and 2 more little white birds. I absolutely love it.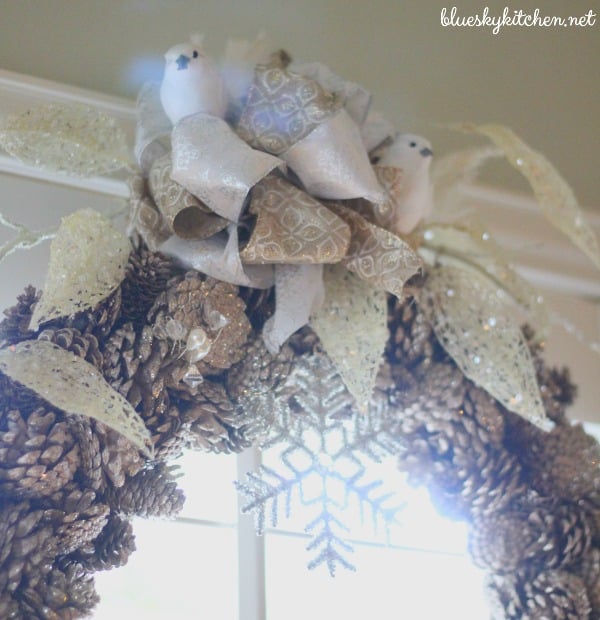 With the lamps on at night, it's a beautiful scene.
Now the star of the dining room is our vasselier ~ a large French hutch. Last year after Christmas, I bought the flocked garland with white lights at Wisteria. It's perfect for the elegance of the room. I also had 3 strands of clear beaded garland  I bought on sale last year that we added along with white glittery leaves. Again, Pam embellished bows made last year for the ends of the garland with new gold ribbon. I think it's spectacular.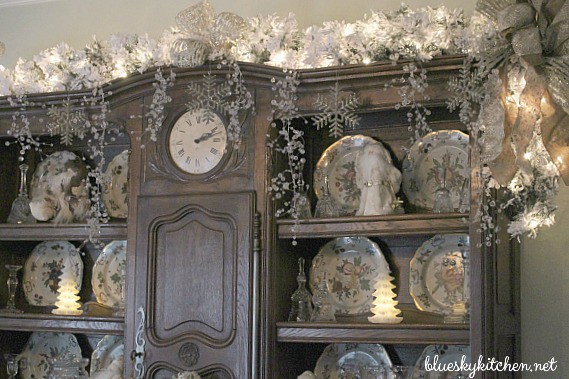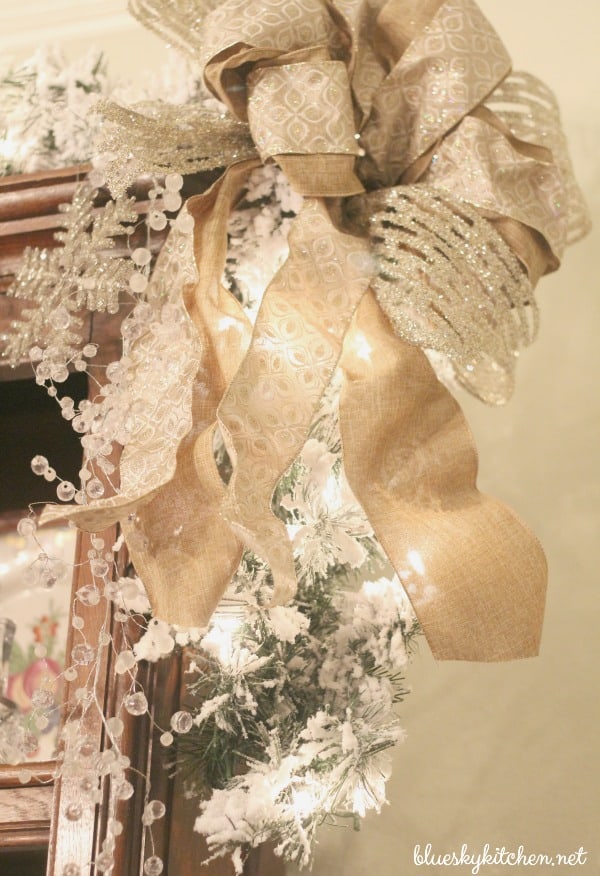 On the shelves, I've placed a few of our small Santas and battery~operated Christmas trees and candles.
We have a sconce on each side of the vasselier (The vasselier and the sconces were in the breakfast room of our former house.) that definitely needed a little something. When we were at Calloway's buying our tree and the front door wreath, I just started picking up small pieces of live garland that were on the ground. When I thought I had enough, I asked how much they would charge me and the manager just said to take them; otherwise, they would be swept up and thrown away. It never hurts to ask! I wrapped ribbon (same as one the sled box) around to hold the garland together and just slipped them on the sconces. Very simple, but adds the finishing touch.
To your right is Sweet Shark's bar.  It gets the royal treatment with garland and colored lights (his favorite). We've been collecting Mark Robert's Christmas Elves and at this time we have 9. We've bought them in Dallas and San Diego, but now we always buy one in New Orleans after Christmas at the Christmas Store on Decatur Street. They reign over the bar.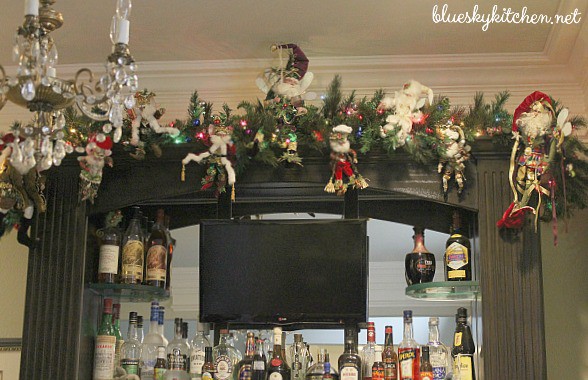 Also in the bar is the hand~painted crèche that we bought in Oberammergau, Germany in 2000. We were there on a trip to celebrate the anniversary of the Passion Play. It was a memorable trip and a memorable event. I've lovingly put out the crèche every year since then.
Our glass curio cabinet where Sweet Shark keeps about half of our crystal wine and bar glasses gets a little garland and lights on top. Two reindeer have a great view of the room.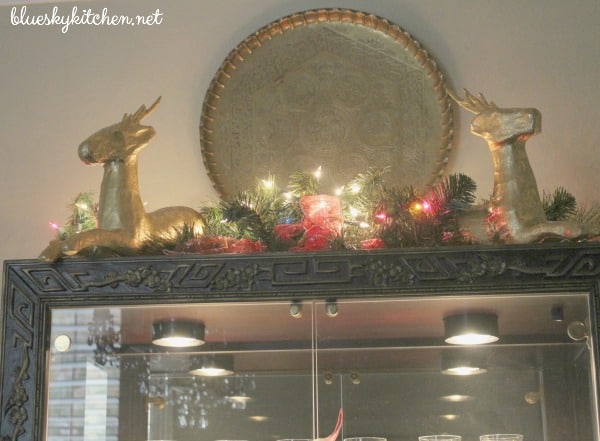 The staircase gets a simple treatment of garland and more battery~operated multi~colored lights.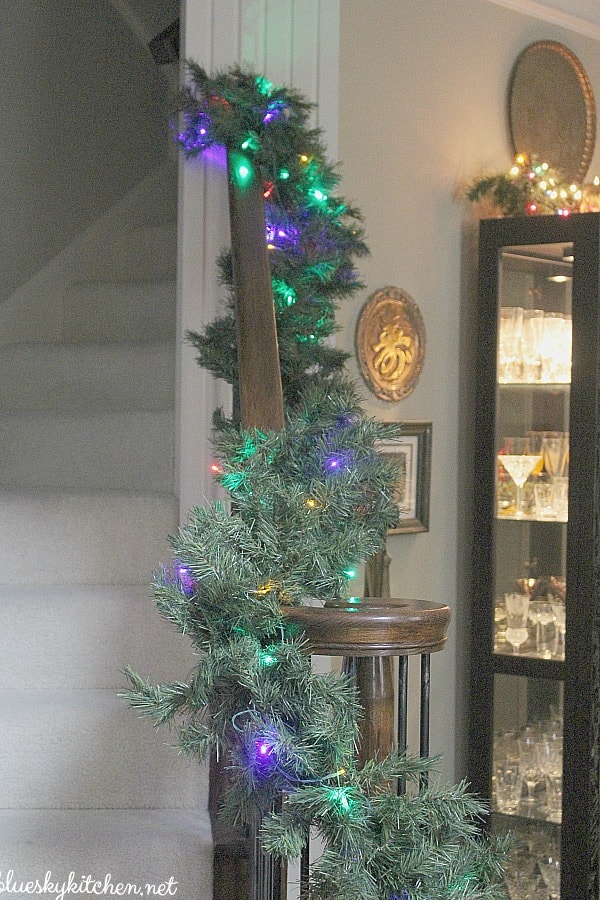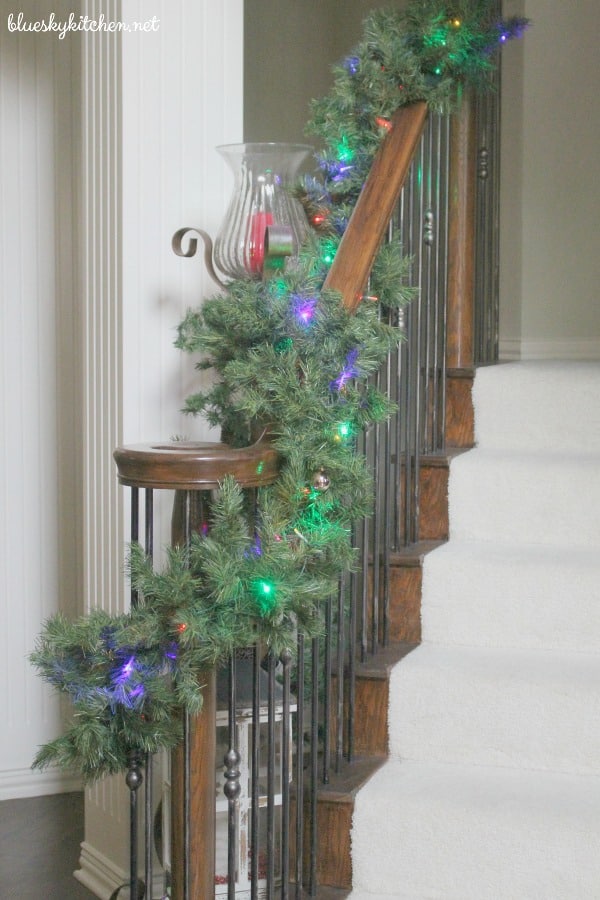 Next to the stairs, we have a 5~foot tall metal candle stand. It gets some garland, battery~operated multi~colored lights, and a little Santa hanging on. Inside the tall white lantern I bought at a charity auction last spring, I placed 1 of the battery~lighted Christmas trees I bought last year at Wisteria and some red beads from Ikea.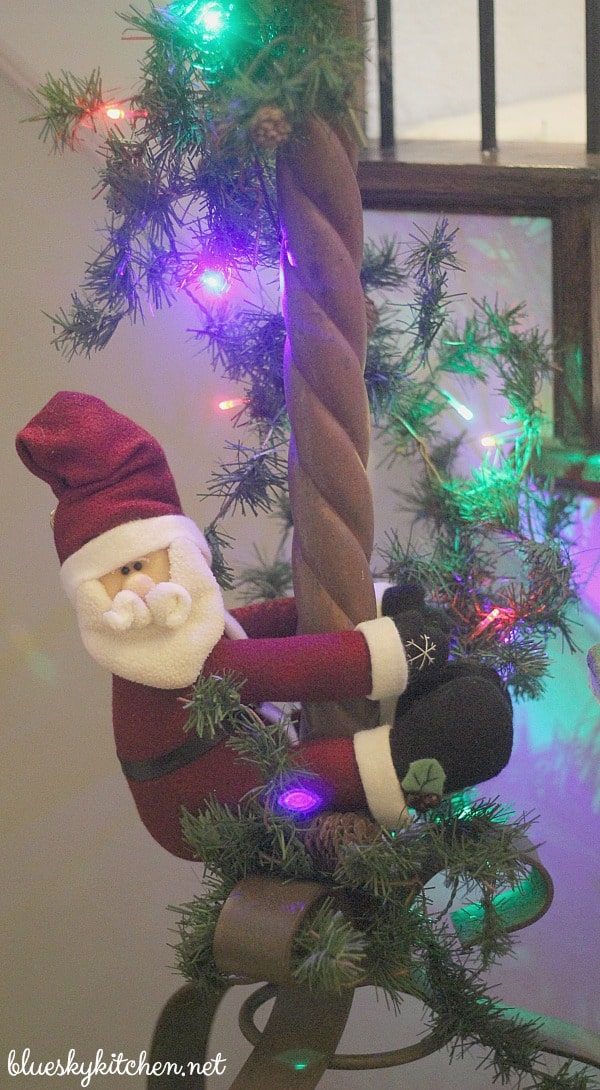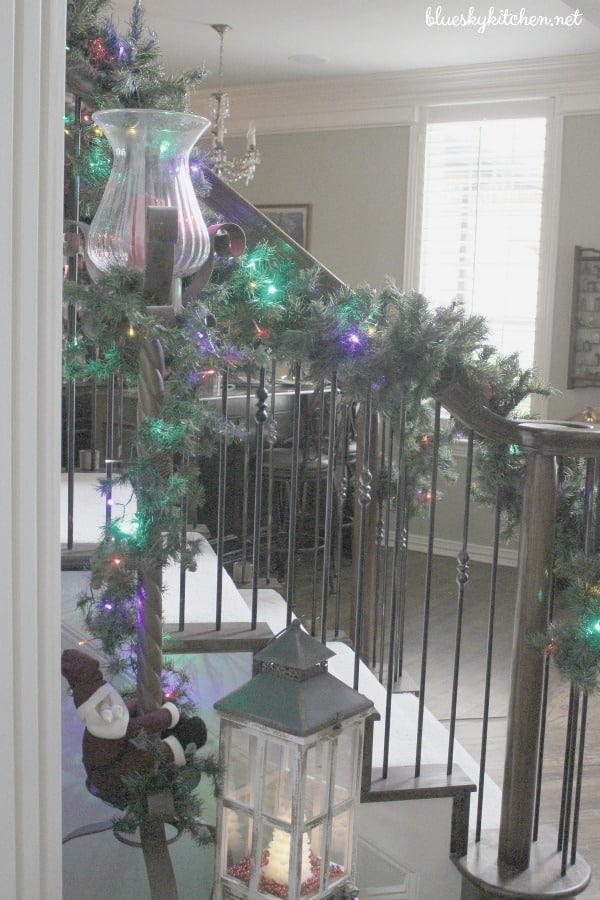 I've mentioned battery~operated lights several times. I discovered them last year at Target and they changed my decorating life. All those places that you want lights, but no outlet or don't want strands hanging down and endless extension cords. They come in clear and multi~colored strands of 18 ($6.49), use 4 (last year's) or 3 (this year's) AA batteries. There is also a variety that comes in a 15~strand pack ($7.49) with small decorative bulbs. Sorry if I've bought them all.
Sources
battery~operated Christmas tree lights, flocked garland, clear beaded garland, felt birds ~ Wisteria
battery~operated candles ~ Rutherford's
elves ~ Mark Roberts
ribbon ~ Ballard and Blakely
silver snowflakes, leaf garland, mercury glass votives~ Mary Cates and Company
red beads ~ Ikea
battery~operated lights ~ Target
wire lantern ~ Tuesday Morning
That completes Part 1 of my Christmas decor for the Holiday Home Tour Blog Hop. I do hope that you enjoyed it. Having you here is almost like having a Christmas party. Wednesday, I'll show you the back half of our home ~ the living room, kitchen, breakfast room, our bedroom, and, of course, our trees. Until then, please visit and enjoy the other bloggers who are sharing their holiday decor with you, both at the Holiday Home Tour Blog Hop and the Cozy at Christmas Blog Tour.