15 Best Wreaths, Mantels and Garland
Many of us have finished decorating our homes for the holidays. If you have not, then I have 15 best wreaths, mantels, and garland Christmas decorations for your inspiration.
I love visiting my blogger friends and Pinterest for decorating and craft ideas. Then I save them to my Christmas~theme boards. I thought you might like to see some of my very favorites. I narrowed down the list to 15 best wreaths, mantels and garland Christmas decorations.
With so many beautiful Christmas decorations online, I look for ideas that I would either replicate or use as inspiration. I'm only sharing Christmas ideas that I'm sure you will like too.
15 Best Wreaths, Mantels, and Garland Christmas Decorations
Do you scroll through the Pins that you save to your own Pinterest Boards? I'm sure you see a pattern of styles and colors you prefer. I certainly did.
I can tell From looking at my Christmas Pinterest Boards that I love simple, natural decorations. Both bright colors and pretty pastels attract me, but I love neturals too.

For DIY ideas, I appreciate unique, but easy projects. I also appreciate clear instructions.
Not wanting to overwhelm you with too many Christmas decoration ideas, I kept my list to just fifteen. Five wreaths, five mantels, and five garland ideas.
As a bonus, at the end of this list of 15 best wreaths, mantels, and garland Christmas decorations, I'm going to share my personal favorite wreath and mantel decorations.
5 Beautiful Wreath Ideas
These wreath ideas range from simple and natural to bright and shiny.
Let's start with this easy hoop wreath. Chloe of Celebrate and Decorate shows you how to make a simple door wreath with greenery and a plaid ribbon.
Want to personalize this wreath for yourself? Make a bow with a ribbon you already have in your favorite color and pattern. Chloe used deer antlers as "garnish". Find your own object to embellish the wreath.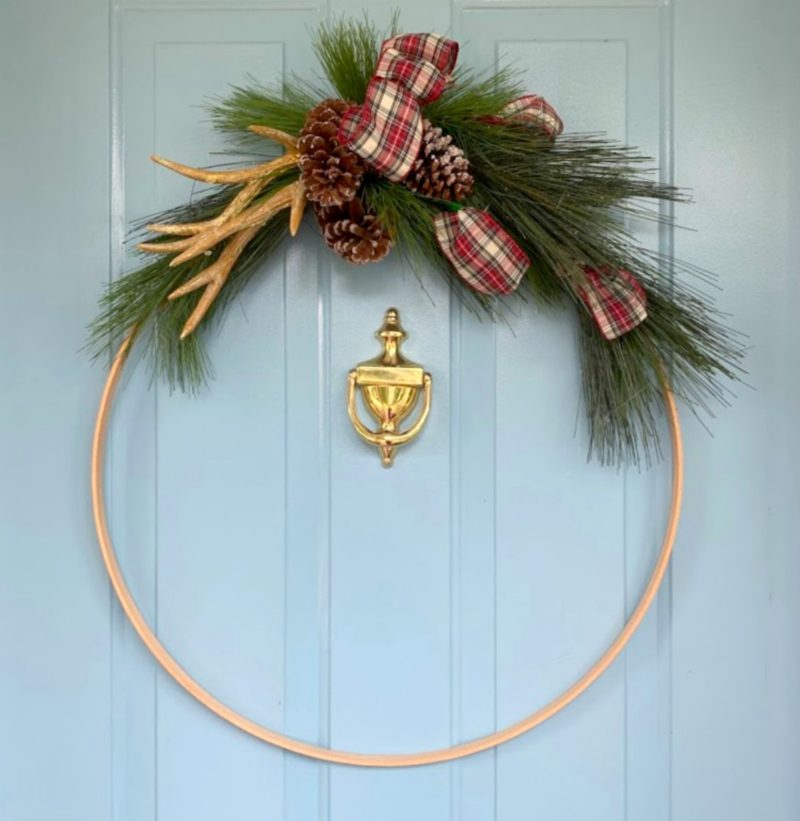 Lisa at House on Boone combines different greenery for a feel of depth. Rather than a bow, she uses bells to chime in the holidays. Great tutorial, too.
Ashley at Cherished Bliss also uses greenery, but she uses a light color to mix with the dark green. Bells must be popular. These large black bells have a different look than Lisa's small gold metallic ones.
Find your own greenery, real or faux, and style of bells to customize your wreath.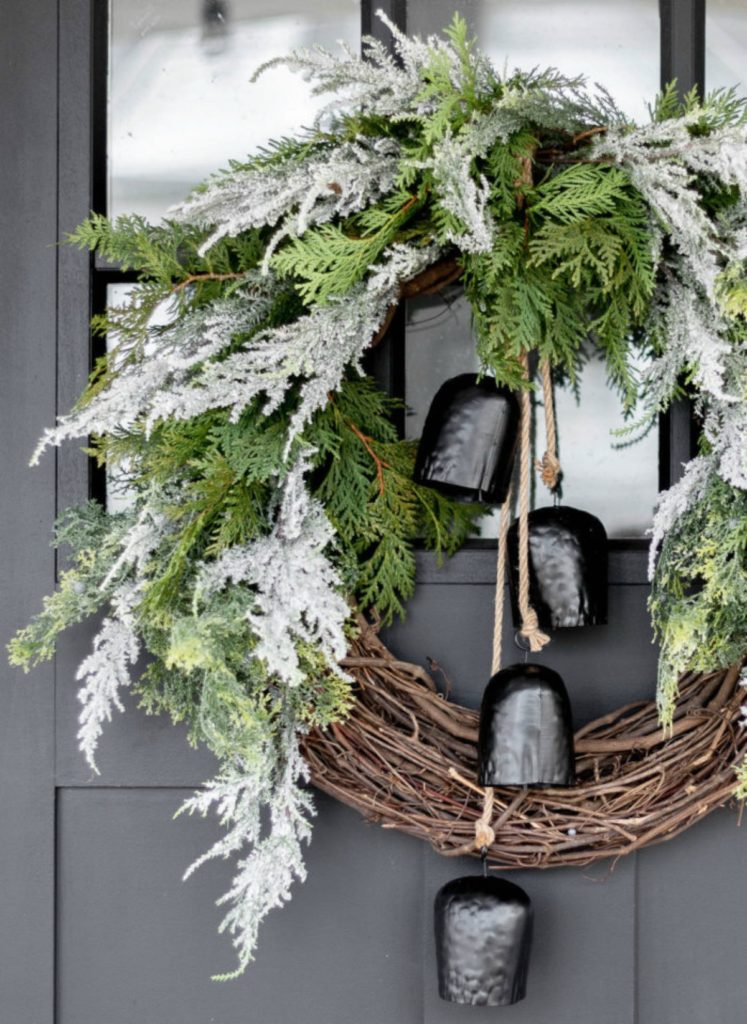 I couldn't resist a wreath with black and white buffalo checks. Amy at Positively Splendid combined 4 popular elements ~ buffalo checks, bottle~brush trees, greenery and berries ~ with a big festive bow. It all comes together for a traditional wreath.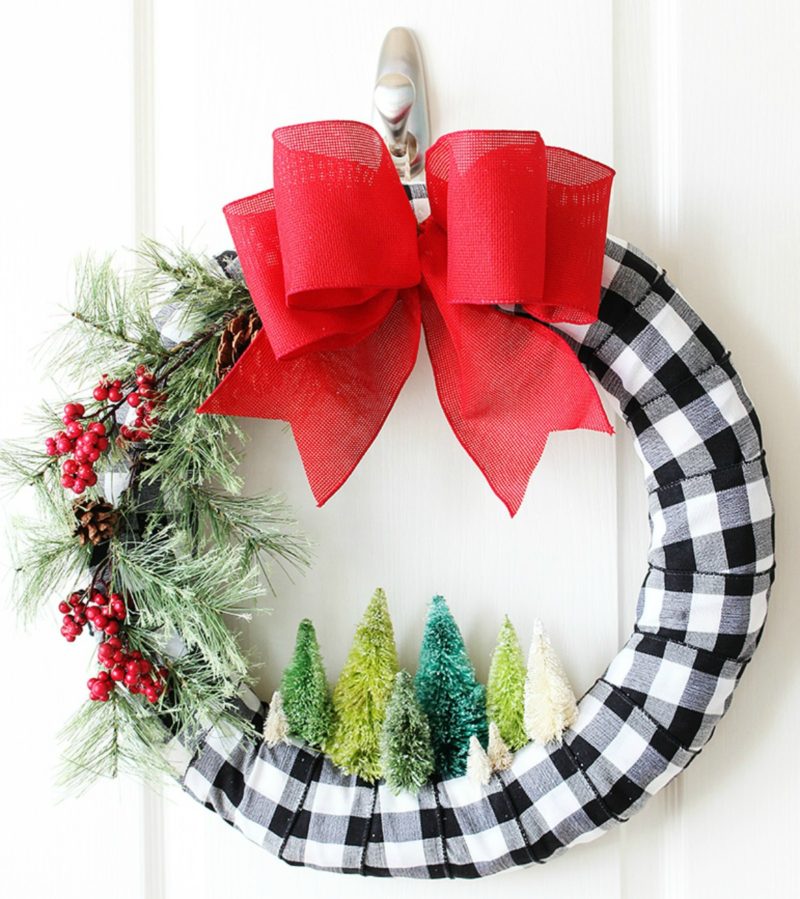 My heart went pitty~pat when I saw this beautiful white pom~pom wreath from Ashley at Modern Glam. The addition of bottle~brush trees with a little house is magical. I'm going to start working on this one after the holidays.
5 Best Mantels Ideas
I tend to like mantels with simple greenery and stockings. Even in that narrow choice, there is a wide range of interpretations to choose from.
What attracted me to this mantel by Sarah of Grace in My Space is her asymmetrical approach. The greenery only goes halfway across the mantel, ending on the other side with a group of stockings. The bottle~brush trees on both sides balance the natural setting.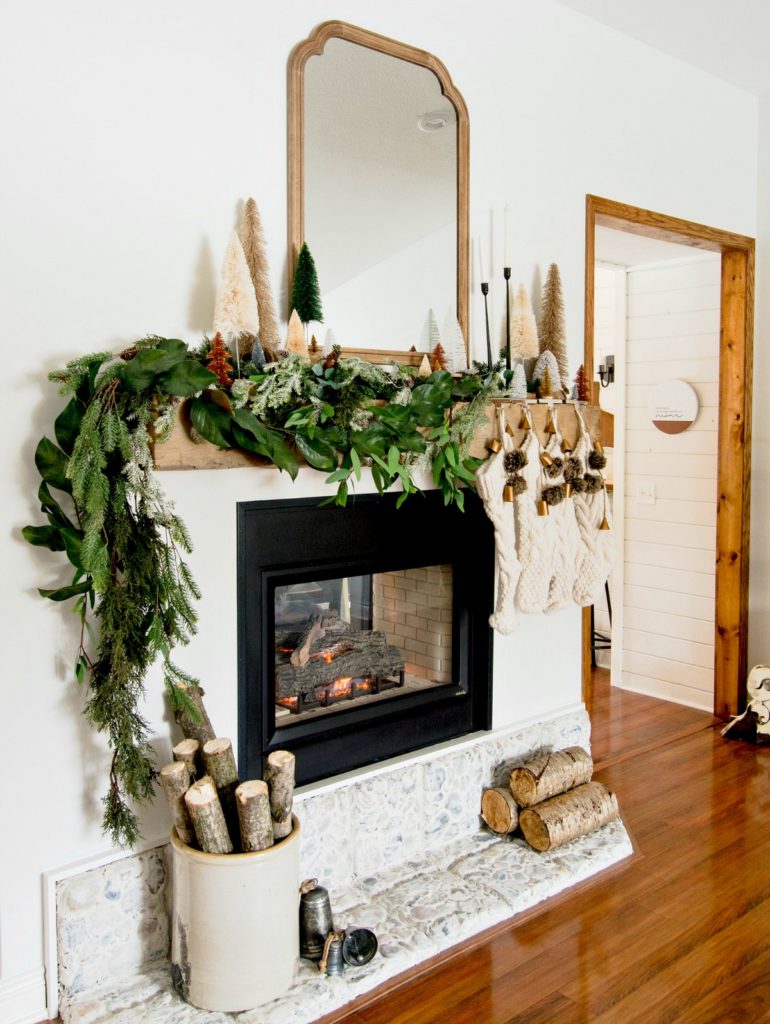 Marie of Sincerely Marie also used greenery, but draped it across the entire mantel. Bottle~brush trees also balance the look. A large green wreath above brings your eye up and adds height to the entire mantel.
Green and lots of white was the color theme for this the mantel from Jenn of Clean and Scentsible. The white balls and sweater stockings evoke a feel of snow. How about that "Merry Christmas" sign? I love it.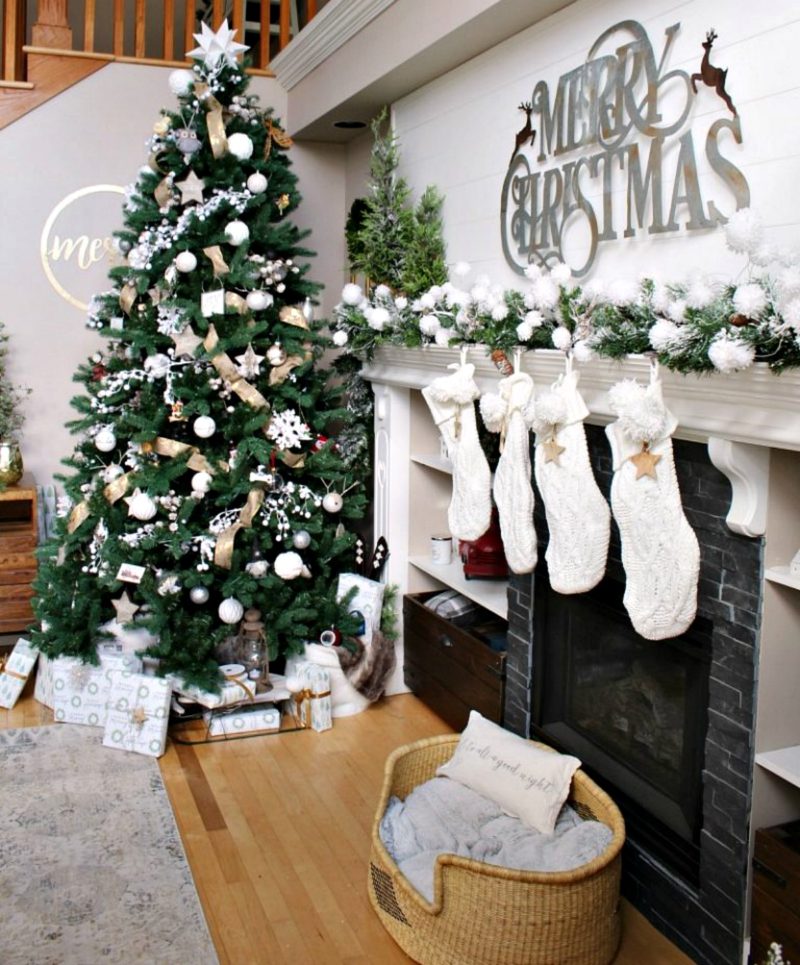 Yes, I know. Another mantel with greenery, bottle~brush trees, and white stockings. What makes this version so special are the orange slices and stripe ribbon that Liz Marie of Liz Marie Blog added. Those big chunky stockings are awesome.
Yes, there is garland on this mantel. What makes it so unique is the use of a large red window with snow. Diane of In My Own Style even added a branch to hold red ornaments. Very creative.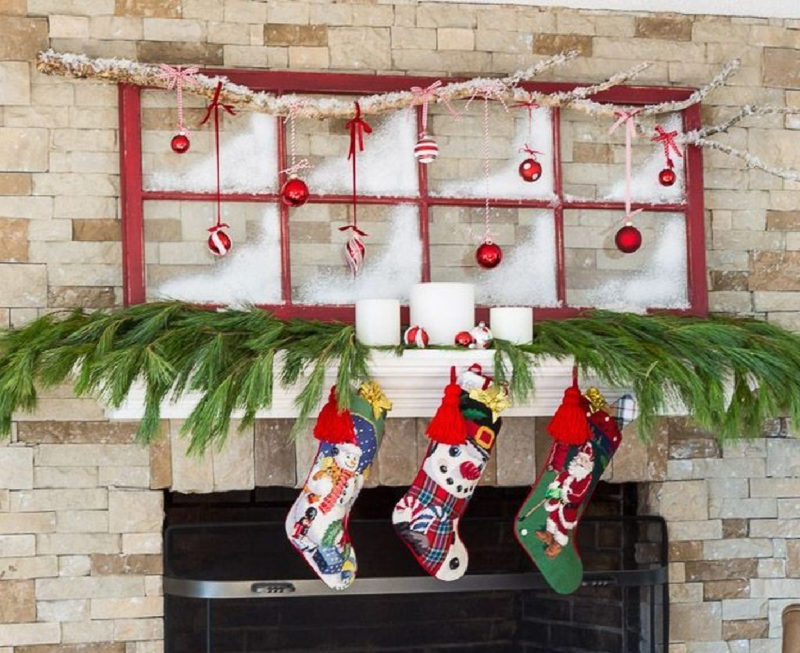 5 Creative Christmas Garland Ideas
Garland can be placed on a mantel or draped on a mirror, tree, window or banister. The materials used to make a garland are broad, as you will see in these 5 examples.
Fabric ~ I've had my eye on this vintage~looking white star~theme garland from Ann of On Sutton Place for a couple of years. I got as far this year as buying the white wool felt and making a star template. Next year I'll definitely get it done.
Wood Beads ~ How can you resist a simple wood bead garland? Amanda at The Ginger Home adds character to this wood garland by mixing up the sizes of the wood beads. An easy project with big impact.
Yarn ~ Bee at The Beetique Blog uses yarn to make tassels that look like Christmas trees for this sweet garland. She provides detailed instructions for you. Adding the wood bead is a nice combination to add interest.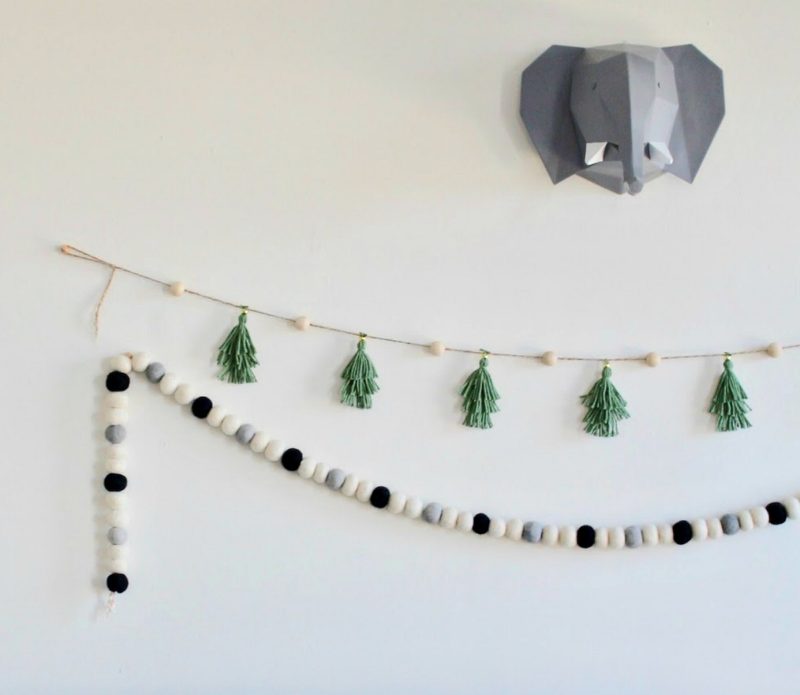 Paper ~ Would you imagine that simple colored circles made from cardstock could make such a pretty garland? I love the simplicity of this colorful paper garland from Kara at A Kailochic Life. The colors in the garland reflect the colors of the bottle~brush trees.
Just by changing the colors or pattern, you can totally change the look of this garland. Great project for kids, too.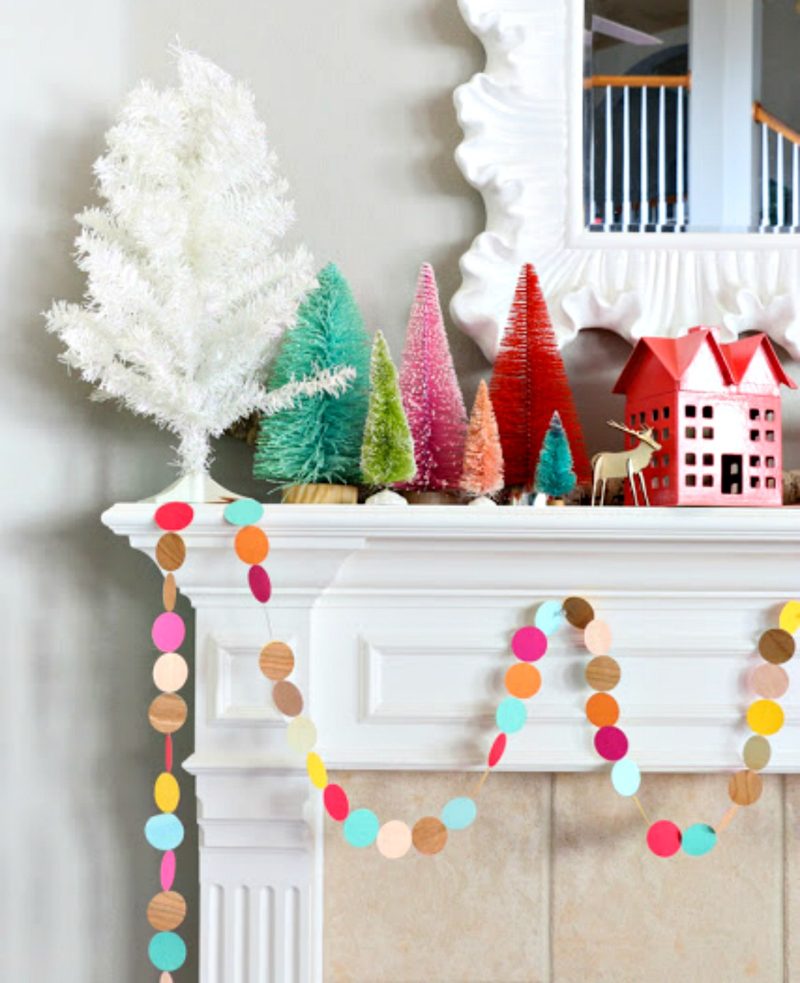 Ornaments ~ If you like shine and sparkle, then this garland made by Jane of Cottage at the Crossroads is the one for you. I'm gaga over this blue, white, and green color combination for Christmas. Love the look, but have a different color scheme in mind? Pick your own.
My Favorite Wreath and Mantel
I just shared this Christmas ornament wreath that I made for our front door. It is definitely my very favorite wreath I've ever made.
My favorite Christmas mantel is from last year.
Although I've made garlands for fall and Thanksgiving, I realized that I've never made a garland for Christmas. At least now, I have plenty of ideas for next year.
I sincerely hope that you've enjoy this tour of some best wreaths, mantels and garland Christmas decorations. PIN this post for inspiration now and next year.
You should also check out one of my Christmas Pinterest Boards.