DIY Christmas Tree Holiday Vignette on a Tray
Do you wish that you had elves helping you decorate for Christmas? I'm playing elf and sharing with you how to create a DIY Christmas Tree Holiday Vignette on a Tray.
Somehow this year, I've developed a DIY Christmas tree addiction. There are many different ways to make cute small trees that fit into small spaces.
All you need is a little imagination, some easy supplies, and you are on your way to making little vignettes throughout your home.
For this Christmas vignette, I'm using two easy ways to make Christmas trees. What makes them a vignette is that they are gathered together on a tray.
Why a tray?
Well, trays, along with baskets and other containers, are perfect for creating a base to gather any group of decorative items.
Whether your vignette is on a coffee table, a mantel, a side table, or your kitchen table, a tray is your best decorating friend.
And guess what?
Today is tray day. Hosted by the talented Katherine of Katherine's Corner, a group of 24 talented bloggers (including yours truly) is showing you ideas for a Winter Wonderland on a Tray for your holiday decorations.
If you are joining me from Irene of My Slice of Mexico, I'm thrilled you are here for this holiday season blog hop.
If you are new to Bluesky at Home and want to know a little bit about me, then please visit My Story and see the projects and information I share and what we have in common.
Before I share my Christmas tree vignette on a tray, let me show you how to make these easy DIY Christmas trees.
Two Styles of DIY Christmas Trees
I love the personal touch that DIY Christmas decorations give to our homes. I don't know if a Christmas decoration can get easier than these bottle brush Christmas trees.
My first DIY Christmas tree project of this year was these yarn Christmas trees. Last year I made these glitter Christmas trees.
This Christmas tray vignette would go in our bedroom. The console table across from our bed would be the perfect place to highlight a Christmas arrangement.
The color palette for our bedroom would be pink and blue this year.
I had two kinds of DIY Christmas in mind for this Christmas vignette on a tray: bottle brush trees and felt wool ball trees.
Of course, for both styles of trees, you can choose any color enhancements that fit your color scheme.
What Supplies Do You Need for the Bottle Brush Christmas Trees?
A few weeks ago, on my almost weekly trip to Dollar Tree, I found these white bottle brush trees with lights for $5 each. Don't you love twinkle lights at Christmas?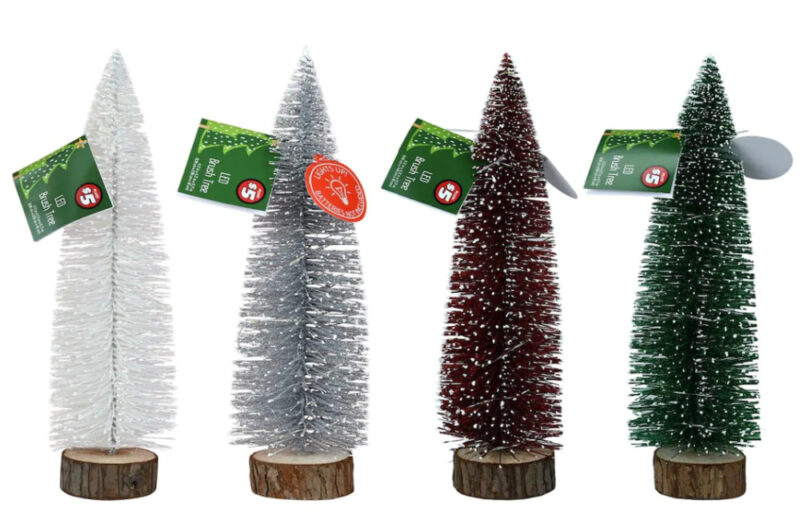 I already had purchased the small pink and blue Christmas ornaments for Christmas craft projects.
bottle brush Christmas trees in your size and color of choice, preferably with fairy lights. Here are 6-inch trees
batteries for the Christmas trees
hot glue gun and glue sticks – this is the one that I want for Christmas
Bottlebrush trees and mini-pink and blue ornaments are a match made in heaven.
Making the Bottle Brush Christmas Trees
This project is so easy it's like a recipe that really isn't a recipe.
First, heat up your glue gun.
NOTE: Since my glue gun is old, I set it on a large piece of wax paper to protect my work surface.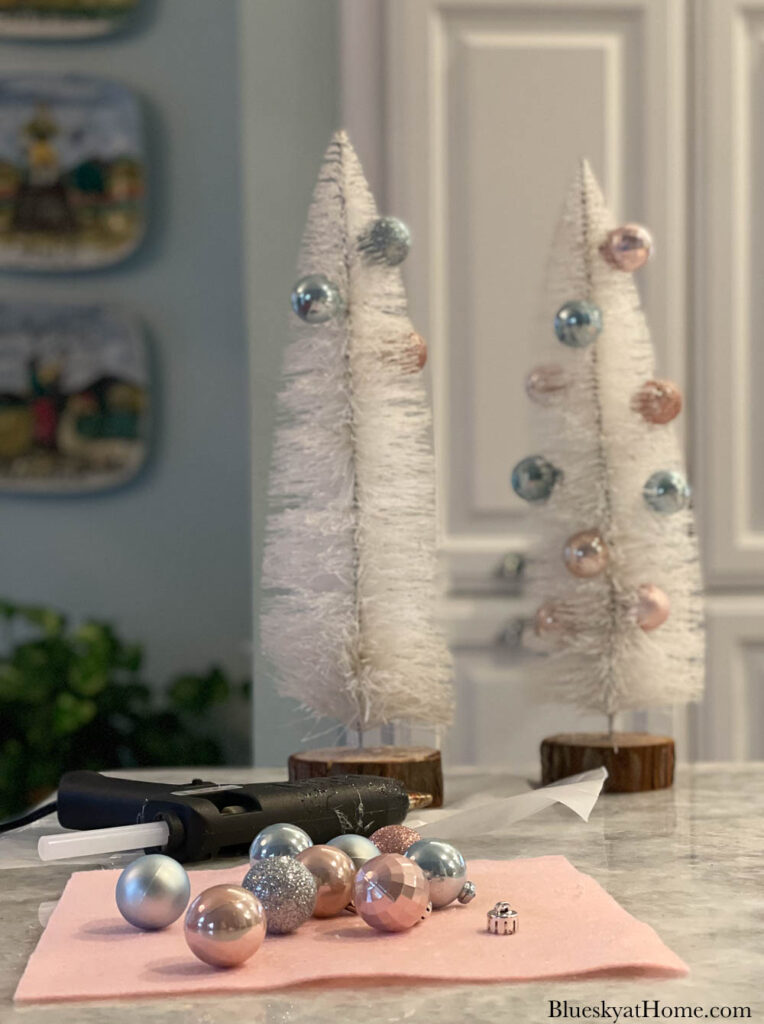 While the glue gun is heating, you can add batteries to the lighted Christmas trees.
Next, remove any attached hangers from the mini-ornaments.
TIP: I kept all the plastic hangers for other projects.
Carefully run a circle of glue around the spot where the hanger was.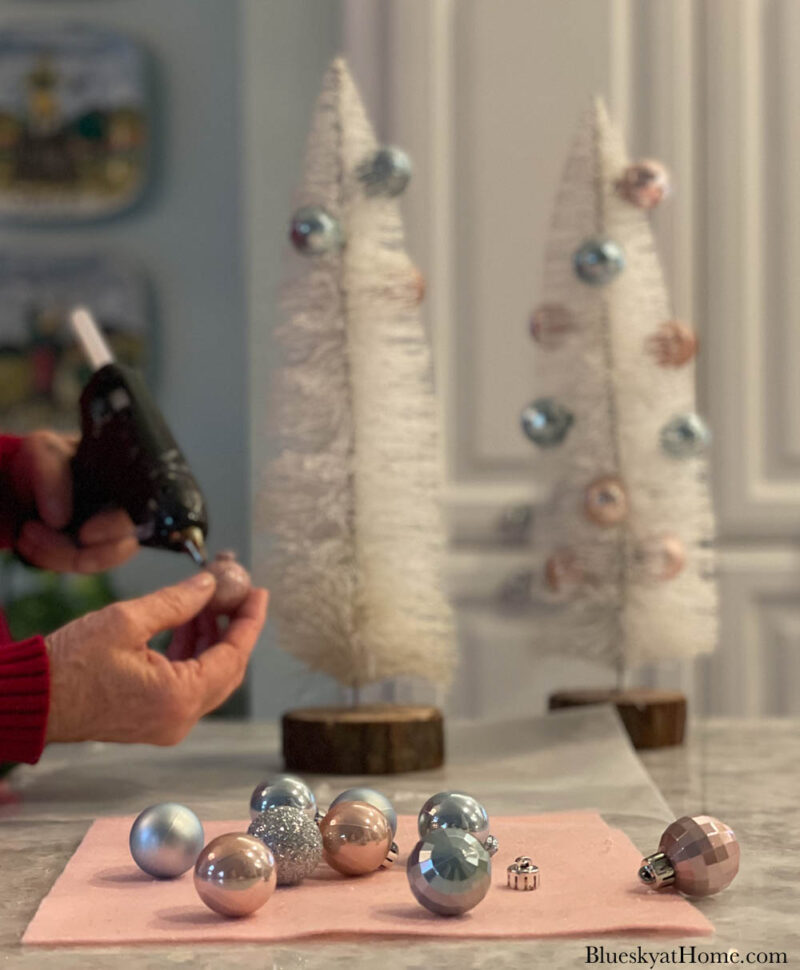 With your other hand, separate a section of the bottle brush tree "branches". Push the ornament into the tree as far as it will go. Hold for a few seconds until the glue sticks.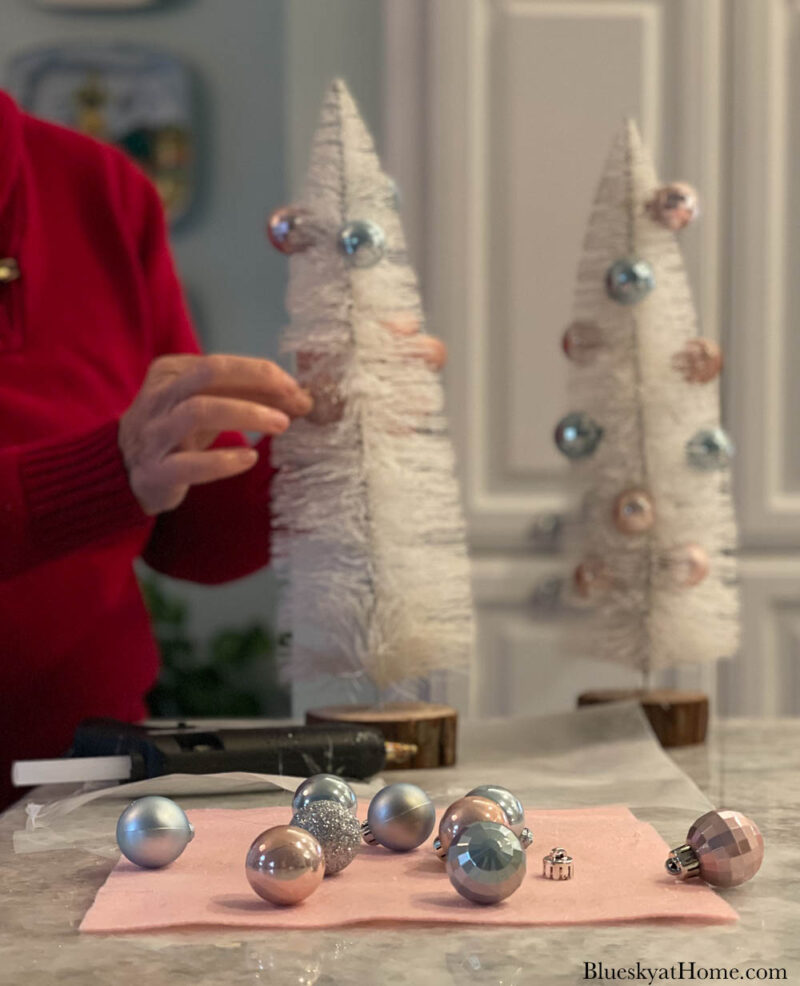 NOTE: I started at the top of my tree and worked down and around it. I tried to alternate the colors as much as possible.
How many ornaments you glue to the tree is totally up to you. I put about 3 inches between my ornaments.
That's it. It's as easy as singing jingle bells 3 times.
What Supplies Do You Need for the Felt Ball Trees?
These felt ball trees are as easy as the bottle brush ones.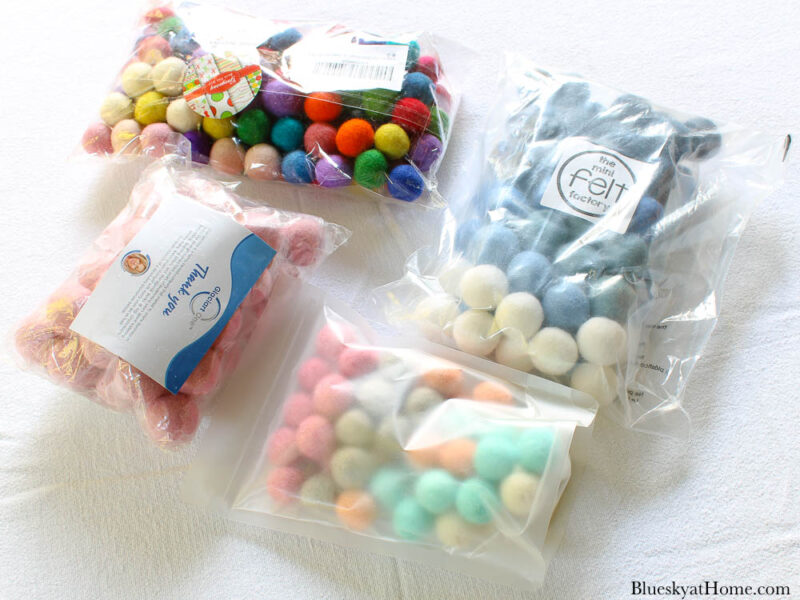 I had a couple of different size cones on hand, but I chose the ones that were smaller.
Making the Felt Wool Ball Christmas Trees
Place a fresh piece of wax paper on your work surface and heat the glue gun.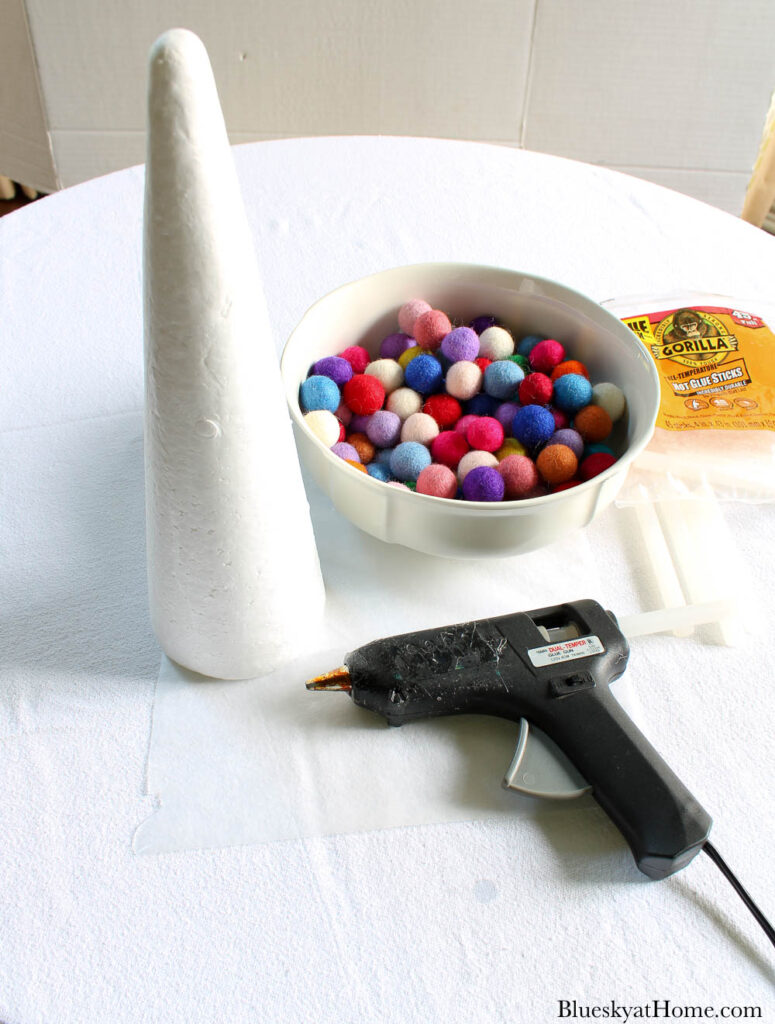 While it's heating, separate the colored balls into different bowls. This is the easiest way to randomly arrange the balls to the trees.
Starting at the bottom of your tree, add a small dollop of glue to a felt ball.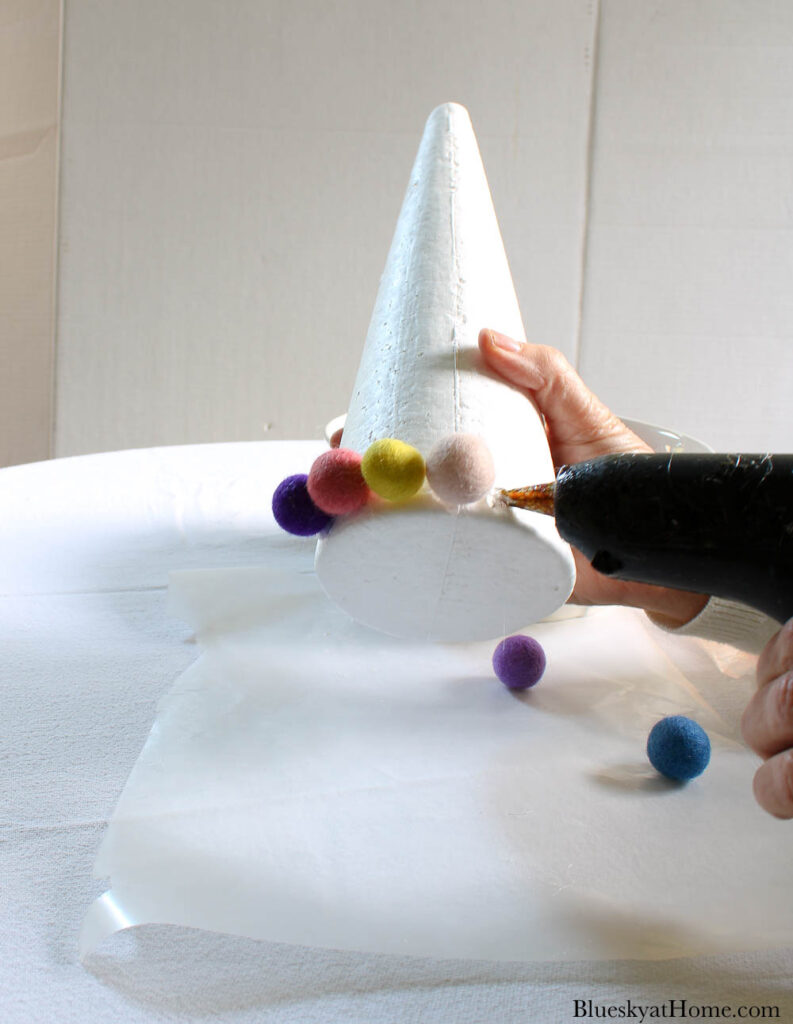 I also made a felt ball tree in bright colors for our living room. For that tree, I used 1 1/2 packages.
Place a ball at the edge of the bottom of the tree and press to the styrofoam cone and hold it there for a few seconds.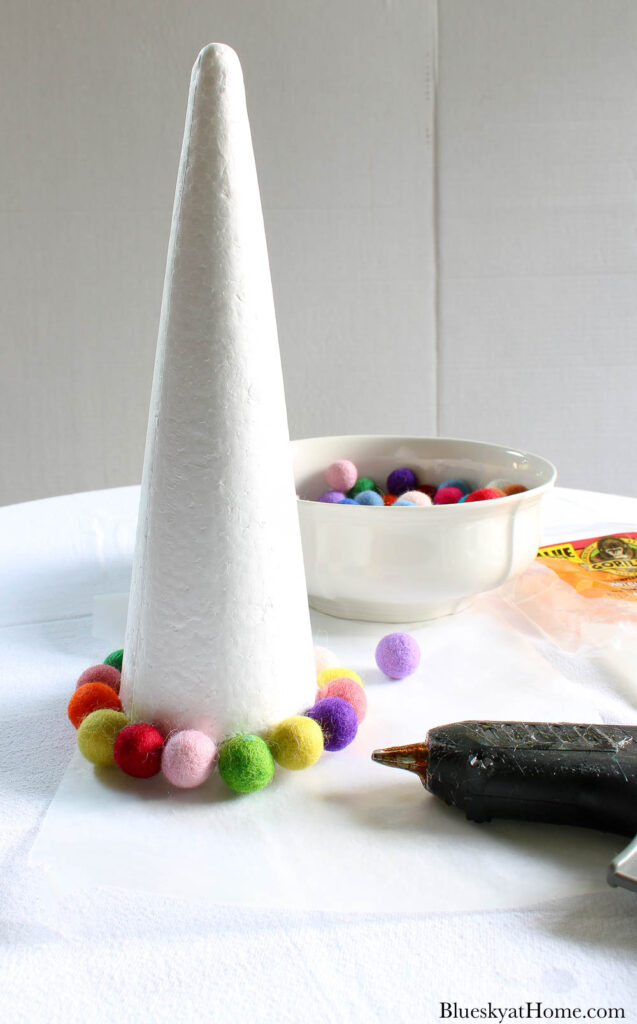 Continue around the circumference of the cone, placing the felt balls close together. On the next row, place the balls in between the two balls in the first row. Press into the space between the two balls in the first row.
Guess who finished off the felt ball tree for me? Annabelle loves crafts and worked like an elf.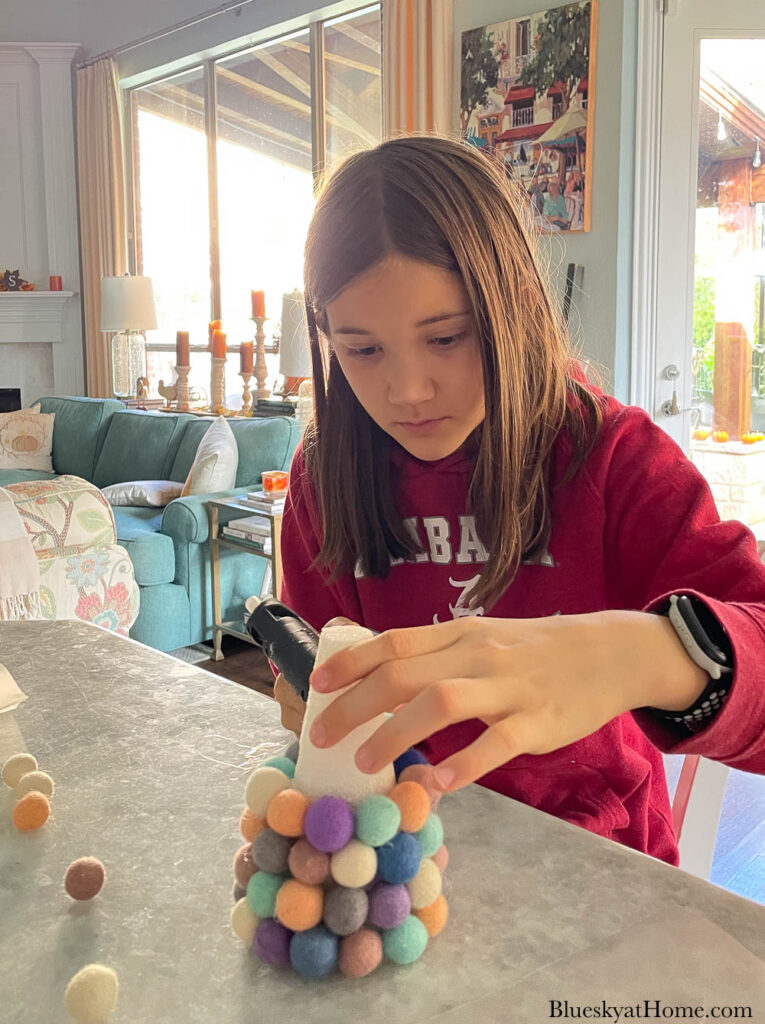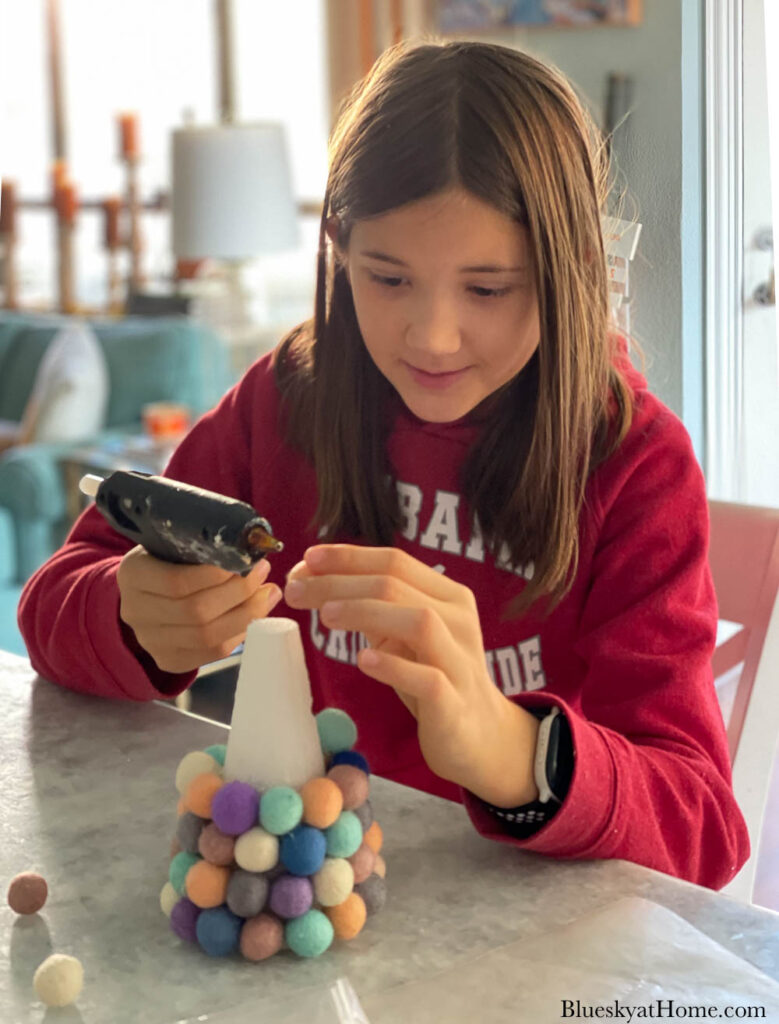 Continue around the tree, making sure to alternate the color of the felt balls, until you reach almost to the top of the tree.
Top the tree with one last ball or another type of tree topper.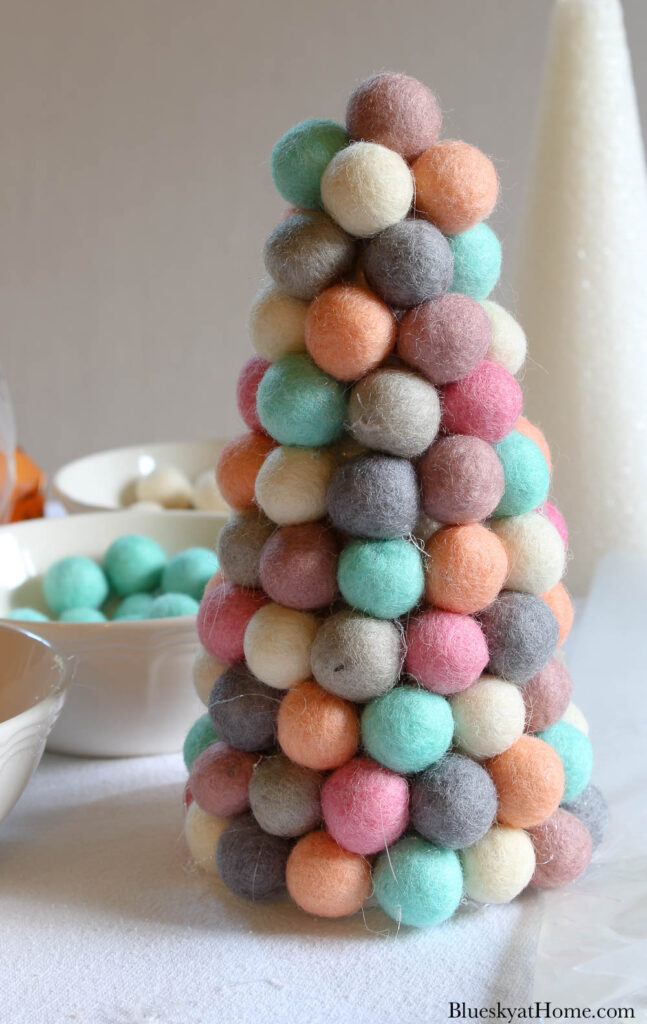 Pull off any "glue threads" from the Christmas trees.
OPTION 1: Use either multi-colored felt balls, as I did, or one color. You could also make an ombre effect or a striped look.
OPTION 2: You could also place the wool felt balls around the tree in a "polka-dot" pattern. Good for when you are running out of felt balls.
OPTION 3: You could also add battery-operated Christmas lights to the felt ball trees.
Your DIY Christmas Trees are done.
These faux holiday trees are easy to make, inexpensive, and can be used throughout your home.
Arranging your Christmas Tree Holiday Vignette on a Tray
This holiday vignette came together so quickly.
For my tray, I needed a rectangle to fit on our console table. My brass rectangle tray was perfect.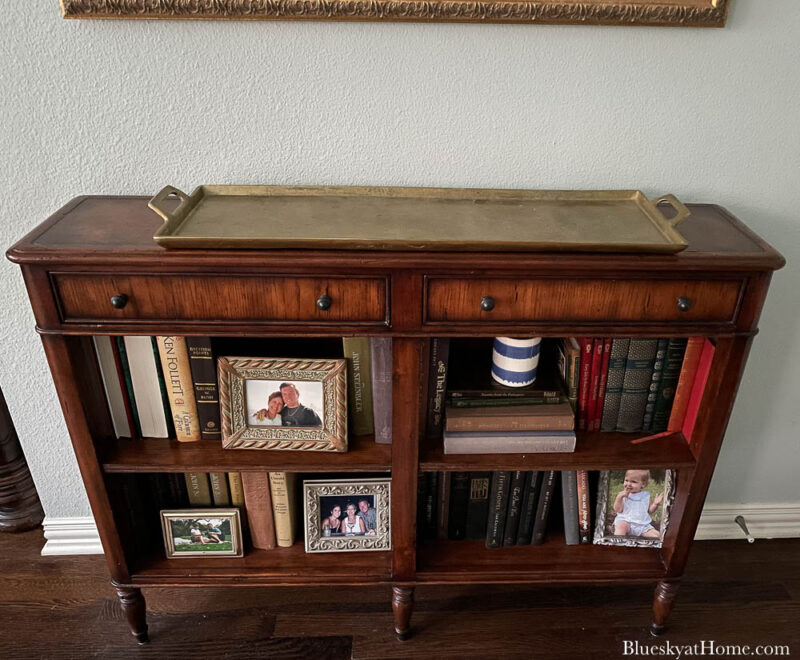 Next came three bottle brush trees. You can use how many you need for your tray vignette.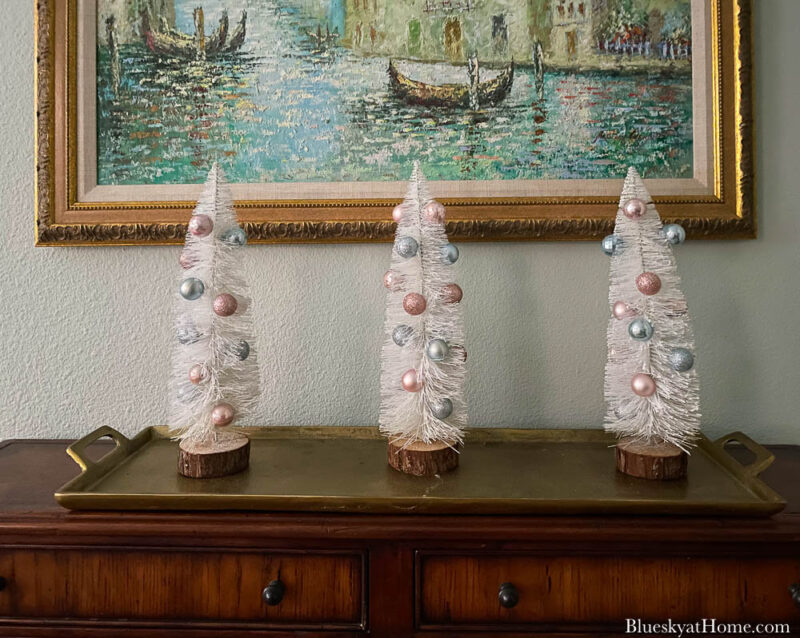 Then came the two wool-felt balls trees.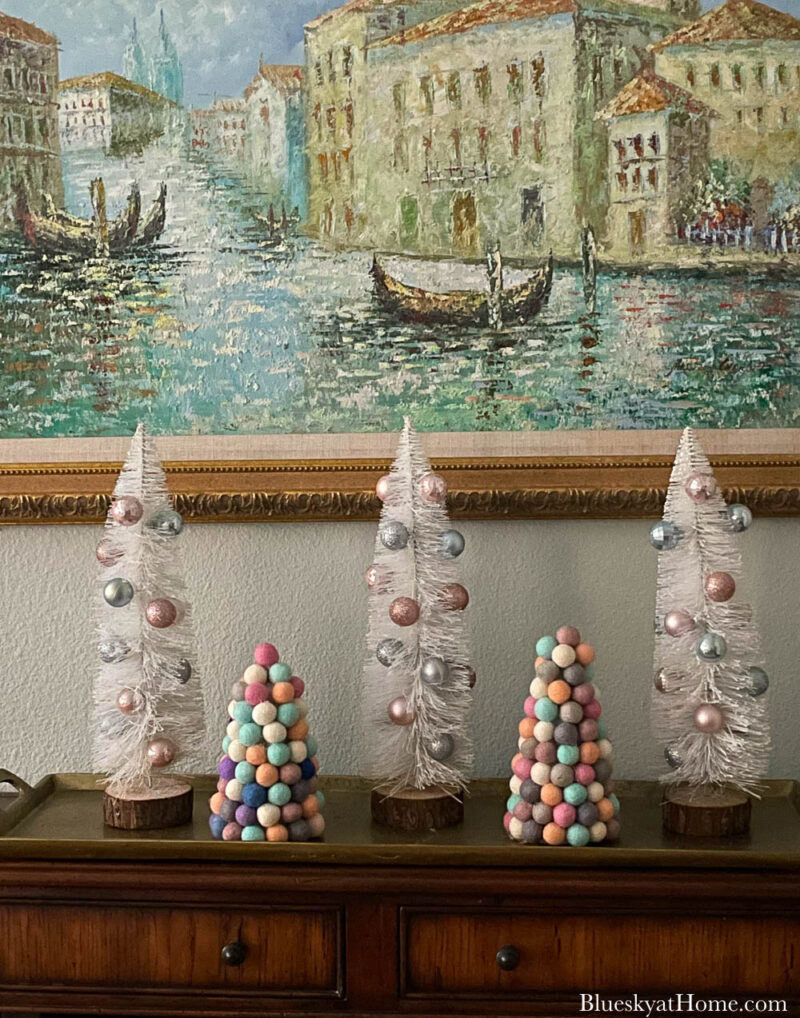 I was able to find my bag of faux snow in the garage. I sprinkled handfuls of snow around the trees on the tray.
Then I sprinkled some of the leftover pink and blue ornaments from the bottle brush tree.
Don't these trees look pretty lit up?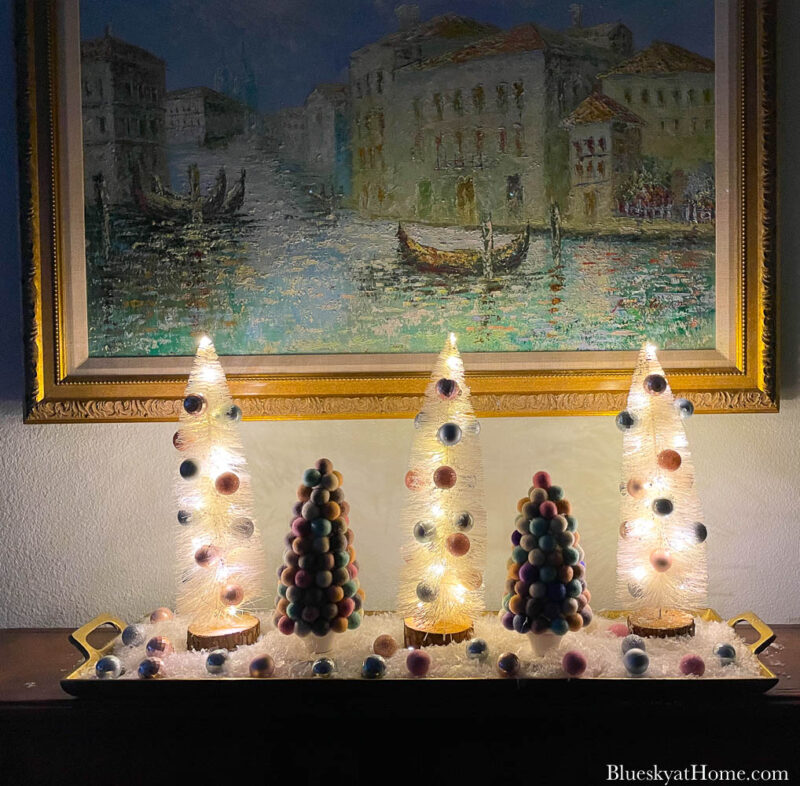 Final Embellishments to Your Christmas Tray Vignette
The next morning after creating this tray vignette, I decided I wanted a little more embellishment on the vignette.
Since I had more pink and white felt balls, I decided to make another felt ball garland (like the ones I made for our new bedroom white Christmas tree). See last year's Christmas garland for detailed instructions.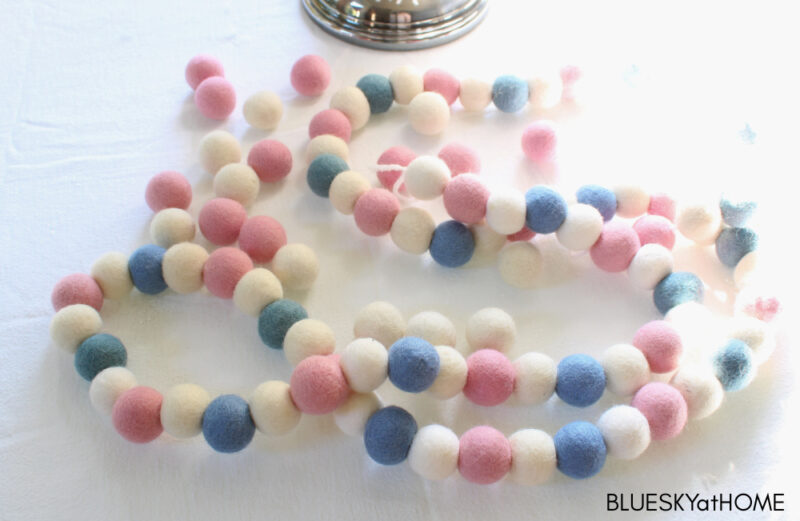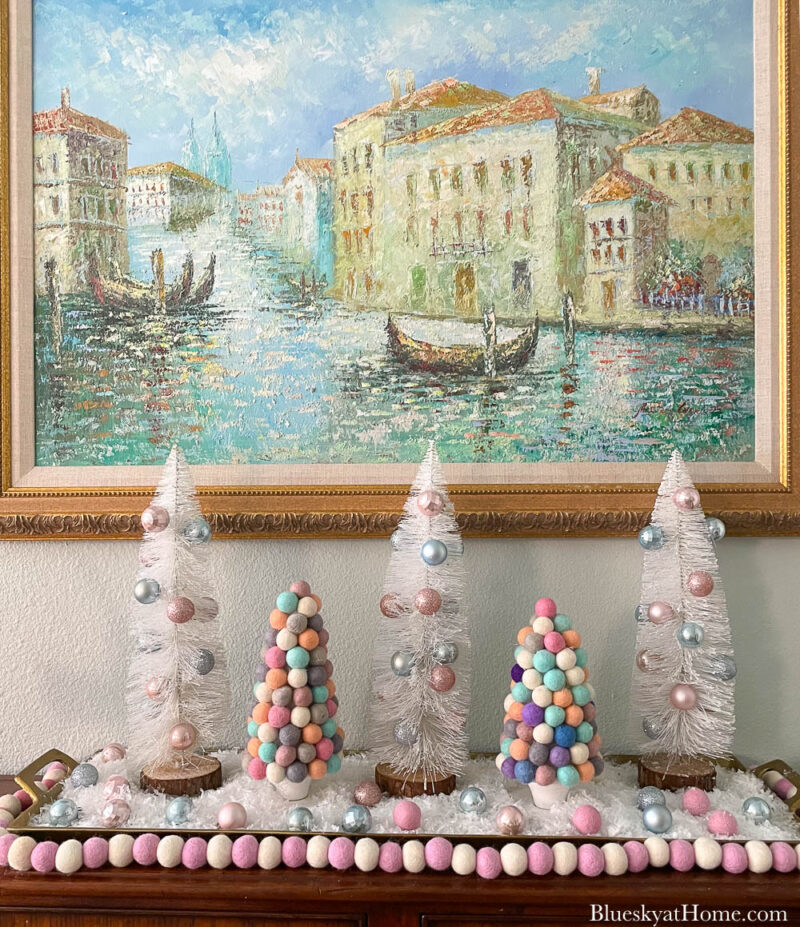 You could also add some faux or fresh greenery.
As a final cute embellishment, I used two acrylic reindeer which I bought last week during my shopping spree with my older daughter.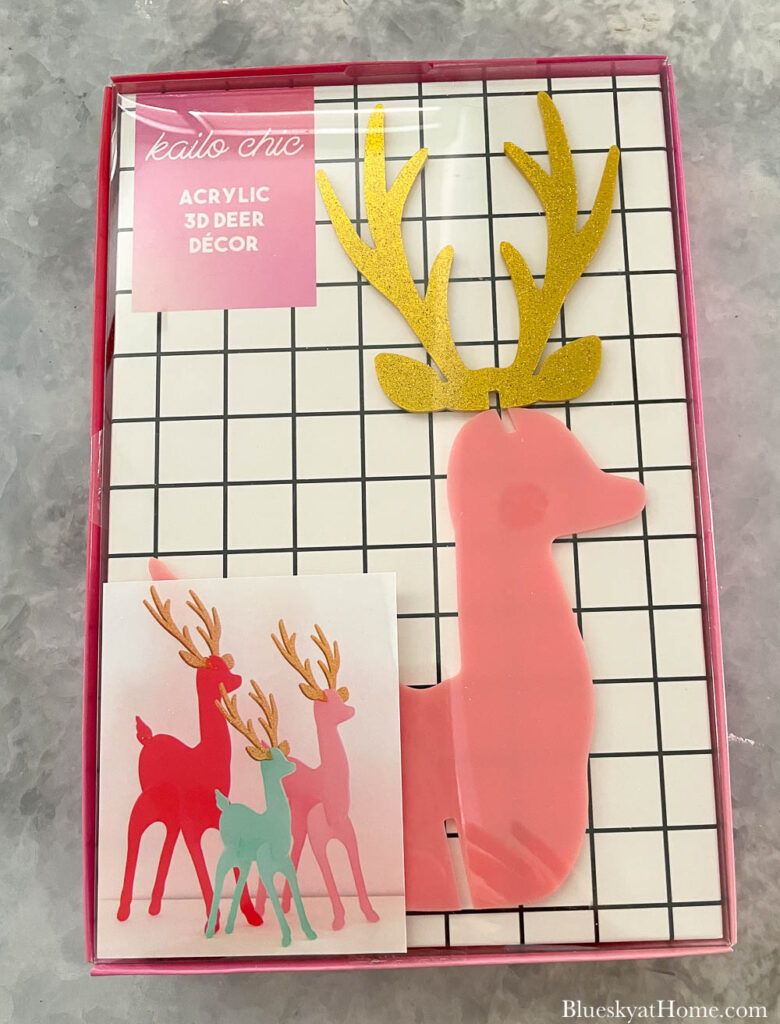 I didn't realize until I opened the package that it was from Kalio Chic ( not an affiliate link).
I used the pink and aqua reindeer, which picked up the colors of my vignette and adds another festive touch.
It's usually the small touches that create an interesting focal point.
Since this table is narrow, this Christmas tray vignette fit perfectly. I love the pastel colors and the lighted trees. And how quickly the Christmas vignette came together.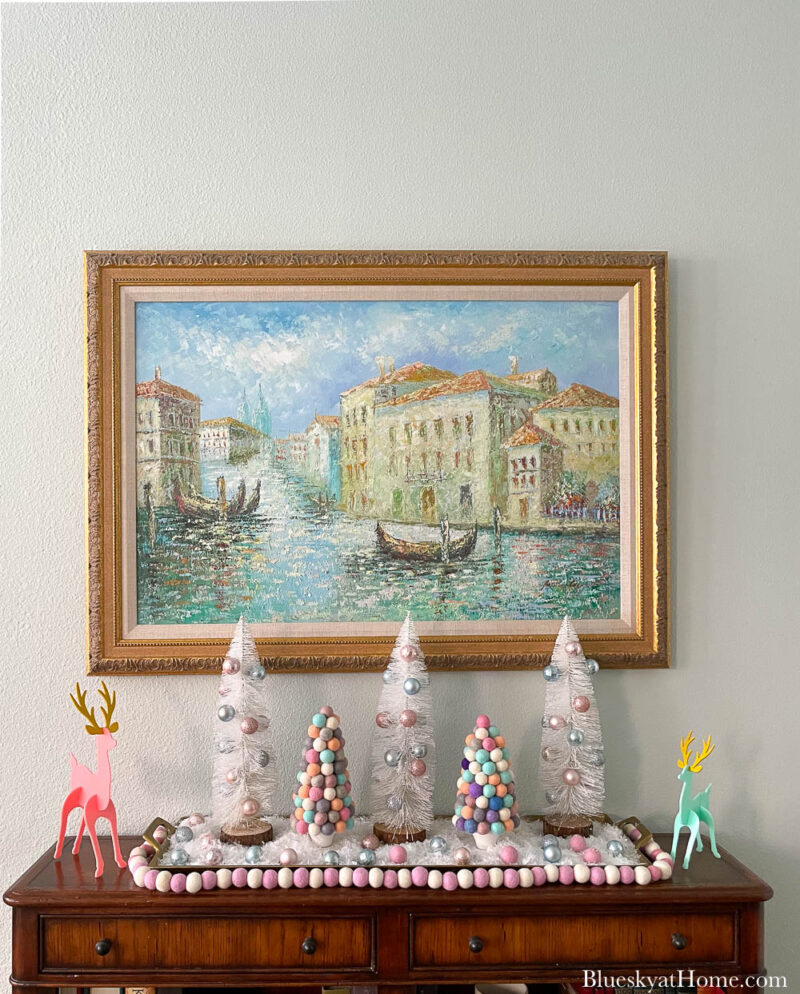 Christmas Tree Tray Vignette Supplies
I'm not done, but we now have the beginning of the spirit of Christmas in our bedroom.
Here are some of my Pinterest Christmas Boards to give you more ideas:
Ready for more Christmas decorating ideas using trays? My fellow Texan, Katherine of The Dedicated House is sharing her ideas next. Then visit these magazine-worthy posts below. I know that you'll enjoy this Winter Wonderland on a Tray Blog Hop.
Are you inspired to make a DIY Christmas tree holiday vignette on a tray? I would appreciate it if you would PIN this project to your Pinterest Christmas boards.