How to Make a Christmas Tree Village in a Vase
Christmas is now less than two months away. Holiday decorating will begin in one month. No time to waste in planning so I want to share how to make a Christmas tree village.
You can easily create this magical Christmas decoration to display in your holiday home. This easy and inexpensive Christmas tree village project can be a focal point in many areas of your home.
This first Christmas decoration of the season is inspired by this month's Pinterest Challenge. It can be made in less than an hour with inexpensive elements you make already have on hand.
This Christmas tree village in a vase or jar will add sparkle to any room in your home.
How to Make a Christmas Tree Village in a Vase
This post contains affiliate links to products used to create this project. If you order any product through this site, I may receive compensation, but you do not pay a penny more.
Although it is late October, we are thinking of Christmas. Once again, our hostess Cindy of County Road 407, has selected a fun and attractive decorative idea from Pinterest. This one comes to us from Katrin of Northern Feeling.
I loved how simple, pretty and easy this Christmas tree village is. I also love that you need just a few supplies and virtually no DIY skills!
Most of the time, I use our Pinterest Challenge photo as inspiration. This time I decided to try to replicate it.
If you are coming over from my link party co~hostess, Michelle of Thistle Key Lane, I know you've had a wonderful experience with her snowy village.
Supplies for Your Christmas Tree Village
Most of these supplies you may have on hand. Sweet Shark wasn't up to pulling down all our Christmas decorations, so I did purchase a few things, but they were inexpensive and I had coupons.
glass vase, large jar, large cloche, covered cake stand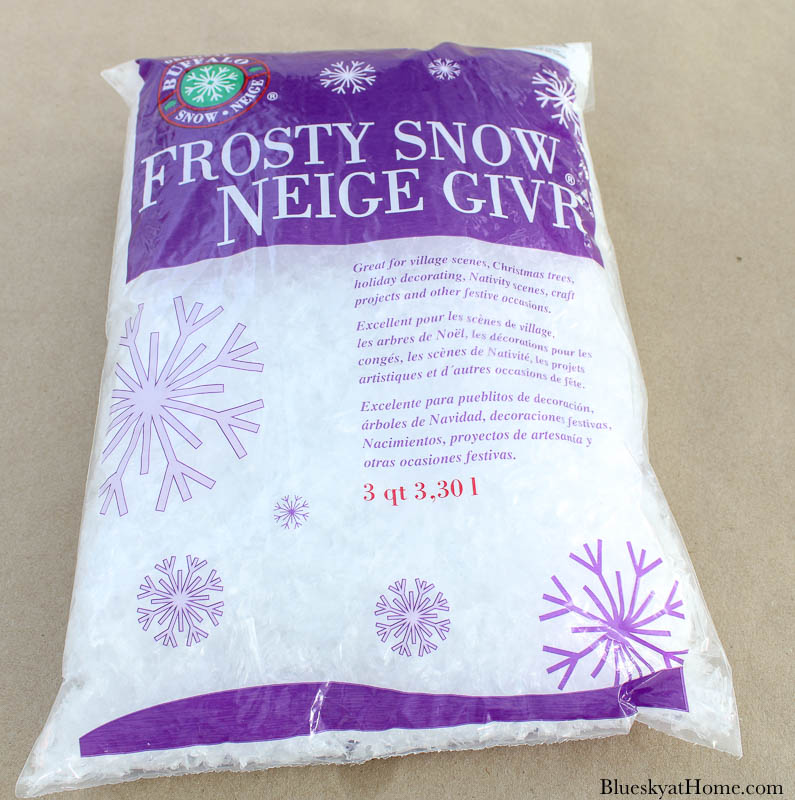 battery~operated lights ~ I found these at Michael's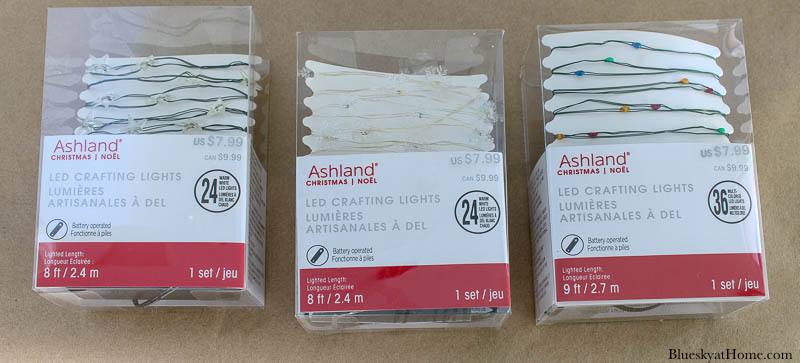 small faux Christmas trees ~ I found 2 different styles in the Dollar Spot at Target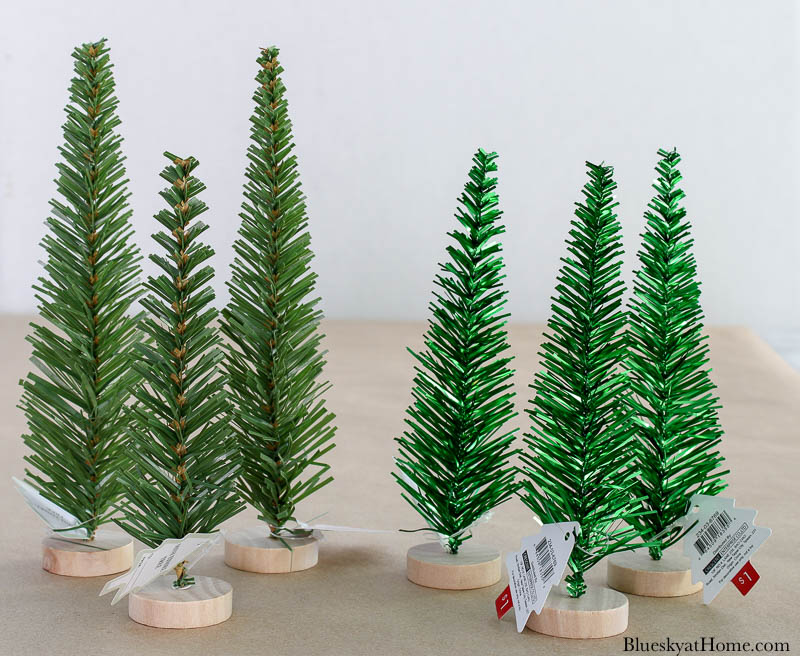 cut~outs of houses, buildings ~ I used my Cricut to make these.
Assembling Your Christmas Tree Village
The round open vase was the best option. I bought it at an estate sale last summer.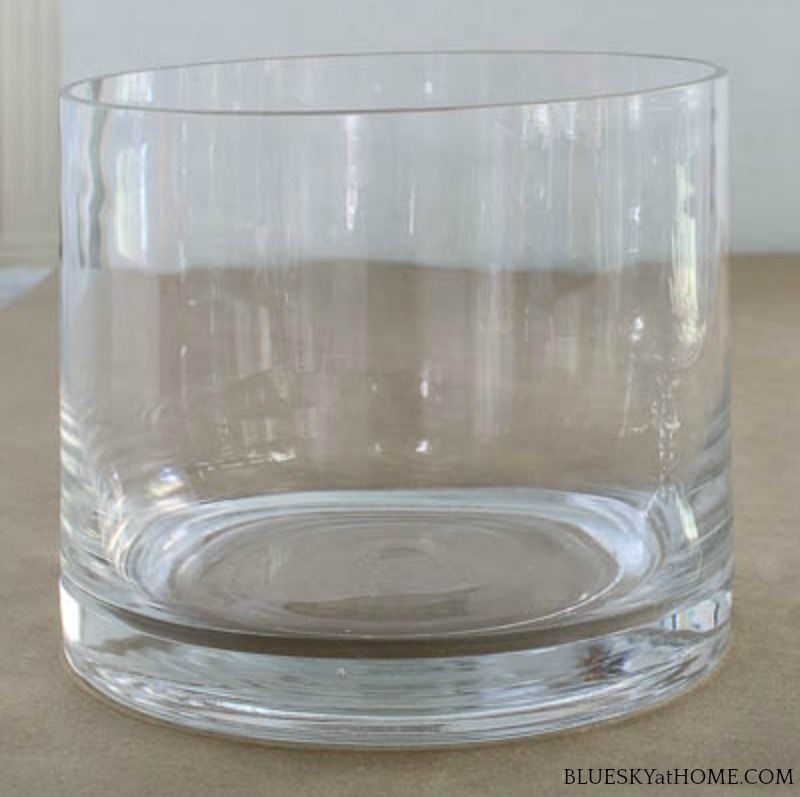 The snowflake lights were the biggest and brightest.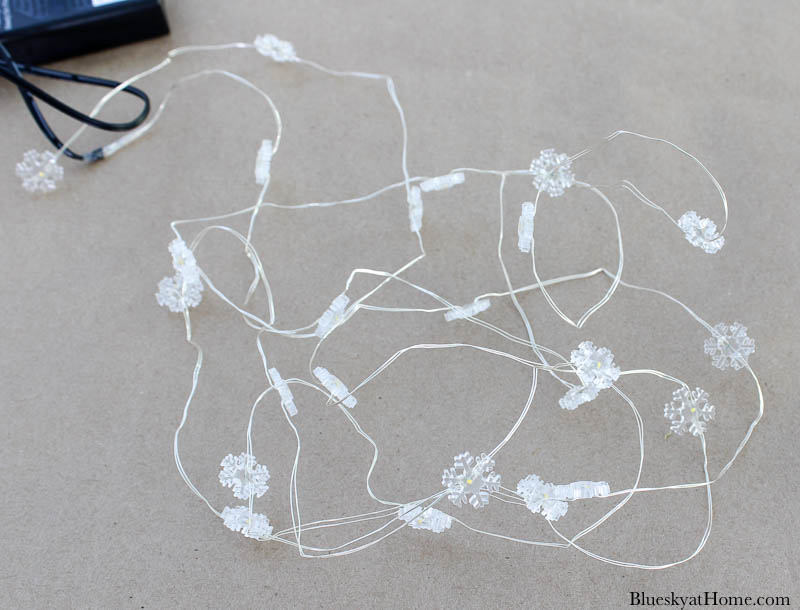 Be sure to check your lights first.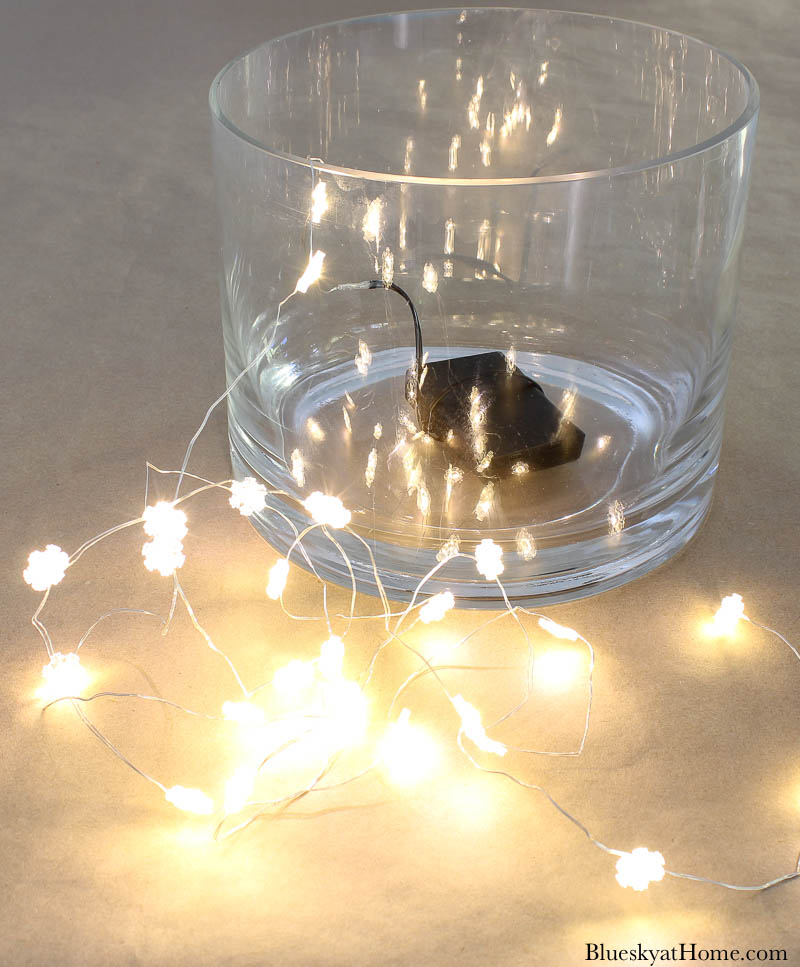 Assemble Your Christmas Vignette
Step 1 ~ First, place the light pack in the bottom on the vase.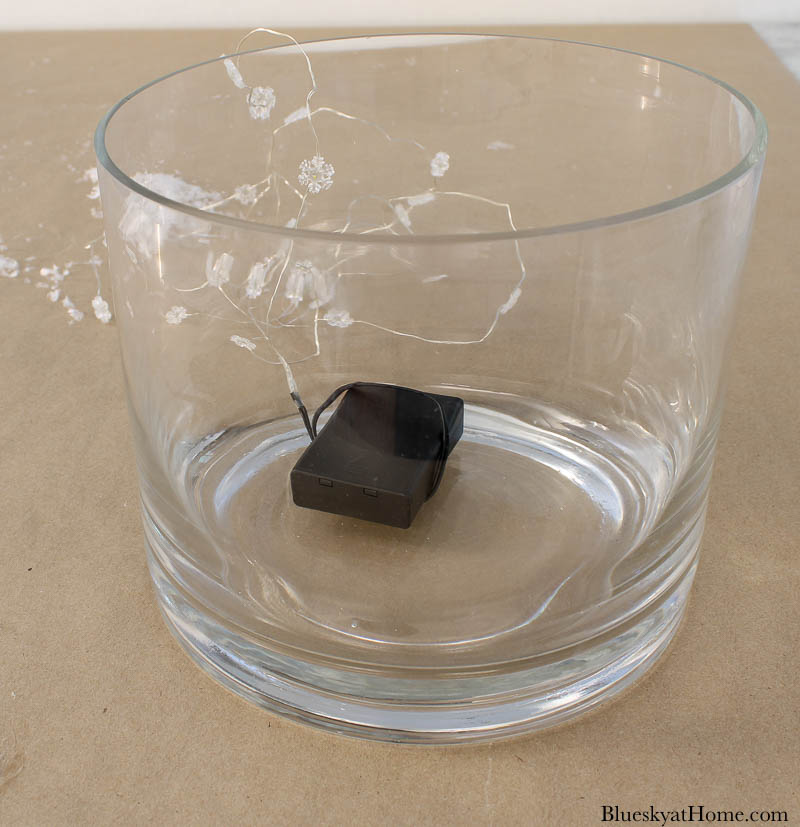 Step 2 ~ Fill your vase or jar with the faux snow. I put about a 2~inch depth.
Step 3 ~ Now, add your miniature faux Christmas trees. I chose to use the ones with shiny branches.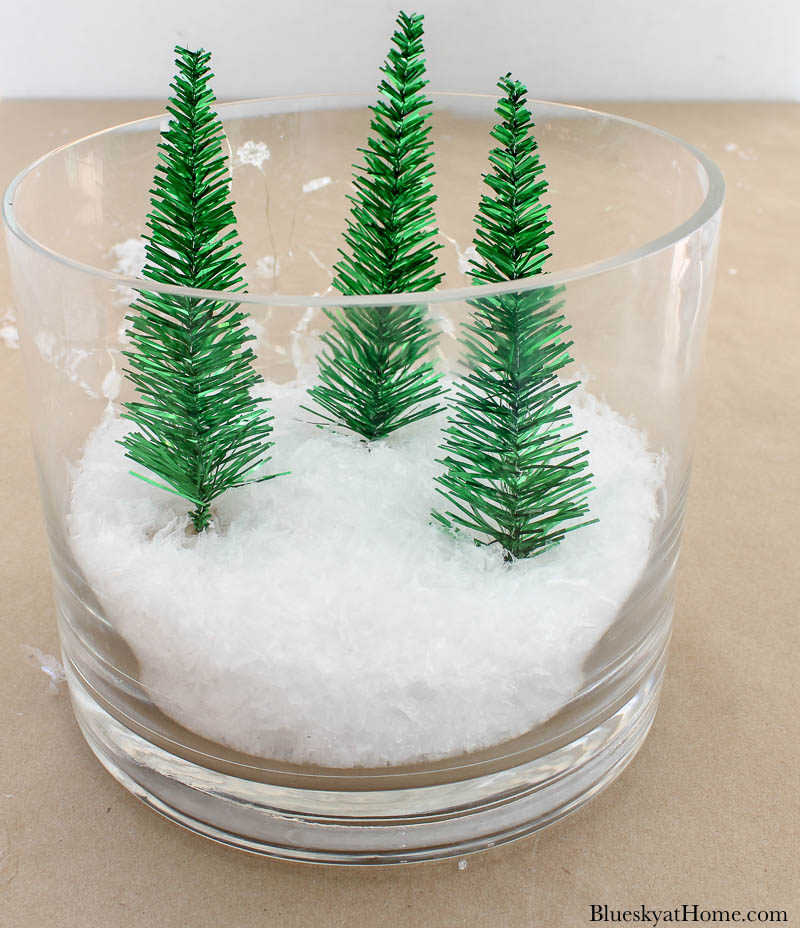 I turned the lights on to check how they looked.
Step 4 ~ Now you will need to make your buildings or houses. I used my Cricut Air and Circuit Design Space to find and cut out 3 buildings. You could hand draw these.
Then, I used a marker to outline the doors and windows.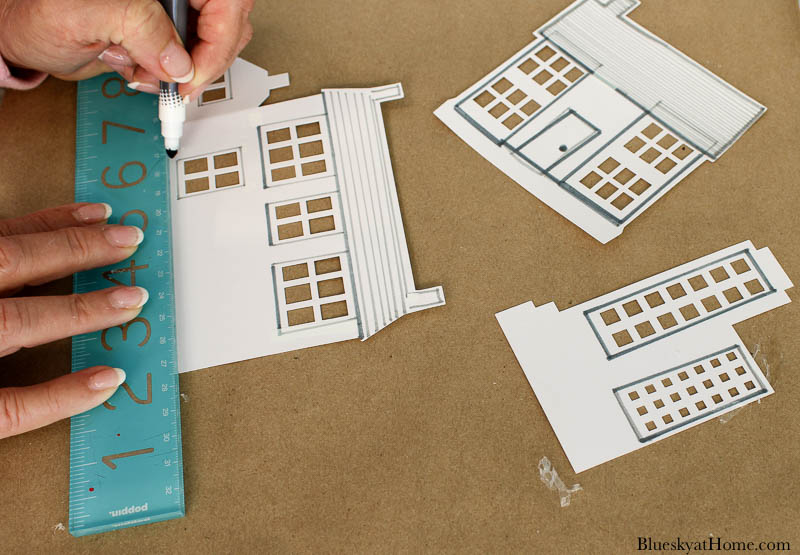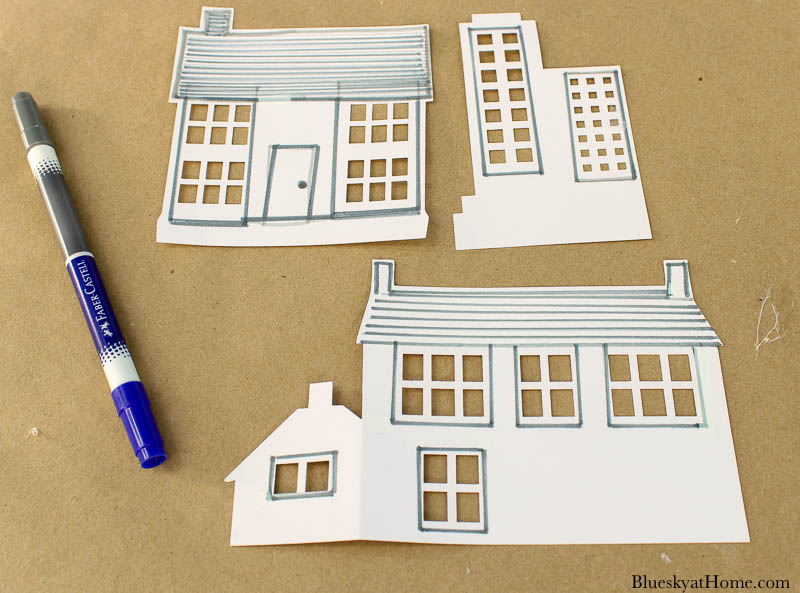 Step 5 ~ Next, add your buildings to the vase jar. I placed mine against the glass of the vase. I also added the other 3 trees to the outside of the vase for added color and filler.
Finally, turn the lights on to check how your Christmas tree village vignette looks.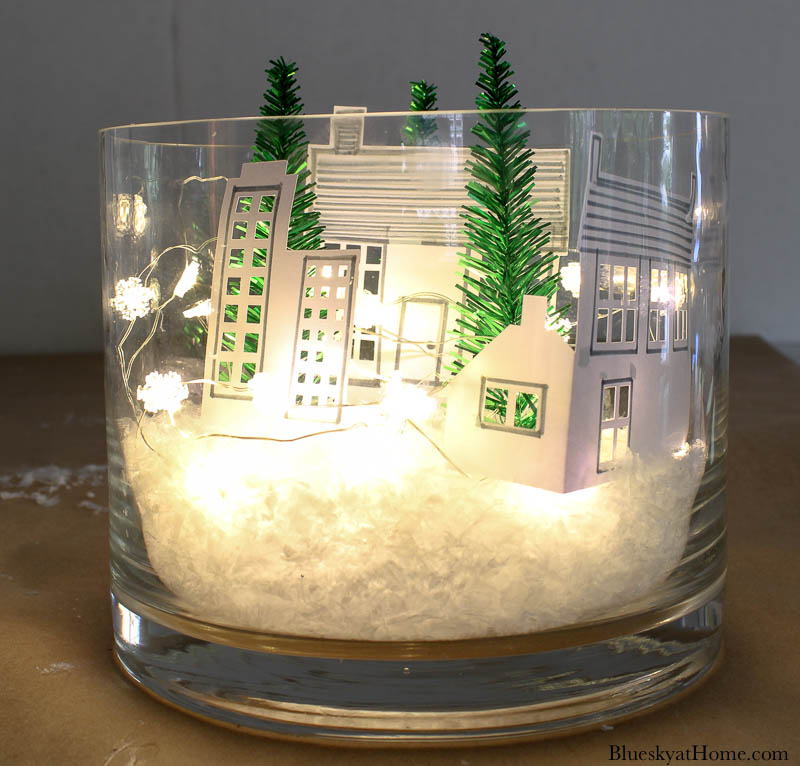 Christmas Tree Display
Since our home is still decorated for fall and Halloween, I'll set this darling Christmas decoration aside for a few weeks. Then I will bring it out and use it in our Christmas decor. There are so many options.
I think this would be a great project for kids, especially making the houses and buildings for the vignette.
Here's another favorite Christmas decoration project of mine.
Be sure to PIN this project for when you are ready to make this project. It's an easy, fast and very pretty Christmas decoration.
Now take time ~ grab a cup of tea, coffee or hot chocolate ~ and enjoy the projects. Time to visit Laura of Everyday Edits and her pretty lantern.