11 Best Tips to Choose and Use Lamps in your Home Decor
Are you confused about how to choose and use lamps in your home? I love lamps and I want to know the right ways to use them in our home. I found the best tips to choose and use lamps in your home decor.
We need some new lamps to complete our living room redecorating. I've had my eye on a pair and I want to make sure they are the right size, height, and shape.
I figure if I need some reassurance, maybe you do, too. So I went to the design pros (Ms. Pinterest and Mr. Google) and found more answers than I expected. With all this new information, I now feel confident in selecting the right lamps for our living room.
I learned so much by researching (did you know there are battery-operated lamps?) and reading these articles about choosing and using lamps. I know you will find the information helpful, too.
Planning our Living Room Redo
Last week, I shared my search for the right rug for the living room. That information was invaluable.
The rug is on the top of my "buy" list, but before we can purchase a rug, we have to find the right layout for the furniture.
I'm hoping this weekend Sweet Shark and I will have time to do a bit of rearranging of the furniture to get the right layout.
Here's the ultimate wish need list to complete our living room redo:
new 9 x 12 rug in shades of blue and cream
new sofa table – the one we have is too long and too wide for our new sofa
at least 2 new lamps for the sofa table
new round side table in wood finish to go between our new swivel chairs
new bookcase (that's been an ongoing need)
new pillows for the sofa and swivel chairs
reupholster the two Bergere chairs we have and where to put them?
That gets us started. I expect these purchases may take several months to find just the right sizes, colors, styles we want. That's OK.
I want to get the right items at the right price. I would prefer to find items at different resources so I can have the traditional, classic, curated look I love.
So, you ask, why focus on lamps now?
A Sad Lamp Story
Last fall, before our new furniture arrived, I was shopping at one of our larger local antique malls when I spied a pair of lamps I loved immediately.
The lamps had a classic, but slightly modern style. They were tall (our living room has a 20-foot ceiling so we need tall lamps!) with a touch of gold at the base. The shape of the base was rectangular as was the shade. And best of all – they were blue!
I took this photo with my iPhone, so it's hazy and doesn't do the lamp justice.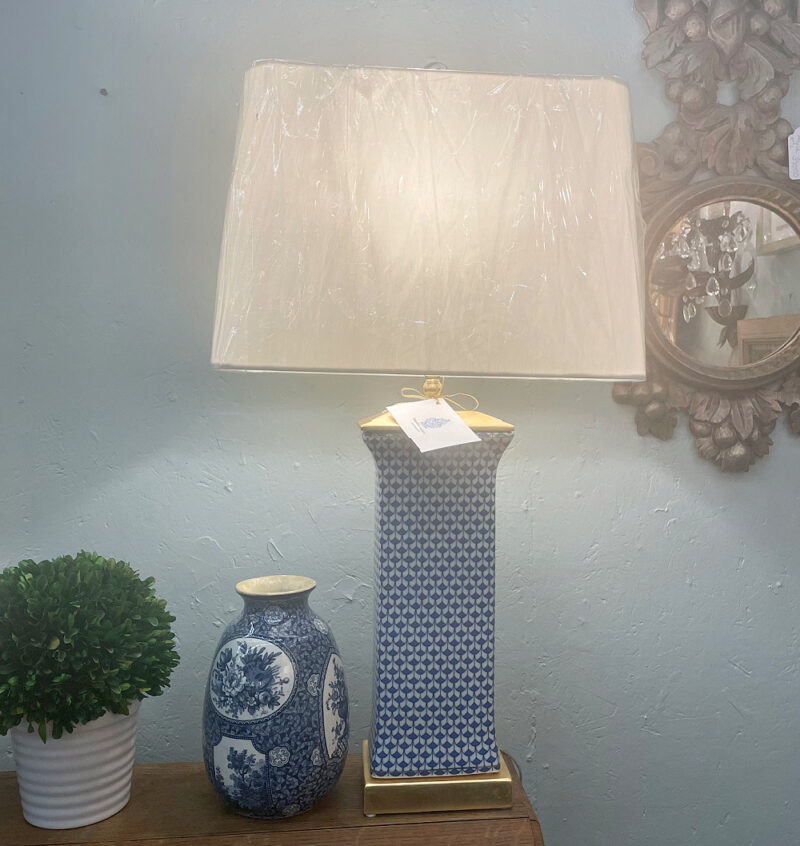 The price was certainly more than I would pay at places like HomeGoods, Target, At Home, or Amazon. But the lamps were less expensive than our local interior design stores. I could easily justify the cost.
I didn't buy them at that time. I just keep my eye on them whenever I went to the antique mall. The last time I saw them was in early January.
Then, this week I attended a girls' get-together for a women's charity organization that I've been in for 20 years. It was at the home of a member who lives 5 minutes from me.

I have seen her home on walks many times. It reminds me of Charleston Low Country with a huge front porch. I've been in love with it before I knew it belonged to someone I knew.
At soon as I walked into the dining room to sign in, my heart stopped. There on her buffet were the lamps of my dreams. I asked her where she bought them, and sure enough, it was at the antique mall. She said she bought hers about 9 months ago, but had recently seen that the vendor had another pair.
The next day I went to the antique mall, ready to slap my credit card down and buy them. But (see the tears running down my face), they were not to be found in the vendor's booth. (Actually, this vendor has three booths and lots of inventory.)
I asked the lady at the front desk about them. She said if I had a picture to send to her, she would contact the vendor about the possibility of getting another pair.
So, please, keep your fingers crossed for me.
Last fall in my weekly newsletter, I shared an article "Where to Spend Money and Where Not to in Your Home Decor". Here you can get the Checklist and the Article.
Lamps were one of the places recommended to put your home decor dollars. Ironically, rugs were an item to save money on!
So, now that I've shared my sad-sack lamp story, let's look at all the tips, tricks, suggestions, and advice on how to choose and use lamps in your home.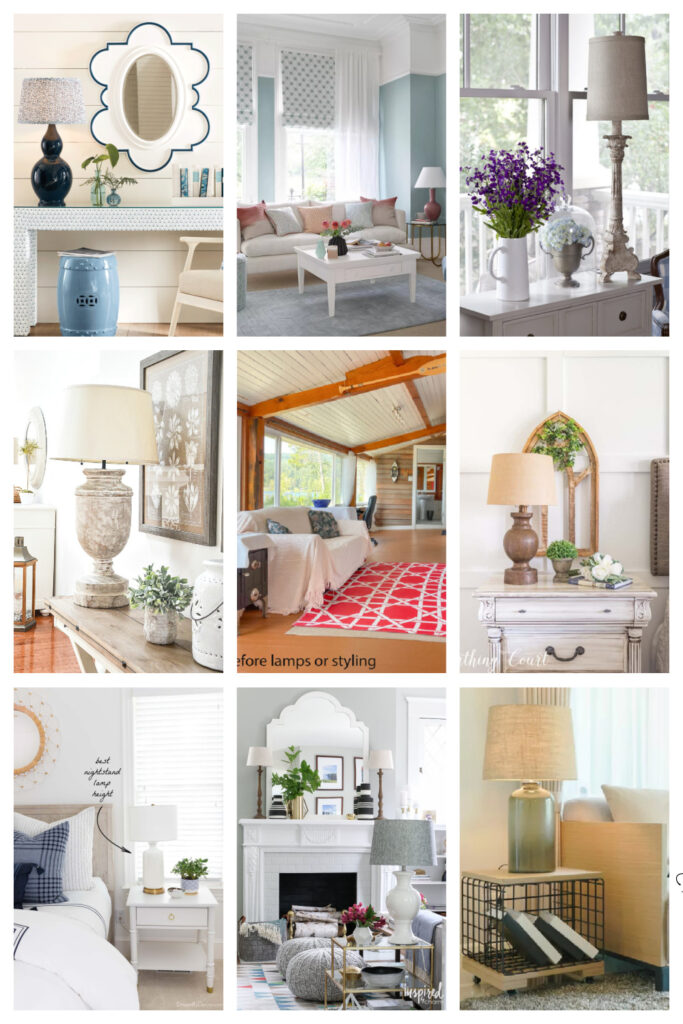 Welcome to 10 Fabulous Finds at Bluesky Browsing #75.
Think of Fabulous Finds as a home decor/DIY/Craft/recipe Readers' Digest.
In case you are new to Bluesky at Home, what fabulous finds do I share at Bluesky Browsing?
ideas to help you in your home decor efforts
fun holiday decoration ideas
ideas for better organization and efficiency
a yummy recipe or cocktail
fun DIY projects
the latest trends in home decor
a quirky new find or two
How to Choose and Use Lamps in your Home Decor: 11 Best Tips
Focusing on finding new projects, resources, tips, new ideas, and inspiration for you is my main task. I'm constantly discovering fabulous finds to inspire us. My goal is to help you find ideas for your home decor, your crafting, your home organization, and anything about home.
Whether you are looking for accent lamps, floor lamps, or lamps for the bedroom nightstand, good lighting is essential in our homes.
Although we strive for natural light as much as possible, we have to have sources of light at night or for areas that are dark, even in the daytime.
From a practical standpoint, we use light fixtures for reading, completing tasks, and general ambiance. Proper lighting is essential.
Lighting can be wired in the ceiling (pendants and chandeliers) and on the walls (sconces).
TIP: Almost every overhead light source in your home should be on a dimmer switch! We even have dimmers in our bathrooms.
Accent lamps don't just provide light. They can be home decor accessories, providing color, pattern, and texture. They can even be pieces of art. Lighting design is an art form.
NOTE: Every week on the Monday Memo, I share valuable home decor tips. Join the list (on any post) to receive more good stuff.
Like with the rugs, as you read these articles, you'll notice some overlap in what is recommended. I still find that reassuring. It means there is consensus on the hows, whys, and whats of the best ways to choose and use lamps and lighting in your home decor.
I've tried to group these articles where possible into different types of lamps, lamps for certain rooms, and general information.
I hope you PIN this post, visit each selection, and PIN each one. You can check out my HOME DECOR Pinterest Board.
I'd love to know what subjects you are most curious about. Let me know in the comments and I'll search browse for them. Be sure to PIN to keep these ideas handy.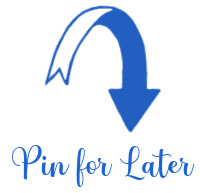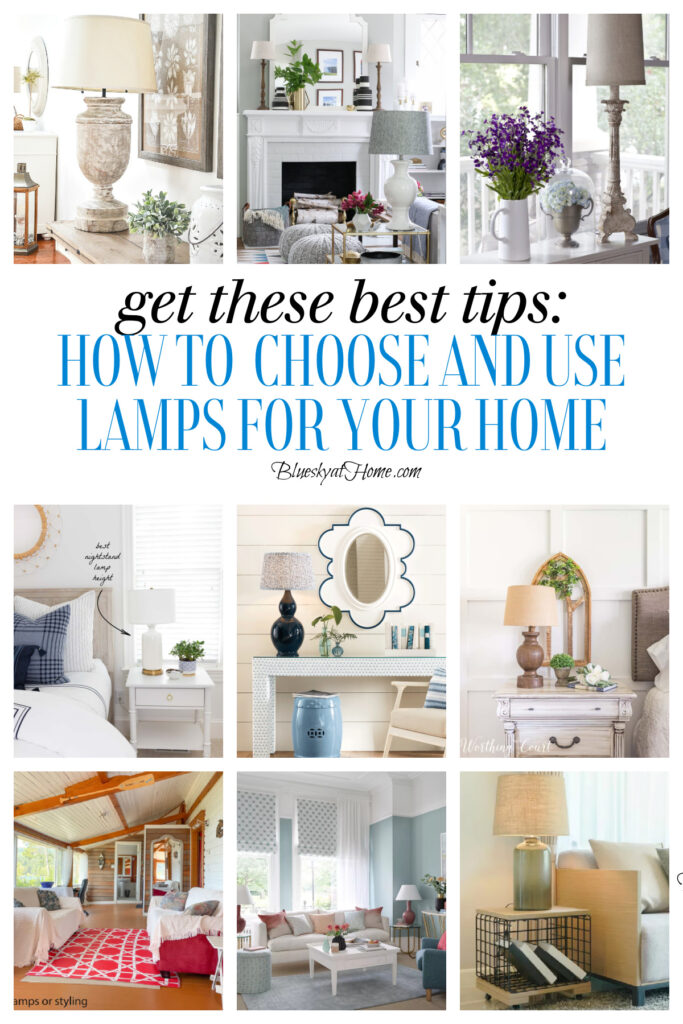 I'll be browsing away between writing posts, listening to podcasts, reading, doing various blogging tasks, playing tennis, and walking Nola.
Are you a new or intermediate blogger? Every week I share valuable blogging resources and tips. If you would like to receive The Blogger Bulletin, please join the Blogger Bulletin. It's just once a week and is a quick read.