How to Style a Fall Patio Tablescape
Do you like to dine outside in the fall? I do and I'm ready to set a fall patio tablescape.
Fall has officially arrived on the calendar. I love dining outside when the weather turns cooler. A hint of fall touched the air late last week and I felt invigorated, energized and ready to set a fall patio tablescape.
When fall tipped toes in the door (or outside on the patio) for just a minute and I get excited about dining outside. Now that we have a new (old) patio table, creating a fall patio tablescape is much easier.
Setting a tablescape outside can be just as elegant as in your dining room or as casual as a picnic in the park. I'm going for a little more casual with just a hint of elegance. This is my way of entertaining outdoors for a fall patio tablescape.
How to Style a Fall Patio Tablescape
This post contains links to items used in this project. If you should purchase anything through this blog, I may receive compensation, but you do not pay a penny more.
Although fall officially is here on the calendar, unfortunately, that touch of fall in the air lasted all of a hot minute and by Sunday we were back in the 90's. But hope springs eternal and we can dream of a fall afternoon that lends itself to an outdoor dining experience at a lovely fall patio tablescape.
Fall Patio Tablescape Inspiration
The inspiration for this fall patio tablescape cames from Beth at Home Stories A to Z. Beth's style is very similar to mine and my recent navy and copper all tablescape shares some elements with her outdoor table. How convenient!!
So, what are some of the elements of Beth's fall patio tablescape?
a metallic pitcher filled with flowers
copper glasses
dish towels ~ used as placemats
wood and woven chargers
galvanized tray
pumpkins
rose gold (or copper silverware)
white plates
Beth's color palette is fairly neutral with a woodsy feeling from the wood chargers and woven basket chargers. Green ~ from the floral arrangement and the ties around the silverware ~ provide more of the soft, natural esthetic.
My Fall Patio Tablescape Plan
What elements am I going to use in my patio tablescape that are similar to Beth's?
copper metallic pitcher ~ a story that I'll tell you in a minute
fresh flowers
copper glasses ~ the ones that I made for our dining room will be reused on the fall patio tablescape
dish towels ~ used as napkins
rose gold silverware
pumpkins
white plates
What other elements am I going to use? I wanted to use ones that I already had on hand, if possible. I also wanted to continue the navy and copper color palette that I've been using this fall in our coffee table, fall mantle, and dining room tablescape.
blue woven placemats
tiny clay flower pots
Spanish moss
blue and white check "ribbon"
small copper metallic pumpkins
copper mug
navy candles
On the coffee table post, there is a great checklist printable for you.
Getting Ready to Style my Fall Patio Tablescape
Since we did a lot of updating to our backyard at the beginning of summer, we now have our new patio chairs for our table. I'm much more in the mood to set a table outdoors.
I started by gathering most of my elements on our patio table.
TIP: Gather the elements that you are going to use in a tablescape or vignette. This helps you visualize the scene you want to create.
Here I have blue placemats, the dish towels, the copper wine glasses, the copper mug, pumpkins, navy candles 2 small hay bales, and faux leaves.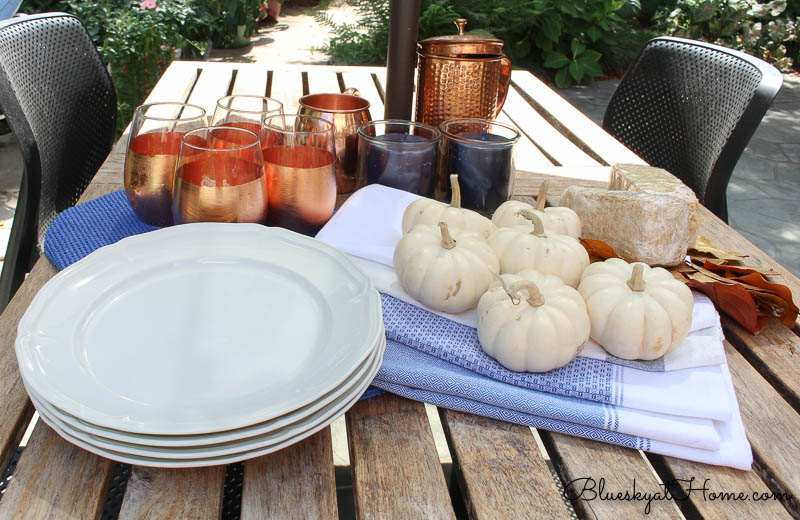 Let me tell you the story of the hammered copper pitcher in the background.
Last week I stopped in one of our local antique malls that is several doors down from The Dollar Tree. When I saw this copper pitcher; I loved the finish of the hammered sides. The lid was stuck and I couldn't get it off. I went to the register and asked the man to get it off. After a little pulling and tugging, he did. The pitcher was only $10, which I thought was a great deal. Done deal.
Here's another traditional fall tablescape in navy and copper you will like.
Styling the Fall Patio Table
I started by arranging the white mini~pumpkins around the center pole of our patio table. Since our backyard gets so much sun, we have to have the umbrella, which means I have to work every centerpiece around it.
I used the 2 small hay bales for some height. Spanish moss added some softness and covered the hay bales. Then I tucked in more of the painted leaves that I used in my fall tablescape.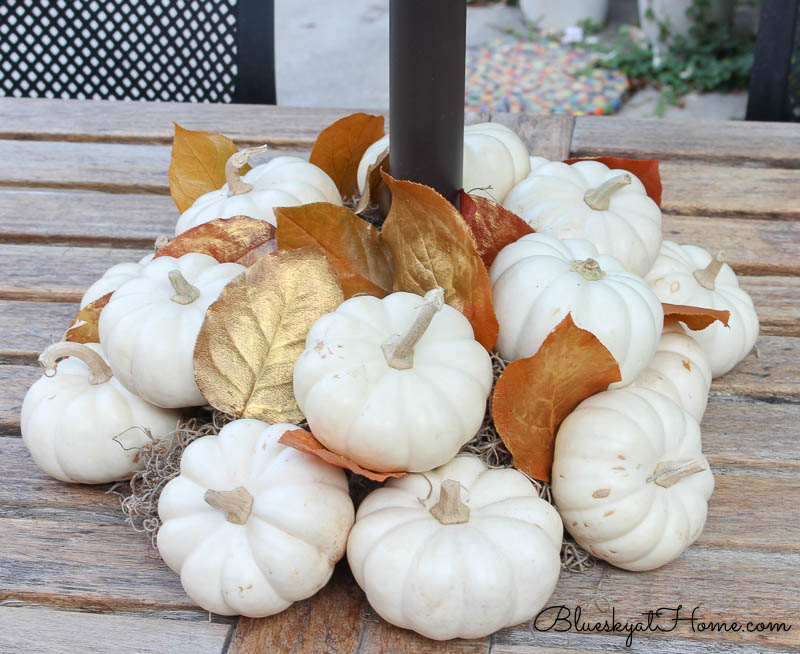 Next, I placed the blue placemats, the dishtowels that I am using as napkins (3 from Home Goods and 1 from Ikea), and the copper wine glasses. Since this is an outdoor tablescape, I thought that woven plastic placemats were just fine ~ and they were the perfect color.
Then came simple white plates and my $10 copper pitcher before I polished it.
The final piece of the place setting are these darling tiny clay flower pots which also have a story.
A couple of weeks ago, my sweet friend Cindy of County Road 407, Carol of The Red Painted Cottage (who was in North Texas visiting her son and family), Stacey, formerly of Poofing the Pillow, and I met for lunch.
Afterward, we went shopping at an amazing shop called Uncommon Market. If you love vintage of all types and are in Dallas, you should try to visit. They have a huge inventory of vintage finds. The clay pots were not the only thing I bought and I will share as I use them.
Anyway, all of us fell in love with these little flower pots. There were 1oo's of them and I think each one was slightly different. Each of us dug through boxes and crates, looking for just the ones that spoke to us. I bought 6 and I already had in mind that I would use them in some way on this fall patio tablescape. (This won't be the last time you see these little pots!!)
I didn't even wash them!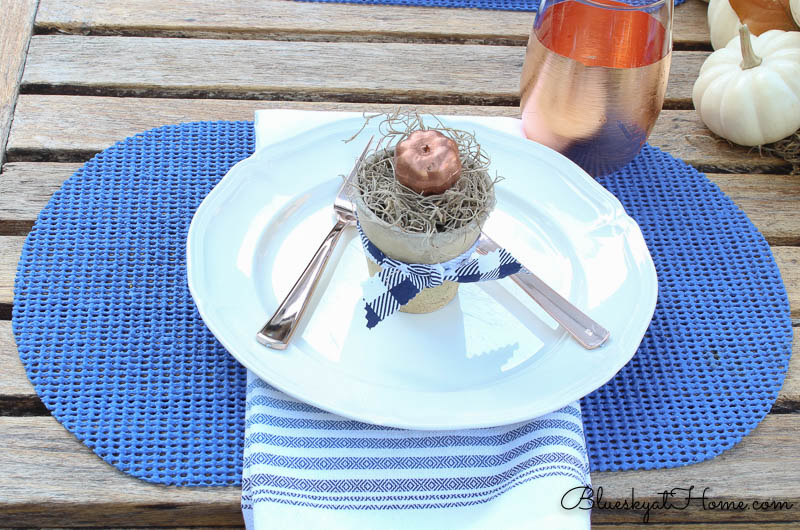 First, I made some ribbon by cutting strips of navy and check fabric with my pinking shears. Then I tied a strip around each clay pot. This step pulled in more of the navy blue and added some pattern to my fall table.
Next, I filled them with a little Spanish moss and a metallic pumpkin which I had spray painted copper a couple of years ago.
In addition, I ordered some "copper" plastic silverware. Actually, I searched copper plastic silverware on Amazon and every result came up rose gold. I chose this set because it had just 40 each of knife, fork and spoon.
TIP: Repeat your theme elements for added impact.
I put the spoons in the copper mug, which was a freebie from Haven Conference.
See the lid to the copper pitcher and how shiny and bright it is? All the pitcher and the lid needed was some polishing with Copper Cream Polish.
Here is my beautiful shiny copper pitcher. I picked 3 different types of white flowers at the grocery store. I thought white would provide the most contrast and would look great with the copper pitcher. I feel like the addition of the flowers and copper pot finished off the patio tablescape.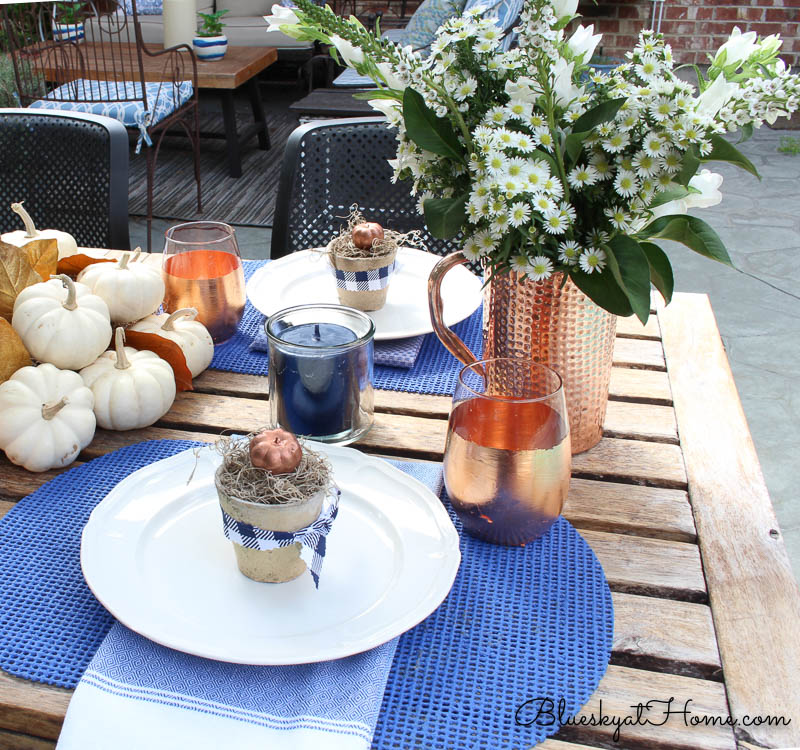 At first, I thought my little clay pots were my favorite thing on my fall patio tablescape, but once I set the copper pitcher with the white flowers on the table, that became my favorite thing. What do you like better? Copper pitcher or clay pots?
As you can see, we still have summer flowers blooming in our backyard. Luckily, we did get a couple of little rain showers last week.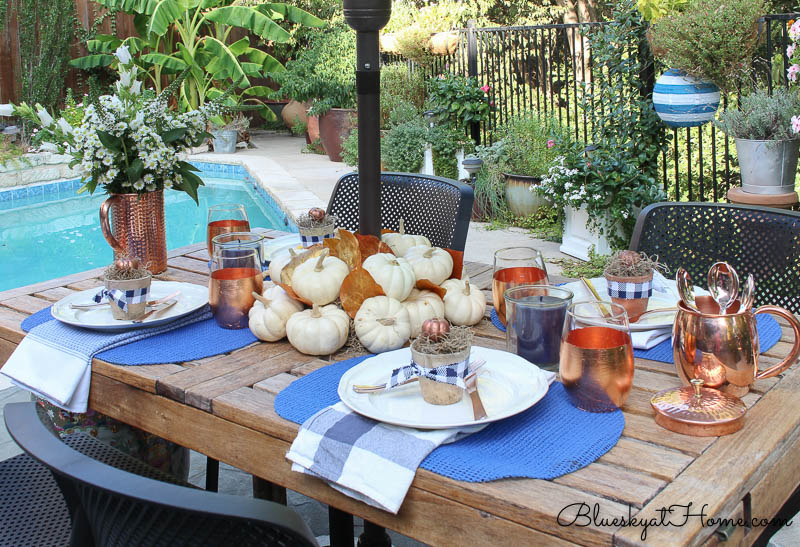 So that is how to style a fall patio tablescape. Here is what was new:
copper pitcher from antique mall ~ $9.99
4 vintage clay flower pots ~ $4.50 each
navy (indigo) 3 X 3~inch candles from Joann ~ buy 1, get 2 free (yes, that's what it was in the store ~) $9.99, each would make 2 for $6.66
fresh flowers from Central Market ~ 3 bunches for $10.00
I know that all my new purchases, except for the flowers, will be used over and over.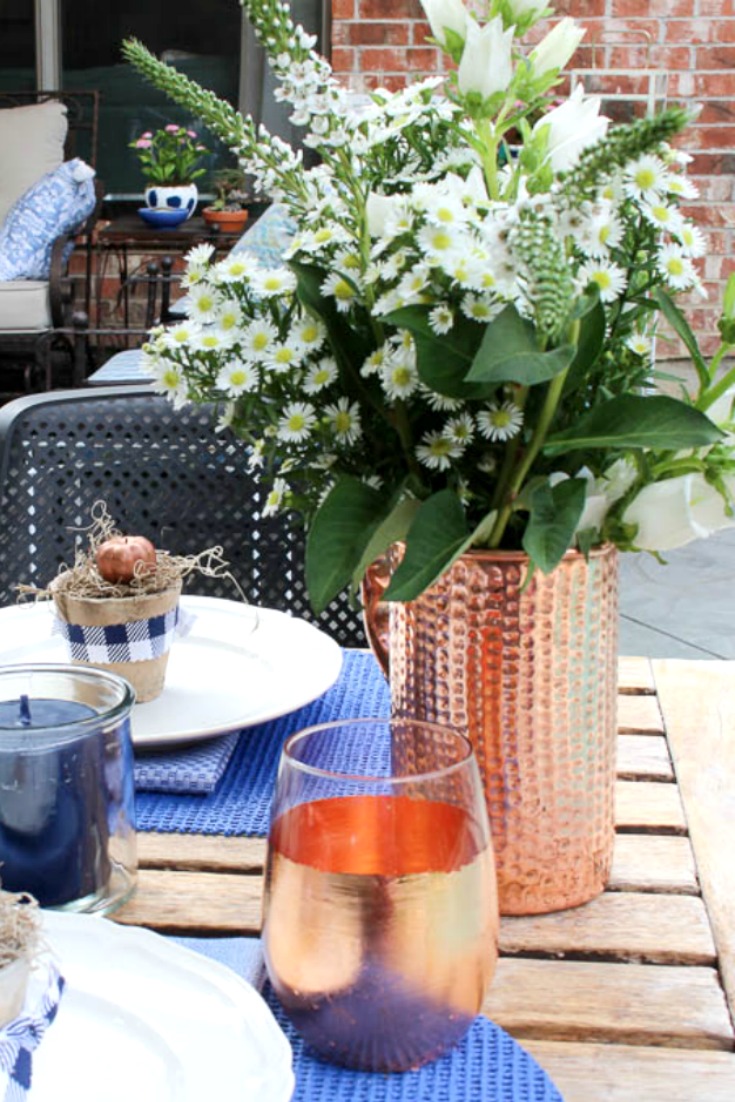 I sincerely hope that you enjoyed our fall patio tablescape. In spite of the afternoon heat and getting eaten by mosquitos for the first time this year, I really enjoyed styling the table. As soon as the sun started going down, I lit the candles for a little ambiance.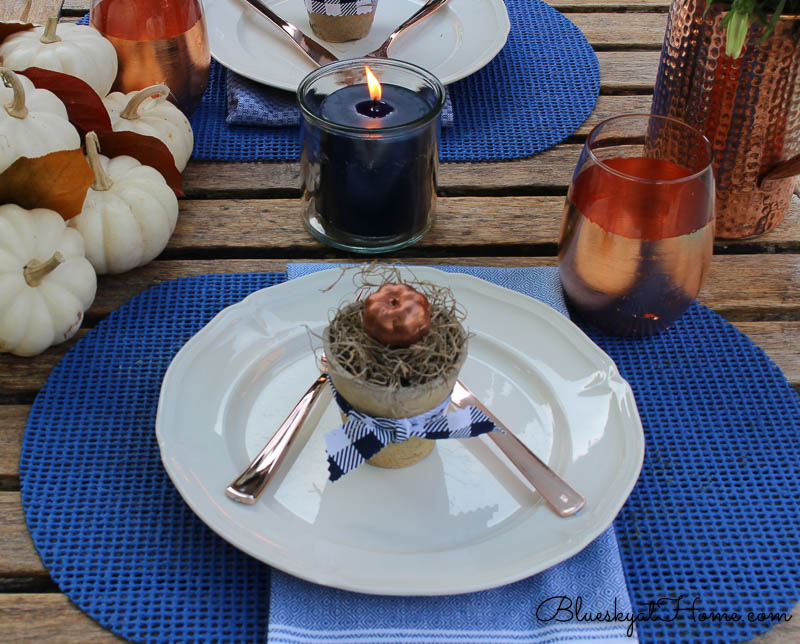 Here is another idea for you ~ an autumn tablescape.
I hope you will PIN this fall patio tablescape.