Kale Salad with Pear-Thyme Vinaigrette
Do you think of salad in the winter? I hope you will after you see this delicious salad recipe. This Kale Salad with Pear-Thyme Vinaigrette is perfect for the winter months.
This delicious winter salad with seasonal ingredients will get you rave reviews from your family and friends.  
I love menu planning which I did hundreds of times during my 15 years as a cooking instructor.  
I have a huge cookbook collection, a half-dozen binders, and of course the Internet and Pinterest, so finding recipes is no problem. Choosing recipes, tweaking and adjusting them, and deciding which ones fit together for a satisfying meal is one of my favorite tasks in the kitchen.
When soup is your first course (hot), it's nice to follow with a salad (room temperature or cold).
Salad can be a first course for dinner, but this one is hearty enough to stand alone. Served with a cup of soup, it makes the perfect lunch. Served with quiche, it's wonderful for brunch.
Inspiration for the Kale Salad
This post contains affiliate links to products used in the creation of this project. If you should order any item from this site, I may receive compensation, but you do not pay a penny more. Your purchase is greatly appreciated as it helps support the continued publication of this site.
The inspiration for the salad came from the very first chef I ever assisted at Sur la Table, Caprial Pence.  Caprial took my hand and showed me the proper way to hold a chef's knife. She taught me the correct rocking motion for slicing and I was hooked.  
At the time, Caprial had a restaurant in Portland, Oregon and was on a book tour for Caprial Cooks for Friends, which I've used many times over the years.  She is now the co-owner of Madison Kitchen in Seattle.
Hers was the first dedicated book I received from a visiting chef. It was the first of many during the four years I worked in the Surl la Table Culinary School.
Kitchen Tools to Make the Kale Salad
chef's knife – I have had my Wüsthof for over 25 years and it will outlive me.
cutting board – my bamboo cutting board is my everyday go-to.
salad spinner – I love this OXO design.
small saucepan
measuring cups and spoons
food processor – my Kitchen Aid is a work horse that I've had for at least 20 years. The model I have is no longer available.
Ingredients for the Kale Salad
Whether you make this recipe as a first course or as lunch or brunch entrée, it is a decidedly seasonal salad.
Caprial's version uses spinach as the base, but I love fresh kale in the fall and winter for its hardy texture and slightly bitter taste.
If you can find lacinato kale, that is a first choice, but curly or red kale is good, too. Lacinato is an heirloom black kale that is really popular right now among the Paleo crowd. It's a little bit sweet, not as bitter as some other varieties.  

Mixing different varieties is great too for adding texture and color. You can also use a mix of kale and fresh spinach.
NOTE: Lacinato is also called Tuscan kale, Italian kale, or black kale (cavalo nero).
Lacinto kale has a deeper color and is slightly thinner and more tender than curly kale which makes it more versatile. It cooks more quickly than standard curly kale and requires less massaging for use in raw preparations.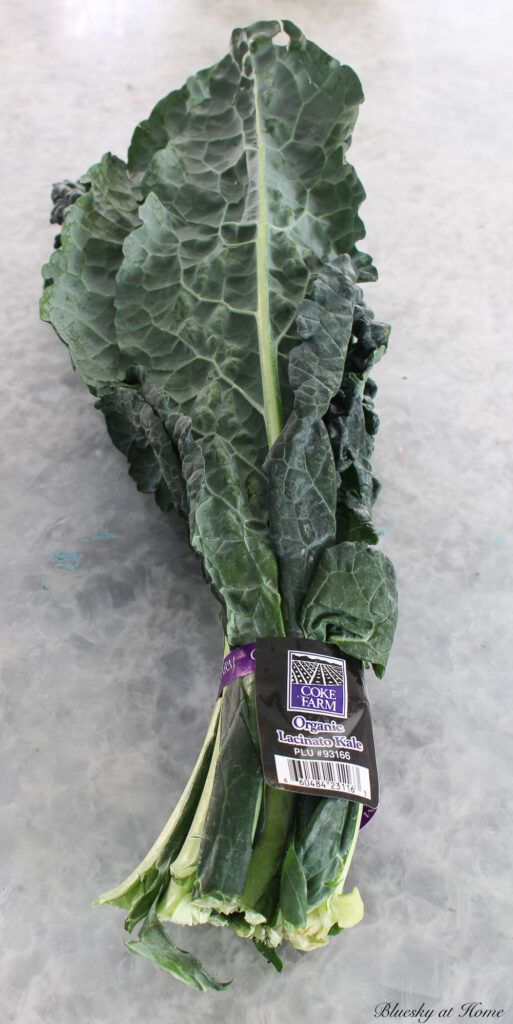 You can stick to the spinach or mix it with kale, even add a little frisee. That's the great thing about salads: they are so versatile.

Since this is winter, stay away from butter or Boston leaf lettuce. They are too delicate. You want something hardier.
Gather all your ingredients.
Pears are definitely a fall/winter fruit and their sweetness is a great balance to the greens.  I love its use in the vinaigrette. Pick any pear variety of your choice. I used Bosc for this salad recipe.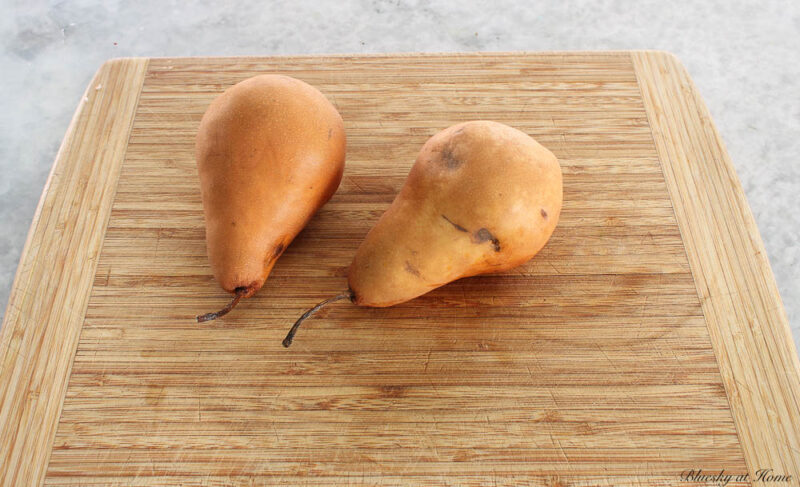 You can substitute apples for pears if you like.  
You can even add nuts, such as walnuts, almonds or pecans. (See my 10 Essential Ingredients for your Fall Pantry.)
All the ingredients may be prepared ahead of time and kept ready in the fridge for assembly right before serving.

The vinaigrette will keep in the fridge for up to a week. I recommend that you remove the vinaigrette from the fridge about 10 minutes before serving to take the chill off so the flavors will be more apparent.
Steps to Making the Kale Salad
Since I was making this salad for Sweet Shark and me, I halved the ingredients. I did make the full vinaigrette amount to use later.
First, remove the center rib of the kale by either cutting or tearing the large leaves away.  If you are using spinach, please, please, take off the stems.  Your salad will be much easier to eat and digest.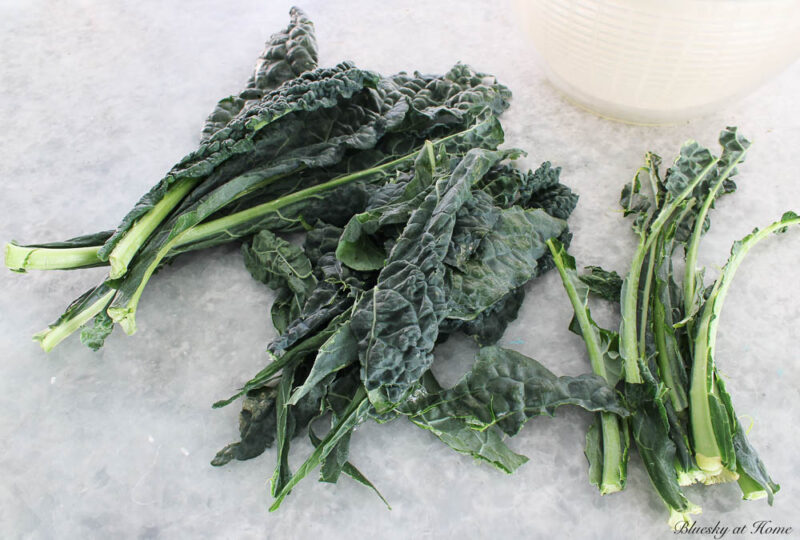 And be sure to tear the greens into bite-size pieces.
Next, wash your greens very thoroughly to get rid of any dirt. A salad spinner is a great tool for this essential step. This is the one we have had for years.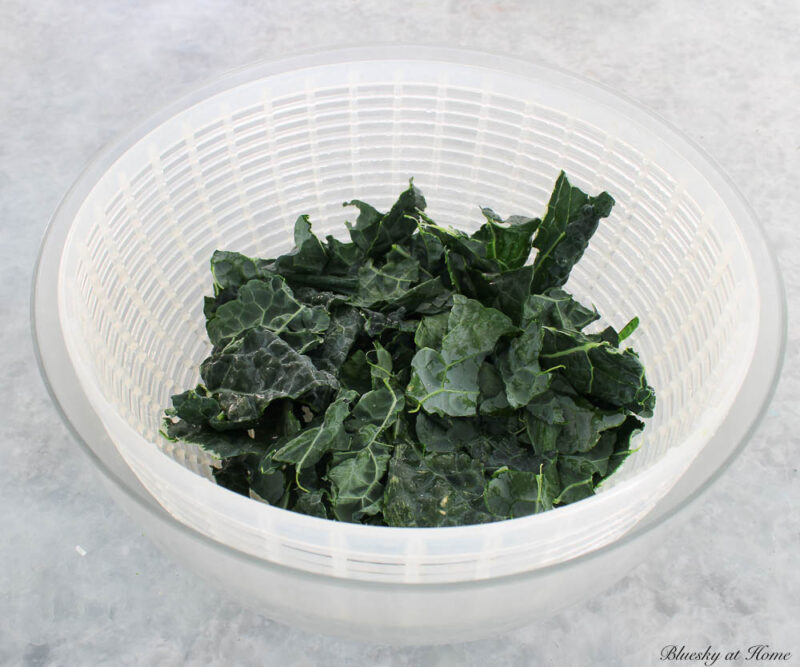 The radicchio adds color and texture too.  After washing, cut the head in half and then slice it thinly. Add the radicchio to the kale in the bowl.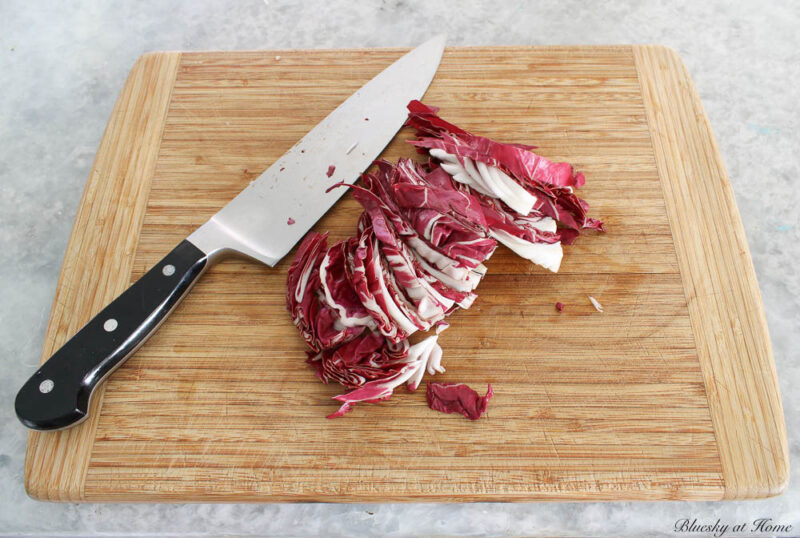 Slice the mushrooms thinly. Add to the salad bowl. You can place the salad bowl in the fridge while you make the pear-thyme vinaigrette. (Or you can make the vinaigrette first the day before.)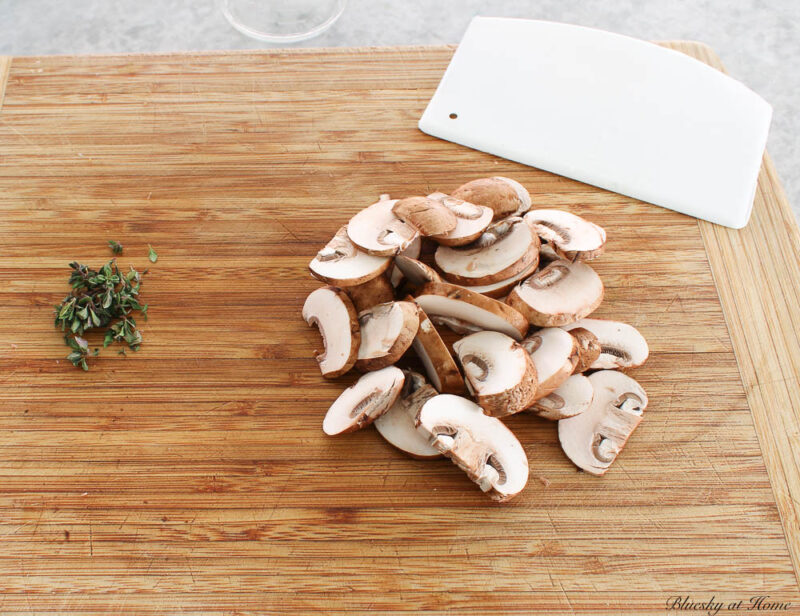 Core and slice your first pear. An apple corer is perfect for coring the pear. I love this one because the design makes it easy to remove the core.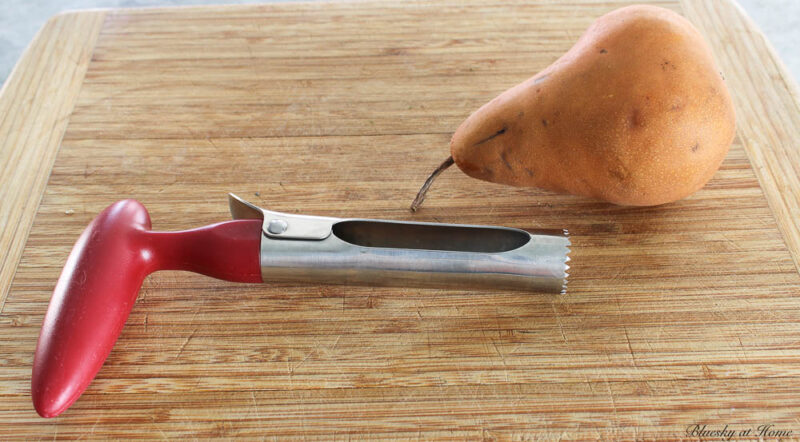 Slice your pear and add the slices to the other salad ingredients. Refrigerate until you are ready to serve.
The Pear-Thyme Vinaigrette
Unlike the classic French vinaigrette that you make with a whisk (Check out my instructions for the 8 reasons to make a homemade vinaigrette.), this vinaigrette is made in a food processor or blender.
Step 1 – Measure and gather your ingredients.
A NOTE about the shallot. Shallots come in all sizes. When a recipe, like this one, calls for a shallot rather than a specific amount, use your judgment about how much to use.
The shallot I bought was quite large and when finely diced, it made way too much for this vinaigrette. I used less than half (about 1/4 cup) in my vinaigrette and saved the rest.
Step 2 – Do you know the easiest way to remove thyme leaves from the stem? Just pull backward away from the end of the stem.
Step 3 – Chop your thyme leaves. I love a plastic food scraper for gathering and picking up herbs and diced vegetables and fruits. I keep several on hand.
In spite of some very cold temperatures, our fresh thyme is surviving. In our zone, thyme is a perennial so we have it year round.
Step 4 – Peel and dice your other pear.
Step 5 -In a small saucepan over high heat, combine the diced pear and 1/4 cup white wine. Stir until the pears are soft, but not mushy, for about 4 minutes. Most of the wine will evaporate.
Step 5 – Add the pears, diced shallot, chopped garlic, mustard, thyme. and rice vinegar to the bowl of the food processor.
My favorite food processor is the Kitchen Aid. I've had it for over 20 years.
Step 6 – Pulse the processor a few times to chop and combine the ingredients.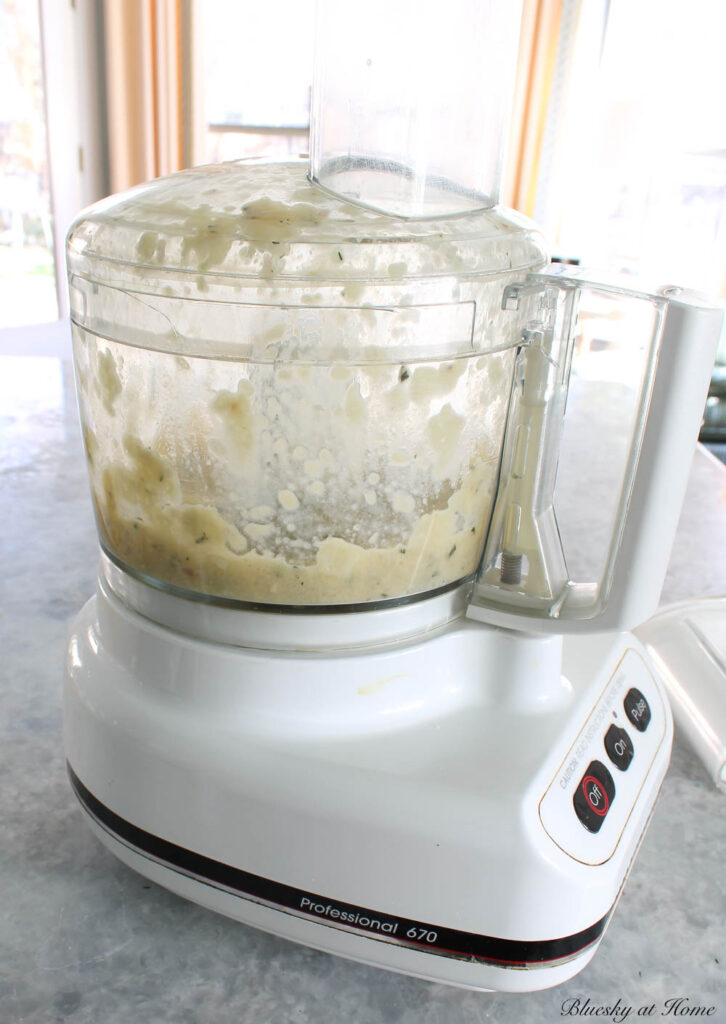 Step 7 – Remove the feed tube and with the motor running, slowly pour in the extra virgin olive oil. Run until very smooth.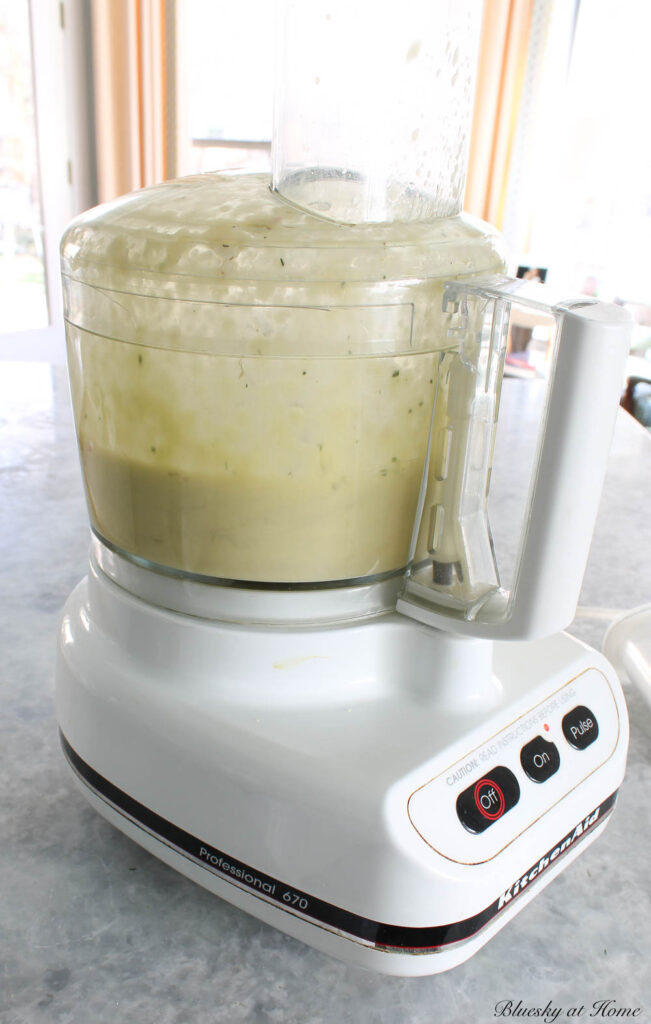 Step 8 – Taste the vinaigrette and add kosher salt and freshly cracked pepper to taste. Pulse once or twice to blend.
Step 9 – Pour the vinaigrette into a jar with a screw-type lid. Refrigerate until ready to serve salad, up to one week ahead. The recipe makes a little more than 1 cup of vinaigrette.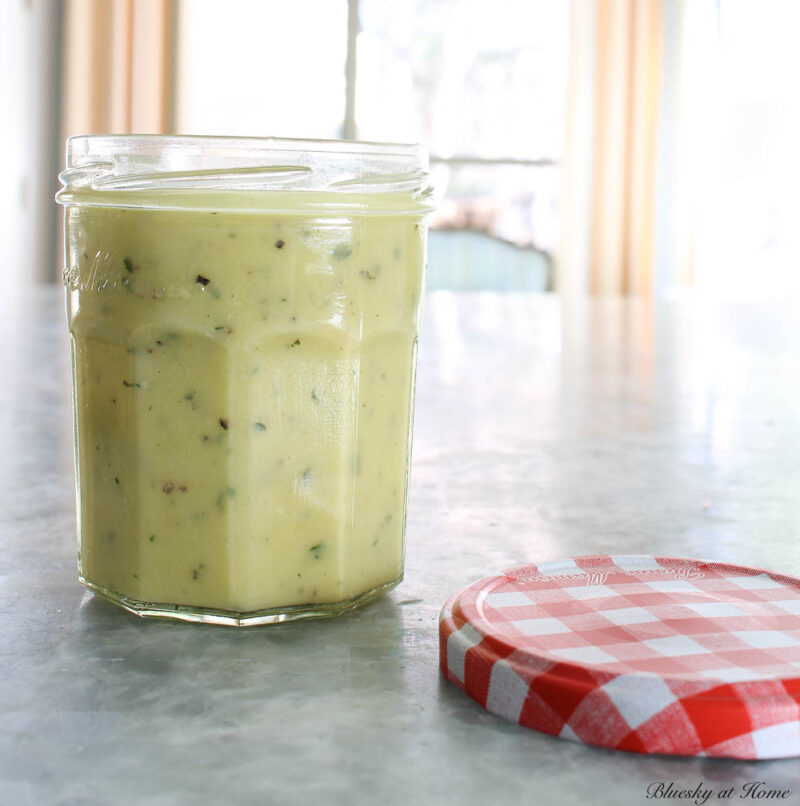 Serving the Kale Salad
For 2 servings, I poured about 1/4 cup of the vinaigrette over the salad ingredients. Use tongs to gently toss until greens are thoroughly coated. Add a few grinds of fresh pepper and serve immediately.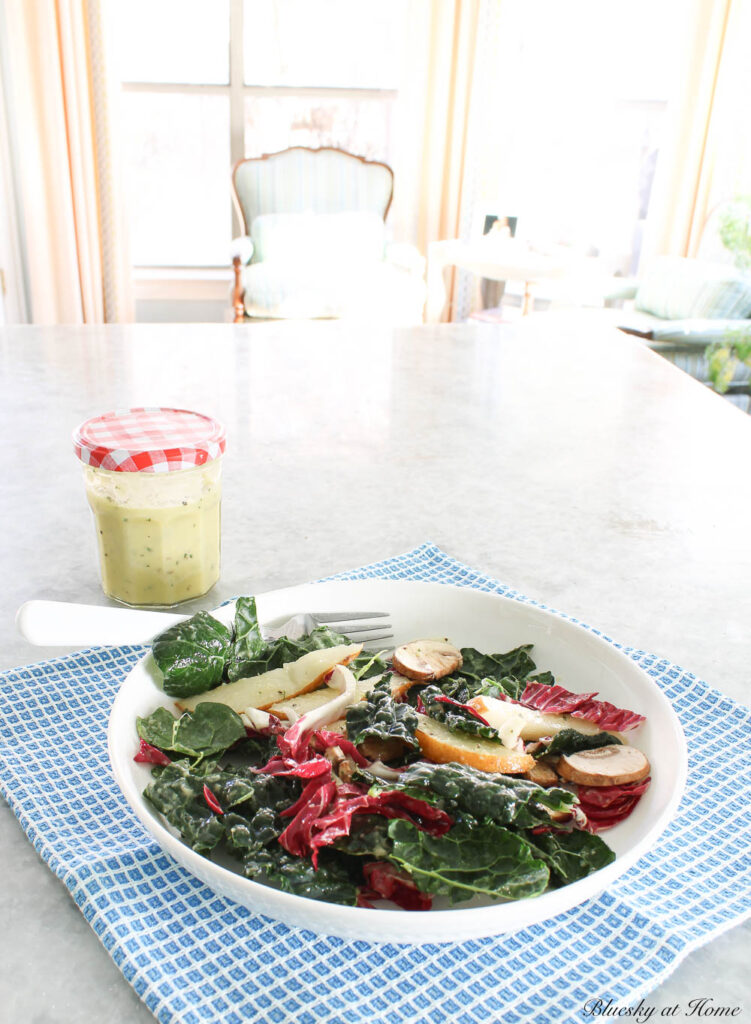 Kale Salad with Pear-Thyme Vinaigrette
A hearty winter salad featuring seasonal ingredients.
Equipment
small saucepan

measuring cups and spoons

food processor
Ingredients  
Pear-Thyme Vinaigrette
1

pear

cored, peeled, seeded, and diced

¼

cup

dry white wine

¼

cup

rice or apple cider vinegar

1

shallot

peeled and minced

2

cloves

garlic

peeled and chopped

2

teaspoons

Dijon mustard

¼

cup

extra virgin olive oil

2

teaspoons

chopped fresh thyme leaves

kosher salt

to taste

freshly cracked black pepper

to taste
Kale Salad
1

bunch

fresh kale

ribs removed, washed, spun dry, and torn into small pieces

1

small head

radicchio

washed, spun dry, and torn into small pieces

1

cup

sliced mushroom

1

pear

cored and sliced
Instructions 
Pear-Thyme Vinaigrette
Combine the pear and wine in a small saucepan over high heat. Cook,, stirring often, until the pears are very tender, about 4 minutes.

Transfer the pear mixture to a food processor or blender.

Add the vinegar, shallot, garlic, and mustard. Pulse to combine.

With the machine running, slowly add the extra virgin olive oil. Process until smooth.

Add the thyme leaves and season to taste with kosher salt and pepper. Pulse to combine.

Refrigerate until ready to use.
To Assemble the Kale Salad
Place the kale in a large bowl. Add the mushrooms, sliced pears, and about 3/4 cup of the vinaigrette. Use tongs to toss well. Serve immediately.
Notes
NOTE: You can substitute spinach for the kale or use a mixture. The kale can be cleaned up to 3 hours ahead, placed in a large bowl, covered with plastic wrap and refrigerated until ready to serve. NOTE: The vinaigrette can be made up to a week ahead. ADDITIONAL INGREDIENT OPTIONS: nuts, such as walnuts or almonds.
Enjoy this hearty and delicious kale salad. I hope you give it a try and put your own creative signature on it.
Don't forget to PIN it to your Salad or Recipe Boards. Here are some of my favorite Pinterest Food Boards: