Our Favorite 4th of July Party Recipes
Do you need ideas for a 4th of July party? What is a good menu for the 4th of July? I have some great suggestions for 4th of July party recipes.
If you wonder, "what should I make for a 4th of July party?", then wonder no more. I have some traditional 4th of July menu ideas. Need a few recipes for 4th of July? I have those, too.
A few years ago Sweet Shark and I had a great time preparing for and cooking for a 4th of July party. The party recipes and decorations are just as good today as they were then.
I want to show your our 4th of July party menu and give you some recipe ideas.
The 4th of July is less than a month away, so regardless of how you plan to celebrate our nation's birthday, it's not to early to prepare.
4TH OF JULY MENU AND DECORATING IDEAS
For this particular 4th of July party, we were having five couples as guests. The great thing about this party? The number of guests doesn't affect the number of your decorations.
Thankfully, the menu and recipes can be adjusted for the number of guests.
DECORATING THE HOUSE FOR THE 4TH
The earlier you can set up your decorations, your tables, and gather your dishes and serving pieces, the better your party will be. You will be less stressed and have a better time with your guests.
A few days before the party, I set the tables (2 set for 6 and 4). I added decorations (from my stash that you might have seen for another party and arranged flowers. We already had this red and white plaid tablecloth.
I found this blue-check fabric last week on the remnant table at Childress Fabrics: two yards for $10.  All I did was pink the selvages.
I added some hanging pinwheels in the breakfast room and in Sweet Shark's bar.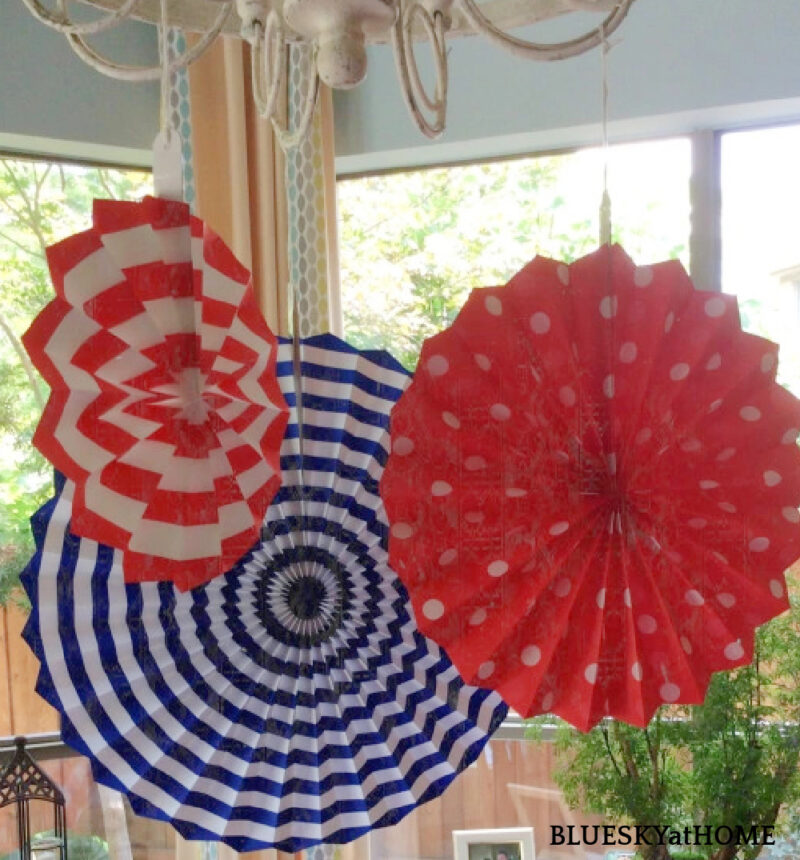 And, of course, you always need fresh flowers for a party. And American flags.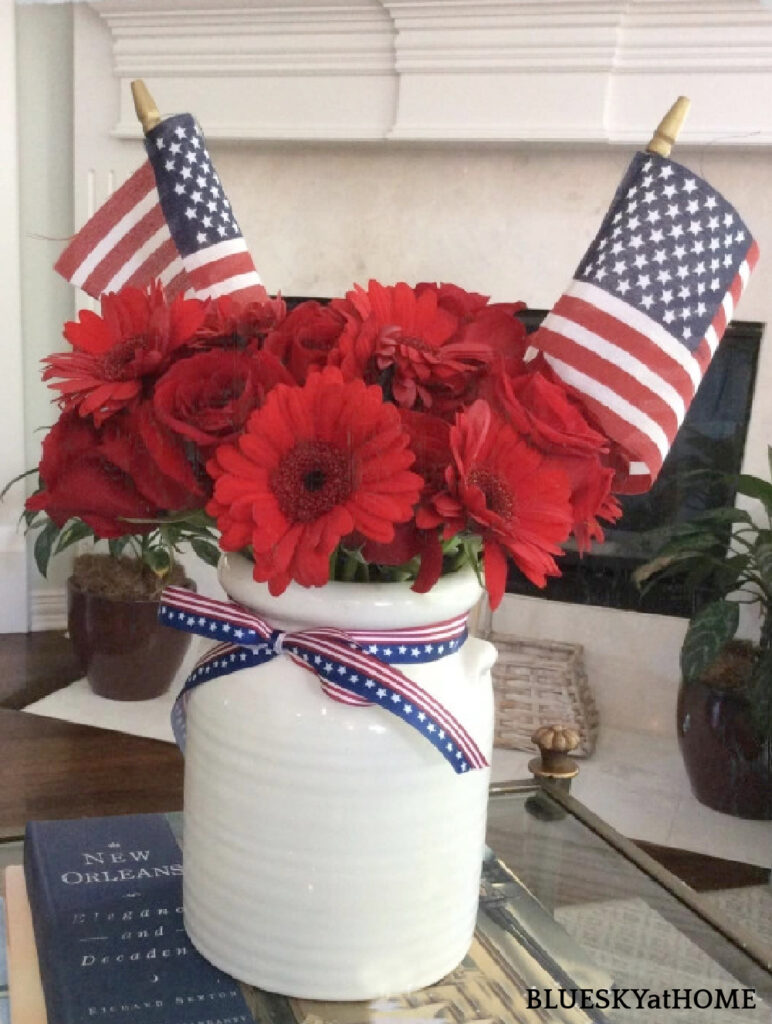 And, we had to have a banner. I hung it from the second~floor landing.  We put flags in the front yard beds and in the backyard hay racks.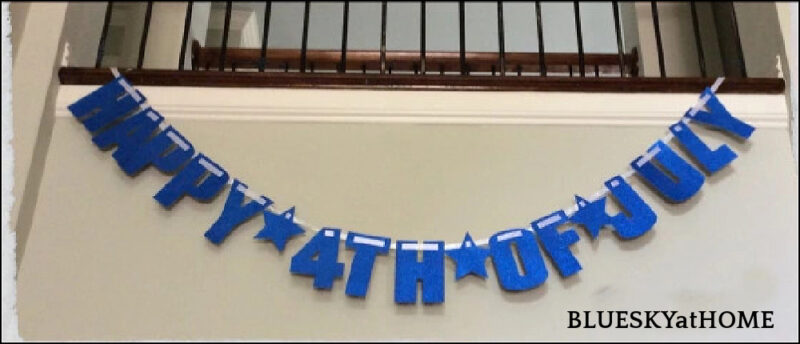 Now for the food.
PREPARING THE 4TH OF JULY WITH RECIPES MENU
Since it was so hot and mucky, we decided not to fire up the grill (Is that un-American? I hope not.), but to prepare all the cooking inside. Three friends volunteered to bring appetizers (I'll share those a bit later.)
PARTY MENU:
Sweet Shark's Dad's Brisket
Baked Beans
Super Summer Slaw
Medley of Grilled Vegetables
Best Ever Lemon Ice Box Pie
I was in charge of the slaw, the grilled vegetables and the dessert.
THE MAIN COURSE: BRISKET
Sweet Shark was in charge of the brisket and the beans. He decided his father's brisket recipe would be perfect. (He often makes barbecue ribs.) Not only is it a delicious dish, but it is totally cooked in the oven.
I did get him to write down the recipe (see below) as he prepared the brisket, but here is the process.
First, line a large rectangular pyrex or half~sheet pan with foil. Add the seasonings and diced onion and the secret ingredient. (See the recipe below.) Cover and marinate overnight.
Remove the brisket from the oven and let it sit out for 1 hour.
Then place it in a 275˚F. oven for 4 ~ 5 hours, or until fork~tender.  Low and slow makes it so tender.  It was smelling so good that I had to take a peek.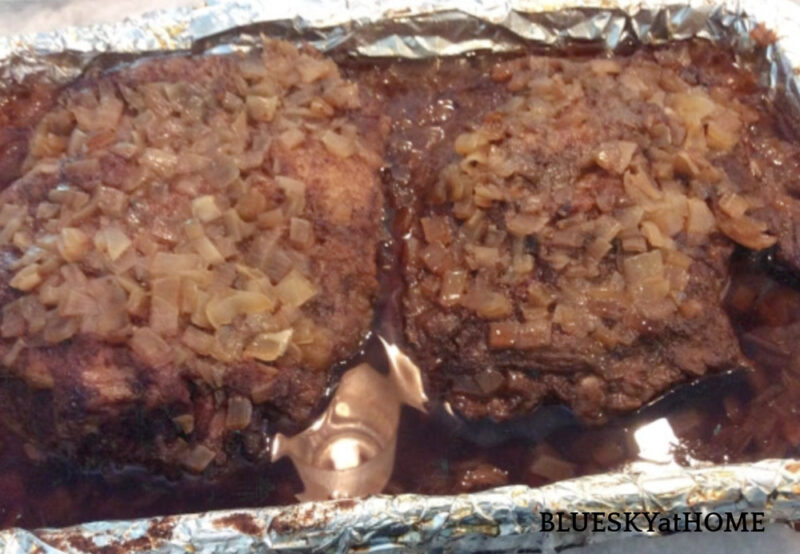 After 5 hours, he adds barbecue sauce. Then back in it goes for another hour, uncovered.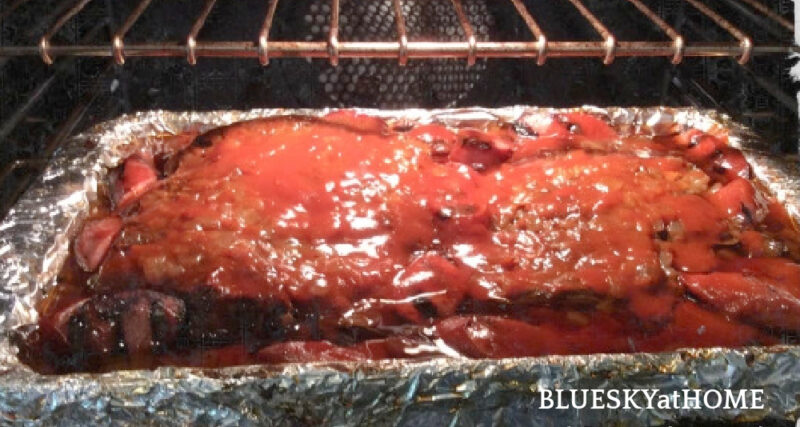 Then he took it out of the oven, covered it with foil, and let it rest until time for dinner. Brisket DONE!
Best Easy Oven~Baked Brisket
This delicious and tender brisket is completely made in the oven for easy preparation.
Equipment
1 large rectangle Pyrex dish or half~sheet pan

aluminum foil

measuring cups and spoons
Ingredients  
1-2

pound

brisket

2

large

white or yellow onion

1/2-inch dice

kosher salt

celery salt

garlic salt

Worchestershire Sauce

1

bottle

Liquid Smoke

6 ~ 12

ounces

favorite barbecue sauce
Instructions 
Line the Pyrex dish or the sheet pan with heavy~duty foil.

Trim off all but 1/4~inch of the fat cap off the brisket.

Place the brisket, fat side up, in the baking dish.

Pour the entire bottle of Liquid Smoke all over the brisket.

Liberally season the brisket with the seasonings. Add the diced onion on top of the brisket.

Cover the brisket with foil and refrigerate overnight.

Remove brisket one hour before baking. Heat oven to 275˚F.

Pour off all the excess Liquid Smoke. Sprinkle liberally with Worchestershire Sauce.

Cover and bake the brisket in the oven for 4 ~ 5 hours, or until fork~tender.

Remove foil cover and add 6 ~ 12 ounces of your favorite barbecue sauce.

Bake the brisket for another hour.

Remove the brisket from the oven and allow to rest before serving.
Notes
Slice the brisket and place on a large platter for serving. Serve with warm barbecue sauce on the side.
SUPER EASY COLE SLAW
Meanwhile, I was busy, too.  First, for me was the slaw.  I'm not a big Trader Joe's customer since I am not into prepared or pre-packaged food.
But I love this cruciferous slaw medley:
This stuff is really good.  It's crunchy and a great base for a yummy slaw. I just made up this recipe.
Open the bag of slaw and pour into a large bowl.
In a medium bowl, combine about 1 cup of good (Hellman's or Dukes) mayonnaise, 1 tablespoon of apple cider vinegar or red wine vinegar and a good squeeze of fresh lemon juice. Whisk until thoroughly combined.
Add kosher salt, freshly ground pepper, and a pinch or two of cayenne. Whisk and taste, adding more seasonings.
Add the mayo mixture to the slaw and toss to coat the slaw. If you need more mayo, combine more with some vinegar and add the slaw.
Cover and refrigerate until serving time.
I like to take the slaw out of the fridge at least 15 minutes before serving. Give it another toss and taste again.
DELICIOUS BAKED BEANS
Sweet Shark made his baked beans while the brisket was cooking. (You can make it the day before.) Use a baking dish that can also be used to serve the beans. I used one of my pretty red Le Creuset dishes.
You don't even need a recipe:
He uses a combination of baked beans and ranch beans. The size of the cans depends on the number of people you are serving. I like to partially drain the juice from the cans.
Then he adds diced and seeded red bell pepper, diced onion, and seasonings.
Cover the bean mixture with bacon slices.  
Cover with foil and set in the fridge until time to put in the oven ~ which was about the same time our guests arrived.
Do take the beans out of the fridge at least 30 minutes before you place them in the oven. Then turn the oven on to 350˚F and let the beans start to bake. 
Beans DONE!
GRILLED VEGETABLES
Last to be prepared were the grilled vegetables: eggplant, zucchini, red, yellow, and orange bell peppers, portobello mushrooms, the last of the spring onions from our garden, corn on the cob, and Campari tomatoes.
I use my cast iron stovetop grill.
Turn on the heat to medium~high and lightly oil the grill.
Toss the vegetables by type in a large bowl with extra virgin olive oil, kosher salt, and freshly ground pepper.
Use tongs to place each type of vegetable on the grill. Grill until nicely marked. As I finished each type of vegetable, I put them on a foil-lined sheet pan.  
As this was the last recipe to prepare for our 4th of July party, I just covered it lightly and set it aside on the kitchen counter. The vegetables don't have to be hot; room temperature tastes great. Vegetables DONE!
TIP: You may want to give the vegetables another sprinkle of salt and pepper.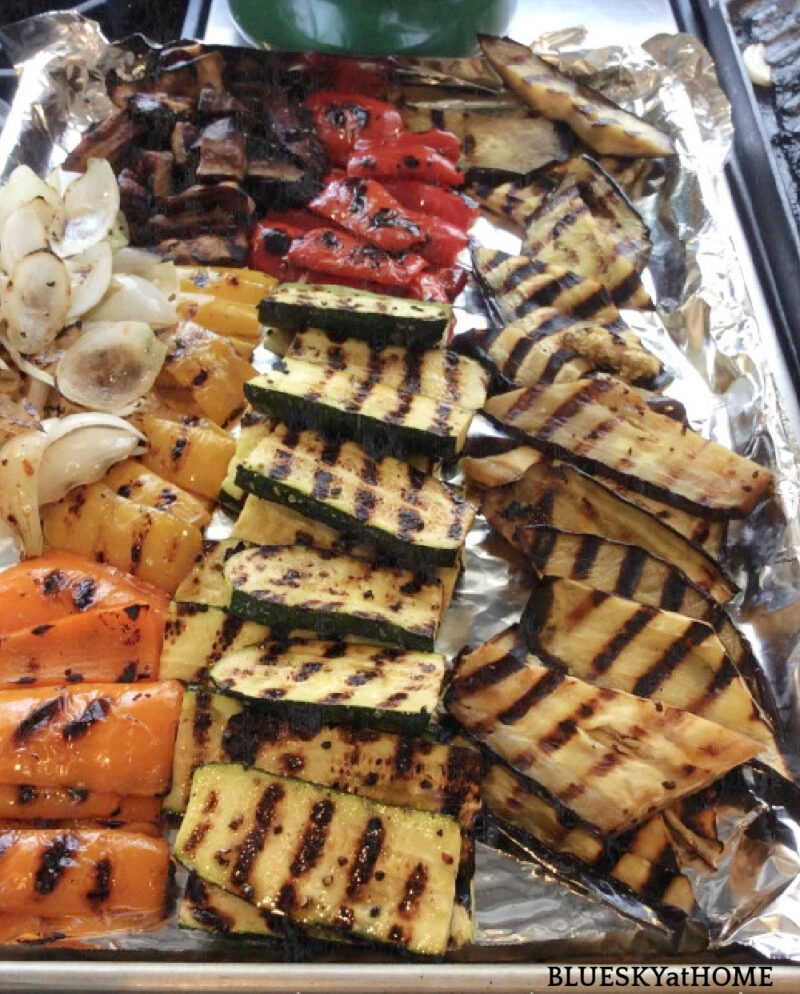 DESSERT
To complete our 4th of July party menu, I made our dessert, Lemon Ice Box Pie, the day before the party. I wanted something cool and refreshing and thoroughly American.  Here is the recipe and see the story behind it here. Covered and into the fridge and dessert DONE!
FINAL PARTY PREPARATIONS
Our party started at 6:00.  By 4:30 all our dishes were done. 
That left me 1 1/2 hours to shower and get dressed!  What a treat to be completely relaxed before your own party.
While I was getting ready, had his last minute tasks:
Fill a cooler with ice for beer and water.
Fill our large silver punch bowl with ice for wine
Select his CD's (Elvis, Jimmy Buffet, Willy Nelson, Toby Keith and the Beach Boys – an All-American playlist.), and then it was his turn to get ready.
When our guests started arriving, Sweet Shark offered the drink of the day – a White Summer Sangria with limes, lemons, oranges, and mango. So sorry that I didn't get a picture. It was so pretty, but I must have had my hands full (with a glass of sangria!) The music was playing, the toasts were made, and our friends' appetizers were shared.  
My friend Jane brought these absolutely delicious chicken~wrapped bacon skewers.  
Amy brought a wonderful Boursin cheese (garlic & herb flavor) topped with Dalmatia Fig spread and garnished with cranberries and cashews.
Lindeen brought a luscious artichoke dip, which, unfortunately, I didn't get a picture of.  It went too fast.
Dinner was buffet style.  After we said the blessing, everyone got a plate, found a seat, and started chowing down.
Since everyone declared the food was awesome, my night was made.  It was a great evening with great friends celebrating a great occasion.  Although we couldn't see the fireworks from a country club about 5 miles away, we could hear them. Ba-boom!
ESSENTIAL TOOLS FOR THIS 4TH OF JULY PARTY RECIPES
I hope you'll try our recipes. Everything was so good.  Fortunately, we had enough for leftovers!  Need these 4th of July party recipes, menu, and a plan? Be sure to PIN this post.