5 Reasons Why You Should Make Maque Choux
Have you heard of maque choux? With summer almost here and summer's produce readily available, I'm sharing one of my favorite summer side dishes and 5 reasons why you should make Maque Choux.
Maque choux is usually served as an accompaniment; however, it can also act as a base for the main meal.
My favorite way to serve maque choux is as a side dish, but you can add local ingredients such as bite-sized portions of chicken or crawfish. Shrimp is often added in the later stages of cooking as well.
If you've never heard of maque choux, then definitely stick around and read all about this delicious regional dish.
Maque Choux: 5 Reasons Why You Should Make this Recipe
it's full of summer vegetables – like corn, tomatoes and okra
it's an easy, one-pan preparation
it's perfect for a crowd – easily doubled or tripled
it's pretty
it's delicious
Maque Choux FAQ
First, how do you say maque choux?
"Mock or mack Shoe" (It rhymes with ah choo.)
Where did Maque Choux come from?
It's a traditional dish of southern Louisiana, a blend of Creole and American Indian cooking. The name likely comes from a French interpretation of the Native American name.
It always contains corn and okra, green bell pepper, onion, and sometimes garlic and celery.
Traditionally, the ingredients are braised in a pot. Historically, bacon grease was used for the braising stage, although various combinations of oil, butter and cream may be substituted.

The vegetables are then left to simmer until they reach a tender consistency, with chicken stock or water added as necessary.
The dish is finished with salt and a combination of red and black pepper. Some cooks include hot sauce and a bit of sugar for greater complexity.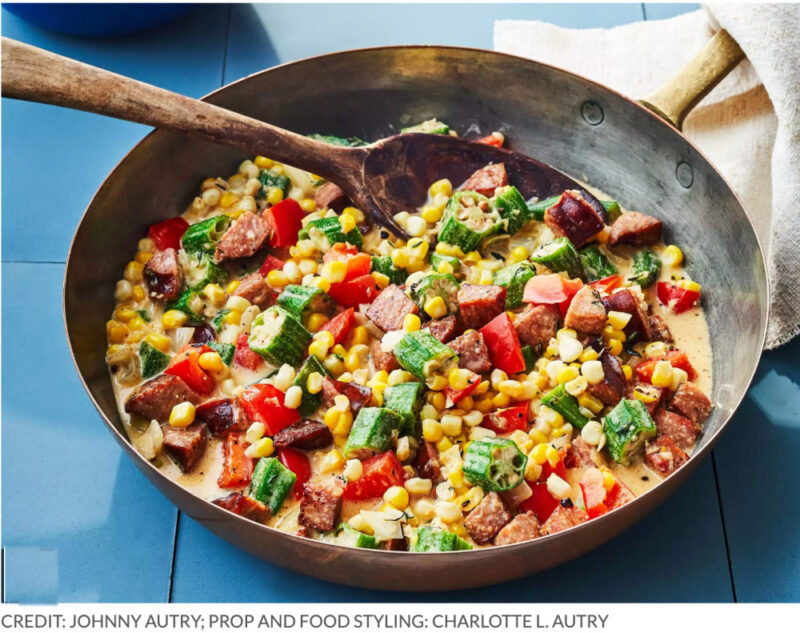 Why is Maque Choux such a favorite?
I love it, not only for the reasons listed above but because it's so open to creativity, to what you have on hand. It doesn't take a whole of anything, just a little bit of this and that to combine for great flavor, texture and eye appeal.
I'm going to share with you 2 ~ yes 2 ~ versions: One an old favorite and one a new variation.
Maque Choux ~ Version 1
Here's the version that I've been using for several years. It relies on its meaty flavor from spicy smoked sausage. I found it in Southern Living. I did change the original green bell pepper to red bell pepper.
Maque Choux with Sausage
Delicious version of the classic Louisiana corn dish.
Equipment
large skillet

preferrably, cast~iron

chef knife

wooden spoon or rubber spatula

measuring cups

measuring spoons
Ingredients
2

tablespoons

unsalted butter

8

ounces

andouille sausage

diced

3

cups

fresh corn kernels

(from 6 ears)

1

cup

1/4-inch sliced fresh okra, cap trimmed

1

medium~size

red bell pepper

seeds and ribs removed, chopped (about 1 cup)

1

medium

yellow onion

diced (about 1 cup)

1

tablespoon

chopped fresh thyme leaves

2½

teaspoons

kosher salt

3

medium

garlic cloves

peeled and minced

1

cup

heavy cream

½

teaspoon

cayenne pepper

½

teaspoon

black pepper
Instructions
Melt butter in a large skillet over medium~high heat.

Add androuille sausage and cook, stirring occasionally, until lightly browned, 6 to 8 minutes.

Add corn, bell pepper, onion, thyme, salt and garlic. Cook, stirring occasionally until vegetables are softened, 6 to 8 minutes.

Add cream and cayenne; bring mixture to a boil over medium~high heat. Reduce heat to medium. Simmer, stirring occasionally until slightly thickened, 5 to 6 minutes.
Notes
Divide maque choux among serving dishes.
Maque Choux ~ Version 2
Over the years, I have also substituted milk or half and half, whichever I had on hand, to the maque choux as it cooked, giving it a lighter, tender and creamier texture. I also added just a pinch of sugar.
When I recently found this version in Cuisine at Home Magazine, I knew it was well worth a try,
It uses bacon instead of sausage and edamame (I happened to have a bag in the freezer but couldn't remember why I bought it.) instead of okra. I'm also not a fan of green bell pepper and this one uses red bell pepper, which I love. The addition of jalapeño spoke to Sweet Shark's love of a little heat.
Dice, chop, and measure all your ingredients. That's called mise en place.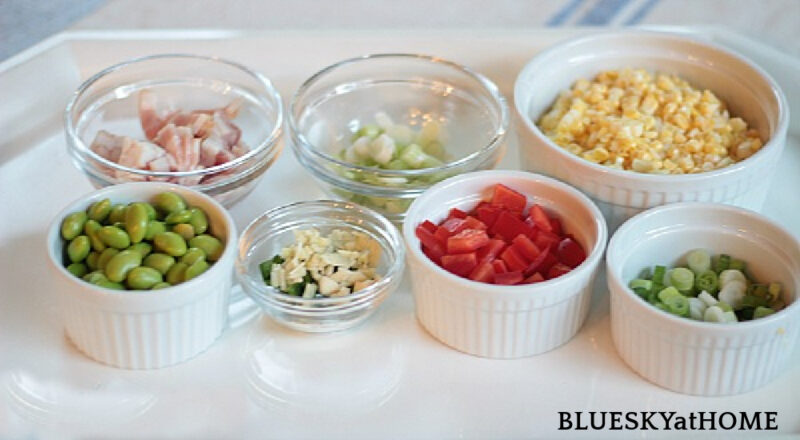 To see How to Remove the Corn Kernels, check this recipe for Summer Creamed Corn.
To see How to Dice the Red Bell Pepper, check this recipe for Jalapeño Cornbread.
Sauté the bacon in a skillet until crisp. As usual, I used my cast-iron skillet.
TIP: place the bacon in the freezer for about 30 minutes before dicing it – so much easier.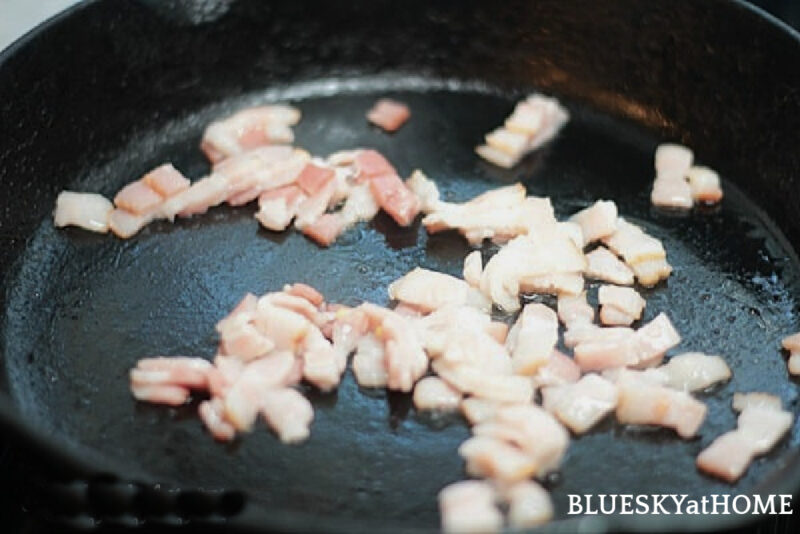 After cooking the vegetables until tender, add the cream and sugar and cook until the cream thickens.
Once the cream has thickened, season with salt and pepper.
You will notice that the two versions have similarities in the cooking process.
Maque Choux with Edamame and Sherry
An interesting version of the Louisiana corn dish.
Equipment
large skillet

preferrably cast~iron

measuring cups

measuring spoons

wooden spoon or rubber spatula
Ingredients
4

strips

bacon

diced

2

tablespoons

unsalted butter

1

cup

diced red bell pepper

seeded, ribs removed

⅔

cup

diced white and light green scallion

4

tablespoons

seeded and minced jalapeño

2

teaspoons

minced fresh garlic

½

cup

dry sherry

3

cups

fresh or frozen corn kernels

thawed if frozen

1

cup

heavy cream

pinch

granulated sugar

⅔

cup

thinly sliced scallion greens

kosher salt and black pepper
Instructions
In the skillet, cook the bacon until crisp. Transfer to a paper towel~lined plate. Discard all but 2 tablespoons drippings.

Melt the butter with drippings in the same pan over medium heat.

Add the bell pepper, scallion white and light green slices and jalapeño. Cook until softened, about 5 minutes.

Add garlic and cook until fragrant, about 1 minute.

Deglaze the pan with sherry, scraping up any brown bits. Cook until sherry is nearly evaporated.

Add the corn, edamame, cream and sugar. Simmer until the cream thickens, abut 3 minutes.

Stir scallion greens into the maque choux. Season with salt and pepper.
I've served Maque Choux with steak, pork tenderloin, pork chops, catfish and fried chicken.
It's just a perfect Southern Summer dish. Don't hesitate to combine these 2 recipes – I have, using okra instead of edamame in the second recipe and red bell pepper instead of green bell pepper in the first recipe.
Be creative: add more jalapeño or a sprinkle (or more) of Tabasco or smoked paprika. Let your taste preferences be your guide ~ not just the recipe.
With the 4th of July coming up, I think this is a great dish with barbecue ribs or brisket or grilled shrimp.
It's a winner no matter what you are serving as your main dish.
Enjoy! Please PIN it to share.