Delicious Southern Summer Creamed Corn Recipe
I love corn. Do you? Corn is one of those vegetables that says summer is here. Here is one of my favorite recipes, Southern Summer Creamed Corn.
Corn is one of the most versatile vegetables around. Southern Summer Creamed Corn is just one of many delicious ways to use this vegetable.
One of my favorite vegetables as far back as I can remember is corn. Corn is one of those vegetables that just screams "SUMMER!!" Southern Creamed Corn is one of the best ways to use fresh (or even) corn.
We can eat corn raw, sautéed, roasted, grilled, baked, souffléd (is that a word?), even pickled.  And that's not counting cornmeal and cornbread or popcorn, my favorite snack. Even in the winter, frozen corn's sweetness can bring a memory of summer.
Put "southern" in front of it and it's even better. The cuisine of the South is so rich in history and culture and abundant in local food resources. With a long growing season, we benefit from dishes that are ingredient~driven with the bounty of southern fruits and vegetables.
I wanted to share with you this easy, but delicious way to use fresh corn. The half~and~half added to the sautéed vegetables adds a velvety texture to the crunch of the corn and peppers.
Let's get started.
SOUTHERN CREAMED CORN RECIPE FOR SUMMER
The original Southern Summer Creamed Corn recipe is from The Gift of Southern Cooking which I mentioned in my 10 Favorite Southern Cookbooks. I added the onion, garlic, red bell pepper, and the seasoning and garnish. Just because I wanted to up the flavor and the color of the dish.
PREPARING THE CORN
Whether you buy your corn at your local Farmers' Market or at the grocery store, buy your corn with the husks on. The cobs will stay fresher longer that way.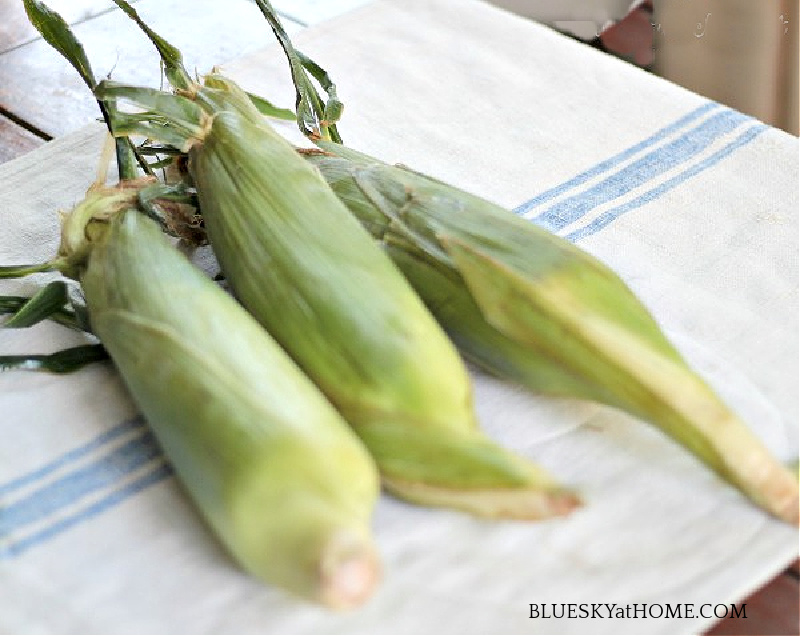 TIP: You can check the freshness of the corn by pulling back the top of the husks and silk and pushing your fingernail in a kernel. It should pop and be juicy. I do this right in the store.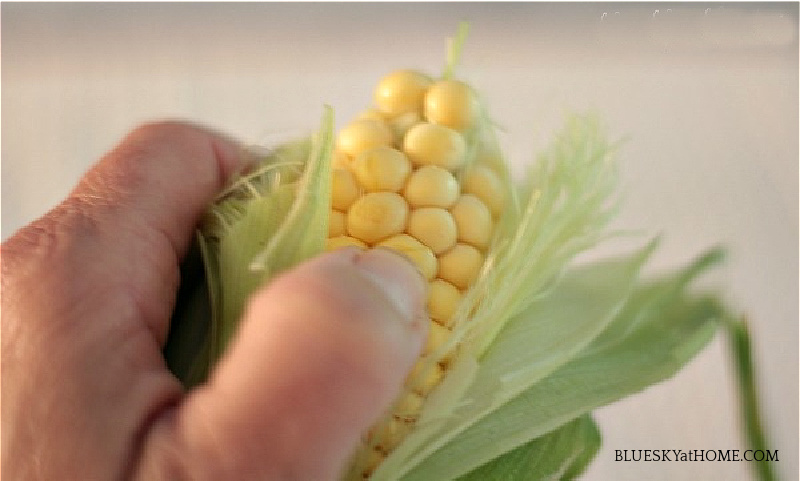 TIP: "If the kernels are shriveled and dry, don't buy."
Remove the husks and silks.
TIP: Use a dish towel to rub off any remaining silks from the cob.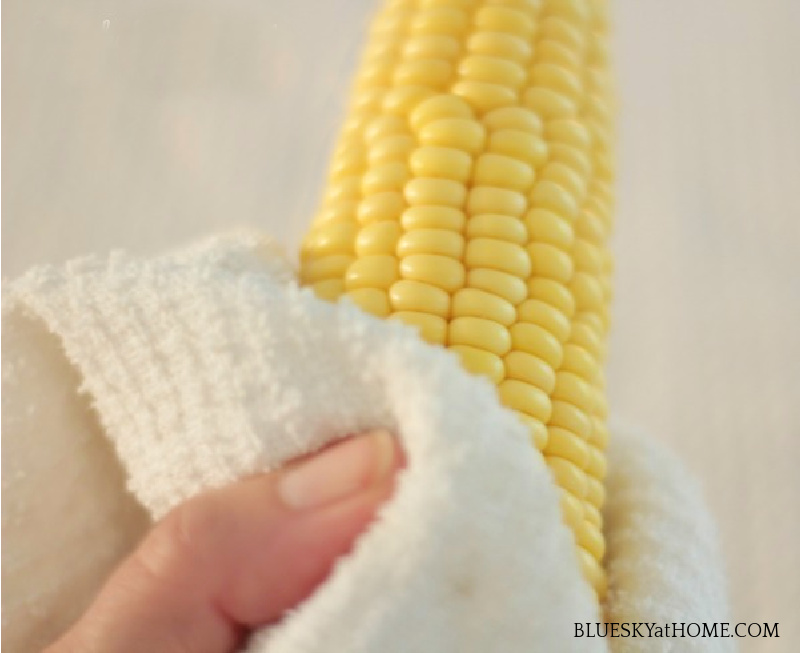 TIP: I like to place a plastic cutting mat or sheet of parchment paper inside a sheet pan to catch any wayward flying kernels.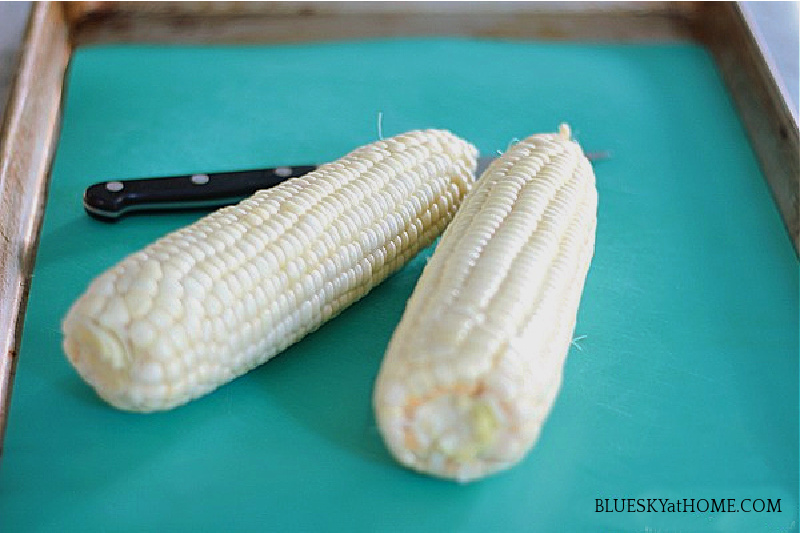 Use a sharp knife to cut off the kernels. I find that a sharp utility knife or chef's knife works best.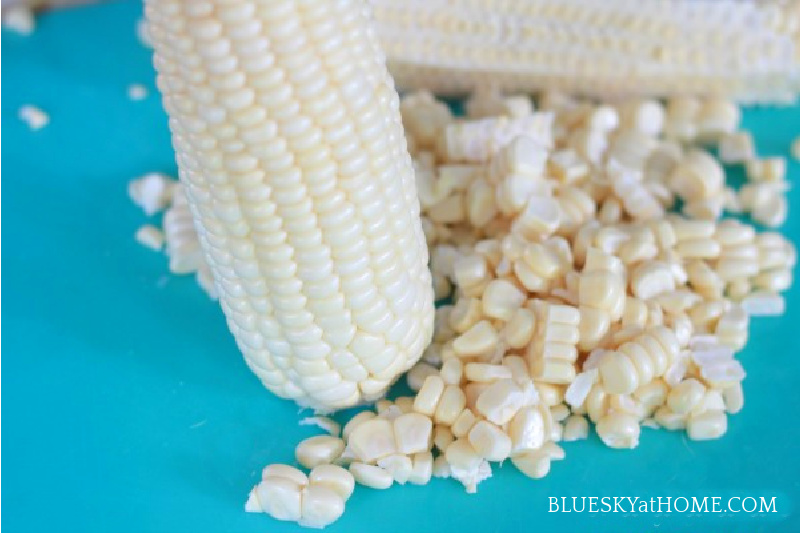 Use your hands to break up any "chunks" of kernels. Place the corn in a measuring cup.
NOTE: I find that, on average, 1 ear of corn yields 1 cup of kernels.
PREPARING THE OTHER INGREDIENTS
Dice your onion, garlic and red bell pepper. For step~by~step photos of how to prepare a bell pepper, check out my recipe for Jalapeño Cornbread.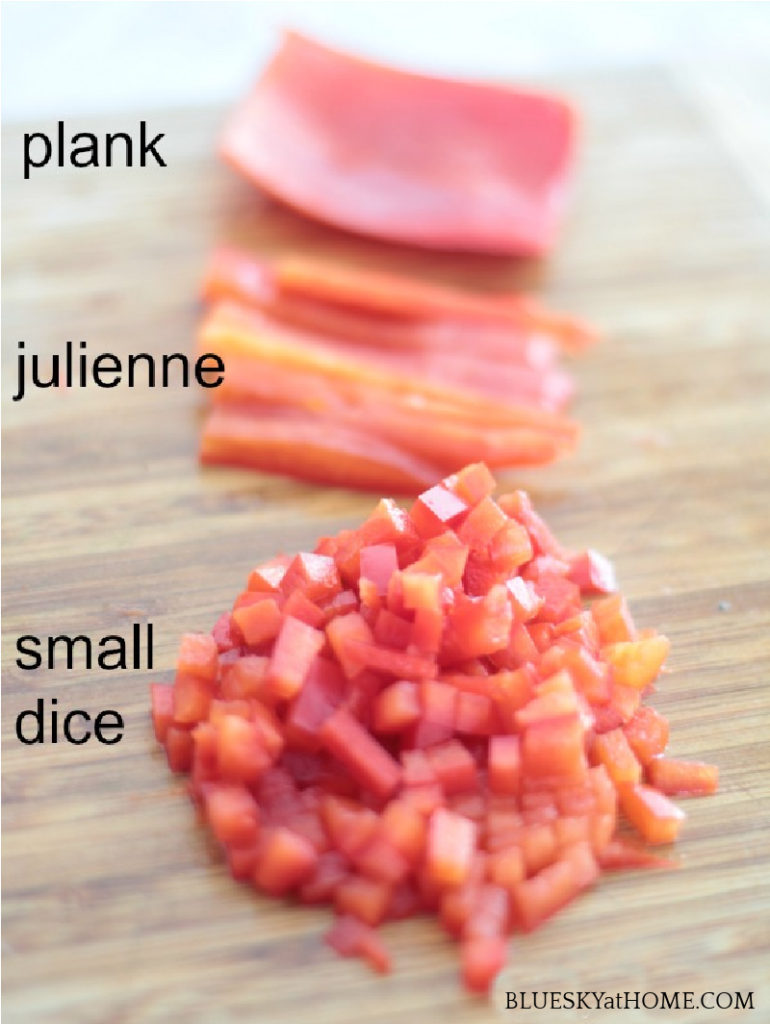 Measure all your ingredients ~ this process is called mise place, meaning everything is in its place.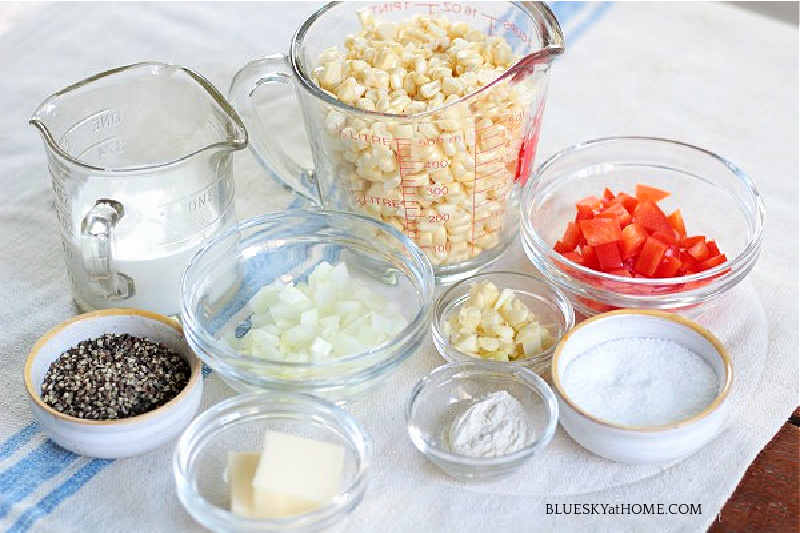 COOKING THE CREAMED CORN
Now that you have prepared all the ingredients, now it's time to cook and combine them. This is the easiest, fastest part of the summer creamed corn recipe.
Step 1 ~ Heat the butter in a skillet until melted and foaming. I like to use my cast~iron skillet.
TIP: Remember to start butter in a cold pan ~ you don't want it to burn.
Step 2 ~ Add the onion and garlic. Sauté until soft and transparent.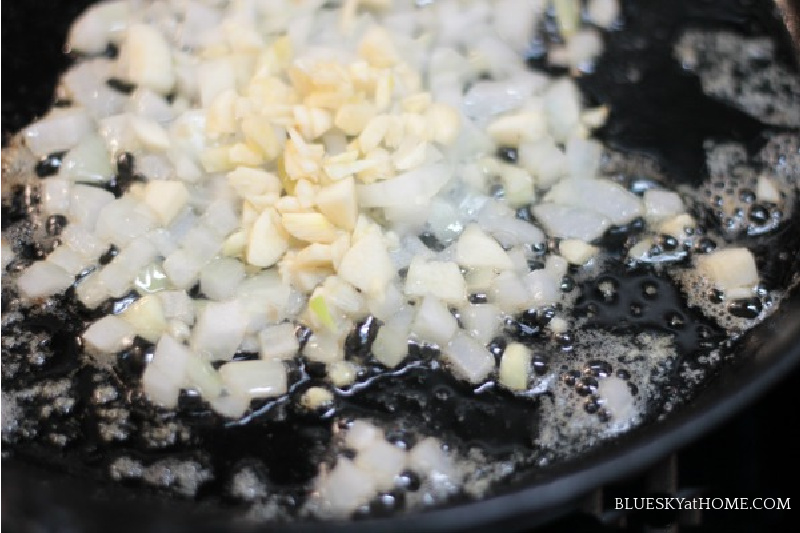 Step 3 ~ Then add the corn kernels and red bell pepper, salt, cayenne, and freshly ground black pepper.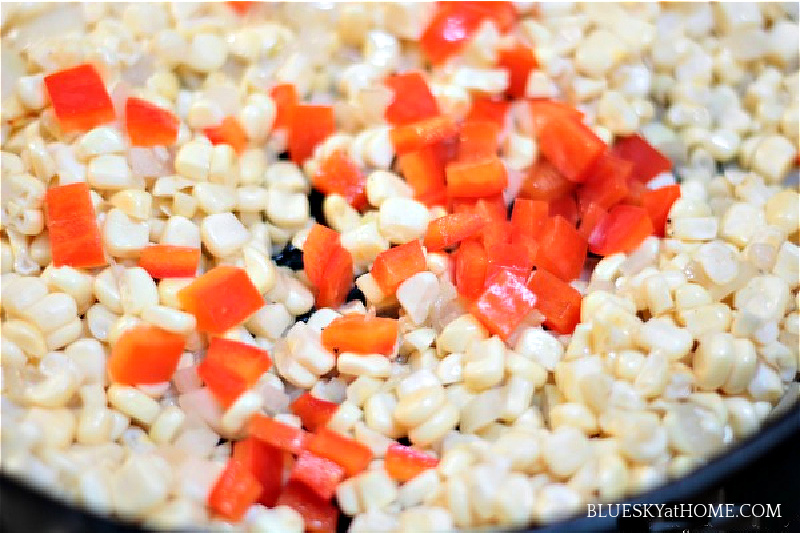 Step 4 ~ Next sprinkle on the flour (this helps to thicken the mixture) and stir.
Step 5 ~ Add the half~and~half. Stir well to combine the ingredients. Cook for 3 ~ 4 more minutes to heat through. Season to taste with salt and pepper.
NOTE: If you want a richer dish, use heavy whipping cream.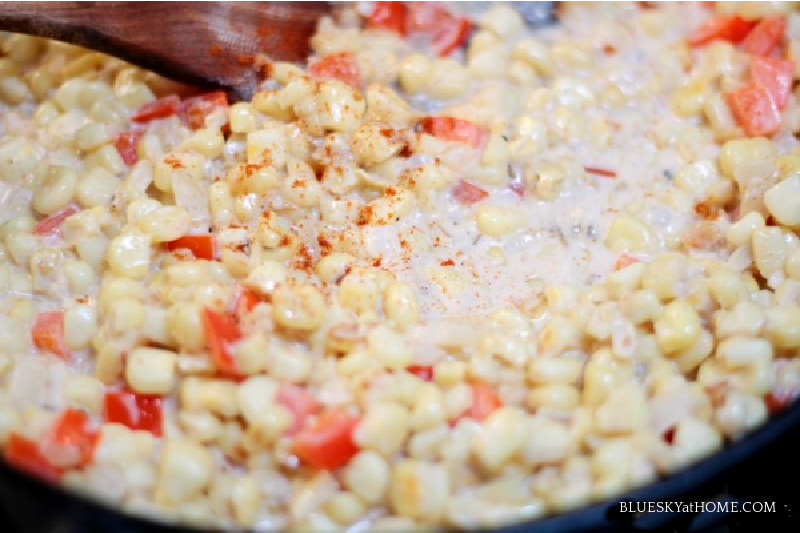 Step 6 ~ Finally, sprinkle the chopped parsley or cilantro over the creamed corn when you plate the dish.
I served the Southern Summer Creamed Corn with Sweet Shark's grilled strip steak (yummmmy!) and grilled green beans.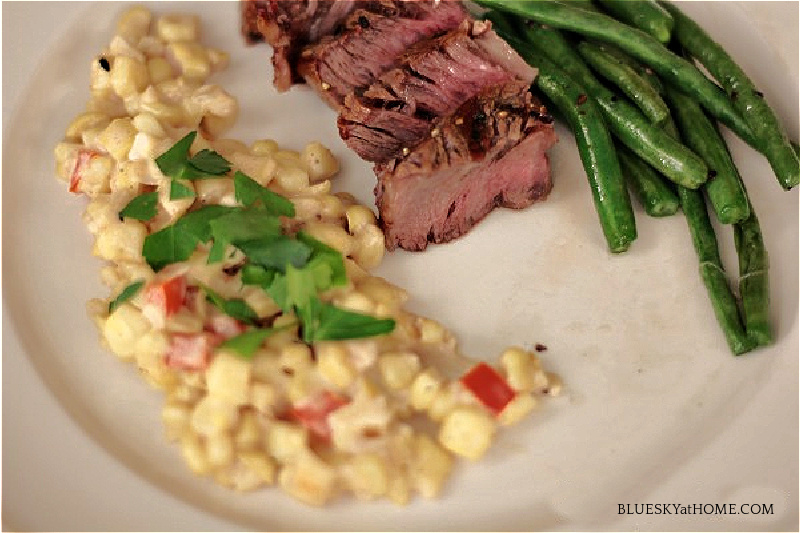 Here's the recipe for you to print out.
Southern Summer Creamed Corn
Delicious summer side dish using fresh kernels from corn off the cob.
Equipment
chef's knife

cutting board

measuring spoons and cups

stirring spoon

large skillet

half sheet pan

plastic cutting board or parchment paper
Ingredients
4

ears

corn on the cob

4

tablespoons

unsalted butter

½

teaspoon

kosher salt

¼

teaspoon

freshly ground black pepper

1

tablespoon

all~purpose flour

¾

cup

half~and~half

½

cup

diced and seeded red bell pepper

½

cup

medium diced onion

1

clove

garlic

peeled and minced

pinch

ground cayenne

1

tablespoon

diced cilantro or parsley leaves
Instructions
Remove the husks and silks from the corn. Place the plastic cutting board in the half sheet. Using a sharp knife, cut the kernels from the cob. Reserve the cut corn and discard the cobs.

Heat the butter in a large skillet until hot and foaming.

Add the onion and garlic and cook just until soft and transparent.

Add the corn kernels and red bell pepper, stirring to coat the vegetables with the butter. Add the cayenne, salt and pepper. Cook over medium heat for 5 minutes, stirring often, and making sure the corn does not brown.

Sprinkle the flour over the corn, stir well to blend, and cook for 2 minutes longer.

Add the half~and~half, stirring well. Simmer for 3~4 minutes longer, until the corn is tender and the half~and~half coats the corn lightly.

Taste for seasoning and add more salt and pepper if needed.

Sprinkle each serving with the chopped cilantro or parsley.
I can promise that this will not be the last corn recipe I make this summer. Be sure to PIN this one!
And here is another great corn recipe ~ Sauteed Corn and Okra.
I hope you enjoy the bounty of fresh summer corn. Be sure to keep this recipe by PINNING IT.