My 10 Favorite Southern Cookbooks
Yesterday I mentioned that Sweet Shark gave me The Southerner's Cookbook from the Editors of Garden and Gun as a Christmas present.
It prompted me to make researching and cooking Southern food 1 of my new year's resolutions. I decided that I needed to take stock of all the Southern-themed cookbooks in my library. I found books that I had forgotten I had!  I thought you might like to see my Southern collection and see what we have in common. I would love to know what are your favorites and your recommendations.
These are not all my Southern cookbooks, but they are my favorites.  I have not included any Junior League Cookbooks, which are some of the best.  I counted and I have 22 of those.
The Gift of Southern Cooking by Edna Lewis and Scott Peacock.  Edna Lewis is considered one of the South' great cooks and teachers.  I assisted Scott when he came to teach a class at Sur la Table.
Damon Lee Fowler's New Southern Kitchen by Damon Lee Fowler. I also assisted Damon at Sur la Table.
Southern Entertaining by Nathalie Dupree.  Nathalie is one of the most gracious ladies I've ever met and I had the privilege of assisting her.
Southern Biscuits by Nathalie Dupree.  I bought this cookbook a few years ago in New Orleans at Roux Royale, which is a wonderful kitchen and gift store with an extensive Southern and cookbook selection.
The Commander's Palace Cookbook.  Sweet Shark and I bought this book the first time we went to Commander's Palace.  Great recipes.
My New Orleans by John Besh. Besh is one of the best~known restauranteurs in New Orleans ( August, Luke, Domenica's ~ all wonderful.) I gave this book to Sweet Shark several years ago for his birthday. His cookbooks are full of stories about growing up in Louisiana as well as great recipes.
Cooking from the Heart by John Besh. Sweet Shark gave me this book for Christmas 2 years ago.
Cooking Fearlessly by Jeff Blank.  I assisted Jeff at SLT years ago.  He was the chef/owner of Hudson's on the Bend in Austin, Texas, which Sweet Shark and I visited.  I have a dozen cookbooks about Texas cooking, but this is still my favorite.
Neiman Marcus Cookbook by Kevin Garvin. The Pop-Overs, the Love Salad, the Tortilla Soup, the Chocolate Chip Cookies ~ the recipes for all these well-known Neiman's favorites are here.  Neiman's is a Dallas institution and if you've ever been to the Zodiac Room for lunch at any Neiman's, you know how special these dishes are. My younger daughter gave me this beautiful cookbook for Christmas many years ago.  I still love it.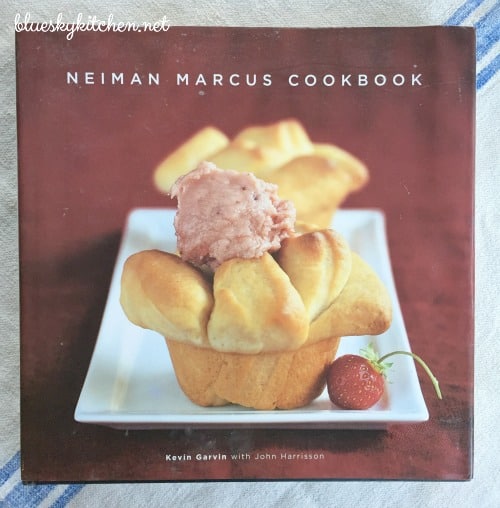 The Cheese Lover's Cookbook and Guide by Paula Lambert. This book isn't necessarily a Southern cookbook, but it's written by a bona fide Southern lady.  Paula is the force and inspiration behind The Mozzarella Company, one of the best known maker of all types of cheese, used in restaurants and available at grocery stores.  She is another Dallas institution.  I first met her at Sur la Table when I assisted her in her wine and cheese classes. I have also taken groups to her shop and cheese factory on every food tour I've ever done.  This book isn't just about cheese, and it's a great reference to have.
Do you have any Southern cookbooks you use and recommend? What are your favorites?  Please share.