My 2 New Year's Resolutions
Hi Friends
Did you get make it through the first week of the year? Back in the office? Kids back in school? If you made a new year's resolution, are you still on track?
I usually don't make new year's resolutions, but this year I am making a list of specific goals with time lines and I'm writing them down.
Speaking of new year's resolutions, I did make 2 and I'm going to share them with you.
First, cook Southern.
Sweet Shark gave me the new The Southerner's Cookbook, Recipes, Wisdom and Stories from the Editors of Garden and Gun.
Garden and Gun is one of my favorite magazines: awesome writers, such as Rick Bragg, Roy Blount, Jr., and Julia Reed, memorable stories and great recipes from around the South.
Sweet Shark also gave me a subscription to Garden and Gun for Christmas.  I love that guy; he knows just what this girl wants before I tell him. I can't wait to dive into this cookbook.  Since I have several other southern cookbooks (and favorite recipes in each), I decided this was the year to really concentrate on one of my favorite cuisines. Southern cooking is rich in history, culture, and technique; all that is needed are the right ingredients, spices and herbs. Whether you love the low-country cuisine of South Carolina, the coastal cuisine of Florida, the meat and three of Georgia, Alabama and Mississippi, the Creole and Cajun of Louisiana, or the barbecue of  Tennessee and Texas (which I am naturally partial to ~ beef, baby, beef), Southern cookin' is the best. I've had some of the best food in the world, not in New York or California or Chicago, but in Dallas, Atlanta, New Orleans, and Maryland and points in between.  Southern cooking is all about home, friends and family around the table ~ just the way I like it.
Second, read Southern.
I am a voracious reader and as an English major and former English teacher, I've read hundreds of books in my time. As I mentioned in the posts about New Orleans, I could spend hours in a book store, just browsing and reading.  I'm a like a kid in a candy store. The smell of books, the print on the page, the feel of the paper all bring wonderful anticipation to me.  As you might guess, I'm not an e-book reader.  I know it's convenient, but there is just no ambiance, no connection for me.  Browsing through Faulkner House Books in the French Quarter, I realized how few Southern writers I have read over the years.  Yes, I've read both of Harper Lee's novels, a little Faulkner, Mark Twain (I taught Huck Finn, too.), Julia Reed.  Does John Grisham count? I love Pat Conroy, Mary Kay Andrews and Fannie Flagg. So, this year, I'm going to make an effort to read Southern writers.  Not just Southern writers, but include more of them in my selections. The nice lady at Faulkner suggested I started with Eudora Welty and I bought a copy of 2 novels, Delta Wedding and The Ponder House.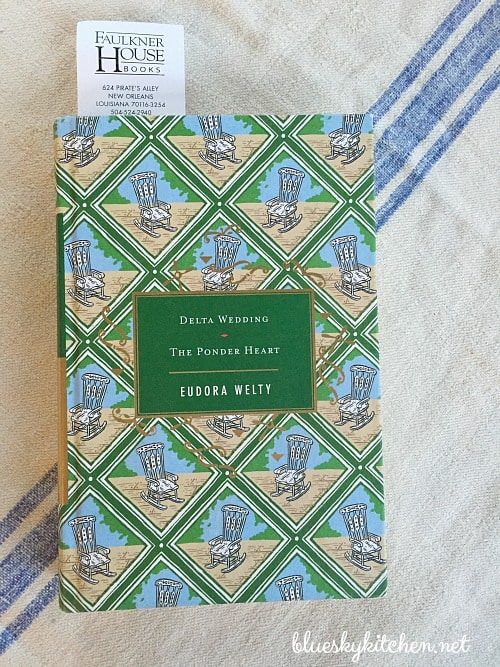 What Southern cookbooks do you have and what are your favorites? What Southern writers do you like and what books do you recommend?  I'm asking for suggestions. Please share.