The Best Biscuits from GW Fins
Hi there and Happy Friday.
In my posts about New Orleans (here and here), I mentioned that GW Fins is one of our top favorite restaurants in New Orleans.  And one of the best things about it is their biscuits. I'm not saying this is the best biscuit in the world, but it will evoke a "this is the best biscuit" when you taste it.
We know there are hundreds of biscuit recipes and different types of biscuits (some are dropped, some are cut).  I bet many of you have a favorite from grandma. This one is crumbly and slightly sweet and I wanted to share the recipe with you.
First, always start with your mise en place ~ that's everything in its place in French culinary terms.
Gather your ingredients.
You'll see in the recipe below that it calls for White Lily self-rising flour. There is a reason for this:  White Lily Self-Rising Flour is blended with leavening and salt, and is ideal for making light-textured and flaky biscuits, pastries, pancakes, muffins, waffles, coffee cakes, and quick loaves.  Their flour is milled from only 100% soft red winter wheat. If you want to read why that is important, check out this article. My grocery store only carried regular White Lily. The only self-rising flour available was Gold Medal, so that's what I purchased.  The Gold Medal package only states and it's a combination of hard and soft wheat. The recipe specifies lard, but I asked our server and he said they use Crisco. Good, because I don't buy lard.
Measure all your ingredients and preheat the oven to 400 degrees.
Combine the flour and Crisco with a fork or pastry blender until the mixture is the consistency of coarse crumbs.  I actually decided to try using my potato masher and it worked great.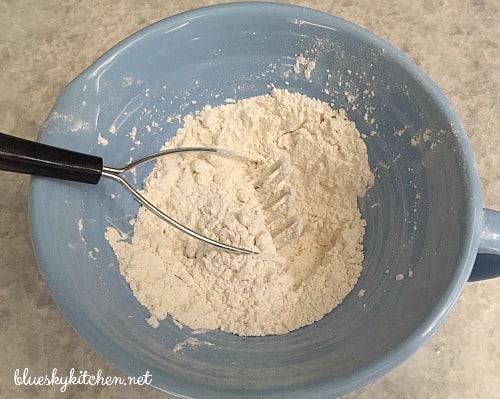 Add the milk and sugar to make a soft dough.  Let rest a few minutes.
Spray a rimmed baking sheet with vegetable spray.  Scoop the dough onto the baking sheet.  I used my ice cream scoop to get consistent size biscuit. The recipe doesn't tell you how many biscuits it yields.  Using the tablespoon scoop, I got about 14 biscuits.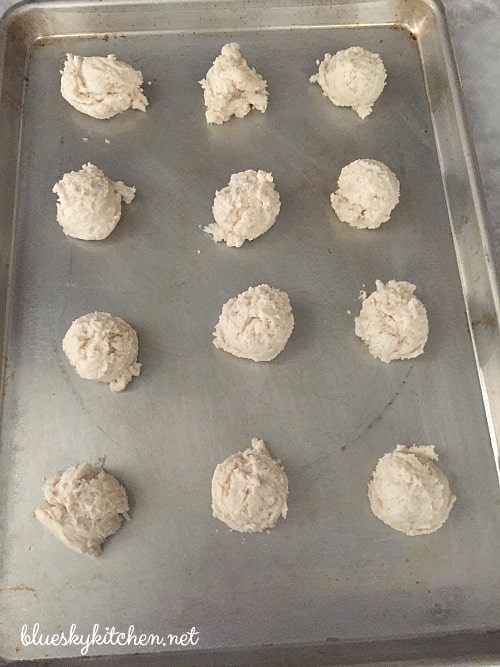 Place in the oven and bake for 8  ~ 12 minutes until done and golden in places on top.
Serve immediately with soft salted butter.
I was a little worried about how the biscuits would come out since I was using a different flour than called for.  And I baked them for about 12 minutes to get some brown color on them. The difference in time could be one of 2 factors: restaurant ovens run very hot and my oven might be a little cool.  (I'll buy an oven thermometer to check.) But we were pleasantly surprised. The biscuits were still soft and crumbly with a hint of sweetness.
If 12-14 biscuits are too many to your needs, it should not be a problem to half the recipe.
Enjoy! If you like this recipe, please share it on Facebook or Twitter or with your friends, near and dear. Have a wonderful weekend.