Kale Salad with Warm Cranberry Almond Vinaigrette
If you want a soup and salad combination for a fireside dinner, a chilly Sunday afternoon or a just a fall first~course, Kale Salad with Warm Cranberry Almond Vinaigrette is the salad for the season.
Earlier this week I shared one of my new favorite soups, Creamy Southwestern Pumpkin Soup from A Year on the Plate, the new Dallas~based regional cookbook from the Dallas County Master Gardener Association. I prepared the soup at a cooking class. But that's not all. I also showed my students how to prepare a delicious salad featuring kale.
Now I'm not crazy about cooked greens, but I love kale raw in a salad. The slightly bitter greens and heavier texture are great in the fall and winter. This kale salad with warm cranberry almond vinaigrette is right right for the cooler months.
Kale Salad with Warm Cranberry Almond Vinaigrette
Kale salad with warm cranberry almond vinaigrette with cranberries and almonds is a perfect pairing with the kale, adding some tartness and crunchiness. Crumbled goat cheese provides a bit of creaminess.
Choosing Your Kale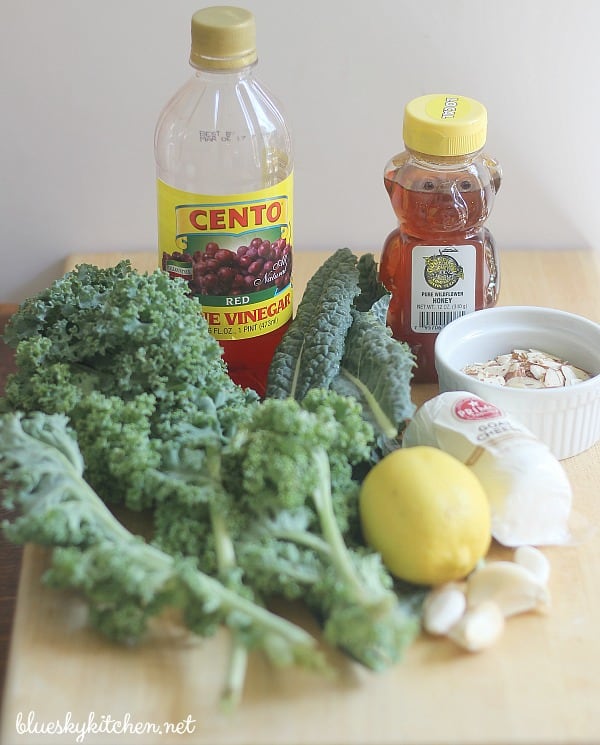 You can choose any type of kale you like for this recipe. I choose a combination of curly organic kale and lacinato kale, (called cavolo nero, literally "black cabbage", in Italian) a variety of kale with a long tradition in Italian cuisine, especially that of Tuscany, and very popular right now.
I like to mix up the greens for color and texture for a more interesting presentation. You can see the organic kale on the left and the darker, longer leaf lacinato on the right.
Prepping the Kale
Whatever type of kale you choose, just make sure that you thoroughly wash the kale because it can be really gritty. You can fill your sink or a large bowl with water, put the kale leaves in, swish them around in the water, and drain the water. I recommend repeating this procedure at least twice. Then pat the kale leaves dry.
Next, you must cut out the ribs of the kale. They are tough and really inedible. Use a sharp knife to cut down each side of the enter rib and remove. Then you can tear or cut the kale leaves into small pieces or strips.
NOTE: at this point, you can wrap the kale in paper towels and chill in the refrigerator or place in salad bowl until you are ready to assemble the salad.
You will need a large sauté pan to make the vinaigrette. It's quick, just under 10 minutes to prepare.
Here's another delicious winter salad using kale: Kale Salad with Pear-Thyme Vinaigrette.
Kale Salad with Warm Cranberry Almond Vinaigrette
Our weather just turned cooler again after several days of way-too-warm weather. I plan to make this salad for Sweet Shark this weekend. I hope that you'll make it too.