Quick and Easy Cherry Dessert Made with Phyllo Dough
Hi there. As promised, this week I'm sharing another quick and easy cherry dessert recipe; this one is made with phyllo dough, one of my "always have a box in the freezer" ingredients. Are you trying to figure out something special to perk up a weeknight dinner? Something easy and quick that you can literally make before sitting down to dinner, pop in the oven while the family is eating, and then be ready to serve while the dinner dishes are being cleared off the table. This is it, my friend.
Last week I shared Orange~Basil Cherries with Ricotta. If you made it, I hope you liked it. Don't forget it's really good as a quick breakfast as well as a dessert. This second easy cherry dessert is so quick you can literally prepare it in 10 minutes and bake it in 10 ~ 12 minutes. And it has 5 ingredients ~ how is that for easy!
After making the Orange~Basil Cherries, I still had cherries in the fridge (If  could keep Sweet Shark away from them!) and I wanted to make another easy cherry dessert, so I looked through the pantry, the freezer and the fridge to see what else I had on hand. I had an unopened package of phyllo dough in the freezer. Since this is one of my favorite ingredients for both sweet and savory dishes, I knew that was my starting point. I also had some of the sugar/cinnamon mixture left from the Orange~Basil Cherries that I could use.
Quick and Easy Cherry Dessert Made with Phyllo Dough
At the end of this post, you can sign~up to receive 5 More Phyllo Dough Recipes.
In case you aren't familiar with phyllo dough ~ sometimes spelled "fillo or filo" ~ it's tissue~thin layers of pastry dough used in sweet and savory dishes. Originally used in Greek and Near Eastern cuisines ~ you've probably had baklava or spanakopita ~ it's similar to strudel. You can find it in any grocery store in the frozen aisle with the desserts and pie crusts. There are different brands, therefore, the different spellings.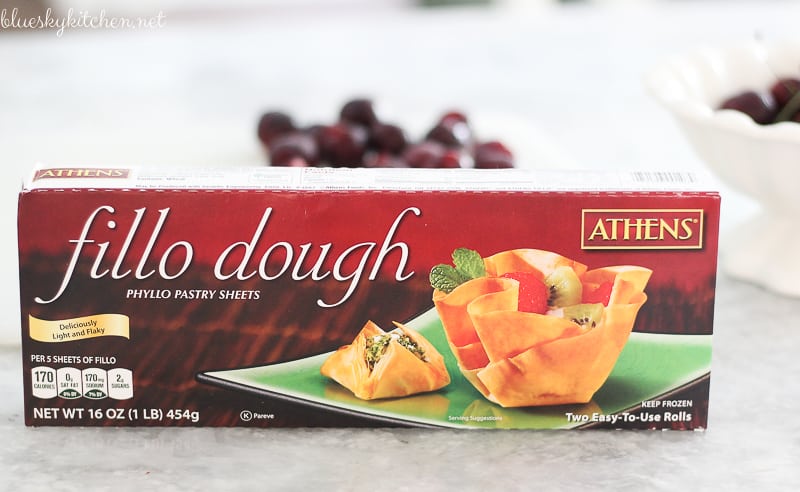 Using Phyllo Dough
As I said phyllo comes frozen and here's what to do when you buy it:
unopened, you can store the box in the freezer for up to a year
thaw overnight in the refrigerator or on the countertop for 2 hours
unopened, you can store in the refrigerator for a month
once you open the box, use within 2 to 3 days UNLESS
Phyllo dough almost always comes with 2 individually wrapped rolls. Each roll is sealed in a paper wrapper. Each roll contains about 20 sheets and measures 14″ X 18″. When you thaw the phyllo, only thaw 1 roll. Leave the other in the freezer. I like to wrap the paper~wrapped roll inside foil and label it. The one labeled Phyllo Dough 1 is the one that I used part of for the cherry dessert.
When the 1 roll you are using  has thawed, cut open the wrapping and pull out the phyllo. It's rolled up tightly inside thin paper. Carefully unroll it, keeping the dough covered inside the paper. Place on a piece of parchment paper or wax paper on a clean dry counter.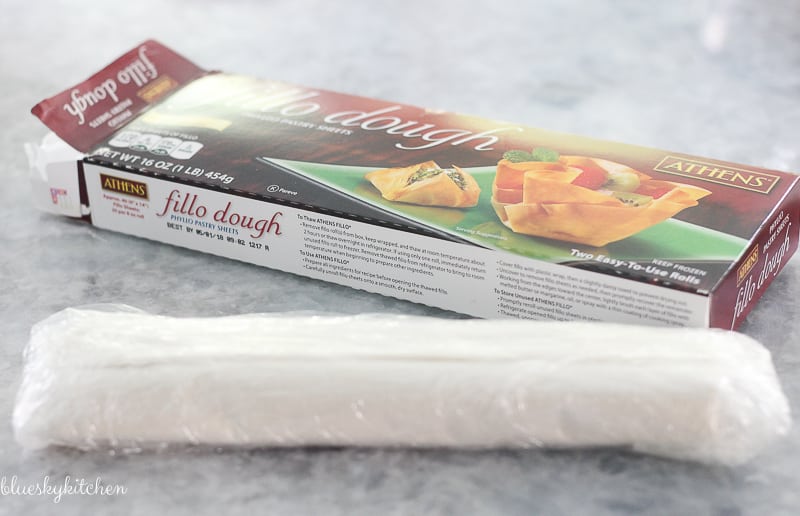 NOTE: phyllo dough is delicate: if it is exposed to air and dries out, it will crumble into nothing. If it gets wet, it will turn to mush.
TIP: don't let water get anywhere near the phyllo.
TIP: always prepare all your other ingredients, which will normally be toppings or fillings prior to opening the phyllo.
TIP: always keep the phyllo covered when you are working with it. You can use the thin paper wrapping or a piece of parchment paper. When you are first learning how to work with phyllo, you can place a barely damp paper towel or dish towel ON TOP OF the parchment paper, but never touching it. SEE NOTE ABOVE.
This recipe calls for 6 sheets of phyllo because the crisp is 6 layers thick. Because I didn't want to make an entire batch for Sweet Shark and me. I layered 3 sheets, cut the layers in half from top to bottom, and placed one half on top of the other. That way I had half as many sheets, but still had 6 layers for my "crisp".
BIG TIP: most phyllo recipes tell you to brush between layers with melted butter and a pastry brush. If you are not carefull, you can tear the phyllo when you brush on the melted butter. I learned years ago from an instructor who had lived in the Eastern Mediterranean to use butter or olive oil cooking spray. That way, you won't tear the phyllo and you get an even distribution of "butter".
TIP: you can make your layers on the parchment paper on the countertop or go ahead and place a piece of parchment paper on a half sheet pan and assemble the phyllo there.
Once your phyllo layers are completed, you can trim the edges if you want with a sharp knife. Place your halved cherries on top, spreading then in an even pattern, cut side up. Place in a preheated 400˚F. oven and bake for 10 minutes or until golden brown.
Use a very sharp utility or paring knife to slice the crisp into whatever size servings you want. I cut mine into 2~bite rectangles.
NOTE: these easy cherry dessert crisps are best eaten right after baking as phyllo can become soggy. If you have leftovers, place in an airtight container. You can "re~crisp" them by placing in a hot oven or toaster oven for a minute or 2. You can also place in a medium hot skillet for a few seconds.
SERVING SUGGESTION: we did have a few leftovers and the next morning we had them for breakfast. I think they would be a great fruit accompaniment or appetizer for a brunch.
So, who is going to make this easy cherry dessert this week? For a little extra sweetness, make some sweetened whipped cream and place a tiny dollop in the center of the cherry halves. That's a special extra ~ with your cherry on top!
If you would like 5 More Phyllo Dough Recipes ~ all chef~tested ~ click here.