I can't believe that the Kentucky Derby is coming soon. I wanted to show you a few more of our decorations, some beautiful hats and one of my favorite traditional dishes I serve as part of my pre~race menu ~

Southern Pimento Cheese

.
We had to cancel last year's party, but we are going to have a small gathering of close friends this year. Food is always important at a party and this Southern Pimento Cheese recipe is a keeper for any occasion.
I hope you didn't miss our Kentucky Derby Party Prep and Party Decorations.
To be honest, I never was a fan of southern pimento cheese until I made this recipe. Now I can't get enough of it. There are definitely some tricks to making it come out so good.
Southern Pimento Cheese Leads off Derby Party
Let me share a few ideas for your next party.
KENTUCKY DERBY PREPARATIONS
Every year my sweet brother~in~law makes an awesome tote board. It's not hard to make and everyone loves seeing their bets on the tote board.
Red roses are the must~have flower for a Kentucky Derby party and I have them everywhere. I shared some of our Kentucky Derby tablescapes earlier this week.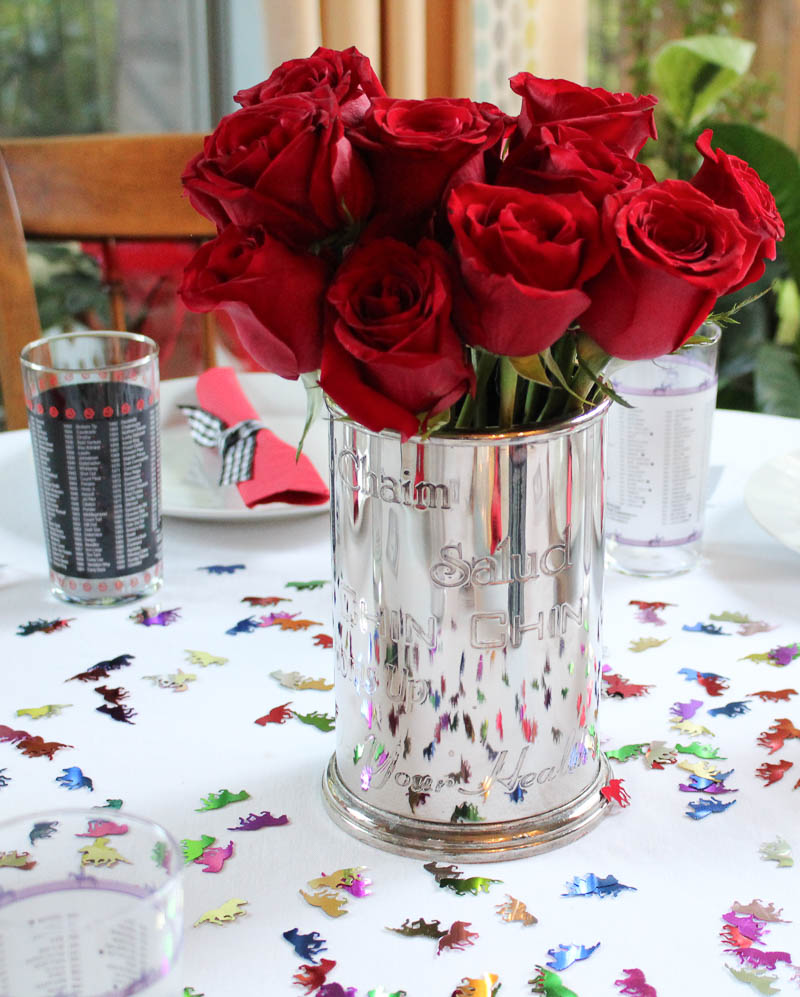 And, of course, my Derby horse had to have his blanket of roses.
The ladies always show off their hats. We don't get as wild with our hats here as those attending the actual Derby, but everyone gets in the spirit of the occasion. Here are a few of my favorites.
This hat definitely makes a statement.
How cleaver is this hat with the horses added, compliments of a grandchild's handiwork.
And even a few men got into the hat action. Sweet Shark's business partner had been to the Derby in 2015 and wore this hat.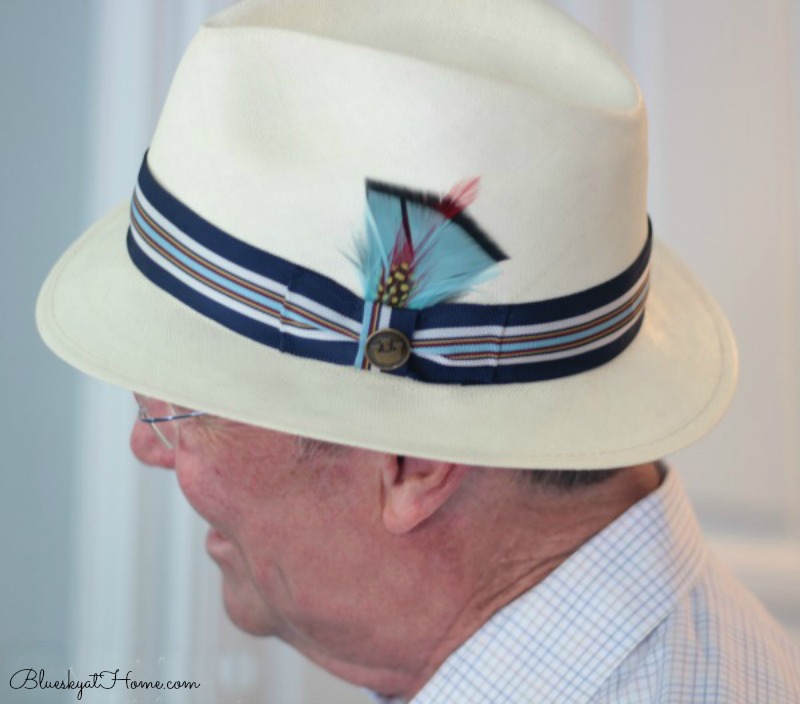 Our friend J—— was declared the spiffiest dresser of the day.
As everyone arrived, sipped on a mint julep, greeted one another, and started placing bets, we offered a few nibbles before race time. As always, we started the festivities with mint juleps.
KENTUCKY DERBY PARTY FOOD
At any Kentucky Derby party, food and drink is as important as watching the race. We always hope for beautiful outdoor weather. In 2018, the weather could not have been more perfect (which in Texas means it was not hot super hot.
By the time the race is over, and everyone has collected their winnings or cried in their hats, the temperature has dropped and the patio is in the shade.
I put out our buffet dinner on the kitchen island. As everyone fills their plates, grabs a glass of wine or another mint julep, they find a place to sit, either in the dining room, breakfast room or outside on the patio. and everyone had a great time.
Today I'm sharing one of my favorite recipes from our party, Southern Pimento Cheese which is always a big hit. The recipe that I've used for years comes from The Gift of Southern Cooking by Scott Peacock and Edna Lewis. Today Scott spends his time writing and contributing to major food publications, but when I met him in 2003 he was a restaurant chef in Atlanta and the protege of Edna Lewis, the mother of modern Southern cooking. Edna has passed away, but Scott is still cooking up a storm.
Homemade Mayonnaise for Southern Pimento Cheese
The secret to this pimento cheese is the homemade mayonnaise. I love Hellman's (I'm west of the Mississippi. If you're east of the Mississippi, I think it's Duke's.), but nothing is as good as homemade. (Sorry about the photo ~ I forgot to take the picture before folks jumped in.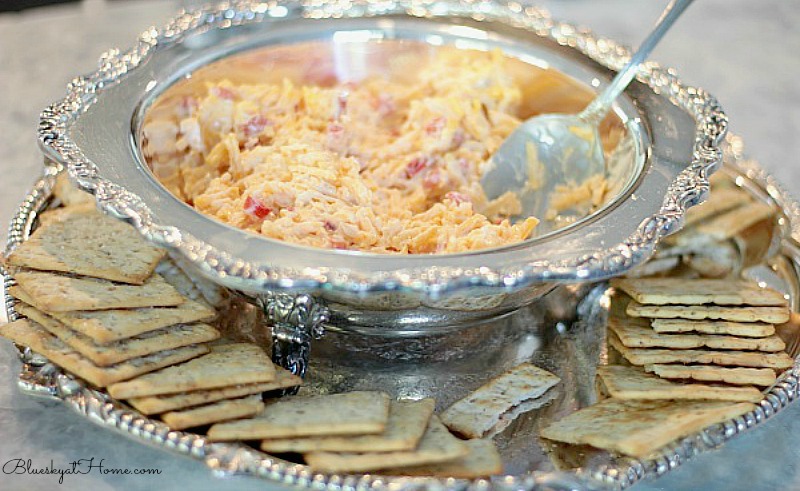 The keys to good mayonnaise (If you've never made homemade mayonnaise, give it a try; it's mostly eggs and oil.):
Your eggs should be at room temperature.
Add your oil VERY slowly. Don't get impatient.
Add your oil down the side of the bowl, not smack in the middle of the egg mixture.
Adding the hot water at the end of the process gives the mayo its silky smooth texture.
Homemade Mayonnaise
Nothing is better than homemade mayo.
Ingredients
1

tablespoon

cider vinegar

1

tablespoon

freshly squeezed lemon juice

1

teaspoon

sea or kosher salt

1

teaspoon

dry mustard

2

egg yolks

1½

cups

vegetable oil or light olive oil

1

tablespoon

hot water
Instructions
In a medium bowl, combine the vinegar lemon juice, salt, and mustard.

Whisk ingredients until combined and the salt and mustard are dissolved.

Add the egg yolks and beat until smooth.

Add the oil, drop by drop at first, and then in a slow, steady stream, whisking constantly until all of the oil has been incorporated and you have a very thick emulsion.

Stir in the hot water until the mixture is smooth.
Notes
Refrigerate, homemade mayonnaise will keep up to 1 week.
Makes 1 3/4 cups.
Southern Pimento Cheese
The key to this pimento cheese:
Use homemade mayonnaise.
Use homemade roasted red bell pepper, not the stuff you buy in the little jars.
If possible, use a chunk of cheddar cheese and grate it yourself. You can use the pre-grated, but the block cheese has more flavor.
Southern Pimento Cheese
Delicious version of a traditional dish.
Ingredients
2½

cups

(10 ounces) grated extra~sharp cheddar cheese

⅛

teaspoon

cayenne pepper

kosher salt

to taste

5 or 6

grinds

fresh black pepper

¾

cup

homemade mayonnaise

3

tablespoons

finely chopped roasted red bell pepper
Instructions
Stir all the ingredients in a large mixing bowl until they are well mixed and creamy.

Taste carefully for seasoning and adjust as needed.

Cover and store, refrigerated, until ready to use.
I wish I could share Sweet Shark's Smoked Salmon; it's the best ever, but even I don't know exactly what he does, and he's not tellin'. Believe me, friends have asked over the years. He just smiles and says, "I'd have to kill ya if I told you."
If you need ideas for Kentucky Derby tablescapes, jump over here to read, save and PIN.
Well, friends, that's one of the best recipes of the party.
Here's two other Derby party favorites:
I hope you have a fabulous Saturday watching and celebrating the Kentucky Derby. Seeing the most beautiful animals on earth do what they love to do is a thrilling experience. It you can't watch it, record it. Think of Sweet Shark and me as you sing "My Old Kentucky Home". On Saturday, everyone is from Kentucky.
DOn't forget to PIN this awesome recipe.