How to Refresh Your Bedroom Decor for Spring
Do you want to give your bedroom a new look for spring? I just did. I'll share how to refresh your bedroom decor for a new spring look.
Spring and summer (Yes, I just used another "s" word.) call for a lighter and fresher look and feel. It's not hard to shake off and spiff up your bedrooms for spring.
You can transform any bedroom using the same ideas and tips. I changed our bedroom in one afternoon. Winter in the morning, spring by the afternoon.
PREPARING TO CREATE A SPRING BEDROOM
Before you add any spring decor to a bedroom, it's important to start with a fresh slate.
Here are my suggestions for doing that:
remove winter linens, such as flannel sheets, heavy blankets, comforters or coverlets
wash or send to the cleaners the winter linens
store the winter linens in plastic bags or boxes
I washed, dried, and stored the blue fleece blanket and the foot of our bed. The white ruffle pillow shams and coverlet with a skirt went to the dry cleaners. When I pick them up next week, they will go upstairs for the next several months. (Actually, this bed set can be used year~round and I have.)
What to do before starting to style your spring bedroom? Follow these three easy steps:
decide on your color scheme
decide what linens you will use: blanket, coverlet, duvet, dust ruffle, pillow shams, accent pillows
choose some accessories that will lend themselves to spring and fit your color scheme
STEPS TO STYLE A SPRING BED
We have always had a fabric~covered headboard. It's the most comfortable for reading in bed, and I love the soft texture.
Since we made a new white fabric~covered headboard last spring, I can more easily use any color in the bedroom. Here is how to make a fabric~covered headboard.
In this picture, you can easily see the ruffled shams and coverlet that we removed to style this new spring bedroom look.
I decided that my color scheme for this new spring bedroom would be blue, white and yellow.
My bed linens would be:
our plaid dust ruffle in blues, cream, and yellow. It had been in storage for a couple of years after I took it to the dry cleaners.
a white coverlet that I bought last year at Ballad Designs.
light blanket in blue and white bought at Target in January
three dark blue Euro pillows from Wisteria
two patterned yellow Euro pillows from Home Goods
So, the only new thing was the blue and white blanket from Target.
First, we put the dust ruffle back on the bed.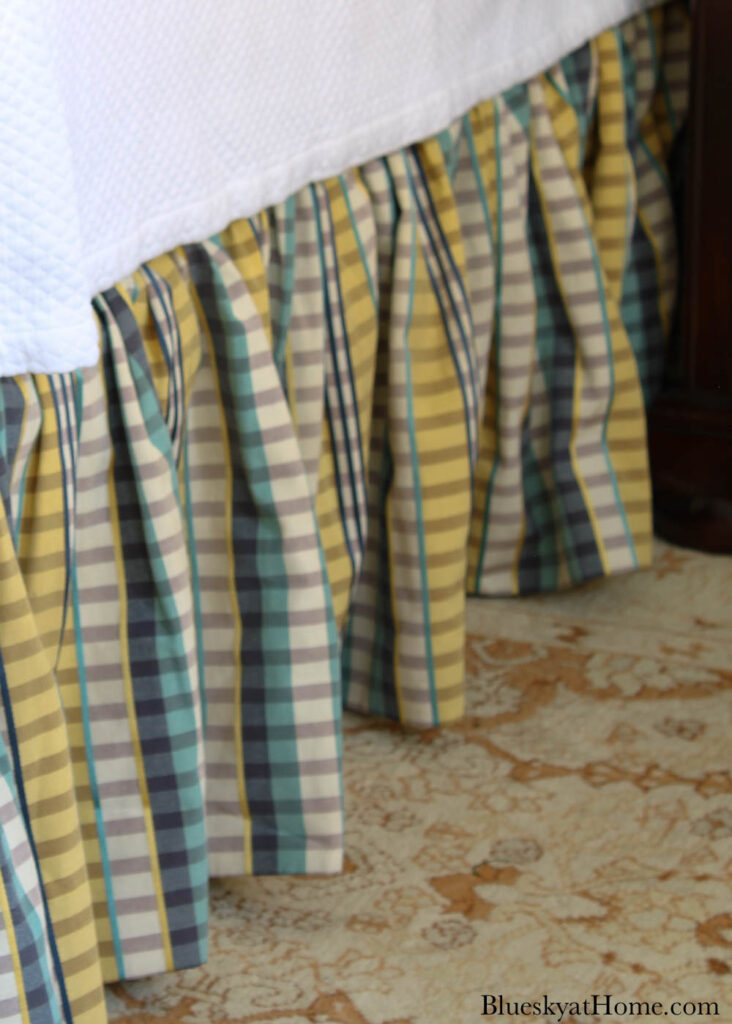 Next came the white coverlet and all bed pillows.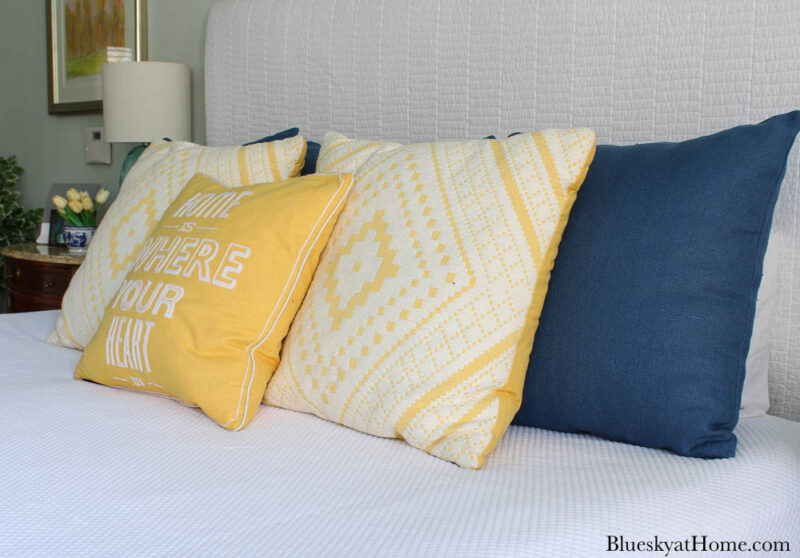 Next came the new blue and white light blanket. I love the ticking pattern on this blanket. It has a very casual, almost farmhouse vibe.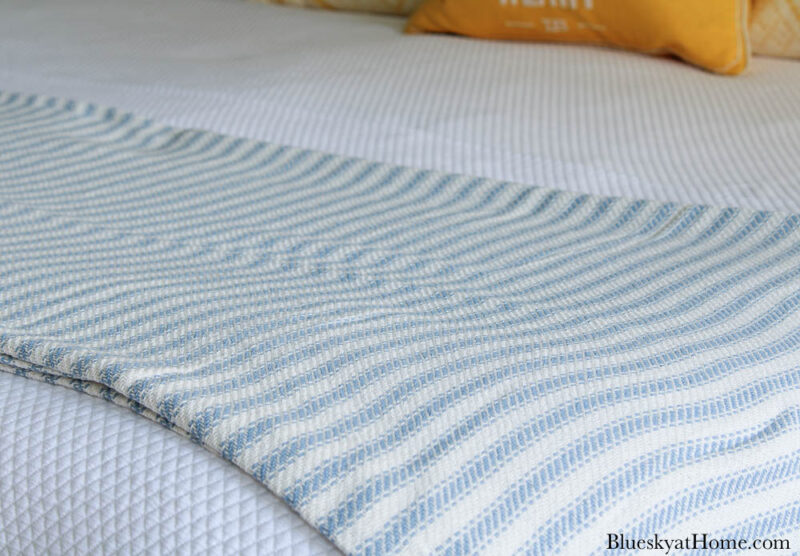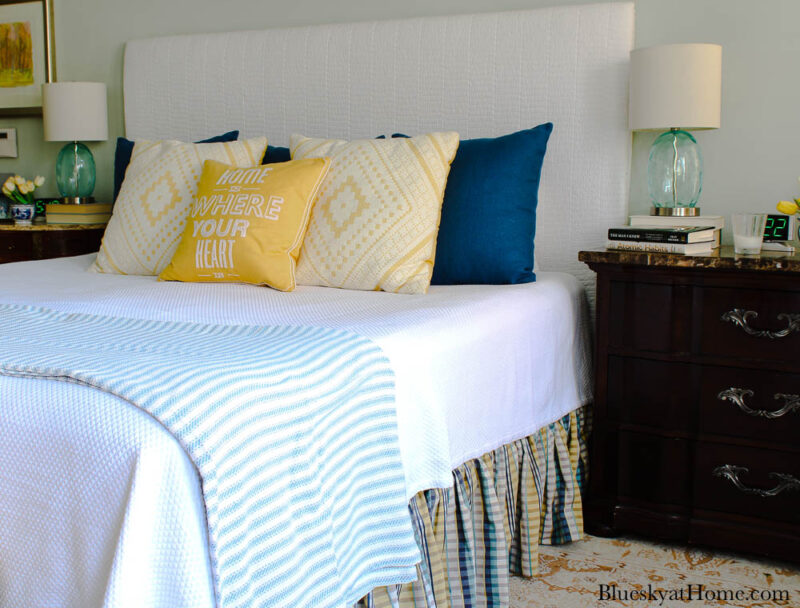 Now that our down comforter has been washed and dried, I wanted to use it as an extra cover on our bed. But how?
I solved that problem by laying it on the blue and white blanket. Then I wrapped the blanket around the comforter. This gave the blanket a puffy, fuller look, which is much better.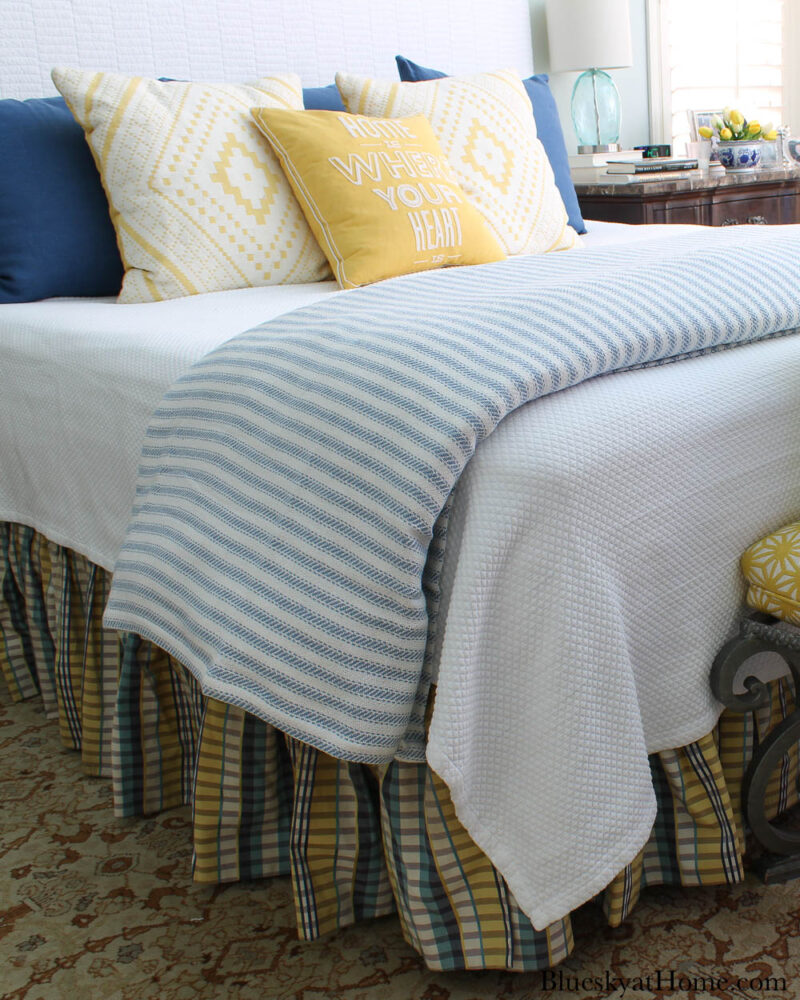 For a few years, I've covered the bench at the foot of the bed with various pieces of fabric to cover the bright yellow cushion.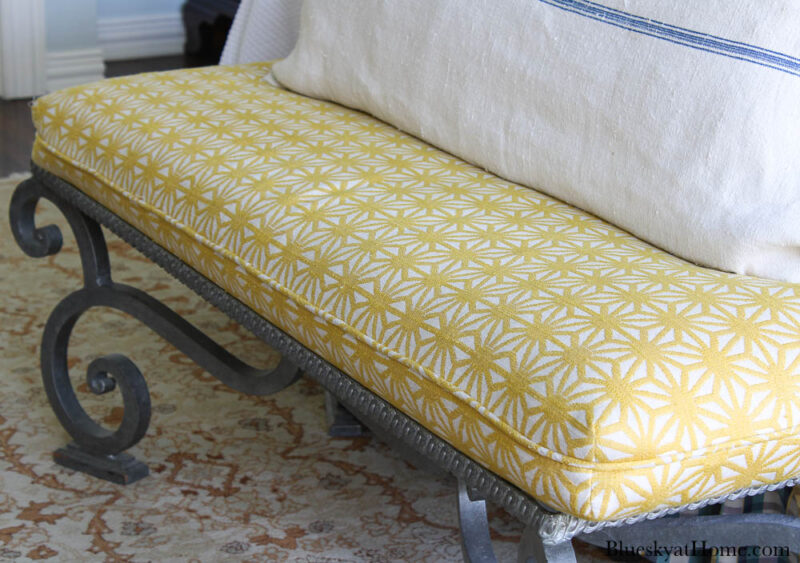 This year, to tie into the bright yellow pillows on the bed, I left the cushion as is.
I'm having the cushion recovered. I chose a neutral fabric to recover the cushion.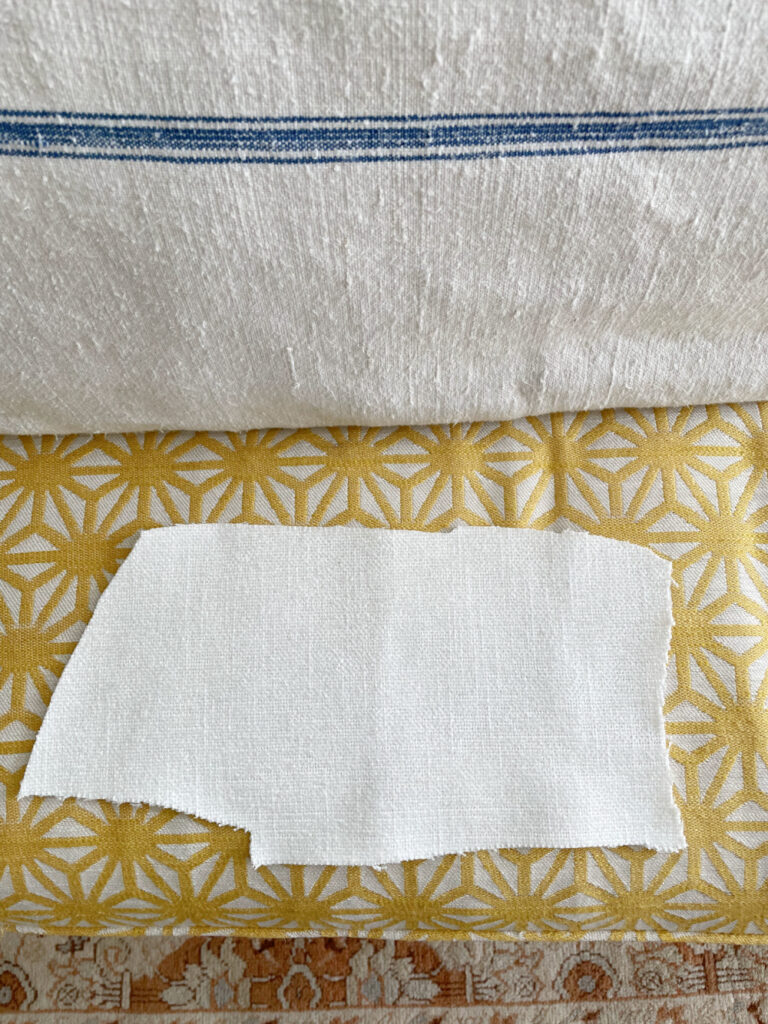 To continue the casual and farmhouse look of the blue ticking blanket, I added my grain sack pillow to the bench cushion.
I'm lucky to have two grain sacks. One is from Round Top and the other from Scott's Antique Show in Atlanta,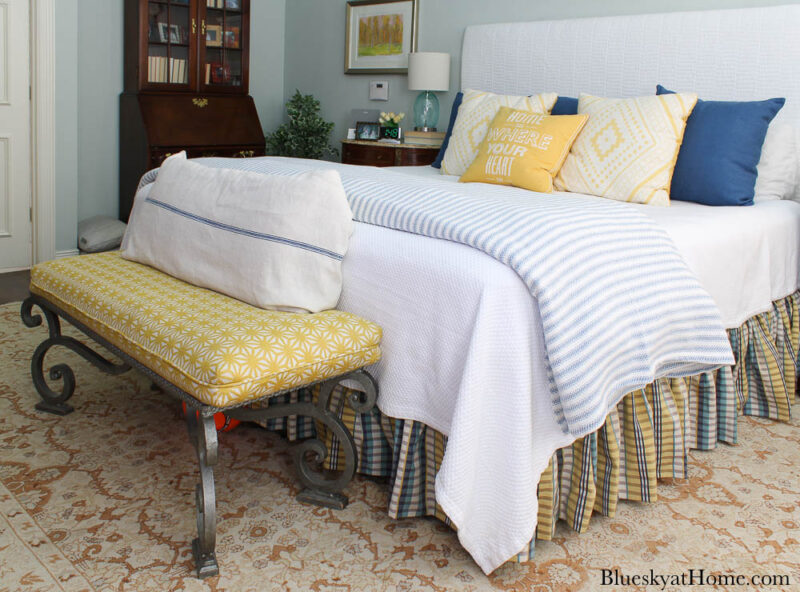 That basically completes the refreshed spring bedroom decor linens.
NOTE: Dressing a bed is all about layering: your sheets, blankets, coverlets, bedspreads and pillows The difference between the seasons is the weight and material of the linens
ADDING ACCESSORIES TO THE SPRING BEDROOM
It is the details that add interest to any room. Look for places you can add more color, texture or personal effects. In a bedroom, nightstands and side tables provide those places.
TIP: You can use accessories from other areas of your home in your spring bedroom decor. I brought in items that had been in the living room for the last several weeks.
ON THE NIGHTSTANDS
I used two blue and white chinoiserie cache pots from a set of three. To continue the blue and yellow theme, I placed faux cream/yellow tulips in the cache pots.
Here is Sweet Shark's nightstand. Family pictures are always in style in a bedroom.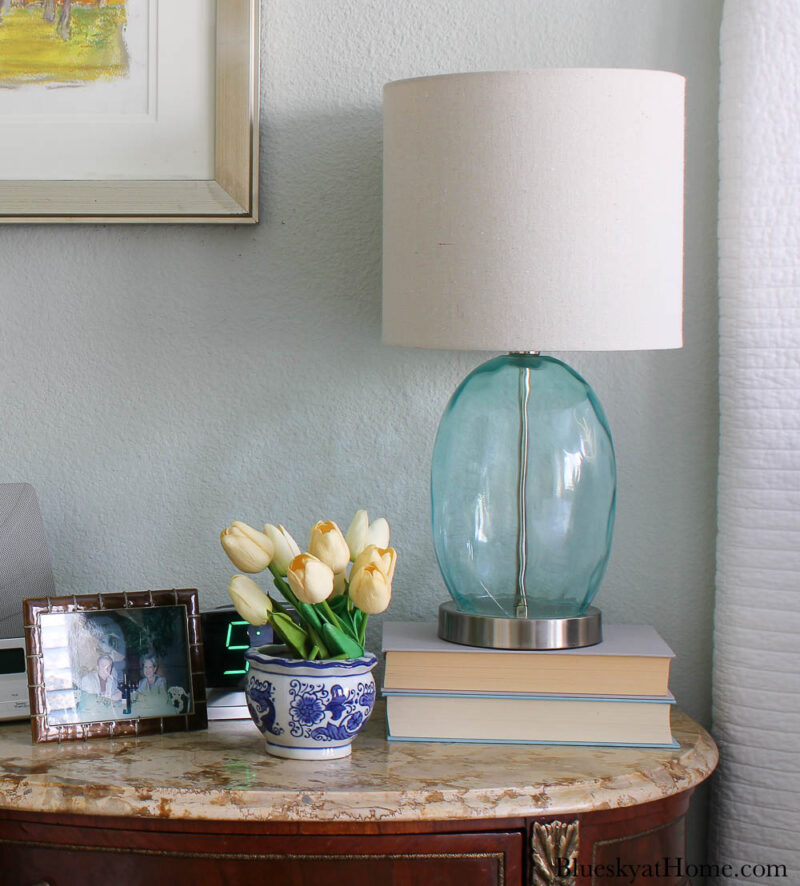 Currently, the lamps in our bedroom are aqua. I moved them from the living room. I think the mix of blue shades is fine.
Here is my nightstand.
CONSOLE TABLE
Across from our bed is a console table, a place for display and books.
I brought in a few blue and white decorative accessories to continue that theme in the spring bedroom refresh.
The vase ( I have two) is from At Home.
The flowers are from Trader Joe's.
The small jar is actually a candle.
The blue and white stripe jar is from Target.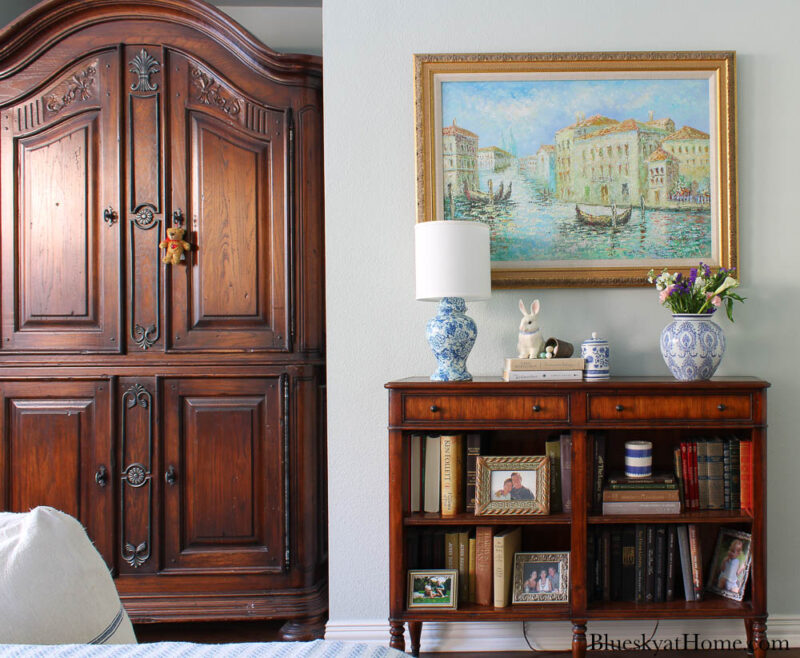 Because it's just a few weeks away, I thought a nod to Easter with a bunny and tiny eggs was in order.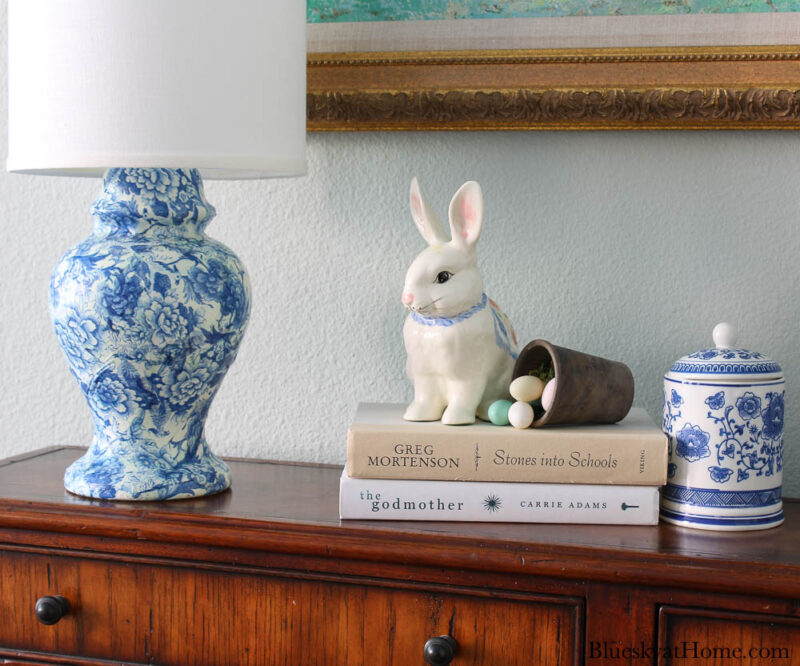 Fresh flowers are always a plus in a spring setting.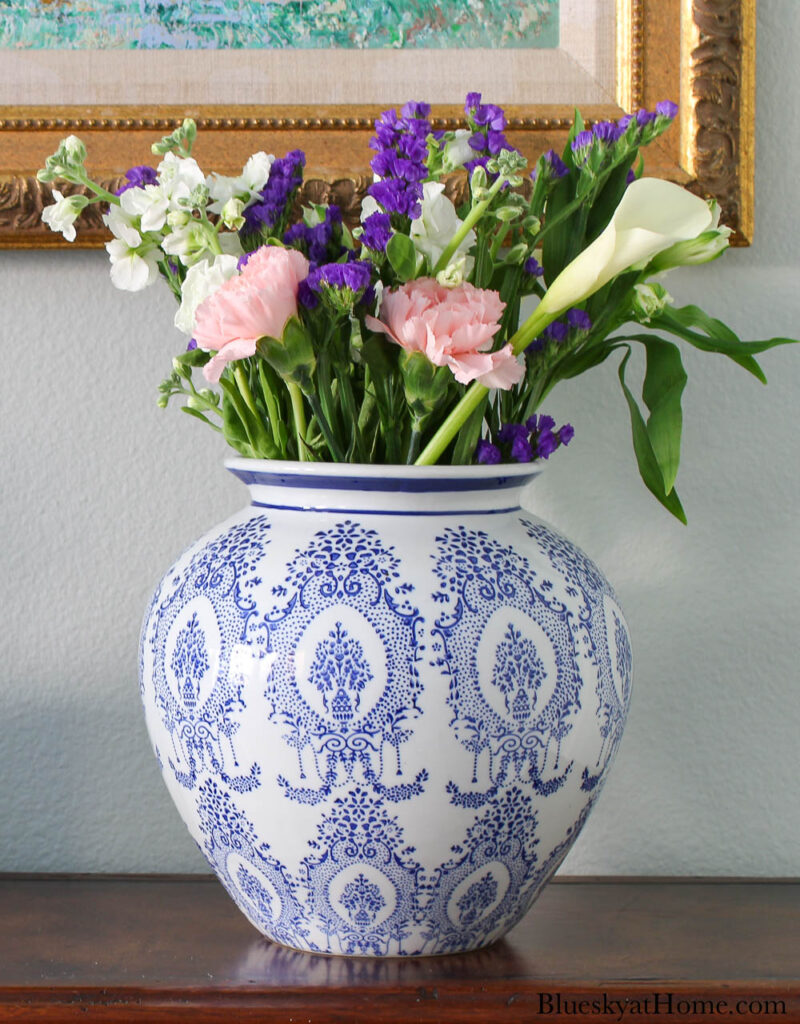 READING TABLE
I love having a seating area in a bedroom for reading. Ours consists of two chairs (One from my parents and one from Sweet Shark's grandmother. We had them reupholstered when we moved into our present home.)
The table is also a hand~me~down that I chalk~painted several years ago.
Here is what the table looked like before I added the final spring accessories. A DIY loop in painted blues has come in handy many times.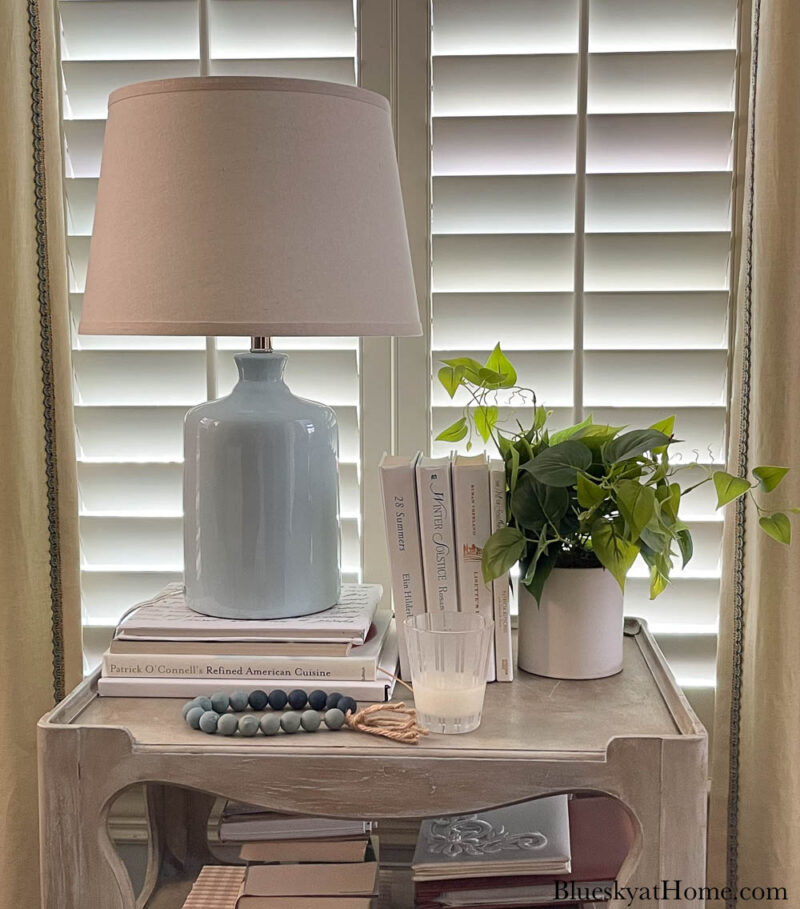 The pale blue lamp is from Wayfair and was in our living room.
To add more spring touches, I included a couple of bunnies, one in yellow to continue that theme.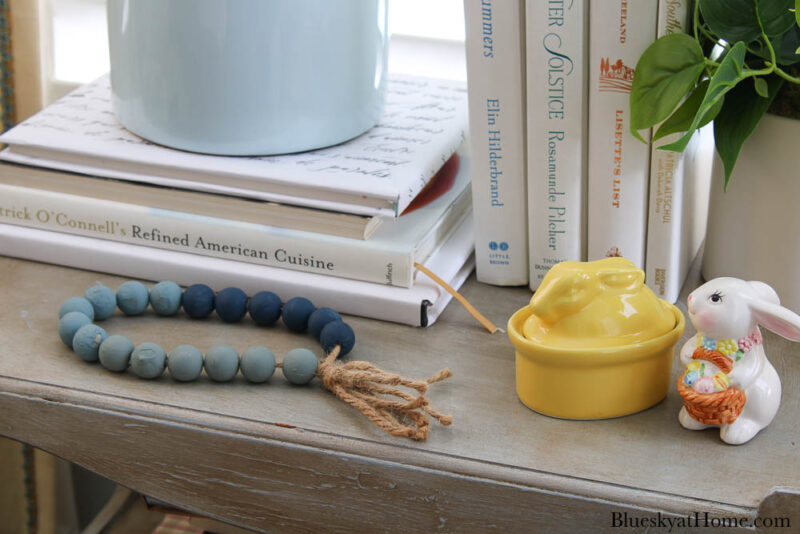 I love the white~covered books and faux green pothos plant.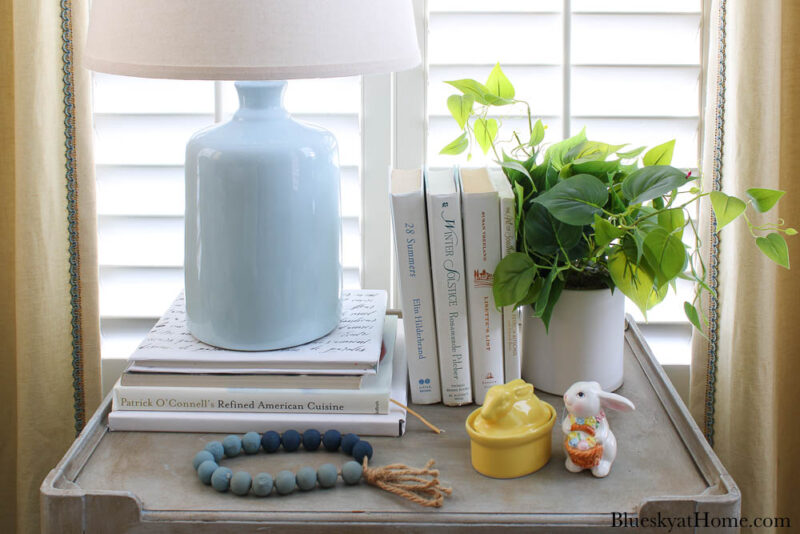 If you follow these steps, you can easily refresh your bedroom decor for spring. It's a lovely feeling to have a light, fresh look in your bedroom as the temperatures warm up.
As the flowers begin to bloom and more color comes into our environment, we want more color inside.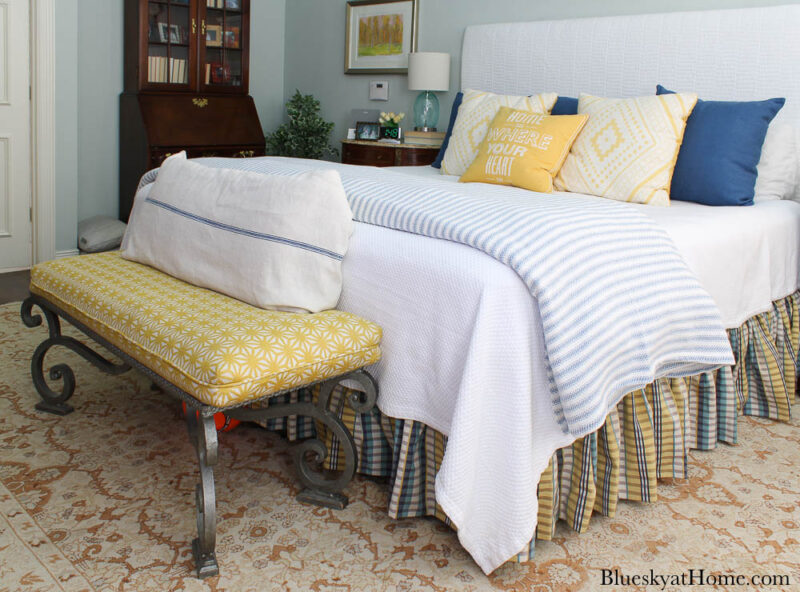 SHOPPING OUR SPRING BEDROOM
I hope that you'll share these ideas for refreshing your bedroom for spring. Please PIN it so others can see it, too.