Fabulous Fall Basket Styling Ideas
Do you love baskets? Baskets are one of our favorite home decor accessories. I hope you love them because I'm sharing some fabulous fall basket styling ideas.
I have to be careful when I shop or I would have a houseful of baskets. Although baskets can be found new in home decor and craft stores, I have found most of mine at estate sales, flea markets, garage sales, or antique malls.
I don't care if they are old from an estate sale or new from HomeGoods or Hobby Lobby – although finding a vintage one gives you an extra special thrill. Then I can't wait to come up with some fabulous fall basket styling ideas.
Like the best home decor accessories, baskets are so versatile. They come in every shape and size. They can be made of metal, wire, or wood.
With fall on the horizon, don't you think it's time to make a fabulous fall basket vignette?
Me, too.
Why Do We Love Baskets?
Let me count the ways.
Their versatility – can be used anywhere in our homes
Their practicality – for holding laundry, towels, throws, toys, magazines, jewelry, or anything
For home decor – yea! – my favorite
Can be used any time of year for any holiday or season
Affordability – price points to fit any budget
Accessibility – multiple stores, estate sales, garage sales, flea markets, online
So many different materials, styles, and sizes.
Fabulous Idea: Fall Basket Styling
I don't know about you, but I love finding inspiration for my home decor. I find inspiration in magazines. Southern Home, Southern Living, HGTV, Cottage and Bungalows are some of my favorites.
Pinterest and Instagram, of course, are also sources of great inspiration.
I "fell over my basket" when I saw the inspiration for a basket vignette from Janelle of Janelle Trinette. Does this vignette say fall or what?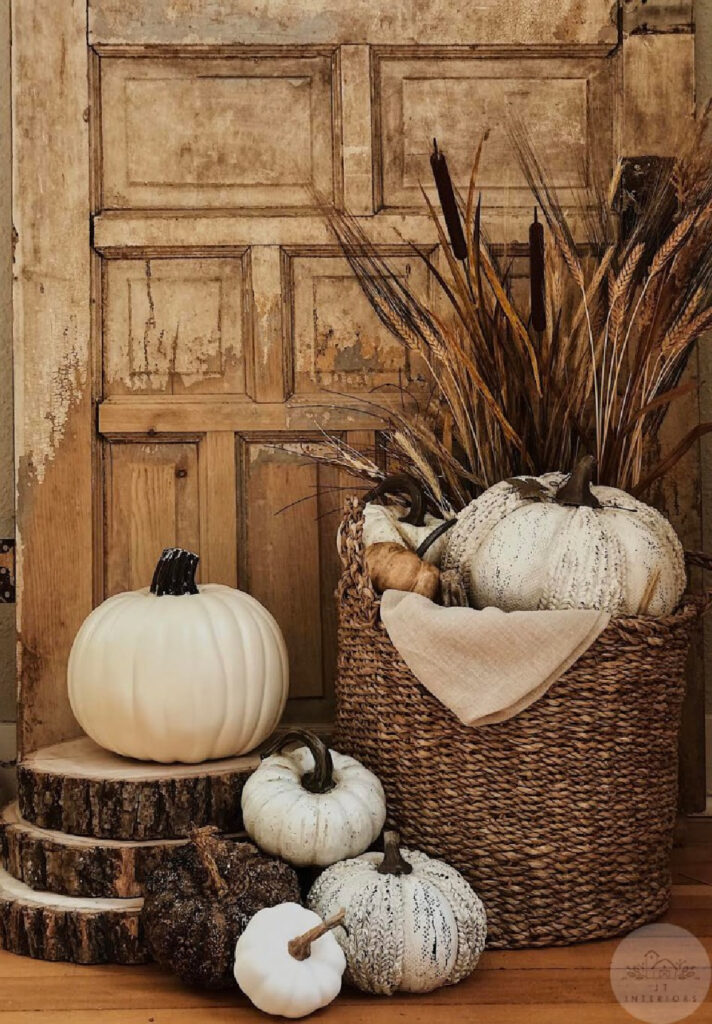 Since I had most of the "ingredients" for this vignette, I decided to duplicate it as best I could on the hearth in our living room.
Basket Inspiration Vignette Ingredients
This post contains affiliate links to products used in the creation of this project. If you should order any item from this site, I may receive compensation, but you do not pay a penny more. Your purchase is greatly appreciated as it helps support the continued publication of this site.
Let's look at the vignette in detail.
a wood background – I think it's a door
a large round woven basket
large wood slices
wheat and feathers
a throw or piece of fabric
lots of white/neutral pumpkins
My Basket Style Ingredients
I was determined to use only items that I had on hand. I like to gather more things than I think I might use.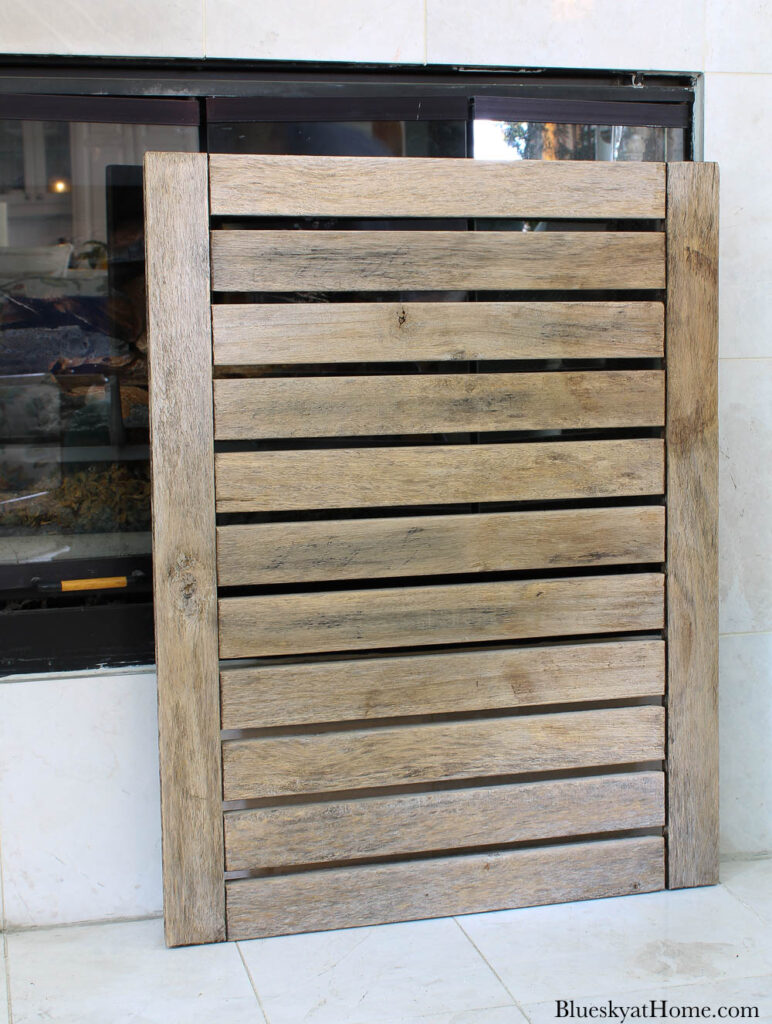 I will use the large round woven basket that I found at the same time as the teak table. I paid $7.50 for it.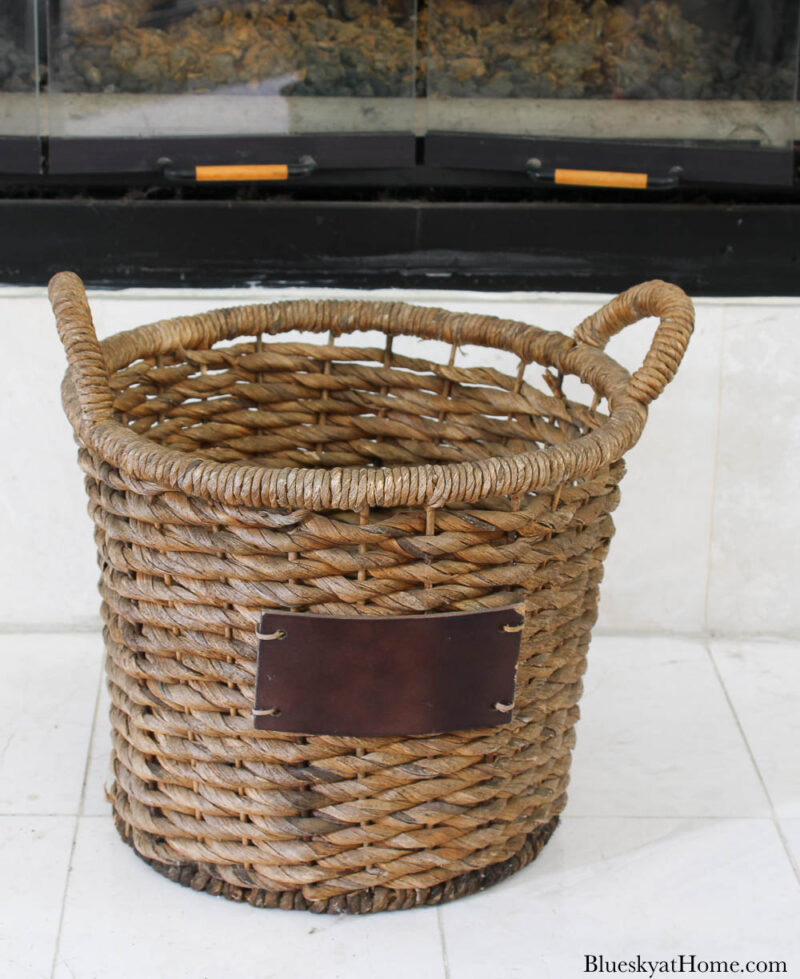 One large wood slice I bought at a local design store a few years ago.
Another round woven basket
Two small hay bales I saved from last year – don't take the plastic off them.
Two burlap bags stuffed with paper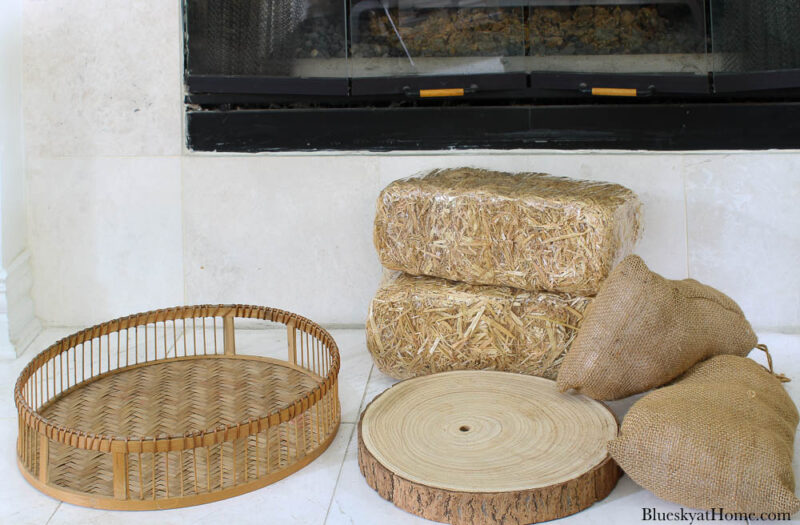 I couldn't find my wheat sheave bundle and I didn't have any feathers. I did have plenty of faux fall foliage on hand.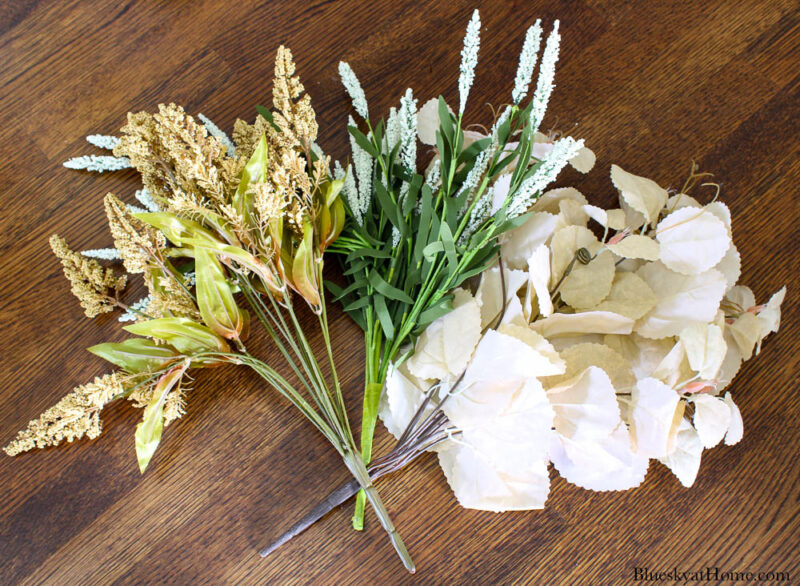 A variety of neutral pumpkins
A tall wood candlestick – one of a pair I bought a few years ago at Tuesday morning.
With my ingredients gathered, I was ready to start my fall basket styling.
Styling the Fall Basket Vignette
Now let the fun begin. I'll take you through the process of exactly how I styled this fall basket vignette.
Janelle suggested using a pillow, paper or fabric to stuff the basket and fill it. I used a pillow filler. This will give more height to your decor.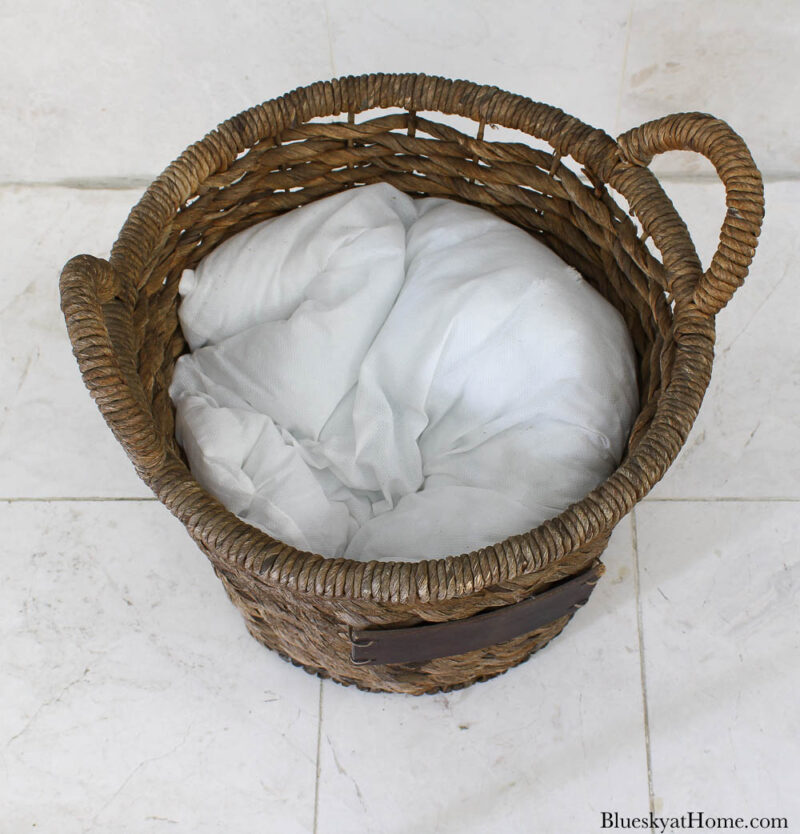 Next, she used a piece of fabric to cover the stuffing. I had several to choose from. I chose this neutral piece. It also adds color and texture.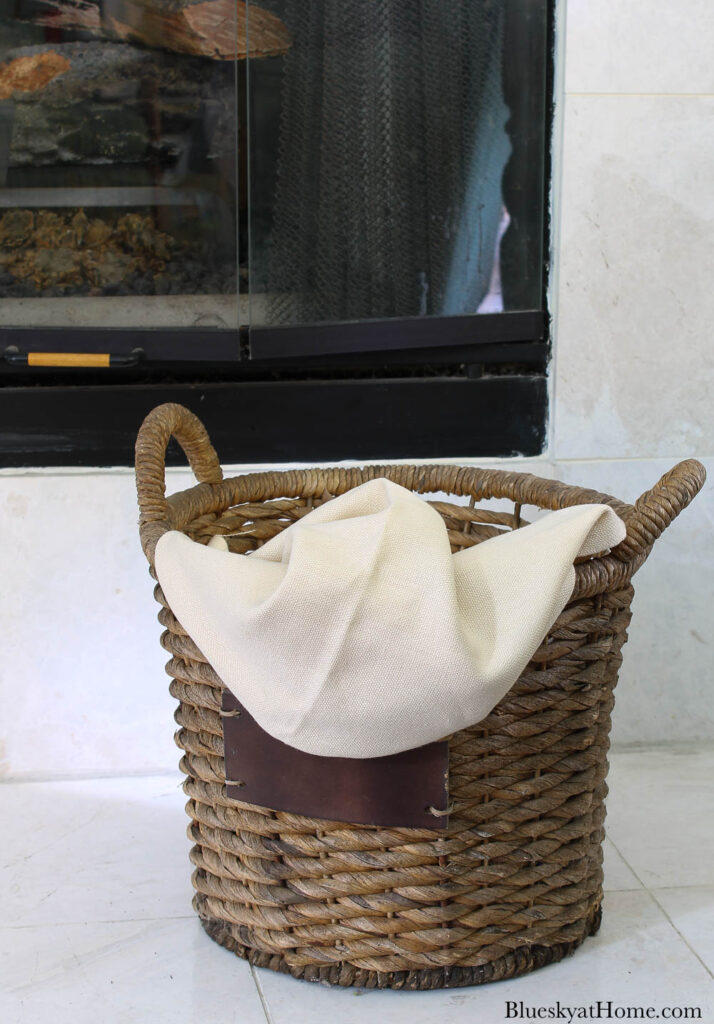 I chose three faux foliage stems in subtle shades of cream, tan, and dark yellow. It was easy to stuff them in the basket.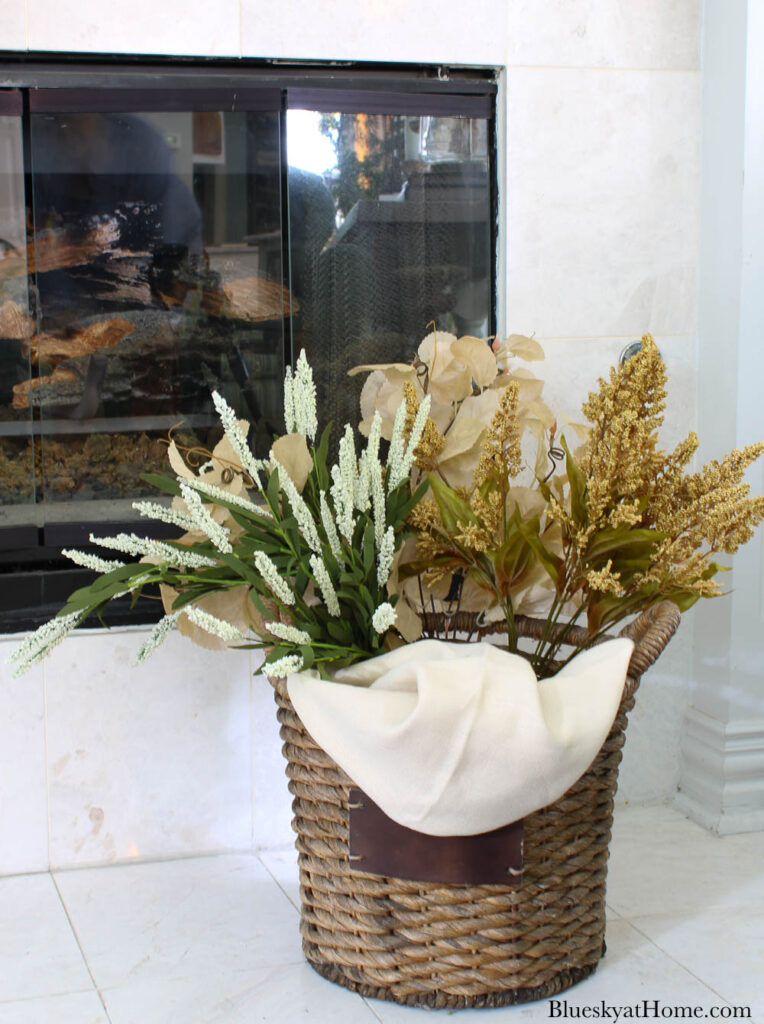 At this point, I remembered my teak table leaf and leaned it against the glass doors of the fireplace. It provides a natural backdrop.
Next came pumpkins in natural colors. each pumpkin has a different texture.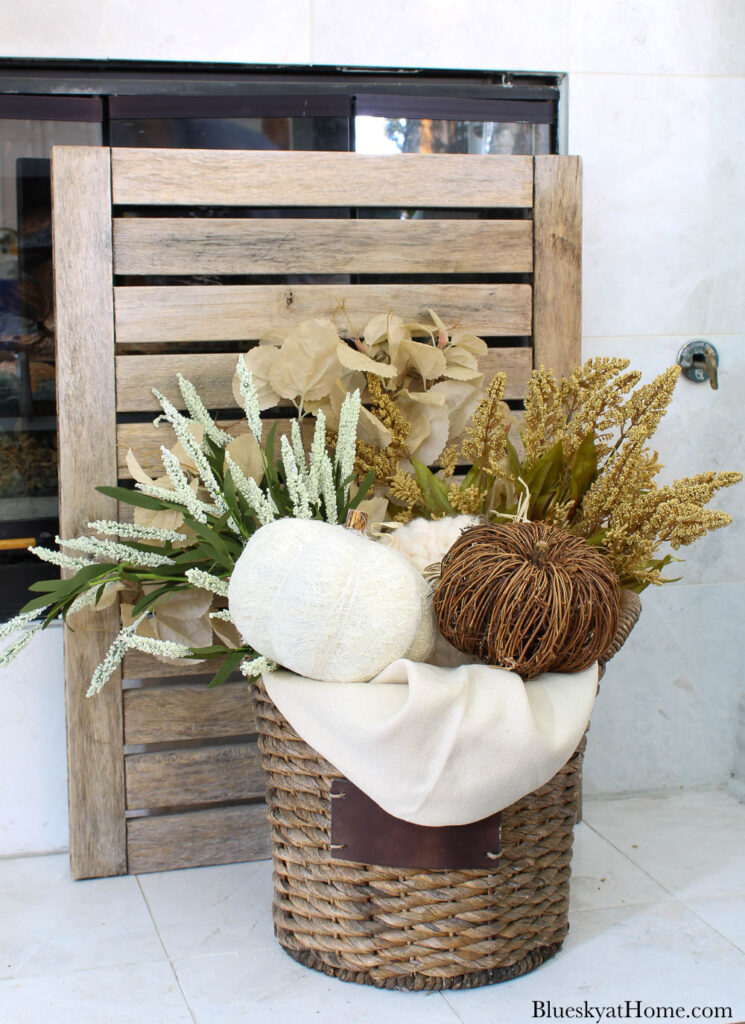 The one in the back is the yarn pumpkin I made last year. I love the twig pumpkin that I've had for years. The one in the front is from Joann.
Now, I made another adjustment. I decided my fall basket styling needed more height.

Sweet Shark helped me carry my antique ship captain's toolbox to the hearth. I bought it in Jefferson, Texas, 30 – 40 years ago. It's held everything from VCRs (remember those?) and Legos to stuffed animals and blankets.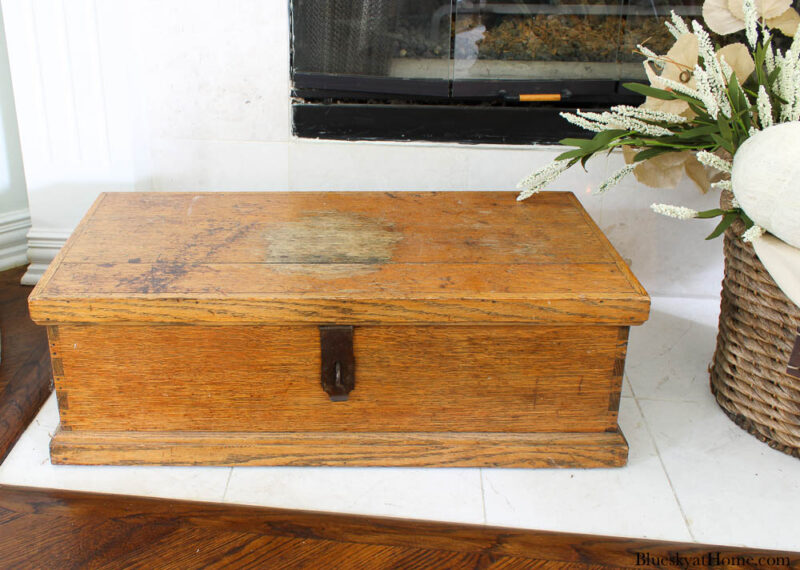 Much better.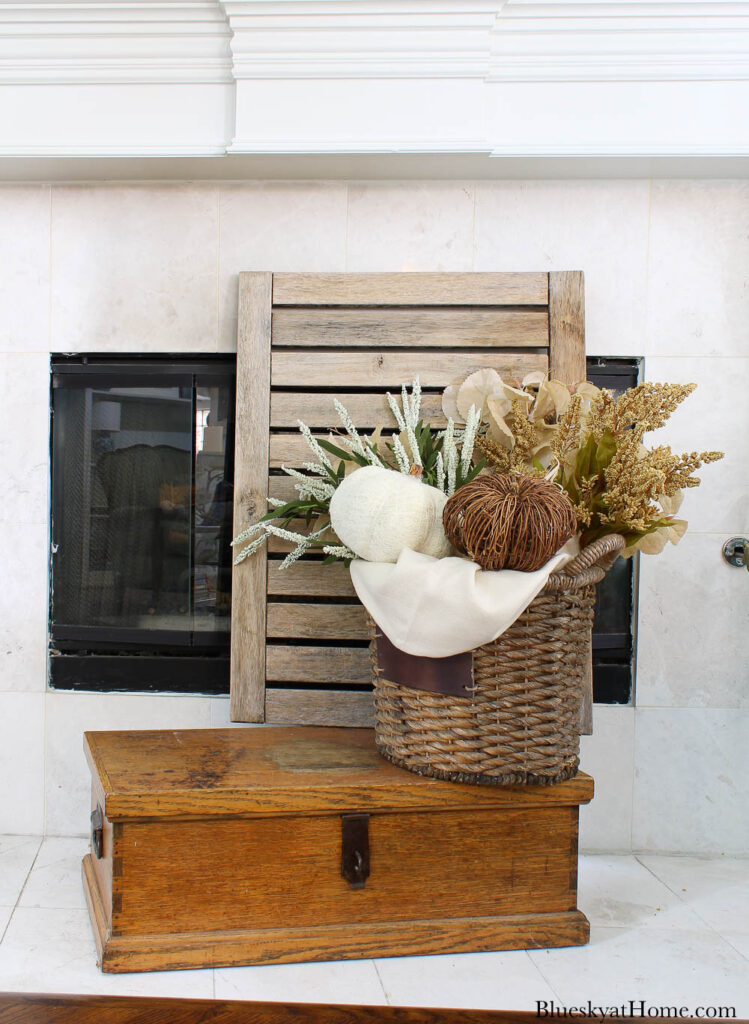 Now it was time to balance the basket with more fall items.
First, I placed the other round basket upside down on the toolbox. The wood slice went on top.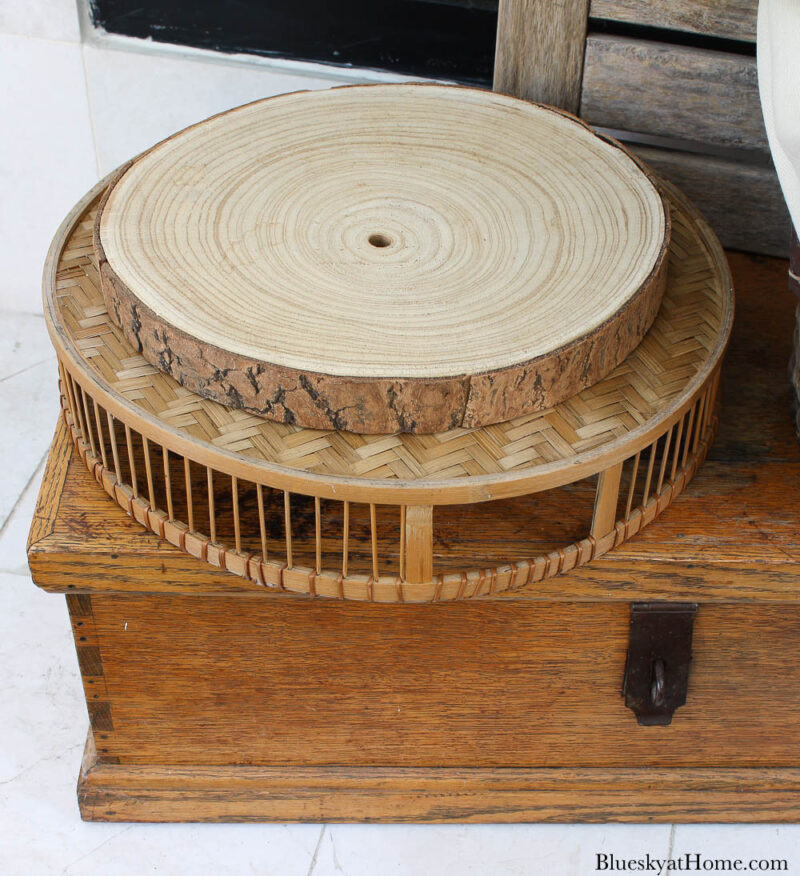 One more large pumpkin – one I made with twine last year.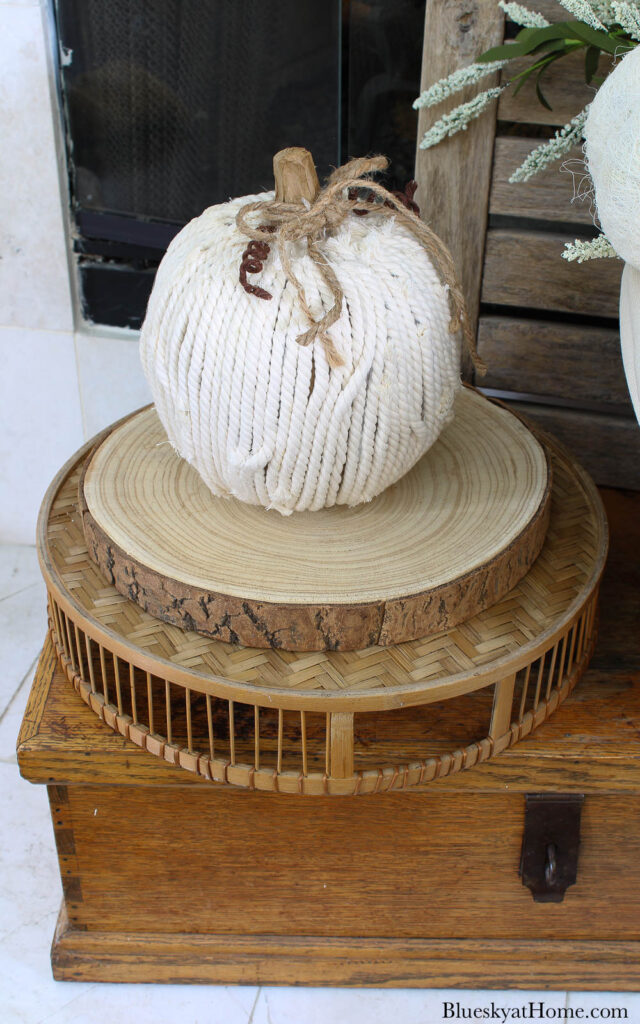 For more balance, I added one of my wood candlesticks topped with a plain brown paper~maiché pumpkin.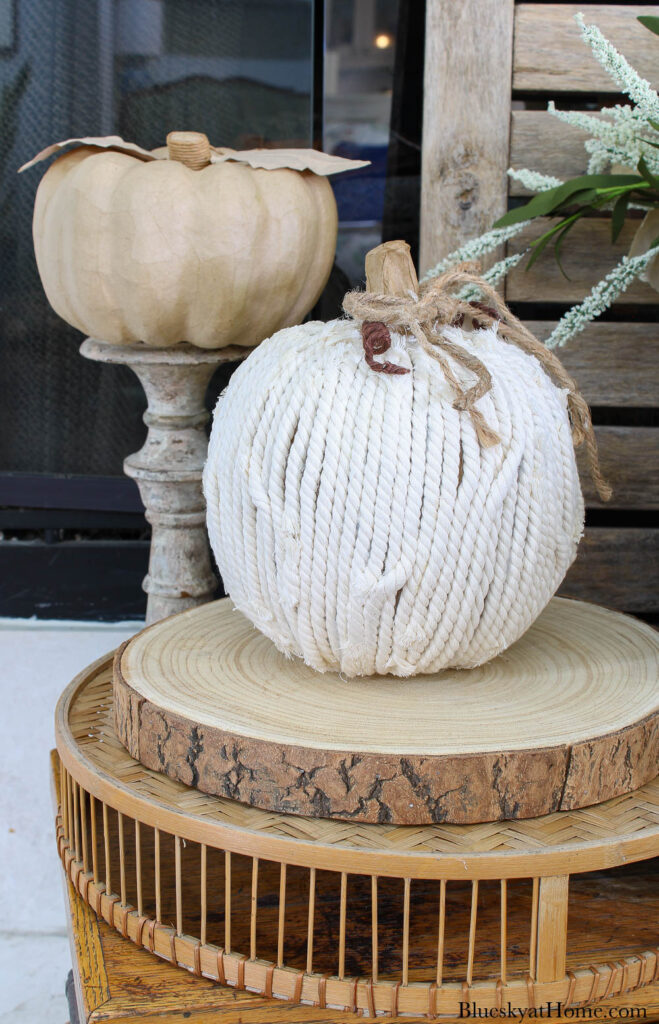 In front of the toolbox, I tucked in the two hay bales, the two burlap bags, and a tumble of small white painted pumpkins. I love all the different textures.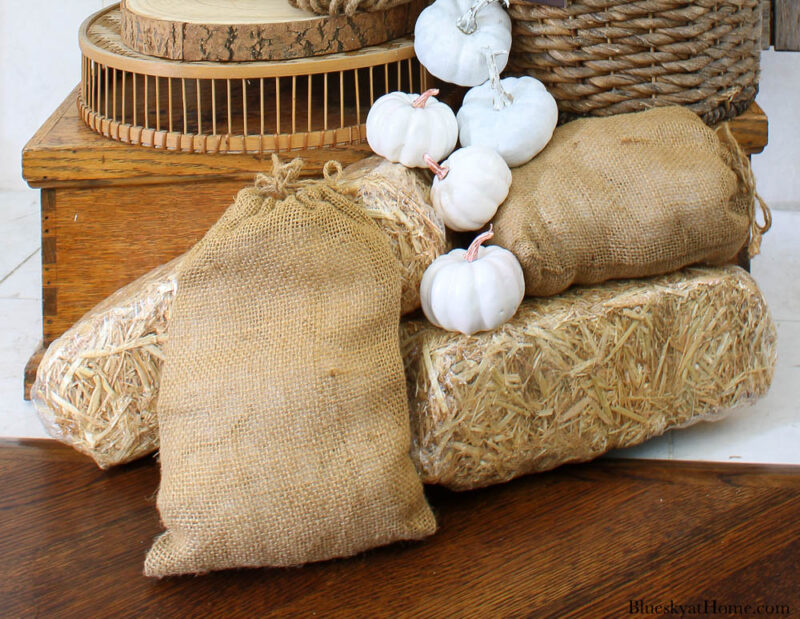 Finally, I added one more DIY twine pumpkin.
That concluded my idea for fall basket styling.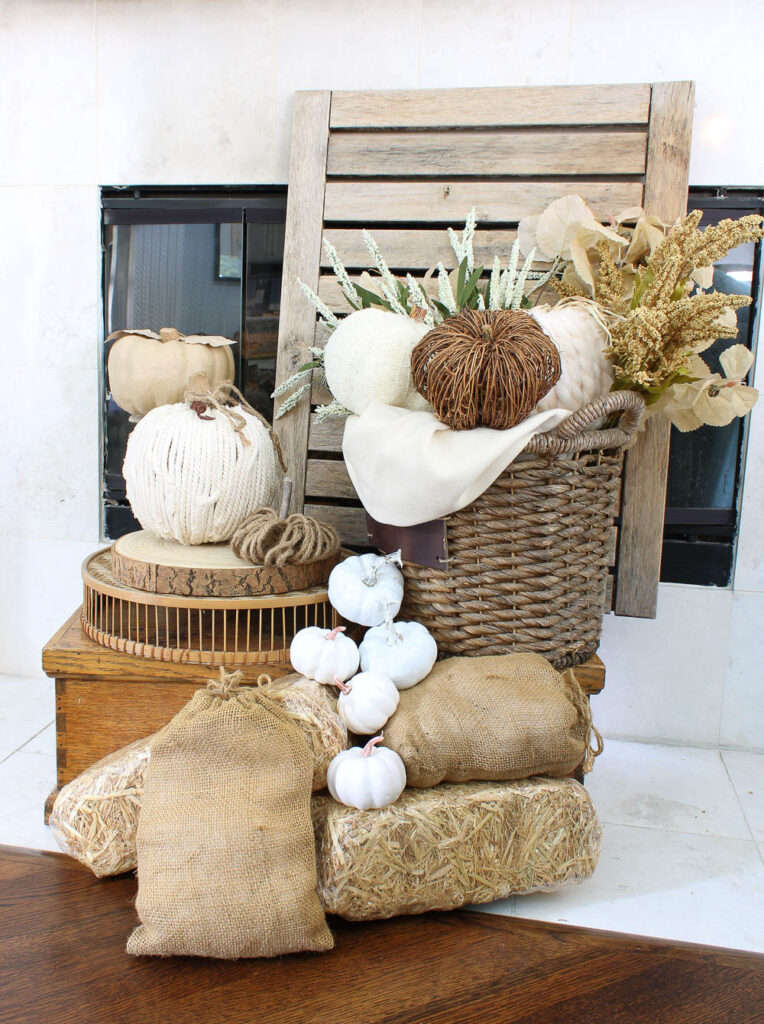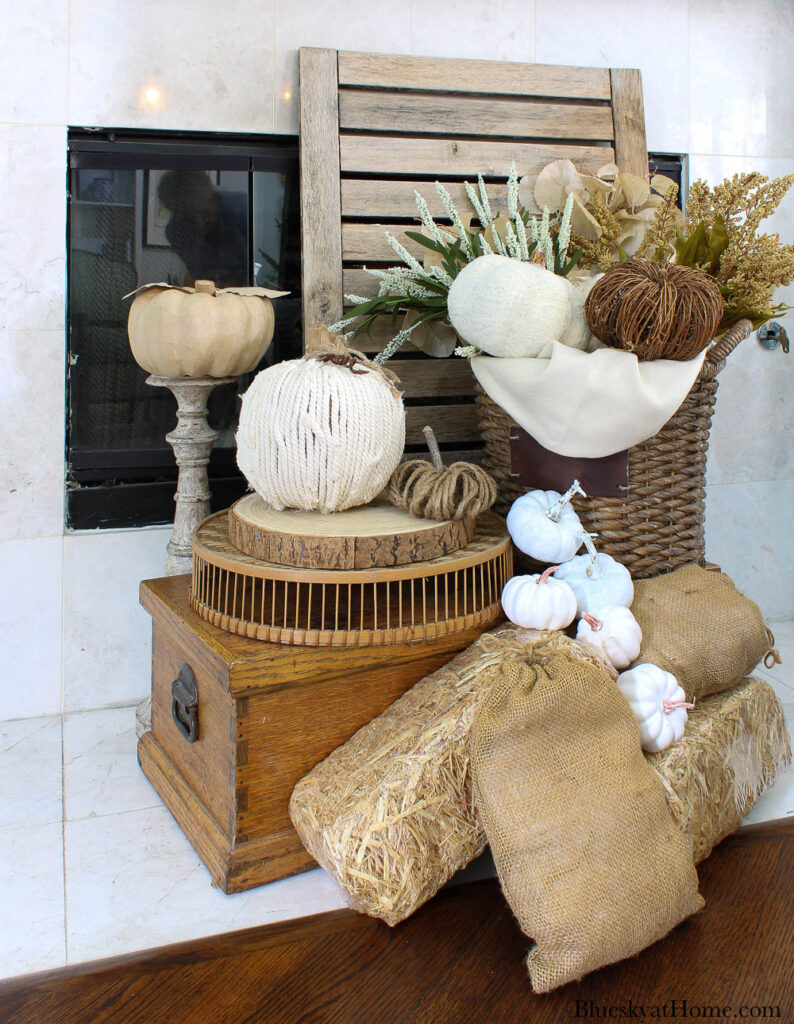 This fall basket styling vignette will add the first feeling of fall for the year. There is subtle fall color, lots of texture, and interesting pieces to see.
Favorite Fall Things to Decorate Your Home
If you don't have enough fall accessories to get your home ready for the season, here are some favorites that I found. Any of these decorative items will add to your fall vignettes.
More Fall Decorating Ideas
Since fall comes every year, I have more fall decorating ideas for you.
Here are other places to get inspiration for fall decorating; my Pinterest Fall Home Decor Board and my Pinterest Fall DIY Projects.
Do you like this fall basket styling idea? Please PIN IT!