How to Use Vintage Style in Fall Decor
Do you use vintage items in your home decorating? Vintage decor never goes out of style. Fall is the perfect time to use vintage style. I'm going to show you how to use vintage style in fall decor.
I'm sharing vintage-style fall decor ideas that are  on~trend and classic. I hope that you will find plenty of ideas and inspiration for creating your own fall vignettes and decor for this season.
What is vintage style in home decor? It's not your grandmother's antique French sofa, although an antique or two can be used. It's not country or rustic, but it's not fussy or heavy.

Vintage style is more about using items from the past to create a comfortable and warm feel in your home.
What does vintage style in your home decor mean?
Vintage decor can add so much personality and artistic quality to your home.
Vintage items can be any piece that evokes a sense of nostalgia or a memory of a by~gone time: an old basket, lamp, or book.
Vintage works best when it is combined with traditional, classic or even modern design.
How do you use vintage style in fall decor?
Vintage style in fall decor can be a combination of vintage items from the antique mall, flea markets, and estate sales, as well as some big box store purchases. It's like something old, something new, something borrowed, something blue.
I don't have anything borrowed, but I did borrow a couple of ideas. Don't you love when all the different elements work together for the good of your fall decoration scheme?
Do you love home decor tours? I'm a bit of a home stalker. Do you love looking at homes, visiting open houses, or looking through shelter magazines?
I'm either loving what I see and want to copy great ideas or I want to redecorate everything I see. Either way, it's a fun pastime, inspirational in a home stalker kind of way. It gives me virtual practice as I redo other people's homes in my mind.
This post contains affiliate links to products used in this article. If you should order any product from this site, I may receive compensation to support this blog, but you will not pay a penny more.
Vintage Style in Fall Decor: How to Use it in Your Home
The use of vintage style in fall decor starts right at the front door and continues into the living room. And the color scheme demonstrates that fall decor doesn't always have to be orange.
NOTE: I BOLDED any vintage item that I used in our fall decor for you.
Vintage Style in the Fall Entry
Let's start when you walk through the front door.
I piled up a couple of hay bales from Joann, real pumpkins, and twig pumpkins that I've had for several years.

The little vintage birdcage came from an antique mall in Atlanta. I carried it home on the plane. It came with the little nest and I added a small turquoise pumpkin.
In case you are wondering, I left the hay bales in the plastic. Who wants to deal with sweeping hay up every day?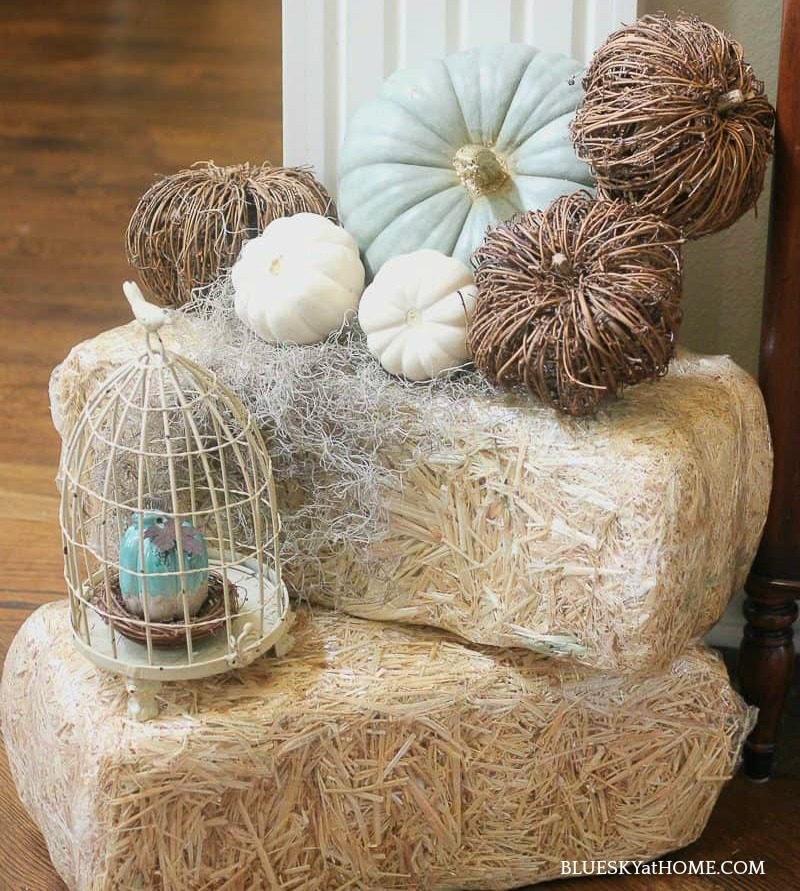 The hay bales sit next to our entry console (an antique) and mirror. This is where treasured pieces, old, vintage, and new come together.
The treasured pieces are the mirror that Sweet Shark already had when we married. My daughter and I hauled the antique console table back from Atlanta 9 years ago. (That console table has now been moved to our bedroom. Here is how I recently decorated the console table for fall in our bedroom.)
The vintage items are the white and gold pumpkin plates and gold pumpkins I found at a local antique mall and the little white cow.

The gold candlesticks were my son's (I have no idea where he bought them) He gave them to me when he moved to Waco several years ago for his first nursing position. They were originally scuffed up and stained dark brown, but I spray~painted them gold.

The newer elements are the "fall" banner that I made and the wood tray from Kirkland's.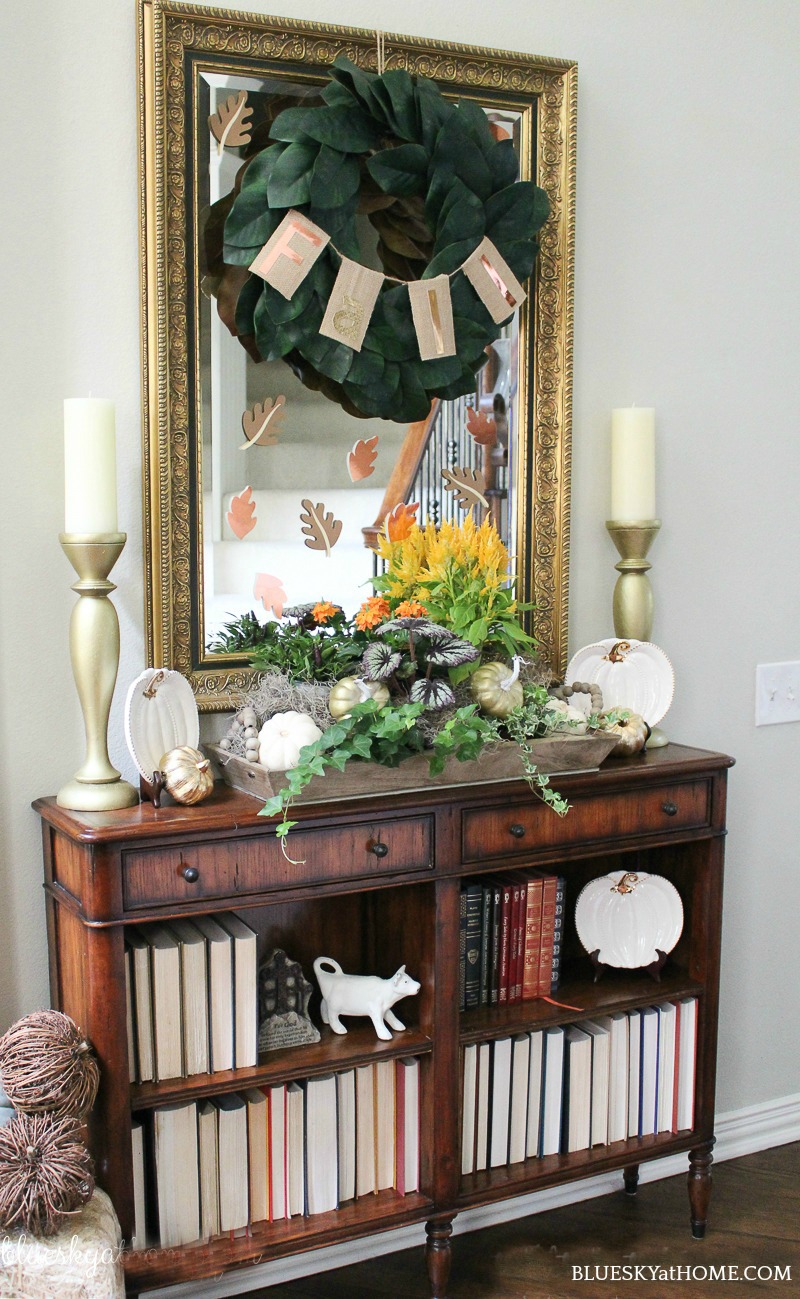 Literally, the inspiration for this arrangement was a picture in Southern Living that I saw while getting my nails done.

The tray started out on our breakfast room table, but I moved it to the entry after stopping at my local nursery for some plants. I made the leaves with my Cricut Explore Air. Used once is good, used again and again is better.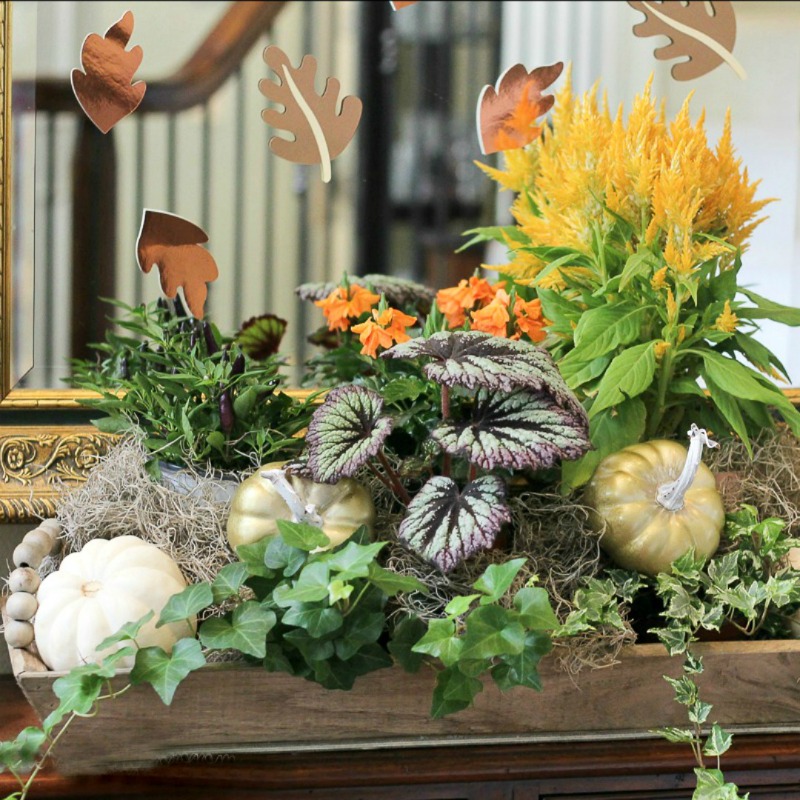 Have you seen a lot of magnolia wreaths on Pinterest lately? I loved the idea and knew that one on our entry mirror would be awesome. I found the one I liked at Lowe's, ordered it, and picked it up at the store.
The idea for the burlap banner came from a roll of burlap with adhesive backing I found at Joann. It's one of my favorite fall DIY projects.
Vintage Style in the Fall Dining Room
A peak in the dining room reveals a mix of old and new, both the flea market and store~bought.
First, the centerpiece: the woven basket tray was a flea market find that I painted white.
The floral vase is from a pair that we had in our previous home. Somehow only one survived the move. I filled it with faux hydrangeas and some tall green sprigs and Spanish moss as filler.
Surrounding the vase are a variety of ornamental shapes and textured balls in gold and copper from Tuesday Morning.  I spray~painted the pumpkins gold and they have been reused a few times.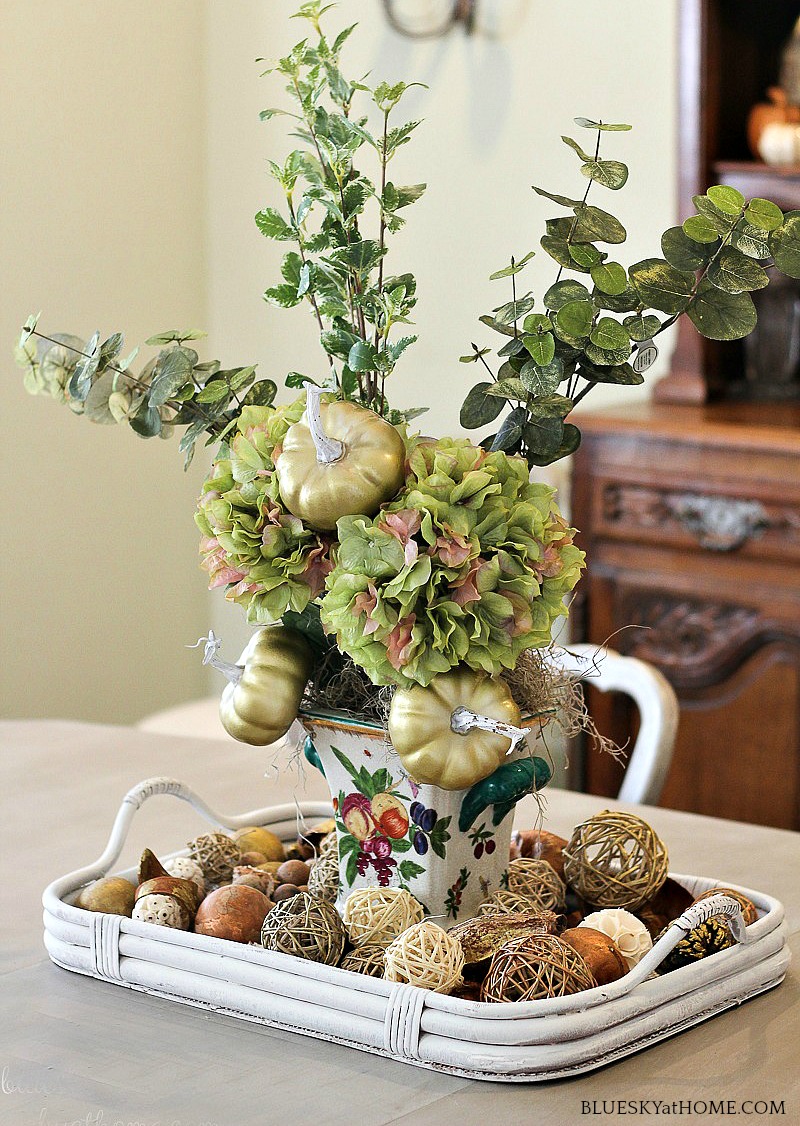 On our vaisselier (another antique), our vintage French plates are usually on display in the fall. To clear some space, I packed away some of our crystal candlesticks, bells, and ice buckets.  Adding a set of ceramic pumpkins and 4 leaf plates brought in more touches of fall. 
I have had those leaf plates for years ~ I think I bought them at Crate and Barrel ~ and have never actually used them until now and I really like them standing up on plate stands.

The green aperitif glasses belonged to Sweet Shark's mom. They are probably old enough to be called vintage.
The Fall Living Room
I love decorating the tall bookcase in our living room for the seasons and holidays.
This little ceramic fox with a sheaf of wheat was purchased at Tuesday Morning. He gets a little company from some strewn (is that a word?) acorns and a stem of cotton bolls.
Next to the fox is the first of 4 ceramic turquoise pumpkins that I absolutely love ~ a Hobby Lobby buy. They continued my turquoise fall decoration theme. I love this one perched on books with white bindings.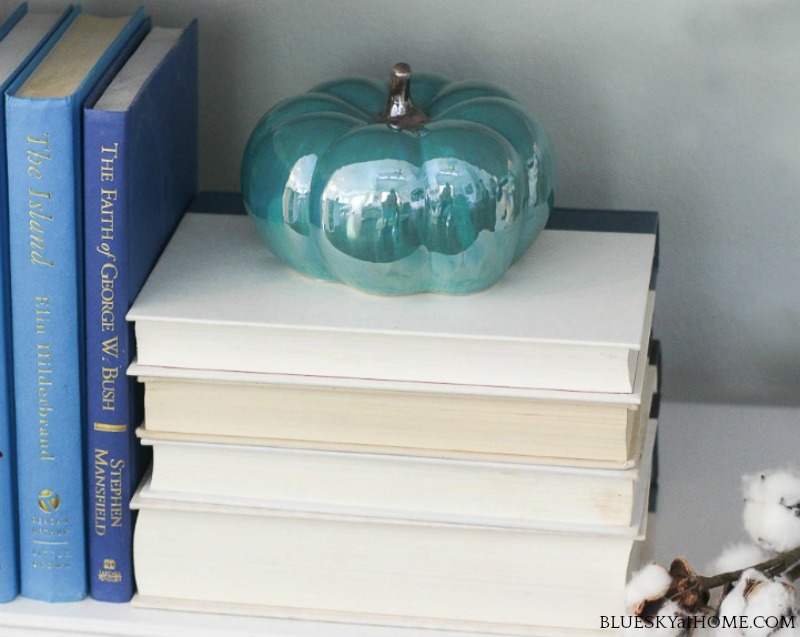 On the next shelf up, some of our favorite travel books provide a place for my favorite turquoise vase from Doozie's Corner in McKinney, Texas, a purchase several summers ago. It may not be truly vintage, but it certainly has the look. Unfortunately, Doozie's Corner is no longer there.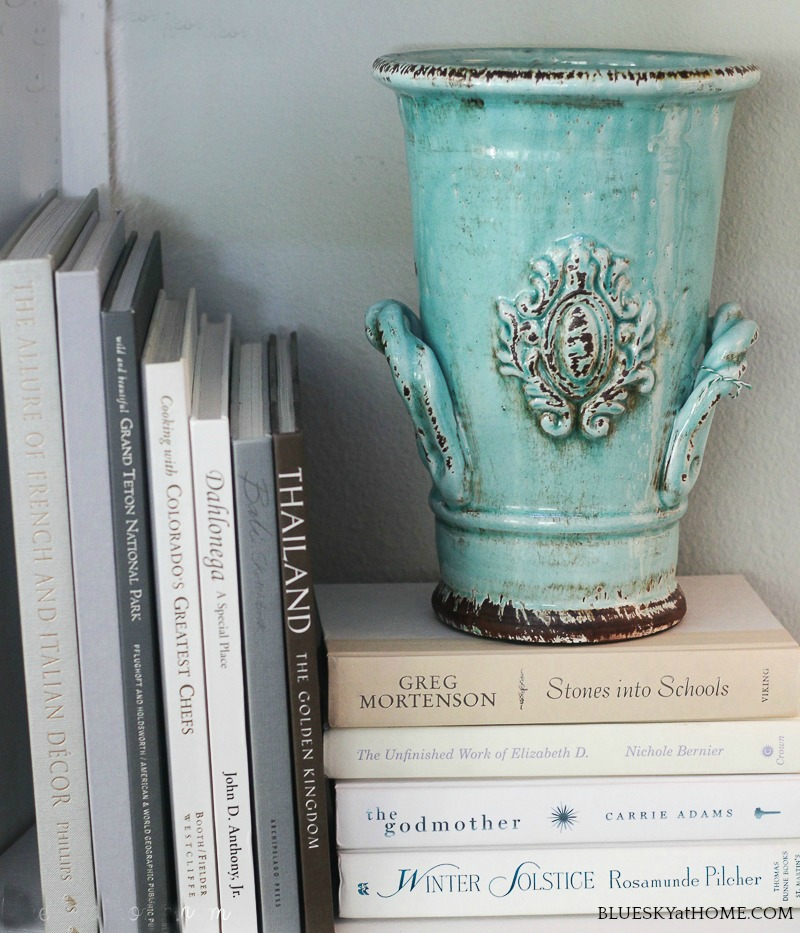 Two more turquoise ceramic pumpkins found a home here. The frame just to the right is a flea market find that I painted grey with whitewash. It doesn't have a picture in it but acts as a frame for an estate sale lamp.
Moving up the bookcase is another turquoise pumpkin, this time nestled inside a Tuesday Morning lantern that I painted. The lantern is not vintage, but it definitely has the look.
That lantern is one of the best purchases ever. it's so versatile and is almost always on display in some way.
A small vintage mercury glass container is filled with a DIY moss ball. I love the shape of it. I have also used it in our bathroom to hold small soaps.
TIP: Moving any accessory around, from room to room, gives it new life and you benefit from multiple ways to use the same item.
This fall sign was one of the first projects I made using vinyl stencils with my Cricut Export Air several years ago.
I was really proud of this simple fall sign (one of my first signs made with my Cricut) and it has been used during the fall season many times. I love its simple farmhouse look.
The turquoise birds are a previous purchase from one of our local stores, The Sample House, also a favorite of mine. A few more strewn acorns for fall detail. The 3 tin cups are a flea market find from Atlanta.
In this view, you can see the estate sale lamp I bought for $7 sans lamp shade. It was stained, but I painted it grey with a whitewash. Then I bought a new lampshade and covered it in fabric.
The two white porcelain pieces on the bottom shelf were some of my very first flea market "white dish" purchases. The white pitcher on the top shelf is also vintage.
Flea Market, Antique Mall, Estate SaleVintage Items
Here are the collected vintage items that I used in my fall decor styling.
birdcage
white and gold pumpkin plates
gold pumpkins
French plates
floral vase
woven tray
white ironstone bowls and pitcher
picture frame
white vase
lamp stand
3 tin cups
mercury glass vase
Store Purchased Fall Items
hay bales ~ Joann
blue~green pumpkins ~ Lowe's
white mini~pumpkins, flowers ~ Nicholson Hardie Nursery
variety of textured balls and fall decorations ~ Tuesday Morning
grey painted lantern ~ Tuesday Morning
ceramic fox ~Tuesday Morning
green stems ~ Hobby Lobby
turquoise (teal) ceramic pumpkins ~ Hobby Lobby
Friends, if you've missed any fall decorations posts, please take a moment and visit. If you like what you see, please Pin, Share or Save.
More Fall Decorating Ideas
3 Easy Fall DIY Decorating Projects
3 Fall Decor Vignettes
15 Fall Decorating Ideas to Inspire You
Are you getting into the mood for fall? Will you use vintage style in fall decor? By decorating for fall, especially with vintage style, we get more in the mood for fall.
I hope these ideas have provided some inspiration for you. PIN for NOW.