10 Fabulous Finds at Bluesky Browsing #29
Welcome to Bluesky Browsing #29. Every Saturday you get 10 fabulous finds for your home, awesome crafts to make, garden information, recipes, and resources to inform and entertain you.
If you love finding articles and resources that give you ideas for home decor and DIY projects, a recipe or two, you've come to the right place.
Think of 10 Fabulous Finds as a DIY/Craft/home decor/recipe Readers' Digest.
In case you are new to Bluesky at Home, what fabulous finds do I share at Bluesky Browsing?
ideas to help you in your home decor efforts
a yummy recipe or cocktail
fun DIY projects
the lastest trends in home decor
a quirky new find or two
Focusing on finding new projects, resources, tips, new ideas, and inspiration for early spring is my main task. I'm constantly discovering fabulous finds to inspire us. My goal is to help you find ideas for your home decor, your crafting, your home organization, and anything about home.
Ready to see this week's fab finds?
10 Fabulous Finds at Bluesky Browsing #29
This post contains affiliate links to products and resources you may love to have. If you should purchase anything from this site, I may be compensated, but you don't pay a penny more.
In case you missed last week's 10 Fabulous Finds, here is Bluesky Browsing #28.
Are you a new or intermediate blogger? Every week I share valuable blogging resources and tips. If you would like to receive The Blogger Bulletin, please join the Blogger Bulletin. It's just once a week and is a quick read.
ON THE HOME FRONT
Another week of up and down temperatures. Some days (Monday, Wendesday, Friday) things were canceled for super cold temps. Other days (Sunday, Thursday)were warm and pretty. On Sunday afternoon, Sweet Shark and I took advantage of the warmer weather and emptied pots and moved them to the side of the house, sprayed winter weeds, and cleaned beds of fallen branches and twigs.
I started working on a cute Easter project with bunnies and carrots. A tree may also be involved. The finished project will be revealed this coming Friday. HINT: it's going to be so cute.
3. The other 16″ blue and white vase with a chevron pattern from Ballard arrived. (Only one was in stock so they ordered me another one.) They are both on the mantel and I can't wait to style them.

4. We spend a ton of time watching the news from Ukraine. The stories of bravery and sacrifice by the Ukrainian people in the face of such horror and destruction make me cry. This war, let's call it what it is, brings out the worst and best in people. How the people of Poland and other surrounding countries have come to the rescue of hundreds of thousands of Ukrainian people is truly heartwarming. The pictures of beautiful children and mothers who have had to flee their homes break your heart. Prayers every morning and every night for Ukraine.
5. This week on the blog was all about spring home decor. I hope you'll take a moment to visit these posts and get all the tips and ideas.
9 Tips to Freshen Up Your Spring Kitchen | 11 Gorgeous Spring Kitchen Decor Ideas
How to Style a Blue and White Spring Entry
10 FABULOUS FINDS FOR THE HOME AND RESOURCES TO SHARE
Here we go with Bluesky Browsing #29.
1. If you color a mix of bright, bold colors, then this updated 1940's home in Birmingham is your jam. You would never know from the white~brick cottage exterior that this home is full of saturated color in a mix of modern and antiques.
2. We love chicken. Depending on what's on sale at our Central Market, we have chicken breasts, chicken quarters, or chicken thighs in the freezer. Our favorite for moistness and tenderness are boneless chicken thighs. I found this recipe for Grilled Chili Lime Chicken Thighs from Bee of Rasa Malaysia that looks easy and delicious.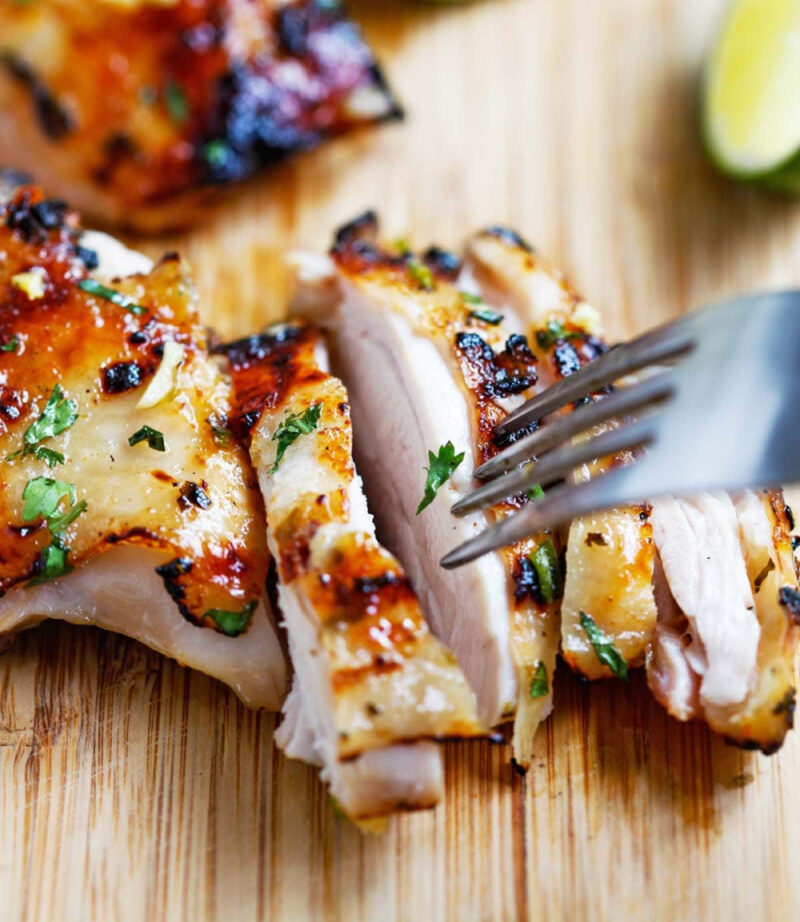 3. My friend Coco of The Crowned Goat has a great sense of design. I loved this springtime vignette with a grouping of small terra cotta pots, moss, nests, and Easter eggs. I have all the ingredients for this pretty arrangement so you might see a similar one in a future post.
4. Some rooms are just meant for conversation and conviviality. The furniture arrangement makes it easier to talk to friends, enjoy the fireplace or TV, or just enjoy the pretty setting. Here are 7 ways to make your living room sociable.
This living room makes it easy to visit with friends or family: the sofas face each other, everyone can enjoy the fireplace, and there is a pretty coffee table to set a drink.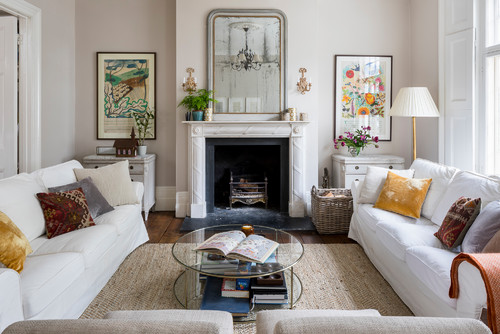 5. When the temperatures get warmer, cocktails mostly turn to lighter alcohols, like gin, rum, and tequila. I love all three. This Pomegranate Gin Cocktail from Yuppie Chef looks like a great addition to Sweet Shark's repertoire. It's pretty, not too sweet, and pomegranate juice is good for you.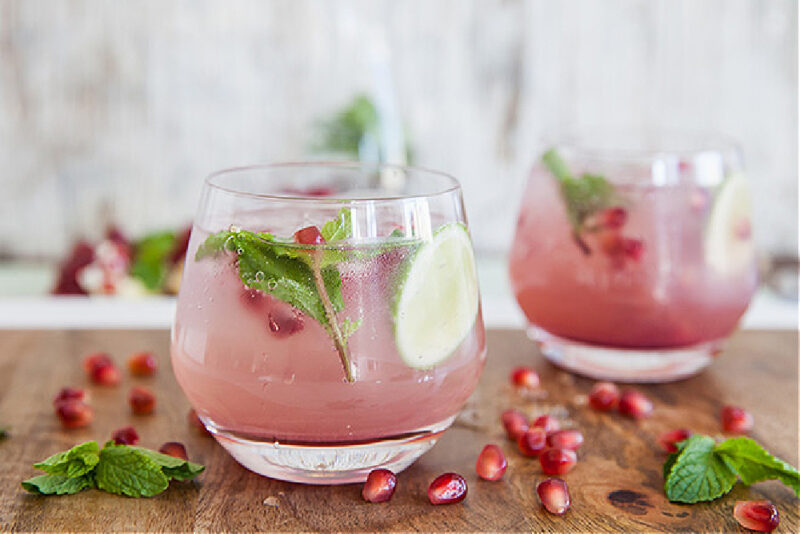 6. Are you familiar with the annual Kips Bay Designer Show House? It's a massive fundraiser where a group of high~level interior designers each takes a room to decorate to the hilt. The home is located in different cities and has architectural significance. This year's home is a 1920's Mediterranian Revival Estate in Palm Beach.
Now, these designer show homes are not meant for people to live in. They are designed to show off the talents of the designers and showcase high~dollar sponsored products. I've been to a few over the years in Dallas and it's fun to see how top designers would decorate a room with an unlimited budget. They are meant for fantasy and dreams.
I can honestly say that the rooms in this showhouse are "over the top" and I am not overly fond of most of the rooms. This one, however, is not only pretty. but feels like you could actually live in it.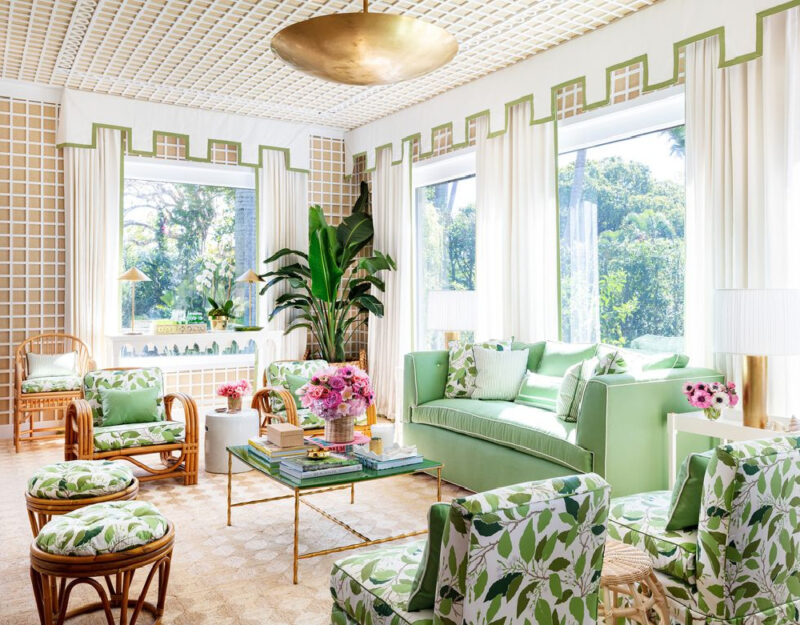 7. Do you struggle with hanging art correctly in your home? Need some tips and guidelines? Here are what you need: Rules of Thumb To Help You Hang Art from Anderson + Grant. Great information here.
8. Do you need an idea for a new spring wreath? I found the easiest one ever. This pretty pastel Easter egg wreath is from Kayla at Live Oak Nest. You can make it in a spring minute. I have an unused straw wreath sitting in my craft closet just waiting for this project.
9. I love to add blue and white accessories to our home. You can see how to use them in this tour of my neighbor's home.
In the past few weeks, I've added this gorgeous set of 6 decorative balls, this set of 4 planters, these pretty blue and white dish towels, and these tall blue and white vases (which are now less than what I paid).
I'm thinking about buying this set of 6 chinoiserie canvas prints.
Here are some of the lovely blue and white accessories that I've bought plus some more that are definitely worth looking at.

10. BOOK OF THE WEEK: The Room on Rue Amélie by Kristin Harmel
I've read a few books by Kristin Harmel and loved them all. I need to review some more.
Never in our lifetimes did we think we would see another war like World War II. What is happening in Ukraine is no different than what happened to Poland, France, Belgium, and other European countries when Hitler invaded and committed atrocities against millions of innocent people.
I really believe it's important to read history, especially when it recounts the lives of normal people. Such is the story of Ruby, a young American newly married to a Frenchman and living in Paris in 1938; Charlotte, an 11-year-old Jewish girl who lives in the same apartment building as Ruby; and Thomas, a British pilot who crashes in France.
Ruby and Charlotte become friends and later when Charlotte's parents are deported, Ruby becomes Charlotte's guardian. They support each other as the Nazis occupy Paris and fear sets in.
I don't want to tell you how these three people come together and spoil the story. Suffice it to say that this is a gripping story of love, sacrifice, and resilience.
I really urge you to get this one and read it. It will inspire you.
That wraps up Bluesky Browsing #29. What were your favorites from this week's 10 Fabulous Finds?
What are your favorite topics? I'd love to know what topics you are curious about. Let me know in the comments and I'll search browse for them. Be sure to PIN to keep these ideas handy.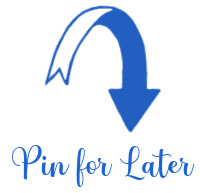 In between writing posts, listening to podcasts, reading, doing various blogging tasks, walking Nola, and playing tennis, I'll be browsing away.