5 Easy Ideas for Easter Decor in Your Home
With Easter weekend just a few weeks away, are you looking for some easy ideas for Easter decor in your home? I have a collection of five ways to do that for you.
Adding Easter decor in your home, like any other seasonal time, can be a top to bottom blitz or it can just be a matter of a few decorations here and there.
I tend to go all out because I love decorating for this springtime holiday. But picking just one of two spots in any room in your home can add a festive and colorful touch.
I usually concentrate on the main areas of our home: the entry, the living room, the kitchen, and the breakfast room.
With that in mind, here are 5 easy ideas that you can use in your home for Easter. Pick and choose two or three that you like best.
Adapt the ones that fit your home, what you have on hand or what you can make yourself. Have fun. It's Easter!!
5 EASY IDEAS FOR EASTER DECOR IN YOUR HOME
When I think of Easter, I usually think of pretty colorful pastels. Easter is a season that lends itself to color. There are so many elements that bring color to an Easter decor, such as flowers, bunnies, eggs, baskets, and ribbon, to name a few.
Here are several ideas to bring colorful Easter decorations into your interior spaces.
Yes, even cookies can add color to your Easter decor.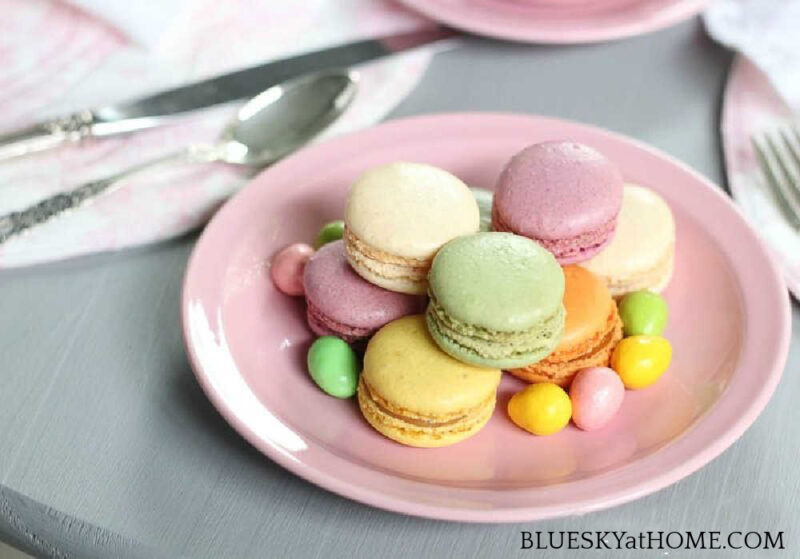 Whatever your color scheme for Easter, or any seasonal decor, I think it works best when you are consistent through adjoining spaces. Especially if you have an open floor plan.
EASTER LIVING ROOM DECOR
The living room/family room/den is where we spend most of our time. That's probably where we want to concentrate the bulk of our Easter decorating.
Most living spaces have great potential for focal points:
mantel
hearth
bookcase
coffee table
side sides
sofa table
I filled just about every area to decorate our open living room. And to do that, I reused and rearranged all our Easter decorations.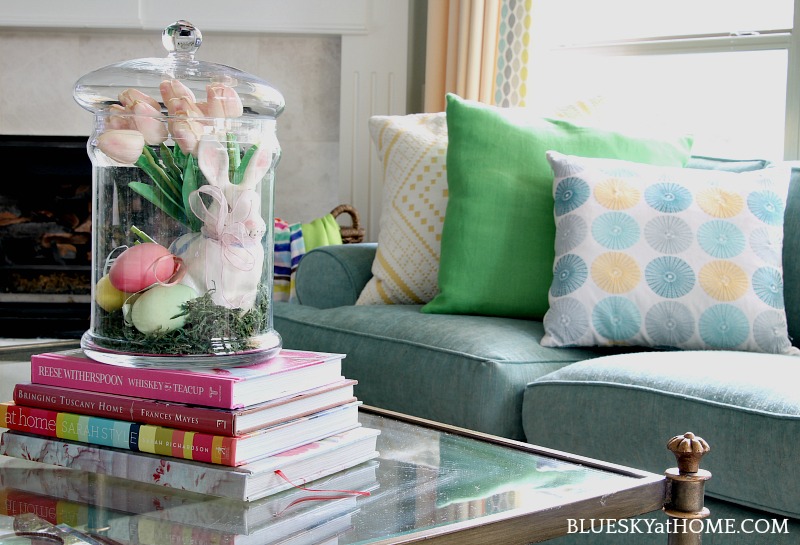 TIP: The same decorations can look very different when arranged in different ways in different rooms. Mix it up. Try new ways to create new vignettes.
EASTER DECORATIONS FOR YOUR KITCHEN
A kitchen is a place where you combine the cute with the practical. Bring in dishes, dishtowels, napkins, crocks, and baskets that evoke the Easter feel. Even utensils, stand mixers, and bowls of all sizes come in Easter colors.
Signs with an Easter message are also a nice addition. Then it's easy to add just a few Easter decorations.
Don't forget that Easter candy can be another Easter decoration!
If your kitchen and breakfast room are open to each other, you definitely want to decorate both.
SET A PRETTY EASTER TABLE
Use some of your Easter decorations to set a pretty table ~ either in your casual dining area or in the formal dining room.
Keep the table set throughout the Easter season. Doing this will add a lovely view to your home and help keep the area neat and festive.
I created this Easter table setting for our breakfast room. Believe me that it made me smile every day. All I had to change out each day were the dishes and the food.
PICK A THEME AND FEATURE A COLLECTION
Sometimes picking a specific element to use throughout your spaces brings them together. I think this works really well when you have collections. It also works well when you have open spaces.
We have so many bunnies that it made sense to feature them in our Easter decorations. Maybe you have a collection of Easter baskets, Easter dishes, or vintage Easter decorations.
Use your collections to make a statement by grouping them together for a bigger impact.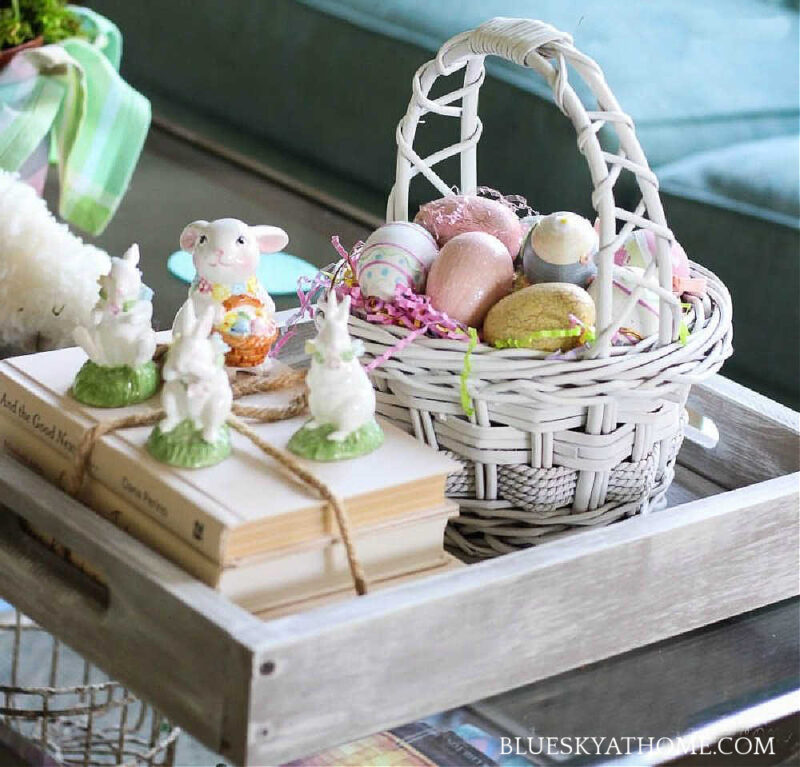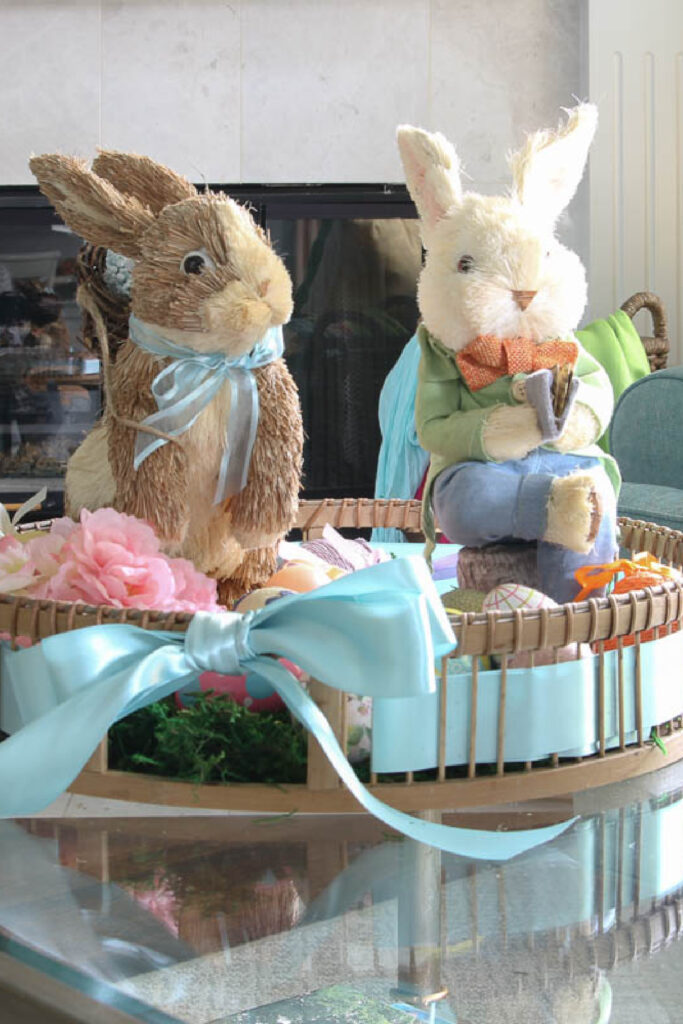 INCLUDE HANDMADE ITEMS IN YOUR EASTER DECOR
I love including a craft that I made in my seasonal decorations. Not only does including a DIY item give you a sense of accomplishment, but it allows you to add a personal touch.
DIY projects are great in Easter decor because you have so many possibilities, from signs, stencil projects, banners, and eggs.
One of my favorite DIY Easter projects was the decoupage eggs that I made last year. I used them again in this year's Easter decor.
I love decoupage. If you have never tried it, I encourage you to give it a try.
These decoupaged Easter eggs are so pretty, inexpensive to make, and allow you to add your own color and pattern.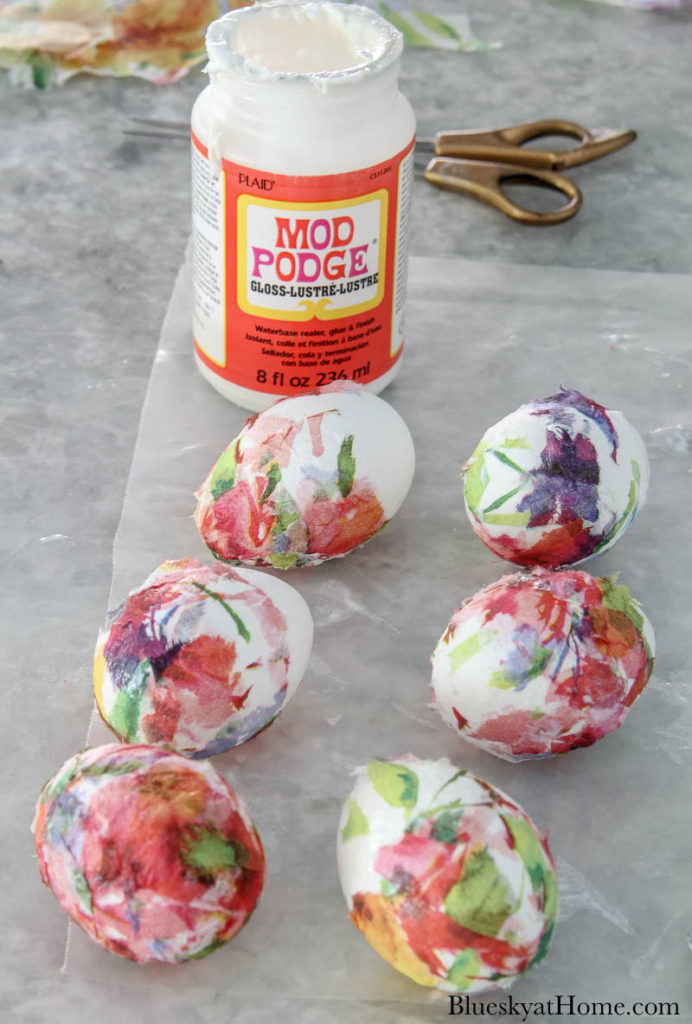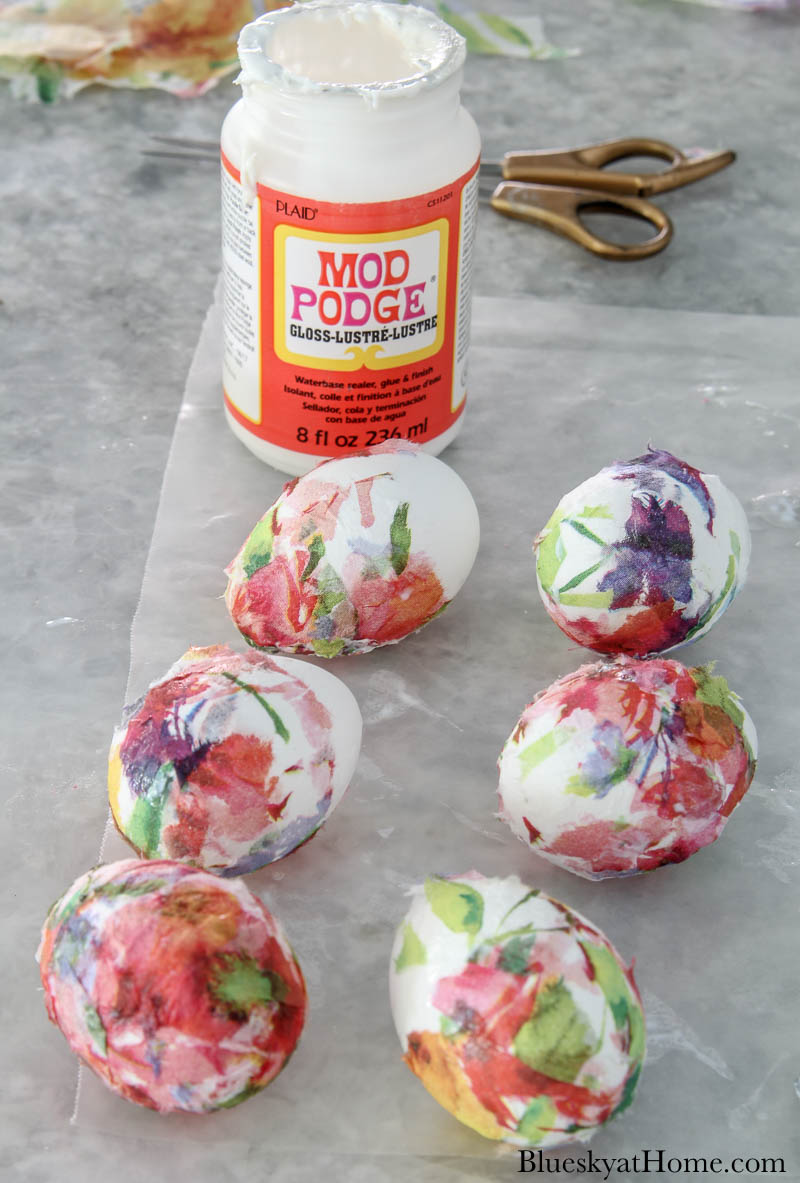 Display the decoupage Easter eggs in bowls, trays, or glass jars. You want the pretty patterns to show.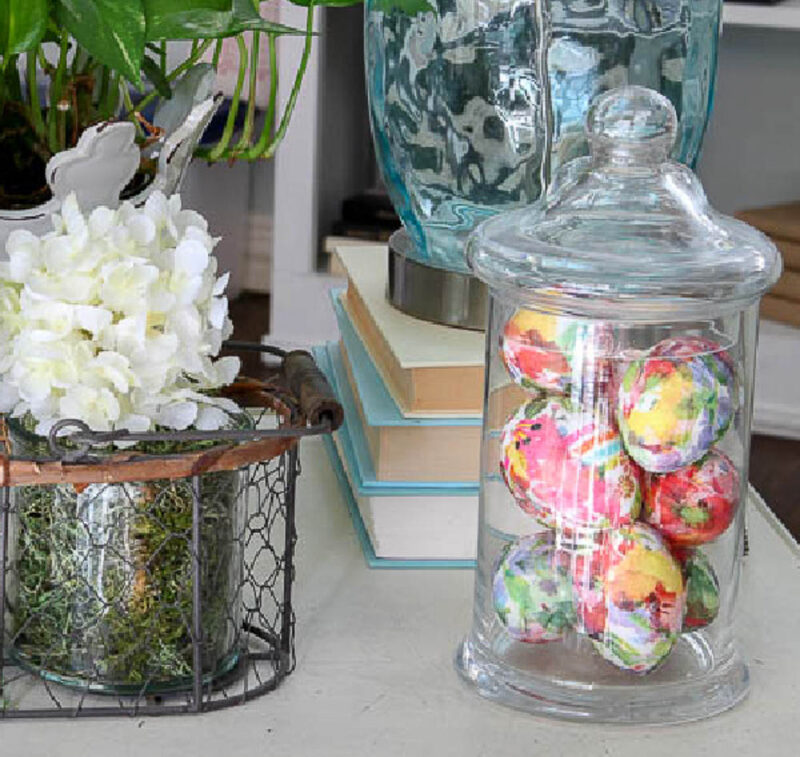 Living room, kitchen, breakfast room, DIY and color ~ all ways and places to add Easter decorations to your home. What fun!
Enjoy all these ideas, PIN them and enjoy the spring season and Easter celebration.