Ideas for Spring – Home Decor, DIY Projects, and Recipes – 10 Fabulous Finds
Welcome to Bluesky Browsing #32. This week I'm sharing some ideas for spring ~ home decor, DIY projects and recipes for you.
If you love finding articles and resources that give you ideas for home decor and DIY projects or a recipe or two, you've come to the right place.
Think of 10 Fabulous Finds as a DIY/Craft/home decor/recipe Readers' Digest.
In case you are new to Bluesky at Home, what fabulous finds do I share at Bluesky Browsing?
ideas to help you in your home decor efforts
a yummy recipe or cocktail
fun DIY projects
the lastest trends in home decor
a quirky new find or two
Focusing on finding new projects, resources, tips, new ideas, and inspiration for early spring is my main task. I'm constantly discovering fabulous finds to inspire us. My goal is to help you find ideas for your home decor, your crafting, your home organization, and anything about home.
Are you excited that April is here? It's one of my favorite months. That's why this week I'm focusing on ideas for spring.
The temperatures seem to even out and we can start planting flowers. Hopefully, we'll get some rain to turn the grass green and get the flowers off to a good start.
Ready to see this week's fab finds?
10 Fabulous Finds for You: Home Tours, DIY Projects, and Recipes
This post contains affiliate links to products and resources you may love to have. If you should purchase anything from this site, I may be compensated, but you don't pay a penny more.
In case you missed last week's 10 Fabulous Finds, here is Bluesky Browsing #31.
Are you a new or intermediate blogger? Every week I share valuable blogging resources and tips. If you would like to receive The Blogger Bulletin, please join the Blogger Bulletin. It's just once a week and is a quick read.
ON THE HOME FRONT
I spoke too soon when I said last week it was time to bring out the flip flops. Saturday and Sunday were gorgeous and warm. Then Monday, it turned downright chilly again. On a positive note, for the first time this year, I noticed that our peony is poking its leaves up. I was afraid it wasn't going to appear.
I picked the outdoor fabric for the four chair cushions on our patio from the fabric store. While there, I found a beautiful in~stock fabric for our bedroom cushion. Then I dropped off the bolts of fabric to the upholsterer. It will be a few weeks before they are ready, but I'm so happy that that to~do is done.
Yesterday I attended a lovely charity benefit luncheon. The organization was one that I had been a member of for 17 years. I went associate in 2021. It was so fun to dress up and see many friends that I had worked with for years.
The new dining room rug we ordered was delivered. I hope we can open it this weekend. Keep your fingers crossed.
5. This week on the blog was all about an Easter centerpiece blog hop and a guide for your home decor budget.
Styling a Spring Bedroom| How to Make the Best Southern Pimento Cheese

10 FABULOUS FINDS FOR THE HOME AND RESOURCES TO SHARE
Here we go with Bluesky Browsing #32.
I love finding new blogs. I recently discovered Aliya of Open Doors Open Hearts. I loved her clean, crisp ideas for spring home decor with a thrift market style.
2. In my book, the perfect DIY project is quick, easy, and inexpensive and turns out so cute. These spring DIY napkin rings from Marie of Interior Fugalista made these pretty napkin rings for your spring or Easter table.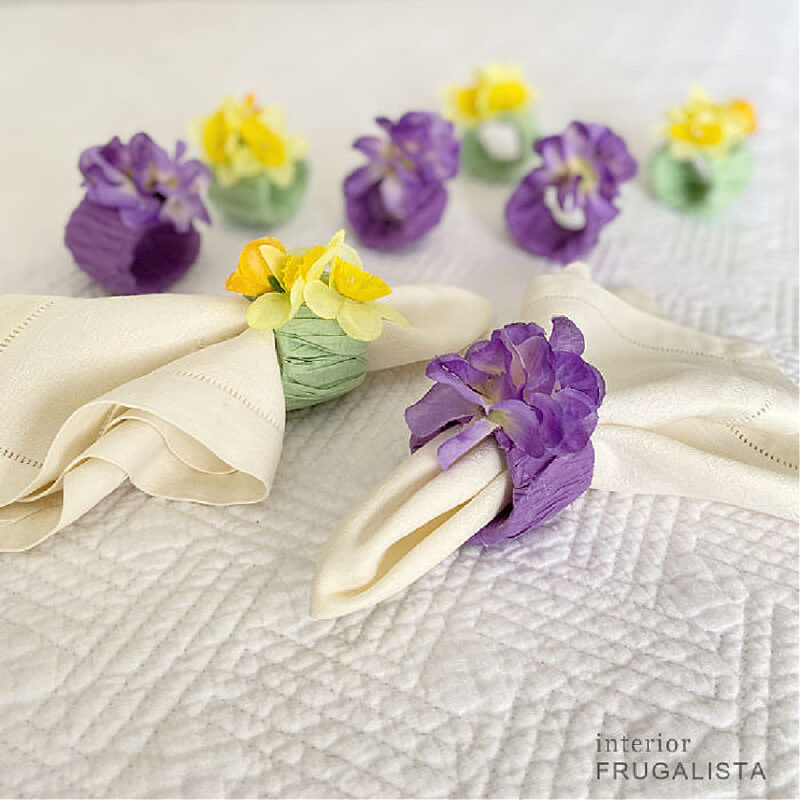 3. Who wouldn't love to recreate the home you grew up in? Designer Anna Braund found a cottage in Roswell, Georgia (My younger daughter lives just south of this historical town and I've been to Roswell several times.) that was perfect for a total update.

Interestingly, she painted the entire 2500 square feet in one color ~ Sherwin Williams Swiss Mocka. The ample use of walnut throughout gives the cottage warmth and patina.
4. It is not too early to think about setting a pretty Easter tablescape. Kim of Perfecting Places shares how to set an Easter table. I absolutely love her mix of blue dishes and pastel flowers. She also shares how to make a gorgeous DIY centerpiece with fresh flowers.
5. You know that blueberries are good for you, right? Well, I figure that if you put blueberries in a cake, then that makes the cake healthy! OK, maybe not, but who cares.
My friend Mel of Flour on My Fingers shares fabulous recipes on her blog. This Lemon~Blueberry Cake with Lemon Cream Cheese Frosting is a winner for dessert or even as a brunch dish.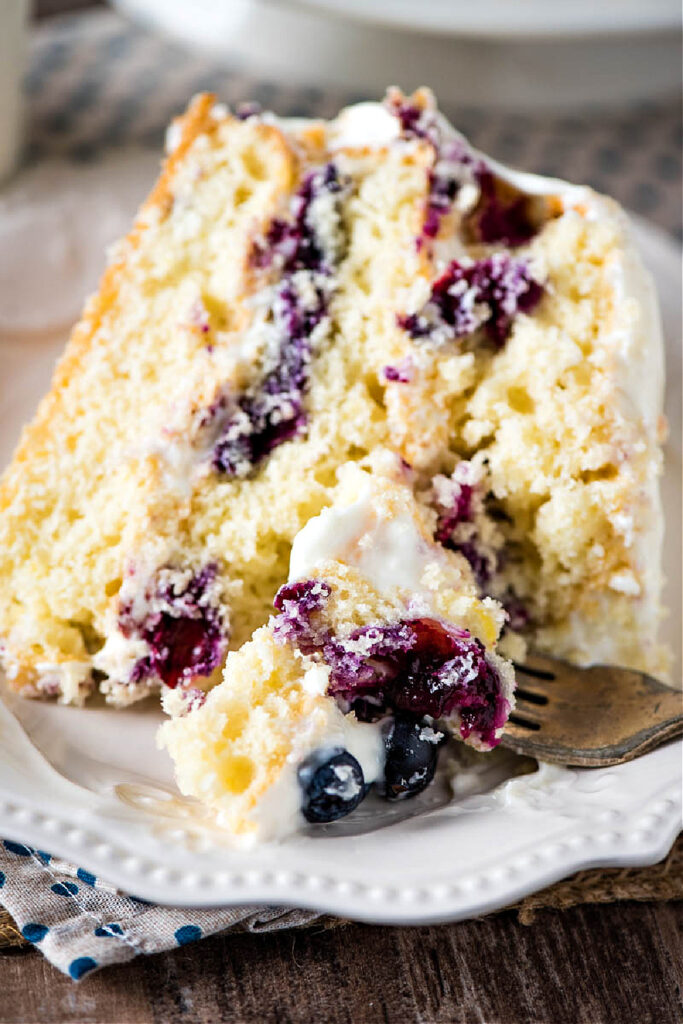 6. Do you hesitate to have custom drapery in your home because 1) it's too expensive or 2) you can't sew. Well, there is a solution from Hadley Keller. She shows you how easy it is to make no~sew curtains using peel 'n stick fabric tape (who knew?). I sew, but I'd love to try this idea.
7. I cannot tell a lie: You say blue and white and bright pretty flowers, and I am all in. Jennifer of Dimples and Tangles shared her spring home tour filled with vibrant color. She even painted a gorgeous abstract painting in this arrangement. See more of Jennifer's lovely style.
8. If you can make a blueberry lemon cake, why not a blueberry Moscow Mule? Sharon of Cupcakes and Cutlery show you exactly how to make a spring version of this classic drink.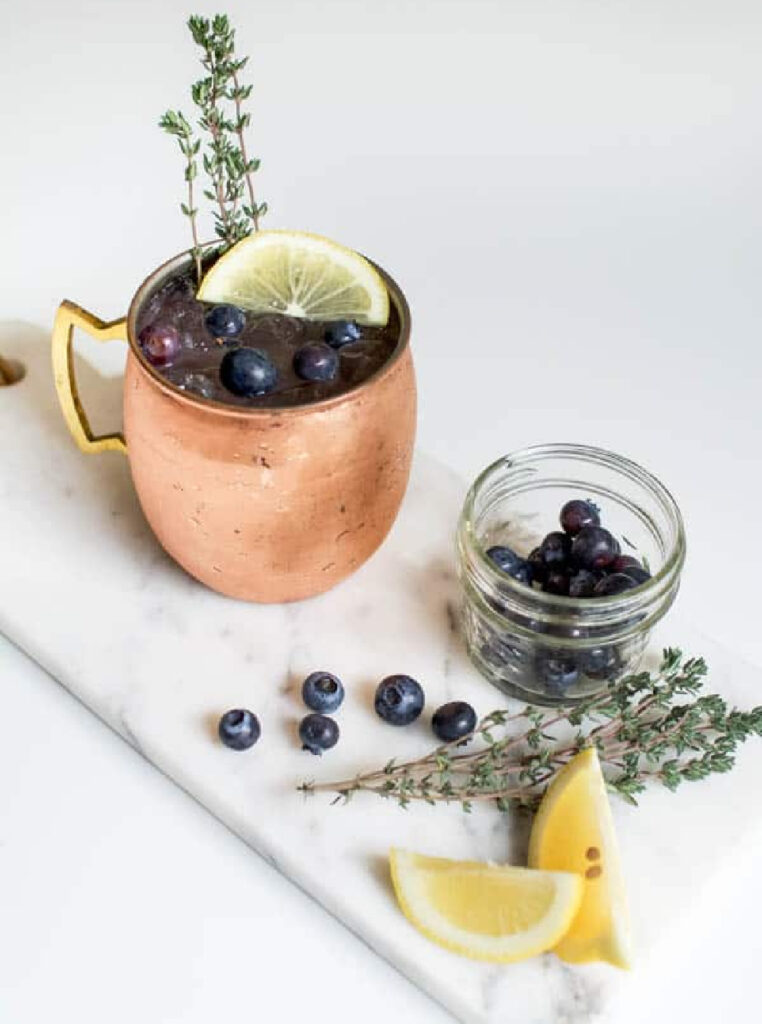 9. I'm on the hunt for blue dishes. I saw some last week and now I can't stop thinking about blue dishes. I want some cute, modern vide, indoor/outdoor blue dishes for spring and summer.

Let me know which dishes you like best
10. BOOK OF THE WEEK: The Man I Knew by Jean Becker
This book review is different from previous ones. It's not fiction. It's a memoir about one of the most amazing men in our lifetimes written by a person who knew him so well that she was considered family.
Jean Becker was George H. W. Bush's (affectionately known as '41) chief of staff from 1994 until his death in 2018. The subtitle of the book is "The Amazing Story of George H.W. Bush's Post~Presidency".
I should say that I love biographies. We learn so much about history and culture by reading about the lives of those who lived in times of historic significance. I actually gave this book to Sweet Shark for Christmas. He loved it so I read it, too.
And '41 holds a special place in the hearts of any Texan and those who love freedom and America. I've always thought that if I didn't have my parents, I wanted Barbara and George Bush as parents.
The book covers the years after '41 left the White House after his defeat to Bill Clinton in the 1992 election. (Ironically, they became close friends in later years.)
Jean spent most of her waking hours with the Bushes, family members, and other notable figures. She traveled with President Bush all over the world and met leaders and kings and queens.
Although the historical events of the nineties and onward are present, the focus is on George H.W. Bush, the man, the husband, father, friend, and philanthropist. Dozens of stories reveal how kind, caring, brave, energetic, and funny he was.

How many ninety~year~olds do you know that parachuted from an airplane?
"41 was truly the last great president of the 20th century ~ and since. He was a man of his word, he didn't disparage others, and he took care of friends and strangers alike.
Even more important, he was a true gentleman, a modern renaissance man who was willing to serve and give his life for his country, if necessary.
The positive impact his presidency had on the world is part of the historical record. But it is his actions as a post~president, his reaching out to and honoring those Points of Light in America that he is also remembered.
Regardless of your politics, I really encourage to read this book. Jean tells it with her own sense of humor and honesty. She reveals stories of having to pull back President Bush when he came up with another "big idea". He usually won her over.
If you aren't that familiar with the accomplishments of his presidency and the history of the 1980's and 1990's, I urge you to educate yourself. They were important times. But read the book to learn about a truly great man, the likes of whom we may never see again.
That wraps for this week's Bluesky Browsing #31. I hope that you enjoyed these ideas for spring and found some to use in your home.
What are your favorite topics? I'd love to know what subjects you are most curious about. Let me know in the comments and I'll search browse for them. Be sure to PIN to keep these ideas handy.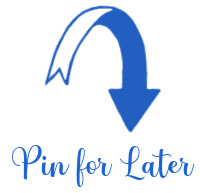 In between writing posts, listening to podcasts, reading, doing various blogging tasks, walking Nola, and playing tennis, I'll be browsing away.