Ideas for Curb Appeal, Front Entry, Indoor Plants: 10 Fabulous Finds
Welcome to 10 Fabulous Finds at Bluesky Browsing #35. This week I'm sharing10 ideas for curb appeal, your front entry, and indoor plants. Plus a delish classic appetizer, cocktail and a book review.
If you love finding articles and resources that give you ideas for home decor and DIY projects or a recipe or two, you've come to the right place.
Think of 10 Fabulous Finds as a home decor/DIY/Craft/recipe Readers' Digest.
In case you are new to Bluesky at Home, what fabulous finds do I share at Bluesky Browsing?
ideas to help you in your home decor efforts
a yummy recipe or cocktail
fun DIY projects
the latest trends in home decor
a quirky new find or two
Focusing on finding new projects, resources, tips, new ideas, and inspiration for you is my main task. I'm constantly discovering fabulous finds to inspire us. My goal is to help you find ideas for your home decor, your crafting, your home organization, and anything about home.
Our weather has been beautiful, very spring~like, but windy. Yesterday, I made another trip to Lowes for flowers for the hayracks in the backyard. Today is planting day. We are in a slight drought, so hopefully, we'll get some rain to get the flowers off to a good start.
Ready to see this week's fab finds?
10 FABULOUS FINDS: CURB APPEAL, FRONT ENTRY IDEAS, INDOOR PLANTS AND MORE
This post contains affiliate links to products and resources you may love to have. If you should purchase anything from this site, I may be compensated, but you don't pay a penny more.
In case you missed last week's 10 Fabulous Finds, here is Bluesky Browsing #34.
Are you a new or intermediate blogger? Every week I share valuable blogging resources and tips. If you would like to receive The Blogger Bulletin, please join the Blogger Bulletin. It's just once a week and is a quick read.
ON THE HOME FRONT
This week we finally started constructing the new walkway on one side of our house. It leads from the front~drive to the gate that goes to the backyard. The original flagstones had sunk and much of the gravel was washed away. All the flagstones have been dug up and most of the gravel hauled to the backside of the gate. A new black liner has been laid (there wasn't one before). Stone edging has been laid in a trench. We also bought extra new flagstones. On Friday, the entire project was finished. It looks so good.
Several weeks ago I ordered a new rug and a new pad for our dining room. They arrived about 3 weeks ago and had just been waiting patiently to be opened. Finally, last Saturday we moved out the furniture, removed the old rug and laid down the new pad (8 X 10). When we opened the new rug, we discovered that the wrong size had been sent! Fortunately, the correct size was in stock and it arrived yesterday.
I realized that I didn't order a new rug for the entry. It arrived Thursday. This time I didn't hesitate to open the rugs. They were perfect for the entry and dining room. Pictires of the new look for the dining room to come soon.
I thought you might like to see the rugs we ordered. Rather than repeat the pale grey and white of the previous rugs, we went with more color in blues and pinks. The one on the left is an 8 x 10 for the dining room. The one on the right is a 4 X 6 for the entry.
5. This week on the blog was all about discovering pretty ways to design a front porch and finding homemade gift ideas for Mother's Day.
17 Inviting Spring Front Porch Ideas| 10 Easy Homemade Mother's Day Gifts
CURB APPEAL, FRONT ENTRY, INDOOR PLANTS, AND RECIPES
Here we go with Bluesky Browsing #35.
Let's start with some ideas for creating inviting curb appeal.
We all know how important curb appeal is to the value of our homes. Here are 10 suggestions for giving your home a wow~factor. I'm so tempted to paint our front door.
2. Don't you love before and afters? This article shows clearly the value of updating the front of your home. I'm sure these updates added considerable value to these homes. What an amazing transformation this is.
3. Nosw that we've seen some ideas for curb appeal, let's step inside. Once you enter the front door, a welcoming front entry is essential in every home. I love the bright, fresh look of this blue and white entry from Mia Johnson on Instagram. It is one of 21 Front Entry Ideas from Kristen of Chaylor & Mads. What's in your entry? We have a commode (large dresser) and a mirror at all times.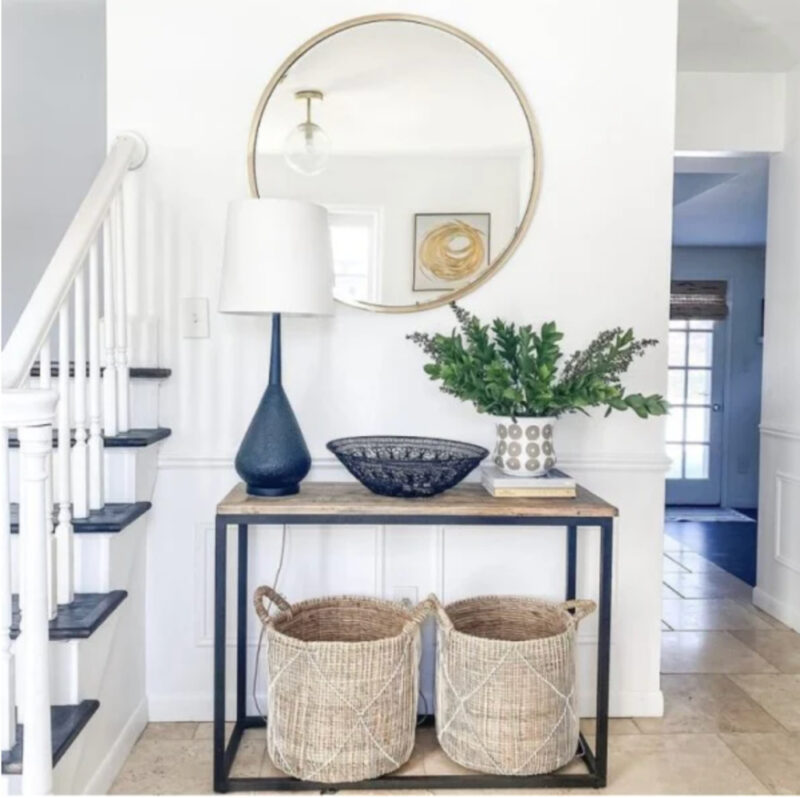 4. Entries come in all sizes and shapes. If your entry is small, a scaled table with a basket, mirror, lamp or bowl can add storage and design. Give a small entry a big impact with botanical prints (it looks like wallpaper!). I love this design from Angie of Postcards from the Ridge.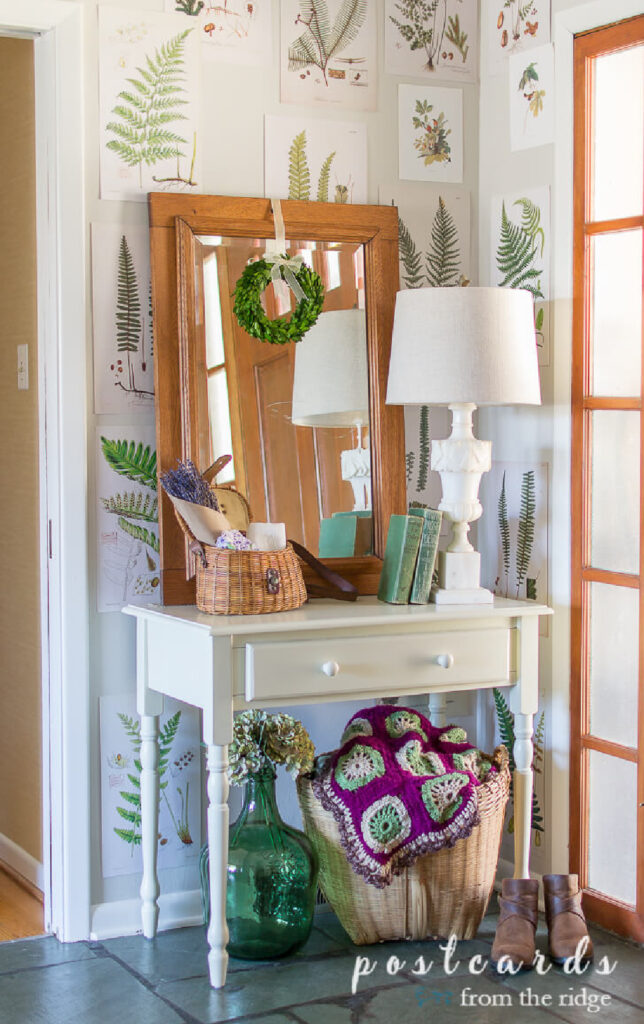 5. One thing every home needs is indoor plants. Whether faux or real, indoor plants provide color and texture. Studies prove that they make us feel better. Here are 10 plant ideas you should consider for your own home from Melina of Decoholic. Sansevieria is a plant we have in our living room.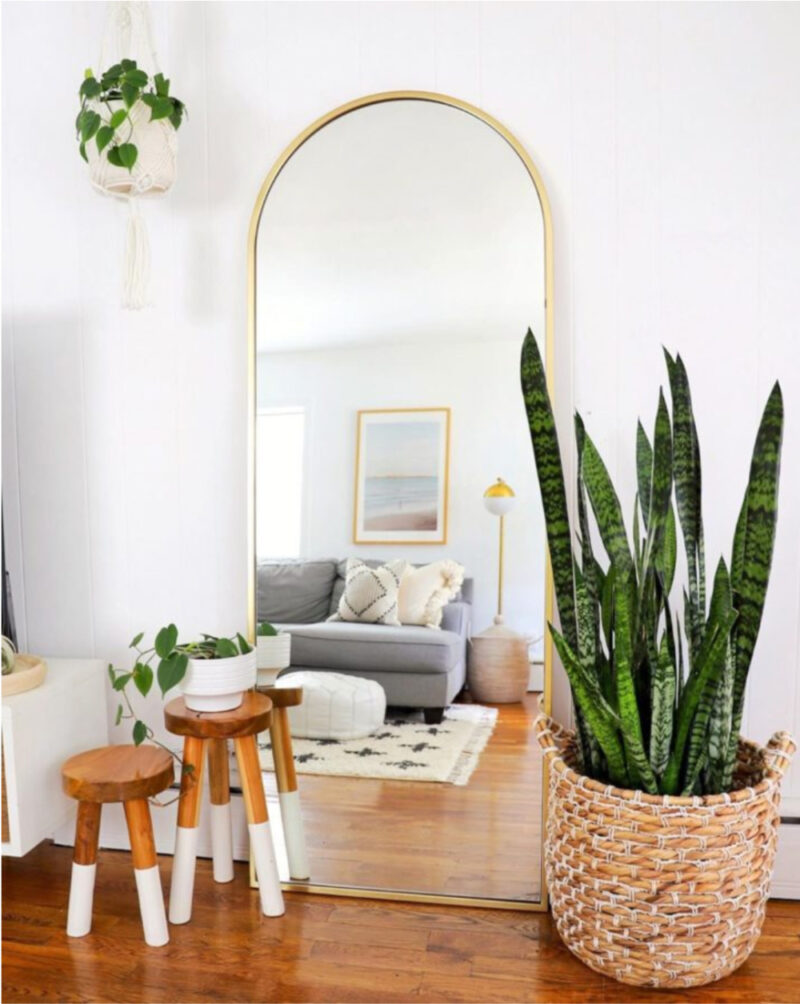 6. Green has been a popular home decor color for a few years. We don't use just plants for bringing green into our homes. Here are several ways to use green in our homes from Simplicity in the South. This particular image is from Sarah of Grace in My Space.
7. Do you need ideas for home accessories like the ones shown in this week's 10 Fabulous Finds? I have some really good ones.
8. Do you love deviled eggs? I never liked them until about 10 years ago when a friend offered to bring a batch to our Kentucky Derby Party. (They have been on the KD menu ever since.) I couldn't believe what I'd been missing. Now I love them. I searched high and low for a simple Southern Deviled Egg recipe. The best one I found was this one. You can add extra seasoning if you like. (cayenne, smoked paprika, cumin). If you want a little more heat, try this Southwestern Deviled Egg Recipe.
9. It was time for another springtime cocktail. I love lemon drop martinis. This one with the addition of lavender from Megan of Short Girl Tall Order sounds dreamy.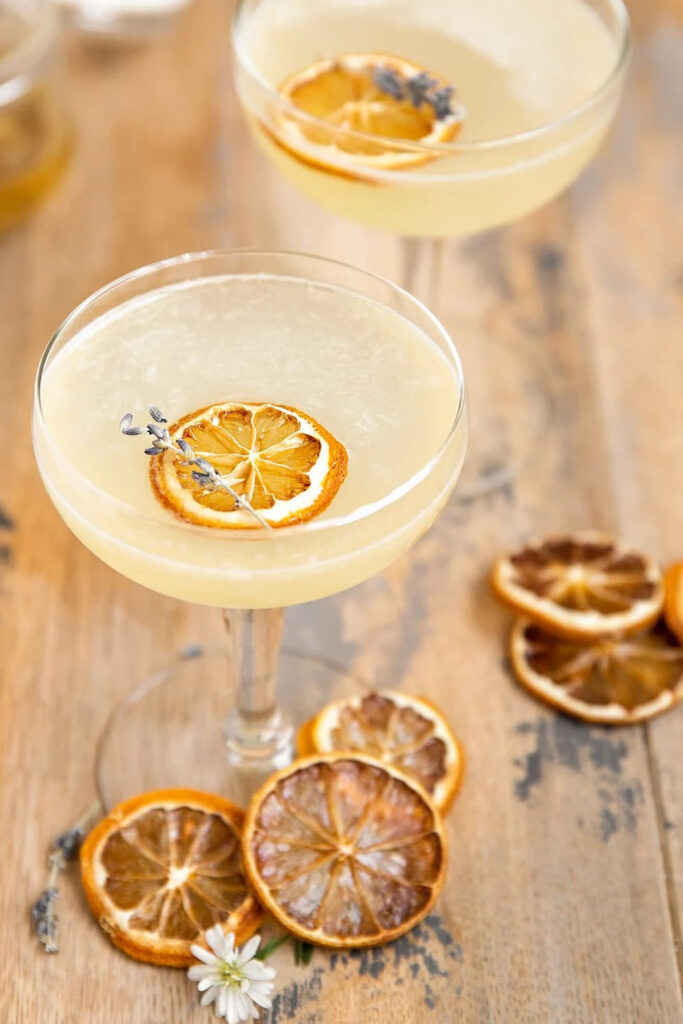 10. BOOKS OF THE WEEK: I just finished reading a very interesting story of how a painting brings three people together in unexpected ways.
I found The Last Painting of Sara De Vos by Dominic Smith at our church's library sale in February. I hate to admit my knowledge of art history is woefully lacking. Fortunately, I did learn quite a bit about 17th~century Dutch painters through the story of this fictional painter.
The painting by Sara has been in the family of Marty De Grout for three centuries. Forming the focus of this tale. it brings together Marty and Ellie Shipley, an Australian art history student working on her dissertation in Manhattan in 1957.
Forty years later, Ellie is back in Australia teaching art history when Marty and Sara's paining come back into her life.
Told from the viewpoint of these three characters who are generations apart, the story is part mystery, part intrigue, but definitely one about what people will do to survive both real and perceived dangers.
My heart broke for Sara's situation during a time when women and women painters struggled for recognition.
If you love art (or not) and mystery, this story is basically about people and their motivations. Definitely, one to read.
That wraps for this week's Bluesky Browsing #35. I hope that you enjoyed these ideas for curb appeal, front entries, and indoor plants.
I'd love to know what subjects you are most curious about. Let me know in the comments and I'll search browse for them. Be sure to PIN to keep these ideas handy.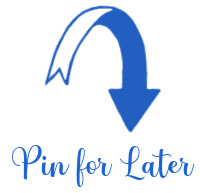 In between writing posts, listening to podcasts, reading, doing various blogging tasks, walking Nola, and playing tennis, I'll be browsing away.