How to Style Your Front Door: Getting Ready for Summer
Do you struggle finding ideas for your front door area when the seasons change? Let me show you how to style your front door and get it ready for summer.
I hope you are lucky enough to have a nice front porch. We don't, just a nice front door area. It still has to be made welcoming.
As we all know, first impressions are so important. That's why styling your front door for the seasons or holidays creates such a nice appearance.
This time of year, we have two reasons to style our front door area: 1. It's Kentucky Derby time and 2. Summer is coming, which means Memorial Day.
So, I decided to combine the two into one look for our front door.
The timing couldn't be better. A few weeks ago, Maria of Pure Happy Home came up with the idea of having a blog hop focusing on front porches. What a great idea!
Ten bloggers are sharing our take on creating a summer front porch. I hope that you'll visit all the posts and get some great inspiration. The complete list is at the end of the post.
MY SUMMER FRONT DOOR IN RED, WHITE AND BLUE
This post contains links to products featured in this project. if you should order any product from this site, i may receive compensation, but you do not pay a penny more
First, you may ask, why did I choose red, white and blue for styling my front door?
This Saturday is the first Saturday in May ~ Kentucky Derby Day. After a 4~year pause (thank you, Covid), we are having our Kentucky Derby Party again.
That means decorating the house from front to back, starting by styling the front door.
Usually, I use red and black as my Kentucky Derby colors. Although there will still be some red and black, with Memorial Day three weeks away, I decided to use red, white and blue.
The important element is the iconic red roses ~ or any other red flowers you can find.
WREATH ON THE DOOR
Since we have such a small front door area, I focus on the door and the small spaces just to the left and right.
I started styling the front door by making a new wreath. I reused a boxwood wreath, and filled it will faux red roses from Dolar Tree. Then I added a new bow in ribbon from Joann.
Next week, I'll share all the DIY projects I made for the front door area.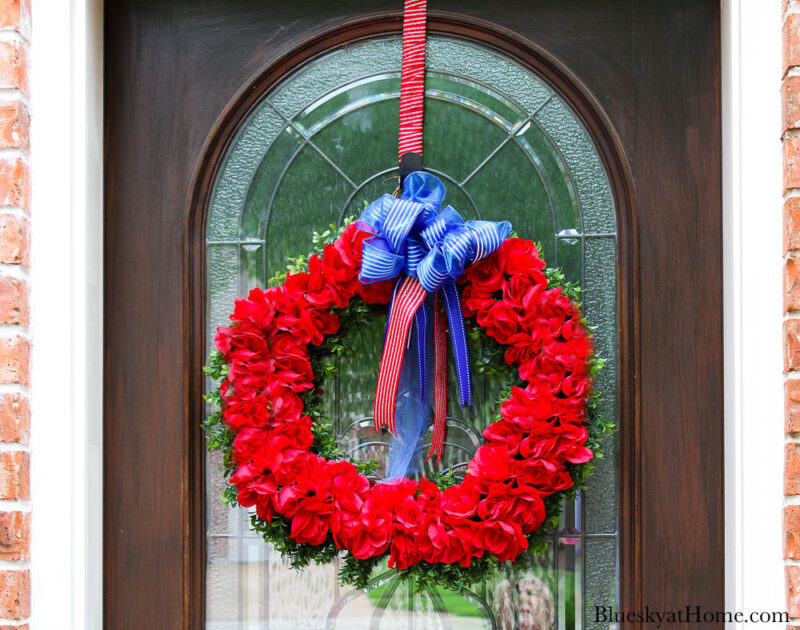 NEW PLANT STAND FOR FLOWERS AT THE FRONT DOOR
We have more space to the left of our front door. To fill that space with flowers, I used an estate~sale yellow plant stand that has spent the last three years in our garage.
After a new coat of white paint (another DIY project I'll share next week), it was perfect for the space.
I needed a planter for new red flowers that would fit on the plant stand. We had a dark green ceramic planter that needed a new look. It's now blue and looks great in the small space.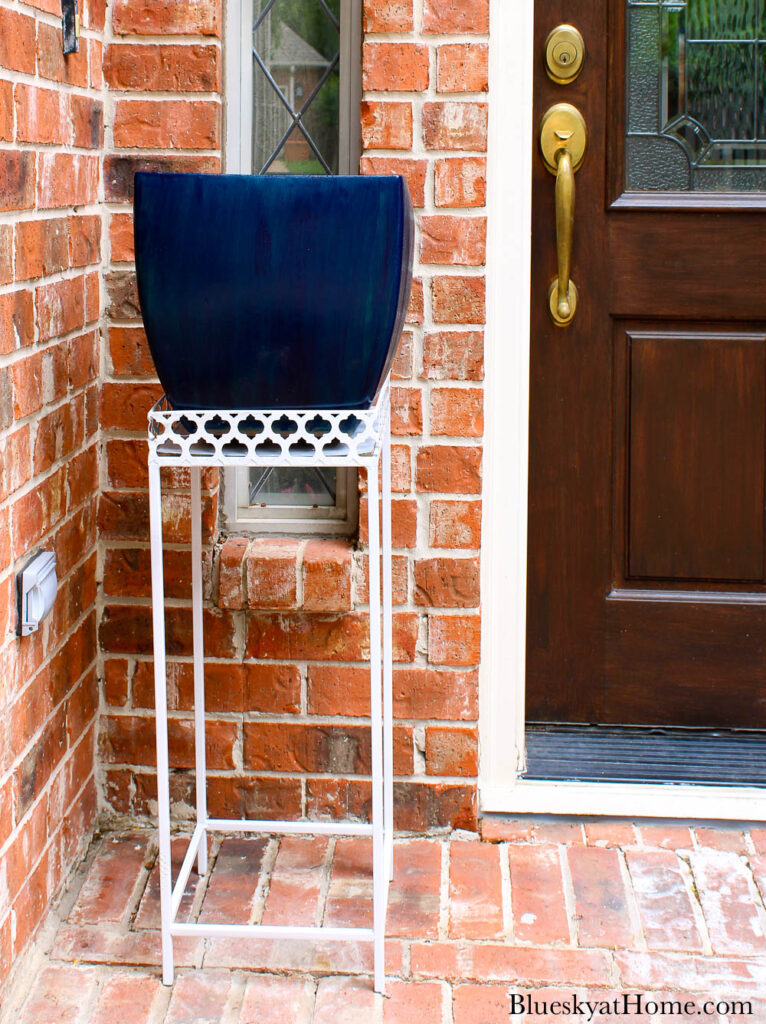 FLOWERS FOR THE FRONT DOOR
In front of the plant stand, I added a large red metal tub. We actually use it as an ice bucket, but for now, it fills the space nicely and adds a big pop of red.
The miniature Japanese Maple will get planted in a new front yard bed next week.
You can see a bit of the navy and white plaid mat that I bought last year. It really brings blue to the area.
Notice the white garden fencing leaning against the brick? It's one of four that I have (with a great story). I cleaned and painted two of them for the front door.
Here is the "new" blue planter filled with red geraniums and white petunias.
The area on the right side of the front door is small. I was able to fit in my two white lanterns. I filled each one with a Penta (not blooming quite yet).
More red geraniums are in a favorite galvanized planter. Another garden fence balances the other side of the front door.
Part of the front door area is this small flower bed. We just added flagstones to the large rock. Some random petunias and alyssum fill in between the stepping stones.
We have had the metal "urn" for a long time. I have another one that holds a Boston fern on the front of the house.
Since our home faces west and gets afternoon sun, we need sun~loving plants. The flowers are a combination of Mandevilla, petunias, and potato vine.
In anither couple of weeks, all the flowers will really fill in and add more color.
If you have a small front door area, I hope these images will give you inspiration for styling your own front door. Here are some more pretty pics.
These pictures show our new coach lights that we installed last fall.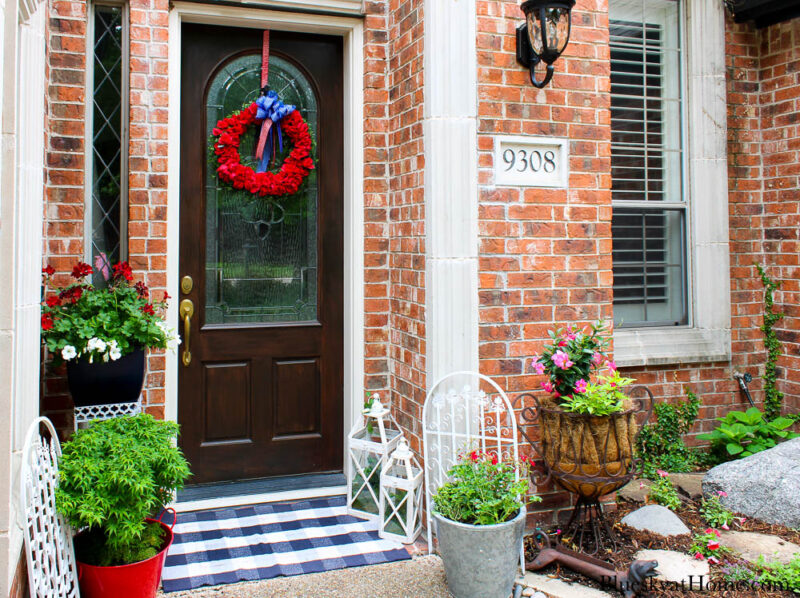 Hello from yours truly.
On the day I took these pictures, our weather went from gorgeous and bright over the weekend to damp, cloudy, and chilly. What a way to kick off May!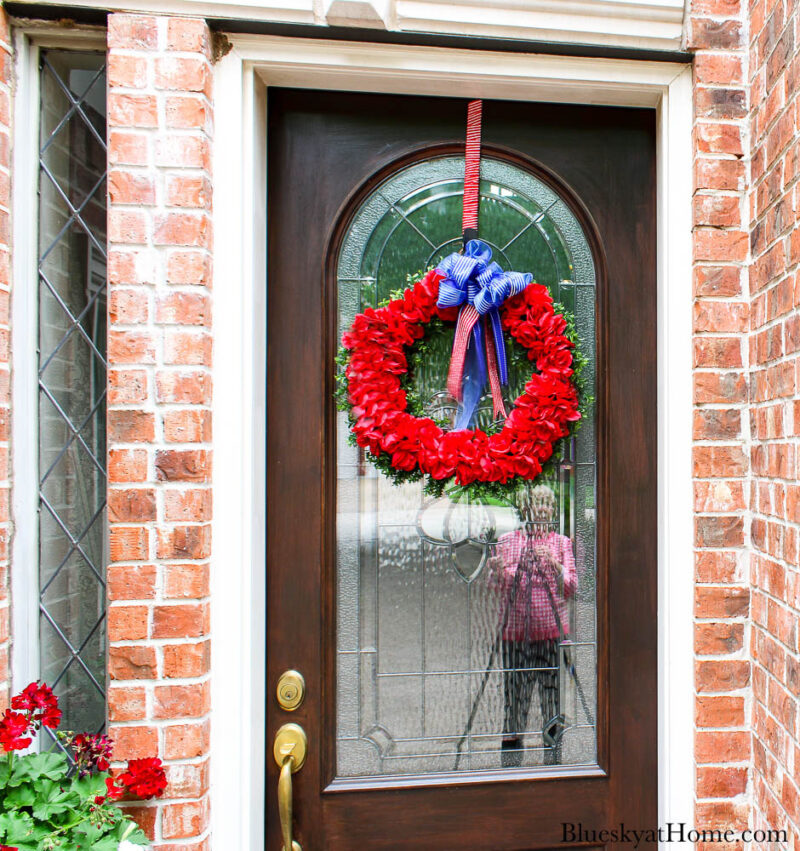 What are my takeaways for styling a front door for summer?
Pick a color scheme and repeat it for maximum impact.
Use interesting pieces: lanterns, planters, vintage pieces to, well, create interest.
Vary heights
Vary materials: wood, metal, ceramics, pottery
Use a variety of flowers that meet your light requirements.
Include a front door mat with pattern and color.
Want to keep these ideas for styling your own front door? Then please PIN the post.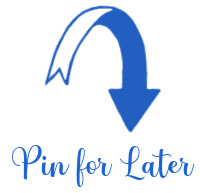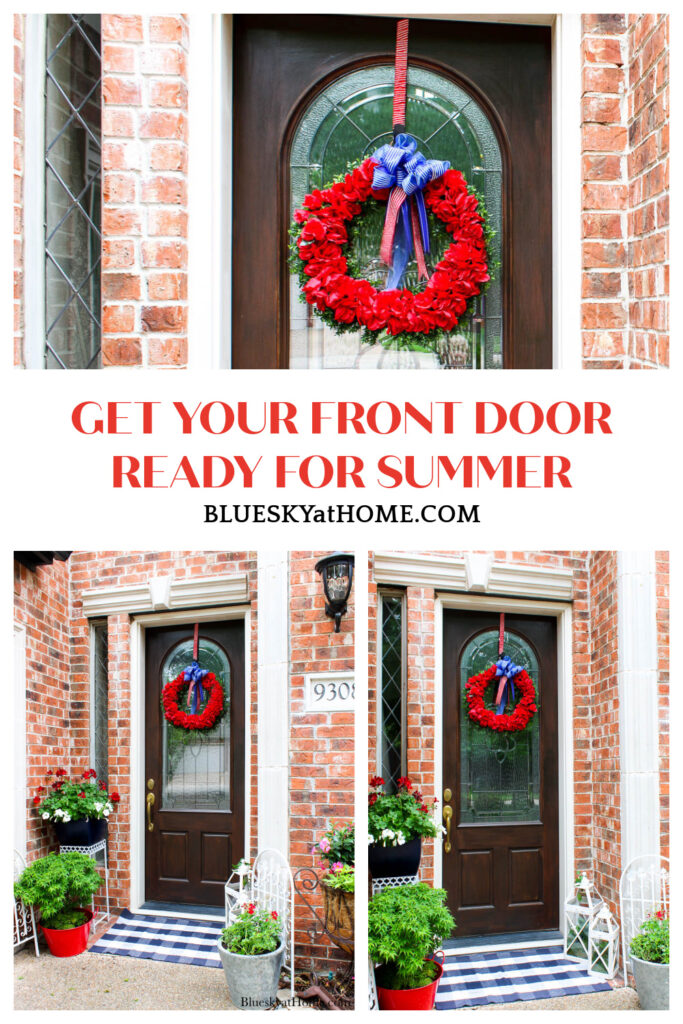 Now please visit my blogger friends and see the awesome ideas that they are sharing.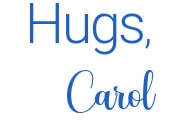 A Loverly Life ~ Simple Summer Front Porch Decor
From Farmhouse of Florida ~ Celebrate a Summer Quick and Easy Refresh
Perfecting Places ~ Summer Ideas for Small Porch Decor
An Organized Season ~ 15 Items You Need to Create a Relaxing Porch
Masterpieces of My Life ~ Summer Front Porch
My Simpatico Life ~ Inspiring Patio Makeover
Bluesky at Home ~ How to Style Your Front Porch: Getting Ready for Summer
This Dear Casa ~ 6 Tips to Prep Outdoor Spaces for Summer
Sonya Burgess ~ How to Style a Small Porch for Summer
Pure Happy Home ~ Summer Porch
Donna – anorganizedseason.com