Beautiful Summer Home Decor Ideas
Welcome to 10 Fabulous Finds at Bluesky Browsing #37. This week I'm sharing ideas for summer home decors to inspire you.
If you love finding articles and resources that give you ideas for home decor and DIY projects or a recipe or two, you've come to the right place.
Think of 10 Fabulous Finds as a home decor/DIY/Craft/recipe Readers' Digest.
In case you are new to Bluesky at Home, what fabulous finds do I share at Bluesky Browsing?
ideas to help you in your home decor efforts
a yummy recipe or cocktail
fun DIY projects
the latest trends in home decor
a quirky new find or two
Focusing on finding new projects, resources, tips, new ideas, and inspiration for you is my main task. I'm constantly discovering fabulous finds to inspire us. My goal is to help you find ideas for your home decor, your crafting, your home organization, and anything about home.
We have been spending the past few weeks shopping for flowers, prepping the flower beds and planting flowers in our front and back yards.
It never hurts to research flower garden ideas. That's what I've done this past week. Of course, I'm going to share what I found with you.
Ready to see this week's fab finds?
10 FABULOUS FINDS: IDEAS FOR BEAUTIFUL SUMMER HOME DECORATING
This post contains affiliate links to products and resources you may love to have. If you should purchase anything from this site, I may be compensated, but you don't pay a penny more.
In case you missed last week's 10 Fabulous Finds, here is Bluesky Browsing #36.
Are you a new or intermediate blogger? Every week I share valuable blogging resources and tips. If you would like to receive The Blogger Bulletin, please join the Blogger Bulletin. It's just once a week and is a quick read.
ON THE HOME FRONT
One thing has been on our minds this week: preparing for our Kentucky Derby party. It's been four years. However, just like riding a bicycle, we have gotten back into party mode without a hitch.
I prepared our front door area for not just the party, but in a red, white and blue color scheme that will take us through Memorial Day. Great timing for a front door blog hop I participated in. (see the link below). The patio area is ready: our new umbrella is in place and adds such a great pop of color. The seating area is set with our new rug.
The house looks festive and party~ready. I have two centerpieces of red roses ~ one on the dining room table and one on the coffee table. My black wood horse is on his place of honor on the mantel. There is lots of red around to bring in lots of Derby color.
As you read this post, we are either in final day preparations, greeting our guests, watching the race while sipping a mint julep, or our guests have left, I've taken my heels and my hat off and we are talking about the party.
This week on the blog was all about the party essentials you should have and preparing the front door for a summer look.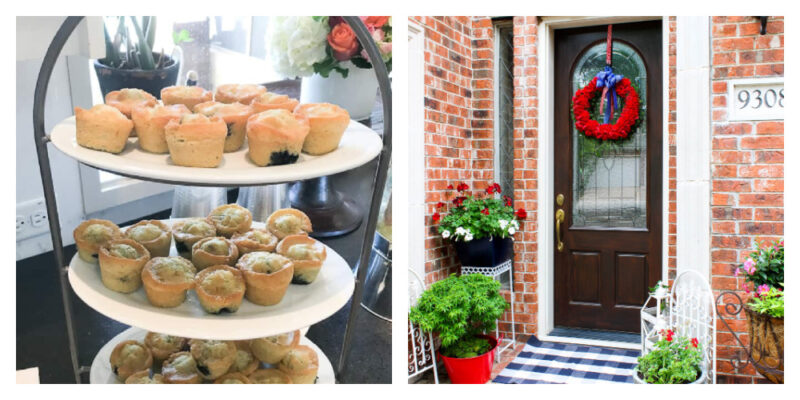 All the Party Essentials You Need| 19 Memorial Day Decorations
SUMMER HOME DECORATING IDEAS AND SHOPPING FOR SUMMER ITEMS
Here we go with Bluesky Browsing #37.
Let's get started with a beautiful new home tour from Birmingham, Alabama.
If you are a part of an interior design team, who do you ask to help you design your new home? Your business partner, of course. The team of Hundley Hilton styled the new traditional English~style home in modern colors to fit the lives of a young family with children. NOTE: be sure to click on the OPEN GALLERY image to see all the rooms. I love all the colors; how about you?
2. Do you like colored glasses? I am becoming enamored of colored glasses. I have a few that I've found at antique malls, but I would like to have more, When I saw this article about designers' favorite places to buy colored glasses, I was intrigued.
3. If you have a lake house or need extra sleeping space for family and friends, check out this blue and white bunkhouse created by Lily Pad Cottage.
4. Do you love to shop for vintage items? It's one of my favorite things to do. I've never thought about shopping for vintage items online, but I might reconsider. This article shares the best places to shop vintage online as well as tips and suggestions for doing it right.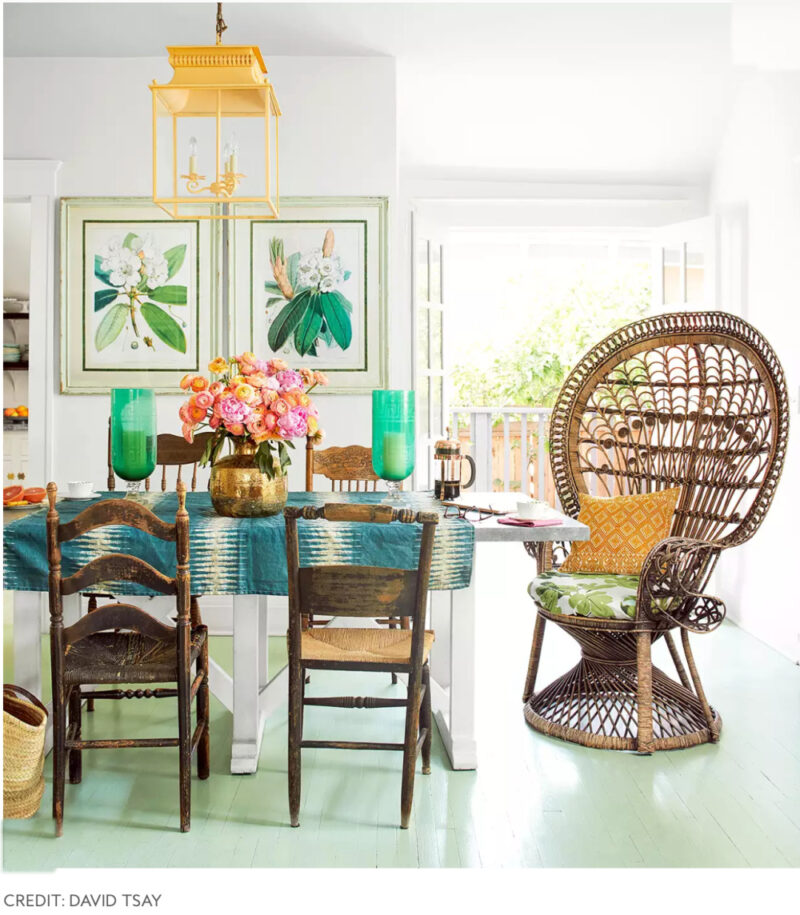 5. Summer decorating is on my mind. How about yours? Decorating for summer can be as simple and gathering accessories and displaying them in a new way. Suzy of Worthing Court shared some great ideas for bringing a summer vibe to your open shelves.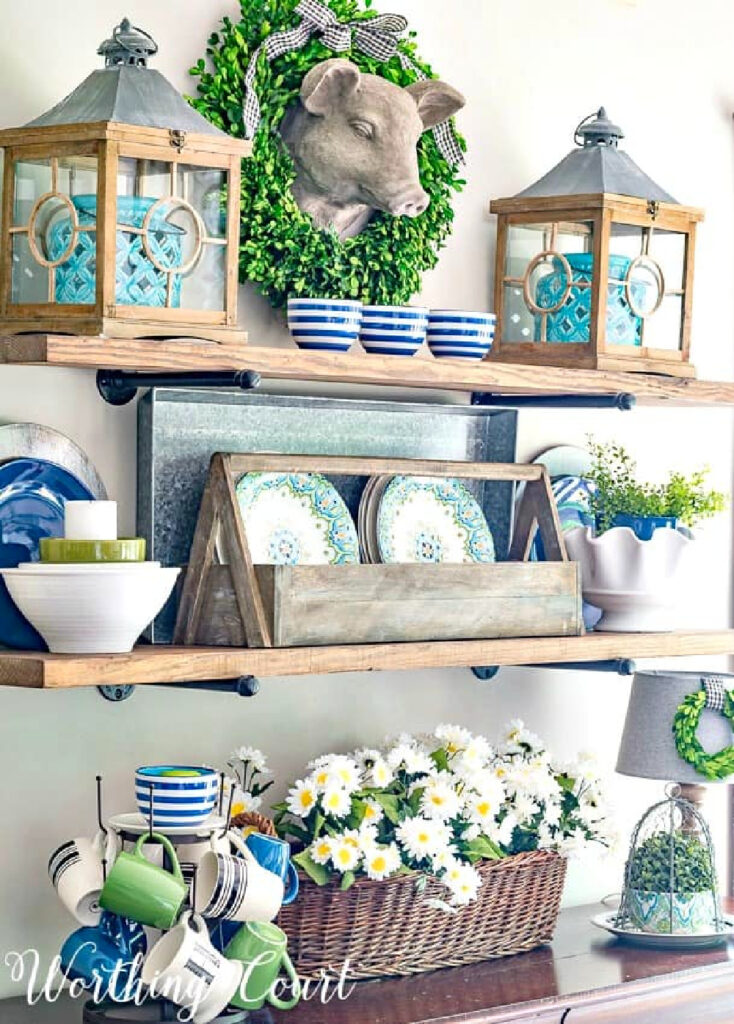 6. What colors work for summer? How about pink and gold? Decor Gold Designs shares how lovely this color scheme adds the light feel of summer.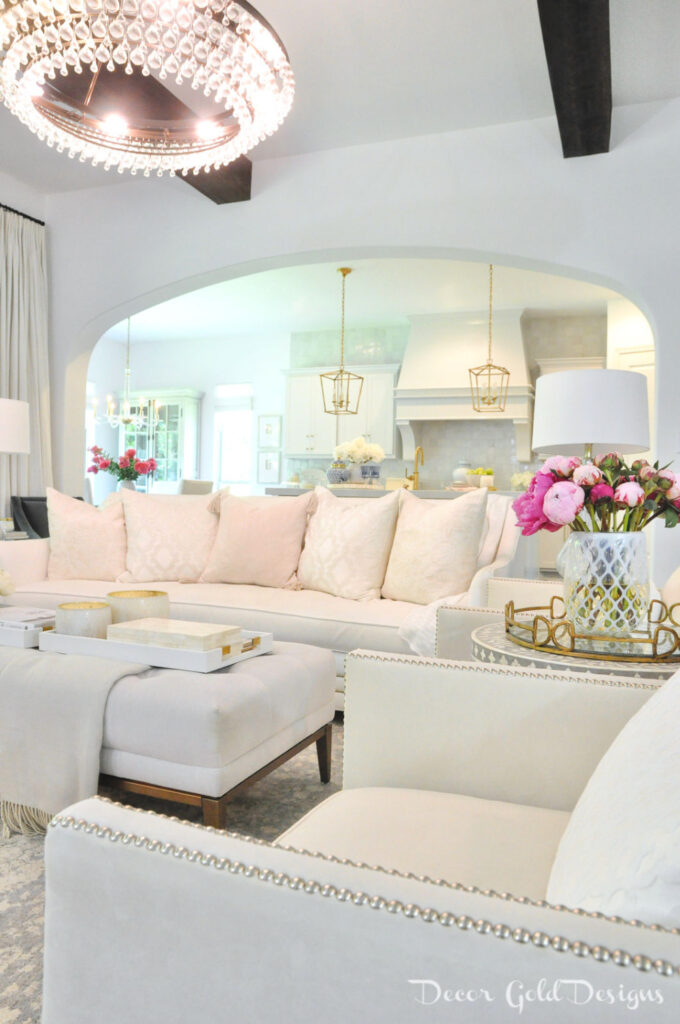 7. What serves as your inspiration for your home? Maybe it's a vintage table, a beautiful chandelier or a gorgeous rug. How about a piece of wallpaper? The colors of a chinoiserie~style wallpaper swatch influenced every room in this colorful family farmhouse.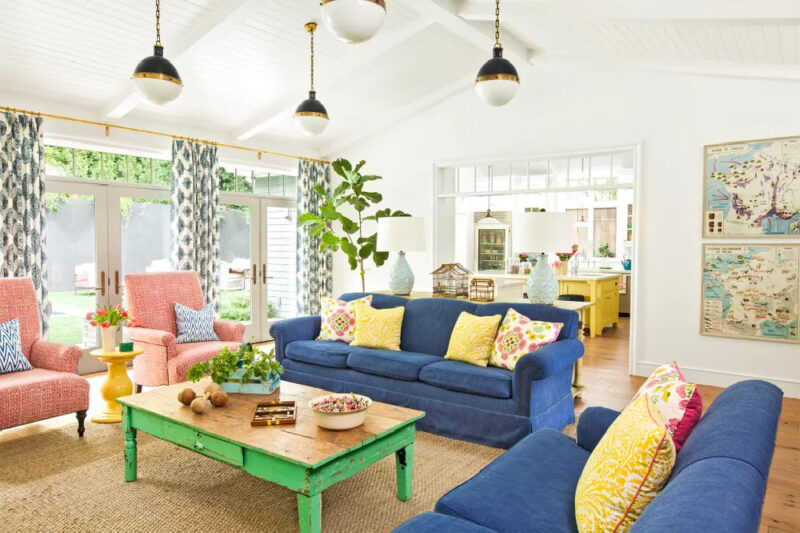 8. Summer may bring visions of soft neutrals to you. Or you may envision bright colors. Remodela Casa is definitely on the colorful side of summer decor. I must be, too, because I loved every room in her summer home tour.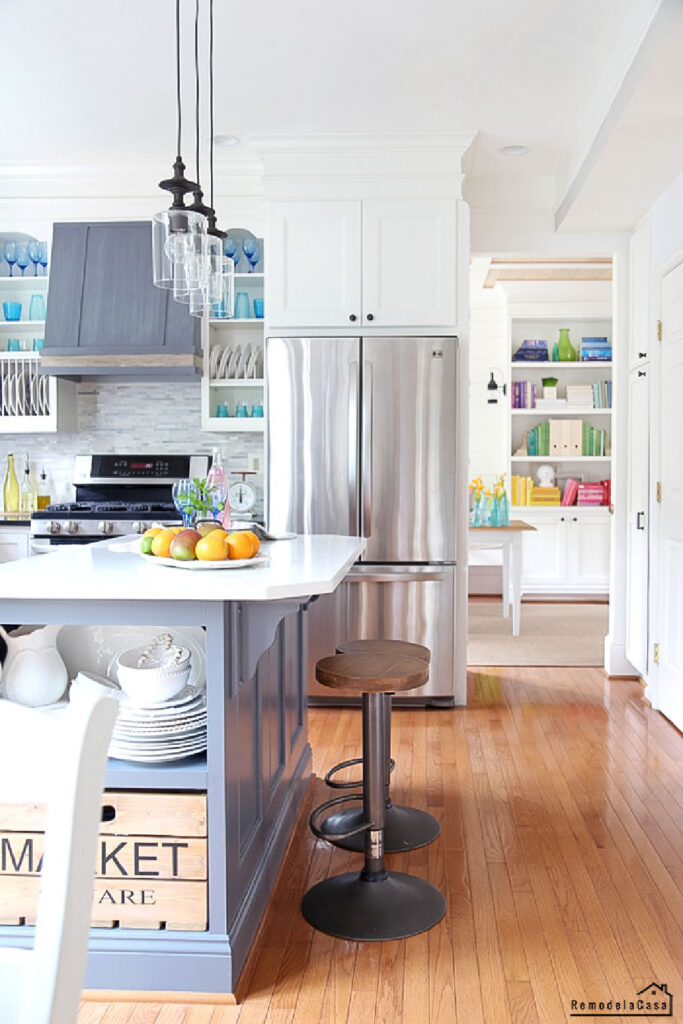 9. If you are in need of some summer accessories, now is the time to shop and choose. Here are some ideas I couldn't resist.

10. BOOKS OF THE WEEK: Gentleman in Moscow by Amor Towles
I read this fascinating story two years ago. When I recently ordered Lincoln Highway by the same author, I remembered how much I loved it. Towles has been called a master of absorbing, sophisticated fiction. I totally agree.
The gentleman of the title is 30~year~old Count Alexander Rostov. Of course, the story takes place in Moscow. When, in 1922, he is deemed an unrepentant aristocrat by a Bolshevik tribunal, the count is sentenced to house arrest in the Metropol, a grand hotel across the street from the Kremlin. Rostov, an indomitable man of erudition and wit, has never worked a day in his life. He must now live in an attic room while some of the most tumultuous decades in Russian history are unfolding outside the hotel's doors. He is told that if he steps outside the doors of the Metropol, he will be shot. Unexpectedly, his reduced circumstances provide him a doorway into a much larger world of emotional discovery.
He becomes part of the workings of the hotel, part of a group of seamstresses, chefs, bartenders and doormen whose lives become more entangled as the decades roll on. (FYI: the Metropol is a real hotel, but everything else is fiction.)
The best part of Towles's story is not the moments of wonder and amazement, of which there are plenty, but the generous transformation of these peripheral workers, over the course of decades, into confidants, equals and, finally, friends.
During his time in the Metropol, Count Rostov becomes romantically involved with a famous actress. Unexpectedly, the person who he come to love most is a young girl who becomes like a daughter to him. It is she whom ultimately risks his life for.
With all these characters around, a life sentence in these gilded halls might make Rostov the luckiest man in Russia.
The characters are richly drawn and each one seems to have their own full story. I think you will be overwhelmed by what this rare book offers and then delivers: a wonderful satisfying ending ~ which you really don't want to end.
NOTE: There was a series in the works by Apple+, but I can't find any recent information on it. Keep your fingers crossed, but definitely read the book.
That wraps up this week's Bluesky Browsing #37. I hope that you enjoyed these ideas for summer home decor plus some shopping ideas.
I'd love to know what subjects you are most curious about. Let me know in the comments and I'll search browse for them. Be sure to PIN to keep these ideas handy.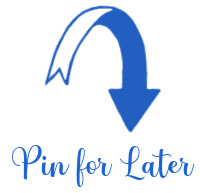 In between writing posts, listening to podcasts, reading, doing various blogging tasks, walking Nola, and playing tennis, I'll be browsing away.