How Our Holiday Home Sparkles and Shines for Christmas
Welcome back to Part 2 of my Holiday Home Tour contribution. Can you believe how beautiful these homes and decorations are? Hallmark has nothing on this talented group of bloggers. After swooning over these gorgeous Christmas decorations, I have been Pinning and posting pictures on Instagram. Please check out what I've been sharing here and here. Whether you are visiting from Holiday Home Tour Blog Hop or the Cozy at Christmas Blog Tour, I am so happy you are here. On Monday, I shared Our Shiny, Light~Filled, Santa~Inspired Holiday Home: our entry, dining room, and Sweet Shark's bar. Today, let me show you the rest of our house ~ how our holiday home sparkles and shines for Christmas.
Just pass our entry is our powder bath. Just a couple of decorations in there, but I want to have all the spaces that guests would see have a bit of decoration. A sweet winter owl (I didn't plan this, but we have a Halloween owl and a Thanksgiving owl, too.) sits on the pedestal sink. Some tiny gold beads and garland adorn a vintage glass and metal shelf that belonged to Sweet Shark's grandmother.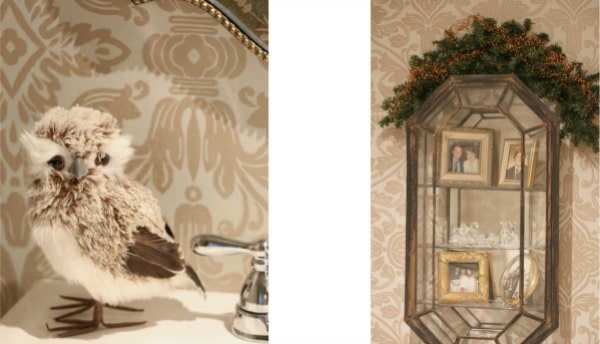 As you enter the living room, our master bedroom is to your left. Last year, I added this Christmas tree with silver, white and gold ornaments that sits on our glass~top table. Underneath the tree is our collection of Waterford and Baccarat skating Santas, singing angels, polar bears and Christmas trees.
Garland and lights top our armoire.
Back in the living room, you'll see our fireplace decked with reindeer and all the stockings. Although I gave the kids their ornaments years ago, I've held on to the stockings.
In the mantle, I placed these 3 trees I made last year from styrofoam cones and moss. I put them in a bark~covered planter and I glued gold~glitter stars glued to toothpicks. Battery~operated lights in clear and multi~colored give some fun light to the reindeer. Small gold mosaic votives add "natural" light.
When we were packing up the decorations last year, Sweet Shark made a suggestion that I thought was brilliant: let's put garland on top of the molding above the mantle and fireplace. This garland with the lights and bows used to be on the vassilier in the dining room. I love the effect of this new addition to the living room. I think it really focuses your attention to the mantle and gives it a finished look.
On the hearth is a crate I painted and stenciled a few years ago filled with aspen logs that I sprayed with glitter flanked by 2 twig reindeer.
Since my daughter and I moved our furniture around last spring, our sofa table is now behind the sofa against our big picture window. It was the perfect new spot for my Dicken's Village, which I've been collecting for almost 30 years. I love putting it out every year. I wanted to have every house on the sofa table, but there wasn't enough room. So 3 houses will have to wait until their turn next year. I was able to put out almost everyone of the figurines. 4 of the houses have original Dicken's Village lights which are stuck in inside. The rest have the battery~operated lights which are so much easier to install.
In our big picture window above the Dicken's Village, we hung a wreath with a bow and B~O lights. Because we can't reach it, we just have to leave the lights on 24/7. Another blogger just told me that there are B~O lights with timers. I have to find those for next year. Anyone know a source?
On the coffee table is our Santa in a sleigh that Sweet Shark's mother gave us years ago for Christmas. I wrapped the Christmas tree with 2 strands of B~O lights and placed it in a crystal ice bucket. I scattered small red ornaments on the "snow" fabric.
A couple of red~patterned fabric pillows I made give some pop of color to the sofa.
Some of our snowmen are displayed on 3 sides tables.
And this reindeer and friends sit on another table.
On the opposite wall is our bookcase where garland, lights and Santas rule.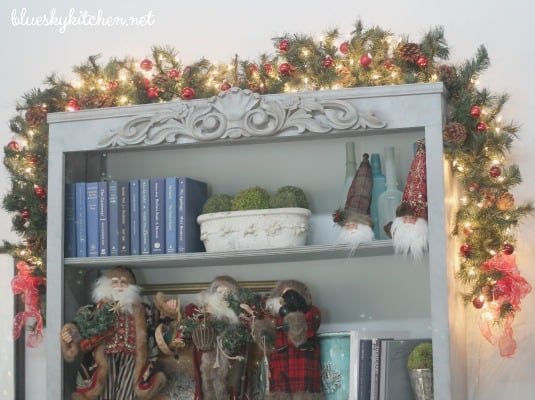 Our kitchen is open to the living room and I placed most of our Lenox Christmas china serving pieces in the glass~fronted cabinets with more Santas and other figurines.
In between the cabinets on the stove vent is another wreath lit with you~know~what, a big bow and red balls.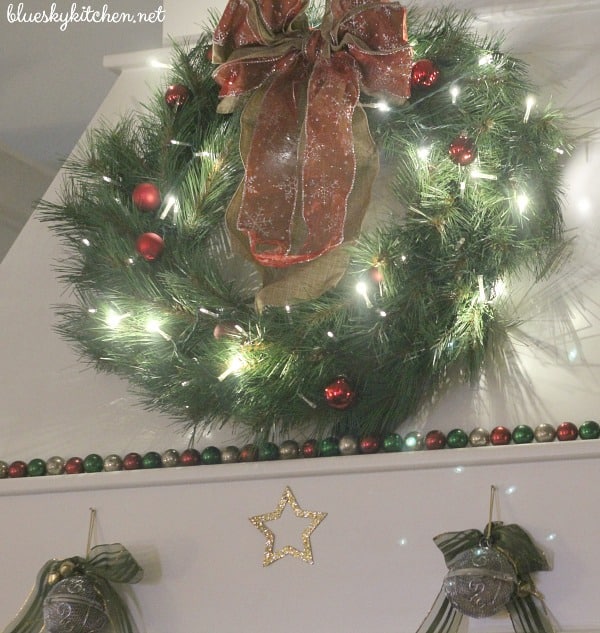 I used my cake stand to display red bowls.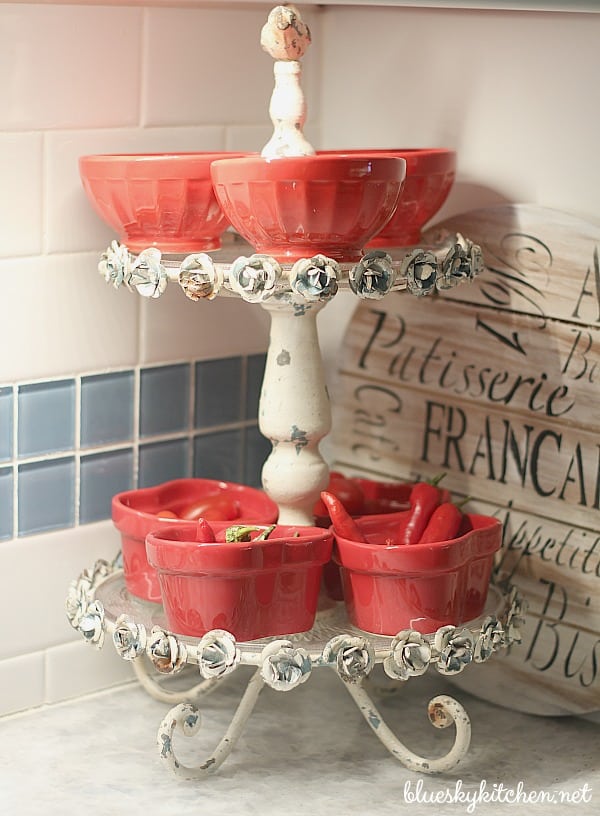 One of our new additions this year is a hand~loomed, custom rag rug from Rhonda at Louisiana Loomworks in New Orleans. Rhonda made our everyday rug for the kitchen 3 years ago. Last year in New Orleans she helped me design a Christmas~theme rug (Another brilliant Sweet Shark idea.) It arrived last week and we couldn't be happier with it. It adds such a cheerful note to the kitchen. If anyone spills red wine on it, they are toast!
And now for our tree. The first Christmas we were in our house ~2013 ~ we couldn't figure out where to put the tree. We finally determined that the breakfast room was the best place and that's where it's been every year since. It actually works great because we spend most of our time in the kitchen and living room. We just take the breakfast room table out to the garage. The other bonus is that the tree lights are reflected in the window lights. It looks like we have 5 trees.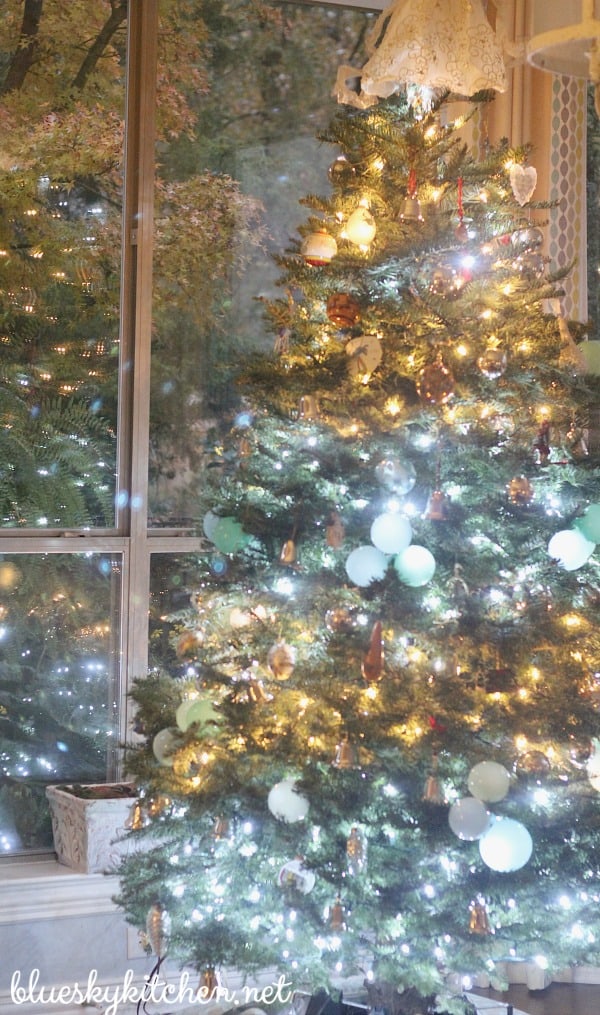 Noticed the different lights? The gold~tinted lights are "old" lights and the blue~tinted ones are new LED lights. We didn't realize it would make a difference until we turned the lights on. I suggested to Sweet Shark ~ the official lighting man ~ that he alternate the old and new. The good news is looks like gold garland. After Christmas we'll buy more LED lights for next year.
Underneath the tree is this tree skirt that I made from remnant fabric and trim.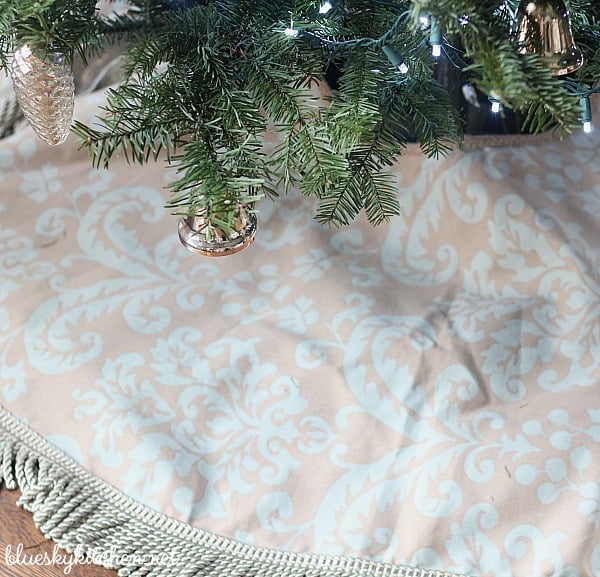 Our ornaments are a mixture of glass balls in blue, green and white that I bought last year and tied together ~
and silver bells and balls that we have been collecting for years ~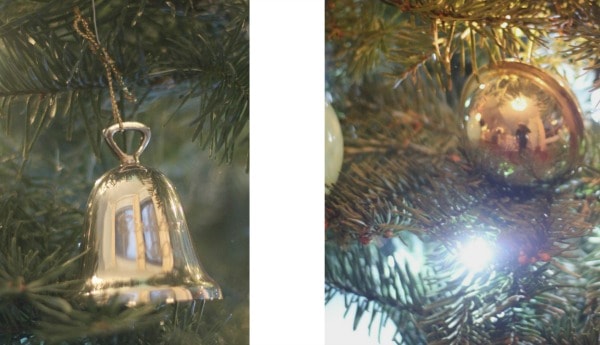 Ornaments from our travels ~
And vintage ornaments from New Orleans.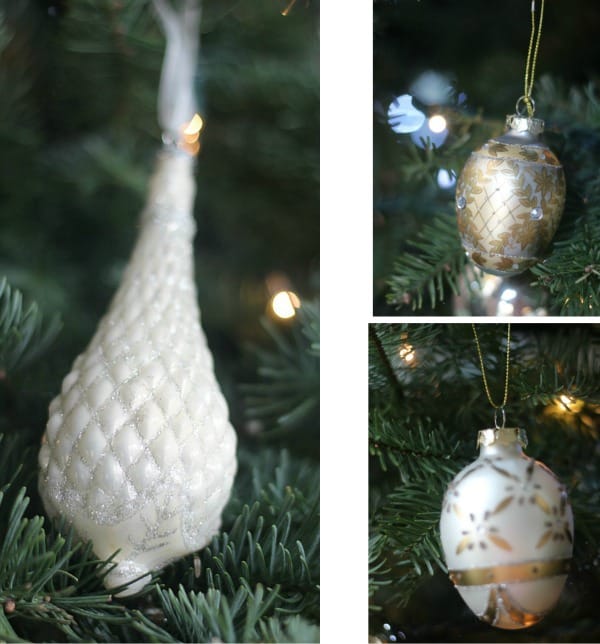 And we must have some Texas ornaments ~
And finally, an ornament for Lovely Layla.
I hope that you've enjoyed the past 2 posts touring our my tour and seeing how our holiday home sparkles and shines for Christmas. It's been so much fun sharing it with you. Now please visit the other bloggers on the Holiday Home Tour Blog Hop and the Cozy at Christmas Blog Tour. It's been our pleasure to show off our homes.
My recipe in Friday's Bulletin will be Baked Parmesan Fingerling Potatoes ~ a great holiday appetizer. Be sure to sign~up to receive it in your inbox.
Tomorrow is Your Inspired Link Party #64 so if you are a blogger, please check back in and share your best holiday posts with us.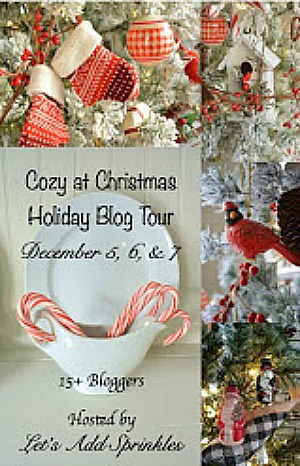 Monday
Let's Add Sprinkles/ Hyacinths for the Soul/ Southern DayDreams/ White Spray Paint/ Garden Up Green/
Have a Daily Cup of Mrs. Olson/ Ellie and Elizabeth  
Tuesday
Brookhollow Lane/ At Home With Jemma/ My Heart Lives Here/ The B Farm/ Botanic Bleu/ Kitty's Kozy Kitchen/
Art and Sand/ Ash Tree Cottage
Wednesday
Sweet Nothings/ At Rivercrest Cottage/ Opulent Cottage/ Decor to Adore/ Fern Creek Cottage/
The Dedicated House/ Bluesky Kitchen