How to Rearrange Halloween Decor for a Fresh Look
Halloween is a holiday that never gets old. Decorating your home for Halloween can, however, seem a little repetitive. The key to making it fresh doesn't have to be buying new Halloween decorations every year. Let me show you how to rearrange Halloween decor for a fresh look.
If your home is already decorated for fall, you don't want to take all your fall decorations down ~ especially, since they can be the basis for Thanksgiving decorations in a few weeks. Adding your Halloween decor to your fall decorations and rearranging those witches and scarecrows from last year will give your Halloween decor for a fresh look.
How to Rearrange Halloween Decor for a Fresh Look
This post contains links to products that I love, use and highly recommend. If you should order any product from this blog, I may receive d compensation, but you do not pay one penny more.
In order to see how I've tweaked previous year's fall decor into Halloween decor, you might take a look at last year's Halloween decorations.
Let's Start at the Front Door
My front door hanger that I made a couple of years ago for fall is still in great shape so it is staying for one more year.
I can't imagine Halloween and later Thanksgiving without  our 2 scarecrows. This year I used twice as many pumpkins in 3 different colors and a few mums to fill in.
The Entry
I gathered scarecrows, pumpkins and haunted houses together for this Halloween vignette to greet guests.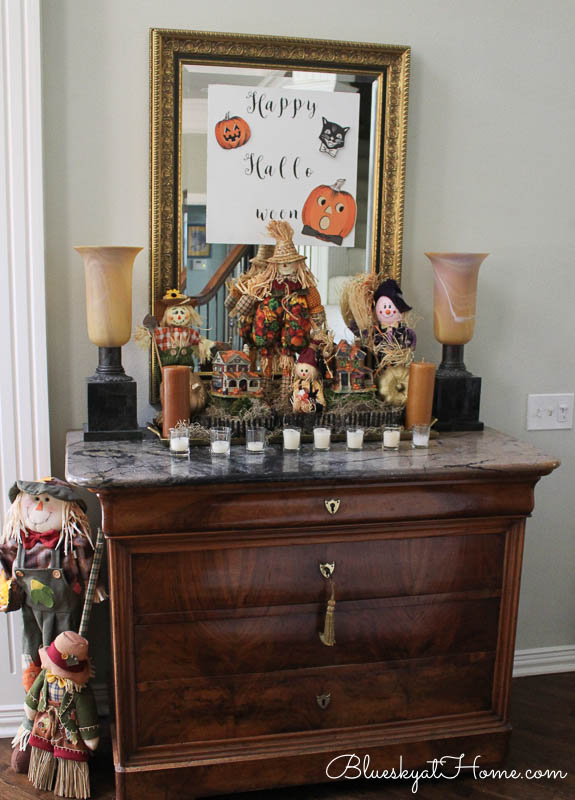 Rather than a wreath on the mirror this year, I made a sign with Rescue Restore paint, a script stencil and ChalkArt in Preaching to the Choir from A Maker's Studio. In  previous years, the pumpkin and cat paper cutouts were attached to pinwheel fans hung from our breakfast room chandelier.  I used super sticky 3M tape to attach the sign directly to the mirror. I'll share more about how I made the sign next week.
In the evening, our torcheries and lit candles add a magical glow.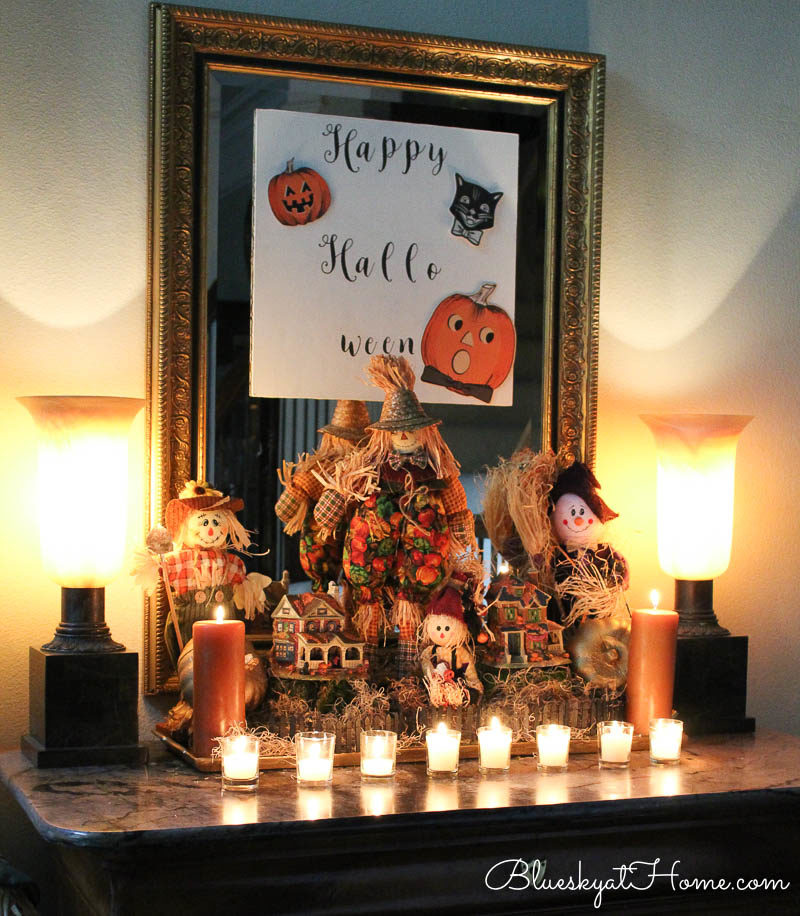 The Mantle
As I've mentioned before, the mantle is a natural focal point in any room. I didn't take anything away from our fall mantle decorations.  Adding Halloween decor to the existing fall decorations was easy.
Under the Fall Fun sign that I made with wood, burlap and stencils, I added a black "web~looking" fabric that is an oldie, but goodie. A garland of orange fuzzy balls adds the pop of orange.
On the stacked books with my white and gold pumpkin plates, I added a few of our small witches.

The Coffee Table
Another big focal point, the coffee table got a little switcheroo. Out came the cotton stems from the glass vase. In their place I inserted black and orange, faux decor of beads and  sparkling orange and black twigs surrounded by a black shiny garland.
In my grey painted tray, I removed my grid of 9 pumpkins and just threw in a garland of glittery orange beads.
That was really easy and quick.
A side table gets a Halloween creature.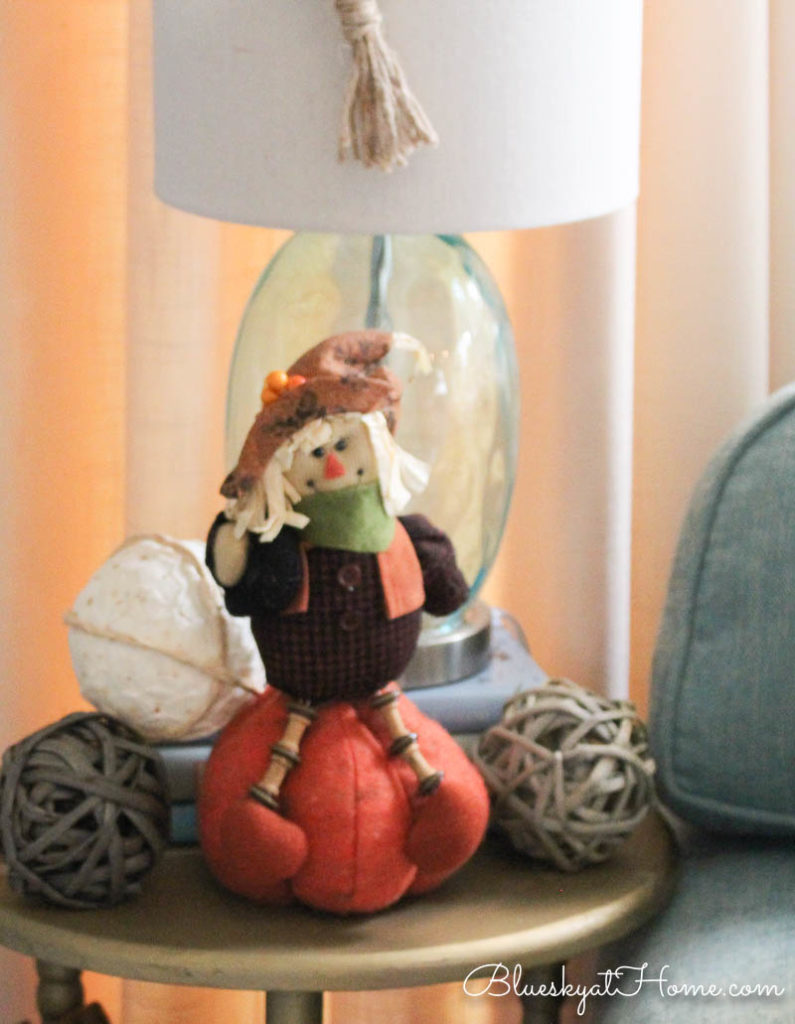 The Bookcase
For fall, I filled the shelves with twig pumpkins and natural woodland creatures. For Halloween decor, I added our one Halloween bird to the mix.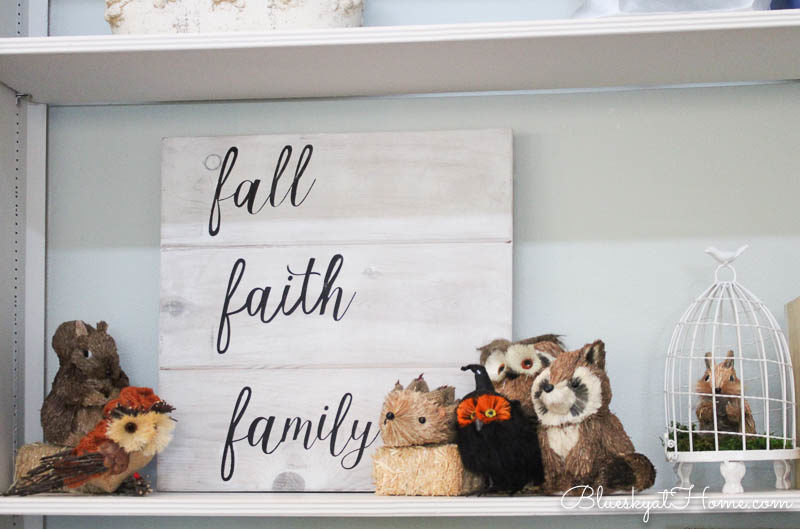 On the next shelf, I did remove our turquoise birds and added more of our  collection of witches and scarecrows. Old decor, but new arrangement and placement. I actually really like how tight and full the shelf looks. Like a Halloween party crowd.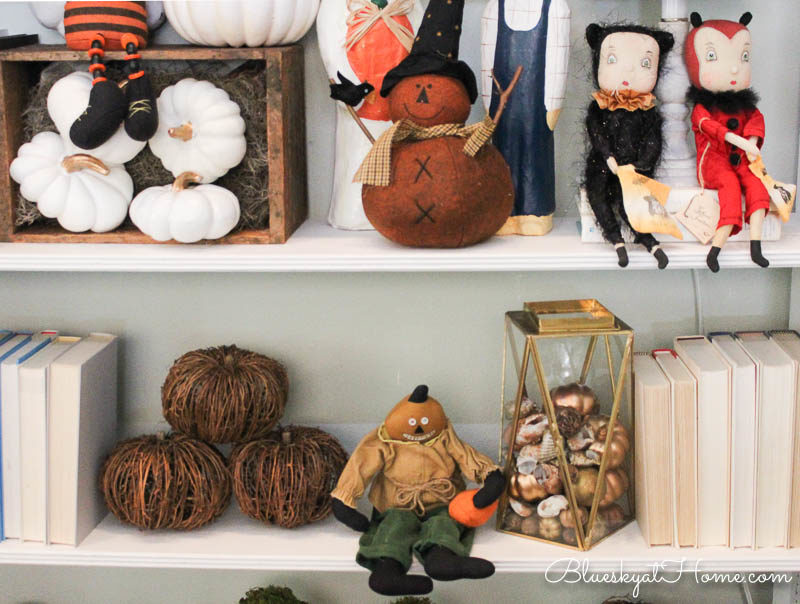 The Breakfast Room
The breakfast room table is covered in a black piece of fabric ~ no hemming or sewing ~ with spider webs. For a centerpiece I used a trick or treat box that belonged to the kids. I first filled it with a piece of florist foam and stuck in what looks like pumpkins on a stick ~ real plants from Trader Joe's. To that I added pieces of faux fall foliage that we've had for a long time.
TIP: keep all your decorations in clear plastic containers. They will stay dust~free, last longer than in cardboard boxes and you can see what's inside.
The console table in front of one of our breakfast room windows became the stage for more witches of different sizes along with crazy Homer. For many years, we collected them from different travels. We haven't bought one in a few years ~ I don't know where we would put another one. The white mini~pumpkins that were on the coffee table tray found a new place in front of the witches.
This little easel, a freebie from haven a few years ago, became a little Halloween message using the typewriter font stencil and ChalkArt  in Metallic Gold from A Maker's Studio.
I love our spider. She's really real looking and she has been seen in a different place every year.
That's our Halloween decor for this year. I have to say that adding the Halloween decor to the already existing fall decor made the job so quick and easy. Layering in the Halloween decorations and just switching out a few items made the job a breeze.
Hope you've enjoyed my little Halloween decor tour. The only new items I purchased were the pumpkins in different sizes and colors and the mums. somehow, the Halloween decor has an all new feel. We have another couple of weeks to enjoy our ghosts and goblins. Then it's on to Thanksgiving.
Today kicks off our Halloween Tablescape Blog Hop for this year. I hope you will visit the fabulous Halloween Tablescapes from my blog hop friends. I'll be back on Friday to share our dining room dressed up for Halloween.