How to Transition from a Summer to a Fall Vignette
With August almost over, are you ready to change your home decor from summer to fall? It's not hard if you know how to transition from summer to a fall vignette.
Rather than thinking of transitioning an entire room from one season to the next, I like to focus on small areas. Like eating an elephant one bite at a time.
Earlier this week, I began to transition my home decor from summer to fall. I started with a new fall~inspired mantel in our living room.
My next focus areas were the living room coffee table and our sofa table. These areas are small and it's easy to decorate them.
How to Transition from a Summer to a Fall Vignette
Vignettes are items that form a cohesive and interesting grouping of accessories. We use them in different areas in all areas of our homes. I almost always start in our living room.
The color scheme of summer to early fall can be abrupt or subtle. My summer color scheme was mostly blue and white. I would use a totally different color scheme as I transitioned from summer to fall vignettes.
I'm not the only one transitioning from summer to fall decor. Amber of Follow the Yellow Brick Home is hosting a group of bloggers who are sharing their take on moving from summer to fall. The list of bloggers is at the bottom of the page. You can start with my talented friend Shelley of Calypso in the Country.
STEPS TO TRANSITION FROM ONE SEASON TO THE NEXT
How do you transition your house from summer to fall? Here are my suggestions:
Remove all your summer decor
Decide on a color scheme and a design theme
Gather the fall items that you can use from your home
Decide if you need to purchase any new items
Start arranging the different "ingredients" you have until have you are happy with the vignettes
If you saw my new fall mantel, you know that my fall color scheme is soft with muted fall colors. My design theme is natural and neutral, using organic elements, such as wood, burlap, glass, paper, and florals.
TRANSITIONING THE COFFEE TABLE FROM SUMMER TO FALL
I had already moved some of the blue and white items on our coffee table to other places. Here is a quick view of the coffee table as it looked before I removed all the items.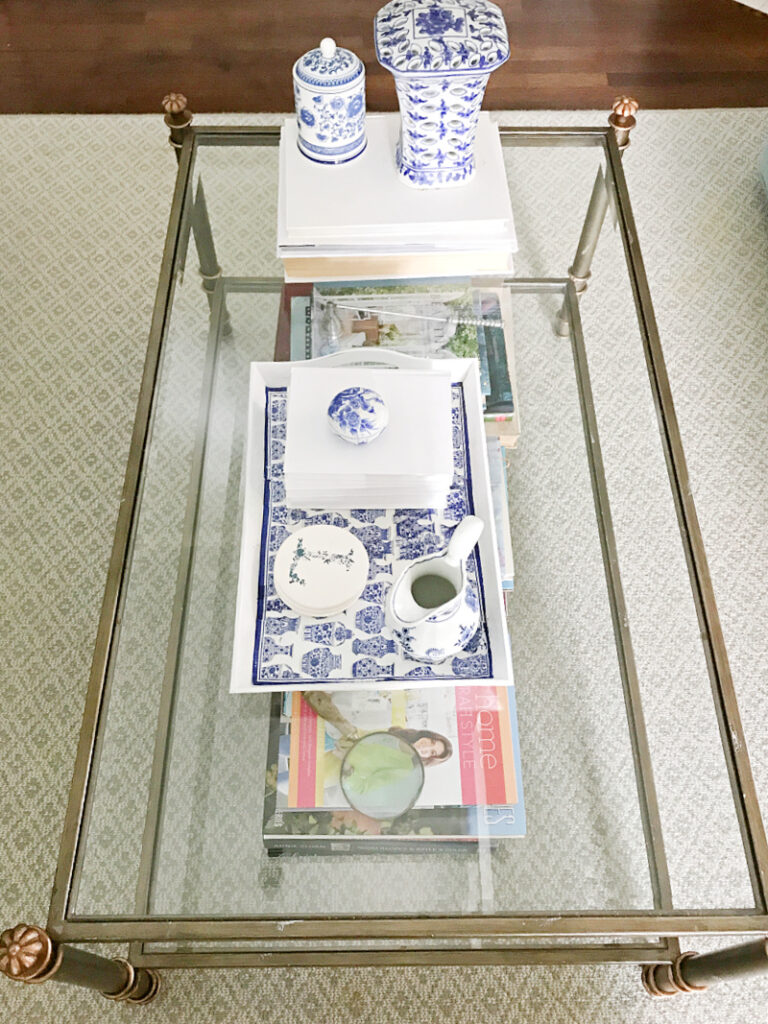 My first step was to move my dough bowl from our kitchen island console table to the coffee table. Then I added several terra cotta pots.

The colors of muted greens, greys, and rust are perfect for fall. The wood and clay add the organic feel I wanted for fall.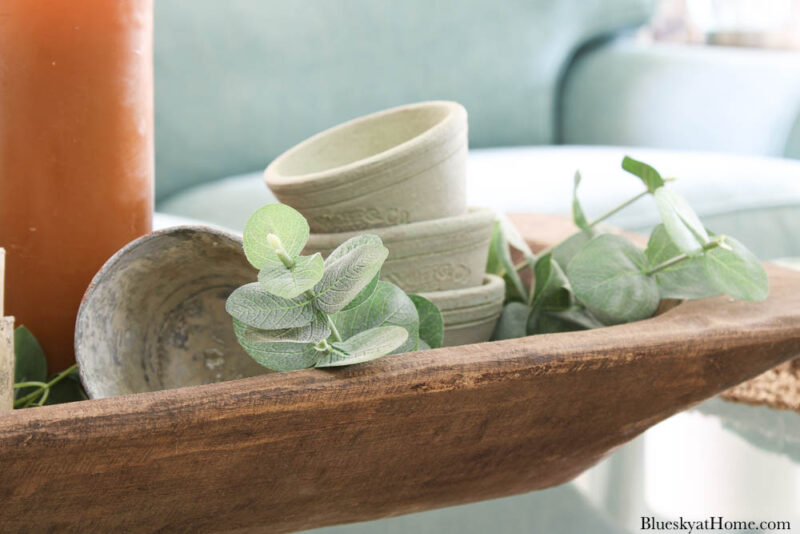 I tucked in some eucalyptus vines around the pots. One "butterscotch" candle added more color. It's scented and when I set it in the dough bowl, I really got a whiff of fall.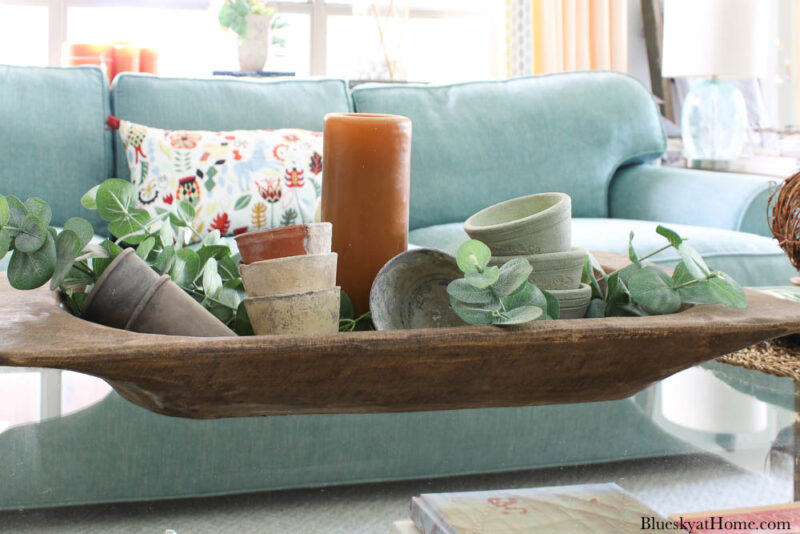 With my first fall vignette in place, I needed another one to complete the coffee table.
Checking my gathered stash of fall decor, I spied one more of the twig pumpkins I love. The other two I had used on the mantel.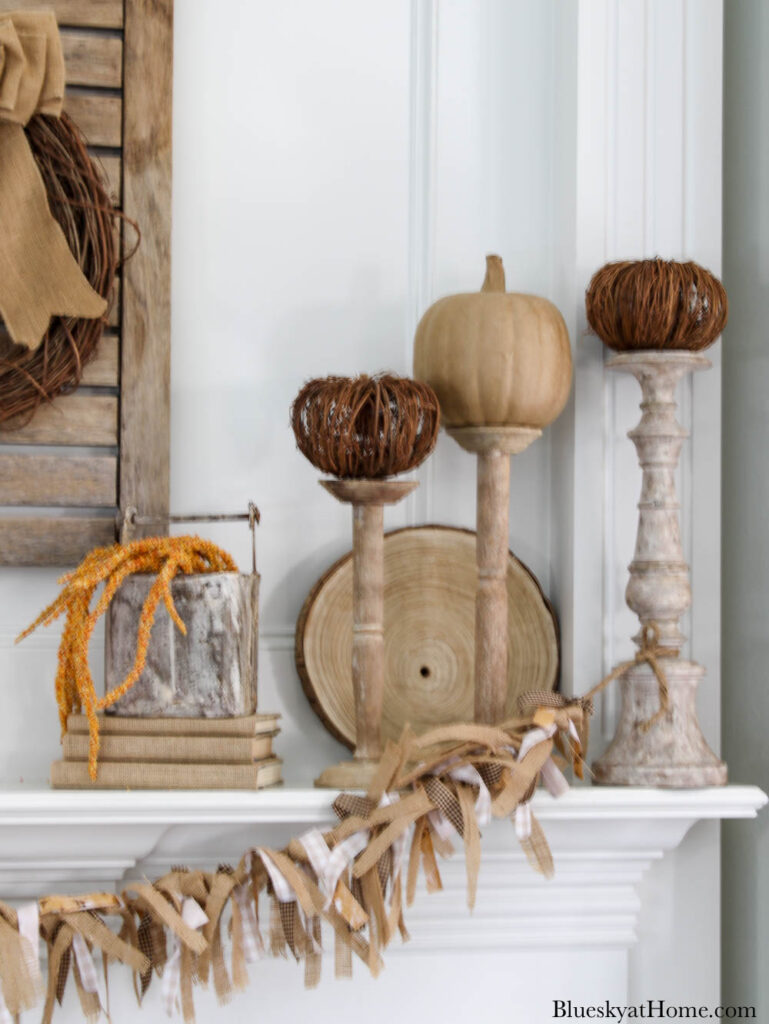 Using the third twig pumpkin on the coffee table would connect the mantel and the table.
I just needed to find something to set the twig pumpkin on. My round baskets and trays were too large. I remembered my woven placemats. They are the perfect size and texture.
On top of the woven placement, I stacked a green salad plate and dinner plate from my Thanksgiving china. The green color picked up the green of the eucalyptus.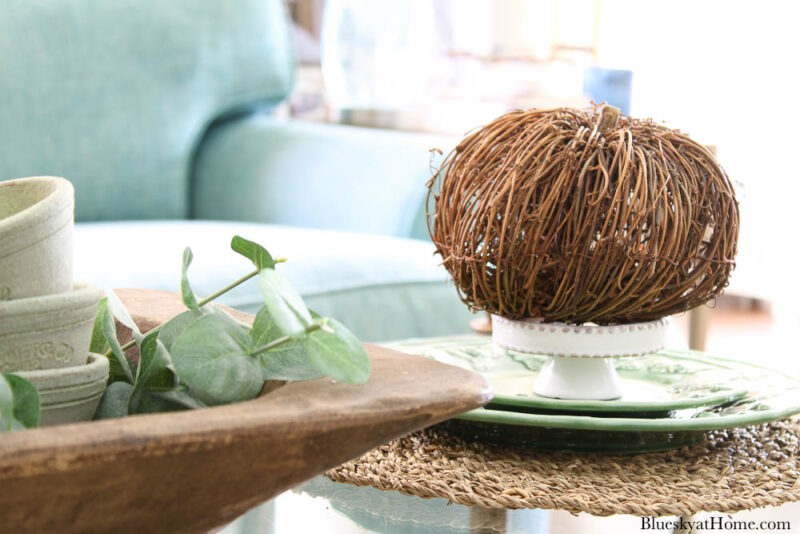 I used a cupcake stand to give a little height to the pumpkin. Also, I absolutely love the rough texture of the placemats. UnfortunateIy, I don't remember where I bought them.
If you look closely at the plates, you might see turkey legs.
No hint of summer here. Transitioning from a summer to a fall vignette on the coffee table was really so easy. I didn't purchase a single new thing. I love reusing accessories in new ways.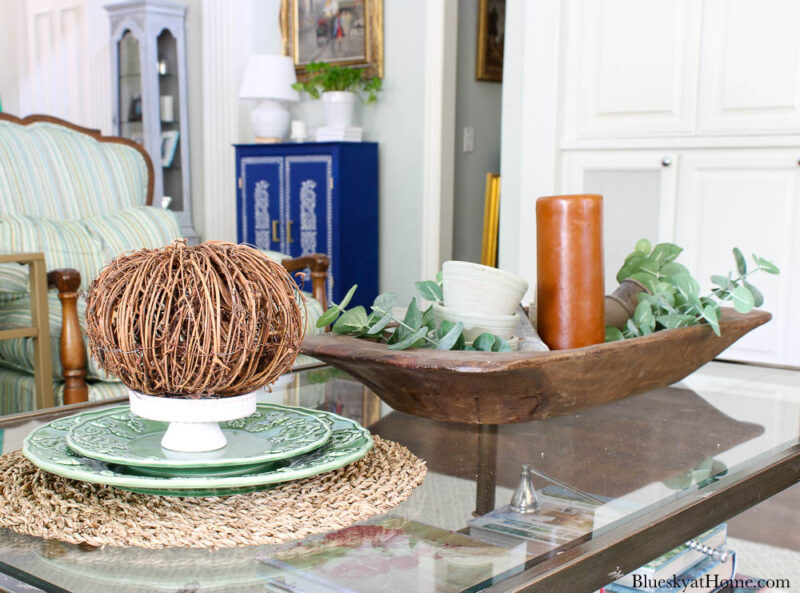 TRANSITIONING FROM A SUMMER TO A FALL SOFA TABLE
Our sofa table is always a prime decorating spot. I removed two white lanterns, two white vases, and two teal ceramic birds. I left two stacks of coffee table books and an oval wood tray.
For fall color, I first added a grouping of muted candles to the oval wood tray.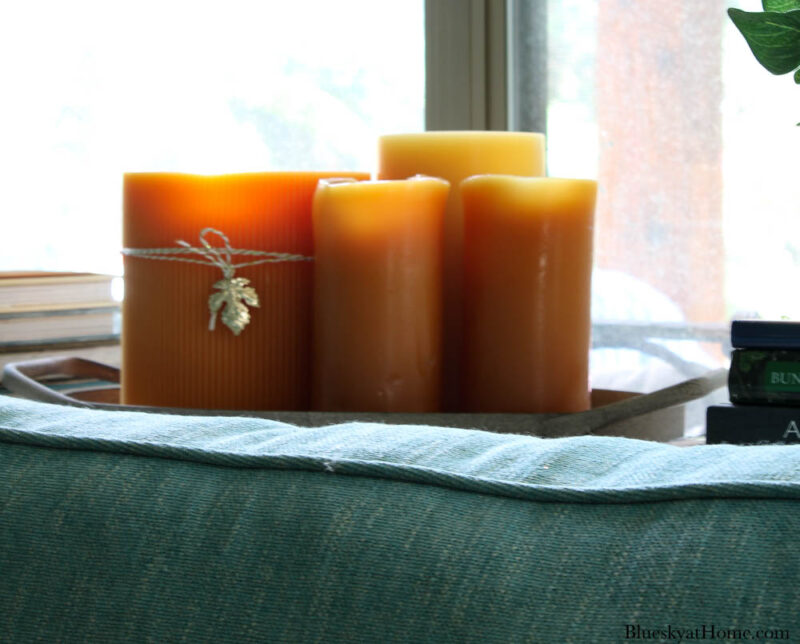 In the center of the table, I place a stone vase filled with faux limelight hydrangeas and more eucalyptus. We bought the stone vase at the McKinney Antique Mall in June. I've been waiting to use it in the right spot.
Instead of the two white wood lanterns, I used my brass and glass lantern. (A Pier 1 purchase that has been used dozens of times.) I filled it with soft yarn balls that were in one of my sewing supply drawers. I wish I had another package.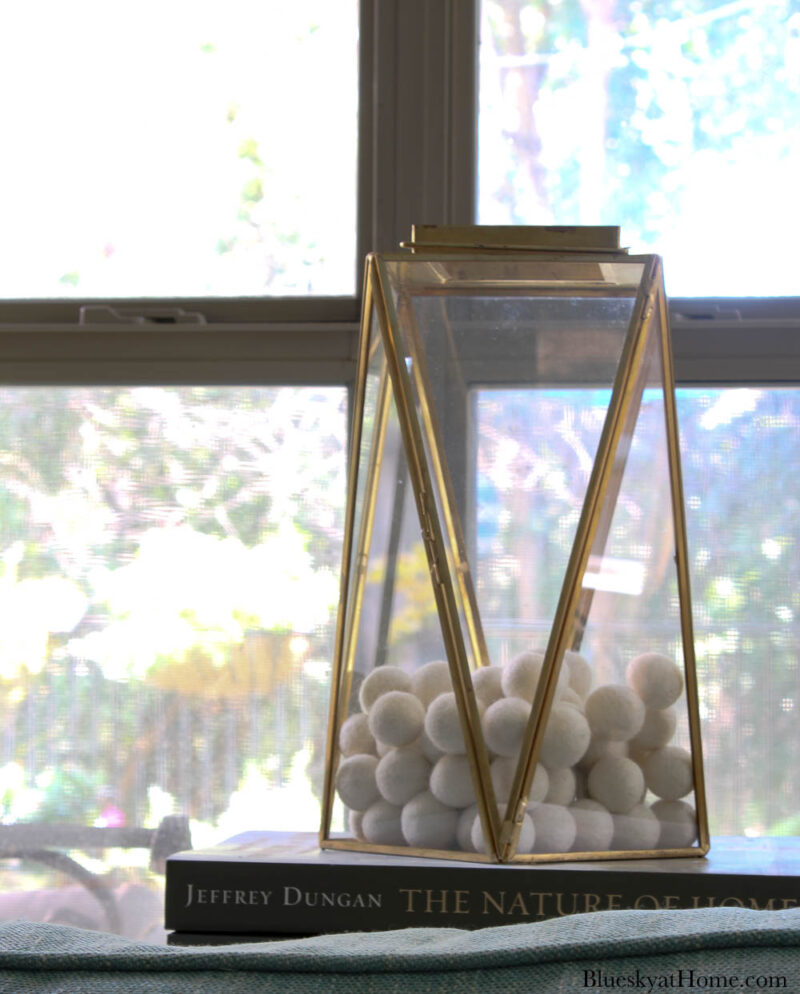 The three individual vignettes work together to form a fall~centered cohesive setting.
My last way to transition from summer to fall was to remove my bright aqua and yellow summer pillows. Instead, I used my favorite fall pillow. I bought this pillow at IKEA a few years ago. I love the colors and the design.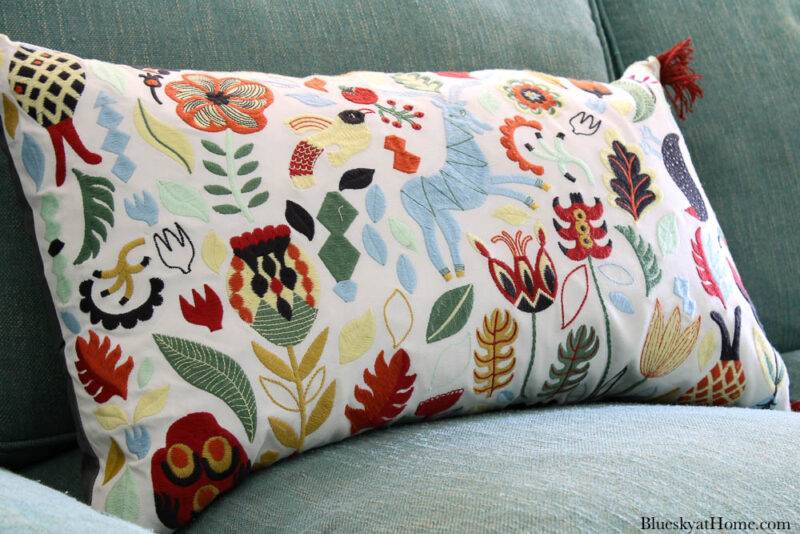 Here are more fall decorating ideas to inspire you.
I hope you loved how to transition from summer to fall ideas. There's more for you with my blogger friends. Start with our hostess, Amber at Follow the Yellow Brick Home.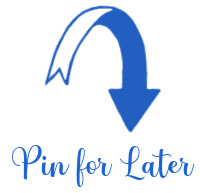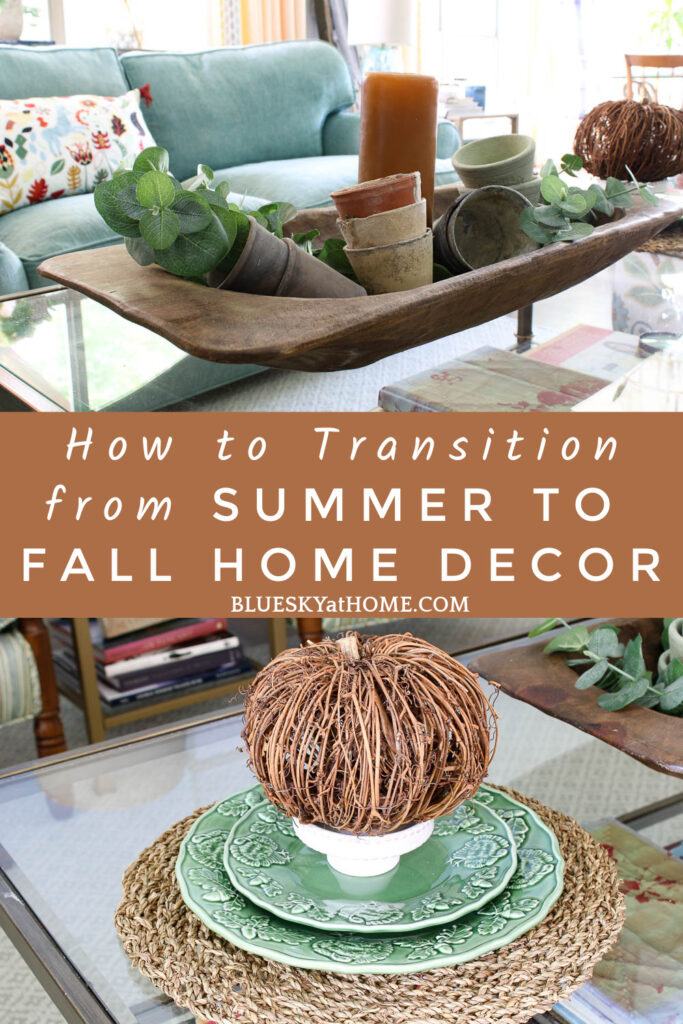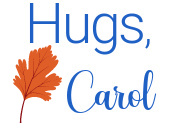 Amber at Follow the Yellow Brick Home
Marty at a Stroll thru Life
Debra at Common Ground
Our Southern Home
The Crowned Goat
Decor to Adore
County Road 407
The Thrift Addiction
White Arrows Home
Thistle Key Lane
Calypso in the Country
Bluesky at Home