Easy Dollar Tree Fall Yard Art
Want a simple DIY project to welcome in the fall season? Signs make fun fall decorations. How about an easy Dollar Tree fall yard art sign?
Do you like to shop at Dollar Tree or other dollar stores? It's easy to pick up cute decor and supplies for any season, holiday or event at Dollar Tree. You definitely can't beat the price, especially for a fall yard art sign.
Dollar Tree and other dollar stores can also provide inspiration for your own DIY creativity.
I have a new fall yard art idea that you can make quickly. It is a project that can be used in a few ways ~ in your yard or elsewhere.
I bet you have seen things at Dollar Tree and thought, "I can make something with that".
That's what happened when I made a trip to Dollar Tree for unrelated purchases. I saw a fall yard art sign and knew I could make it.
Fall Yard Art Signs: Easy Dollar Tree Project
This post contains affiliate links to products used in the creation of this project. If you should order any product from this site, I may receive compensation, but you will not be charged a penny more.
Don't forget to shop your fall supplies at Dollar Tree.
Inspiration for Fall Yard Art Sign
When I shop at the craft and home decor stores, I often get inspiration just by walking down the aisles. At Dollar Tree, I saw these cute fall yard art signs. The style wasn't exactly my style.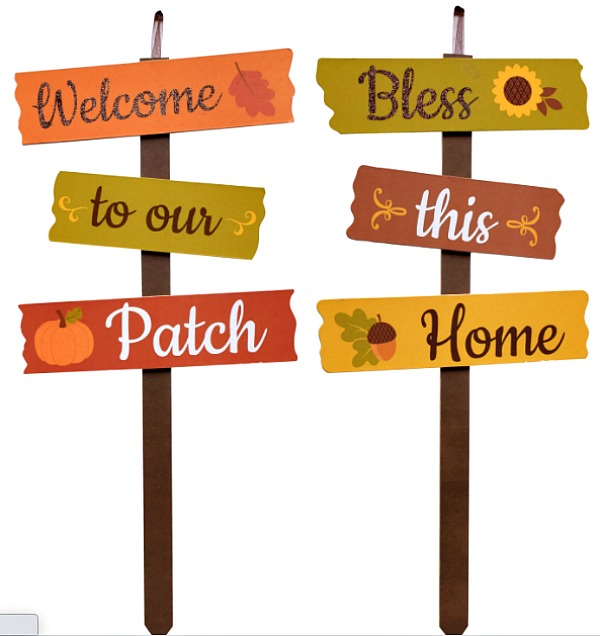 The parts of this Dollar Tree yard art were basically small painted and stenciled wood signs and a stick. I knew it could be replicated easily and with minimal expense. I was already at Dollar Tree so I just kept shopping.
Dollar Tree Wood Signs
As I walked down another aisle, I found some small wood signs. The DIY bell went off in my head. I would use them to make my own fall yard art sign.
The wood signs were about 7 3/4 inches X 4 1/4 inches. Three signs would make a nice size fall yard art sign.
Do you like easy DIY projects? Me too. Let me show you how easy it is to make this fall yard art sign.
Preparing the Signs for the Yard Art
Step 1 ~ At home, I removed the jute hangers.
Step 2 ~ Because these signs are raw wood, I first lightly sanded the surface and edges.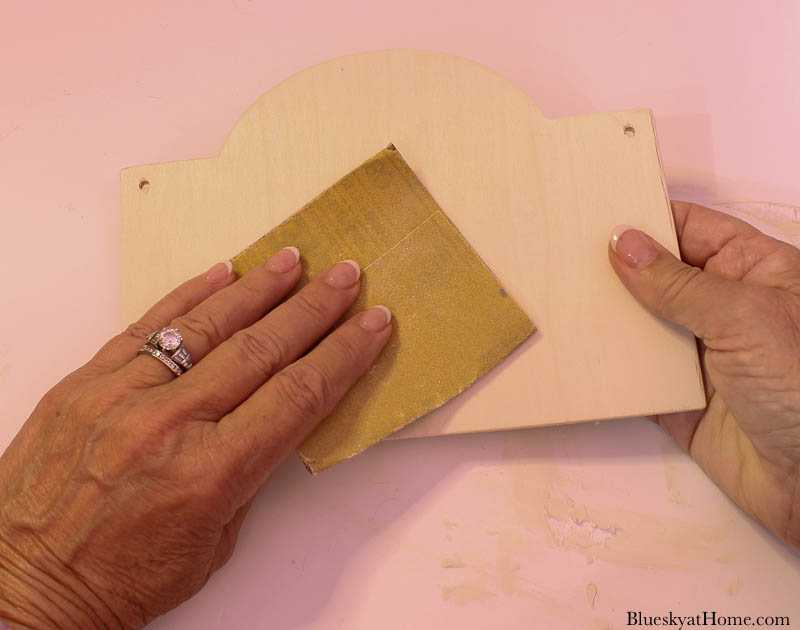 Painting the Wood Signs
I had a vision of what I wanted my fall yard art to look like. It involved paint and stencils.
Step 3 ~ Next, I painted the wood signs using Rescue Restore paint in Biscuits & Gravy. This chalk paint is my favorite paint for DIY and craft projects.
You can use any chip brush for this step.
Since these signs would be fall yard art and outside, I gave the wood signs two coats of Rescue Restore paint. The paint dries in about 20 minutes.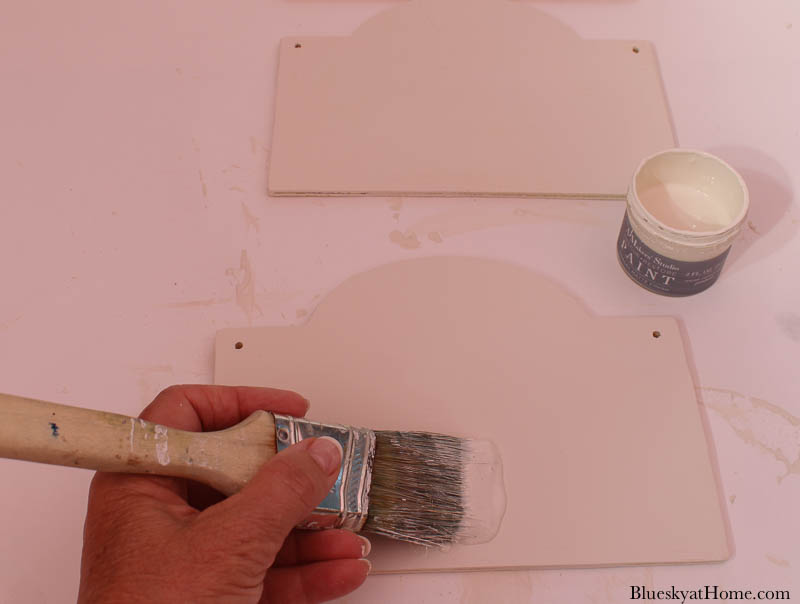 Adding Fall Designs to the Yard Art Signs
To add seasonal fall designs to my yard art, I used a brand new tri~mesh stencil from A Makers' Studio, Farm Fresh Pumpkins. This darling stencil has 6 individual designs.
I would use 3 of these designs, one for each wood sign.
Step 4 ~ Cut out the stencils that you want to use. There are white lines to guide you.
Step 5 ~ Place the adhesive~backed stencil on the wood sign and smooth it down.
TIP: Use Frog Tape painter's tape on areas that you don't want to apply ChalkArt.
For my fall yard art signs I used ChalkArt in Mind Your Own Business (orange) and Preaching to the Choir (black).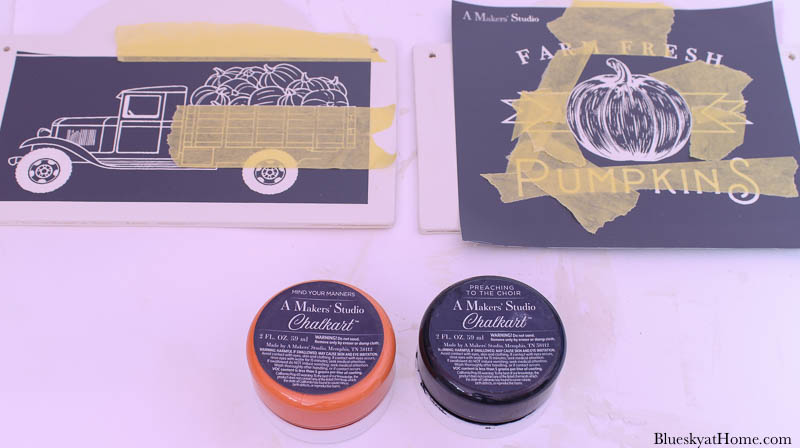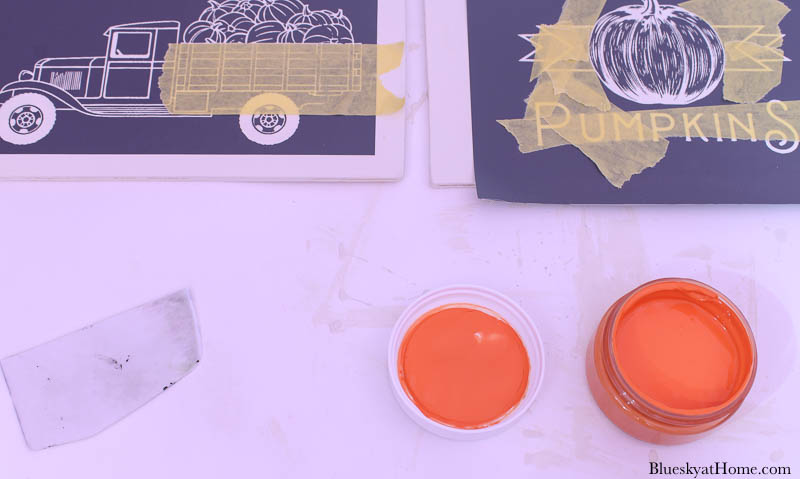 Step 6 ~ Using a plastic scraper, apply the ChalkArt by scraping it across the surface of the stencil.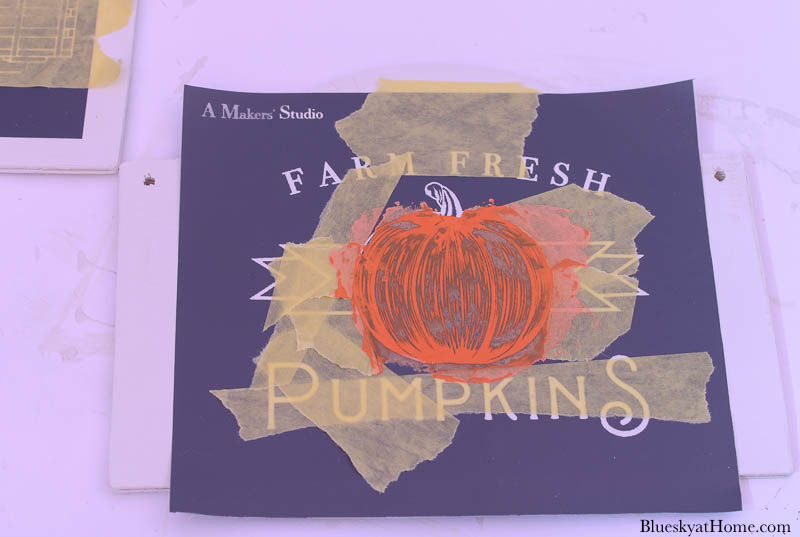 Step 7 ~ Gently pull back and remove the stencil from the wood sign.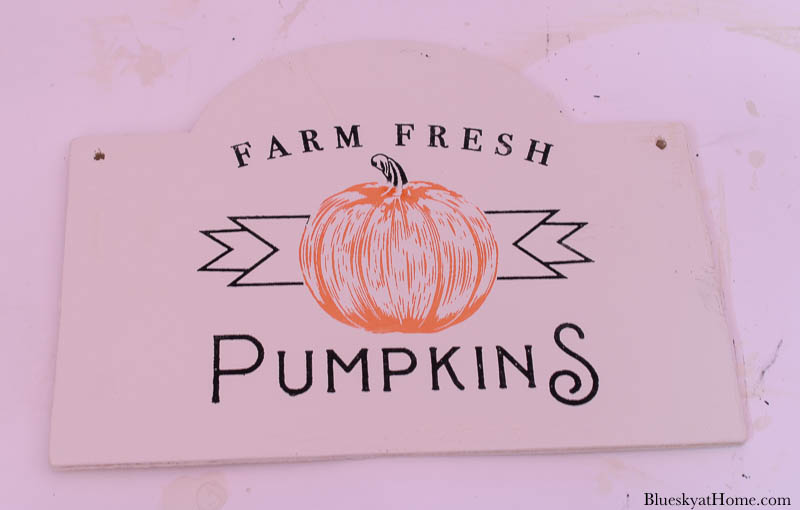 Set aside to dry and repeat with the other 2 signs.
For my last fall yard art sign, I also used our Alphabet 1 to spell F~A~L~L.
Here are all 3 of my wood signs.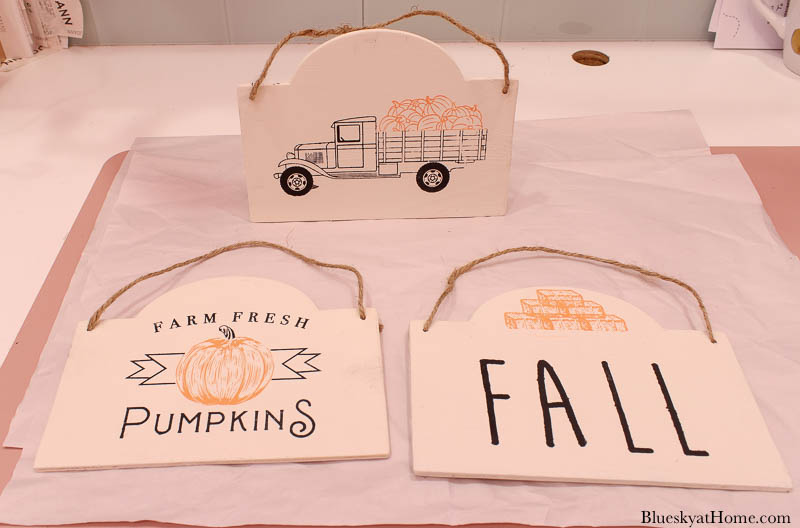 WOOD SIGNS BECOME FALL YARD ART
Step 8 ~ I needed something to turn my 3 small wood signs into a yard art sign. In our garage, I found this plant support made of bamboo.
Using this plant support meant I didn't have to use glue to attach my signs to a tall stick. I easily wrapped the jute hangers of the 3 signs around the horizontal supports.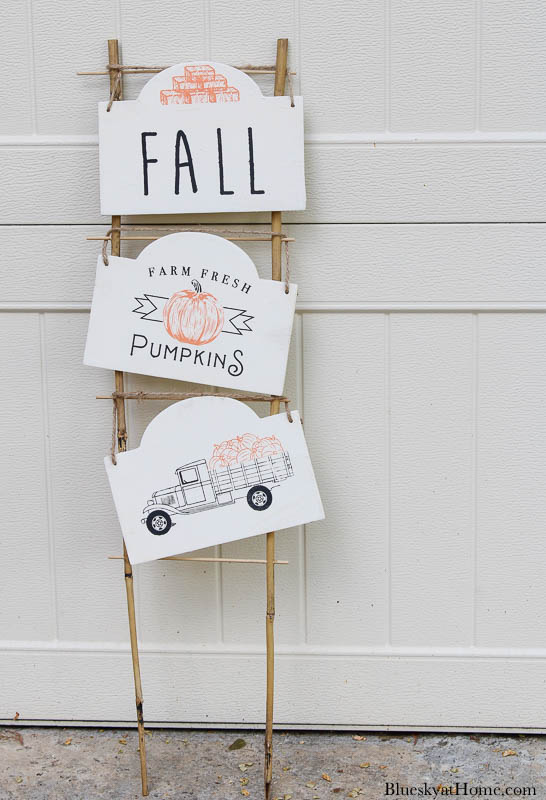 STEP 9 ~ Find the right place for your yard art. This yard art sign can go in several places in our yard.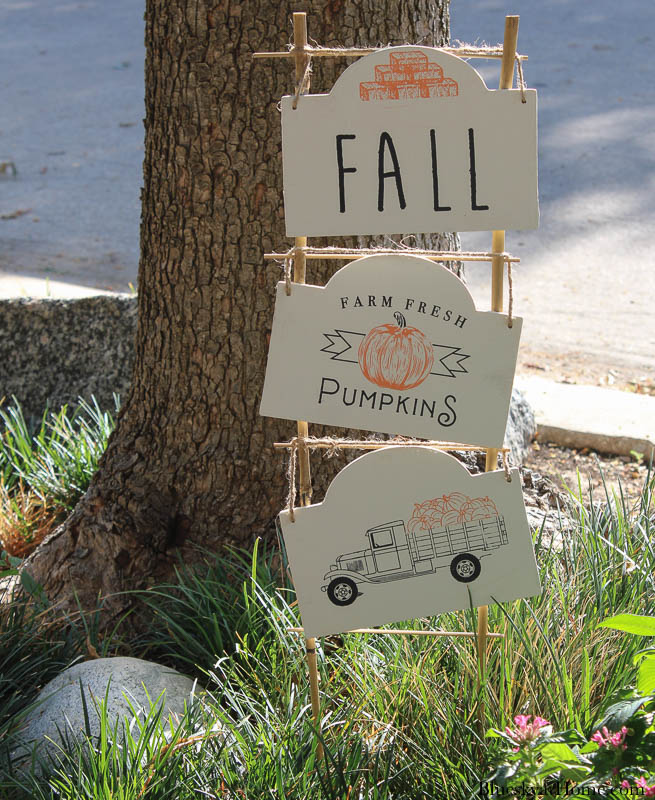 NOTE: I do plan to apply a sealer for the wood yard art signs.
When the weather becomes more fallish ~ raining or windy, I'll bring the fall yard art sign inside.
Do you like this sign? Would you make it? It was easy, took just about an hour to make, and I think it's so cute.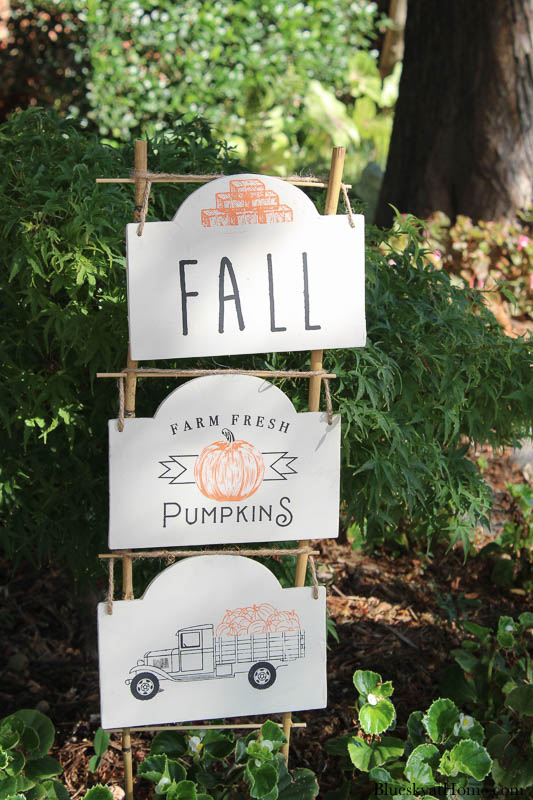 Wouldn't your neighbors enjoy seeing this sign in your yard?
More Stencil Sign Ideas
Want more instruction on how to use stencils? Check out these tutorials:
Please PIN this project so you have all the instructions and the supplies.