Simple Ideas for a Small Fall Front Porch
It's the time of year when fall is calling. What better way to announce that the fall season is here than to decorate your outdoor space? Your neighbors will love the curb appeal you create. I have some simple ideas for a small fall front porch.
Now, this doesn't mean that you can't use these front porch decor ideas for any size front porch. Or even if you don't have a bona fide front porch – like me. These fall porch decor ideas will work in the smallest of areas.
With September coming to an end, now is the perfect time to welcome fall in a big way. The front of our homes provides an obvious place to decorate with fall seasonal decor.
I'm going for a simple fall front porch this year, using iconic fall items. I hope you find some ideas you can use.
Inspiration for a Fall Front Porch
Today is Pinterest Challenge Day. Our sweet hostess, Cindy of County Road 407, has again found a beautiful image to inspire us.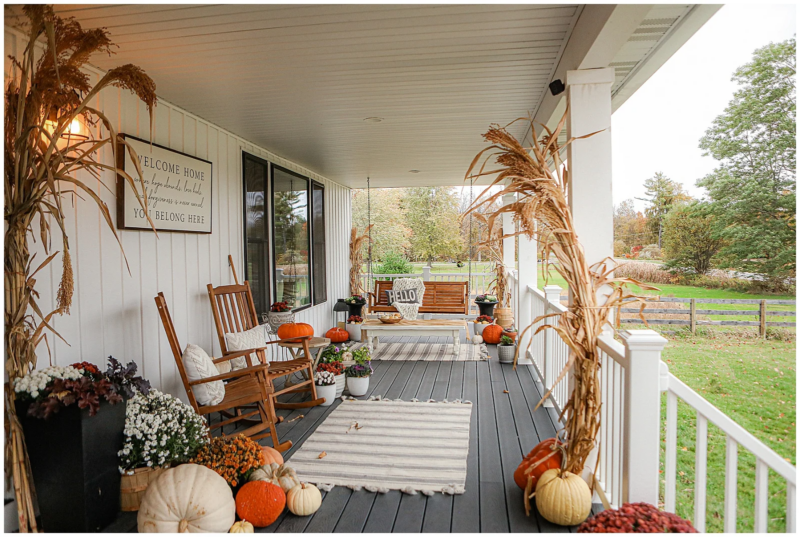 Rachel and Kevin of Sugar Maple Farmhouse have created one of the prettiest front porches ever. Ironically, I included their lovely fall front porch Saturday on my 10 Fabulous Ideas for Your Fall Front Porch. If something is good once, it's great twice.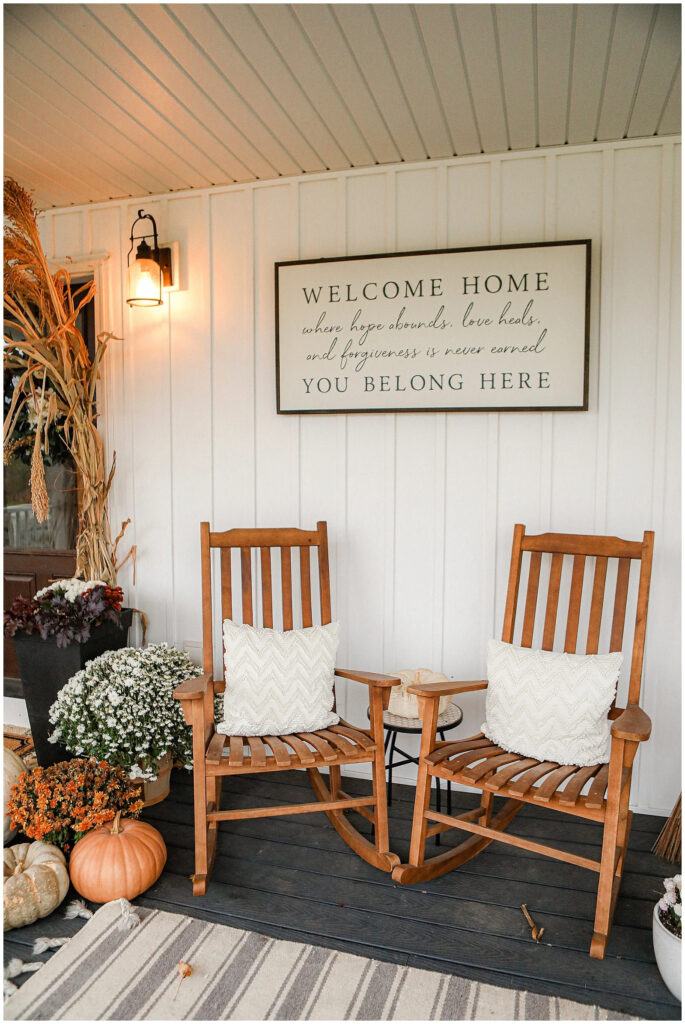 If you are coming over from Barb of French Ethereal, then welcome. We're hoping you'll join us for some front porch rocking.
This post contains affiliate links to products used in creating this project. If you should order any item from this site, I may receive compensation, but you don't pay a penny more.
Elements of a Fall Front Porch
In looking through those 10 fabulous fall front porch ideas, I shared several favorite things that a front porch might have. Here is my list:
a wreath on the front door
potted plants
rocking chairs
benches
rugs
lanterns
pumpkins
hay bales
throws
pillows
signs
door mat
baskets
seasonal flowers
With this list in hand, I began planning my fall front porch.
Now, keep in mind that the front of our house doesn't have what you would call a real front porch. There are no front steps. It is not covered. You can't use a big rug or a rocking chair.
We basically have a front door with a small amount of space on each side. There is enough covered space so that you can ring the doorbell and not get wet if it's raining.
We work with what we have, right? The size of our front entry requires simple fall decor. I also decided that I would use traditional fall colors.
Fall Decorations to Use on a Very Small Front Porch
From my list, here is what I have on hand to use:
faux pumpkins
fern in a metal urn
fall ribbon
Here is what I bought to add to our fall decor:
pumpkins – from Trader Joe's
fall flowers – mums from Trader Joe's and Lowe's
hay bales – I bought mine on sale at Joann for $4.99 each
New Fall Garland Above the Front Door
Before hanging the new fall wreath on the front door, Sweet Shark helped me hang a strand of fall garland on the lintel above the front door.

I bought a strand on sale. Then I embellished it by adding more pieces of faux stems.

Last Christmas (our eighth in this home), we discovered that a previous owner had attached 3 screws into the brick above the stone lintel. That really gave us more decorating options.
New Fall Front Door Wreath
Don't you think that fall wreaths are required for a front door? You may remember the Pumpkin and Flower Wreath I made a couple of years ago. I love it, but I wanted a new wreath for the front door.
When I was researching for fall front porch ideas, I saw adifferent type of wreath by Modern-Glam. I loved the natural look of the pampas grass wreath that Ashley made.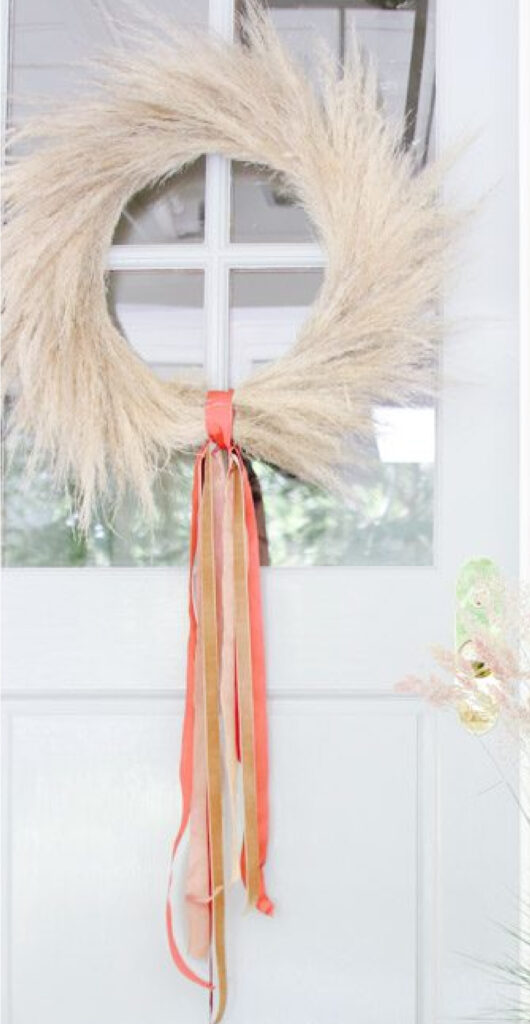 I bought several stems of pampas grass a couple of weeks ago for my fall entry. I loved the natural look and the texture.
After buying another package of pampas stems at Trader Joe's, I got to work.
Ashley used a metal wreath form. I had a straw wreath I bought last year and didn't use. I decided to use it for my pampas wreath.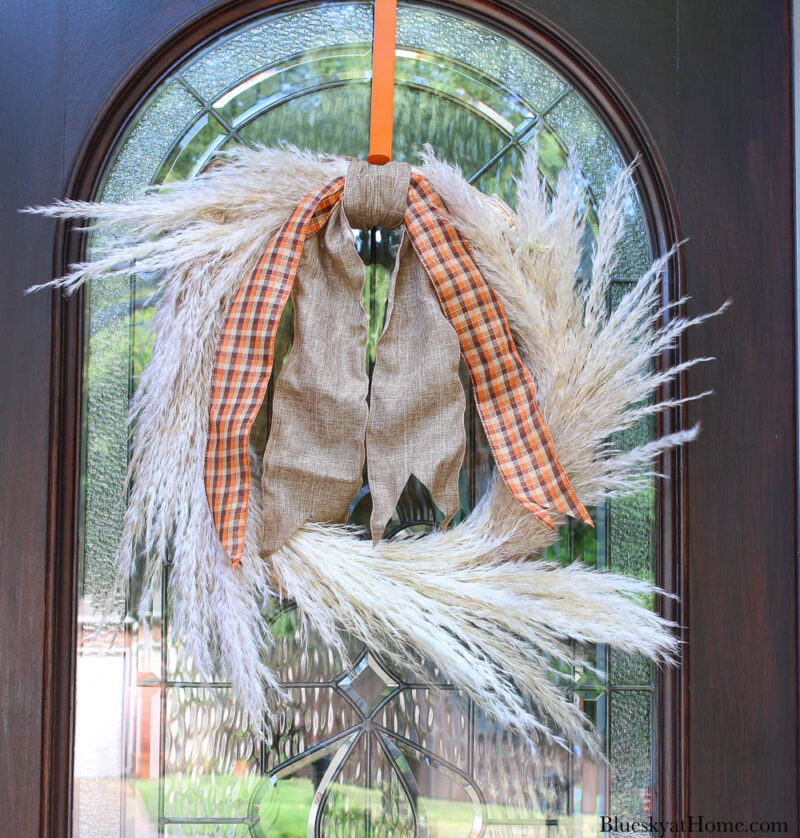 Tomorrow, I'll share how to make the pampas grass wreath. It's easy and not expensive.
Finishing Touches for the Fall Front Porch
In my list above, I shared the decorative items that are always apropos for fall porch decorations.
On the left side of the front door, I began with a metal urn and a green fern. It's a pop of color that contrasts nicely with the natural elements I'm using.
A couple of white pumpkins found a nesting spot on the fern.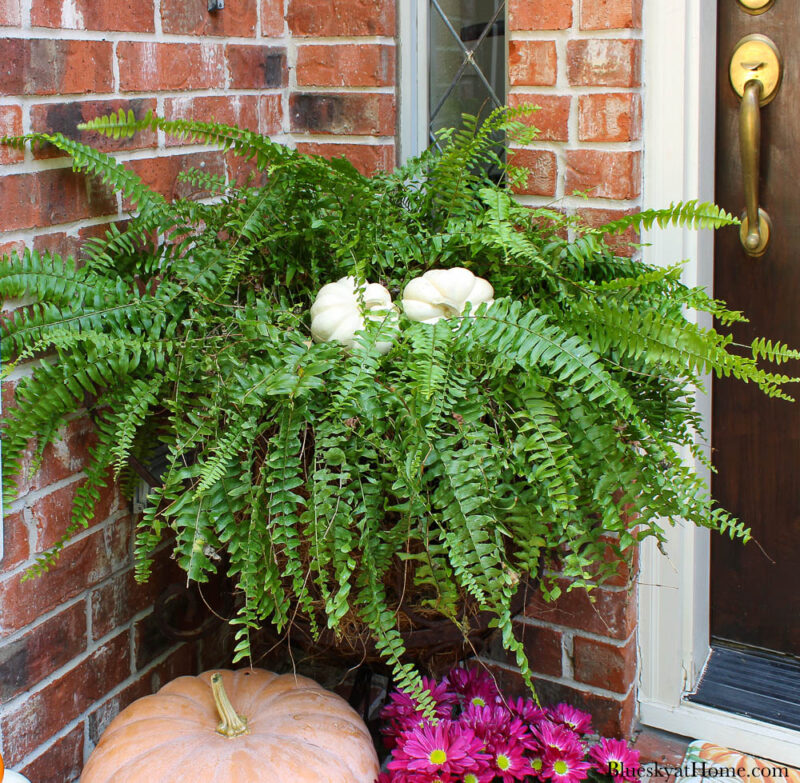 In front of the metal urn, I used one of my favorite fall items – hay bales – as a base for real pumpkins. I used a variety of white pumpkins, orange pumpkins, and one pretty blue-green fantasy pumpkin.
Also, I tucked in two pots of iconic fall flowers – mums in burgundy and light purple.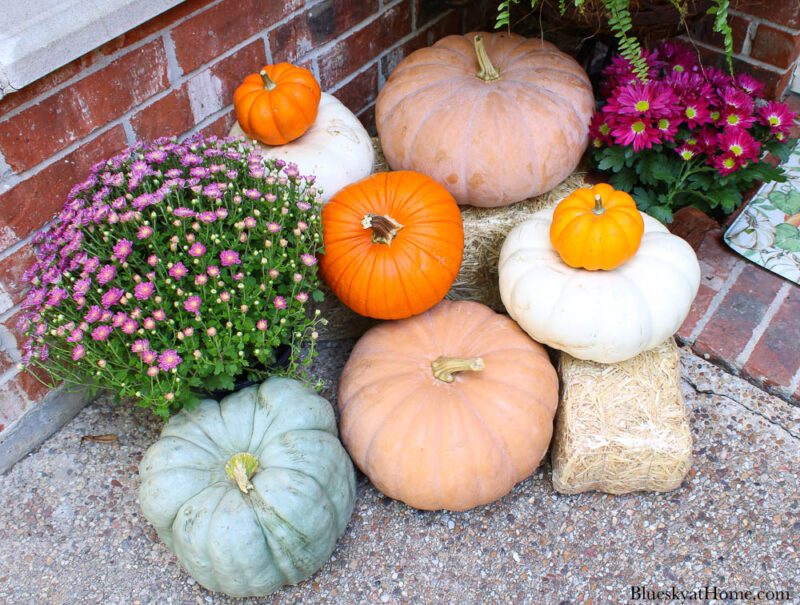 On the other side of the door, I used my tall wood lantern. I've had this lantern for several years. It's been in the entry, the living room, and the breakfast room.
This year I filled it with a stem of orange faux leaves, a couple of faux pumpkins and gourds.
Next, I included another bale of hay, a few pumpkins, and another burgundy mum.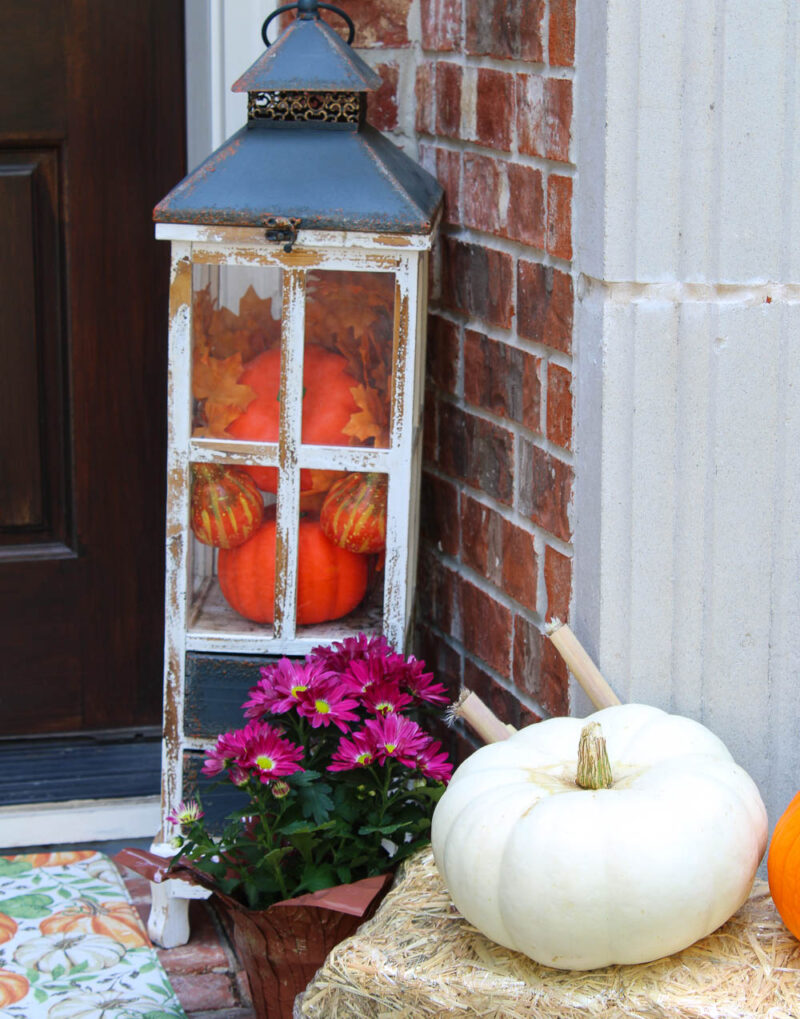 The hay bale and two more pumpkins help to balance this side of the front door.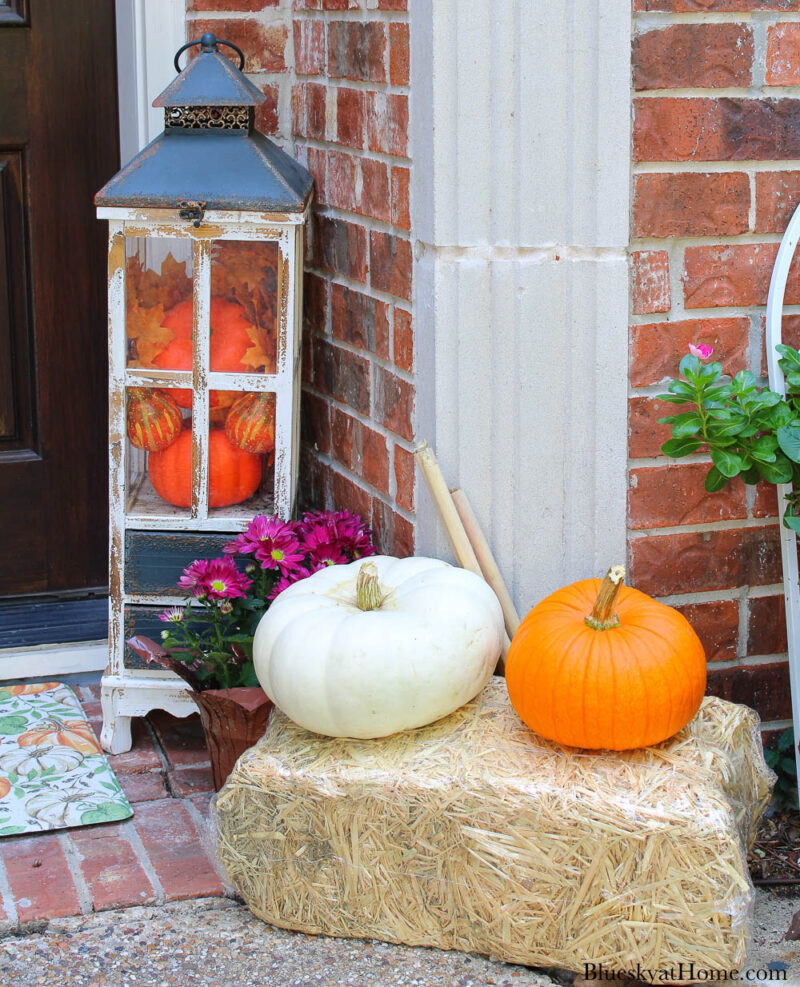 At the front door, I added the pumpkin and leaf door mat that I bought last year.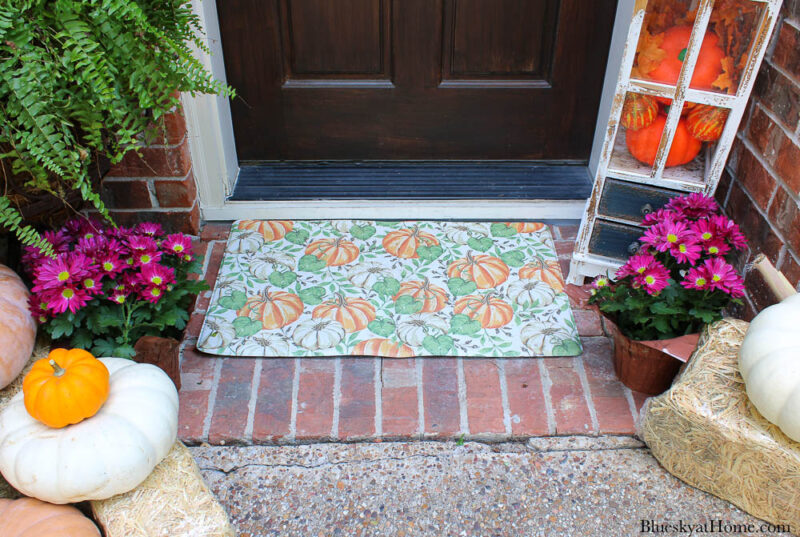 There is enough overhang to protect the lantern and the mat from rain.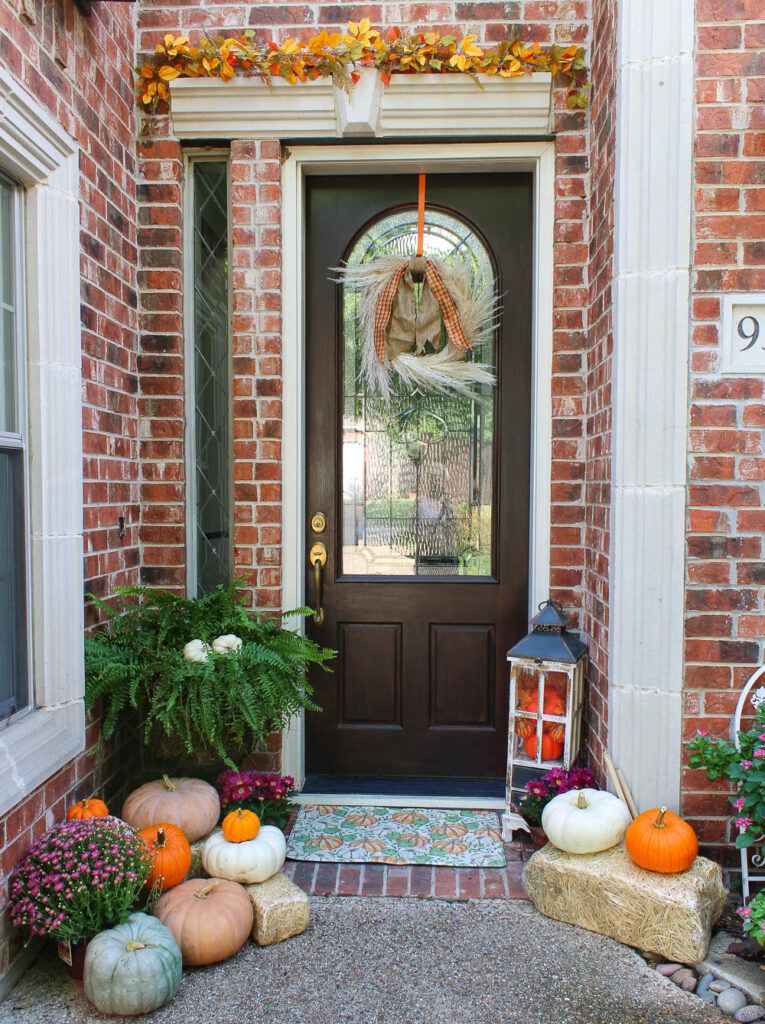 Because of the small size of our front porch area, that's all the fall decorations that fit. I think our new simple fall decor adds a nice touch of seasonal curb appeal. I love the autumn color palette and the slightly rustic look.
Items for Your Fall Front Porch
Try these items for decorating your front porch.
I hope you like the ideas for a simple small fall front porch that I've shared. Please PIN this post to share with friends and so you don't forget.
Be sure to visit the fall front porch of ideas from my fellow talented bloggers. Start with Christy of My Southern Home.