How to Make a DIY Pumpkin Wreath
Have you ever made a wreath? Have you made a pumpkin wreath? Let me show you how to make a DIY pumpkin wreath you will love to display for fall.
Wreaths are the most common ~ and effective ~ way to dress up your front door. They are such a welcoming statement for guests and neighbors. Want to have a DIY fall pumpkin wreath for your front door?
What says fall more than pumpkins? Adding some gourds and florals will also give your DIY fall pumpkin wreath a stunning look.
It's not hard to make your own wreath with the right materials, the right tools, a vision, and a little know~how.
This is one of my very favorite wreaths that I've ever made. I love the colors, the texture, and the design. I hope that you will love it, too.
Did I mention that this DIY pumpkin wreath will have a little bling? Yes, ma'am.
Today is the first of a couple of weeks of Autumn in August. I'll be sharing some of my favorite fall DIY projects and home decor ideas.
I'm kicking off the week with a little Autumn Blog Hop with some of my Mastermind blogger friends. Every week this group gathers for an exchange of ideas and support. I know you'll enjoy the ideas of these talented ladies. See the list of the Autumn in August participants below.
If you are joining me from Barbara of Mantel & Table, I know you enjoyed her beautiful copper tablescape.
Wreaths are limited only by your vision. I wanted white, a little metallic, and some color in the florals. Think of this tutorial as a pumpkin wreath suggestion.
A DIY Fall Pumpkin Wreath
Are you ready to start making a fall pumpkin wreath? Follow along.
Supplies For This DIY Pumpkin Wreath
This post contains links to products used to make this project. If you should order any product from this site, I may receive compensation, but you will not pay an extra penny.
Some of these supplies apply regardless of the style of your pumpkin.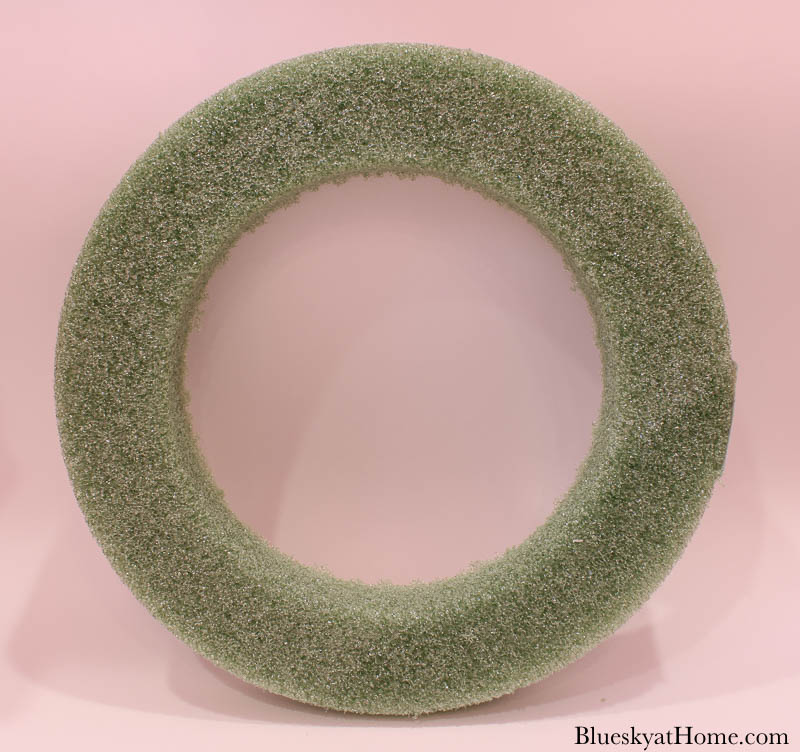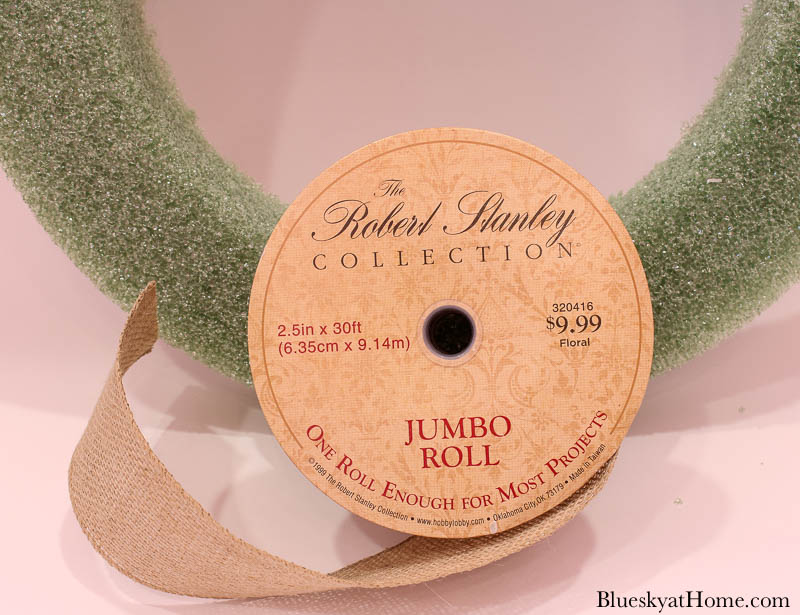 I really like the real~life look of the stems.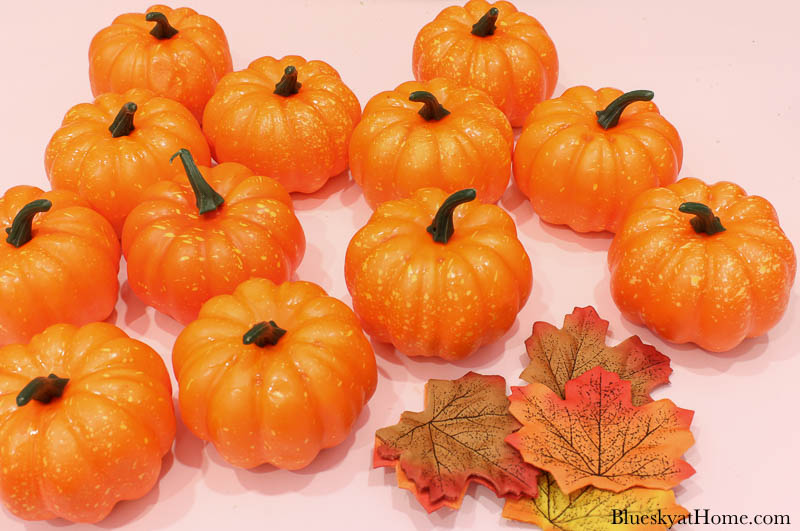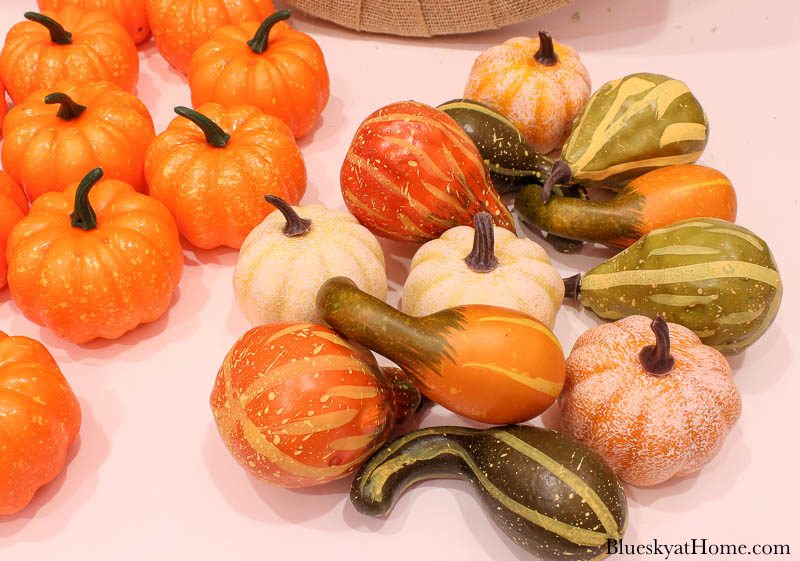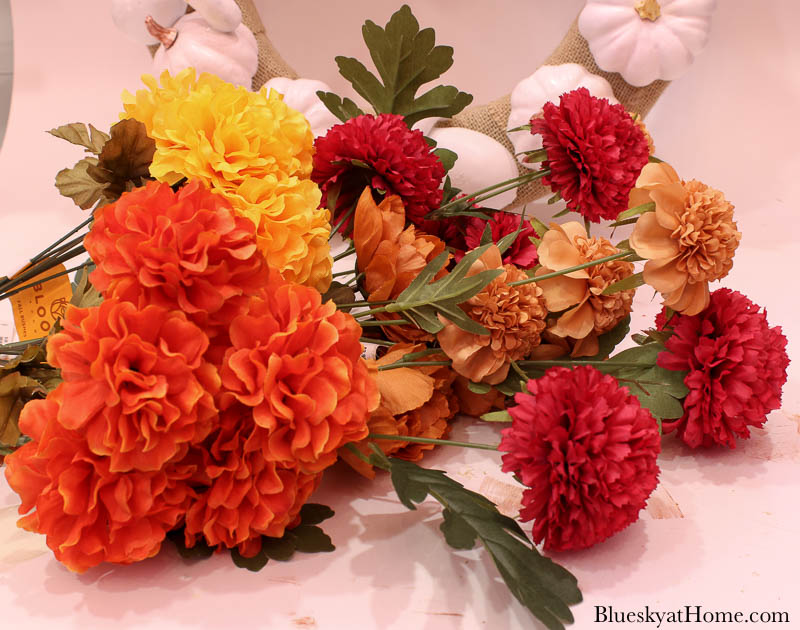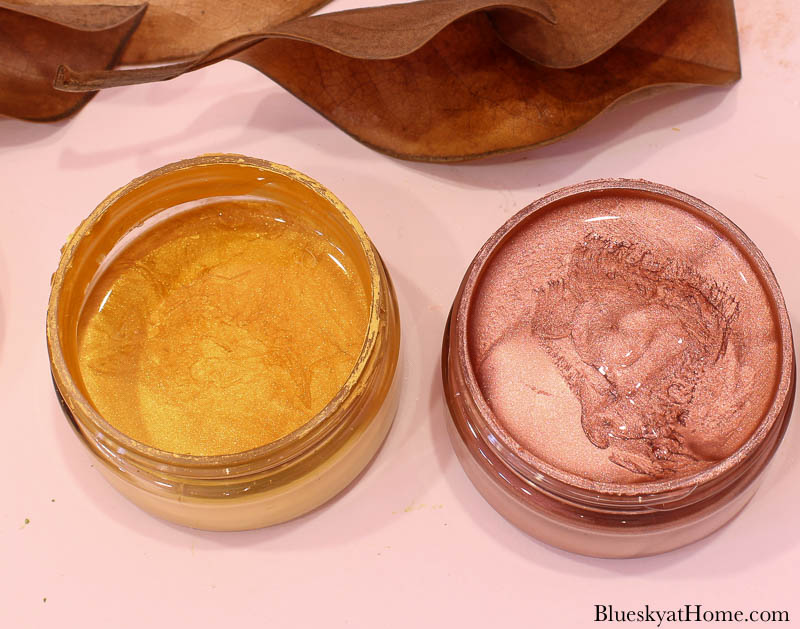 Steps To Preparing And Painting The Pumpkin Wreath
This is an easy DIY wreath, but it does take time ~ mostly waiting for your pumpkins to dry after painting.
Wrap the wreath with your ribbon of choice.

Use your glue gun every 4th "wrap" around the wreath to glue the ribbon. Pull the ribbon tightly, overlapping the ribbon just a bit to cover the wreath.

Continue wrapping your wreath until it is completely covered.


Set your wrapped wreath aside while you paint your pumpkins.


Painting Your Pumpkins ~ Set up a spray paint area for your pumpkins outside.





Spray the first side of your pumpkins.


Paint one side of your pumpkins and gourds, let them dry, and then turn the pumpkins over.





Heat up your glue gun.


To see the placement and number of pumpkins, arrange your pumpkins and gourds around the top of the wreath.


Begin gluing your pumpkins to the wreath. You can tilt or space your pumpkins to your liking.





Continue adding and gluing the pumpkins around the wreath. I tilted the pumpkins and gourds for more interest.


Paint your pumpkin stems. Use a small brush to apply 2 coats of your metallic paint to the stems. I alternated the copper and gold paint.





Make sure that all your pumpkins and gourds are firmly glued. Add extra glue if needed.



Adding the Faux Flowers
Use your flower clippers to cut your faux flowers off the stems. Attach the flowers in a random color scheme with your glue gun in between the painted pumpkins and gourds.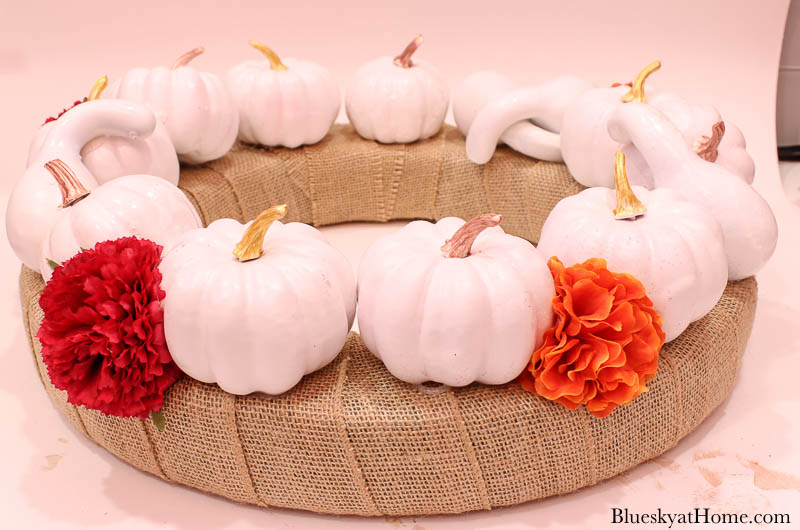 I will probably buy a few more faux flowers to fill in a few places on my pumpkin wreath.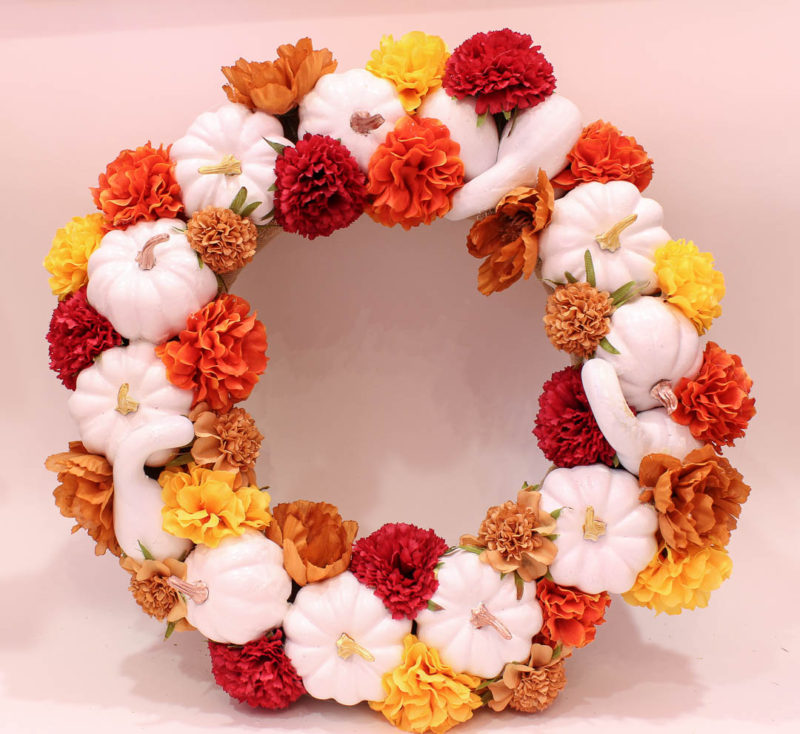 Hanging the DIY Pumpkin Wreath
Wrap your hanger with your ribbon of choice. I used ribbon in fall colors that I bought at Dollar Tree. I used it briefly for my wood slice wreath.
My finished pumpkin wreath would go on our front door. I used a piece of the same ribbon to loop through the wreath on the hanger. (You can see me in the reflection of the glass.)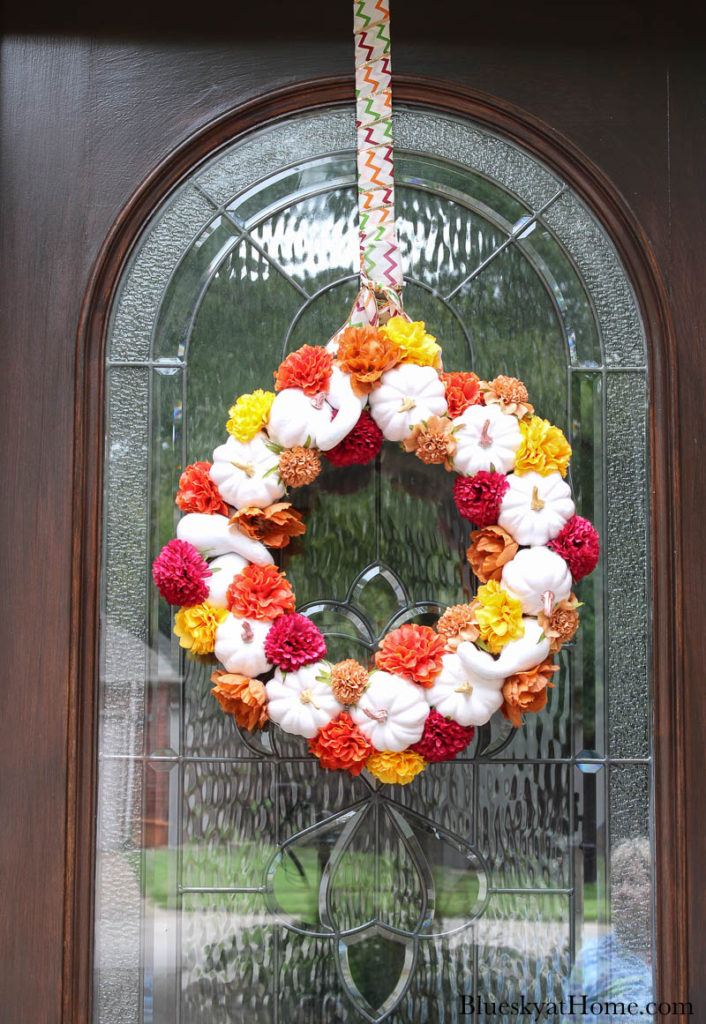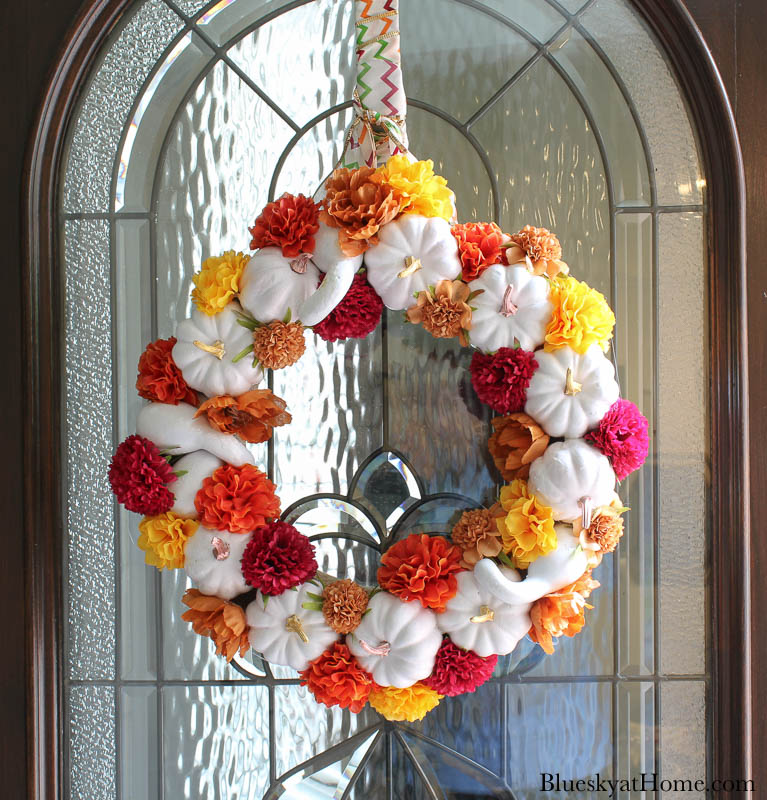 Although I hung this pumpkin and flower fall wreath on my front door, you could also hang it above your mantel, on a mirror, or on a wall in your home.
This DIY pumpkin wreath is definitely my very favorite. The bright fall colors in the flowers contrast nicely with the white pumpkins and gourds. The pop of copper and gold metallic is a nice addition.
I hope you like this project and would consider making this DIY pumpkin wreath for yourself. Please PIN so you have the instructions.
Thank you so much for visiting Bluesky at Home. I'm so glad you are here.
I hope that you will PIN this fall pumpkin wreath project. Please see the fall ideas my friends are showing below. Start by visiting Kim of Shiplap & Shells and all her DIY ideas.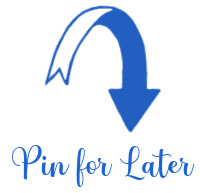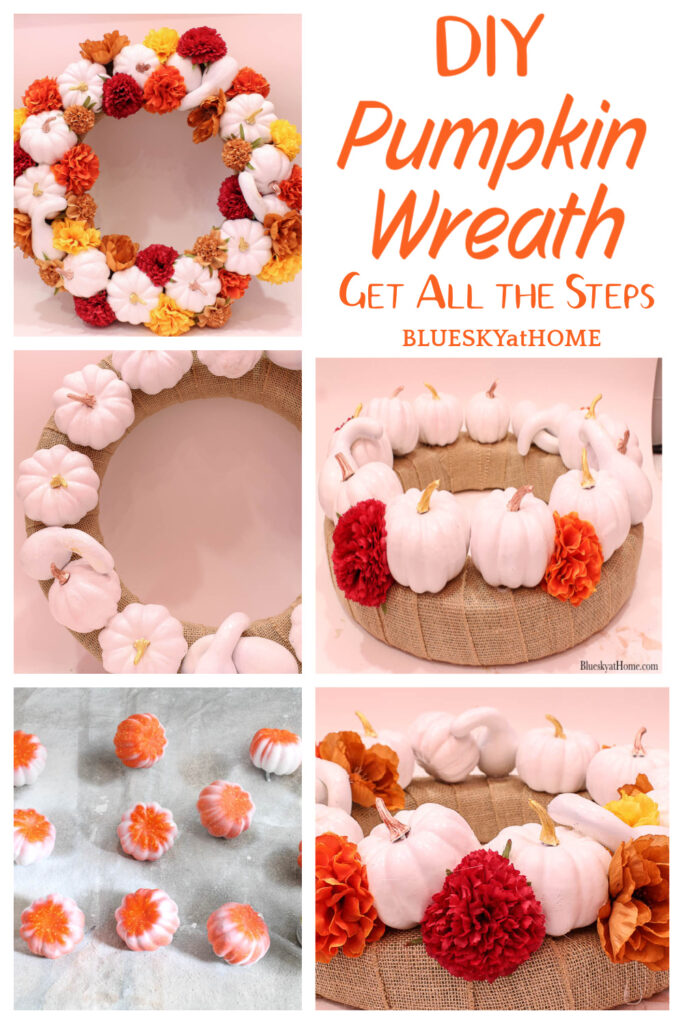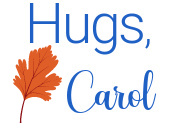 Chas Crazy Creations – Super Easy Dollar Tree Pumpkin Crafts on a Budget
Celebrate And Decorate – Dollar Tree Home Decor
Life At Bella Terra – Fall Wreath Ideas and Inspiration
Mantel & Table – A Simply Beautiful and Bright Copper Tablescape for Fall
Bluesky At Home – How To Make a DIY Pumpkin Wreath
Shiplap and Shells – 6 Home Décor and DIY Project Ideas to Get You Ready for Autumn
Happily Ever After Etc – Easy Fall Home Decor Paper Acorns With Your Cricut
Design Morsels – An Easy Fall Leaf Napkin Ring