Cabinet Makeover ~ from Gaudy Gold to Soft Elegance
Has this ever happened to you?
You don't need another piece of furniture. It isn't your style. (You've probably figured out by now that my style tends to be farmhouse and country French and soft neutrals with pops of pastels.) Or your color. You have nowhere to put it.
But somehow it ends up in your house and you need to find a place for it and you need to make it work with your own decor and style and color.
There's a story here, so stay with me.
That's what happened last August when Sweet Shark's mom was moving out of her apartment into assisted living. (My sweet, sweet mother~in~law passed away in February. She was 94 and was so ready to "go". I know she is very happy where she is, but we miss her.)
Anyway, there were 2 pieces that I had never noticed in her living room because it was a room you never went in. In packing up and sorting out what she would take and who would take the rest, Sweet Shark and I spied 2 pieces ~ a desk and a tall cabinet with 3 glass sides, with 3 glass shelves, in a crackled, gold finish. The cabinet had good lines, could be practical, but it was gold and crackled. Never one to pass up the possibility of making over a piece of furniture, I said let's take them.
The desk went straight upstairs to one of the our guest rooms (to be transformed a some point in the future), and the cabinet got tucked in a corner of our breakfast room ~ gaudy gold in the middle of my soft blue pastel and white kitchen and living room ~ for 8 months. I just never could work up the effort to re~do it ~ until right before our Kentucky Derby Party. Isn't it funny how having a bunch of people over to your house will motivate you?
So now I can finally share this cabinet transformation with you.
The Transformation Begins
I had started to tape the piece when I remembered the before pics.
I wasn't kidding when I told you it was gold! From top ~ you can see the leaf motif, which I hope to bring out with distressing ~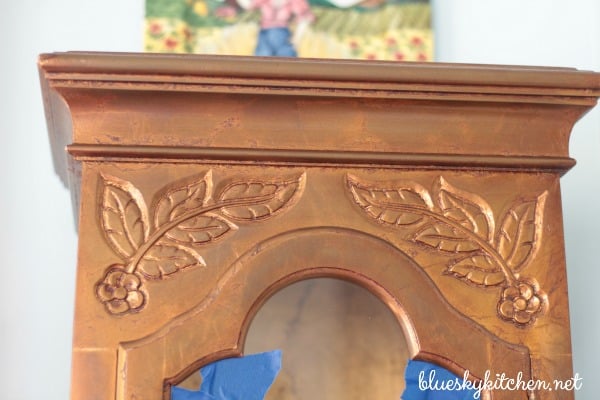 ~ to bottom
And the crackle inside finish ~ which has to go.
Step Number 1
Remove the shelves, clean the piece with mineral spirits, tape off the glass with frog tape, and seal it so the gold wouldn't bleed through.
Step Number 2
What color to paint it? I knew it had to be soft and neutral. And neutral to me means Paris Grey, French Linen and Old White ~ my favorite Annie Sloan Chalk Paint neutrals.
I decided that the inside would be French Linen and the outside with be Paris Grey with an Old White wash. Painting inside the cabinet was kind of tight.
One coat of French Linen on the inside and the inside of the door ~ this is after 1 coat on the inside and 1 coat of Paris Grey on the outside.
After painting the outside with 1 coat Old White full~strength and 1 coat of Old White wash, the cabinet was painted. I applied Clear Wax with a rag and then started distressing using a standing block to create look that says "I originally was in a French chateau, but I've spent the past 100 years in the back of Monsieur' garage in the dust and the muck." A little worse for wear.
I did add some more Old White in the grooves on the legs, sides and top.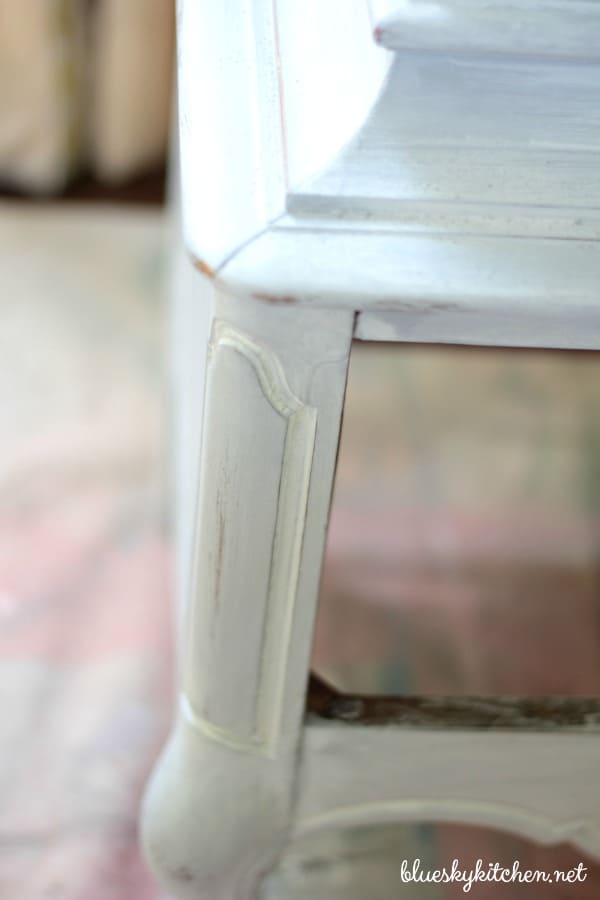 I painted over the hardware on the drawer and door and then sanded some of the paint away.
Drop in tomorrow and I'll share the big reveal.
I promise the gaudy gold is gone ~ never to be seen again.