My 5 Favorite DIY and Craft Projects for 2017
My gosh, it really is 2018. Happy New Year. What a year 2017 has been, for so many reasons that I'll share next week. But I tell you that it was a year of changes, a year of learning and a year of new challenges ~ and I loved every bit of it. At the end of 2016, I didn't have an office, my laundry room was a funky yellow, and my Cricut machine was still in the box. I had never used a saw and I had never made a stencil. That all changed in 2017. I really upped my DIY game and learned quite a few new skills that I intend to use to create future projects. 2017 was the year of DIY and here are my favorite DIY and craft projects. If you missed any of these during the year, here is your chance to catch up and be inspired.
Some of these projects were planned way ahead of time and some just "popped up", the ones I call #randomactsofDIY, created by a desire for something pretty or a necessity for a practical solution to a problem. Although I completed many more DIY projects than the ones I'm sharing here, these made the cut as my favorite DIY and craft projects for 2017.
My 5 Favorite DIY and Craft Projects for 2017
The Completion of My Office
The big reveal of my new office was definitely the high point of my DIY projects and it came early in the year. I planned and planned again for this office construction and outfitting it for maximum storage and efficiency. Hopefully, you can take away from practical ideas for your own office space.
The Unplanned~For Laundry Room Update
Updating our laundry room was not even on the radar at the beginning of 2017. It rose out of necessity. A wall that had to be moved over to accommodate installing my flea market French doors as a barn door resulted in the need to paint the laundry room and one thing led to another. This project was the biggest one that Sweet Shark and I have ever worked on from a construction standpoint and we learned so much. How to construct the weathered wood backsplash and build the countertop may help you on any future projects you may have.
Learning to Use my Cricut
Learning to use my Cricut was on my 2017 bucket list and I checked this task off in March after taking a class at Joann. But learning to use a new piece of equipment takes practice and just using it over and over. In little and big ways, that machine is paying for itself and I hope to learn how to utilize it more every year.
Making a Printer Box
Necessity is the mother of invention. After cutting wood for our laundry room project, I knew that I could cut small pieces to make a needed addition for my office ~ a printer box. Since I was able to use left over wood from the laundry room project and paint already on hand, this project cost me less than $10 and was made in a day. But its usefulness is proven every day.
Making a Stencil from Scratch for a Fall Sign
This DIY project became one of my favorite accessories for our home last year. Teaching myself how to make a stencil with my Cricut resulted in a farmhouse sign that stayed out until the end of the year. I almost hate to put it up for the coming spring and summer. But it will spur me to make a new one, using the same technique for making a stencil.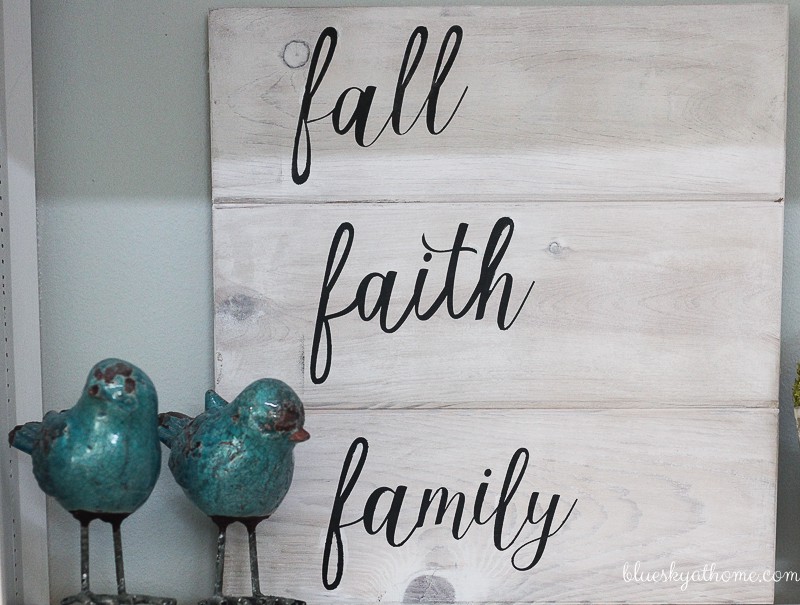 Thanks for letting me share my favorite DIY and craft projects of 2017. I hope that you found some projects that you would like to try in 2018. Not a one of these projects will go out of style.