Vintage Cutting Boards for Valentine Decor
Do you shop flea markets? Antique malls? Garage sales? Your grandmother's attic? On a recent flea market shopping spree in Atlanta, I hit the jackpot when I found some vintage cutting boards that I could make into Valentine's decor.
For those of us who love to find old or vintage items to rescue, restore and repurpose, these places are our go~to treasure troves. I was thrilled when I found the perfect vintage cutting boards for Valentine's decor.
Fortunately, they fit into my suitcase. It was the perfect discovery: I had been searching for some old cutting boards and here they were. Just the inspiration for a Valentine DIY project.
These cutting boards fill all the criteria: vintage, Valentine decor, Valentine DIY project.
So you may ask, how do vintage cutting boards become Valentine decor? Have a seat and I'll show you.
Vintage Cutting Boards Become Valentine Decor
This post contains links to A Maker's Studio. As a Maker Boss, I will receive compensation if you order any product from the site.
If you read articles like "the 10 top most popular flea market finds", then you know how popular vintage cutting boards are. I was so excited to find 2 that were in great condition, good sizes, and a good price. The small one was $14 and the larger one was $16. I didn't know if those were reasonable prices, but it was fine with me so I didn't hesitate.
If you are in the Atlanta area, I urge you to stop by the Queen of Hearts Antique Mall in Alpharetta. I could spend days in there browsing their wonderful selection.
As you can see, each one has a different finish and a little bit different shape in the handle. The smaller one has a twine loop, which I removed for my Valentine decor project, but I'm saving it for later. I also removed the piece of ribbon on the larger cutting board.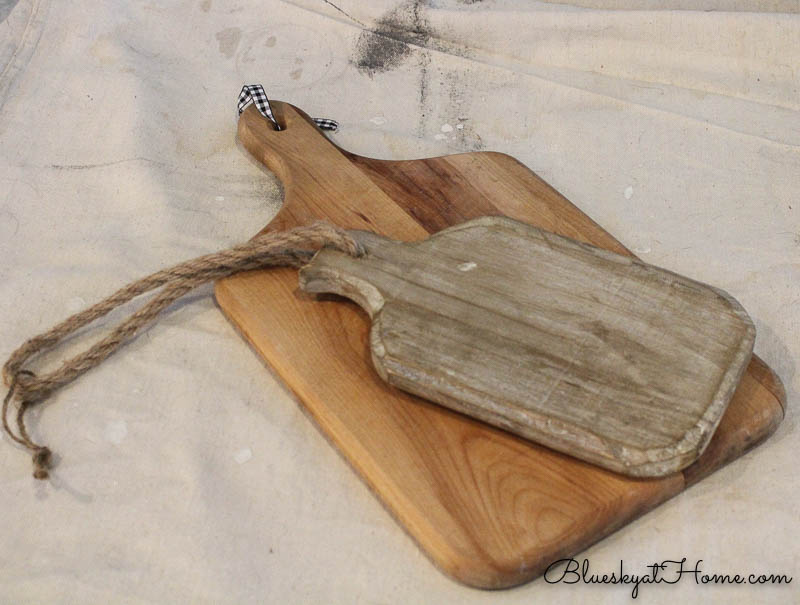 Making the Valentine Decor
You know I can't resist a cute Valentine stencil. I love the stencils from A Maker's Studio and they were my inspiration for making the vintage cutting boards become Valentine decor.
I used a combination of our I Love You stencil and designs from other stencils. I used the size of the cutting boards as my guideline. To protect the surface of the cutting boards, I wiped on a light coat of our Light Antiquing Wax, rubbing it on both sides of the boards. This wax is more liquid than other waxes you might have used and goes on easily with a clean no~lint cloth.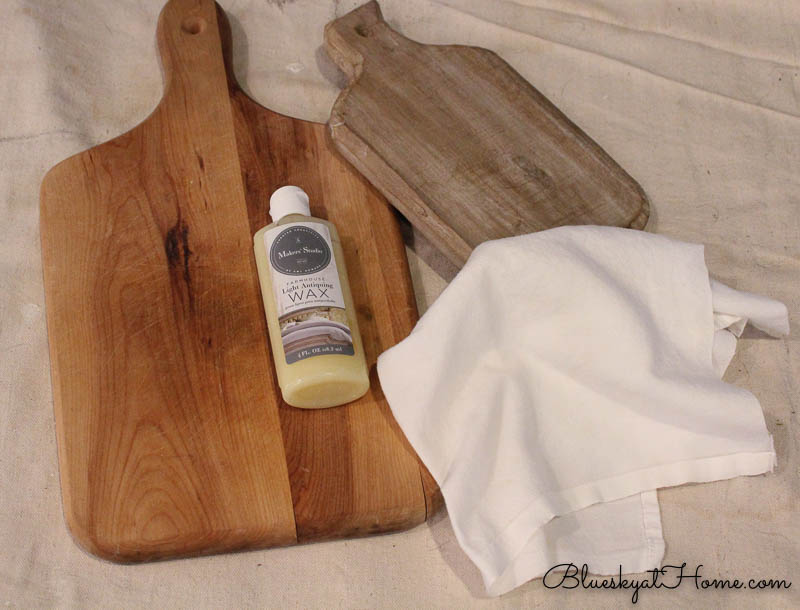 Valentine Decor for the Larger Cutting Board
For the larger cutting board, my inspiration was the Beatles' song, "I Will Always Be in Love with". The chorus is "love you forever and forever". It's the sweetest song ~ great for Saturday night kitchen dancing with your sweetheart. If you aren't familiar with it, search for it on YouTube. I cut out the stencils that I want to use and laid them out on the larger cutting board.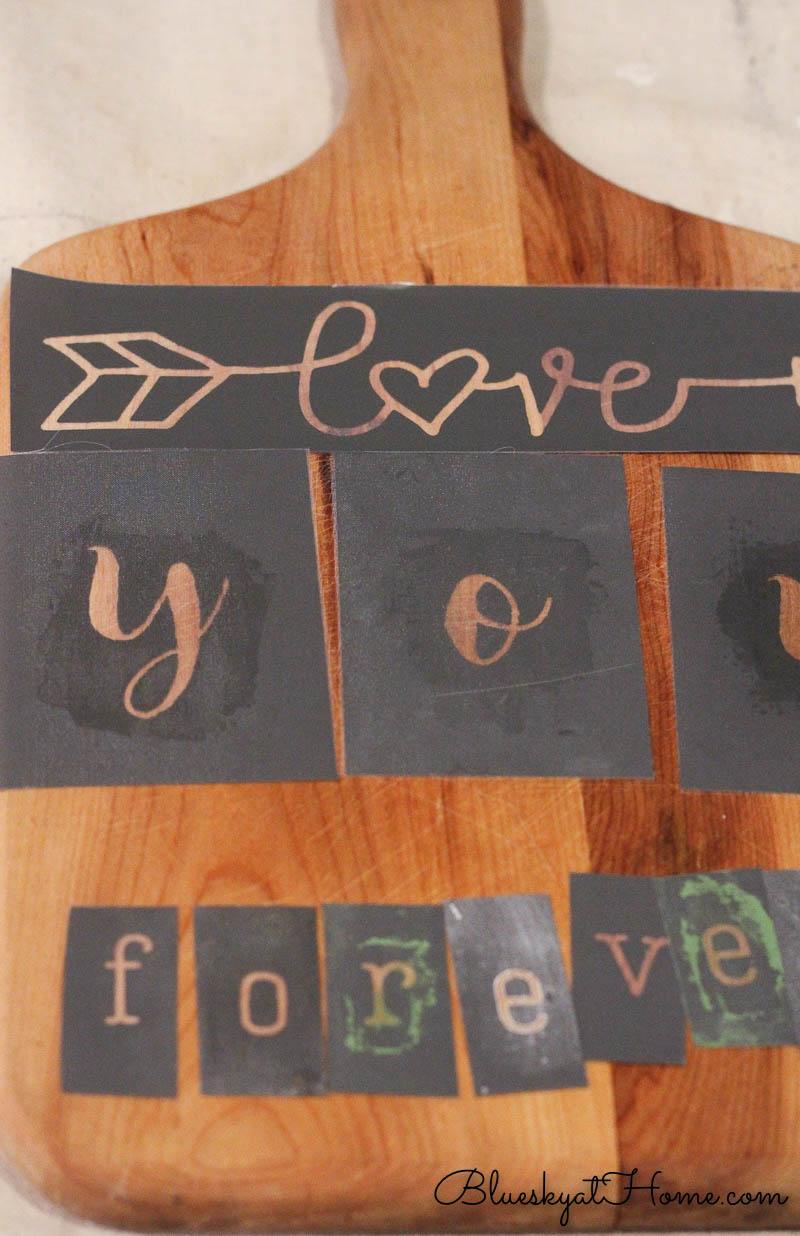 The "love with arrow" design is from our I Love You (Valentine) stencil. Spelled out "you" with Alphabet 2. Forever with Alphabet 4.
Since after Valentine's Day, I will want to use the vintage cutting boards for other designs, I'm using ChalkArt which can be wiped off with a damp cloth.
After pressing down the stencil to adhere to the surface (all stencils have adhesive backing to make sure they stay in place ~ what a great idea!), I have found that using painter's tape around the stencil gives you extra room for applying the ChalkArt. I shared this tip in my DIY Valentine Heart Sign. This one little step allows you to have a freer hand and keeps you from accidentally painting over your surface.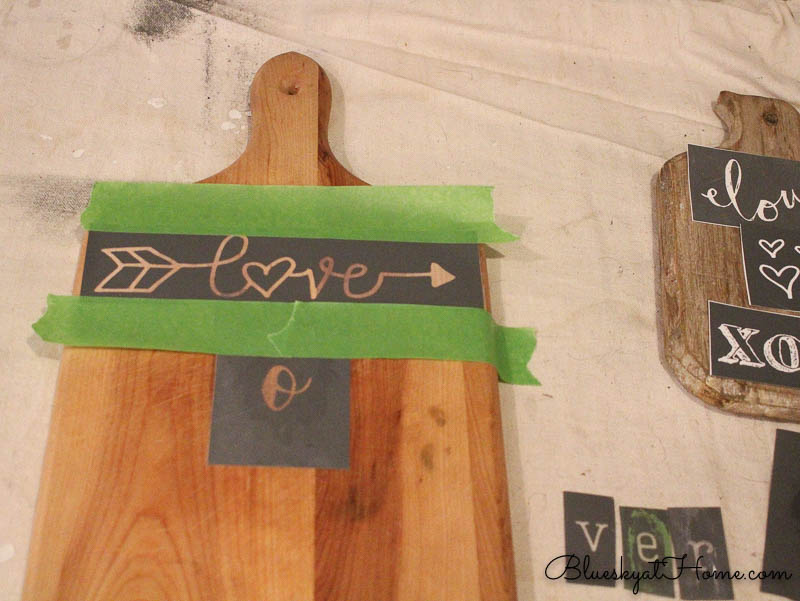 Using my plastic spreader, I "smeared and spread" the Chalkart in Peace & Joy over the stencils, starting at the top in the center.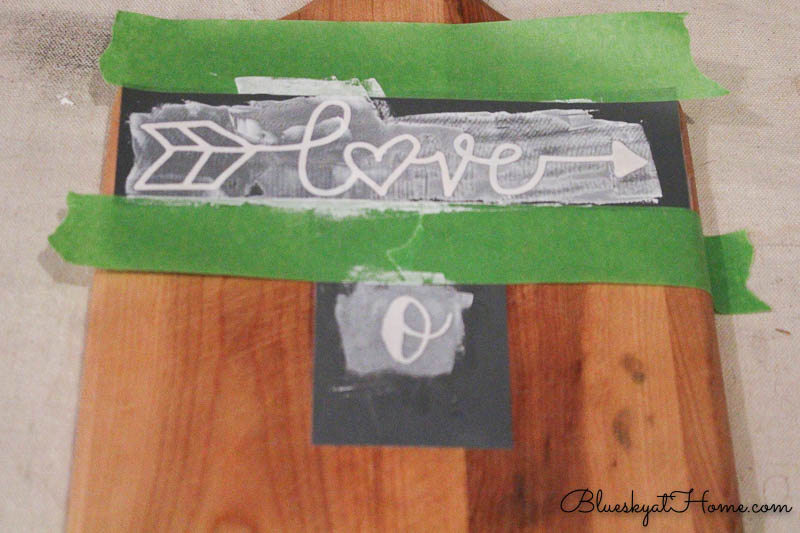 As I finished one stencil, I removed it and the painter's tape. Wait a minute or 2 before adding another stencil and edging with more painter's tape.
I decided to fill in the heart in the word love with Peace & Joy. I used a flat brush to apply the ChalkArt. To finish this vintage cutting board, I used a piece of red and white checked ribbon. Pretty cute, uh?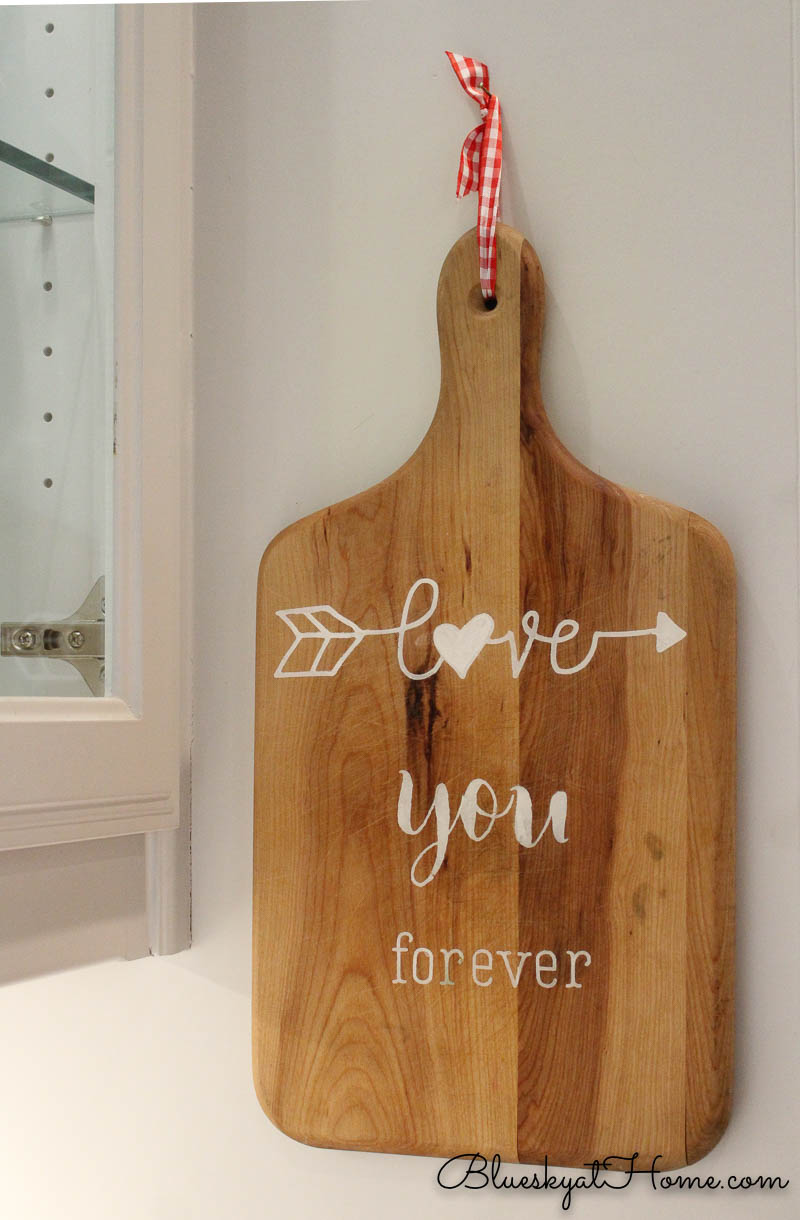 I might go back and add another heart at the bottom of the cutting board. What do you think? Heart or no heart? Would you do it in white or red?
TIP: To make cleaning the stencils easier, I filled a small plastic container with water. As I finished using each stencil I placed it in the water. This got the stencils out of the way and kept the ChalkArt from drying on the stencil before I could start washing them.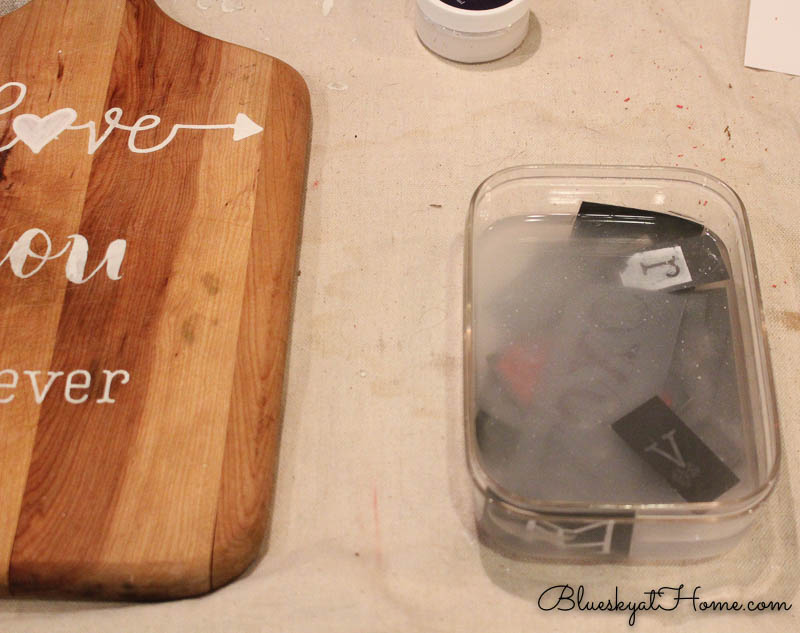 The Small Vintage Cutting Board
For the smaller vintage cutting board, I used a combination of 3 stencils.
For the group of hearts, I used ChalkArt in Love Is.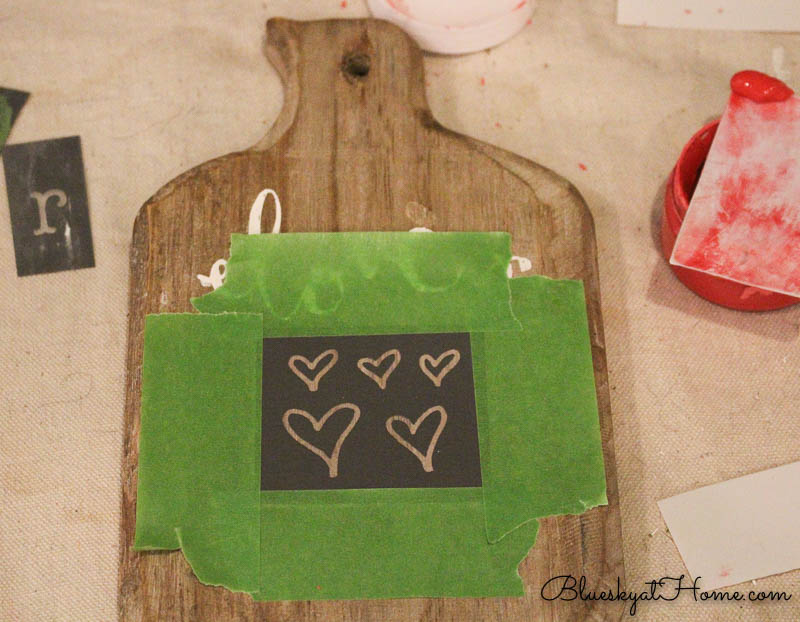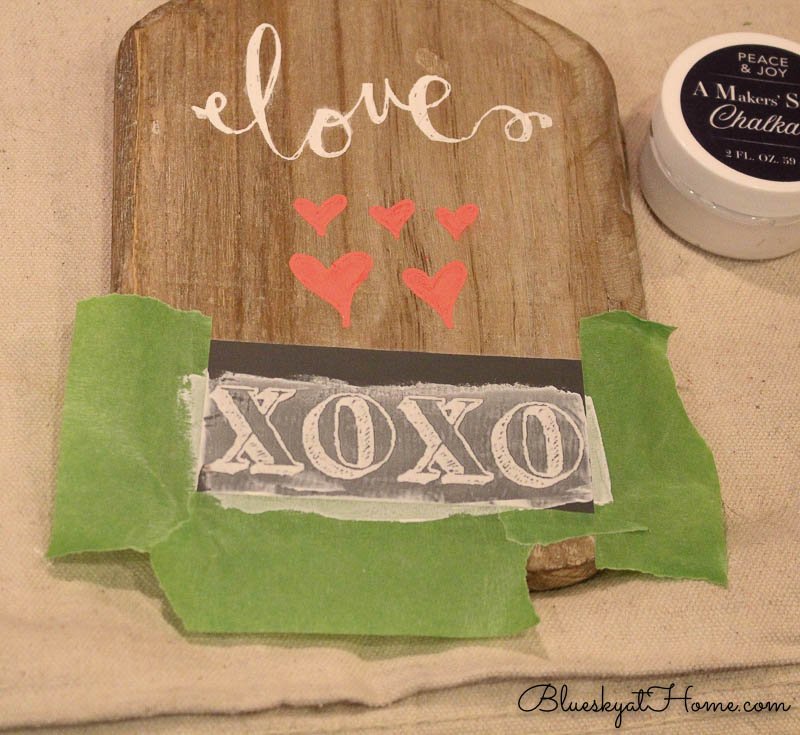 The smaller cutting board also got a ribbon loop for hanging.
Displaying the Vintage Cutting Boards
Obviously, you can hang the cutting boards.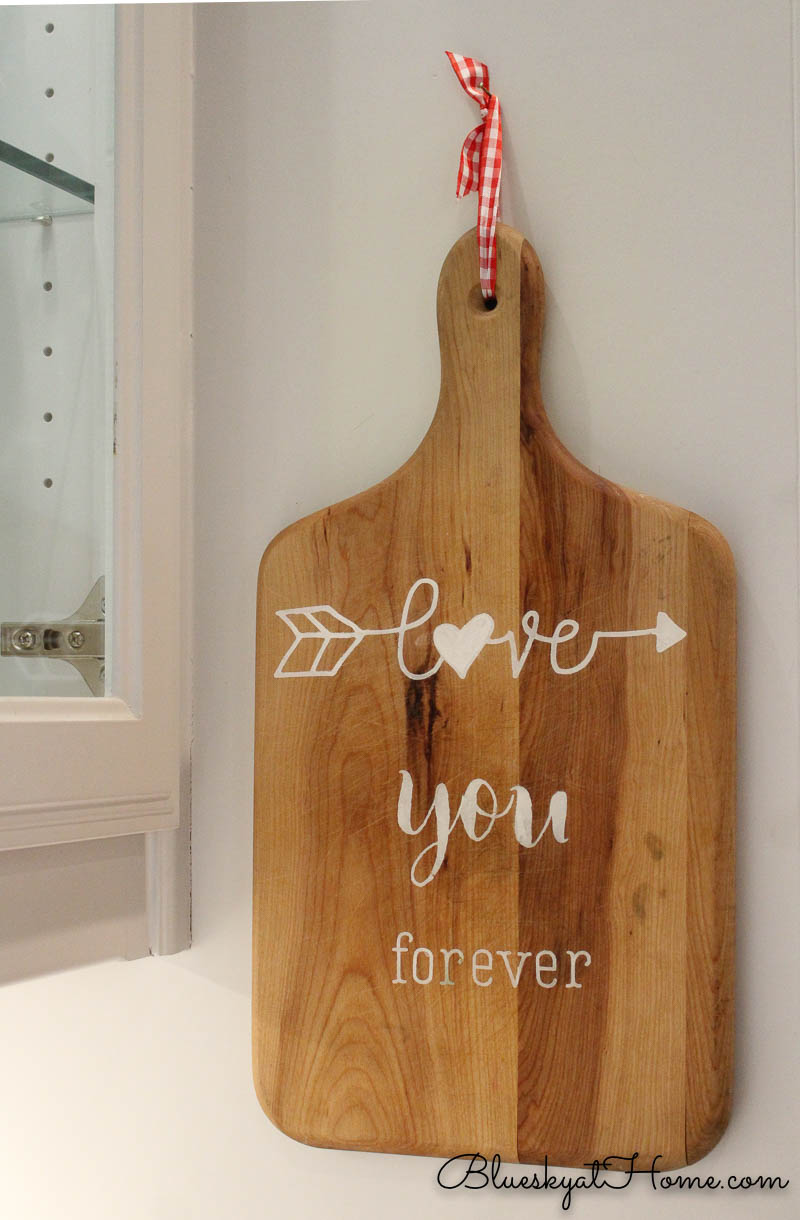 Or set them on your kitchen counter with napkins. You may remember the napkins with pom~poms that I made. Some Valentine candy makes the scene even better. I've had the red heart~shaped baking dishes for years.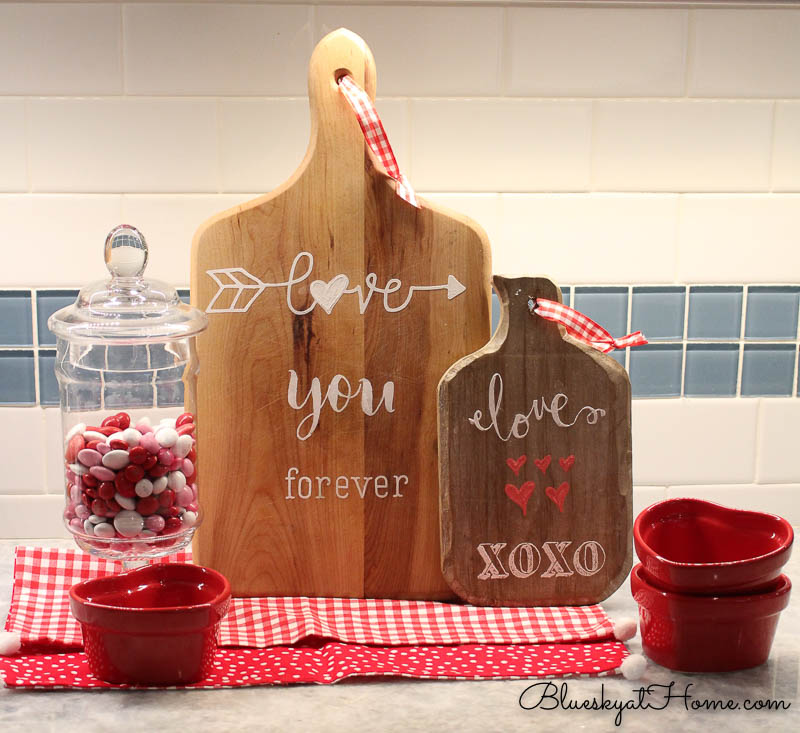 This was an easy project, thanks to the stencils and ChalkArt. You will probably see these vintage cutting boards in other DIY projects over time. They will be like a canvas to use over and over. If you have some vintage cutting boards, I hope that you'll try to dress them up in whatever seasonal or home decor theme you choose.
I hope that you will want to PIN this Valentine idea for future reference.