How to Make an Easy 2-Sided Napkin with Pom-Poms
It's great when something sparks your interest and you comment, rave, or request to know more. One thing ~ besides the stenciled Valentine's Day mug ~that received so many comments was the easy 2~sided napkin with pom-poms.
I made this easy 2~sided napkin with pom~poms for a Valentine tablescape last year. I don't usually share sewing tutorials on Bluesky at Home, maybe two before this one. It's not that I don't sew pillows or blankets or duvets, drapes, or tablecloths. I've made them all over the years. In a galaxy far away and long ago, I even made clothes for myself and my kids. More recently, I've made clothes for all my grandkids.
Some people love to sew and some don't. If you're are someone who doesn't sew, then just skip to the bottom of the post where I'm sharing some cute napkin folds.
If you do like to sew or want to learn how to sew, then keep reading because learning how to make an easy 2~sided napkin is about the easiest sewing project ever. The pom~poms are the extra fun part ~ at no extra charge.
How to Make an Easy 2-Sided Napkin with Pom~Poms
The idea for the first set of napkins came to me while visiting Atlanta. I already had most of my Valentine brunch tablescape planned out, but I didn't have any napkins on hand that I wanted to use.
On a trip to Hobby Lobby with my older daughter, I browsed through the fabric aisles (I've said before that I am addicted to fabric.) and found these 2 pieces of pink checks and ticking that I knew were perfect for my tablescape. I bought 1/2 yard of each.
As soon as I returned home, I made them into napkins and the idea for adding the pom~poms, which I already had on hand from a previous project (Another sewing project I didn't share.), was a last~minute addition. I think the pom~poms, besides the combination of fabric patterns, is what made the napkins so cute.
So many of you commented that the napkins were your favorite part of the tablescape that I decided I would just make another set to show you how to make an easy 2~sided napkin.
This post contains links to similar products that I used in making this project and that I recommend. If you should purchase any product through this site, I may receive compensation, but you will not pay one penny more.
Fabric for a 2~Sided Napkin
There is no limit to the patterns that can be used for a 2~sided napkin. I think the color is the common denominator. Mixing patterns is one of the most fun things to do in home decor, whether it's napkins, pillows, drapes, or bedding.
Here are some guidelines for selecting fabric:
type of fabric ~ use cottons, flannel or a poly cotton for best results
keep scale in mind: a napkin is not large 18 ~ 20 inches; if a pattern is too large, a big floral, for example, the pattern will be lost. Same for an extra big check or stripe.
patterns: checks and stripes, florals, chevron, ikat, polka~dots ~ any combination that you like.
color: you can use the same color for both fabrics or choose contrasting colors that complement each other.
When it comes down to it, creativity and your preference are your guide.
I needed more fabric for this tutorial, so a trip to Joann was in order. I wanted to keep the Valentine theme, so this time I chose red in a polka~dot and a check.
For 2 napkins, you will need 1/2 yard of each fabric.
NOTE: This fabric is still available at Joann and Hobby Lobby.
First Step ~ Ironing
I always iron my fabric before starting any sewing project. I use my kitchen island as my ironing, cutting, and pinning surface. Rather than getting out my ironing board, which doesn't have much surface area, I use an ironing mat that I bought years ago. It gives you so much area to iron larger pieces of fabric or tablecloths.
Second Step ~ Supplies
After ironing, I switch to a cutting mat which is available at any craft or sewing store. They come in several sizes, the larger the better. I had to buy a new one recently and I purchased the 18~inch X 24~inch. My previous one was 24 X 36.
Here's why I had to buy a new one:
TIP: NEVER iron on top of your cutting mat. Don't think that you can put a towel on top of your cutting mat. The heat from the iron will warp your mat.
You've been warned. These mats are not cheap. Save your coupons for buying one.
For cutting items like napkins that have straight sides, I prefer to use my rotary cutter. It's so much easier than scissors ~ faster and more efficient.
Supplies:
cutting mat ~ think of it as an investment
rotary cutter ~ also an investment; a good one will run $8.00 ~ $15.00 (another time to use a coupon)
right angle ~ essential for correct, straight lines
clear, 24~inch ruler ~ the 24 inch makes life easier and clear allows you to line up lines for straight measuring and cutting
straight pins
scissors
TIP: a right angle is essential for starting off with a straight line; don't be tempted to use the pattern on the material; the pattern could be printed on the fabric crooked and you'll end up with crooked lines.
Step 3 ~ Measuring and Cutting Your Napkins
I made my napkins 18″ square, which is a nice size and fits buying 1/2 yard of fabric. If you want a bigger napkin, then you have to buy a bit more fabric.
Place your fabric RIGHT sides together on the cutting mat, lining up the selvage edges on one side.
Lay your right angle close to the corner of the fabric but where both sides of the angle have fabric showing. With a pencil draw a line the length of both sides of the angle.
3. Now place your clear, 24~inch straight edge up against the pencil lines you just made; draw a line that is 18 inches long in both directions.
4. At the end of each line, use your right angle to again measure a corner, then repeat an 18~inch long pencil line. Repeat again. If you've measured your right angles correctly, you'll now have a perfect square for your napkin.
5. Now using your 24~inch straight edge and your rotary cutter, cut the straight lines that you have drawn.
TIP: Hold the straight edge firmly down on the fabric so it doesn't slip.
6. Repeat the with rest of the fabric for your 2nd napkin. You will have a little fabric leftover.
TIP: Always save fabric scraps. You just never know when you might have a use for them.
Step 4  ~ The Pom~Poms
Pom~pom trim is available at craft and fabric stores. It comes in several different colors. I already had about 1/2 yard on hand, but for each napkin, you need 4 pom~poms, which would be about 1/4 yard.  Cut each pom~pom separately between the mesh that holds them together.
Then it's easy to pull the pom~pom with the attached "tail" from the mesh part. The "tails" will be about 1/2 inches long.
Step 5 ~ Pining Your Napkins
After you have cut out your napkins, it's easy to pin along the straight sides. At the corners, pin the pom~pom with one "tail" on 1 corner and the other "tail" on the other corner.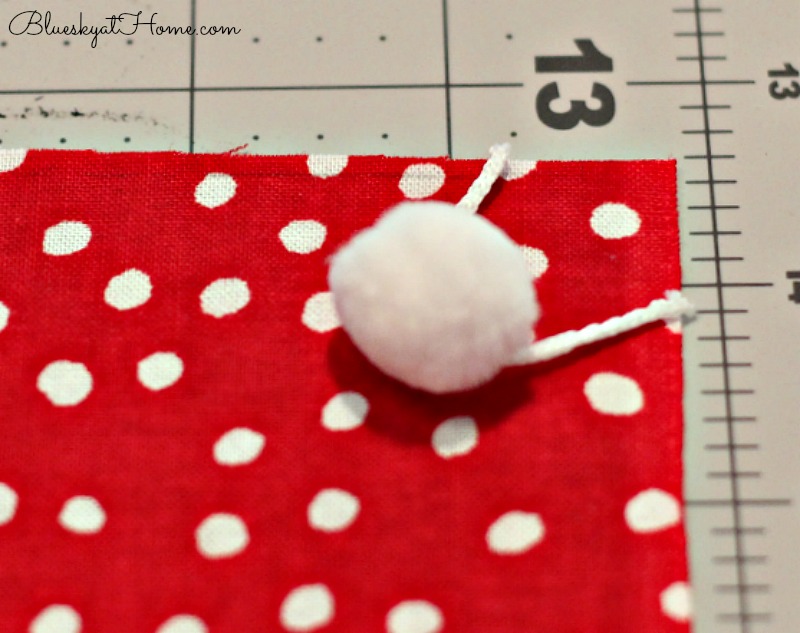 It doesn't show in this photo, but you want about 1/4 inch of the "tail" to overhang the fabric.
On one side of the napkin, leave about a 6 ~ 10~inch opening. This is where you will turn the napkin right side out.
Step 6 ~ Sewing the Napkin
I recommend that you use your zipper presser foot for this project. You will want to adjust your sewing machine so that your presser foot is to the right so that you can maneuver around the pom~pom. This is the only challenging part of the project.
I put in a 3/8~inch seam. When you get to the corners, lift your presser foot, turn the corner of the napkin and guide it through to the other side.
You may have to unpin the corners of the napkin to adjust the pom~pom "tail". Ideally, the tail sticks out about 1/4 inch. You may have to lift your presser foot to get it around the pom~pom. Be patient as you work around the corner.
Sew around 3 sides of the napkin, leaving around 3 inches open on one side. This is where you will turn the napkin right side out.
Step 7 ~Finishing the Napkin
After you have finished sewing the napkin, turn all the pom~pom corners right side out. Check that the pom~poms are securely sewn in. If there is too much "tail" showing on the right side, you may have to go back and sew in more seam. Once you are satisfied with the corners, trim all 4 corners on the diagonal.
Now turn all four corners of your napkin to the outside.
Iron the napkin flat, trying to press a clean line into the seams all the way around the napkin. On the open seam along one side of the napkin, iron with the seam allowance turned inward. Back on the sewing machine, sew the opening closed. I switched to red thread for the top of the napkin.
Your napkins are now finished. You may want to give the napkins another quick iron.
Making Your Napkins Pretty
Years ago a friend gave me a book on napkin folding and I hate to say that I haven't used it much. I did get it out to find some napkin folds for my 2-sided napkins.
This is where you can get creative again for setting your table.
A simple gathered napkin, tied with ribbon.
A fan shape with a "turn back" to show off the contrasting fabric.
Let's fill that glass with a casual napkin style.
I like how this envelope style shows off both patterns.
When I was in culinary school and had a semester working in the school dining room, we had to do the same napkin fold every day ~ for 11 weeks. I don't think I'll ever forget this classic napkin fold.
Well, that's how to make an easy 2~sided napkin. And one with pom~poms.
I hope you can easily follow the instructions. If you have any questions, don't hesitate to ask in the comments or email me. I may start making more of these for future tablescapes because they are fun to make, easy and inexpensive.
The fabric for the 2 napkins cost me about $7.99 which comes to $4.00 a napkin, about what you would pay at Pier 1 or Tuesday Morning. But these are customized and match my table decor. Fabric on sale or leftover from another project could bring the price down to a couple of dollars each ~ definitely a bargain.
I know that Valentine's Day is not far off, but you have plenty of time to make these 2~sided fabric napkins. Use them to dress up your Valentine's table or to wrap a gift as I did for this DIY Valentine's gift. Either way, you are telling your friends and family you care.