Valentine's Tablescape for a Romantic Brunch for Two
Since Valentine's Day is all about romance, how about a small Valentine's tablescape for a romantic brunch for two? Not quite breakfast in bed, but close.
I think there is something very sweet about brunch just for two. Waking up to a delicious breakfast, a Valentine's tablescape for a romantic brunch sounds like a great idea.
I not only have a pretty Valentine's tablescape to share. I'm also sharing a luscious brunch menu for you. With a smaller Valentine's celebration in mind, I wanted to share this morning's meal with you.
A couple of years ago, I envisioned a romantic dinner for 2 by the fireplace with glitz and glam in red and gold. Last year I planned a totally different direction for my Valentine's Day tablescape ~ a romantic brunch for two.
Instead of dinner ~ a bunch on Sunday morning before or after church. Instead of glitz and glam ~ soft and sweet. Instead of red and gold ~ pink and white. Lucky for me, Sweet Shark doesn't mind my love affair with pink.
Valentine's Tablescape for a Romantic Brunch for Two
My vision for this Valentine's tablescape started after Christmas. After living with a clean slate and some winter decor for a few weeks, I was ready for some color. Since I love pink, I had to wait for Valentine's Day to create this romantic tablescape.
Setting the Valentine's Tablescape
This table has been in our bedroom at both our homes. We used it as a place for flowers and picture frames. It's really too high to be comfortable between the two chairs in our sitting area so we moved it into the breakfast room. It's 32 inches around, which was a bit too small in diameter for a breakfast room table, but it could work for my Valentine's tablescape.
I did add a larger 42-inch wood top that I painted. It's the perfect size for four.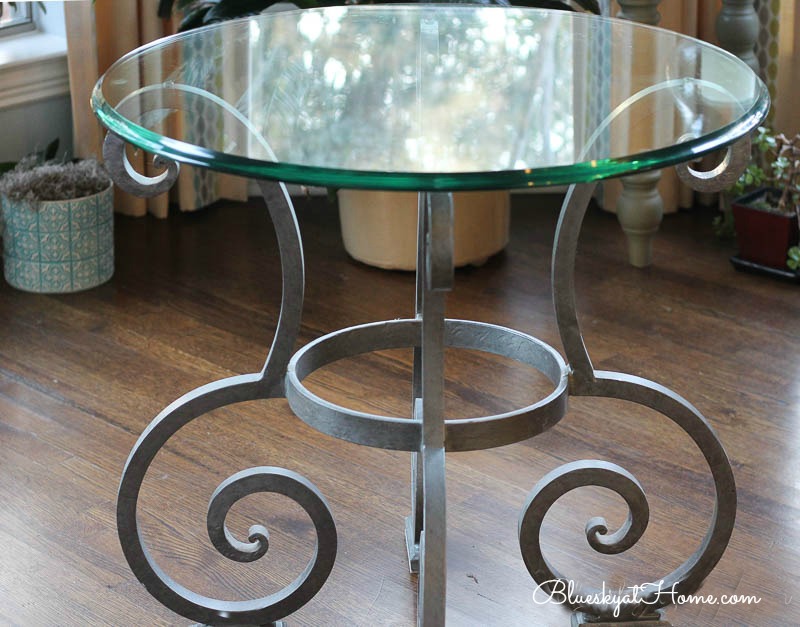 First, I covered the table with a simple cotton tablecloth. It's like in a fine dining restaurant.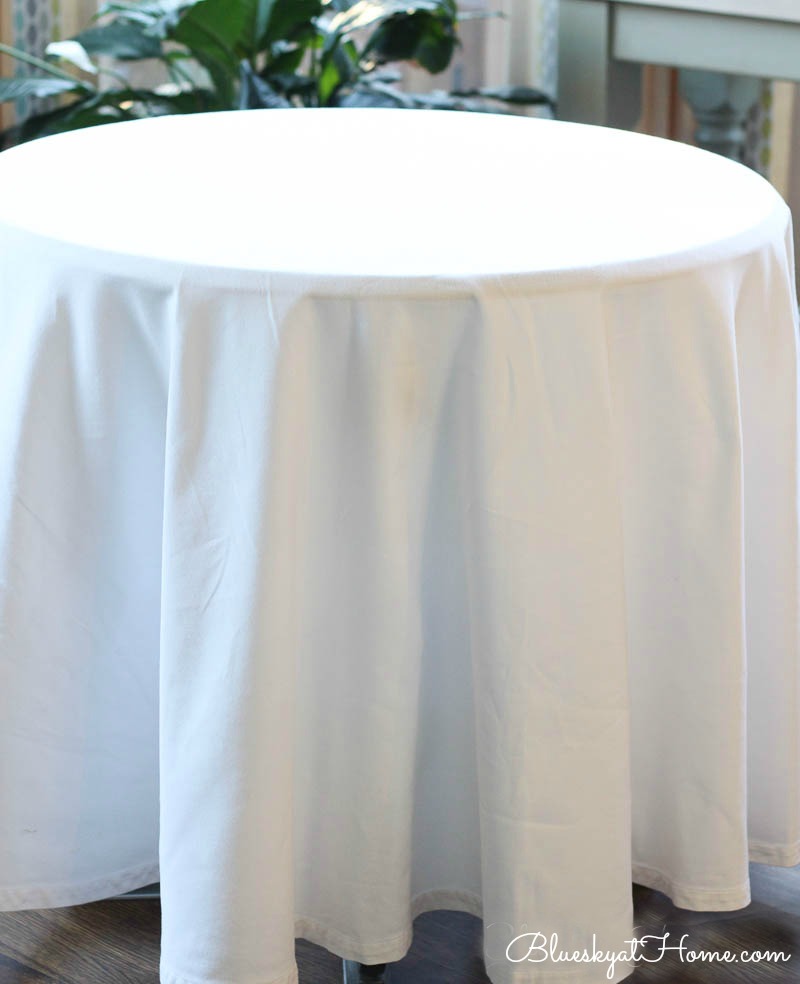 I knew when I started planning this Valentine's tablescape that I wanted to use some pink dishes that I found at an antique mall in Atlanta. Place settings four ~ dinner plates, salad plates, cups and saucers and small bowls ~ were $10. I couldn't resist. I shipped the box, with some other flea market finds, home to Dallas.
Unfortunately, 1 dinner plate and 1 bowl broke, but it was still a great purchase. I layered my gold chargers and white plates with the pink dinner plates on top.
Then I added the salad plate. I also wanted to use some vintage pink and white coupe and sherbet glasses I bought a few years ago at one of my favorite local antique malls, City View in Dallas.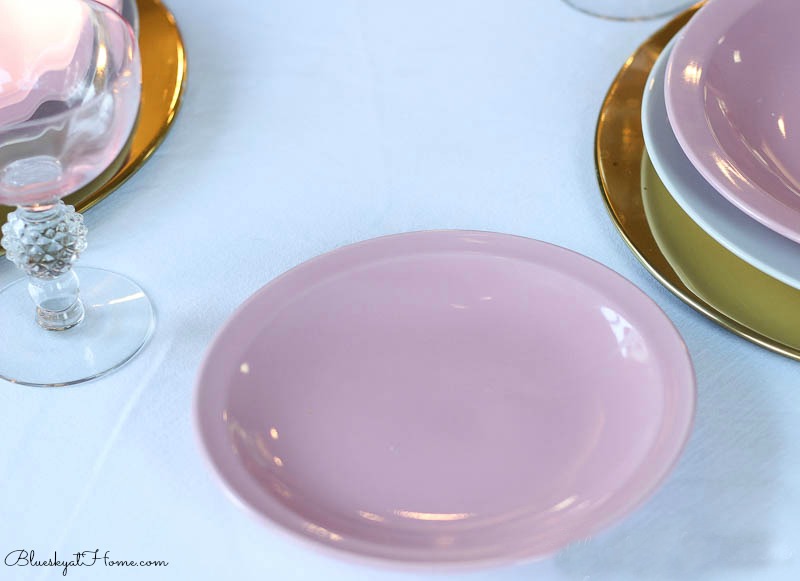 On the back of the chairs, I placed some Valentine's dishtowels I bought at Home Goods in Atlanta with my younger daughter. They add color and pattern to my theme.
I wanted some Valentine's napkins, but couldn't find any. While in Atlanta on a trip to Hobby Lobby with my older daughter, I found the perfect pattern of fabric ~ 1 in pink check and 1 in pink ticking. A half yard of each would be enough for napkins.
I measured and cut out the fabric in Atlanta and sewed them when I returned home. I added cute little pom~poms that I already on hand at each corner. I tied the napkins with ribbon from the same HL trip.
See how to make these cute pink napkins.
For flowers, pink roses were perfect (Did you know that Target carries flowers?) in one of my cut crystal rose bowls.
I placed the flowers and a bit of greenery in a small jar in the center of the bowl and filled it with Valentine's M&M's and other candies. I already had the gold Valentine picks from the previous year and I added them for a bit of bling and height. I'm happy to be using the vintage pink glasses.
By this time I decided to forego the white plate. I added our mother~of~pearl silverware, an inheritance from Sweet Shark's grandmother.
The Menu for our Valentine's Brunch
Now that my Valentine's tablescape was ready I could focus on our meal. Here is the menu for Sweet Shark and me.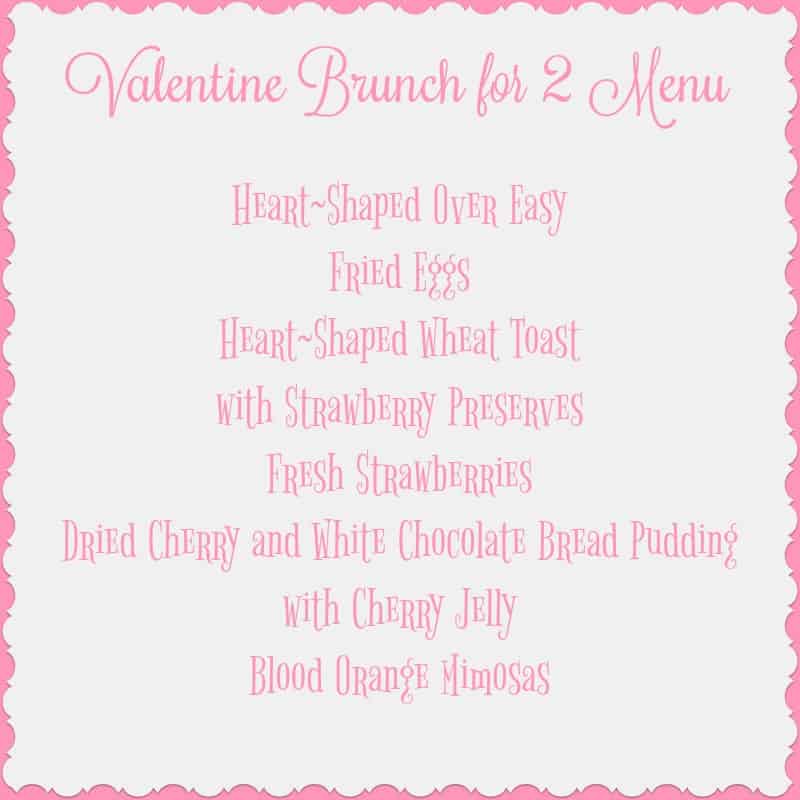 Enjoying our Valentine's Tablescape Meal
Preparation the day before mays for a relaxing romantic tablescape experience.
I made the Dried Cherry and White Chocolate Bread Pudding the day before.
I made the Blood Orange Mimosas the night before so that the fruit juice would be really chilled. Then all we had to do was add the Champagne (We used Prosecco.).
I placed the Prosecco in a silver Champagne bucket and the pitcher with the blood orange juice on a small table to the side so Sweet Shark could serve us. Isn't that color gorgeous!
I prepared the eggs and toast at the last minute so they would be hot. I used cookie cutters to cut out the slightly frozen bread and a larger cookie cutter to cook the eggs in a skillet. Just a simple meal that's not too filling.
Brunch was served!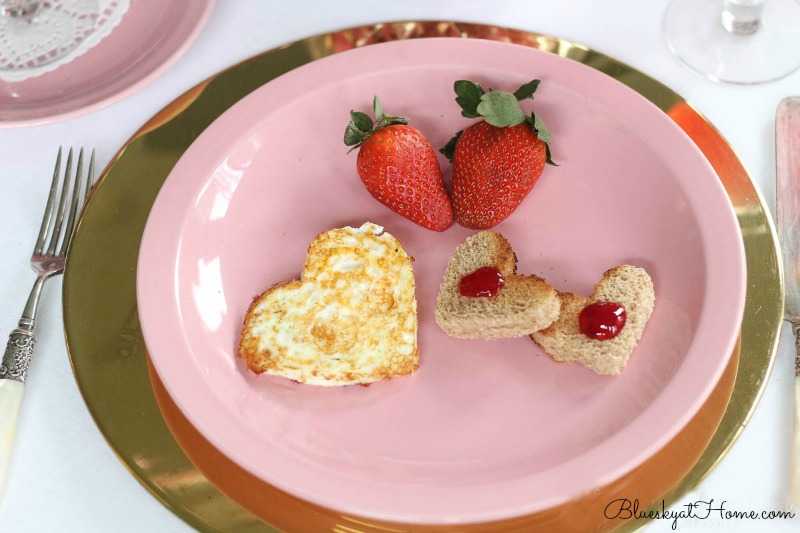 Oh, that bread pudding is delicious. I made the Dried Cherry and White Chocolate Bread Pudding ahead and then warmed it in the oven.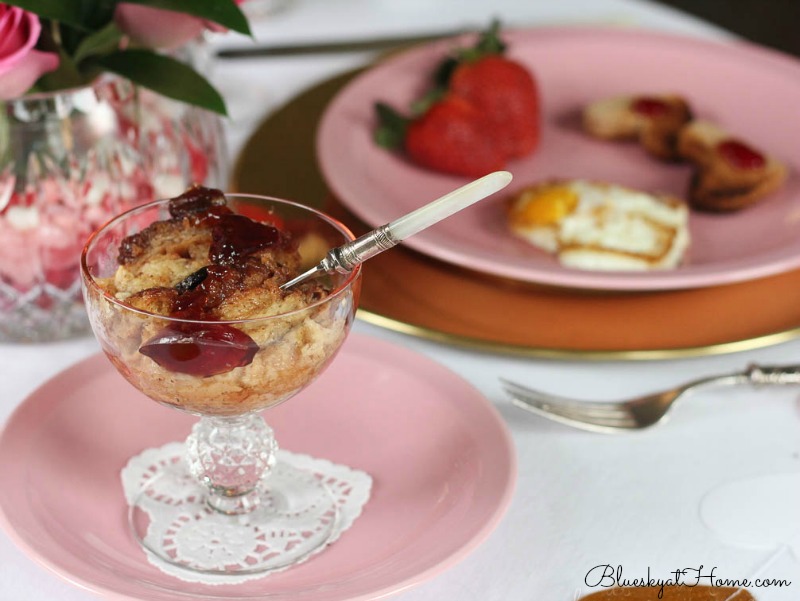 The Blood Orange Mimosas were tasty too.
I'll be sharing the Dried Cherry and White Chocolate Bread Pudding and the Blood Orange Mimosa on my Monday Newsletter. So sure to sign up to receive these delicious recipes.
It's a pretty sweet table.
I placed part of a Valentine's banner around the edge of the table for more color. You can't have too many hearts! The crystal jelly jar was a wedding gift from a dear high school girlfriend.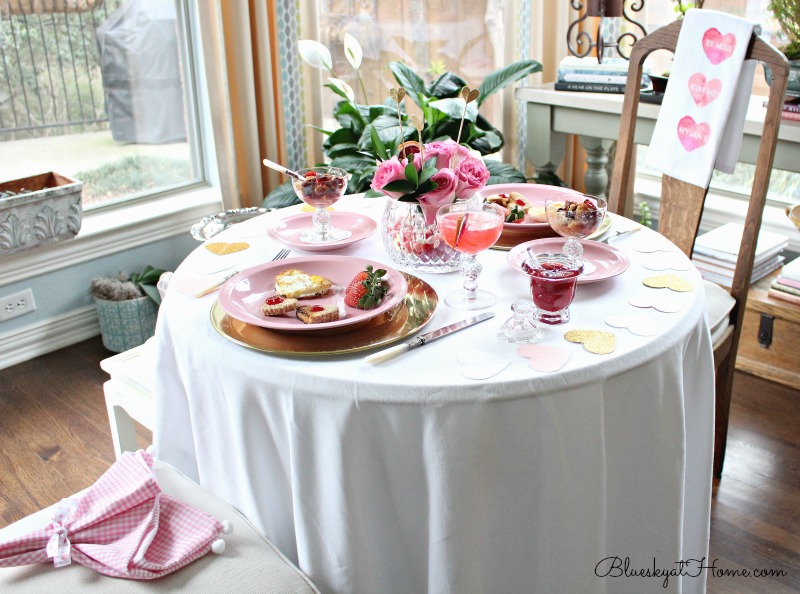 I hoped you enjoyed my Valentine's tablescape for a romantic brunch for two. It was not too fancy.
I was able to use items I already had on hand, and dishes that I've been waiting to use for a while. A mix of old and treasured and flea market finds. I had one DIY project ~ the napkins. The only items I purchased were the dishtowels and the fabric for the napkins.
Now it's your turn ~ please PIN this Valentine's Romantic Tablescape Brunch idea so you don't forget it.