Halloween Tablescape Ideas for the Patio
Are you planning a Halloween party this year? Maybe a small dinner for two or four. Let me give you some inspiration with a few Halloween tablescape ideas for the patio.

October is a wonderful month to enjoy outdoor dining. With our new backyard update and cooler temperatures, we are taking advantage of the lovely evenings for eating outside.

Dining outside in the evening is special. It's extra special to create a Halloween tablescape with a touch of spookiness.

We have tons of Halloween decorations so I didn't have to buy a single thing for this Halloween tablescape.
What do you need to create a Halloween tablescape?
A Halloween tablescape can be created with items you already have. Pick a spooky color scheme and embellish it with things that lend an eerie feel.

Today I'm joined by a talented group of bloggers who love creating tablescapes as much as I do. Rita of Panopoly is again our hostess.
I was able to put this tablescape together very quickly. Sweet Shark and I had already brought in all our boxes of Halloween decorations from the garage.
First Steps to Creating a Tablescape
As always, there are two steps I start with when designing a tablescape ~ or any home decor arrangement.

clear your space; whether you are decorating a table, a mantel, or a coffee table. Starting with a clean space helps you work more easily and design your space in layers without interference from previous decorations.
Gather as many items as you think you will need to create your arrangement. I went through our boxes and pulled out just those items that I thought would work for this year's Halloween tablescape.
It's better to start with more "ingredients" than you think you need.

Start with a Theme
I definitely knew that my Halloween tablescape on the patio would be simple and have just four place settings.
I also knew that I would use black and orange as my color theme. That's not hard to do with a Halloween theme.
Decorating a Backdrop
The white post on our umbrella needed to be toned down. To do that, I wrapped a black garland around the post.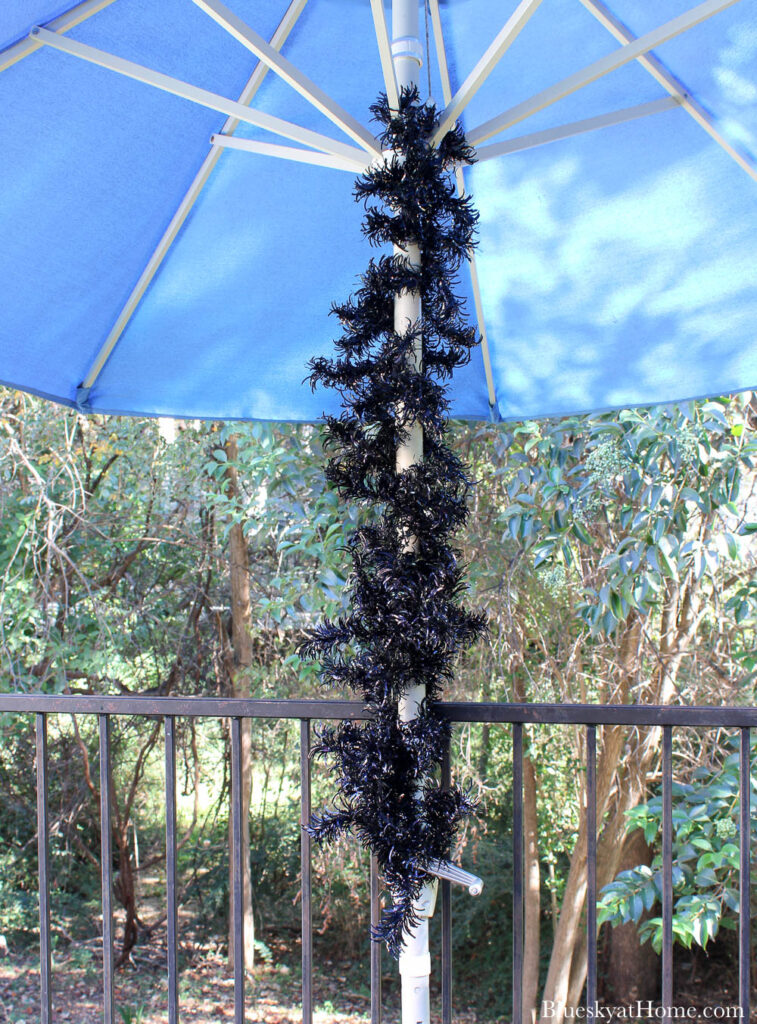 To give it more color and interest, I then wrapped a shiny orange bead garland on top of the black garland.
The finishing touch was a small spider. This decoration has always felt creepy to me ~ perfect for Halloween.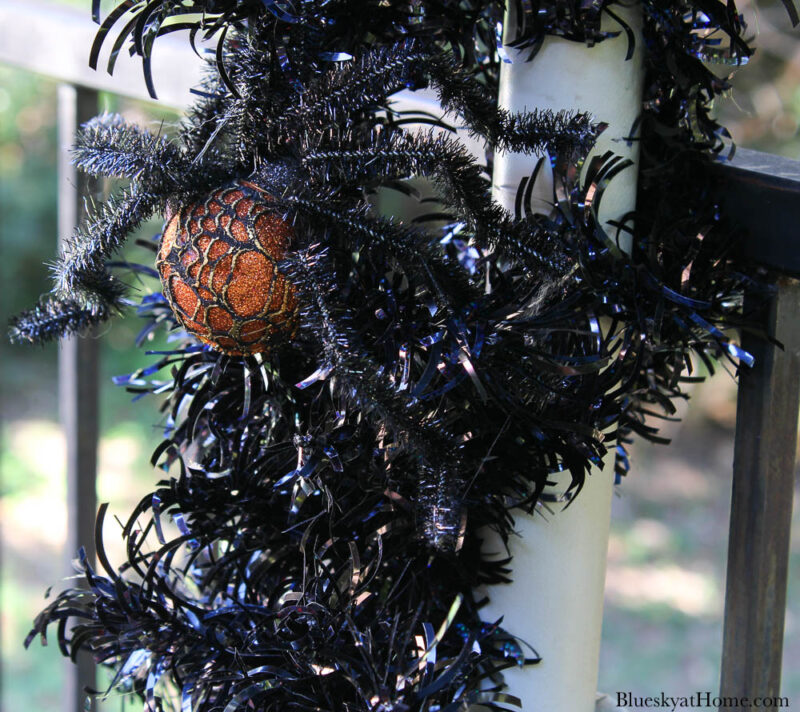 Setting the Halloween Table
I have a large piece of Halloween fabric that I've had for years. It served as my tablecloth.
My copper pitcher filled with black and orange beads and branches was just right for a simple centerpiece.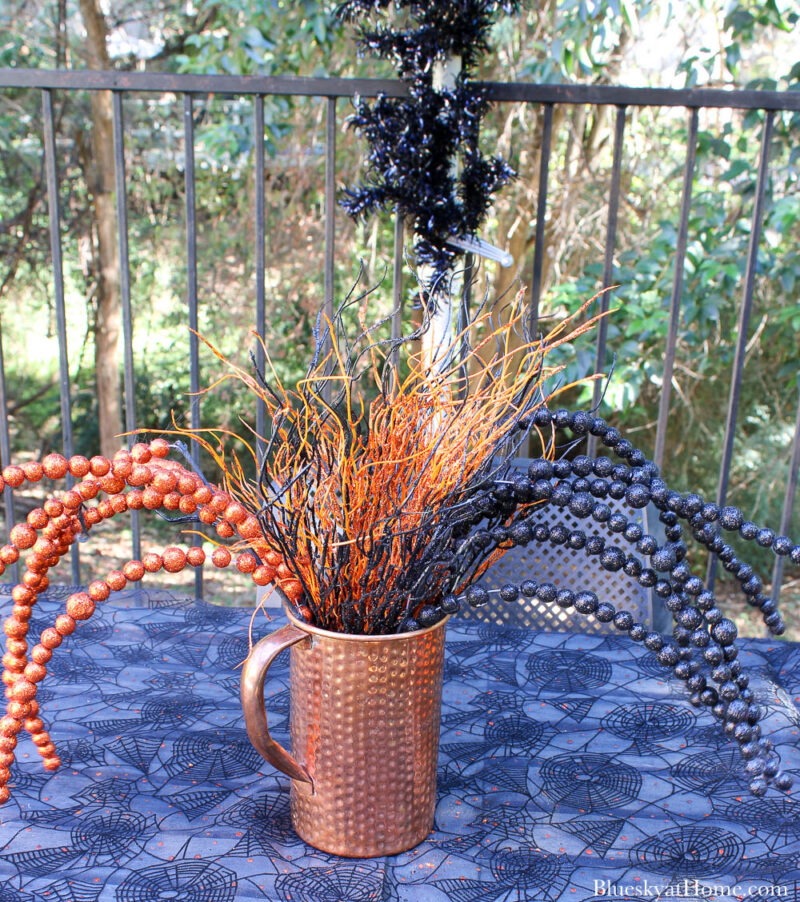 Next, I added two witches from our witch collection to finish the centerpiece. I said this table was going to be very simple.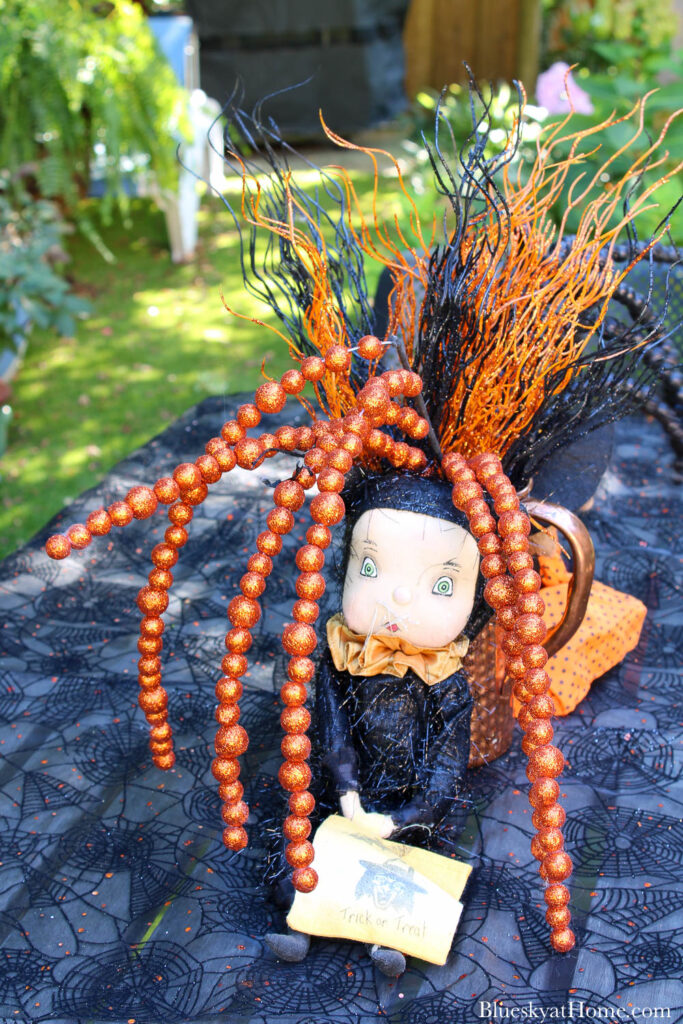 It was about at this point that the wind really kicked up and my tablecloth started blowing. I quickly added two tall candles from Dollar Tree. You'll see some small rocks I put on the corners of the table.
I also added an orange boa.
I only had two of these round orange placemats, so . . .
At the ends of the table, I added two "jack~o~lantern" placemats. What goes with these placemats?
Our two guests will be using these placemats. The jack~o~lantern placemats are actually bright orange. As much as I tried to adjust the lighting, the sunlight bleached out the color.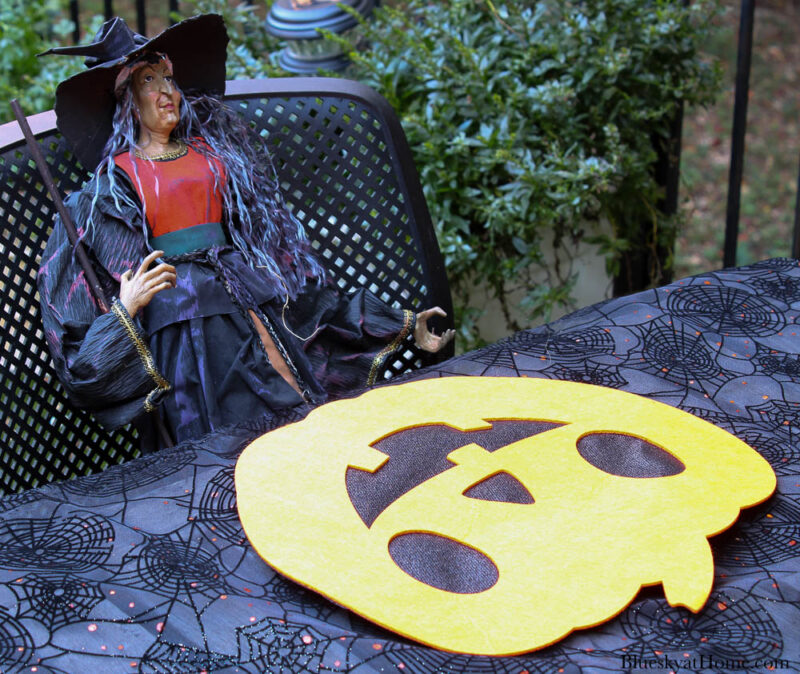 For a casual outdoor place setting, I used black paper plates and plastic forks and knives for the human guests. The witches don't need them.
I had two black cloth napkins (no idea where they came from) and tied them with an orange ribbon.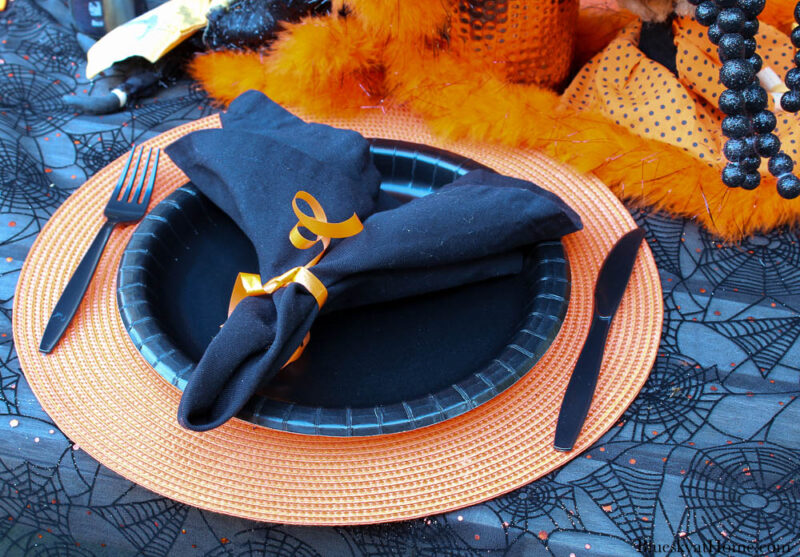 To complete the Halloween tablescape, I used our beautiful Murano champagne glasses. We bought these in Venice several years ago. They are perfect for Halloween.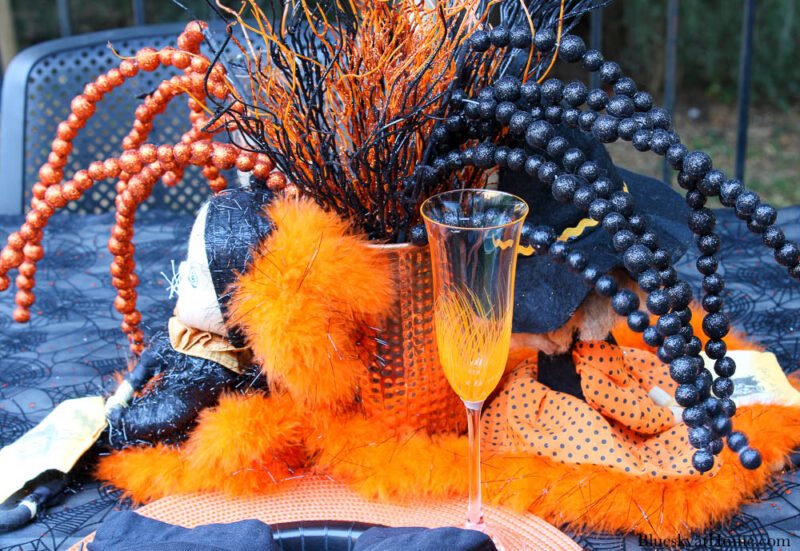 Final Review of the Tablescape
Let me show you how the Halloween tablescape on the patio looked when I finished.
No, we haven't put away our flamingo and unicorn floaties yet.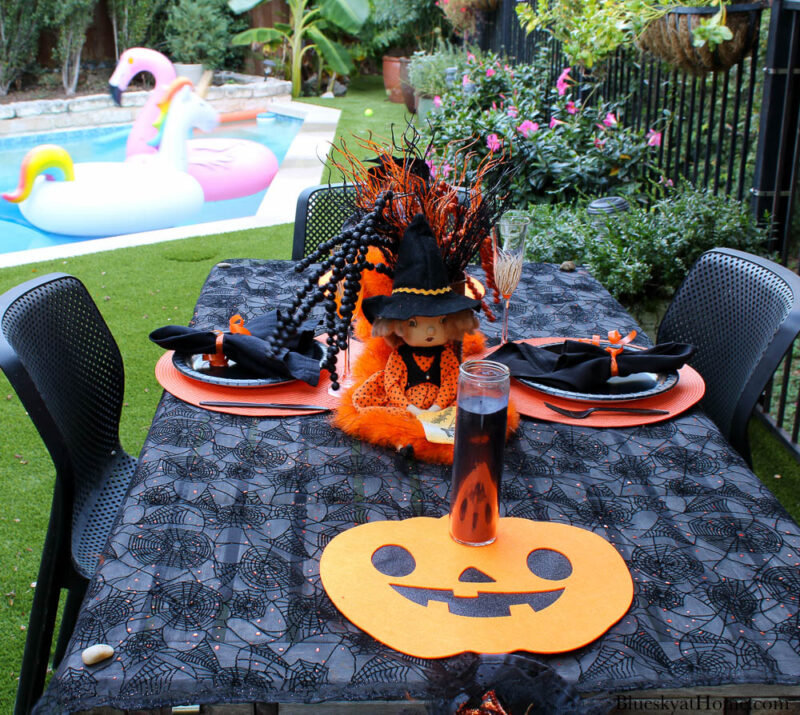 One last addition was this black and orange spider that I hung from the umbrella ~ with a paper clip. He wouldn't stay perfectly still so he's a little blurry.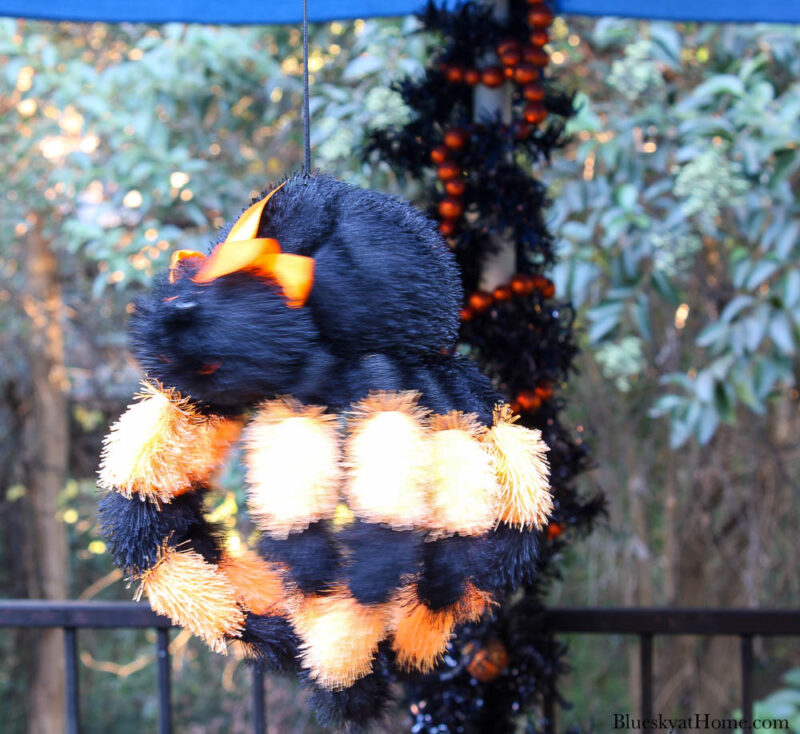 Halloween Tablescape on the Patio at Night
Obviously, nighttime is when the ghosts and goblins come out. The new spotlights and string lights in our backyard really light up the area.
First, I lit the candles.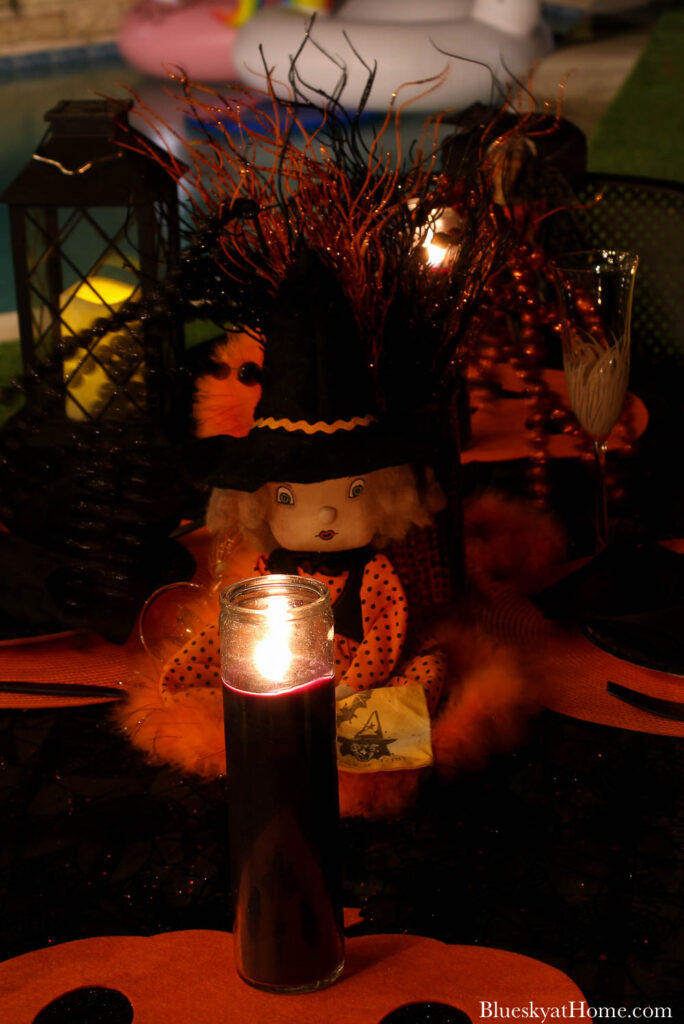 For more light, I added our newest lanterns from Wayfair.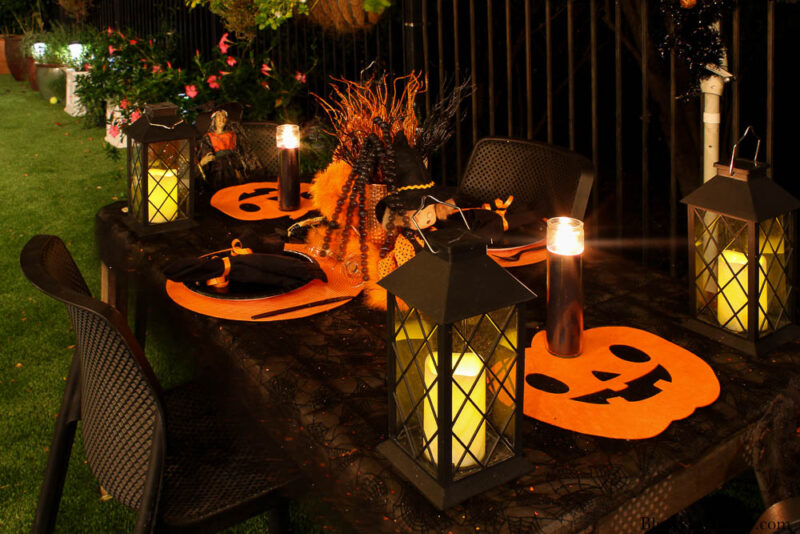 That's my version of a Halloween tablescape on the patio. It only took me about 40 minutes to put it together. I blew out the candles, but the tablescape stayed in place overnight.
Here are More Halloween Tablescapes
If you want some fun and hilarious ideas for photographing Halloween pumpkins, check out these ideas.
Don't forget to PIN this POST so you can create a fun Halloween tablescape on your patio.