How to Create a Tablescape ~ Steps to a Beautiful Table
We are finishing today a week of creative tablescapes with an alfresco theme.  I thought it would be fun to share how to create a tablescape and the steps I take no matter what the occasion. Knowing a few basic guidelines to follow will help you create a tablescape that will make you proud and delight your guests.
Until a few years ago, I didn't know technically what a tablescape was, even though I've set thousands of tables over the years. When I was a young girl, my job was to set the table every night for dinner. I learned early on where the knife and fork went (to this day, it bothers me when the silverware is placed on the wrong side of the plate), where the glass went and which way to face the napkin. My parents entertained at home for my dad's business and my mom always made a delicious meal, but what I remember most are the beautiful tables she set (with my help, of course).
Knowing how to create a tablescape will give you confidence in your hosting, and it's just fun to be resourceful and creative. Over the past 2 years, as part of Chloe of Celebrate and Decorate's team of blog hopping tablescapers, I've created a couple dozen tablescapes. Add to that our own personal tablescapes for parties and entertaining, and I feel that I've learned a thing or two about setting a pretty table. I love to teach "how~to" so let's get started.
How to Create a Tablescape ~ Steps to a Beautiful Table
This post contains links to products that I use (or have similar) and love. If you order any product I may receive compensation but you do not pay one penny more.
Before we get to how to create a tablescape, let's talk about why, when and where.

Why Create a Tablescape
Setting a tablescape conveys a sense of importance to the table and the meal. It could be for a particular occasion or just because. It makes the meal feel special, from ordinary to extraordinary. It says "I care." Yes, it does require some extra thought and time to create a tablescape, but it doesn't have to cost extra money. You can use items from your home, your yard, or move accessories around. Mix it up. You want to evoke a feeling of "special", of hospitality, that you cared enough to go the extra mile. Plus a lovely tablescape just adds to the decorations.
NOTE: If your hostess has set a pretty tablescape and you know it was created just for the occasion, always compliment her on it. She will remember the gesture and you'll be invited back. (I learned that from multiple books written about Southern hospitality!)
When to Create a Tablescape
The easy answer is anytime! But in case you need some suggestions, here are a few:
holidays ~ New Year's Day, Valentine's Day, Easter, all the summer patriotic days, Thanksgiving, Christmas, New Year's Eve
seasons
special occasions ~ birthdays, graduations, retirement, moving in, moving away, new job, bridal shower, baby shower, friend in town, anniversary, new home
events ~ Super Bowl, tailgate, Kentucky Derby, NCAA Championship (probably only if your team is in the playoff), World Cup, Final 4, election night, Oscars, Tonys, National Margarita Day, National Ice Cream Day, etc.
Where to Create a Tablescape
Again, the answer is anywhere!
I added the part about the boat, etc. In addition to the above, I've been brain storming.
patio, front porch, backyard
car ~ as in tailgate
boat ~ in or out of the water
blanket at the park, lake, beach
kitchen island
bench
desk
in the middle of your street ~ if you live on a cul de sac and your neighbors don't mind
driveway ~ why not?
garage ~ one of the best parties we've ever attended
Now let's to the how. I'm going to use my alfresco tablescape as the example.
How to Create a Tablescape
Step 1 ~ Decide on the Theme and Colors
Obviously, the occasion can dictate the theme and possibly the colors (4th of July or a football party). But we are so open to creating outside the box (blue and white at Thanksgiving) that you can be even more creative. Write down your vision (tropical, plants, casual) and the colors you want to use (blue, pink green plants). I find writing down my plan keeps me on track.
Step 2 ~ Gather Your Ingredients
Just like mise place for a recipe, it makes the process go more efficiently if you know what you need, what you have on hand, and what you may need to purchase.
Items needed:
tablecloth (Turkish towel, scarf, runner, beach towel) or placemats
centerpiece ~ flowers, plants, sculpture, accesssories
dishes, glasses, napkins and silverware
candleholders and candles
serving pieces
decorative embellishments
Once you have all your items gathered, make a list of what you need to purchase. You might need more cocktail napkins, fresh candles, fresh flowers or plants. Or maybe you want new cloth napkins. Give yourself time to shop.
Step 3 ~ Start with a Clean Slate
Wherever your tablescape will be, clear it of everything so that you can clearly see the space. For my alfresco tablescape, which if you read the post, became an infresco, I moved everything from our living room coffee table.
NOTE:  Remember where you stash your stuff. I'm still looking for a cute ceramic cow I put away before Christmas ~ no joke.
Step 4 ~ Add the Foundation
Place your tablecloth, if using, or placemats on the surface. For my tablescape I was using the Turkish towel I found at Haven from Artizen Home. Decide if you want the tablecloth smooth and straight or angled and a little rumpled. I moved the Turkish towel around a bit until I had it slightly angled and rumbled. If you are using a runner, place it on the table.
NOTE: always check if your tablecloth, runner (or Turkish towel) needs to be ironed. That includes napkins. Since the Turkish towel was new and had been folded, I ironed it.
Step 5 ~ Layer with Texture and Color
Adding additional elements provides depth, texture, contrast and color to your tablescape. For this tablescape, I used banana leaves from our backyard (first time and will repeat). The smooth, shiny texture contrasted with the matte, slightly course texture of the Turkish towel (To be clear, the towel is not rough, but it is not smooth like the leaf.) The leaves also add to my color scheme and contribute to my tropical theme . The shape adds interest to the table. For texture, think metallic, wood, woven, smooth, matte and shiny, soft and hard.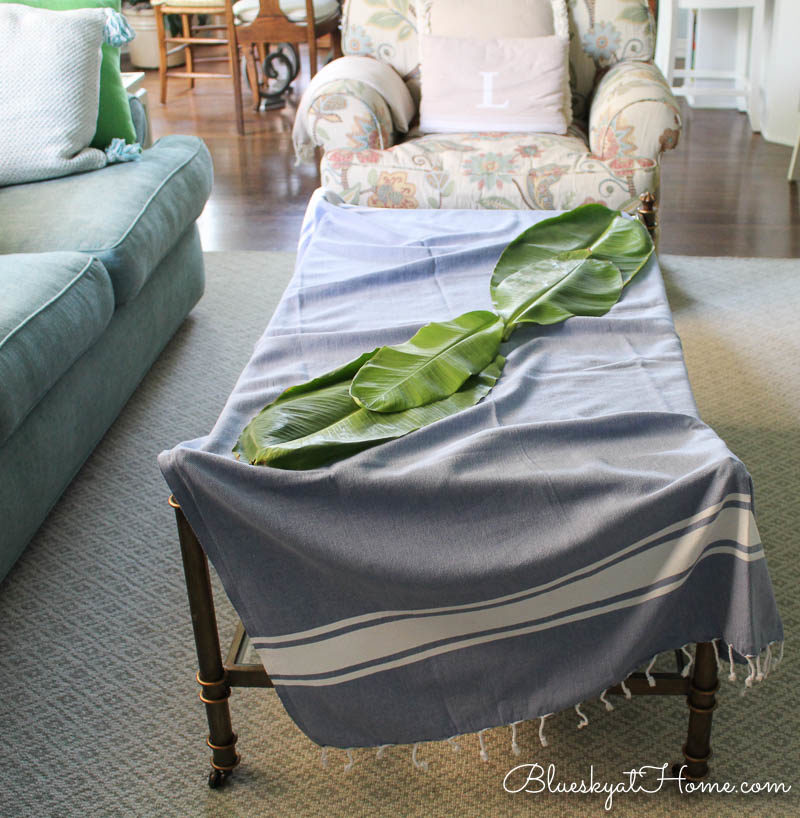 Items to Layer:
chargers
small and large plates
greenery, wood
tablecloth on tablecloth
trays, platters
Step 6 ~ Create your Centerpiece
A centerpiece can be anything in any number that fits the size of your table. It's your focal point. This is the time to be really creative. A simple single flower~filled container (silver, gold, crystal) is a classic, bu fun to use unusual, out of the box containers to hold flowers or plants. Or use fruit or pine cones or branches. At Christmas I've used Santas as centerpieces. Again, the centerpiece (whether a single item of multiples) should add texture, color, and contrast to the theme of your tablescape.
The tall pink candleholders from Lamps Plus were perfect for my tropical indoor tablescape. They provide height, which the table needed, the pop of pink color for contrast, and the smooth, shiny finish against the Turkish towel. Plus it provided candlelight, which is an absolute must for any nighttime tablescape.
Since the candleholders were a hard surface, I needed  green plants for contrast in color, texture, shape and an organic feel. I had one on hand that contrasted in size (short), shape (round) and texture. Plus the galvanized container added a bit of metallic to the table.
One plant wasn't enough, so I did make a trip to Trader Joe's and found the perfect plant addition ~ round white pots full of succulents in shapes of green and different texture. The addition of these 2 planters completed the centerpiece, but ironically gave it the odd number of elements we try to use in design. I now had 3 plants which gave my centerpiece 5 parts.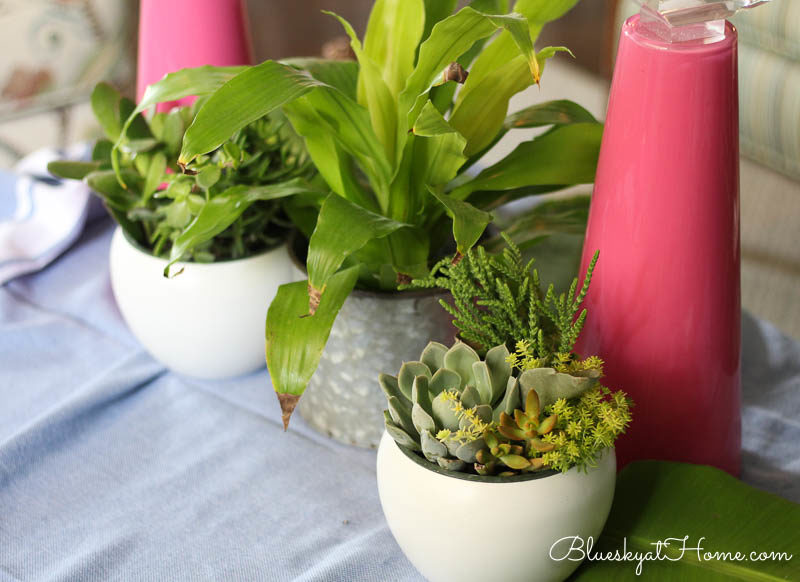 For an even more lush feel, I moved these 2 planters from the hearth.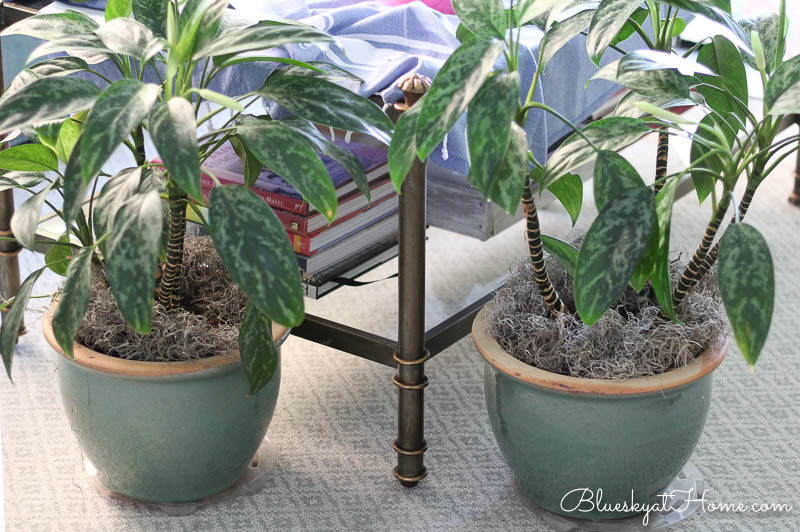 Step 7 ~ Add your Place Settings
Once your centerpiece is complete, you can add your place settings: dishes, silverware, glasses, napkins, napkin rings. For this tablescape, I had minimal place settings, just one plate that we would share and a plastic knife and fork and one glass for our mojitos. Using these elements continued my very casual theme. The place setting should follow the degree of elegance or casualness of the occasion.
Normally, one of my place settings looks more like this.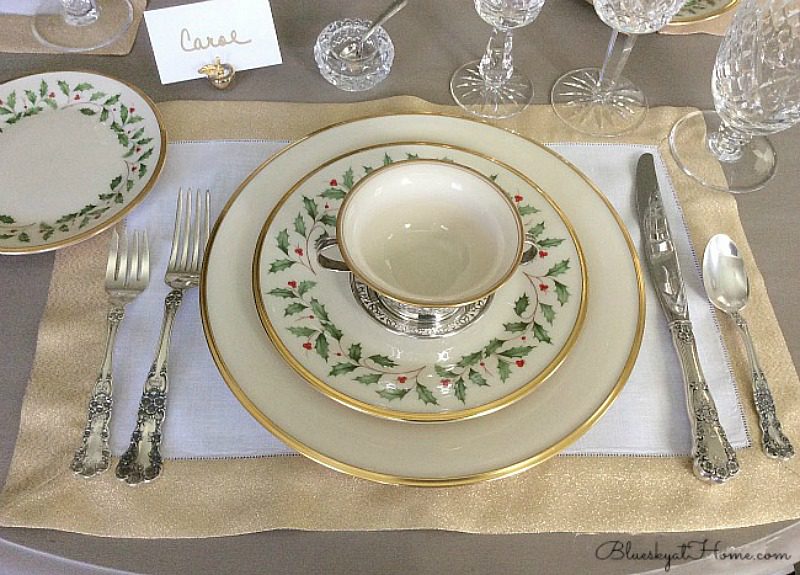 Step 8 ~ Add your Embellishments
To me, an embellishment is anything extra that adds to the decor and enjoyment of the tablescape. It can be whimsical, funny, or personal to each guest.
place cards ~ a great time to DIY and be creative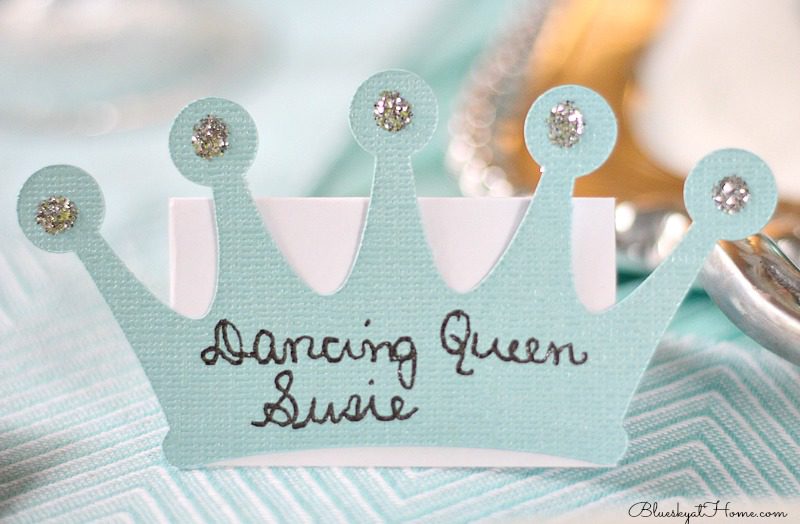 salt cellars ~ I collect mine at flea markets.
knife rests ~ ooh, so elegant
salt and pepper shakers
extra candles
more table decorations (only if they add to the tablescape and not distract); I added some sand for this tablescape ~ an extra fun element
additional serving pieces ~ butter plate, gravy boat, bowls for salad dressing, sauces or cream and sugar
Step 9 ~ Add your Seating and Decorate (Optional)
For my alfresco tablescape, I decided that we would lounge on the floor, so I used our large sofa pillows from Wisteria. And then for added comfort, I added the pillows I made for our dining room makeover.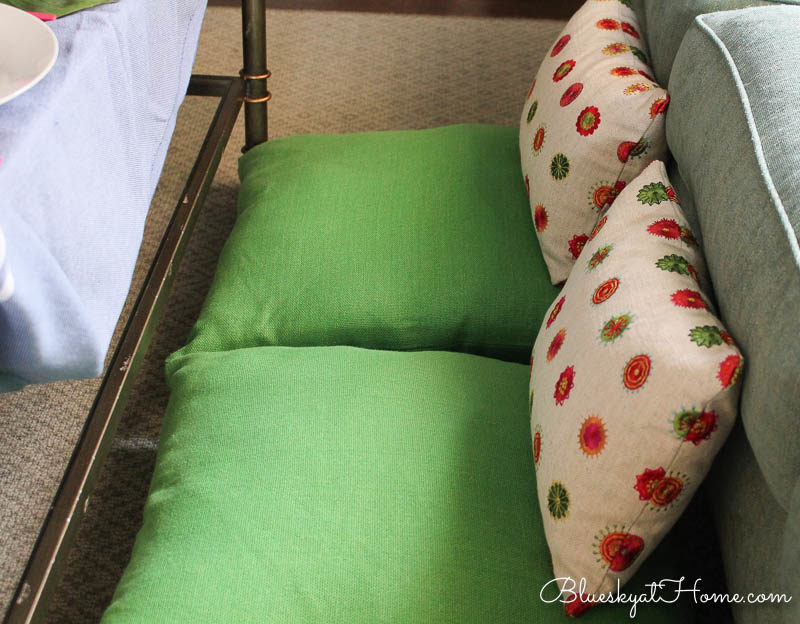 I think it's fun to add a something special to your chairs, such as bows, scarves, wreaths. Your theme will be your guide.
I think we've covered the basics of how to create a tablescape. I really, really hope that these steps will you in your future tablescape creations. The most thing to remember is to be creative, have fun and be flexible; if one thing doesn't work, try something else. Use what you have before you buy. As my mom used to say, use your good stuff; if you have china and silver, don't save it for just special occasions. Mix the formal with the casual.
Sometimes you just have to eat on the floor.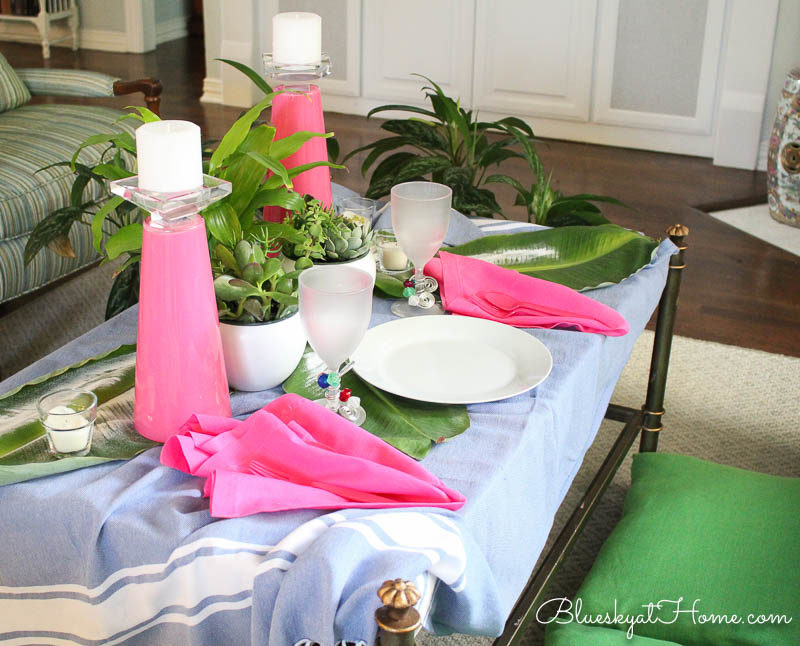 Here are some examples of other tablescapes from the last few years:
Romantic Coastal Tablescape ~ the first one I did with Chloe
Fall Tablescape in Copper and Turquoise ~ one of my favorites
Santa and Reindeer Tablescape ~ loved this one
Valentine Tablescape ~ sweet brunch for 2
Don't forget my GIVEAWAY.
Lamps Plus has graciously offered to give away a pair of the candleholders in your choice of color to one of my Instagram readers. Here is all you have to do to enter:
Hop on over to my Instagram page. Actually, don't hop, just click. Click on the

FOLLOW

button.

Must follow

@LampsPlus on Instagram
The contest continues through Wednesday, August 1st. A winner will be chosen randomly from those who sign up and announced Friday, August 3rd on Bluesky at Home and on my Instagram account.
Must be 18 years or older.
Shipping address in the U.S.
Good for one

Color Plus Candle Holder Set

, not valid online or in-store. You will be assigned a personal shopper.
Winner must redeem prize by 8/31/18.
And now please visit my follow tablescapers extraordinaire. Thanks for visiting and all your wonderful comments. We all really appreciate them.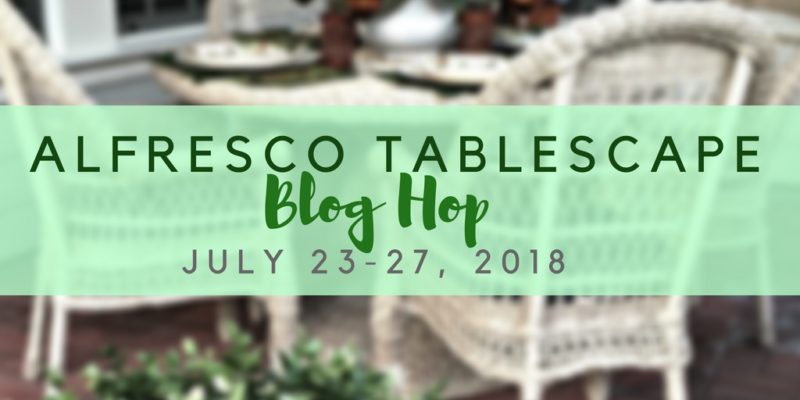 Monday
Home is Where The Boat Is   Everyday Living   A casa di Bianca   Living With Thanksgiving

Tuesday
Corner of Plaid and Paisley   Me and My Captain   PMQ for Two   At Home With Jemma
Wednesday

Red Cottage Chronicles    Life and Linda    Bluesky at Home    The Painted Apron
Thursday 
Panoply | Belle Bleu Interiors | Our Crafty Mom | Celebrate and Decorate
Friday