Why our Laundry Room Makeover is Happening Now
Our laundry room makeover is finally going to happen! Here is why our laundry room makeover is happening now.
A couple of weeks ago I shared several super laundry room ideas.
It is right next to my (almost still) new office which is so pretty and bright. It's like the pretty office's plain little sister. The one you don't notice. The one that gets overlooked. I feel sorry for the laundry room. It could be so much prettier, more efficient, more more. It could (almost) rival the office for pizazz and panache.
After you visited my pretty pink, organized and efficient office, instead of walking right by the laundry room (oh, you have a laundry room?), you'd stop and your eyes would get big and you'd let out a big "wow" and say, "I never knew you had a laundry room".
You'd want to take a tour and admire the pretty counter and shelves and the awesome backsplash and the fresh colors and the decorations. Well, we're not there yet. Just put that vision on pause. Because you can't imagine the vision unless you've seen "the before". So here it is: what our laundry room looks like now and why it needs a big makeover.
O.K. I was a little dramatic. There's terribly nothing wrong with our laundry room. It actually has some great features. But it' just so plain, so boring, so blah. It's not like I need a place so pretty that it makes me do cartwheels, but I do want a space that is at least cheerful to walk into, a space that looks like it belongs in our house.
Why our Laundry Room Makeover is Happening Now
You may remember that the thought of giving the laundry room a makeover began with a barn door. I showed you that process a few months ago. Installing the barn door meant that one side of the door frame had to be moved over 4 inches.
That was a good thing because the laundry room had to be repainted. At least I got rid of the yucky yellow color that the room was originally painted when we moved in. (My fault, I just couldn't find a yellow I liked and finally gave up. I told you about that when I showed you 13 Awesome Laundry Room Finds.) Now, since the barn door has glass panels, you can see into the laundry room, even when the barn door is closed, which it rarely is now because Layla's water bowl is in it. You can easily see the laundry room from Sweet Shark's bar and from the entry if you look hard.
Since this photo was taken, we added a handle to the door and the guide on the floor. You really want a guide so your door doesn't swing out from the wall. Let's take a look at the now so that we can look forward to the after.
The Laundry Room Now
I don't have a photo of the laundry room before we repainted it (I don't want the old yellow to scare you away.)
After trying out a few colors, I chose Grey Owl by Benjamin Moore. It's a fresh, clear grey, not too yellow, not too blue. Here is what you see looking straight into the laundry room from Sweet Shark's bar and our entry. Our ironing board is on the only available wall with the windows to the left.
I hate that ironing board hanger: it's ugly, it's too high to hold the iron, I can't reach it, and you may notice that the ironing board is a bit crooked. I did buy a new ironing board cover after the room was painted. I love stripes.
Let's start on the right side of the laundry room. Between the dryer and the wall is this Elfa rolling cart with baskets. I've had it forever. Before my office was built it held lots and lots of paint and supplies. Now it holds cleaning supplies and cleaning rags and random other stuff that needs to be tossed or organized better.
Between the cart and the wall is our step stool and my camera tripod in the back corner. Those are fine there. I need to find a better place for Layla's medicine and the paper towels.
Next are the washer and dryer along the long wall, which is  8 feet, 4 inches. Above the washer and dryer are 3 sets of cabinets. Very useful for extra cleaning supplies, picnic plates, glass pitchers, and vases. Could be more efficiently used. We painted them (and all the trim in the house) White Dove by Benjamin Moore and replaced the hardware with polished chrome ones from Restoration Hardware. I know the color on the walls looks like 2 colors, but it's all the same.
Above the cabinets is quite a bit of space (the ceiling is 10 feet tall) that could be used for storage. Some cool, big baskets would be great up there.
Between the washing machine and the wall is a laundry hamper from Container Store and a drying rack for hand-washed items. It stays even though I think I'm the only one who uses it.
On the back wall between the cabinets and the ironing board are my only decorative elements. I actually made the stenciled sign when we first moved in the house. I really like it so it will stay. I found the LAUNDRY 15 cents sign at a flea market.
On the opposite wall, which is on a corner of the house, are 2 tall, adjacent windows. I will have to admit that the room gets plenty of light from the south and east.
There's a nice ledge and the tile is a pale grey ~ thank goodness it wasn't avocado green or harvest gold. I made fabric for the curtains during the remodel. I loved the pattern and the grey. It was the crewel "yellow" dots that enticed me to paint the room yellow. Except they aren't yellow, but are really gold. I added the tassel embellishment just for fun. I bought the planter in Atlanta last summer and just recently added the plants.
You can see the tassels on the bottom of the curtain. Yes, we have a nice big sink, a definite plus for washing extra big roasting pans or soaking clothes. I should have wiped down the sink before taking the picture.
O.K. here is the coolest, best thing about our laundry room, something we didn't even know it had until the day of inspection: a dishwasher; my laundry room has a dishwasher!
Thank you to the original owners of our house who had the forethought to install a dishwasher. I never knew I needed a dishwasher in the laundry room, but I can tell you I'll never be without one again. We use it all the time. In fact, it's really Sweet Shark's.
We have his and her dishwashers. He uses his for all the barware and as overflow for parties and cooking classes. It's a G.E. and works really well for the crystal. My dishwasher in the kitchen gets the everyday stuff.
There is a nice amount of counter space above the dishwasher. We use it to hold the dirty glasses or I might lay a sweater to dry on a towel or my drying rack.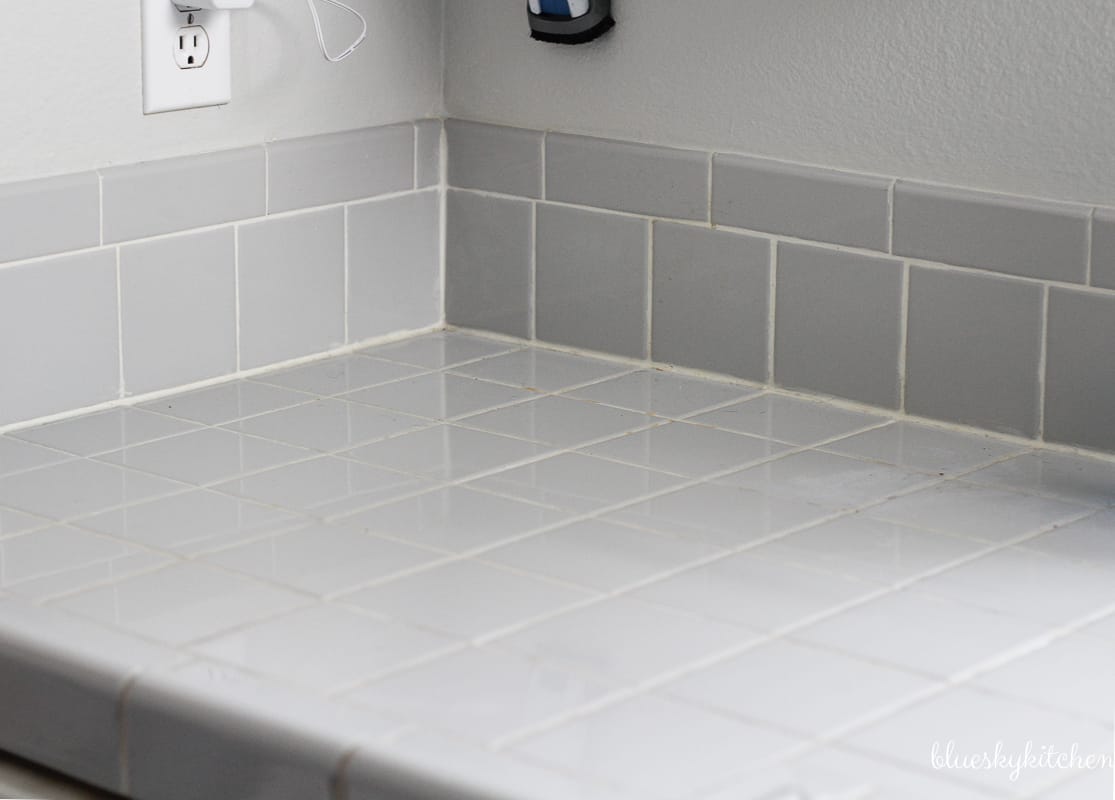 Above the counter is my favorite item in the laundry room. No, not the dust buster. It's this adorable French vintage paper towel holder I bought at a local antique mall. I had to have it. It actually has space for wax paper and foil inside the 2 boxes.
Next to the counter used to be an open space ~ like a closet without a door or hanging rods. We have no idea what it was used for ~ too small for an extra fridge and there is no electrical outlet. I had our builder add shelves. A hanger for clothes (Sweet Shark's golf shirts) that need to be ironed is on the wall.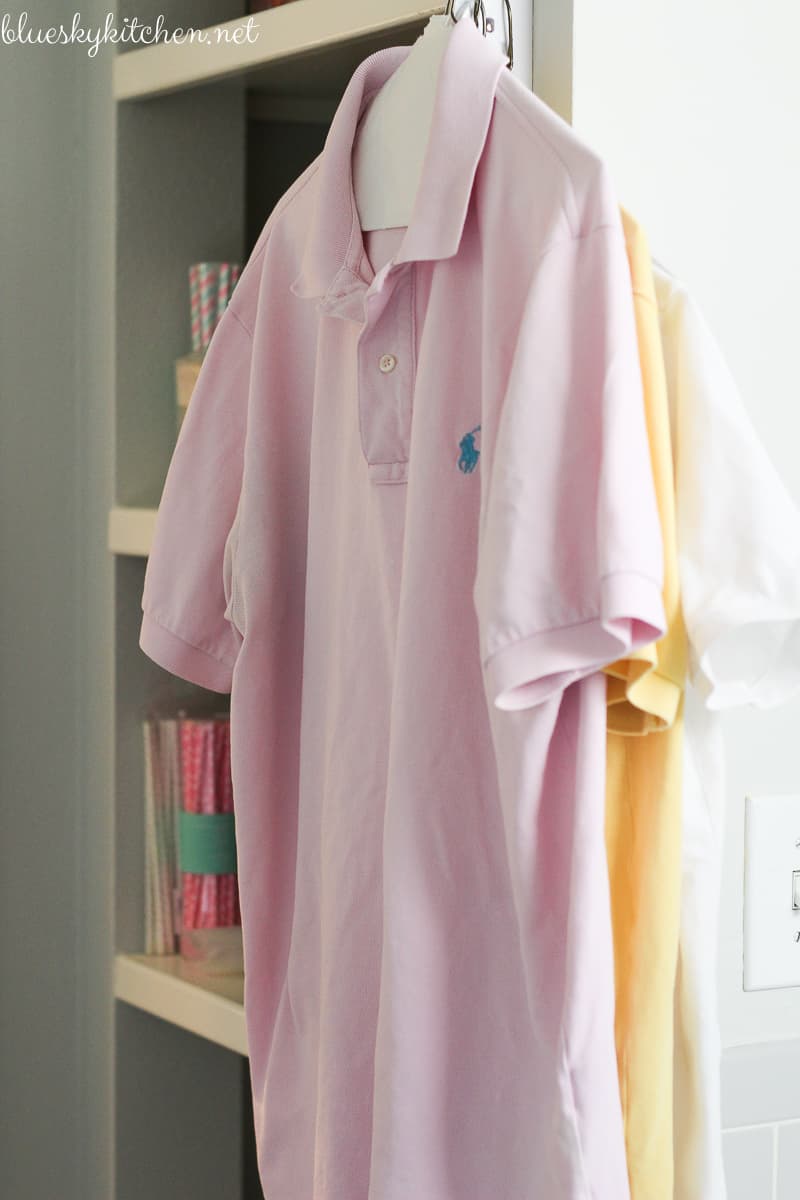 On the upper shelves, I keep roasting pans, my stovetop smoker, my deep fryer,  and other kitchen equipment that I don't use often.
My old file cabinet fits in below. I spray-painted it white years ago. It holds cooking class files and recipes from the past 13 years. Poster board for photo backgrounds and a couple of very large cutting boards stay on each side.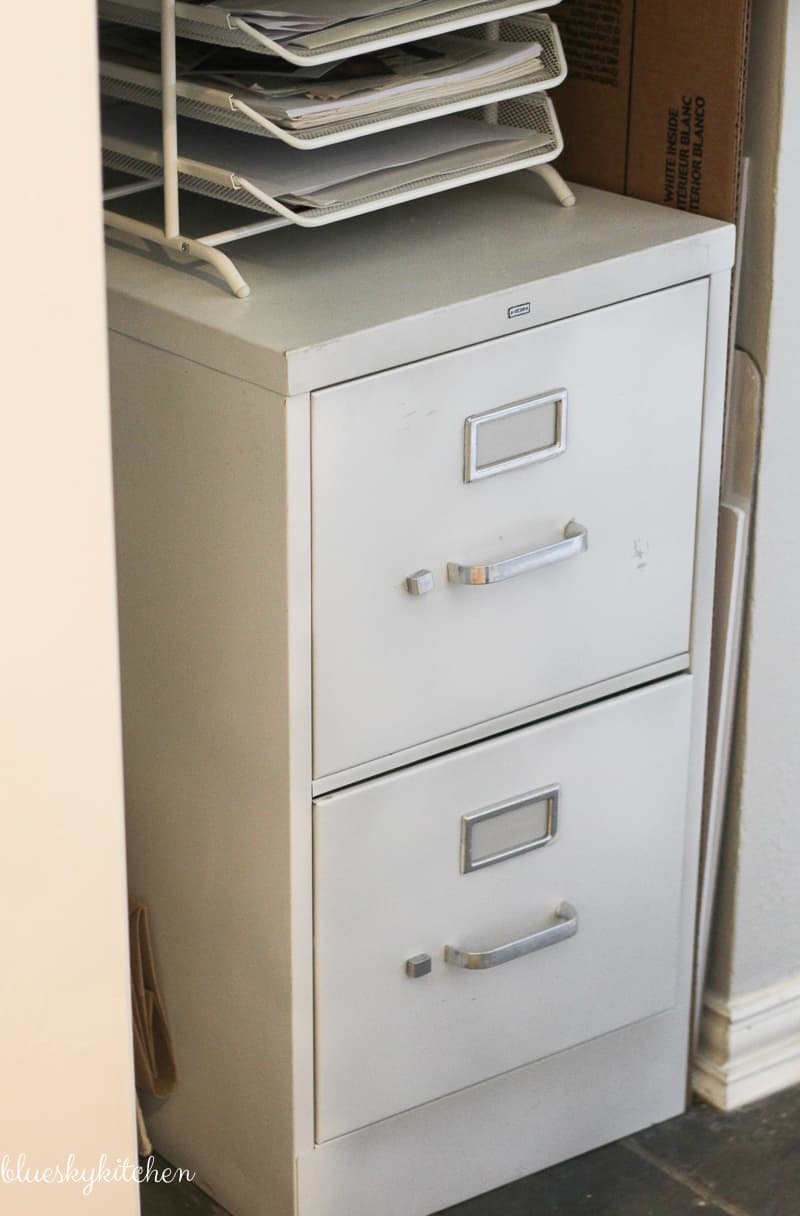 That brings us back around to the doorway of the laundry room.
Laundry Room Makeover Wish List
I should tell you the items that are on my laundry room wish list:
a backsplash of some sort to give a decorative focal point and camouflage the plumbing
a countertop to cover the washer and dryer and the laundry hamper
practical, yet pretty ways to organize cleaning supplies
a new hanger for the iron board
more prettiness and some color
The Backsplash
Here is where the backsplash will go. As I said, the wall is a little over 8 feet long and there is about 18 inches between the top of the washer and dryer and the bottom of the cabinets. The wall definitely needs a focal point and something decorative.
This grey shiplap wall is the inspiration that made me decide to use a Palette in a Box that Amy Howard at Home sent to me several months ago. I've been waiting for just the right place to use it and I think the laundry room backsplash will be perfect.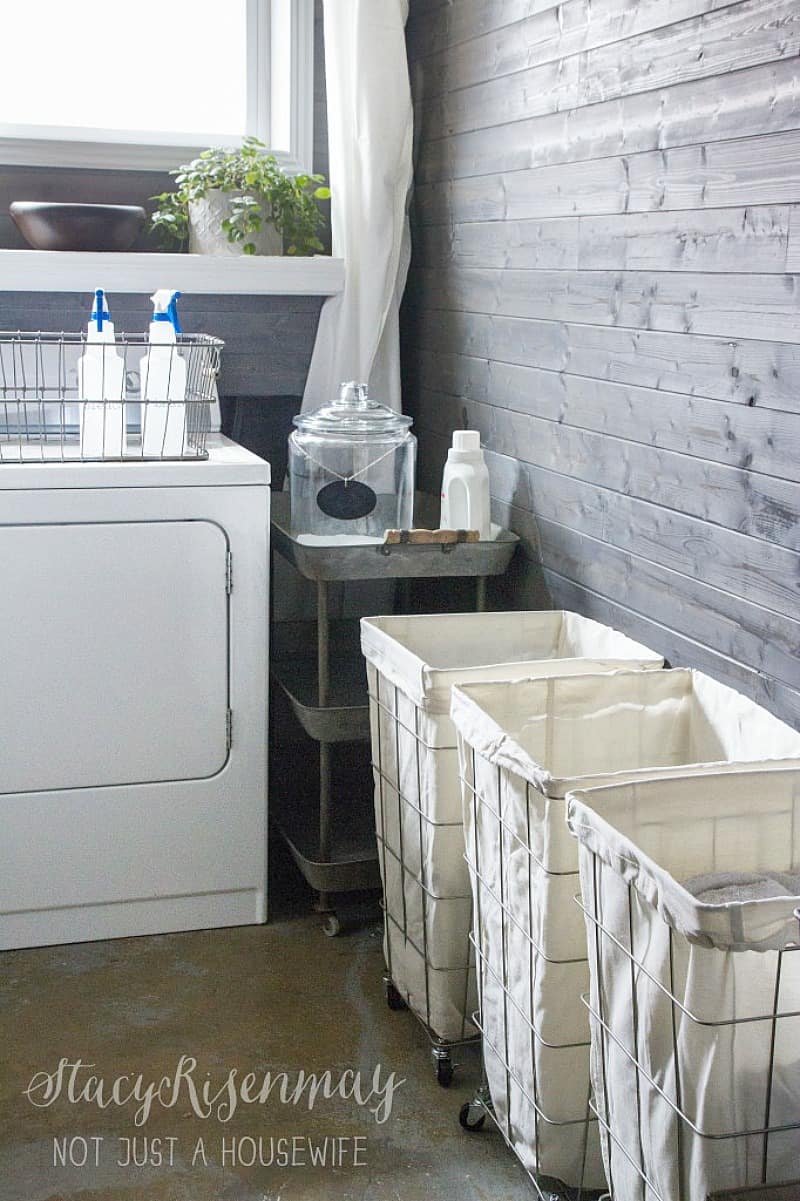 The Countertop
Here's my inspiration for the countertop. Since my counter will need a waterfall side, this is exactly what I needed to see.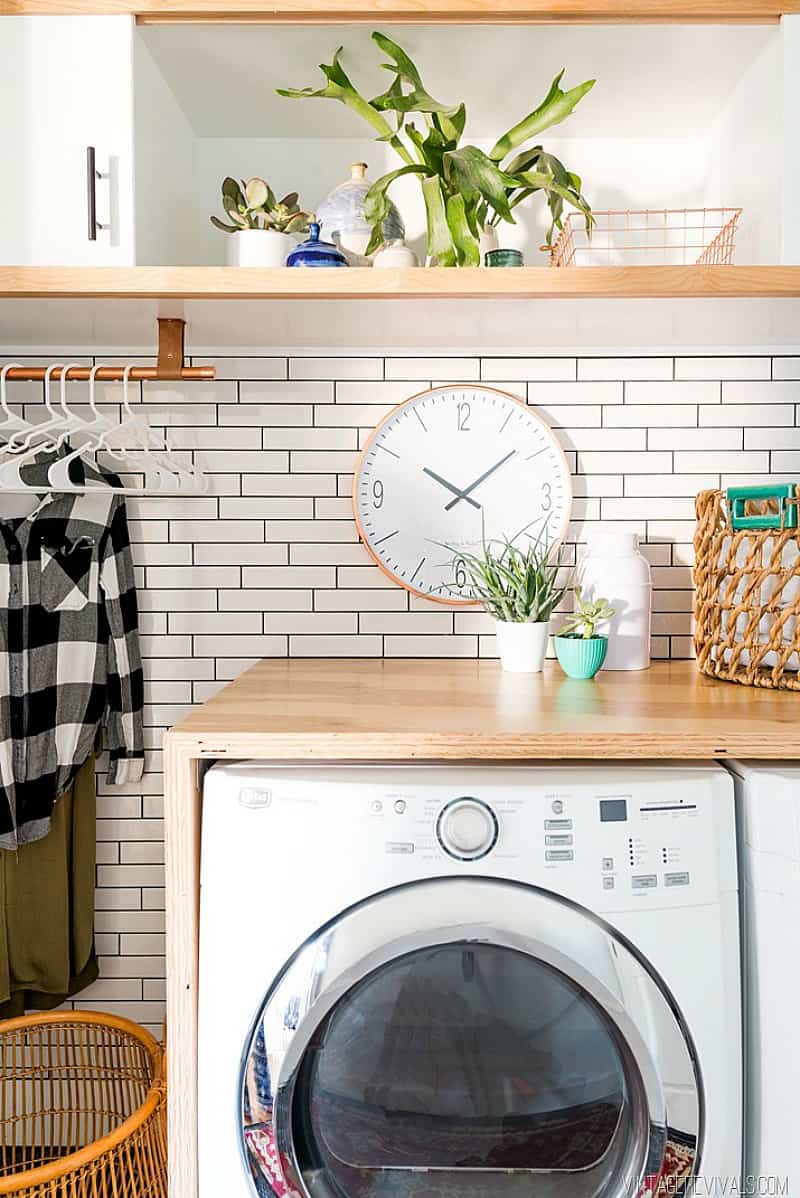 I  will paint my countertop white because I want a nice, bright pop of white to match the cabinets.
The Ironing Board
Remember how yucky my ironing board hanger is? I'm going to make a decorative hanger for it that will be nicer to look at.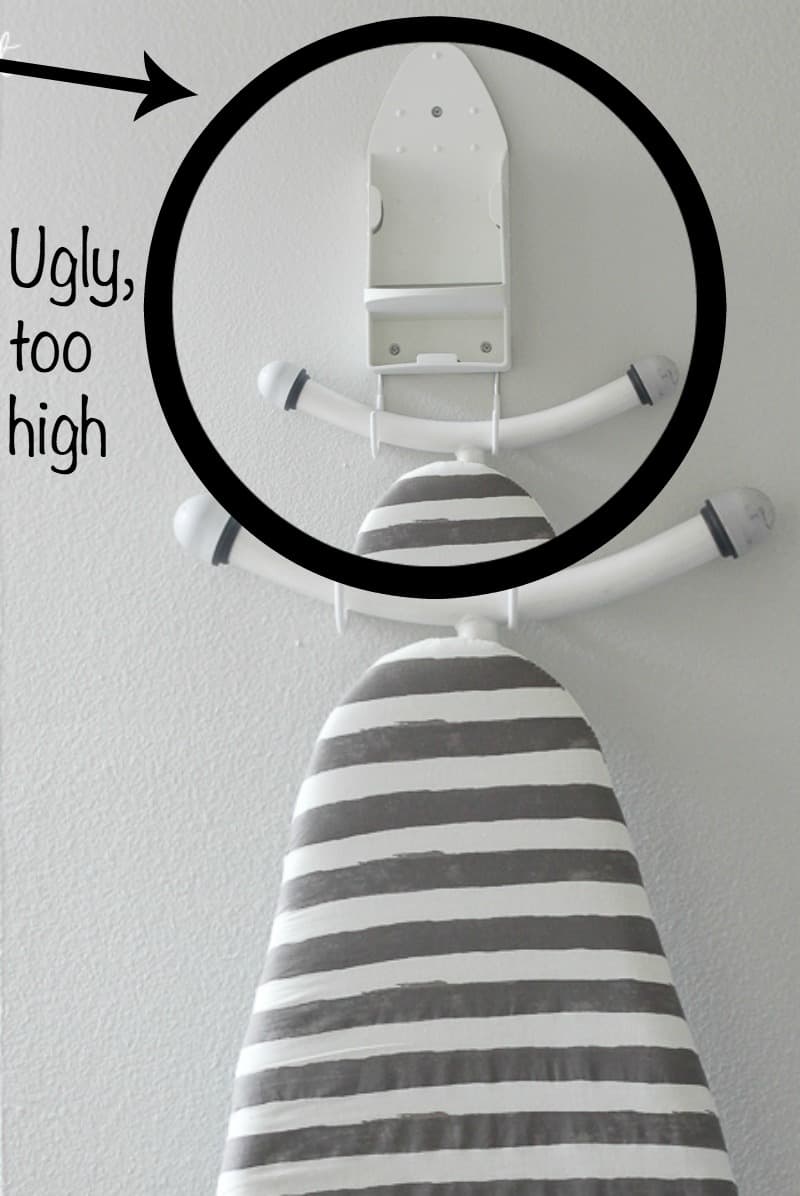 Here are some ideas that I think will be easy to make, functional, and attractive.
The Pretty Decorative Elements
I'll be searching for some pretty, yet practical ideas while we work on the things that require a hammer, drill, nails, and screws. But here are a few ideas I  love.
So why is our laundry room makeover happening now?  I know what we need to do for our laundry room makeover, I know the look I'm after, and I have the inspiration. I'm ready to get started. Next week, I'll show you the first project I tackled ~ the backsplash. I hope you'll drop by for a look at my progress.
If you have a laundry room makeover in your future, then PIN this PIN for inspiration.